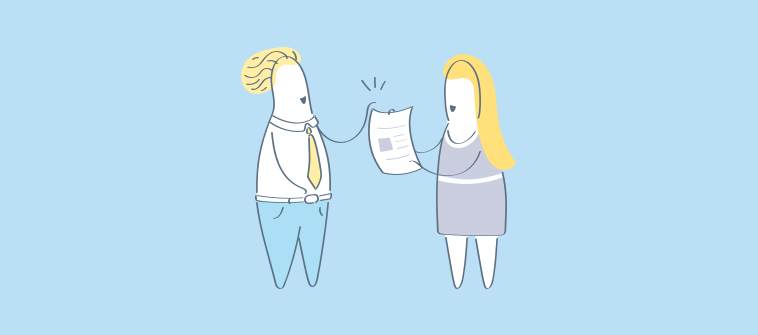 Do you want to create surveys that have more than 90% completion rates? We help you build exactly such surveys with our custom welcome and thank you page feature.
It not only improves the response rate of your surveys but also builds trust and encourages honest responses.
This feature is especially useful when you are creating business surveys such as the Share Your ProProfs Experience survey we created.
We created this survey to learn how our products were helping our customers and we realized that a solid welcome page encouraged customers to start the survey. At the end of the survey we wanted our customers to feel awesome for sharing their success stories and we let them know by using this You're Awesome GIF, on the thank you page.
Read our help article to learn how to add welcome and thank you pages or keep reading to get some more insights into the feature.
Best practices to create survey welcome & thank you pages
Don't waste customer's time – The truth is that nobody really likes to take surveys. Especially, ones with long, boring introductions. That's the reason why we kept the text short in our welcome page. Just 2 or 3 lines sharing the most important information.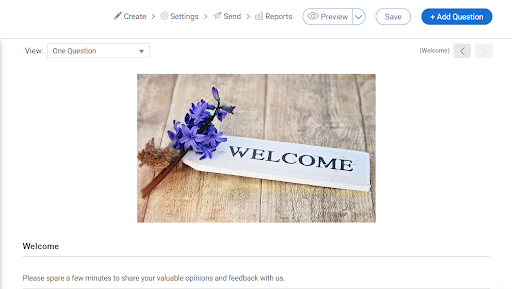 Explain the who, what and why – On the welcome page, we found three things that needed to be clearly explained:
Who – Telling survey respondents who we are, so we mentioned our brand name clearly in the headline, "Share Your ProProfs Experience".
What – Educating customers about what the survey is exactly about – "we could work together in featuring your success story in our case study section".
Why – We wanted to motivate our customers to share their success stories, so we mentioned how their feedback would help – "we believe your story will be an inspiration to other companies."
Build trust with respondents – Before taking a survey, there are a number of things that might cross a respondent's mind: How much time will it take? Will the information I provide be confidential? It's a good practice to mention the time or include a confidentiality statement etc, on the welcome page, as this helps to build trust with respondents.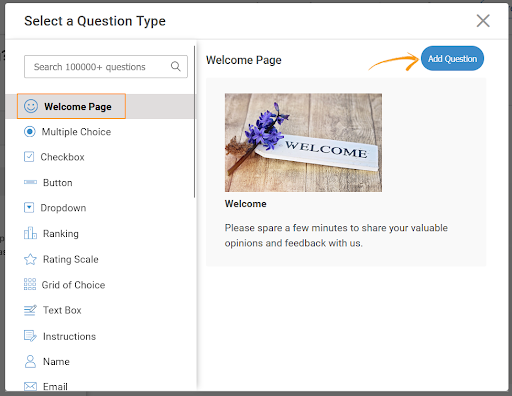 Customize the pages to suit your brand – This feature is really flexible in terms of design. On the welcome come page you can add custom images, headers and even customize the call to action button to match your branding.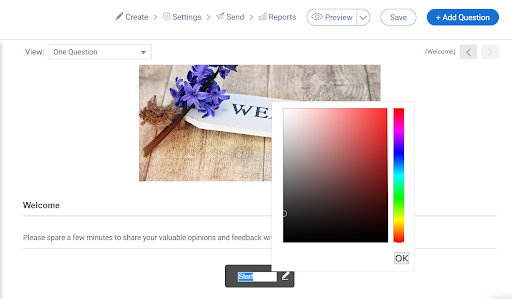 Find a great way to show your appreciation – On the thank you page, you can show your appreciation in a number of ways. What we did was go with the famous saying – "a picture speaks a thousand words" and included the You're Awesome GIF image.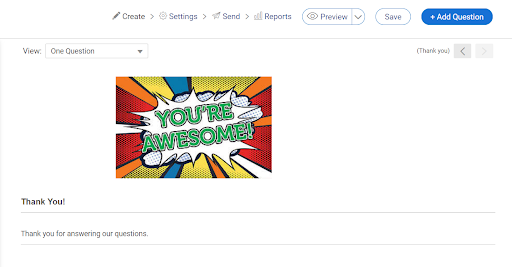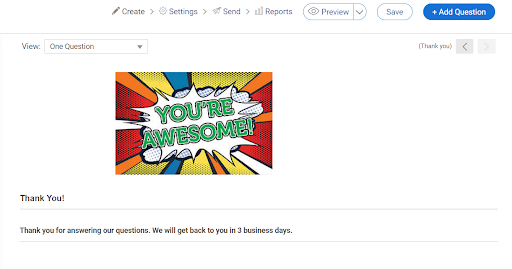 Do you want a free Survey Software?
We have the #1 Online Survey Maker Software to get actionable user insights.