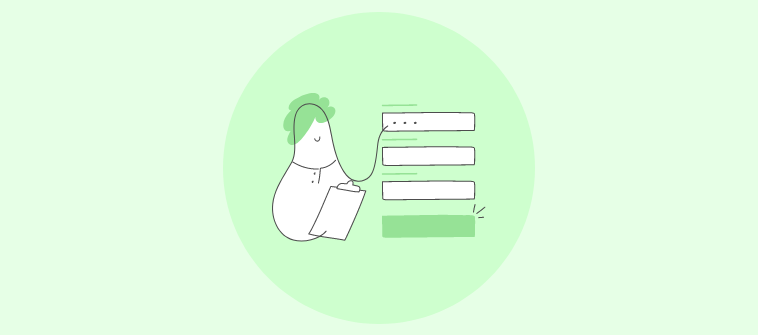 Collecting contacts or capturing leads – forms still remain well-nigh unmatched whenever there's a need for gathering information, and you know it. While these are some solid use cases indeed, why do you need to invest in the best online form builder for your business? Or, actually, why do you need a form builder at all?
The answer lies in the widespread usage of forms that now extends far beyond the usual scenarios. You can use them to identify market & audience trends, conduct in-depth industry research, gather intel on your product's performance, and much more.
With an expansion in employability comes the need for a wider range of form designs – each with its unique aesthetics and fields customized to suit the occasion.
Online form builder apps streamline, automate, and expedite the process to minimize manual efforts, enabling you to create a large number of forms to cover all your business needs.
If you are looking for one that fits you the best, we have compiled a list of the 11 best software for creating forms available.
Let's begin.
10+ Best Online Form Builder Tools in 2023
Best for: Creating general & NPS surveys
As one of the best form creation software currently available, ProProfs Survey Maker is highly efficient in creating forms with various use cases. With a huge library of expert-designed form templates and an in-app editor, Survey Makers offers users the flexibility to pick a ready-to-use form or create their own questionnaires.
The best part is, you can personalize the survey forms with your themes, branding, and messaging for a full customization experience. With this tool, create generic, scored, or NPS forms in minutes and deploy them via shared links and website embedments to gather thorough information on any chosen field.
Key Features:
100+ expert-designed survey templates & ready-to-use questions
Advanced NPS data segmentation to identify passive, promoter, and detractor customers
Various survey types including MCQs, sliders, Likert scale, polls, quizzes, scored surveys & more
Option to add skip logic & branching to survey form questions
Advanced analytics to keep track of the survey responses for further analysis
Pricing: Starts from $19 per month.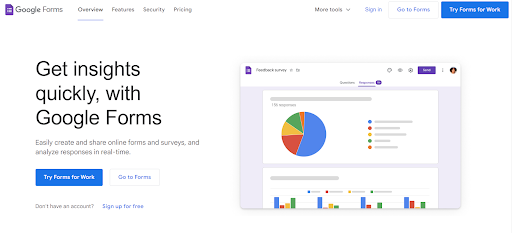 Best for: Creating free, versatile forms
Google forms is a free, fast, and simple online form builder that lets you create unlimited forms with unlimited fields. The tool supports all device types, allowing you to design, access, and edit the forms anywhere. This feature also extends to responders, who can fill out the forms on pretty much any device with an internet connection.
Another striking aspect of the app is its built-in response validation rules that automatically flag poorly formatted emails and contact numbers to provide clean response data.
Google Forms also comes as an integral part of the Google suite, so it automatically integrates your data with Google Sheets for further analysis.
Key Features:
Multiple question formats with a drag-and-drop editor to shuffle the questions
Option to create questions with assigned scores, skip logic, conditional logic & branching
Customizable colors, images & fonts to reflect an organization's branding
Custom logic that shows questions based on responses for a smoother experience
Analyzable responses with automated briefs & updates in real-time
Pricing: Free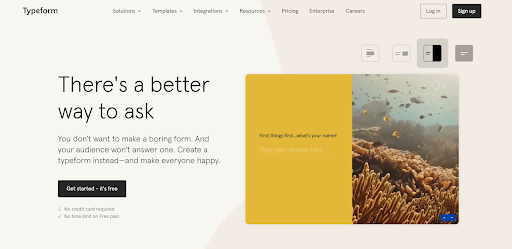 Best for: Creating visually appealing feedback forms
Typeform is ideal for extracting contextual information from users through a conversational approach in the forms. Although the questionnaires can be used for any situation you see fit, they are best suited for collecting feedback, gathering post-purchase reviews, and the like. The web form builder has an intuitive drag-and-drop editor that you can use to create and customize surveys according to your brand image. The tool lets users view survey responses in real time and has a detailed reporting & analytics section to scrutinize the responses.
Key Features:
Uniquely designed, one-question-at-a-time format surveys for better engagement
Built-in photo & video library to create visually appealing surveys
Customizable layouts & themes to make the forms reflect respective brands
Conditional logic to bring the right questions into focus depending on the responses
Simple, intuitive, mobile-friendly layout
Pricing: Starts at $25/month
Read more: 11 Best Typeform Alternatives & Competitors for 2023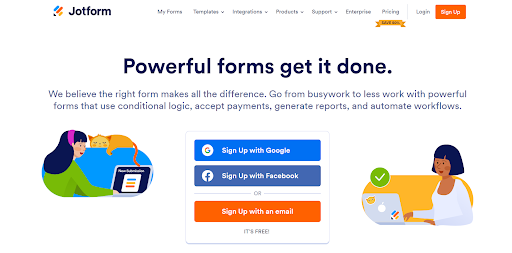 Best for: Creating forms with embedded payment options
JotForm is one of the leading online form builder applications that helps users create elegant, well-designed, and dynamic forms easily. The tool's popularity can be attributed to its ample customization options – you can add almost any element to make the forms reflect your brand or choice. It also allows the responders to add their signatures and pay directly as subscriptions and donations.
Key Features:
Creates HIPAA-compliant forms without requiring coding inputs, making it ideal for the healthcare field
Unlimited customization options to match individual preferences
Integrates with Hubspot, Slack, Google Sheets & PayPal – the latter being responsible for the option of paying through the forms
Allows syncing with Google Calendar events & automated scheduling of appointments
Pricing: Starts at $34/month.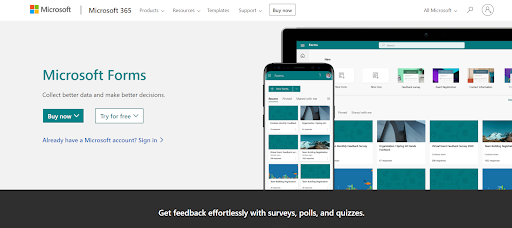 Best for: Creating feedback survey forms
Microsoft Forms creates simple, versatile forms that can be used for capturing all sorts of data with considerable ease. The tool is a part of the MS 365 suite and integrates with all other Microsoft applications. As a result, you can gather and import all data, including survey responses, in real time on an Excel spreadsheet. The Excel filters and pivot tables available in the spreadsheet aid in the analysis of the collated information further.
It features a fairly simple interface and multiple customization options and lets users easily create surveys, feedback forms, quizzes, polls, etc.
Key Features:
Offers free accounts to Microsoft 365 users
Syncs with Microsoft Excel sheets automatically
Seamlessly integrates with MS Outlook
Visual drag-and-drop form builder
Allows users to view survey results in real-time
Pricing: Free for users with a Microsoft account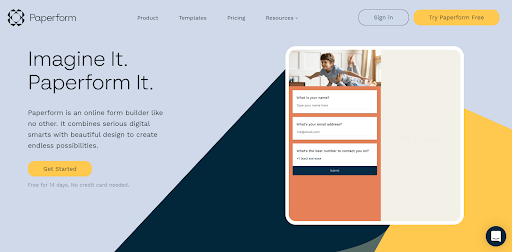 Best for: Quick creation of survey/lead capture forms
Paperform is a no-code online form builder dedicated to creating aesthetically pleasing, digitally smart forms. The tool's most unique aspect is its focus on versatility, allowing users to sell products, take bookings, conduct interviews, communicate with customers, collect payments, and more – all from a single interface.
The app has an expansive library of themes, and the forms are completely customizable. You can tailor your own themes by choosing from a color palette and embedding content wherever you want.
Key Features:
Simple, intuitive drag-and-drop editor for creating forms fast
Option to render all manual tasks on autopilot mode that needs no supervising once set
Fully customizable elements including multimedia, text fields, themes, custom HTML & CSS
27+ question fields with conditional logic, scoring & calculation
Built-in payment options in the forms enabling easy selling of products, services, subscriptions & donations
Pricing: Starts at $20/month.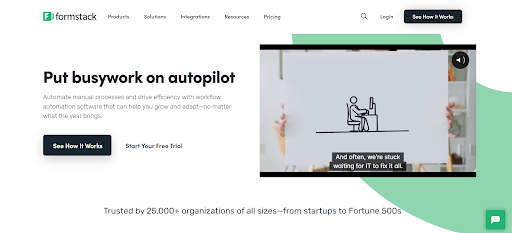 Best for: Creating versatile online forms
As a powerful, automated online form generator, Formstack simplifies and expedites the process of data collection through its easy-use, intuitive approach. The built-in drag-and-drop editor lets users create business and professional-looking forms in minutes. It includes a host of features, including AI-powered workflows, PayPal integration, an option to save progress on longer forms that responders can resume later, SSO-enabled field prefilling, and more. All of these combined reduce survey fatigue and ensure you gather maximum data without compromising quality.
Key Features:
One question at a time format for a better mobile survey experience to minimize bias & page scrolling
Option to save progress on longer forms and resume later to avoid fatigue
Conditional logic questions for a more personalized survey experience
Easily captures electronic signatures from any device for contracts, payments, releases, and more
Fully responsive forms that adjusts automatically to any device they are opened with
Pricing: Starts at $50/month.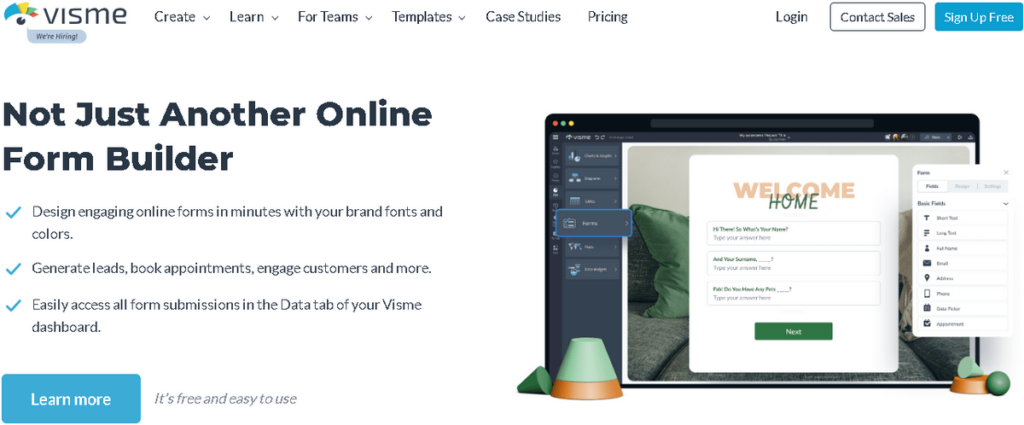 Best for: Creating forms for lead generation
A form builder from Visme is ideal for single-step lead generation tools or for multi-step surveys that help you gather customer data and inform your future business decisions. Create a list of questions or form fields you plan to include ahead of time, then drag and drop each of your required fields into place before sending them to recipients.
Forms created with the help of Visme help generate leads, book appointments and meetings, collect survey data and responses, and so much more. Using forms can help your team gather a larger audience and close more sales.
Key Features:
Drag-and-drop form fields (choose from basic, interactive fields, and many more)
Create single-step forms with only a handful of fields, or complex multi-step forms that span across several pages
Easily access and export form results (available via Visme's system or as a CSV file)
Take advantage of third-party integrations
Use pre-designed form styles or create customized forms on your own
Pricing: Free of charge. To get more advanced features, you'll need to upgrade to a business account (Starter plan for $12.25 pm, Pro – $24.75 pm)"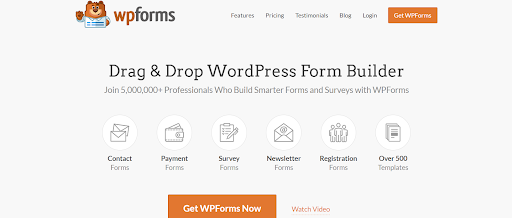 Best for: Creating mobile-responsive forms
Launched in 2016, WPForms is one of the simplest, no-code solutions for building forms with a large number of use cases. The app features pre-built templates to save time, as well as a drag-and-drop form builder that creates forms from scratch. It allows you to streamline the workflow by letting you view all your leads in one place. The forms can be easily embedded in blog posts, sidebar widgets, footers, etc., and come with automated spam protection captchas that prohibit spam entries for a cleaner survey experience.
Key Features:
100% responsive forms that work on mobile, tablets & desktops
Smart conditional logic leading to high-performance forms
Instant notifications for fresh leads that allow you to respond immediately
Option to collect payments, donations, and online orders without requiring coding inputs
Creates subscription forms that can be connected with the default email marketing service
Pricing: Starts at $49.50/month.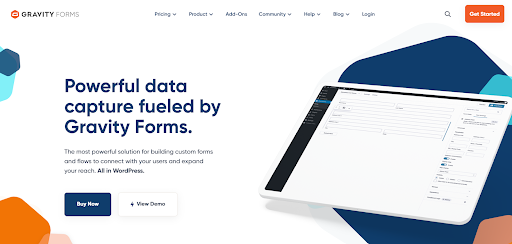 Best for: Creating payment forms
Gravity Forms is a WordPress extension that builds custom forms to suit a variety of your business needs. The forms can be used to capture leads, collect payments, automate workflows, view market sentiments, and more. The platform has 30+ form fields for questions, and you can apply scores, skip logic, conditional logic, branching, and more to them. Gravity Forms facilitates payment for users even more with the option to collect subscription fees, donat ions, and sales money directly.
Key Features:
Intuitive visual form editor to quickly design, configure & embed WordPress forms
Option to show or hide fields, sections, pages, buttons, etc., based on what users choose
Option to reveal or conceal fields, sections & pages based on user inputs to make the forms more relevant to responders
Secure data collection at all points
Option to upload documents, photos, or other attachments right inside the forms
Pricing: Starts at $59/month.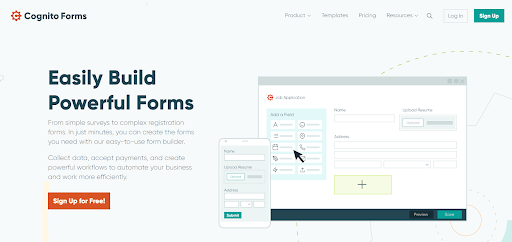 Best for: Creating surveys & complex registration forms
Cognito Forms is a multifaceted form-building software that you can use to gather market and audience data, accept payments, and automate workflows to streamline your business processes. The tool offers sound logic branches, calculation fields, integrated payment options, and advanced data segmentation.
Cognito Forms integrates with Stripe, Zapier, MS Power, and PayPal to seamlessly export data for further processing.
Key Features:
Fully customizable forms to let users collect data in ways that suit their needs
Efficient, flexible workflows to engage the right audience at the right time
Advanced data management system that lets users view, sort & filter information as and when required
Integrates with Square, Stripe & PayPal to enable direct acceptance of payments through forms
Pricing: Starts at $15/month.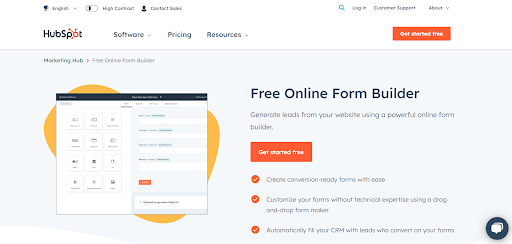 Best for: Creating forms for lead generation
Hubspot Forms is a powerful, free form maker that adds to the basics of form creation with cutting-edge technology to build complex forms suitable for a variety of purposes. Despite being one of the advanced form-building tools, using it doesn't need any extra technical expertise. The UI is sleek, simple, and easily navigable – making the platform suitable for all users. The built-in drag-and-drop editor enables creating forms in minutes that you can use to convert even anonymous website visitors into leads.
Key Features:
Option to automatically add any visitor that fills out the forms to Hubspot's database & convert them to qualified leads
Allows creating free online forms in seconds & connect them automatically to the existing Hubspot CRM database
Drag-and-drop editor to build fully customizable forms in minutes
Automatically sends follow up emails & notifications to visitors after completing a form
Pricing: Free
Must-Have Features of an Online Form Builder Tool
Different form creator apps have different features to offer, ranging from simple question and input fields to advanced analytics, A/B testing, etc. However, when choosing a form maker, there are some must-have features that universally make the process of form creation much easier.
What are those? Here's a list:
Simple & Intuitive UI: The best form builder apps must be easy to use and navigate through without having to resort to the help center at every stage.
Extensive Customization & Design Options: The tool must feature an expansive library of designs and custom fields to choose from. This is to ensure that the forms maintain consistency with their respective brands and are creative as well to drive better engagement.
Easily Shareable: Make sure the forms can be distributed easily through any channel of your choice and integrates well with a wide range of tools.
In-depth Analytics: The tool must have the ability to generate reports based on the survey/form responses.
Additional Features: It's always a good idea to opt for more rather than less. Any tool that enhances user experience, offers extra integration and automation options, or provides better data-collection services scores extra points over its peers.
Choose the Best Online Form Builder for Your Business
Now that we are at the end of the list, it's time to select the best online form builder for yourself. The tools listed above are all at the top of their game and offer a plethora of features that serve different purposes. What's left to do is carefully compare them all and choose the one(s) that align with your requirements the most.
Aside from the relevance and usability of the tool, some important features you may want to consider before opting for one are –
It must be simple, easy to use & non-cluttered
It must let you design & customize your forms to suit a large number of use cases
It must offer a wide range of benefits under one roof to streamline your business process
We hope this blog post has clarified what the form builder tools provide along the mentioned pointers and made the selection process easier for you.
Do you want a free Survey Software?
We have the #1 Online Survey Maker Software to get actionable user insights.