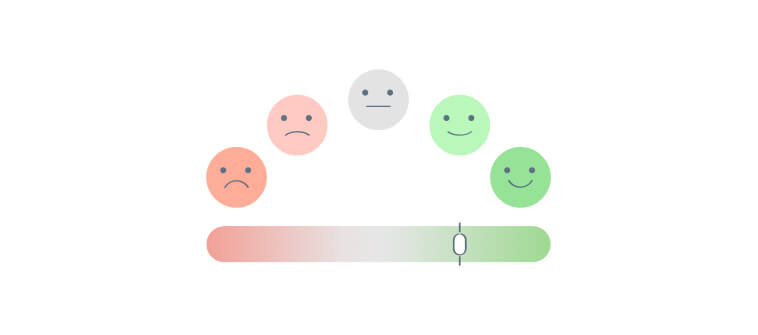 The single most important thing is to make people happy. If you are making people happy, as a side effect, they will be happy to open up their wallets and pay you– Derek Sivers, Founder CD Baby
Marketers can tell how true these words are.
They know customer happiness is everything for any business. But, one thing that is even more valuable is "Customer Satisfaction".
Satisfied customers are loyal to a brand. Moreover, they transform into a brand's ambassador with time. On the contrary, if you don't care about their satisfaction, they can stop being your customers in a blink, and it will take minutes for them to reach out to your competitor.
Customer satisfaction is not something that you acquire once and retain for life. You have to work for it every moment. It requires constant interaction with your customers and asking them questions about their experiences and seeking their valuable feedback at various stages.
Most brands confuse a satisfied customer with a delighted one. A customer who is just satisfied can still have a wandering eye in the marketplace, whereas a delighted one will stick to your brand, no matter how tempted the competitor offers are.
But how do you gauge genuine customer engagement and loyalty? Using dedicated survey software like ProProfs Survey Maker is the best way to build communication with your customers and gather insights to achieve true customer satisfaction. You can monitor customer behavior and fulfill their expectations before they fall prey to any other company.
What are Customer Satisfaction Surveys?
Customer satisfaction surveys are used to measure the satisfaction levels of the customer with the company's products, services, and brand experience. These surveys measure customer satisfaction score (CSAT) that help provide valuable insights that can be used to improve your business strategies and customer retention. Surveys can be conducted frequently to gauge improvement in customer experience.
The surveys can be taken in many ways to derive satisfaction scores. The data obtained can be used to segment customers. Efforts should be made to satisfy unhappy customers.
Here's how a basic customer satisfaction survey looks like: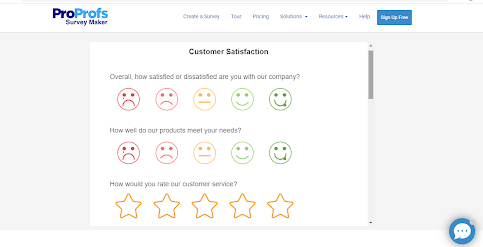 Why Customer Satisfaction Survey is Important
No brand is perfect. Customers may have issues with the products or services. If not problems, they might have expectations from your brand. In the world of fierce competition, companies should be aware of the customer's brand perception and what the customer wants.
But, how can you identify the pain points and expectations of customers? All this boils down to the need to measure customers' satisfaction levels by using customer satisfaction surveys.
The objective of the customer satisfaction survey is to gather information related to customers' experience, expectations, and needs. These surveys help you reach customers in different ways, like web links, social media, and email. It is the fastest and the most convenient way to connect with your customers.
---
---
Reasons to Measure Customer Satisfaction
Understand Customers' Expectations
No business can achieve success without winning over its target audience. Understanding the wants and needs of potential customers helps to attract the people who would want to buy their products and services.
The purpose of the customer satisfaction survey is to identify what is most valuable to the customer and give the team goals to fulfill the customers' expectation. You can generate branded surveys exhibiting the look and feel of your brand to build trust and loyalty.
Get Insights to Improve Products and Services
Social media platforms are flooded with comments about a brand which are further seen by thousands of other potential customers. Praises are good for your business. But what if, their reviews contain criticism.
Getting feedback from the customers before they share their opinion on social platforms can be a life savior. Surveys help unleash the positive and negative aspects of the products and services. Make efforts to transform the negative feedback into positive to encourage brand promotion by customers on social media.
Identify Critics and Turn Them Into Promoters
It is strongly recommended that the brands should never leave a customer unhappy. The extent of damage such a customer can make is beyond imagination. Not only will they stop buying from you, but they will convince a lot of their friends and family not to purchase from you by narrating the story of their bad experience.
To minimize the damage, customers can be asked one simple NPS question, "How likely are you to recommend the brand to a friend or colleague?". They should rate their satisfaction levels on a scale of 0-10. The ratings will help you quantify the number of promoters and critics. Follow-up to know their disappointments and expectations from your brand.
Improve Customer Retention Rates
Customer loyalty is one critical thing to earn, especially when customers are flicking a lot. For more than 30% of the customers, it doesn't take more than one bad experience to switch to another brand.
What do you think it takes for customers to be loyal to a brand? Modern customers just want the company to understand their pain points. When the customer knows that efforts are being made to resolve the problems, they feel valued and are most likely to stick to the brand. Conduct regular customer service satisfaction surveys to add value to the customer experience.
Types of Customer Experience Surveys
Customer experience can be measured in several ways through surveys. Here are a few metrics that you should know before you pick a survey for your use.
A widely used customer loyalty metric, NPS surveys, asks only one simple question from the customer, " How likely are you to recommend the product/service to a friend or colleague"? The customer should give their answer on a scale of 0-10.
This score was developed by Fred Reichheld in 1993 and adopted by Bain & Company in 2003. Due to its straightforward approach, the abandonment rate of this survey is nearly zero.
Customer Efforts Score (CES)
One of the powerful metrics, CES, also helps in measuring customer satisfaction with one single question. This question helps the business understand how much effort customers need to put into resolving queries related to a product purchase or get a request fulfilled like a refund.
The CES question can look like "How easy was it to interact with (company name)". The options customers have may look like – very easy, alright, average, difficult, very difficult. Brands, when they know, the hiccups can make efforts towards improving customer loyalty and building it. It is worth noting that customers are most likely to stick to the products or services that are easy to use and understand.
Customer Satisfaction Score (CSAT)
CSAT score is vital to measure a customer satisfaction level with your product, service, or interaction. This broad term is used to describe different customer service survey question types. Unlike NPS and CES, CSAT allows companies to ask a variety of questions that help uncover the strengths and weaknesses. Having such diverse data can help businesses identify ways to meet their customer's needs.
The example of a CSAT survey question is, "How would you rate your overall satisfaction with the service you received? The customers are allowed to rate their experiences from the given choices.
Dos and Don'ts of a Survey Design
The one golden rule that hits in the bullseye is – Keep the surveys simple and easy. Surveys don't have to be mesmerizing like the famous Mona Lisa, but they have to be attractive, relevant, engaging, and precise.
Improper survey design will not help you derive the answers you were looking for. Here are some practices that need to be followed to conduct customer satisfaction surveys.
1. Skip Lengthy Surveys: Long surveys are tedious and a have high probability of abandonment by the customers. Limit the number of customer satisfaction survey questions to a maximum of 10 to keep the customers engaged and get desired results.
2. Ensure Mobile Optimization: Most modern consumers prefer to finish their online tasks using their mobile devices. The customer satisfaction survey design should be optimized for mobile devices to let the consumer respond wherever they are.
3. Keep Surveys Simple: One of the biggest mistakes companies make while constructing surveys is that they use internal jargon related to their industry. When the respondent is not able to understand the question clearly, they are not able to give proper answers. Customer satisfaction form has to be simple and easy to grasp.
Best Time to Send the Surveys
ASAP!!!!
You have drafted the best customer satisfaction surveys. But not sending them at the right time can make all your efforts go into waste.
Although the optimal send days and the response rates of the customer satisfaction survey may vary as per the topic and the target audience, customer satisfaction surveys provide relevant results if they are sent soon after a customers' interaction with the company. At that moment, the emotions are at their high, be it good or bad. The chances for you to get accurate feedback increases manifold. Make sure you measure customer satisfaction at different stages of their buying journey.
We hope that the information mentioned above will help you understand customer satisfaction definitions and the importance of customer satisfaction surveys in detail. Although there are many customer satisfaction surveys available out there, you should finalize one that helps you create surveys easily and access detailed reports.
You can try ProProfs Survey Marker to create your first customer satisfaction survey and get insights into detailed customer feedback.
Try it out free, and for any further assistance, give us a call at (855) 776-7763 (Toll-Free), and one of our team members will be there to provide the required support.
Do you want a free Survey Software
We have the #1 Online Survey Maker Software to get actionable user insights