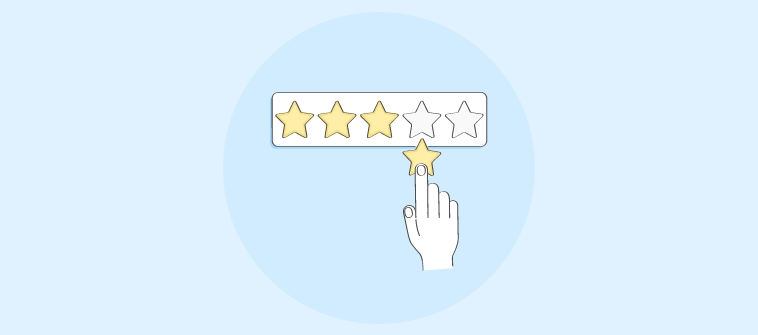 Do you know the importance of conducting customer satisfaction or CSAT surveys?
You must have heard "assume nothing when it comes to managing customer experience."
Companies are trying to fulfill the assumed expectations of customers' needs instead of understanding their actual preferences, building a vast disparity bridge.
It ultimately leads to customer dissatisfaction as the company is not able to fulfill the customers' requirements.
And the most efficient way to avoid any wild guesses is to reach out directly to your customers and ask for their opinion.
Here comes the role of customer satisfaction surveys.
A CSAT survey is all about collecting customer feedback to understand their level of satisfaction with your brand, product, or services.
This blog will discuss everything about customer satisfaction surveys – what it is, their importance and types, and how you can create one.
What Is a Customer Satisfaction(CSAT) Survey?
A customer satisfaction survey or CSAT survey is a type of questionnaire designed to determine how happy or unhappy customers are with your brand, using your products and services or while interacting with your customer service team. It is an excellent medium to understand customer needs, requirements, and preferences and identify challenges they may face while interacting with your brand.
CSAT or Customer satisfaction surveys are used to understand the overall user experience throughout the product life cycle. These surveys usually use rating scale questions to track changes over time, allowing businesses to mold their offerings and better serve their customers.
Given below is an example of a sample customer satisfaction survey: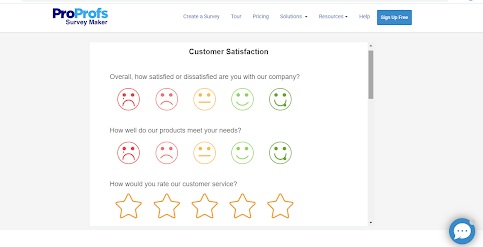 Also Read: 10+ Customer Satisfaction Metrics
Why Are Customer Satisfaction(CSAT) Surveys Important?
You must have heard of the following phrase by Peter Drucker:
"If you can't measure it, you can't improve it."
The same applies to customer satisfaction. You cannot improve customer satisfaction unless you measure it.
A customer feedback survey is a simple medium by which you can measure and improve customer satisfaction.
And we all know that satisfied customers imply more customer loyalty, word-of-mouth advertising, positive reviews, profits, and an overall increase in business revenue.
Also, 89% of consumers are more likely to make another purchase after a positive customer service experience.
Conducting the client satisfaction survey is necessary to understand customers' brand perception- what they like about your brand, their expectations, and what issues they face while using your products.
The objective of asking customer satisfaction survey questions is to gather information about customers' experiences, expectations, and needs. It is the fastest and most convenient way to connect with your customers.
Also Read: Importance of Customer Satisfaction Surveys
Types of Customer Experience Surveys
Primarily, there are 3 types of surveys for measuring customer satisfaction. Let's discuss them one by one.
Net Promoter Score (NPS) Surveys
A widely used customer loyalty metric, the Net promoter score, asks only one simple question from the customer,
"How likely are you to recommend our product and services to a friend or colleague"?
The customer should give their answer on a scale of 0-10.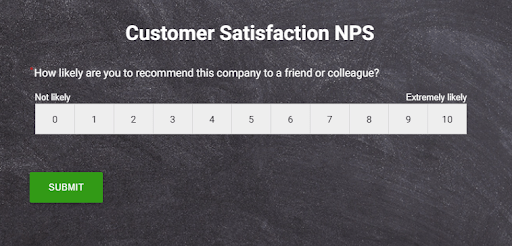 This score was developed by Fred Reichheld in 1993 and adopted by Bain & Company in 2003. Due to its straightforward approach, the abandonment rate of this survey is nearly zero.
Also Read: Why companies need NPS software
Customer Efforts Score (CES) Surveys
One of the robust metrics, the customer effort score, also helps measure consumer satisfaction with one single question. This question allows the business to understand how much effort customers need to put in interacting with your brand, resolve queries related to a product purchase or get a request fulfilled like a refund.
The CES survey question can look like
"How easy was it to interact with (company name)?"
The options customers have may look like this – very easy, easy, average, difficult, very difficult.

It is worth noting that customers are most likely to stick to the products or services that are easy to use and understand.
Customer Satisfaction Score (CSAT) Surveys
The CSAT score is vital to measure customer satisfaction with your product, service, or interaction. This broad term is used to describe different customer service survey question types. Unlike NPS and CES, CSAT allows companies to ask various questions that help uncover their strengths and weaknesses. Having such diverse data can help businesses identify ways to meet their customer's needs.
An example of a CSAT survey question is,
"How would you rate your overall satisfaction with the service you received?"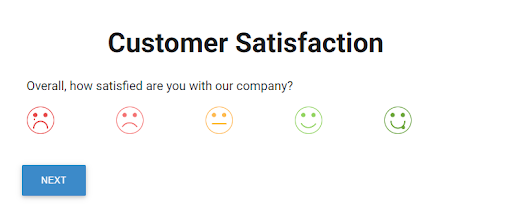 The customers are allowed to rate their experiences from the given choices.A
Also Read: Difference Between CSAT, CES, and NPS?
Steps to Create Customer Satisfaction Surveys
Wondering how to conduct a customer satisfaction(CSAT) survey? In this section, we have prepared a step-by-step process that you can follow to design the survey:
1. Define Your Survey Objective
You should understand the kind of information you plan to collect before conducting a successful customer satisfaction survey. You have to specify the objectives of the customer satisfaction survey clearly.
For this, you can have a meeting with your employees or people who have direct contact with your customers. They will provide good insights into your customers' behavior, their expectations, and areas where they may face 'dissatisfaction.'
For instance, if you observe a decline in sales of a particular product, you can create a survey for the same. It will help you understand the reason behind the decrease in sales- whether a competitor has changed its pricing or a product feature that your customers no longer need.
2. Select a Survey Software
After determining your survey objectives, the next step is to select an online survey software. There are many good customer satisfaction tools available that can make the complete survey process seamless.
For instance, ProProfs Survey Maker, is a great tool to measure customer satisfaction & it comes with 100+ survey templates to make the process easy for you.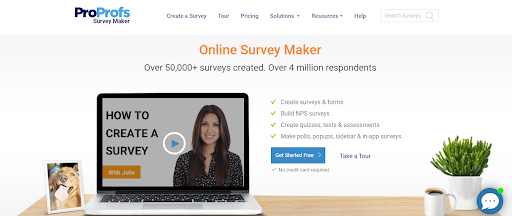 Related Read: 15 Best Online Survey Tools & Software
3. Determine the Questions You Need to Ask
The next step is to select the satisfaction questions you will ask your customers. Ensure that the questions are short, crisp, and specific. Design your survey questions using simple words so customers can easily understand them.
Try to include a mix of questions like rating scale questions, Likert scale questions, text box questions, etc., to make your surveys engaging.
It is also essential to keep the survey short; otherwise, it may lead to survey fatigue.
4. Send Your Survey and Analyze Result
After your client satisfaction survey is ready, you have to determine whom to send it to. Sometimes you may want to design a comprehensive survey that includes all clients on your mailing list. Other times you may wish to send customer satisfaction surveys to a particular group of customers, for instance, customers who have bought your product in the past 30 days.
Once you start receiving the survey responses, examine the data to observe if the results show any trends or patterns. Analyze the data deeply to arrive at final business decisions.
Also Read: Best Practices for Designing Customer Satisfaction Surveys
Benefits of Customer Satisfaction Surveys
Understand Customers' Expectations
No business can achieve success without winning over its target audience. Understanding the wants and needs of potential customers helps attract those who want to buy their products and services.
The customer satisfaction survey aims to identify what is most valuable to the customer and give the company goals to fulfill customer expectations.
Get Insights to Improve Products and Services
Social media platforms are flooded with comments about a brand which are further seen by thousands of other potential customers. Praises are good for your business. But what if their reviews contain criticism?
Getting feedback from the customers before they share their opinion on social platforms can be a life savior. Surveys help unleash the positive and negative aspects of the products and services. Make efforts to transform the negative feedback into positive to encourage brand promotion by customers on social media.
Identify Detectors and Turn Them Into Promoters
It is strongly recommended that the brands should never leave a customer unhappy. The extent of damage such a customer can make is beyond imagination. Not only will they stop buying from you, but they will convince a lot of their friends and family not to purchase from you by narrating the story of their bad experiences.
To minimize the damage, customers can be asked one simple NPS question, "How likely are you to recommend the brand to a friend or colleague?". They should rate their satisfaction levels on a scale of 0-10. The ratings will help you quantify the number of promoters and critics. A follow-up to know their disappointments and expectations from your brand.
Improve Customer Retention Rates
Customer loyalty is one critical thing to earn, especially when customers are flicking a lot.
For more than 30% of the customers, switching to another brand doesn't take more than one bad experience.
What do you think it takes for customers to be loyal to a brand? Modern customers just want the company to understand their pain points. When the customer knows that efforts are being made to resolve the problems, they feel valued and are most likely to stick to the brand. Conduct regular customer service satisfaction surveys to add value to the customer experience.
Start Improving Your Customer Satisfaction!
Customer satisfaction feedback surveys are a valuable tool to improve customer experience and build a pool of loyal customers. With the help of feedback they provide, you can improve your products and services – leading to more customer retention and profit.
Hope this article helps you understand the importance of customer satisfaction surveys. To conduct your survey efficiently, you need a robust survey maker tool. There are many customer satisfaction survey software available out there, you should finalize one that helps you create surveys quickly and access detailed reports.
Do you want a free Survey Software?
We have the #1 Online Survey Maker Software to get actionable user insights.