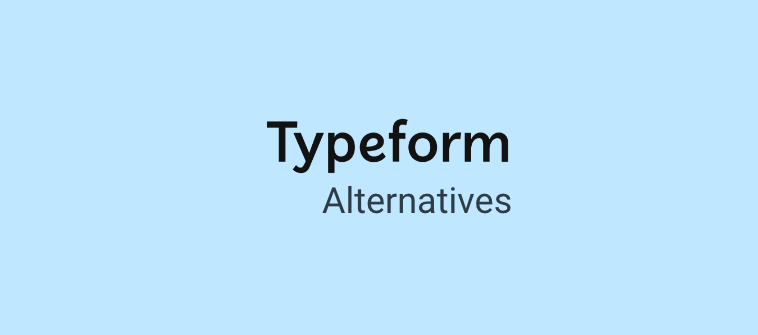 While searching for the survey tools, you might have bumped into Typeform. It is one of the leading survey software used across marketing, HR, customer success, education, and various other industries.
Even though Typeform offers multiple advantages, it isn't the right fit for all business needs. That's why more and more businesses today are looking for Typeform alternatives that are easy on the pocket and offer the best-in-class features.
Users are disappointed with its high pricing, some find its user interface complicated to use and others are not happy with its basic reporting system.
However, with numerous alternatives to Typeform available in the market, finding the right survey tool remains a nightmare for most businesses. And probably you're sailing on the same boat.
Worry not. We've got your back.
In this blog, we will discuss the top 10 Typeform alternatives, along with their features and pricing, so you can compare and make a practical decision.
What Is Typeform
Typeform is an online tool that helps you get closer to the people who matter most to your business via beautiful forms. It offers an easy-to-use interface that offers precise business solutions including how to collect customer feedback, conduct market research, and generate leads.
The tool offers various features that work absolutely fine with almost all platforms and browsers including:
Windows and Mac computers with the latest versions of Chrome, Safari, Firefox, Microsoft Edge, and Opera browsers.
Tablets: iPads running iOS 10+ and Android tablets running 4.4+.
Smartphones: iPhones running iOS 10+, Android smartphones running 4.4+, Opera Mini (latest version), and IE Mobile (latest version).
Its "Made for Humans" approach enables businesses to create conversational forms to engage customers and garner thoughtful responses. Typeform offers a long list of features. Let's go through a few amazing ones.
Why look for Typeform Alternatives?
Typeform is not meant for every business. Businesses that prioritize the importance of customer experience are wandering around looking for alternatives to Typeform.
But before we move on to the golden list, it would be wise to analyze why people are seeking a Typeform alternative. For better assistance, let's have a look at the users' opinions who know the Typeform at the best.
Typeform users reviews from Capterra: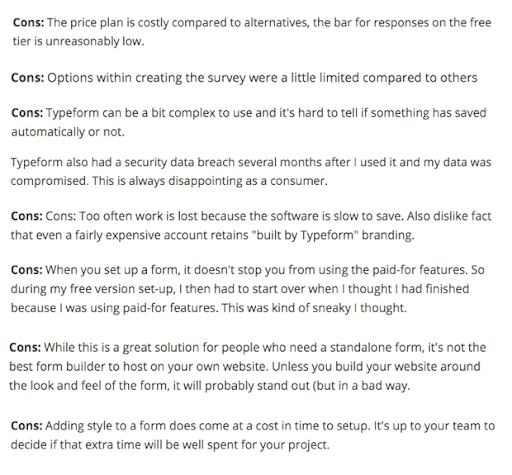 These are the issues faced by the Typeform users – making them seek out a better survey maker software that could fulfill their business needs.
Certainly, Typeform doesn't offer enough return to every buck spent. Thus, we believe that you deserve a highly competent and robust survey maker tool for enriched ROIs. Let's take a look at the top Typeform Alternatives below:
10 Best Typeform Alternatives and Competitors For 2022
1. ProProfs Survey Maker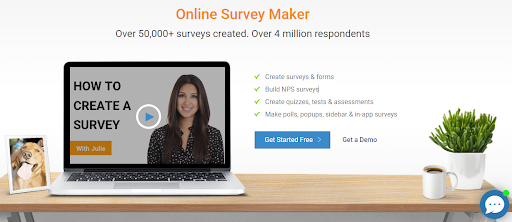 ProProfs Survey Maker is the best Typeform alternative known for offering simple and convenient ways to create surveys, forms, quizzes, polls, and more. The tool offers 100+ pre-built survey templates and 1,000,000+ ready-to-use questions equipped with a drag-and-drop feature. Select a template, personalize it with your brand colors, themes, and
logos and you are a few clicks away from achieving your business goals.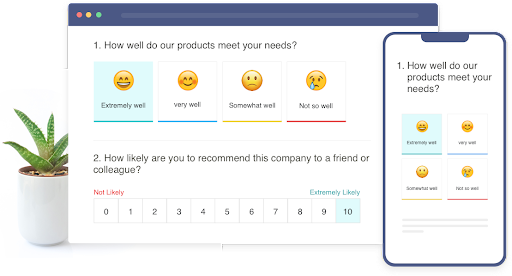 The detailed survey analytics reports allow you to see who filled out the forms, when and how they have answered, and more. This powerful tool arms you with all the essential insights via detailed presentation-ready reports and intelligent analytics.
Exceptional Features Include:
Easy-to-use interface

Pre-built templates and

demographic survey questions

Easy customization

Advanced features including conditional logic and survey redirects

Powerful integration with popular tools

Advanced reporting and analytics

Real-time notifications

Extensive and helpful product knowledge base

Multiple sharing options include email, social media, embedding, and survey links.
Pricing:
ProProfs Survey Maker offers 3 pricing options for ProProfs Survey Maker
Forever free plan

Essentials plan starting at $0.05/response/month

Premium plan starting at $0.10/response/month
2. Qualaroo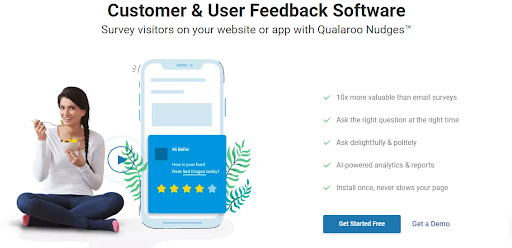 Qualaroo is another great typeform alternative and renowned customer feedback software that assists businesses to leverage real-time feedback surveys via 10+ question types and professionally built templates. Creating forms via Qualaroo lead gen form is simple yet effective that can be easily downloaded in CSV format and exported directly into the CRM.
The Qualaroo nudge is very intuitive and can be used anywhere from SaaS products and websites to mobile apps. And to mitigate the traditional reporting methods, this tool offers AI-powered analytics and advanced reporting that turns free-form text and open-ended questions into easy-to-analyze and organized data.
Exceptional Features Include:
Simple and easy to use (No coding required)

Professionally built readymade templates

Easy customization and personalization

Question branching

AI analytics and reports

Integration options with your favorite tools

Actionable dashboard
Pricing:
There are 3 pricing options for Qualaroo
Forever free plan

Essential plan starting at $0.0008/page view/month

Premium plan starting at $0.0016/page view/month
3. Google Forms
Source: Google Forms
Among Google's rich arsenal of tools, Google Forms is a free alternative to Typeform. It's best suited for the ones who just need an easy way to collect basic data without opting for fancy forms or surveys and quizzes.
Google Forms could be the right choice for you if you are looking to create responsive website forms with the necessary integration and minimal styling. This free form builder has a drag-and-drop editor and the Google tools' familiarity makes it easier for almost everyone to implement and create forms, surveys, and quizzes. Also, Google Forms provides reports in the form of charts that are easy to understand and could be easily exported to Google sheets for better analysis.
Exceptional Features Include:
Basic styling with an easy-to-use interface

Integrations with third-party applications

10+ fields to ask questions

Page branching and question skip logic

Pre-built themes

Easy customization

Response validation
Pricing:
Custom pricing is based on the number of questions and the type of questions. It is free for personal use.
Related Read: Best Google Forms Alternatives
4. Paperform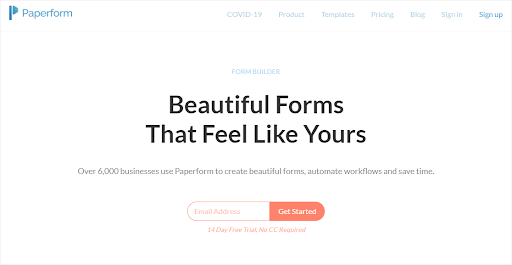 Source: Paperform
PaperForm is a unique alternative to Typeform, as it enables you to create intuitively and landing page-like forms known as Landing Forms. Besides customer feedback forms, this comprehensive tool is well built to create a range of other forms including payment,, assessments, bookings, and appointment forms.
Businesses can define their own logic rules to control the question and survey display for improved customer experience. Moreover, Paperform's direct integrations enable you to connect with 1000+ applications and offer analytic capabilities straight from the dashboard.
Exceptional Features Include:
15+ field types for detailed responses

Smart forms with conditional logic

Range of sharing and embedding options

Native integrations with over 1000 applications

Automatic response notifications
Pricing:
The pricing is divided into 4 tiers:
The single-user essential plan starts at $20/month

Pro Plan has a starting price of $36/month

Enterprise plan starts from $82.50/month with unlimited user access
5. JotForm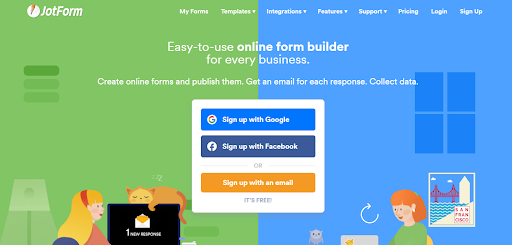 Source: Jotform
JotForm is a feature-rich form builder that incorporates a massive library of themes, form fields, and templates to help you get started with creating engaging forms. This Typeform alternative offers multiple survey types for asking questions either in the classic or card layout.
But, how to embed a survey on your website? JotForm has multiple form sharing options from website embedding to social sharing and offers various design options for buttons, colors, themes background, and more.
Moreover, JotForm's security features are quite promising. All standalone form links and embed codes are SSL secured and users are always equipped with the option to encrypt their data. Despite the fact that you downgrade your account, all your data will still be secured provided that it does not exceed the storage limit on free accounts.
Exceptional Features Include:
Easy form sharing options

Thousands of ready-made templates

100+ third-party integration

Easy customization

Conditional logic questions
Pricing:
JotForm pricing is spread out over 4 tiers:
Free plan with a limit of 25 forms

The bronze plan starts at $24/month

The silver plan starts from $29/month

The golden plan starts at $79/month
Related Read: 10 Best Jotform Alternatives
6. SurveyMonkey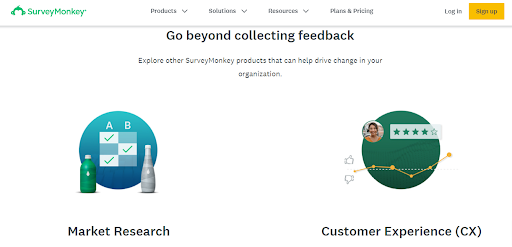 Source: SurveyMonkey
SurveyMonkey is another great Typeform alternative that perfectly suits everyone's needs be it a brand, student, or professional. The tool assists businesses in keeping a competitive edge by capturing precise customer insights in a matter of a few clicks.
The tool leverages sentiment analysis to automatically categorize text responses and determine the emotions behind customer responses. With SurveyMonkey, it's easier to summarize response data, create custom charts, and download results in multiple formats.
How to create a survey? Survey creation is significantly easier with a question bank library that consists of 100+ readymade questions and customizable survey templates.
Exceptional Features Include:
Intuitive interface

Skip Logic

Real-time responses

Enterprise-grade features

Third-party integrations

Custom reporting

Customizable survey templates and themes.

Custom branding

Multiple formats for survey results
Pricing:
SurveyMonkey pricing is categorized into 3 tiers:
Team plans
Team advantage starts at INR 1550/user/month

Team premier starts at INR 3800/user/month
Individual Plans
Premier annual starts at INR 4999/month

Advantage annual starts at INR 1999/month

Standard monthly starts at INR 899/month
Enterprise plan
Custom pricing with advanced features
Related Read: Top SurveyMonkey Alternatives
7. Zonka Feedback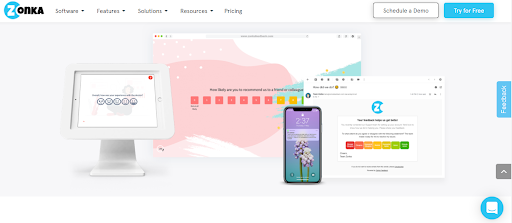 Source: Zonka Feedback
Zonka Feedback is a customer feedback software and survey app built to measure and improve customer satisfaction using logical surveys and CX metrics like NPS, CSAT, and CES. The tool is a powerful alternative to Typeform. It is not just a survey tool but an overall platform to manage customer feedback and increase satisfaction.
With its ready-to-use survey templates and 40+ question types, you can create comprehensive surveys, quizzes, and polls of various types for different industries. The tool gives you the ability to create customized surveys in multiple languages, and white label them to add your own branding and style. You can send them to your customers through multiple channels like email, SMS, website, tablets, and QR codes.
Exceptional Features Include:
Super-easy to set up and use

Ready-to-use survey templates and 40+ question types

Skip logic and question branching based on customer's responses

Real-time alerts for actionable feedback to close the feedback loop

Multilingual surveys for customers with different backgrounds

Multi-channel approach to reach your customers anywhere

Conduct surveys offline
Pricing:
Different plans are available:
Professional Plan – $79/month

Growth Plan – $169/ month

Enterprise Plan – $429/month

Custom Plan – Customized quote
8. Wufoo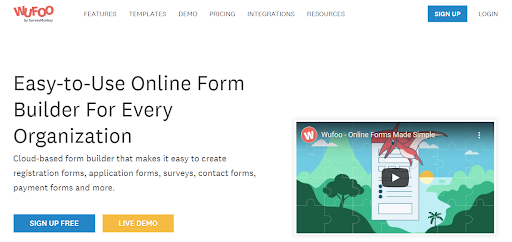 Source: Wufoo
Wufoo is a cloud-based form builder & another typerform alternative that assists organizations to create forms for almost every purpose including registration forms, application forms, surveys, contact forms, payment forms, and more. The drag and drop builder makes building forms a breeze. 100+ pre-built templates allow you to add your organization's logo and brand elements to your forms.
It allows users to easily embed forms on your website or share via the direct link for either collecting data or payments with state-of-the-art security. Once you collect all the data, you can analyze it by using out-of-the-box reports or creating your own custom report right in your account.
The major advantage of using Wufoo forms is the real-time notification that notifies you as soon as someone fills a form via text or email.
Exceptional Features Include:
Custom Branding

User-friendly theme designer

Dozens of native integrations

Automated workflows

Conditional branching and skip logic

Custom reports
Pricing:
Wufoo pricing comes in the form of 4 plans:
The starter plan starts at $14.08/month

The professional plan starts at $29.08/month

The advanced plan starts at $74.08/month

The ultimate plan starts at 183.25/month
Related Read: 10 Best Wufoo Alternatives and Competitors
9. FormStack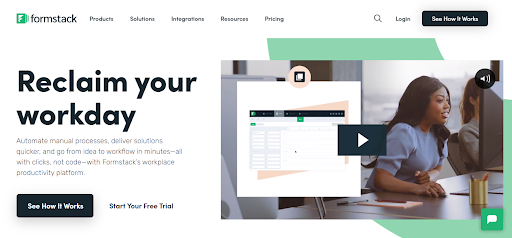 Source: Formstack
FormStack is an excellent choice among the alternatives to Typeform that simplifies the data collection, automates manual processes with its easy-to-use form builder and advanced features. Whether you're up for capturing customer data, administering surveys, collecting payments, or garnering business leads, FormStack's versatile online forms got your back.
'Smart Lists' enable you to manage long and complex list options in one location, and FormStack form themes let you style your forms according to your brand colors and themes. Be it setting up a form or designing it as per your needs, everything is handy without the need to code.
A full suite of FormStack enterprise-related features collectively contributes to automating the processes that are most crucial for your business, and the integration with 100+ applications helps achieve workplace productivity.
Exceptional Features Include:
Mobile-friendly forms

Drag and drop interface

Third-party integrations

Conditional logic

A/B testing

Real-time email notifications
Pricing:
Formstack pricing comes in the form of 4 plans:
Silver plan for individual users start from $50/month

Gold plan for small teams start from $83/month

Platinum plan for growing teams start from $208/month

Enterprise plan for high functioning teams comes with custom pricing
10. Qualtrics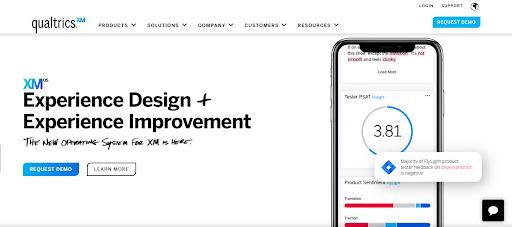 Source: Qualtrics
Qualtrics has gained strong footholds in the Typeform competitors list owing to a plethora of features. Powered by iQ and artificial intelligence, ExpertReview helps analyze questions in real-time and provides personalized survey design options to foster response rates and capture quality data. Once you have your results, iQ applies detailed statistical and text analysis for detailed insights.
The tool offers a quick start with 100+ question types, advanced logic, branching, and API integrations. Everything is precise and easily done via a drag and drop software interface to easily create, launch and analyze.
Exceptional Features Include:
AI-powered detailed insights

20+ target variables

Enterprise-level data security

Real-time response monitoring

Crosstab functionality
Pricing:
Qualtrics has 3 pricing options:
CoreXM Standard starts at $30/month (billed annually)
CoreXM Advanced available at custom pricing
CoreXM Professional available at custom pricing
Related Read: Top 10 Qualtrics Alternatives & Competitors
11. Zoho Forms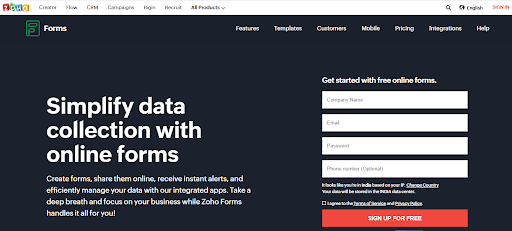 Source: Zoho
Zoho is a robust form builder tool & a great Typeform alternative that enables you to ask for the right information with 40+ field types and mobile-friendly beautiful forms. You can easily customize web forms as per your needs and share via direct link, embedding, or populating via Mailchimp or Zoho Campaigns.
Zoho forms even enable you to create forms and capture data when you are offline, which will get synchronized automatically when you connect with the internet. It offers results in tabular columns, which can be easily exported as CSV or ready-to-print PDFs.
Exceptional Features Include:
Drag and drop builder

Save and resume form option

Skip logic

Personalized forms

UTM tracking to track leads

Real-time response notifications

Offline support
Pricing:
The pricing is divided into 4 tiers:
The basic plan starts at INR 700/month

The standard plan starts at INR 1,750/month with advanced features

The professional plan has a starting price of INR 3,500/month

The premium plan starts from INR 7,000/month
Related Read: Best Zoho Survey Alternatives & Competitors
Feature Comparison Table For Typeform Alternatives
| Features | ProProfs Survey Maker | Qualaroo | Google Forms | Paperform | Jotform | SurveyMonkey | WuFoo | FormStack | Qualtrics | Zoho Forms |
| --- | --- | --- | --- | --- | --- | --- | --- | --- | --- | --- |
| Pricing | Essential Plan starts at $0.05/response/month | Essential Plan starts at $0.0008/page view/month | Completely free for individual Google users | Essential Plan starts at $16/month | Bronze plan starts at $29/month | Standard Plan starts at Rs. 899/month | Starter Plan available at $14.08/month | Starter Plan available at $50/month | Core XM Standard Plan starts at $30/month | Basic Plan starts at Rs. 580/month |
| Designed For | Personal use and Business use | Personal use and Business use | Personal use and Business use | Personal use and Business use | Personal use and Business use | Personal use and Business use | Personal use and Business use | Personal use and Business use | Personal use and Business use | Personal use and Business use |
| Installation and IT Support | ✅ | ✅ | ✅ | ✅ | ✅ | ✅ | ✅ | ✅ | ✅ | ✅ |
| Get responses via web, social, or email | ✅ | ✅ | ✅ | ✅ | ✅ | ✅ | ✅ | ✅ | ✅ | ✅ |
| Popup surveys | ✅ | ✅ | ✅ | ✅ | ✅ | ✅ | ✅ | ✅ | ✅ | ✅ |
| Track email responses | ✅ | ✅ | ✅ | ✅ | ✅ | ✅ | ✅ | ✅ | ✅ | ✅ |
| NPS surveys | ✅ | ✅ | | ✅ | ✅ | ✅ | ✅ | ✅ | ✅ | ✅ |
| Number of question types | 20 | 10 | Variable | 22 | Variable | 13 | 19 | 14 | 23 | 24 |
| Survey export options | ✅ | ✅ | ✅ | ✅ | ✅ | ✅ | ✅ | ✅ | ✅ | ✅ |
| Custom charts and reports | ✅ | ✅ | ✅ | ✅ | ✅ | ✅ | ✅ | ✅ | ✅ | ✅ |
| Survey security | ✅ | ✅ | ✅ | ✅ | ✅ | ✅ | ✅ | ✅ | ✅ | ✅ |
Which Is The Best Typeform Alternative?
Certainly, Typeform is a pretty decent survey-maker tool. Yet it isn't the best fit for every business out there. For beginners, its free plan lacks necessary features while the paid ones are way expensive. Moreover, it's reported by many users that the tool starts lagging while creating lengthy and complex questionnaires.
If you are looking for a Typeform alternatives, then you can give ProProfs Survey Maker a try. The tool has been a great choice for marketers, entrepreneurs, and small businesses to create beautiful and feature-rich surveys, polls, quizzes, and forms customized with their own branding. Qualaroo can be another effective tool to help you leverage real-time feedback with its intuitive Qualaroo Nudges, AI-powered analytics and advanced reporting.
However, make sure whether or not the tool perfectly fits your business needs before making a final choice. We hope our list of top Typeform Alternatives will help you find the best fit for your business.
Do you want a free Survey Software?
We have the #1 Online Survey Maker Software to get actionable user insights.