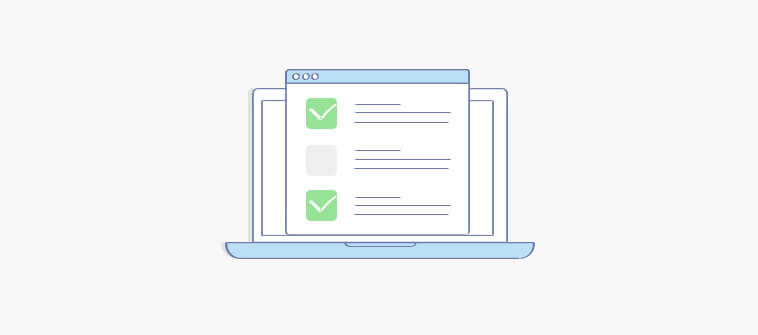 If the content is the king, it owes its realm to good customer feedback. With the in-depth knowledge of the user's perspective, the content marketing strategy gets closer to its goals, and online surveys are great to obtain this knowledge.
The more you know about the expectations and necessities of your customers, the more valuable content you can create for them.
SEMrush survey shows that only 9% of businesses are fully satisfied with their strategy, which reveals the necessity of improvement in this. So, companies can benefit from the surveys for content marketing to have more insight into their audience and build satisfactory strategies.
Reasons & Ways to Use Surveys for Content Marketing
It has been a long time since the marketing world became aware that people do research online before they make a purchase. That is why companies are supposed to be available on digital to introduce themselves to their target audience or to gain/maintain the trust them. Online surveys show you ways to achieve these goals.
Understanding how to use surveys may help you set a survey strategy for business.
1. Create Happy Customers
Engagement is one of the most desired results of all marketing efforts, while content marketing is all about engaging with customers (or target audience in general). When you communicate with them, they will open up more willingly, which means realistic and efficient feedback directly from your customers.
How to Use Surveys for Engagement
People like to be cared about. When a customer buys your product, you may send them a warm and polite survey and convey that you are ready to support them if they experience any problem. This is a proactive way to help your customers and offer amazing customer service. Congrats on your new happy and loyal customers!
2. Assess Your Conditions
Statistics wandering around the Internet are not specific to you, and so, they will fail to give you a customized insight. There is no doubt that they are helpful, but you need more: your own data. When you conduct your survey to learn more about your audience, you can compare and contrast your data with these general statistics.
When you are able to see the average level in the market, you will know how you rank among your rivals. Comparative analysis in terms of market statistics can help you assess your current strategies while you can use online surveys to set a more effective strategy.
How to Use Surveys for Insight
Such a comparative analysis of your data gives you a much more powerful insight to know how you are doing within the market. Do you need to change your marketing strategy, or is it providing a satisfactory result? If your customers rank you lower than your value, you may consider changing strategies.
3. Develop Valuable Content
If you are in content marketing, you need valuable content that will improve your audience's life. When you know more about the issues and challenges they face, you can directly address these subjects with your content.
If your audience is between the ages of 30 and 40, and you are creating content related to things to do while still a student, you are absolutely not adding any value to your audience. But everything is not crystal clear as in this example, and that is why you need online surveys for content marketing.
By using online surveys, you can get the insights you need to develop better content suited for your audience. In doing so, you ramp up not just your content marketing but your overall digital marketing strategy, helping you both educate your customers and boost sales in the long run.
How to Use Surveys for Better Content
When your content provides a solution or enhances their experience with your product or service, it helps in creating a long term and loyal customer base.
You can categorize the everyday problems of customers and solve them step by step. For example, you can help them in deciding on the next topic of your content. What do they want to hear from you? Ask them to find out instead of trying to guess.
How to Create Effective Surveys?
It is challenging to keep your customers on a content marketing survey. The Internet is full of hunters looking out to grab users to get information. Accordingly, people are not willing to volunteer to spend time on any surveys, especially if they have no idea about the benefits of the survey for them.
You need to set your goals before creating your surveys. Without deciding on what to expect from a survey, you can't evaluate its impact. What does your audience want to see? Can they find your content online easily? Does your brand represent itself in a way that you target?
It is not a good idea to ask random questions to random people. Set the goals and the target audience to act purposefully. Your questions also should have a direction. Think about the possible results of the survey and let this survey help you to find out which one is valid for your customers. You might get lost if you intend to play in a playground without any borders.
Your target audience is probably using many platforms, apps, and websites. So where will you meet with them? It is best if you choose your channels before preparing the questions, because the format of the items may vary as on the channel.
Let me explain this via an example. If you are active and popular on social media, you can create polls on Facebook, Twitter, and Instagram. If you need something more formal, you may need to use special tools and email your survey to your audience. You can also embed your survey on your website and make it available and accessible anytime.
The best tip to create effective surveys is to keep your survey short and precise. Such formats help people complete the survey without spending a long time and energy. Avoid including long and complicated questions in your survey, and ask only purposeful questions for drawing the most direct and shortest way to achieve your targets.
Up to 10 questions are good, but ideally, I recommend you to ask 6 or 7 questions in online surveys. After seven questions, people may get distracted and leave your survey. You can make use of an online survey maker to create your questions easily.
Also, you may consider awarding your customers for their participation in the survey to motivate them. Free e-books, additional days of the free trial, gift cards… find something that your audience will be interested in.
Types of Survey Questions: Which to Use or Avoid
There are various types of survey questions; however, all of them are not great to use in every case. So pick purposefully and wisely for creating the most effective online surveys. Let me mention three types of them.
1. Open-Ended Questions
Why use: If you are planning to give your customers the freedom to express themselves in their words, open-ended questions are ideal. You can use them also to obtain from your customers more than you could guess or think. It is excellent for a deep understanding of your customers.
Why avoid: On the other hand, you need to be aware that it takes time to write answers down, and people may leave without filling the survey. So, you will probably need to reach more people to have enough answers if you choose to proceed in this format.
PS: If you have decided to ask open-ended questions, make sure that they are not yes-no questions. For example, do not ask the question of "Are you planning to repurchase this product?" in an open-ended format. Instead, you can ask which features are motivating them to buy this product again.
2. Multiple-Choice or Multiple-Selection Questions
Why use: Multiple-choice and multiple-selection questions have a bigger chance to get answers. The customers only need to click to share their feedback, which is very easy, especially when compared to the open-ended questions.
Why avoid: These questions may limit people to your insight. So, you miss the chance to learn the detailed thoughts of your customers. You can add another option below the choices to allow them to write their answers. Problem solved!
How to Find Digital Agencies for Online Surveys
It takes time to create survey questions, delivers them to the target audience, and collect and report the data obtained. It is not only an enemy of your time but also it requires experience and know-how. That is why it is best if you consult digital marketing agencies for the most efficient online surveys.
While choosing your agency, I recommend you to choose one that knows about your market. A digital marketing agency can be popular and have a portfolio full of success stories; however, if they are new to what your business does, they may fail you. Do your research thoroughly.
Before ending up with an agency, think about your goals with this project. When you have no idea about it, you cannot give them a sufficient brief, which may lead to misunderstandings and disappointments. Be precise, be open, and ask them to inform you in detail while explaining what exactly they will do for you.
Do you want a free Survey Software?
We have the #1 Online Survey Maker Software to get actionable user insights.