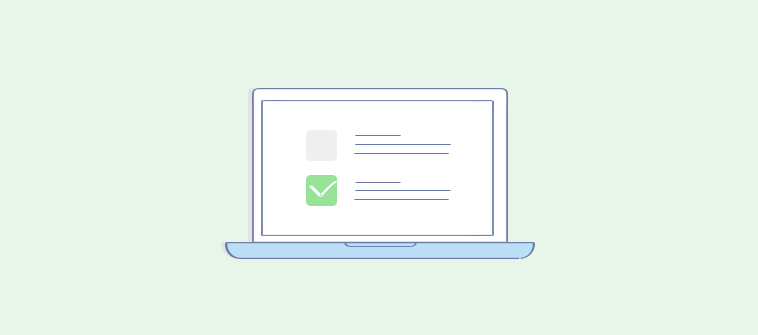 Never-before-seen products, best-in-class services, and commitment towards customers – if you have these three, success is guaranteed.
But, simply achieving success is not enough!
With the market dynamics and customer needs constantly changing, only a few businesses thrive – those that can retain the success they receive by continuously working towards betterment.
And how do you do that? By aligning your strategies and decisions with customers' needs, expectations, likes, and dislikes.
That's where customer satisfaction surveys come to light. They offer a sure-shot way to keep customers delighted and turn them into your biggest brand advocates. While such surveys give customers a platform to voice their concerns, brands get a window to peek into a customer's mind and heart.
While anyone can create customer satisfaction surveys, asking the right questions is what requires effort and expertise. This blog presents a carefully curated list of the 100+ customer satisfaction survey questions across diverse categories that you can ask your customers.
Types of Customer Satisfaction Survey Questions
Before we dive into the customer satisfaction survey questions, let's learn about the types of questions that exist. Each type of customer satisfaction survey question has its pros and cons, so depending on the kind of answers you need, you can pick a suitable type.
Multiple Choice Questions
This is a popular survey type that requires little to no effort on the part of respondents. Such questions offer limited answer options, so participants can make a choice quickly. While multiple-choice questions are easy to fill for the participants, they limit the number of answers a participant can give. This question type includes a range of questions such as nominal, Likert scale, and rating scale questions.
If you can do the hard work of extracting meaningful information out of a detailed answer a customer provides, then these types of questions are for you. Such survey questions let customers write their hearts out and pour their feelings into a few sentences.
While open-ended questions expose you to a lot of insider information, they are not that easy to fill. However, if you are looking to gather customers' insight for impactful market research, then open-ended questions can help you capture qualitative data.
Dichotomous (Yes/No) Questions
Don't get baffled by the complex name. These are simple Yes/No surveys that are easy to fill and even easier to analyze. Such questions are best used when you have to segment your respondents into two categories – those who have used your product or are satisfied with your product and those who are not. If you like straightforward responses with no ambiguity, Dichotomous questions are perfect.
100+ Customer Satisfaction Survey Questions
Today, at every click and swipe, customers get multiple brands to choose from. For them, your competitor is just a click away. One poor experience, and the tables can turn against you.
Keeping your finger on the pulse of how happy or unhappy customers are with the experiences you provide them is important. If you are wondering where to begin and which questions to ask, don't fret. We've done the heavy lifting for you.
This list of 100+ customer satisfaction survey questions across multiple categories will help you nudge customers the right way and glean constructive feedback from them.
1. Product Satisfaction
Product satisfaction survey questions can be related to all aspects of a product, such as its usage, warranty, shipping, and the overall problem-solving experience. These questions are important as they will give a different perspective of how your product really is and whether it is meeting all goals you initially developed it for.
With access to valuable feedback, your product team would be better positioned to bring meaningful changes to the product.
Let's look at the questions you can ask to get feedback on multiple aspects of your product like usage, shipping, etc.
Which product features do you find the most useful?

Does our product meet your expectations?

If there's anything we can do to make our product better, what would that be?

What problem did our product help you solve?

How satisfied are you with the product quality on a scale of 1 to 10?

What would you like to change about our product?

Which product features would you like to see in the future?

What do you think can be improved in the product?

How often do you use our product?

How likely are you to recommend our product to your friends or colleagues?

Do you feel the product price is reasonable?

Which is the most valuable feature of the product?

Product Shipping
Did you receive the product on time?

Are you satisfied with our product shipping options?

Did you receive the right product as shown on our website?

Are you happy with the product packaging?

Product Warranty
How happy are you with the warranty period on a scale of 1 to 10?

How satisfied are you with the product repair services on a scale of 1 to 10?

Do you think the warranty terms and conditions are reasonable?
Read More: Product Feedback Surveys: Questions, Examples & Types
2. Website Navigation
How visually appealing your website is, is as important as what content it displays. Customers gravitate towards websites that are easier to navigate.
In fact, bumpy navigation, slow loading, and poor usability are some of the key reasons that compel customers to abandon a website.
Take this, for instance. Research reveals that slow-loading websites cost businesses an exorbitant amount of $2 Billion in lost sales. By taking feedback from customers about website navigation, you can identify problematic areas and fix them.
Here are some customer satisfaction survey questions related to website navigation that you can add to your next survey.
Did you find what you were looking for on our website?

Is our website easy to use?

Are you satisfied with the website's loading time?

Were you able to smoothly navigate through the web pages?

What was your first impression when you visited our website?

Which website design elements need improvement?

What would you change about our website's design?

Is the product information easy to locate?

How much time did it take you to find what you were looking for?
Read More: Website Survey Questions to Ask Your Customers
3. Demographics
Obtaining information about customer demographics is the first step towards knowing them. It's a large market out there. So how do you know which segment to target and which to leave? That's where demographic surveys come in handy. Such survey questions help you gather critical information about your customers' key characteristics, such as their ethnicity, age, profession, place of residence, income, marital status, etc.
Your marketing and sales team can leverage this data to segment customers into groups, visualize their target audience and take up leads that show a high conversion potential.
Here are some of the demographics survey questions that you can consider adding to your next survey:
How old are you?

Where do you reside?

Which ethnic group do you belong to?

What is your marital status?

Do you have children? If yes, how many?

What is your annual household income?

What is your employment status?

Which languages can you speak fluently?

Which religion do you follow?

What is your gender?

What is your highest level of education?
4. Psychographics
Psychographic questions target customers at a deeper level by asking them about their preferences, behaviors, and habits. They go beyond the basics to uncover insights around why they do what they do. They tell you the reasons behind customers' actions, which further helps you serve them better.
Below is the bunch of psychographic questions you add to your next survey:
Which device do you use for online shopping?
What is your biggest challenge when using our product?

How much time do you spend on social media?

How regularly do you shop online?

What is more important for you – price or quality – when buying a product?

Which information sources do you refer to before buying a product?

What do you expect from brands you engage with?

Which social media platforms do you frequently use?
5. Open-Text Survey Questions
Open-text or open-ended survey questions give customers the space to write what they feel in their own words. Such questions help customers be more expressive about what they like and dislike about the product or the experiences they receive from your brand.
Open-ended surveys can be a pain to analyze, but if you look at them positively, you will realize that they help you probe deeper into customer sentiments. You can use such survey questions to uncover detailed information on a particular topic.
Here are some open-text customer satisfaction survey questions you can ask customers:
How can we make your product experience better?

What problems are you facing with our product?

What made you choose our product over our competitor's?

Do you have any suggestions to improve our products and services?

How helpful was the assistance our support team provided?

How can we improve your experience with our organization?
Read More: How to Analyze Open-Ended Survey Questions
6. End of the Survey
As the survey comes to an end, you can ask questions about the next steps, including future follow-ups about feature updates, changes in subscription plans, and other such things. Asking such questions is crucial as they will give you an idea of which customers you can reach out to again in the future for similar surveys.
Here are some customer survey questions that you can place at the end of a survey:
Would you like to participate in similar surveys in the future?

How can we update you about feature changes in the future?

Would you like to talk to our customer support team over chat or call?

Do you need a product manual to learn the ins and outs of our product?

Would you like to experience the premium version of our product?
7. Questions About Your Customer Support Staff
The support team is always at the forefront of customer interactions, so they directly impact the experiences customers receive. Therefore, it is critical to ask customers how well they are being served and whether the support provided is up to their expectations. Once you discover the areas agents need to improve on, you can conduct training programs to develop their skills and make them better at customer support.
Here are the common client satisfaction survey questions about your support team that you can ask customers.
Was our agent able to solve your problem?

Are you satisfied with the help our support team provided?

How was your experience talking to our customer support agent?

How well-spoken our customer support agent was while addressing your issues?

In how many rounds of interaction and follow-ups was your issue resolved?

How would you rate the agent you just assisted you?
8. Questions About Customers' Preferred Channels
Channel-specific questions give a pool of information about the most effective and the least effective channels for customer interactions. Once you uncover the channels that get the maximum traction, you can optimize them to serve your customers more effectively.
Here are some of the channel-related questions you can add to your next customer satisfaction survey.
Which support channel is your first choice to receive help?

According to you, which is the most effective channel for support?

Which support channel is quick to offer help?

Which channel do you prefer for common issues?

Which channel do you prefer for complicated problems?
9. Customer Loyalty
Customer loyalty survey questions are asked to identify your biggest fans and customers that might be on the verge of leaving your business. Understanding how loyal customers are towards your brand gets easier when you ask them the right questions related to their satisfaction level with your services and their willingness to recommend your brand to others.
Some of the customer loyalty questions you can add to your next survey are:
How likely are you to recommend our brand to your friends and colleagues?

Based on your experience so far, would you purchase our product again?

How would you rate our product as compared to our competitors?

How likely are you to switch our brand if a competitor reduced the prices of products?
To gauge customer loyalty, NPS surveys are perfect. This video shows how you can create an NPS survey using ProProfs Survey Maker.
10. Marketing Survey Questions
The marketing team needs the latest information around the platforms customers use to interact with your brand, their perceptions about your products, and what drives them to prefer you over your competitors. Such insights help them understand customers to the core and launch campaigns targeted towards customer retention.
Here are a bunch of marketing survey questions you can ask your customers:
How did you come to know about our company?

Which products or services do you currently use or are interested in?

Are you following our brand on social media? If yes, which platforms?

Would you like to subscribe to our monthly newsletter?

How informative do you feel our website blogs are?
11. Competition Survey Questions
In this intensely competitive, ever-changing market, it's important to keep an eye on what your competitors are up to. If you want to stay upbeat with how competitors are influencing your customers, the new pricing plans they have launched, and other such information, then it is about time you must include questions related to competitors in your survey.
Here are some of the key competition questions you can ask your customers:
Which other competitor products did you consider before choosing our brand?

What made you pick our brand over the competition?

How would you rate our product quality as compared to our competitors?

Which competitor would you prefer if our product were not available?

According to you, what should we do or continue doing to gain a distinct advantage over our competitors?

Which are the top three brands in this industry, according to you?
12. Customer Service Satisfaction
Customer experience is a powerful brand differentiator that has surpassed both price and product. It's no surprise that for 90% of businesses, improving customer experience is the top priority today.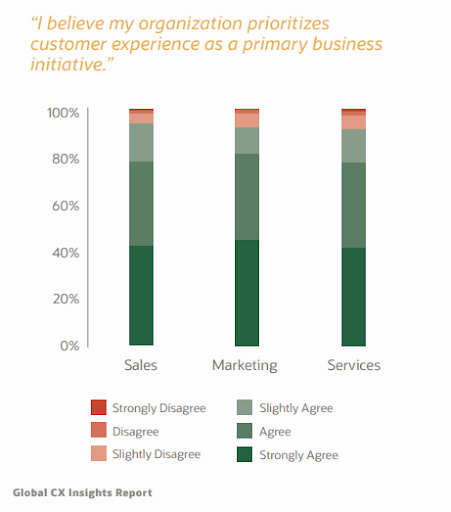 Besides other things, what forms the core of this experience is the quality of service customers receive from your end. Sometimes even with an average product, you can win a customer's heart with your impeccable service that they remember for a lifetime.
Feedback on how happy or disgruntled customers are with your services can help your customer support department take smart steps and win customers back.
Here are a few customer service survey questions to ask your customers:
How much time did our support team take to resolve your issue?

How were you greeted by our service agent?

How much time did you have to wait to get your issues addressed?

What can we do to make your customer service experience better?

Did our customer service staff meet your expectations?

Was your issue resolved in a single interaction?
13. Brand Satisfaction
Every positive experience right from the time visitors land on your website to when they turn into paying customers and beyond speaks volumes about your brand. All such experiences together shape customers' perceptions about your brand.
At a time when customers have plenty of brand options at their fingertips, you've no choice but to stay one step ahead by doing everything possible to make them stick to your brand.
Brand satisfaction survey questions help you discover what customers love about your brand, what expectations they have from you, and the areas where you can improve. You can use this valuable information to take customers' brand experience to a whole new level.
Here are some of the brand satisfaction questions you can add to your next survey:
How long have you been associated with our brand?

How likely are you to choose us for your next purchase?

Would you like us to notify you about our new product launches?

How impressed are you with our brand on a scale of 1 to 10?

Overall, how satisfied or dissatisfied are you with our brand?

What problem does our brand help you solve?

Do you have any suggestions to improve our brand? If yes, please mention.

How likely are you to recommend our company to your friends and colleagues?

How much would you rate our technical competence?

What makes our brand stand out from competitors?

What is the one thing you would change about our brand?

What is the one thing you love about our brand?

Which of the following terms best describes our brand?
Asking the right questions to get the right responses can be tough. But when you do that, you get access to highly useful insights that can not only improve your products and services but also your brand as a whole.
Let's now look at some tips and tricks to create impactful customer satisfaction surveys.
Top Tips to Build Stunning Customer Satisfaction Surveys
The below-given tips will help you build stunning surveys for your customers and maximize your chances of receiving honest feedback.
Get the Best Survey Software
With countless survey tools available in the market, getting the right one can feel challenging. Opt for a survey maker tool that helps you create, customize, and launch different types of surveys such as pop-up, scored, NPS, sidebar, and more across email, social media, websites, etc. It should offer the option to add multiple question types to surveys, measure survey performance and evaluate feedback with built-in analytics.
Choose the Right Types of Survey Questions
Before creating a survey, have some clarity regarding your end goal. What kind of data do you want to collect? Are you looking for detailed answers, simple Yes/No answers, or straightforward answers?
If you are looking for comprehensive answers, then you may want to consider open-ended questions. If you are looking for feedback that is quick to sort and analyze and helps you identify trends easily, then multiple-choice, Yes/No, and Likert scale questions work well.
Read More: Survey Question: 250+Examples, Types & Best Practices
Ask Relevant Questions That Match Your Survey Goals
Before you kick-start the survey process, think of what information you need from customers. The data you need directly relates to the problem your business is facing. For instance, customer churn might be bothering you, so you may want to check customers' loyalty towards your brand. In that case, questions related to customer loyalty should be asked.
Demographic questions are best if you want to launch a new product and do a surface-level survey about who your potential customers are. They help you gain basic information about your customers, such as their age, place of residence, occupation, income level, etc.
Share Surveys at a Suitable Time
Timing is critical when it comes to surveys. Wrong timing can wane the chances of receiving honest feedback from your target audience. On the contrary, when the timing is right and in sync with the customers' journey, they are able to provide thoughtful feedback about their experiences.
The ideal time to send the survey is just after customers have interacted with your agents. Since the interaction is fresh in their mind, they can give the most genuine feedback. You can also send the survey a few days after the purchase. Give customers some time to use your product and then ask them how happy or unhappy they are, what's bothering them, and what you can do to improve.
Test Your Surveys Before Sharing Them
A/B testing helps you test the effectiveness of your surveys before sharing them with customers. The process involves building two versions of a survey. Each version should have a different question order, colors, fonts, types, and the number of questions. Send both versions of the survey to a small segment of your target audience. Track which one is more effective and generates the maximum responses. This will help you identify which survey will produce better results when shared with all your customers.
Regularly ask for Customer Feedback
Understand that customers today are extremely smart. They can analyze your every move and action and decide to continue or end the association with your brand in seconds. Customers may not care to respond when you ask for feedback after a poor experience or a poor interaction with your team. They might simply leave as they know that you are taking their feedback out of purpose and not because you genuinely care.
But if you take their feedback regularly, it shows your commitment to serve customers better and build stronger relationships. When they constantly witness you taking feedback and acting on it, they will be more than willing to share their concerns if something goes wrong and give you time to mend the mistakes.
Read More: Importance of Customer Feedback
Strive to Achieve Customer Delight – One Question at a Time
As a business that's constantly evolving, your ultimate goal should be to achieve customer delight.
With customers becoming smart, you've to be smarter and stay one step ahead. That's how you will gain the competence to build the experiences your customers seek.
Asking the right customer satisfaction survey questions can put you on the right track. They help you glean useful insights into your customers' likes, dislikes, pain points, and even the things that make them happy.
Before you share surveys, be clear about your objective and base your survey on that goal. Ask the right questions, choose the right timing, and ensure that your survey is aligned with the customers' journey.
Doing these simple things right will significantly up your survey response rate and introduce you to insights that can bring positive changes in the way you serve your customers.
Do you want a free Survey Software?
We have the #1 Online Survey Maker Software to get actionable user insights.