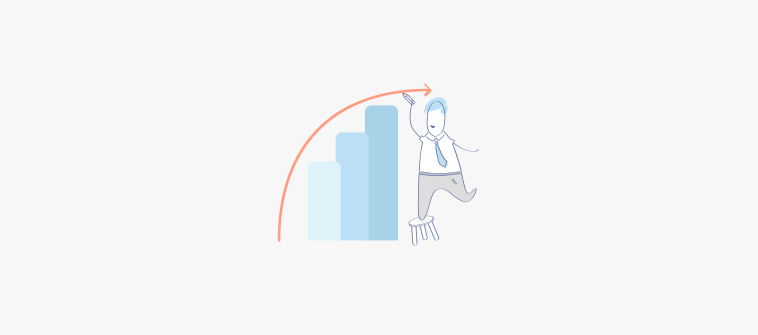 Wouldn't it be great if all your favorite brands could be at your beck and call?
Wouldn't you love to get your woes sorted and queries answered in real-time?
Thanks to the wonder that Digital Marketing is, all of this is now possible. Brands are taking an increasing interest and making efforts to enhance the customer experience. They are trying to "be there" for their customers, help them throughout their shopping experience, and even respond to their queries, requests, and grievances. Most importantly, companies are now actively "listening" to their customers' needs and going the extra mile to keep them satisfied.
Look at this tweet, for instance: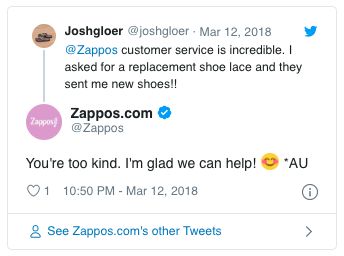 Zappos is an online clothing and shoe store, and it is famous for prioritizing the needs of its customers. Even when customers put forth unrelated queries/requests to Zappos, it is happy to fulfill their wishes: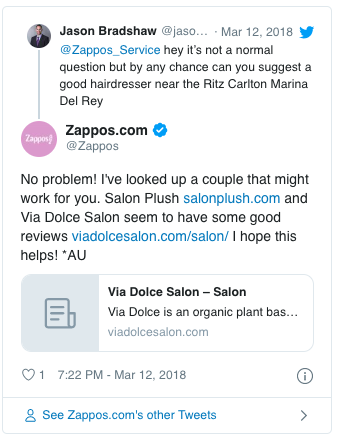 These are classic examples of how brands are enhancing their interaction with customers and encouraging "conversation." And, when talking about conversations, we must also talk about the trending Digital Marketing tool – Conversational Marketing.
What Is Conversational Marketing?
According to HubSpot, "Conversational Marketing is the ability to have one-on-one, personal conversations across multiple channels. It allows you to communicate with customers how, when, and where they want."
Conversational Marketing is one of the fastest means to attract more potential leads through your marketing techniques – all you need to do is engage in real-time conversations with your customers. There are many different tools for Conversational Marketing, including live chat, phone calls, messenger, text messaging, e-mail, and basically any platform that helps you communicate with your customers.
What is unique about Conversational Marketing is that instead of making potential customers go through the tedious process of filling lead capture forms, it leverages targeted messaging and AI-powered chatbots to engage with people when they visit your website. It aims to attract leads and convert them into buyers through the power of effortless, authentic conversation and communication.
How Can Conversational Marketing Improve Customer Experience?
The concept of conversation isn't anything new (obviously!). However, the approach to using it as a tool to complement marketing efforts gained ground in the past decade. Essentially, Conversational Advertising encompasses three core aspects:
Engage

Understand

Recommend
The first step is to reach out to customers, engage with them, and address their queries/requests. Then, through the course of a conversation, you must understand what exactly your customers are looking for – what are their pain points? Once you understand their pain points, you can recommend the products/services that will be best suited for fulfilling their demands and requirements. As you continue to cater to your customers' needs in this way, it will inevitably enhance their customer experience (CX).
Here's How Conversational Marketing Helps Boost the Customer Experience:
1. Crank up the Personalized Experience
As we mentioned earlier, Conversational Marketing helps you gain deeper insights into your customers' minds. It enables you to uncover their thought process, their buying patterns, thereby making you more responsive to their specific needs. Connor Cirillo, HubSpot's Conversational Marketing Manager, opines: "Your conversational marketing audience is much more insightful than your other channels. They'll tell you in their own words how they want to interact with your business. There's no inferring or guessing, like with web traffic."
As you start conversing with your customers, you get to know them better. Also, Conversational Marketing channels (particularly messaging) allows you to gather customer data at scale. When you have a comprehensive idea about what your customer segments want and expect from you, you can offer them highly personalized product recommendations.
2. Respond to Customers Faster
It is no new fact that the modern-day customer is impatient. If you fail to cater to their needs, they will move on to the next best thing available out there.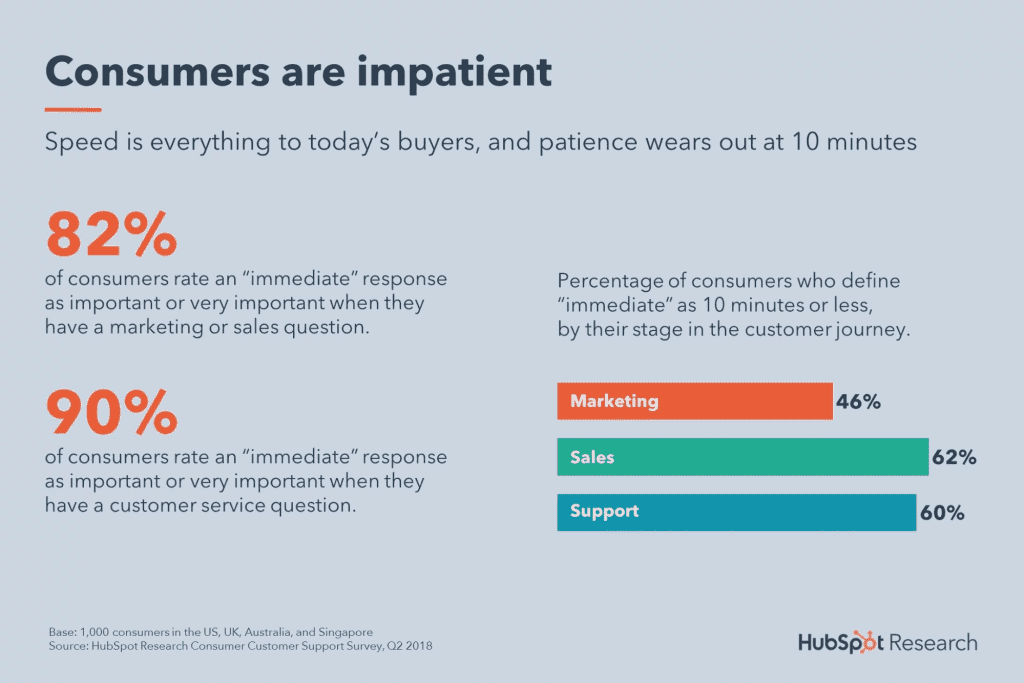 Source: Hubspot
Since there are so many brands and alternatives offering the same or similar products/services as you, customers have a lot of options up their sleeve. This is why you need to be quick and prompt in addressing the problems of your customers.
While you may not be able to solve a customer's issue right away, a reply from your side is enough to comfort them – they are assured that your team is on it. This is one of the biggest advantages of Conversational Marketing.
3. Showcase the "Authenticity" of Your Brand
Today, consumers demand authentic and genuine interactions and brand experiences. They want transparency. So, as a brand, if you can offer honest and trustworthy customer experiences to your customers, they are more likely to be loyal to your brand. They will keep coming back to you for more such experiences.
Since the whole idea behind Conversational Marketing is to encourage real-time and authentic customer-brand engagement, it allows you to showcase and promote your brand "authenticity" to both your existing and potential customers.
What Aspects Should You Consider for Creating the Perfect Conversational Marketing Strategy?
There are three fundamental aspects of Conversational Marketing that you must consider while designing your Conversational Marketing strategy:
1. Conversations Must Occur in Customer-Time
Your customers dictate when, where, and how you must converse and communicate with them. Conversations must happen when your customers demand it, at any time of the day. Your part is to be there for them 24×7. If you start a conversation with a customer, you must be able to finish it as well, no matter when they connect with you and ask for closure – early in the morning or late at night. This is where live chats and chatbots can be convenient tools.
2. Conversations Must Be Scalable
As we said, conversations must happen according to the customer's time preference and demand. And, this is precisely why customer-brand conversations need to be scalable. A customer only cares about his/her query/request being solved and addressed; they are not concerned with any other customers you may have to deal with simultaneously, no matter how high that number is. So, it shouldn't be that you cannot respond to and interact with a customer because you lack human resources – you have chatbots for that. However, chatbots should be such that they can scale to a human agent as and when necessary.
3. Conversations Must Occur Where the Customers Are
One of the primary targets of Inbound Marketing is to meet your customers where they are. In other words, you must be able to converse and communicate with your customers on any digital channel or platform they are currently on. Whether it be on Facebook Messenger, your website (engaging in conversation through your bot) or via a phone call – you must always be ready to meet your customers where they are.
Stressing this point, Brian Bagdasarian, HubSpot's bot expert states: "Businesses should strive to deliver the right message, at the right time, to the right person, with the right information, on the right channel, every single time."
How Does Conversational Advertising Help a Business Flourish?
Apart from the three core benefits we've discussed above, Conversational Marketing has the following benefits for your business:
You Can Create a More "Human" Experience
Thanks to Conversational Marketing, now your customers are greeted with "Hello! How can I help you today?" and so on. Your website no longer remains a mere catalog of products/services, but it becomes a live entity that can interact with people in a human-like manner.
You Get More and Better Leads
Since Conversational Marketing makes for a hassle-free experience for your customers to interact with you and know about your brand, you get better leads (that are more likely to turn into customers) much faster.
You Can Shorten Your Sales Cycle While Expanding Your Sales Pipeline
Contrary to the traditional methods of obtaining leads, conversation qualified leads (CQL) tend to close much faster. This helps to shorten your sales cycle significantly, while simultaneously expanding your sales pipeline, thereby bringing tangible profits for your business.
Conversational Marketing has revolutionized the way brands are interacting with their customers. Today, customers can enjoy the perks of engaging in meaningful conversations with companies, thanks to intelligent bots, live chats, and messenger platforms. They can expect real-time responses from brands and get their queries sorted faster than ever. While it is excellent to become a part of your customers' conversations, you must ensure that your Conversational Marketing strategy fits snugly in the bigger picture – your overall inbound marketing strategy.
Do you want a free Survey Software?
We have the #1 Online Survey Maker Software to get actionable user insights.