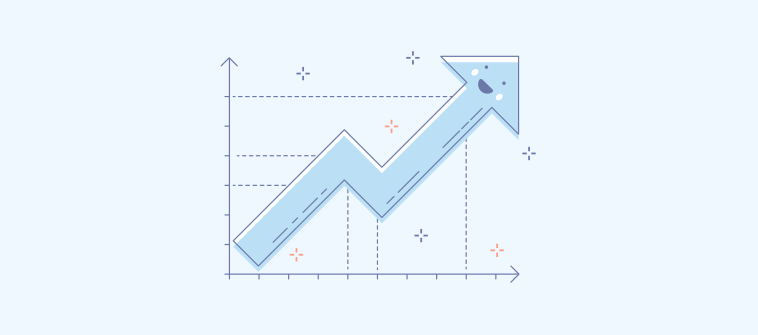 Bill Gates, the wealthiest business tycoon, said, "Your most unhappy customers are your biggest source of learning". Bill might be running one of the biggest companies that the world has ever seen; however, he too has to deal with unsatisfied and complaining customers.
According to a study conducted by Walker, customer experience will become the key brand differentiator in the coming years. Now, as the competition to gain and retain customers gets fierce, businesses are struggling to focus on the right things. They really want to know how content the users are with their products/services.
Most business leaders realize the value of measuring customer satisfaction, however, they are faced with several challenges. Which survey to use? When to use it? And how to measure customer satisfaction score? – Are just a few of the many concerns.
So it's time we help your business shift the focus back to customer satisfaction and unravel all the answers, one step at a time.
An Insight Into the 'Customer Satisfaction Score'
The words 'customer satisfaction' and 'customer experience' have become the new mantra of management gurus. Still, it can be challenging for everyone to agree on its meaning.
Before we start discussing customer satisfaction scores, let us first understand the exact essence of customer satisfaction. Customer Satisfaction (CSAT) is a measure of how well a business is able to meet customer expectations with their service. This is often measured using CSAT surveys that are sent shortly after an interaction with the customer.
Customers have always been given unfathomable value, however, capturing customer opinion is comparatively a recent phenomenon. Most companies attempt to give a quantitative aspect to sentiments like happiness and satisfaction using a customer satisfaction score survey.
Over the years, the customer satisfaction score has emerged as a promising metric. In the initial stage, the customers are presented with a close-ended question- "How was your experience of interacting with our sales/customer support department?"
This is followed by the option to rate their experience on a scale of 1 to 5– where 1 depicts a very unsatisfactory experience and 5 translates to highly satisfactory. Of course, there are other alternative CSAT rating scales to engage your users better.
Now that we have answered your question of what is a good customer satisfaction score, this is only half the job done, lets us further understand how CSAT is calculated.
How to Measure Customer Satisfaction Score
Once you have successfully recorded customer feedback, there are two popular ways to calculate the CSAT score.


Option 1: Some organizations simply take the easy route and calculate the average of all collected CSAT (1-5) scores. They add up all the responses and divide it by the total number of responses.
Option 2: Another way is to calculate the percentage of those customers who feel satisfied (the 4-5 scores). Here, the total number of satisfied (4) and highly satisfied (5) customers are divided by the total number of responses and finally multiplied by 100. You can see the formula below:
Calculating CSAT scores to gain crucial insights should not distract you from the core business. We have the right solution for you. Stay tuned!
A Robust CSAT Survey Tool to Your Rescue
You don't necessarily have to be a data scientist to understand your customers better. All you need is a CSAT survey tool that can help you put forward the right question at the right time.
Proprofs's Survey Maker Tool gets your desired results and measures customer satisfaction in real-time. Here are certain key features of the tool to help you understand it better:
You can easily create attractive and meaningful surveys, and once the survey is ready and good to go, you can share on social media using a link, or embed them right on your website.
Customizations That Fit Your Needs
Choose from over 100+ templates and ready to use questions to engage your target audience and customization options.
Meaningful Reports & Analytics
Useful insights with advanced reports and intelligent analytics help you understand easily the number of people who took your survey, when and how they answered, and a lot more.
By making our tool efficient, we are redefining the purpose of customer satisfaction surveys.
Our Numbers Speak Volumes
Over 50,000 + surveys created

Over 4 Million respondents

Over 100+ Attractive templates

1,000,000 + Ready to use questions
Now that you know how our survey maker tool can aid your customer retention strategy, let us see why focusing on customer satisfaction is worth your time.
---
Read More: Top SaaS-Based Survey Software
---
4 Obvious Reasons Why Customer Satisfaction Is Important
#1. Retain Customers Like Never Before
According to the Harvard Business Review, acquiring a new customer can turn out to be anywhere from 5 to 25 times more expensive than retaining an existing one. A positive customer satisfaction rate would ensure that your current customers are happy- so you don't have to spend those extra bucks searching for new customers.
#2. Make Your Business Stand out of the Competition
Kate Zabriskie once said that "The customer's perception is your reality" and we couldn't agree more. When you strive to provide your customers with astounding customer service, you will gain arguments to convince those who have tried your product/service yet.
#3. Satisfied Customers Bring More Customers
You must have recommended a product that you liked to a friend. This is the most magical thing about customer satisfaction- one satisfied and happy customer can bring 10 others. This means that if you focus on the quality of service, customers would automatically roll in, and you no longer need to worry about sales targets.
#4. Become a Customer-Centric Brand
Most organizations are business-centric instead of being customer-centric. When you show your customers that you value their overall satisfaction and experience, you come across as a highly customer-centric brand. A brand that puts customers first above anything else.
Final Thought
"There is More to Customer Satisfaction than what meets the eye."
Offering unmatchable customer service will satisfy both you and your customers. They get the desired services, you get to retain them, and everyone is happy. However, a positive customer satisfaction score does not guarantee sales. As a brand that values its customers, you need to dig deeper into the minds of your customers and resolve their pain points.
Let us accept the truth – no matter how great you are doing, there's always scope for improvement!
Create Your CSAT Survey today to gain relevant Customer Insights.
Do you want a free Survey Software?
We have the #1 Online Survey Maker Software to get actionable user insights.