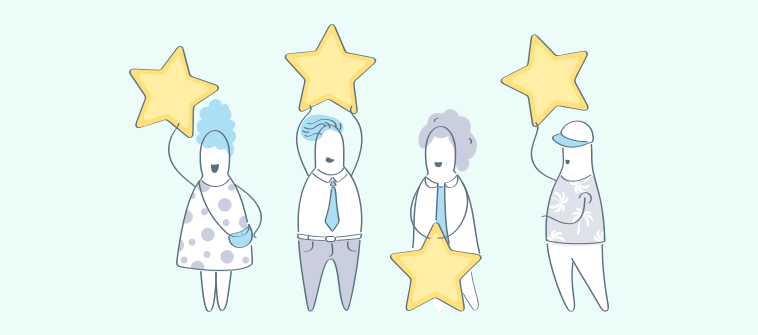 The possibility of achieving sustainable business growth will get decimated if you cannot get on your customer's pulse.
When you don't know what's best about your services, you won't be able to do more of it. Similarly, without knowing what's the worst about them, you can't stop doing it.
This is where the importance of customer feedback plays its part.
Collecting customer feedback guarantees you never stray too far from the customer's needs. Even though it has both negative and positive sides, you'll need both for consumer feedback to work for you.
In case words aren't enough, let the data paint the picture.
84% of people trust online feedback the same way they trust personal recommendations

68% of customers trust feedback more when they see both positive and negative scores
Customers are likely to spend 31% more on a brand having excellent reviews.
Source: Broadly
Hence, customer feedback is a crucial aspect of nurturing a customer-centric culture. And in this post, we'll discuss why you should value it, how to gather it and what to do with it once you have it.
What is Customer Feedback?
Customer feedback is a measurable parameter for businesses to determine the levels of customer satisfaction.
Putting simply, it is the genuine opinion of the customers for the product or services offered to them. It equips the team with the data on whether the customers have liked or disliked the products and services – making room for further improvements.
Generally, consumer feedback is collected either via polls, surveys, or interviews.
Let's illustrate with an example of a SaaS organization.
Imagine a software development company in its initial years of corporate sphere.
The company has been fortunate enough to build potential clientele and has served about 50 in one year of business.
But, to grow the numbers from 50 to 500, they should know whether those 50 clients are satisfied with their products or do their products need more improvements.
To serve the purpose, they fired an email to their clients with the customer feedback questions:
"How satisfied are you with our product?"

"Is there anything we should change or improve?"

"What is the best part of the product?"

"What benefit have you reaped so far?"
These are the perfect questions for digging down to the roots to motivate responses and discovering ways to increase customer satisfaction scores.
Now you may agree that customer feedback matters, and it's always crucial to know what customers think. But, before diving into HOW to make perfect use of Customer Feedback, you should first seek to understand WHY collecting feedback is important.
Why Customer Feedback is Important?
Although it may be true that most people move "Customer Feedback" related things to their spam box, yet researchers suggest you should still continue doing it.
A study conducted by Harvard Business Review is a perfect example here.
For one year, HBR surveyed a random group of 945 customers out of 2000 of a large US financial company. Throughout the study, the group never received any direct marketing from the company and they closely measured the metrics such as purchasing behavior, deflection rate, and profitability.
The results have been amazing.
"A year after the survey was conducted, the customers we surveyed were more than three times as likely to have opened new accounts, were less than half as likely to have defected, and were more profitable than the customers who hadn't been surveyed."
Clearly, leveraging Customer Feedback is enough to minimize customer churn rate and urge them to come back for continuous business at a faster rate.
This process of asking customers for feedback leads customers to form judgments about the features they love, which they might not realize unless you poke them with questions or a Customer Feedback Survey.
Customer Feedback has an extensive list of benefits one can reap. Let's have a look!
1. Helps to measure customer satisfaction
Customer Satisfaction is a business factor that emphasizes creating value for customers, fulfilling their expectations, and proving the willingness to satisfy their needs.
Customer satisfaction is a determinant of and secret to your success in the contemporary era, as it's tough to compete without satisfying your customers.
So, Customer Feedback remains on the top of the techniques used to gain insights about how well you've provided relevant services. Feedback from the Customer Satisfaction Survey is then compiled to form a rating score, usually regarded as the comprehensive Customer Satisfaction metric.
Despite providing valuable feedback, such metrics also act as the recommendation for potential customers – enhancing the overall reputation of your business.
2. Helps improve products and services
Recognizing and resolving the customer's pain points is the best thing you can do to retain your customers.
However, retaining customers is just a one-off issue resolved. There is much more that you could do.
Information collected from the customers helps in improving the product and services as per the customer's needs. Therefore, listen to your customers to analyze what additions you could make to solve a problem for them.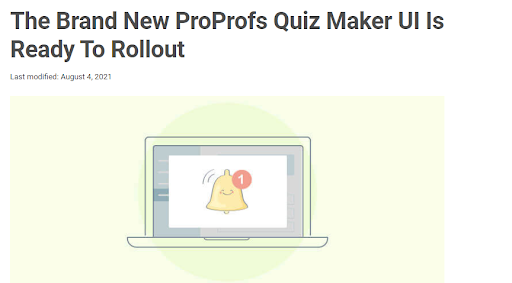 For example, ProProfs Quiz Maker recently rolled out the new UI after receiving valuable customer feedback. The recent changes have been kept in line with the vision of offering a simple, customer-centric, and delightful product experience.
3. Helps to identify happy customers (Improving Customer Retention)
A low churn rate and good customer retention are the vital determinants of any business's success.
Thus, the main objective behind gathering feedback is to increase business revenues while reducing the churn rate and initiating customer retention.
Via feedback, you will be able to identify satisfied customers with your products and services.
The facts suggest that happy customers provide business longevity by keeping coming back for multiple purchases. Such customers possess a lifetime value of up to 10 times that of a one-time customer and are predicted to get converted into brand advocates.
This way, your customers appreciate 'being heard' and will likely stay loyal for longer.
4. Helps admiring Customers Voice
Keeping an eye on your customer means understanding what people really expect, what they like or dislike about your product or service. However, merely gathering feedback won't drive results, but making it actionable does.
Thus, build strong customer relationships, listen to what they say, act upon the same and close the conversation loop by making them realize that you value them and they have been heard.
Most businesses claim to have a customer-centric culture, but the numbers are less of those who genuinely deliver services aligning with their customer's voices.
5. Helps value customer opinions
Making efforts for gathering feedback is the best course of action that represents the brand's genuinity. Customers build trust when they feel pushed to provide feedback for how their experience has been so far.
Brand's public image is a vital aspect of any business, and valuing customer opinion harbors trust and develops brand loyalty – offering a winning edge amidst the fierce competition.
6. Helps to create a better customer experience
Listening to your customers and acting upon their needs is one way to help better align the buyer's journey. When the customers are heard, they will likely stay longer in business with your brand.
If customers are disappointed with email response times, improve them. If customers want a more suitable channel of communication – open one.
Customers can make or break your business. Therefore, working upon customer service feedback will enable you to offer the best customer experience at every buyer journey stage.
7. Helps in business decision-making
Business decisions demand in-depth analysis and robust grounds for being the most beneficial towards business growth.
You cannot rely on loose guesses for crucial business decisions.
Successful business decisions leverage extensive data for developing future business strategies. Business feedback turns out to be a reliable source for such data.
It will help you understand what your customers actually need and what aspects of your products are sliding their likelihood downwards. Consider customer reviews to identify where you should invest for higher returns.
For instance, there is no need to develop a separate customer service platform. Instead, embedding the customer service within each product could elevate the customer experience and save you a lot of money.
Hence, be responsive to what your customers have to say and translate it into actionable decisions for your brand.
8. Helps other customers with a reliable information
Shoppers associate informed purchase decisions with online reviews, and this number is increasing by 11% each passing year.
Also, when online shoppers read reviews on top sites, there is a 138% overall rise in the conversion rate. The shoppers aren't just converting quickly but are also spending heavily. The increase in the revenue per visitor for the same shoppers was 159%.
But reviews aren't just improving your sales and profit; they impact beyond that – help increase brand loyalty and enhance SEO.
9. Helps to add credibility via testimonials and reviews
In the competitive market, customer trust is among the valuable assets a brand can ever have.
Are you still uncertain about the potential that Customer Trust holds? Read this!
Almost 82% of the online shoppers won't purchase with the brand they don't trust

62% of shoppers consider brand reputation before choosing products

54% of global consumers would buy again even after a negative experience
Source: BazaarVoice
So, the best way to build trust and credibility among your audience is to hand over the mic to the existing customers to help advocate your brand.
10. Helps in acquiring new customers
Online shoppers rely on reviews and ratings for making confident and fast purchases. Shoppers likely turn to ratings and reviews when they're almost in the final stage of their buying journey.
The customers who give you positive feedback could be considered volunteer advocates for your brand too. These types of customers are usually brand loyal, and they can quickly become returning customers.
Hence, having reviews and testimonials is an excellent step to winning over your prospects and customers. However, it's only the half job done. The rest is to respond!
11. Helps in meeting key metrics
Accomplishing the KPI goals is valuable because it provides a clear picture of how your business interacts with customers. Without knowing the truth, you might be in a state of delusion, but your customers might perceive things differently.
Asking for client feedback will offer room for improvement, and the improved products and services will be beneficial to all customers. This way, feedback can assist you with reaching your KPI goals to build a reputation and how your brand is viewed in the public eye.
12. Helps in a better understanding of the Customer Journey
Customer feedback is indeed an effective way of improving business performance. Feedback enables you to analyze the problems and processes that drive the customers away.
Similarly, another critical benefit of Customer Feedback is collecting data around each touchpoint to determine where to invest your time and money for maximum benefits.
Merging customer journey maps and customer feedback ensures that you have access to the right data about the high-value touchpoints to drive maximum impact.
13. Helps to Identify Unhappy Customers (Reducing Customer Churn)
Do you know? Unhappy customers are two times more likely to share their negative experiences than happy customers do about sharing positive experiences.
Thus, it's more than crucial to identify unhappy customers, serve them better and help reduce future fallouts.
Customer Feedback plays a key role here – providing room for further improvements for enriched customer satisfaction.
Is it possible to convert unhappy customers?
Stats show that if you're able to solve problems for unhappy customers, nearly 70% of them will do business with you again.
14. Helps fulfilling Customer Expectations
You can't just accomplish your customer's demands without listening to them. Delivering what they are expecting is the best way to retain customers, build brand trust, build customer loyalty, and whatnot.
But how can you do that?
Encourage customers to share what they expect and act proactively to make necessary improvements as per their needs.
Now, when customer service levels have become huge differentiators among competitors, the mere advantage of being customer-centric could make a huge difference.
15. Helps to Increase Customer Loyalty
Knowing what your customers think is important, and asking customers for feedback is the only way to know them better.
Customer Feedback data enables organizations to keep themselves on track of their mission and goals. So, keep the customers in the loop and update their needs for an enhanced customer experience.
With enhanced customer experience, customers tend to spend more and are likely to come back for even more. Client feedback bridges the gap between customer service and customer loyalty.
16. Helps to offer a Competitive Edge
Even though it's a fact that 20% of your existing customers could generate up to 80% of your future revenues, yet businesses today are focussing more on acquiring new customers than retaining existing ones.
So, when you have detailed customer feedback data, you're already leading the game. When you know what your customers want, you will get out of the way to serve them efficiently, which steers you to the top of the competition in the market.
Ways to Collect Customer Feedback
Now you must be clear that whoever is best at listening and understanding its customers wins the market.
And when they don't?
A competitor steps into the game > listens to the customer's voice > and builds the product that people are looking for.
Let's uncover how to collect customer feedback from as many different channels as possible.
1. Welcome Email
For a brand, a welcome email is the most important email that you can send. Why? Because when people join you, their engagement levels are maximum with your brand. Either they have become your customer, a free user, or a newsletter subscriber, it's the best time to request feedback and questions. At ProProfs, we believe the same.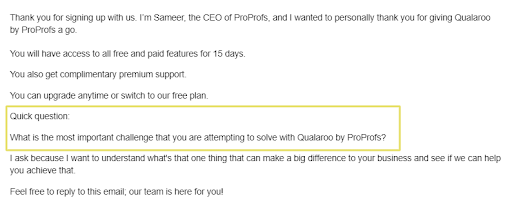 Your brand new customers have just come forward to be a part of your journey. So, your welcome email should be the right starting point to making a valuable experience.
Along with expressing empathy, don't miss the chance to know why they have joined you.
Doing so will assist you to have a better understanding of their needs and in offering a personalized buyer journey.
The best way is to "Ask a Question." For example:
What brings you here?

What do you want to accomplish via this tool?

What type of services do you want to enquire about?
At ProProfs, we read every response from the customers, and it's always best to stick to a single question in the welcome email because engagements could be a lot less if you ask for more.
2. Customer Feedback Surveys
The classic way of collecting feedback from customers is, of course, creating Customer Feedback Surveys. But a few businesses make mistakes by stuffing the surveys with endless questions.
When customers feel it's too lengthy and less engaging, they abandon the survey midway.
Note: While creating surveys, you must be precise. Keep a mix of short and long surveys. Add branching logic to the questions for added personalization and relevance.
If you encounter fewer survey response rates, simply switch to Yes or No questions. Because a clear Yes or No speaks for itself, even louder than a lengthy essay.
And for motivating the customers to take a survey, offer rewards such as coupons or a discount.
Read More: How to use real-time Feedback Survey for Business Growth and Development
3. Live Chat
Today, online shoppers are surrounded by a plethora of options. Therefore, it is vital to have the right conversations with your customers at the right moment when they need it.
Instead of waiting for them to receive your welcome message, Live chat empowers you to engage the customers when they need any help.
Live chat software kicks off the awful customer experience and lets your customers know that you're here to offer solutions to their problems.
Once you have a frustrated customer seeking help, respond instantly to your best and offer a proactive solution. In return, ask for feedback along with a few relevant questions about their experience and demographics.
This way, you could lead the game of offering exceptional customer service and can easily collect the consumer data for future business strategies.
4. NPS Surveys
NPS is one of the most preferred metrics for gauging Customer Satisfaction via a simple question:
"How likely are you to recommend [this service] to a friend or family member?"
The NPS survey is simple, and the users have to fill in their responses on a scale of 0 to 10, where 0 means the customer isn't inclined towards recommending to others, whereas 10 means a customer is very likely to recommend.

To calculate the overall NPS, group survey responses as:
0-6 = detractors

7 or 8 = passives

9 or 10 = promoters
Now subtract the %of detractors from the % of promoters.
For example, a total of 10 customers have filled out the survey. There is 1 detractor, 3 passives, and 6 promoters. Subtracting 10% from 60%, you will get 50%. So, 50 will be your NPS.
What Can You Do After Collecting Feedback?
Now that you have inherited various ways to collect customer feedback, a steady stream of feedback will flow in.
But it's only half the battle.
In order for customer service feedback to benefit your business, you need to convert them into action.
1. Identify areas for improvement.
Customer business feedback holds valuable insights that you may not think of. The chief reason being the expertise your customers have developed so far by using your product.
Users understand your product the same way your product managers do, therefore analyze the consumer feedback and encompass it within your product improvement meetings.
And the benefit will be twofold.
Not only will the customers feel delighted for being listened to, but also you could build your brand image as a business that truly cares.
2. Share with internal teams.
It won't take you a step further if you miss sharing user feedback with your internal staff and concerned team members.
Sharing with internal teams will give them a better understanding of the areas that need improvements. You must discuss all the feedback you receive, including negative, positive, and neutrals. This will offer an excellent opportunity to improve and to be cohesive about creating personalized customer experiences.
3. Follow up with customers
The irony is; many customers don't leave feedback thinking that the company will not bother.
If you receive feedback, try to address it, and if you find it helpful, thank your customers for sharing the advice and quickly respond with a solution to a customer who is facing any concern with your product.
Undoubtedly, this would elevate your brand credibility and assist in strengthening the relationships with your customers.
4. Identify potential brand advocates
Since the Customer Satisfaction metric will let you assess how happy your customers are, gathered feedback will enable you to identify the happiest of them.
Now attempt to convert those happy consumers into your brand advocates. Get them more excited by sending a thank you note so that they will share their experiences with their friends and family.
Isn't it amazing to have a good flow of new customers from referrals? And this could be possible only if you could effectively identify and motivate your brand advocates.
5. Prevent Customer Churn
If you ignore negative customer feedback, it clearly means you have set a low bar for your customer success goals.
If a customer has made efforts to leave a negative comment, he will likely share it with friends and family.
Take negative user feedback as a chance to prevent that customer from switching. You just have to put a little extra effort into understanding the pain points of unhappy customers and make them believe that you'll do your best to make them happy.
Make sure to follow up regularly to make them realize that you care about them and build a healthy relationship, which eventually will assist in retaining them for longer.
Best Practices of Collecting Customer Feedback
You are now familiar with the importance of collecting feedback from customers and how to leverage them for plausible business results.
Yet, to reap the maximum benefits of customer feedback, you should know a few essential basics of the Customer Feedback process. Let's dive in:
1. Keep it Simple
Customers are short of time, hence try to be crisp, formal, and simple.
Companies generally tend to create surveys with confusing and difficult questions; as a result, they experience lower completion and engagement rates.
To illustrate, a study conducted by Inna Burdein on survey length and effort revealed similar results.

It's not just the survey length, but the survey difficulty as well that affected the survey completion rates, i.e., 24 questions easy survey has a completion rate of 89%. In contrast, the other 24 complicated survey questions have a completion rate of 82%.
So, it's always beneficial to simplify customer feedback surveys to experience high completion rates.
2. Reach out directly
Next to keeping a survey simple is to reach out directly to your customers.
It's wise to follow indirect approaches such as embedding surveys on websites or surveying a group of people, but this will capture general feedback and comments.
Hence, be proactive and reach out directly to ask your customers about their purchases and experiences with the products.
3. Be always open to conversations and value customer's time.
Although it's essential to reach out directly to your customers, it's also vital to value their time. It may not be convenient for them to fill out responses at the time they'll receive them.
So, what best you can do is have a feedback channel that's easily shareable and always open.
Reach people anytime, anywhere, and let them engage at their convenience.
Also, keep in mind that customers avoid filling out surveys as they are time-consuming. Keeping your conversation short and focussed with only relevant questions will encourage them to complete the survey in one go.
4. Consider a thank-you/follow-up note as Not Optional.
If customers are likely to spare time to write feedback, they'll surely love to know that they have been heard.
A personalized follow-up note is a wonderful opportunity to foster a healthy customer relationship to make them feel closer.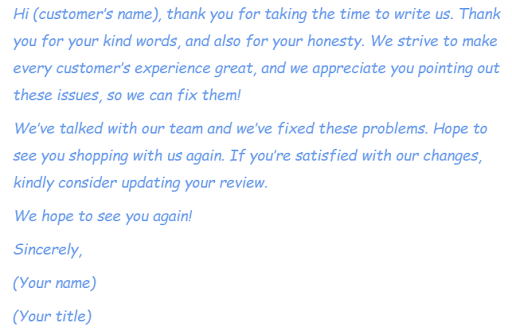 Whenever possible, send a follow-up message to your customers as they take valuable time to share their experiences.
5. Reaching out to the right people and choosing the right methods.
You cannot follow similar approaches to reach out to every type of customer. Put simply, you'll have to identify your brand promoters and detractors so that you could tailor your approach to connect with them.
Also, selecting the correct method will help to gather authentic feedback and to deliver excellent customer service.
Real-time feedback: Leveraging live chat, in-app messaging, or chatbots will enable you to collect feedback after every interaction, which helps understand customer satisfaction levels.
First-hand feedback: Choosing post-purchase customer surveys will offer the unfiltered insights of your recent customers. It helps to identify who is admiring or criticizing your products for following up accordingly.
Customer Feedback – A great way to deliver an exceptional Customer Experience
Be it positive or negative; if you fail to address customer feedback, you'll never understand what drives customer satisfaction. And if you don't know what motivates satisfied customers, you'll fail to create a loyal customer base.
All you have to do is understand the pulse of your customers via engaging surveys. However, not everyone has that luxury; as creating beautiful, engaging surveys could be hard to come by.
Let yourself immerse in a delightful experience of Proprofs Survey Maker, which has got your needs covered. You will be amazed by the ready-made templates and detailed analytics that will help you create and share surveys minutes.
Hope now you recognize the importance of Customer Feedback to create positive customer perceptions, which will undoubtedly assist in growing your business and keep your customers happy.
Do you want a free Survey Software?
We have the #1 Online Survey Maker Software to get actionable user insights.