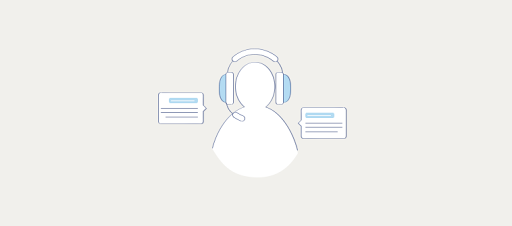 Everyone says that customer support used to be easy. Now, note the past tense in that.
For an 18th century blacksmith, the questions and concerns from customers were pretty simple. Solutions came easily too. At least it was obvious that customers would simply walk to the store whenever they needed support.
And then came the technological avalanche – postal service, phone, email, live chat, social media. The influx of such advancements made customer service challenges, instead of easing it out. Keeping in touch with your customers has become harder, given the fact that you have to keep track of multiple channels at the same time.
Regardless of you being an 18th-century blacksmith or a 21st-century code-smith, customer support is still about solving problems, answering questions, fixing a bug. Things may appear different now, but in reality, everything boils down to the same thing – keeping customers happy.
For those working in customer support, answering the same questions repetitively can be quite frustrating. But it is important to keep going because the success of your business depends on it.
And that's why you need to learn how to do customer support right and delight your clients with exceptional experiences.
A Walker Study reports that customer experience will overtake price and product as the key brand differentiator by the end of 2020. This is strong evidence as to why you need to channelize your efforts towards creating excellent experiences for customers.
Even though it is monotonous, you still need to put in your cent percent every time you resolve a query. Customer support is not rocket science. It's easy yet difficult at the same time. The only way to make it smooth is by understanding the nuances of customer support and learning from experience.
It is a team role that can be used to know your customers better. Basically, a crash course that helps you understand your customer's needs and expectations. At the end of the journey, you can guarantee happiness and satisfaction by offering an experience par excellence.
We can all agree that customer support is critical for your business – perhaps more than ever before, which brings us to the question – what is customer support in the 21st century?
Customer Support Defined
Simply put, customer support can be defined as the assistance offered in a timely and empathetic manner while keeping customer needs at the forefront.
Today, customer support is quite different from what it used to be. In fact, it is a new discipline altogether that focuses on providing customers with unforgettable experiences.
In fact, a whopping 56% of customers across the globe have stopped doing business with a brand because of poor customer service experiences. That's why the approach to customer support should be based on a customer-retention-oriented formula in order to attract and retain clients.
What everyone can agree on is that the very definition of customer support is constantly evolving. Irrespective of whether you are just at the starting line of developing a customer support team from scratch or already have an experienced lot in place, to ensure success, you must have the building blocks in place for a rock-solid foundation.
How Is Customer Support Different From Customer Service?
Customer Support and Customer Service may look and sound quite familiar. In reality, both are different.
As your guide to customer support, you must know what constitutes customer support and how is it different from customer service?
The concept of customer support can be explained as a broad spectrum of services that enables the customers to make appropriate use of your offerings. Primarily the function of a customer service agent revolves around troubleshooting the problems of your customers at every stage.
The interaction with customer support begins when the customer reaches out on any one of your support channels with a problem. The engagement continues until issues are addressed to the satisfaction of customers.
However, customer support should never be seen as a touchpoint for inbound sales.
By definition, customer support can be considered as the technical arm of customer care. On the other hand, customer service is an umbrella term that takes into account all types of customer interactions. And customer support is just one such interaction.
The core competency of service staff is to enhance customer experiences. It is also about assisting them by being empathetic to their concerns and helping them with a solution. Customer service needs to be agile and versatile to be able to offer the best possible CX that ensures that customers' investment in your company is maximized.
The goal, ultimately, is to ensure that customers receive high-quality service that encourages repeat business. Therefore, simply put, customer service is something that all businesses need to offer. But every company does not offer customer support.
The point to note here is that customer support is an integral part of customer service.
Skills Required for Customer Support
As you progress further in this customer support guide, you will come to know about the various skills that a customer service agent must possess.
One thing you must always remember is that the customer is the boss.
To think that customer support is undervalued primarily because of its dependence on the so-called 'soft skills' is an outdated concept. In recent years, customer support has turned extremely technical. And that's a skill that does not always come to people naturally. Hence, there is a dire need for agents to have relevant technical skills to service the requirements of your customers.
So, regardless of what the product may be or where your customers may require your support, imbibing these key skills will help lay the groundwork organizational success. Only then can you grasp what it is that your customers want. And in this process, you will be able to offer them excellent service.
Take a look at what is expected of you in terms of specialist skill set.
1. Investigate to Get to the Crux of the Matter
The first skill that any customer support specialist should have is to investigate the matter thoroughly. Carry out an exhaustive evaluation and assess the cause of the problem. Offer the appropriate solution to mend the situation.
2. Listen to What Customers Say
Another key skill that helps customer support agents to understand customer intentions and address their needs in the right manner. Listening is an art form that must be imbibed in the very soul of the agent. Because if you do not listen, how will you find a solution to the problem? Remember that the devil lies in the details.
3. Know Your Product Inside Out
Be prepared to face a furious customer if he or she asks you a product related question of which you do not know the answer. Or worse, answer incorrectly or leave it incomplete. Customers will not understand if you are new to the product category or if you have an extensive product range.
To them, not knowing the product that you are selling is akin to a crime. Therefore, your only way out is to be a product expert. Start with the basics of what you sell and how it fits in with your customers' needs.
4. Learn to Communicate Clearly
Assuming that your customers will be familiar with technical terms or jargon is a mistake. Instead, the customer support agent must ensure that each piece of information is communicated in a manner and tone that is simple to understand and gives a positive impression. Be mindful of basic communication habits and how it translates to customers. It is best to avoid questioning the situation or customers unnecessarily.
5. Manage Time Effectively
It is good to not be in a hurry and devote enough time while interacting with customers in order to get to the bottom of the issue. The flip side is that you cannot dedicate a lot of time because others may need your assistance too.
Therefore, it is essential that you manage your time efficiently and, at the same time, ensure that your customers are satisfied with the conversation. The trick is to be upfront in a polite manner, especially if you do not have a solution right away.
6. Harness Your Power of Persuasion
Quite often, customer support will receive messages from interested parties who are considering your product for purchase. Hence, it is advised that experienced customer support professionals master the art of persuasion and convert these leads into revenue-generating clients.
7. Know-How to Be Empathetic
You may consider being empathetic to more of a character trait than a skill, but in reality, this is probably one of the essential qualities that every customer support agent should possess. Being able to comprehend customers' feelings and telling clients exactly what they want to hear with care and concern can go a long way. This can steer the conversation towards a more positive outcome and make the much-needed difference in offering superior customer experience.
As customer support reps, having or learning these essential skills is a must.
Next to that this customer support guide is going to cover is how you can deliver unparalleled customer support.
Ways to Provide Excellent Customer Support
A report by eMarketer states that one of the vital elements of sales is customer support, and by extension, customer service. And it is primarily a lack of customer focus that results in poor customer support.
Your customer agents must be passionate about support, or else they will end up offering lackluster service. Motivating your customer support team to imbibe the right attitude is the biggest roadblock that companies face.
In spite of these challenges, both businesses and their customer support teams should not lose sight of who they serve. Remember that the reason why companies exist at all is because of their customers. And the job of the customer support team is to serve them to the best of their abilities.
This brings us to the next important question in this customer support guide – how can customer reps offer top-notch service?
Maybe these tips can help. Take a look.
1. It Has to Be a Company-Wide Contribution
Delivering top-notch customer support cannot be achieved in isolation. A business comprises of various verticals and divisions. To ensure that your customer support level is par excellence, these verticals, and divisions must act in cohesion and attain it as part of their core business objectives.
Providing unmatched customer support is a goal that must be taken up collectively to serve the best interest of customers. For example, you can ensure that your software team incorporates a live chat solution so that customers can easily access instant support. Your technical team should be aware of the glitches customers experience while reaching out to you via live chat, help desk, or any other channel, and work towards addressing them.
If the whole company jumps in as a unit, customer issues and concerns can be dealt with promptly. It can also be an opportunity to bring in some novel and innovative ideas and concepts.
2. Multi-Channel Servicing Is Paramount
Today, businesses need to be accessible pretty much through all available customer support platforms – live chat, web, social media, and more. But what needs to remain consistent across channels is the quality of the support being delivered.
It can be challenging to provide offline and online customer support and still achieve high standards repeatedly. Integrating a help desk software can certainly come in handy here, as it empowers customers to submit a ticket right away and get their queries resolved.
By investing in customer experience, you invest in growth and profitability. And offering multi-channel customer support is an integral part of the entire ecosystem. Recently a report by PWC revealed that businesses that invested heavily in multi-channel CX experienced a jump from 20% to more than 80%. Now, that certainly drives the point home quite conclusively.
3. Measure the Right Data
To keep up with your high-quality customer support, you need access to evidence-based insights that can be made available if you have a helpdesk system in place. A fully-functional help desk software provides details into the kind of tickets generated, and the channel most frequently used by customers.
Additionally, conducting regular customer surveys can also help you get data that can be used to build customer personas, identify patterns, behaviors, needs, expectations, gaps, and so much more.
Ask the right questions to determine which numbers matter to your team and business. This, in turn, will help you decide on any action points and corrective measures to address loopholes in your customer support system. Focusing on the right trends, data, and insights can bring your customer support team together as a unified division to build customer satisfaction.
4. Personalization Is Key
Customer support can never be a function that can work on a 'one size fits all' concept. With this approach, it will never be able to deliver the expected results.
Do not forget that there is an actual human being on the other side of the computer, which has an individual personality, needs, and expectations. Your customers do not want to be treated as a mechanical entity or be just one of many.
Your clients want to be involved in two-way communication with an agent that genuinely cares about their issues and concerns. Engagement and interaction should be personal, thoughtful, and creative. And that is the effort that you need to commit to in order to earn lifelong customer loyalty.
Establish a set of rules and guidelines that your customer support reps can refer to. The key is to manage expectations in a manner where you honestly promise and deliver accordingly. It is not just about the personal touch. It is also about being proactive in understanding their issues, listening carefully, and offering solutions that are useful to them.
5. Give More Than Expected
To retain your customers with outstanding customer support, you must always think of ways to elevate yourself above your competition. What can you offer your customers that they cannot get anywhere else is the question that you should continuously ask yourself?
Maybe you can give your customers something totally unexpected. To do that, you have to be open and receptive to new ideas. This can be done through co-operation, a combination of skills, and some innovative brainstorming.
Remember that you are not just selling products and services. What you are doing instead is selling solutions that bring good feelings and positive vibes. That's because most customer requirements hover on the emotional rather than the logical. You will only be able to give more than what is expected of you if you can anticipate these needs.
Encourage customers to share their feedback and suggestions for improvement. Inviting constructive criticism and comments is never bad. Regular surveys can definitely lend a helping hand here.
Must-Have Customer Support Tools for Your Team
As we near the end of this customer support guide, it is essential to know the right set of tools that you need to keep up with customer demands and deliver gold standard customer support.
1. Help Desk Software
This is the centerpiece of managing customer support efficiently and effectively. Since you would want your support agents to consistently deliver top class service, having a unified platform like help desk is a must. It should offer multiple avenues of communication, ticket management, CRM integrations, shared inboxes, automation, reporting functionalities, and more helps cater to your customer needs perfectly.
However, it is crucial that you choose a credible help desk software service provider who is able to service your customer requirements and expectations in the best possible way.
2. Live Chat
To keep up with the onslaught of customer queries, your support department needs access to a live chat tool. Remember that customers expect instant answers to their questions, and a live chat tool fits in perfectly in this scenario.
With a dedicated live chat integration, your customer support department has greater control over workflows. With localized languages and customization options, you can tailor the design of your chat box to match your firm's branding.
You can find an integrated live chat tool with most helpdesk systems. However, if you do not need a suite of services but are looking for a dedicated live chat plugin, then you can find SaaS companies who offer such services too.
3. Knowledge Base
Every business should have a self-service channel accessible by both their support team and clients. Hence, a versatile knowledge base software works wonders here. It can help users find answers on their own. Alternatively, support reps can share links from knowledgebase articles and FAQ sections, especially when they are explaining solutions that require multiple steps to follow.
Other than creating useful content, the knowledge base can be integrated with Google Analytics to understand the most common customer queries and issues and understand the search patterns of customers. This can help you come up with more relevant content and assist customers in finding answers to their questions more promptly.
4. Customer Surveys
You always want what's best for your customers, but it can be hard to determine what they feel exactly. That's why you need customer satisfaction surveys to be sent out after every interaction with your clients, regardless of the channel. You do not want them to forget the experience and not share the feedback.
Customer satisfaction surveys help to gain in-depth insights into client needs and expectations. They also help you understand team performance through the scores and ratings shared by clients on individual agents.
Remember that customer support is ever-evolving. Keeping that in mind, having access to a robust set of tools is more important than ever.
---
Read More: 15 Top Online Survey Software
---
Takeaway
Any reputable company today that wants to remain sustainable will offer their prospects special treatment. And the job of the customer care department will do whatever is in their power to influence decisions while building rapport and trust at the same time.
By responding to customer questions promptly, you ensure that you care for your customer needs. In turn, your clients become confident and are more excited to remain loyal patrons of your brand.
As a business, it is the responsibility of the customer support team to assist clients in reaching a final decision by providing them with superlative customer experience. What you get in return is long term rewards.
Remember that outstanding customer experience does not just happen. It is an unending journey, full of learning and refinement. So, step up your game with this customer support guide that will help you stay ahead of the curve.
Do you want a free Survey Software?
We have the #1 Online Survey Maker Software to get actionable user insights.