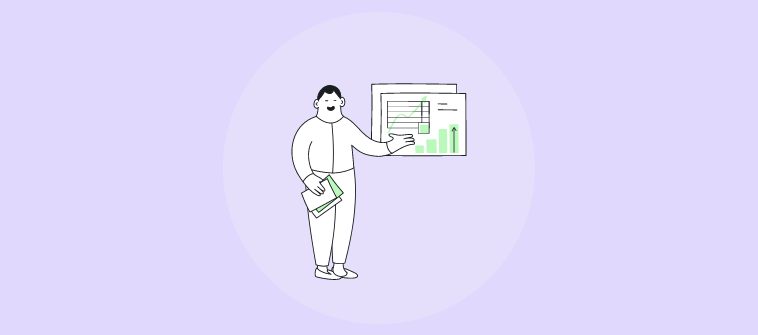 Up for launching a new product or business idea or improving an existing product? To steer yourself towards success, it is essential to measure its product-market fit. Meaning: Whether there is a market demand for your product or not.
Products whose value proposition satisfies the needs of a market and its potential customers are likely to experience success.
But how do you measure product-market fit?
This blog will guide you about everything you should know about product-market fit.
What is Product-Market Fit?
Product-market fit is nothing but a process to identify whether you are serving your target audience with the right product/services or not.
For example, Uber and Ola perfectly fulfill the needs of people who want an easily accessible method of transportation from anywhere, anytime. These brands have identified such users who do not have the patience to call up a cab company and wait for a cab for long.
Hence, the companies brought innovation in the cab rental industry, and have been successful in building their brands.
This concept seems obvious as for every business survival, there must be people willing to buy the upcoming/existing products or services.
And, not just sales, product-market fit can eventually turn your business into a successful venture in the long run.
Let's understand other important factors that make product-market a must-have for your business. But before that, take a look at the following examples.
Examples of Product-Market Fit
Yes! Successful companies exist that have done a great job of creating a perfect product-market fit before launching their products. Here are two of them.
a) Google
Since the early internet days, Google has been competing with its counterparts to offer great service to internet searchers. When online ads came into play, Google has also made money by offering ad spots in their search results.
Just because companies were generating leads by placing their ads in the search results, Google knew that businesses would pay even more if their ads were displayed on the top of search results and relevant websites. And that's where things changed when Google introduced the concept of AdSense back in 2003.
AdSense used the latest technology to scan web pages and automatically display relevant business ads on SERPs and relevant websites. Google identified a need no other search engine was meeting and by 2017, 11 million AdSense users were paying Google $95 billion a year.
Hence, take time to explore the possibilities to serve the audience's needs that no one in the market is currently offering.
b) Slack
A renowned instant messaging system for business communication like Skype has embarked upon a completely different product development before developing Slack. The creators had introduced Slack as a tool for internal communication when they were developing a role-playing video game.
Eventually, they have discovered that a plentiful of role-playing video games already exist in the market, and the competition would be tough in order for the product to be successful. Rather, they realized that there's no product available like Slack. They turned around and today Slack has more than 10 million users.
This has been a perfect example of shifting the focus towards a better product-market fit that can bring you a fortune. To be successful, stay out of the box and always look for new ideas and opportunities to serve the customers in a way none else does.
Importance of Product-Market Fit
Developing an in-depth market insight empowers you with a competitive edge among your counterparts who have failed in finding product-market fit. You'll have a better chance of developing a loyal customer base, gaining online visibility, and increasing conversions.
Let's take a look at the product-market fit example of Quibi, a short-form video streaming platform founded by Hollywood producer Jeffrey Katzenberg and businesswoman Meg Whitman. The service was intended for the younger generations who prefer to watch online videos on the go straight from their mobile devices.
Unfortunately, despite being in the video content era, the product owners announced the shutting down merely in a span of 6 months. Why did the product fail?
Well, there are a couple of reasons for this failure.
Firstly, Quibi was launched when the COVID-19 pandemic was at its peak. Thus, consumers were working from home or unemployed due to social distancing measures. So rather than watching content on the phone, people were much inclined towards watching on much larger TVs. For this reason, the Quibi's strategy misfired.
Also, when platforms like Instagram, YouTube, or TikTok were already offering free video content, why would the younger demographic pay $5 per month for Quibi's ad-supported subscription model.
Therefore, the problem with Quibi and numerous other failing products is a lack of good product/market fit.
Whereas, finding product-market fit helps validate and lay the groundwork for your business and help identify:
Which features or elements your product needs to satisfy audience expectations/demands or market trends.

Which audience is likely to care about the product and why.

How you can grab the audience's attention and persuade them to buy the product

What steps you need to take to turn your satisfied buyers into brand advocates
Now that you are familiar with the significance of product-market fit, now let's jump into the process to achieve it.
How to Achieve Your Product-Market Fit
The easiest way to understand the concept of product/market fit is to think about whether a product meets strong market demand or not. However, this is easier said than measured though.
Let's understand the Product-Market fit pyramid by Dan Olsen: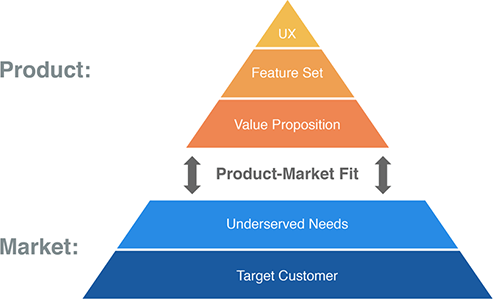 Source: Slideshare
The above image clearly determines what aspects need to come along for a perfect product-market fit.
The Market
It's certain that your target audience lays the foundation for product development and its success.
Next on the list are the underserved needs shared by your target customers regardless of their ages and demographics. For example, a 20-year old student and an entrepreneur can have common interests in purchasing an online survey tool for respective purposes.
The Product:
Your product's value proposition should clearly fulfill your customers' needs. And, this value proposition should logically follow the product's features to justify product benefits.
Then the UX a.k.a user experience should offer a pleasant experience to the end-users.
Hence, product/market fit is all about making sure each layer of the product-market fit pyramid lines up with each other.
You can verify it by doing your research and talking to your customers via customer surveys. The collected customer feedback will effectively help you with product-market fit analysis.
How to Measure Product-Market Fit
Generally, businesses measure product-market fit with online surveys to identify the target audience who thinks your new product is a 'must-have'.
However, product-market fit is less about hypothetical numbers and percentages, and more about an in-depth understanding of who your target customers are, and how they feel about your brand and product.
Simply ask yourself, are people willing to pay for your product? If they are, you have a good product-market fit.
Hence, the road to product-market fit is often marked by several landmarks. And when you measure product-market fit you have to measure:
The level of customer satisfaction

The level of customer engagement with your products

How often your customers use your product and services

How many new customers you get through recommendations and word of mouth
So, to measure these essential steps, you have to bring the following product-market fit metrics to the limelight.
1. Product-Market Fit (PMF) Survey
The product-market fit survey is also known as the Sean Ellis test, which is considered the main indicator of product-market fit. The survey consists of one simple question to collect feedback as to how disappointed your customers would be if you discontinue a product.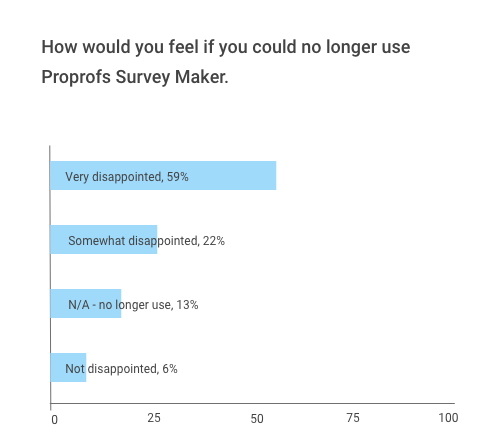 The PMF survey score is the percentage of all responses that picked "very disappointed" from the total number of responses. If more than 40% of respondents say that they would be "very disappointed", this means you have reached a Product Market Fit and it will be easier for you to gain traction.
However, you can also add an open-ended follow-up question to understand the context behind the individual rating.
2. Net Promoter Score (NPS)
NPS is a metric that helps measure customer satisfaction and provides an understanding of how close you are to satisfying your customer's needs.
"How likely are you to recommend [product] to a friend or colleague?"
However, the NPS question could not be considered as the stand-alone metric to accurately measure your product-market fit. Hence, Net Promoter Score surveys consist of two parts: a rating question and a follow-up open-ended question to know the reason behind the given rating. For example:
"How would you feel if you could no longer use [product]?"
Very disappointed

Somewhat disappointed

Not disappointed

I no longer use [product name]
Based on the scores, you can calculate the net promoter score and categorize the respondents into Promoters (scores 9-10), Passives (scores 7-8), and Detractors scores (0- 6).

How to Calculate NPS
Calculating NPS is easy. Subtract the percentage of 'Detractors' from the percentage of 'Promoters', and the numerical score generated between -100 and 100 will be your Net Promoter Score.

Companies with good product-market fit must get at least 50 NPS.
3. Customer Satisfaction (CSAT)
As the name suggests, the Customer Satisfaction Score measures the overall satisfaction of your customers with your brand, products, and services. CSAT surveys are often intended to collect fresh insights on a scale of 0-5 via close-ended questions.
Customers are presented with a question such as: "How was your experience interacting with [product name]?"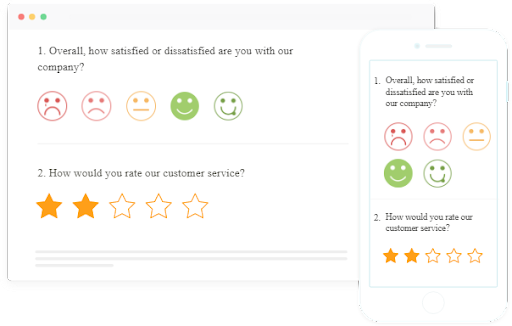 This enables the customers to rate their overall experience on a scale of 1-5, where 1 depicts the very unsatisfactory experience and 5 denotes the highly satisfactory experience. Also, you can choose among different survey templates as per your business needs.
How to Calculate CSAT Score
There are two ways that businesses can calculate customer satisfaction scores:
a. Divide the sum of all scores by the sum of the maximum possible scores.

b. Another way to calculate CSAT is the percentage of happy respondents i.e., customers with scores 4 and 5 on a scale of 1-5.

4. Customer Retention Rate
Customer retention rate is the most critical metric for understanding your customer loyalty and how much repeat business you are generating with existing customers. It is reflected as a percentage and is calculated for a specific time period, such as by week, month or year.
How to Calculate CSAT Score
Customer Retention Rate = (Customers at the End of the Period) – (New Customers Acquired) / Customers at the Start of the Period
Measuring customer retention rate is crucial because the more customers you retain, the more upsells and cross-sells you can secure later. Also, a happy customer is more likely to refer more customers to you.
5. Customer Churn Rate
Regardless of the quality of products you offer, your customers aren't going to stick around forever. Customers will churn, but you just cannot overlook the churned customers over a period of time.
Customer Churn Rate is defined as the percentage of churned customers during a given period of time. Your business' annual churn rate is the percentage of customers lost per year.

On the whole, this CSAT metric helps identify if your business is facing customer churn. Companies with good product-market fit have churn rates as low as 5%.
Leverage Product-Market Fit for Your Business Success
To achieve business success, targeting a few metrics isn't enough. Your product/business idea should have a high degree of product-market fit. It's important to analyze whether you are just solving a minor problem or you are eliminating a huge burden from your potential customers' shoulders.
For this reason, you can leverage market research tools such as ProProfs Survey Maker and Qualaroo that will help you gain insights into the audience's needs.
People already pay for a lot of things these days and adding something new to their expenses and bills won't work. Rather, your product should bring a notable change in their lives or the way they do business. However, think about the difference between a "Nice product" and a "Wow Product", and keep this in mind every time you come up with your new product/business idea.
Do you want a free Survey Software?
We have the #1 Online Survey Maker Software to get actionable user insights.