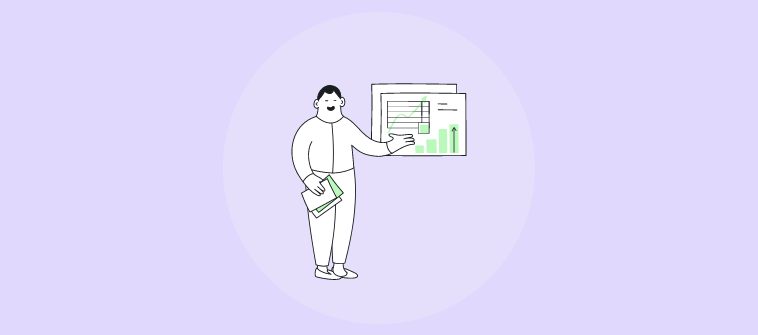 Product-market fit is integral for the sustenance and success of any enterprise.
Ensuring that your customers see adequate value in your product is essential to maintaining and improving profitability. This is why assessing product-market fit is an important undertaking, whether you are launching a new product or revamping an existing one.
It helps you answer a number of questions on which the success of your product launch depends.
Is there customer demand for what you are offering?
Does your product address a challenge faced by the customer?
How likely are customers to pay for what you are selling?
… and the list goes on.
In this guide, we take a deep dive into what product-market fit is and how to achieve it. We also shed light on the importance of reliable market research survey software that can help you carry out a thorough assessment of customer needs and develop a product that lets you hit a profit bonanza.
What Is Product-Market Fit?
Product-market fit, or PMF, is the degree to which customer demands align with your value proposition. It is the extent to which your product or service meets the demands of the end users.
PMF helps you identify if you are serving the audience with the right products and services. It helps you ensure that customers will buy, use, and refer your business to others, making you a successful venture.
To achieve product-market fit, you must have a buyer persona, identify their unique challenges or needs, and build a product that fits well into the market.
The Importance of Product-Market Fit
According to CB Insights, 35% of startups fail due to a lack of market need.
Products whose value proposition adequately satisfies the needs of a market and potential customers are likely to perform well in the long run.
Developing an in-depth market insight empowers you with a competitive edge over your counterparts who still need to find product-market fit. You'll have a higher chance of developing a loyal customer base, gaining online visibility, and increasing conversions.
Finding product-market fit helps validate and lay the groundwork for your business. Use it to identify:
Which features or elements your product needs to satisfy audience expectations/demands or market trends
Which audience is likely to care about the product and why
How can you grab the audience's attention and persuade them to buy the product
The steps you need to take to turn your satisfied buyers into brand advocates
Measuring Product-Market Fit- 4 Best Channels
Product-market fit is not a straightforward metric that you can measure instantly.
Generally, businesses measure product-market fit with online surveys to identify the target audience who thinks your new product is a 'must-have.' However, product-market fit is less about hypothetical numbers and percentages and more about an in-depth understanding of who your target customers are and how they feel about your brand and product.
For product-market fit analysis, you must measure the following:
The level of customer satisfaction
Customer engagement with your products
How often do customers use your product and services
The number of new customers you get through recommendations
Here are some channels you could deploy to find product-market fit-
1. Surveys
Surveys work as a powerful tool to collect in-depth data for your market research. You can use open-ended or rating-based questions in your product-market fit survey to collect qualitative and quantitative data from customers.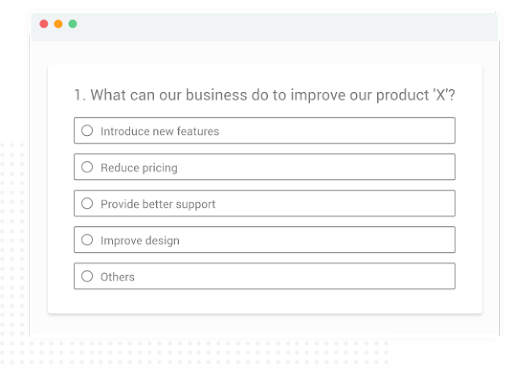 Create on-brand surveys quickly using a powerful tool such as ProProfs Survey Maker, which offers a range of pre-designed templates and lets you use advanced segmentation and targeting for your surveys.
Read More: 20+ Product Survey Questions
2. Social Listening
The estimated figure for social media users in 2023 is 4.89 billion globally. This provides businesses with the opportunity to tap into a wider consumer base.
Leverage social media platforms to analyze customer sentiment and needs. Make use of the interactions on these channels to gain better visibility into customer preferences and pain points.
3. Focus Groups
Focus groups let you gather qualitative data from potential customers using interactive group discussions. Conduct focus groups to obtain insights into the mindset, sentiment, and opinions of future users so that you can incorporate the right elements into your product.
You can select the people for this focus group based on the most relevant characteristics, such as demographics, purchasing behavior, shopping history, etc.
Read More: Focus Group in Market Research: Types, Examples and Best Practices
3. Interviews
One of the best ways to find out what customers expect is by asking them directly. One-on-one interviews can help you dive deeper into who your customers are, the problems they are facing, and the type of solutions they are looking for.
Keep in mind that although interviews serve as a compelling opportunity for extensive market research, they are also time and resource intensive.
5 Metrics for Product-Market Fit
Product-market fit helps ensure that your sales numbers do not stagnate or decline after the initial boost. It provides you with an understanding of whether the product is ready to be distributed.
Following are 5 important product-market fit metrics that you can assess. The right combination of these metrics, in association with a deep understanding of your ideal customer profile, will help you find the right market fit for your product:
1. PMF Item
Also known as the Sean Ellis Test, the methodology of finding the PMF item is the most popular determinant of market fit. It asks a simple product-market fit question:
"How would you feel if you could no longer use [product]?"
Very disappointed
Somewhat disappointed
Not disappointed
No longer use/ NA
The PMF survey score is the percentage of responses picked "very disappointed" out of the total number of responses. If more than 40% of respondents say that they would be "very disappointed," this means you have reached product-market fit, and it will be easier for you to gain traction.
You can also add open-ended follow-up questions for a contextual understanding of individual ratings.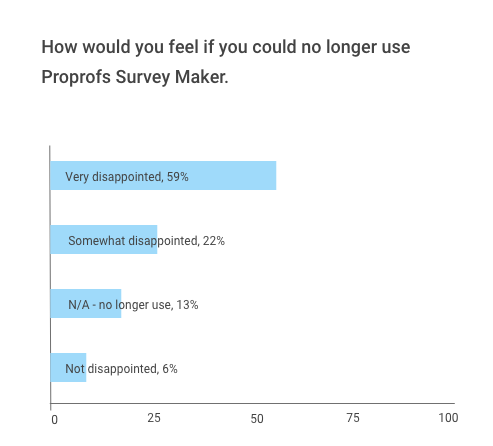 2. NPS
NPS, or Net Promoter Score, is a prevalent customer satisfaction and loyalty metric. It evaluates the likelihood of customers recommending the product or service to their friends and family.
The respondents have to choose a rating on a scale of 0-10, the results of which puts them into one of the following categories:
Promoters (9-10)
Passives (7-8)
Detractors (0- 6)
Here is the formula to calculate NPS: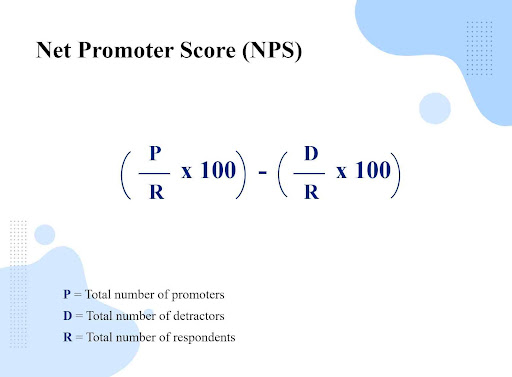 3. CSAT
As the name suggests, the Customer Satisfaction Score (CSAT) measures the overall satisfaction of your customers with your brand, products, and services. CSAT surveys are often intended to collect fresh insights on a scale of 0-5 via close-ended questions.
Customers are presented with a question such as-
"How was your experience interacting with [product name]?"
This enables the customers to rate their overall experience on a scale of 1-5, where 1 depicts a highly unsatisfactory experience, and 5 denotes the most satisfactory experience.
There are two ways that businesses can calculate customer satisfaction scores:
a. Divide the sum of all scores by the sum of the maximum possible scores.

b. Another way to calculate CSAT is the percentage of happy respondents, i.e., customers with scores of 4 and 5 on a scale of 1-5.

4. Retention Rate
Customer retention rate is the most critical metric for understanding your customer loyalty and how much repeat business you are generating with existing customers. It is reflected as a percentage and is calculated for a specific time period, such as by week, month or year.
Here's how you can measure the retention rate for your business:
Read More: 20 Effective Strategies to Increase Customer Retention in 2023
5. Customer Lifetime Value
Customer lifetime value is a highly significant business metric. It evaluates the total profit that can be generated from a customer throughout their association with the business. It helps estimate the value and lifespan of the customer, as well as their loyalty toward the organization.
Here's how you can calculate the CLV:
CLV = Average purchase value * Average customer lifespan * Average buying frequency
How to Achieve Product-Market Fit
This product-market fit pyramid by Dan Olsen presents a comprehensive view of what needs to be done to find the right market for your product.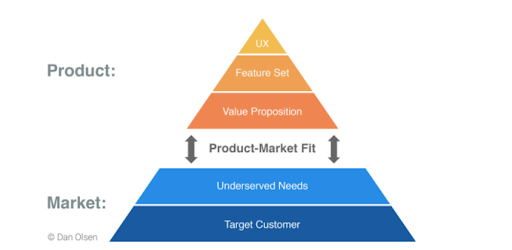 Source: Slideshare
The above image clearly determines what aspects need to come along for a perfect product-market fit.
Market
It's certain that your target audience lays the foundation for product development and its success.
Next on the list are the underserved needs shared by your target customers regardless of their ages and demographics. For example, a 20-year old student and an entrepreneur can have common interests in purchasing an online survey tool for respective purposes.
Product
Your product's value proposition should clearly fulfill your customers' needs. And, this value proposition should logically follow the product's features to justify product benefits.
Then the UX a.k.a user experience should offer a pleasant experience to the end-users.
Hence, product/market fit is all about making sure each layer of the product-market fit pyramid lines up with each other.
You can verify it by doing your research and talking to your customers via customer surveys. The collected customer feedback will effectively help you with product-market fit analysis.
6 Indicators of Product-Market Fit
Following are some attributes that demonstrate that you have achieved product-market fit:
You know your customers well and are solving a real problem for them.
Customer acquisition costs have lowered.
You have developed a unique value proposition that cannot be easily duplicated.
You have a distinctive business model covering all essential operations.
Customer needs align with your product, leading to an increase in usage as well as referrals.
You have a reliable sales and distribution model in place.
What to Do After Product-Market Fit
Once you are through with your market research survey and find a product-market fit, it's time to leverage the collected insights to improve profitability.
Here is an ordered plan of things you have to do after finding product-market fit.
Take your product to the market
First things first, you have actually to introduce your product to potential customers. This stage involves creating a habit or urgency for your product, finding the right distribution channels, and creating a strategy to occupy a substantial share of the market.
Now comes the growth phase
Grow your business by identifying what worked well for the product. Asses user experience and make necessary adjustments to improve adoption. Track metrics such as retention and referral rates to get better visibility into your product's performance.
Diversify, and then again
We live in a world where consumer needs are rapidly evolving. And if you do not keep up, your business may become obsolete before you even realize it. Building and adding new products should be on your agenda as an important post-PMF activity.
Time for everything else!
This phase has to do with developing and modifying all the business aspects surrounding the product. This includes marketing, finance, HR, etc. You must create a repeatable playbook for your organization once everything is in order.
Strive for continuous improvement
Finding product-market fit may seem like a one-off task that you only have to worry about at the beginning of your development lifecycle. However, you need to continuously monitor your effectiveness and adapt to the changing marketplace landscape. Check in with customers from time to time and keep them delighted.
3 Noteworthy Examples of Product-Market Fit
Here are three businesses that leveraged a good product-market fit to become their industry's most eminent names.
1. Instagram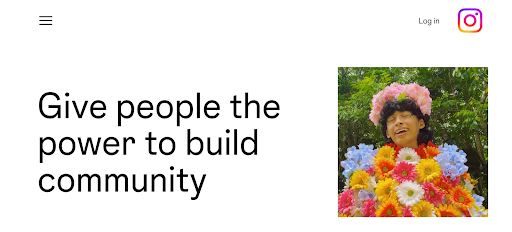 While Instagram initially got it wrong, what makes it a successful product-market fit story is the agility with which it adapted to the right target market.
Instagram now has over 1.22 billion monthly active users. It started out as Burbn, a platform where users could check into locations, post pictures, and earn points. The overall complicated nature of the tool discouraged users. Burbn had a small customer base, most of which did not utilize its exhaustive range of features.
While it initially swayed from its ideal product-market fit, Instagram's founders soon recognized what the tool was actually being used for by the customers- sharing pictures. Consequently, other features were discontinued, and the tool's focus shifted to catering to the right audience.
Thus, realizing the true product-market fit allowed Instagram to set on its way to becoming the most popular photo-sharing social media platform.
2. Uber
With over 124 million monthly active platform users, Uber has successfully transformed the ridesharing service industry.
Uber identified the right target market, which was American working professionals struggling to hail cabs quickly. They identified and addressed a problem that a vast majority of people were facing, which was the inconvenient and time-consuming process of finding a cab.
The company made use of organized fleets and technology to align its value proposition with customer needs, making it a global leader in the mobility industry. Thus, by effectively identifying and sticking to the product-market fit, Uber became a successful business venture.
3. Slack

Slack, a well-renowned instant messaging platform for businesses started out as an entirely different product. The creators were developing a role-playing video game before they embarked upon the journey to create an internal communication platform for businesses.
Eventually, they discovered that a large number of role-playing video games already existed. This neck-to-neck competition would make it difficult to succeed.
They identified a gap in the market and discovered an unexplored niche, and thus, Slack was born. This is a product-market fit example of changing focus to achieve better business outcomes.
Align Your Offerings With Customer Needs to Boost Profit
No business wants to waste time developing and selling a product that no one will use. This is why finding product-market fit ranks high in the list of business activities impacting overall profitability.
A proper product-market fit framework will help you drive more sales and accelerate business growth. For this, you need to discover customer preferences and collect feedback from them to improve your product.
There are several ways to survey customers in order to assess product-market fit. One of the most effective of these is using a dedicated market research survey software like ProProfs Survey Maker. This will not only allow you to carry out thorough market research but also analyze the collected data efficiently.
FAQs
Who is responsible for ensuring product-market fit?
Product-market fit is a responsibility shared across the organization. This includes all the departments, such as sales, marketing, business development, customer support, and product management.
All the business divisions have different roles and responsibilities when it comes to product-market fit. For example, the business leaders are responsible for defining the target market, while the product team is responsible for understanding market gaps and determining the value proposition.
What is a good product-market fit score?
The Sean Ellis test uses 40% as the threshold for a good product-market fit. While this figure has become a benchmark for analyzing product-market fit, it also has certain limitations. These include relying solely on a single criterion and expecting users to predict their future behavior accurately.
This is why to find a good product-market fit for your industry and business, you need a culmination of various business performance metrics and acute observation of customer interactions.
Do you want a free Survey Software?
We have the #1 Online Survey Maker Software to get actionable user insights.