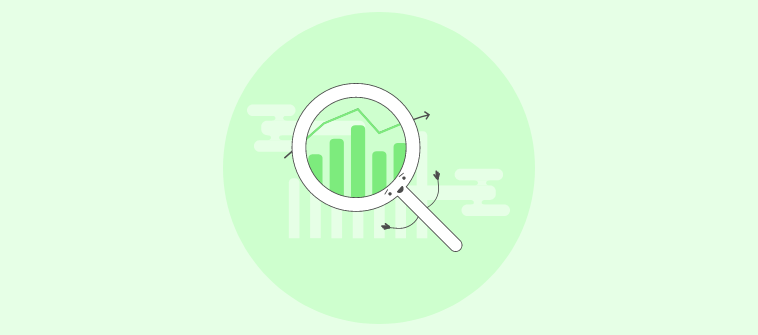 Market research tools are a must-have if you wish to conquer the battlefield that the eCommerce industry is.
You may think you know everything about your target audience, but here's the problem – the landscape of your audience's mind (and, by extension, the market) is constantly changing. The ever-dynamic scenario means without enough data to back you up, going down the wrong path might be just one miscalculation away.
Thankfully, technology has made knowing your customers far easier than it used to be. Now, you no longer have to knock on every door to understand what your customers think – a plethora of online tools are here to get the job done. In this blog post, we will dive into a detailed view of the 12 best tools for market analysis to help you choose the right one for your business.
12 Best Market Research Tools & Software In 2023
Whether you are part of a small business, startup, or corporation, our top picks of marketing research tools here can help you gain valuable insights into the field you are catering to.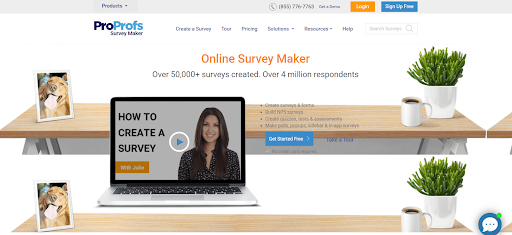 Best For – Customer Sentiment Analysis
Staying true to its name, ProProfs Survey Maker is a survey creation tool that can help your team meet your market research goals by letting you create survey forms in multiple formats. The app offers a variety of customization options that allow users to incorporate any chosen logo, background, or color into the surveys. Another striking aspect is its advanced NPS data segmentation that lets you identify passive, promoter, and detractor customers.
In addition to surveys, you can use this market research tool to gather customer feedback, Net Promoter Score Survey, CSAT scores, etc., through cross-device compatible polls, quizzes, ratings, and assessments.
Features:
Get started right off the bat with 100+ expert-designed survey templates & ready-to-use survey questions
Customize your surveys with visually pleasing themes, colors, fonts, CTAs, etc., effortlessly with the in-app editor
Create & deploy NPS surveys to measure customer satisfaction & loyalty levels
Built-in reports & analytics dashboard to understand the survey responses
Create surveys suitable for all audience types in multiple formats, such as MCQs, sliders, emoji scales & more
Pricing: Starts at $0.05/month.
Read More: Market Research Survey Guide
Best For – Gathering user feedback
Qualaroo is one of the top market research tools that uniquely allows gathering feedback from specific users while they are viewing your website. It helps you create highly customized surveys quickly with the in-app editor and an array of professionally made templates. Additionally, the app offers skip logic, advanced audience targeting, and design options to create surveys that appeal to everybody.
You can both collect and analyze the survey responses under one roof using the AI-powered analytics feature that it has built into it. With Qualaroo, asking the right questions at the right time is only a matter of minutes!
Features:
Capture user insights instantaneously by surveying visitors on-site using Qualaroo Nudges
Get actionable insights on your visitors by identifying where they are on your website, their visiting history, payment history, and more
Ask specific questions relevant to what the visitors are doing at any given moment on the site
Create exit surveys to understand why users are abandoning carts, refraining from downloading, or simply not converting on certain pages
Use skip logic to customize the flow of your surveys & alter questions based on the responses received
Pricing: Starts at $80/month.
Read More: 15+ Best Mobile In-App Feedback Tools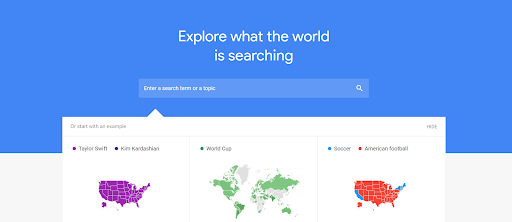 Best for – Keyword Research
With Google processing over 80 billion searches per second, Google Trends most likely heads the list of all free market research tools available in the market. The tool presents data about the top-performing searches on the internet by location as trend lines.
From market research to SEO analysis, Google Trends offers authentic insights into all the things happening at the forefront. On entering a specific term into its search bar, you get an accurate representation of its popularity over time, along with a score out of 100 that helps visualize the metric quantitatively.
Features:
See the frequency of a search term on Google against the website's total search volume over time
Filter & refine your searches by location and year
Visualize the results more tangibly with the graphically represented data
Conduct the searches on any device, including mobile, tablets & computers
Seamlessly integrate the tool with popular software such as Automate.io, Zapier, Google Sheets & more
Pricing: Free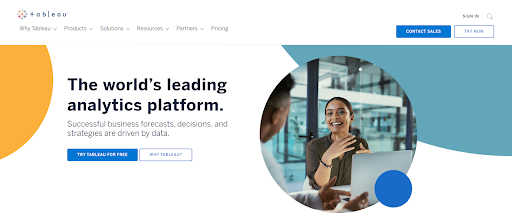 Best for – Data analysis
Tableau is a powerful and intuitive visual data analytics platform that can serve as a top-notch market research resource due to the way it streamlines complex data. This business intelligence suite allows users to connect to any data source and turn the information into visually appealing, easily interpretable reports.
This tool easily integrates with common-use tools and imports data automatically from PDFs, spreadsheets, etc. You need no programming skills to utilize its functionality, and you can easily select the data to be as broad or as granular as you see fit.
Features:
Discover insights from data mined from any source in a simple, aesthetically pleasing format with colorful charts & tables
View & interact with the processed information on a secure, shareable dashboard
Presents data in a holistic manner for viewing & analyzing it broadly
Publish the data along with features like automation & collaboration
Visualize the results on multiple devices & interfaces such as mobiles, desktops, emails, etc.
Pricing: Contact the company for a quote.
Read More: 20 Best NPS Survey Tools & Software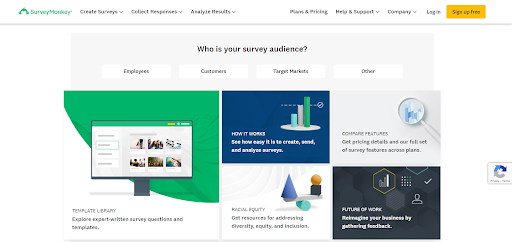 Best for – Creating intensive online surveys
SurveyMonkey is a popular market research app known for creating in-depth user surveys that efficiently capture audience sentiments. The tool allows users to build detailed surveys, polls, and quizzes within a short time. The process gets expedited with built-in templates and easy customization options without impacting the survey quality.
The software has a simple, intuitive dashboard that makes navigation smooth for every user and includes the option to create questions in a way that eliminates all customer biases.
Features:
The results are displayed in the form of easily interpretable visualizations, such as bars, graphs & charts
The end results can be quickly analyzed owing to a simple, clean operation throughout the survey creation process
Built-in question bank featuring queries crafted by professionals across multiple industries
AI-powered analytics that scans the survey draft to determine its efficiency even before publishing
The flexible engagement plan comes with dedicated market research experts & account managers
Pricing: Starts at $19/month.
Read More: 15 Best SurveyMonkey Alternatives & Competitors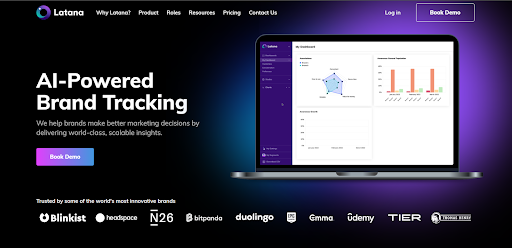 Best for – Tracking brand mentions
Latana is an AI-powered brand awareness tracking tool that gives a good insight into your targeted audience with its potent scouring capabilities. It is perfect as a market research software, as it lets you uncover actionable brand data such as audience demographics, market sentiments, and information on competitor brands.
You can scrutinize the mined data on the analytics dashboard to create new audiences and tailor your current marketing strategy to contemporary trends.
Features:
Reliably gauge your marketing campaigns & utilize the insights to track your brand awareness
Determine the right target audience for yourself by analyzing your brand's performance across any geographical location
Customize the audience tracker to suit each demography with the Advanced Audience Segmentation feature
Gather insights on niche audiences using the AI-powered, enhanced brand-tracking algorithm
Ensure a smooth user experience & valid survey response on mobile devices with the tool's mobile-friendly approach
Pricing: Contact the company for a quote.
Read More: Brand Awareness Surveys: Definition, Survey Questions & Examples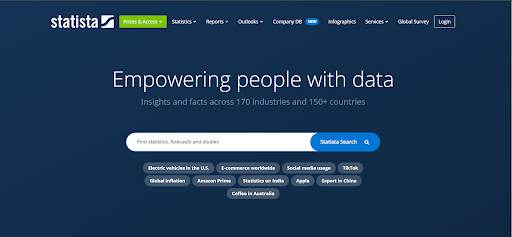 Best for – Viewing statistical data
As an extensive hub of statistical data, Statista is a household name for all those familiar with any data research. This data collection portal gathers information across 600 industries and 50 nations, making it one of the top market research tools that can provide the user with a global perspective.
Having a fairly simple interface, Statista brings forth data for any typed query in the form of bar graphs quite readily. For market researchers looking for accurate data backed by research, Statista still remains to be the prime source that is approached.
Features:
Detailed statistical reports for a wide number of studies across multiple industries
Easily interpretable data representation in the form of bars & graphs
Downloadable results and infographics
Data can be filtered according to specific types
Scope to conduct Global Consumer Surveys to understand consumer behavior
It can be integrated with other tools by simply copying an HTML code
Pricing: Starter account starts at $29/month along with a free trial.
Related Read: Data Collection Methods: Types & Examples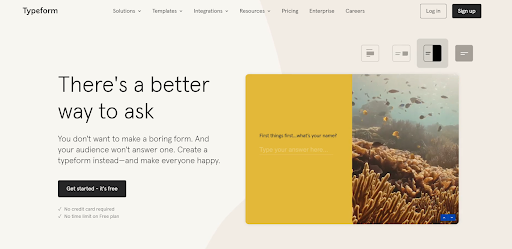 Best for – Creating appealing customer feedback forms
Typeform is a cloud-based survey creation app that lets you create aesthetically pleasing, engaging customer feedback forms quickly. The tool features a simple, intuitive UI with a drag-and-drop form builder that you can use to create and customize surveys according to your brand image. Along with a detailed reporting & analytics section, Typeform also offers users the ability to view survey responses in real time.
Features:
Creates surveys in a conversational, one-question-at-a-time format for better engagement
Built-in photo & video library to infuse drab surveys with life
Custom layouts & themes to make the survey forms fit the brand they represent
Conditional logic to bring the right questions into focus depending on the responses
Surveys can be shared through emails, links, or by simply embedding them on the website
Pricing: Starts at $25/month.
Read Here – 11 Best Typeform Alternatives & Competitors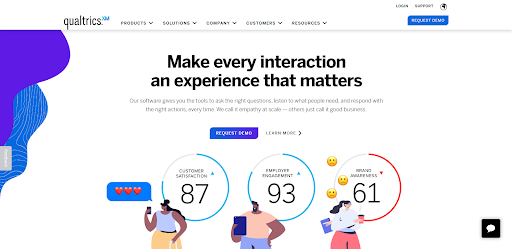 Best for – Customer experience management
Qualtrics is an AI-powered market research software that lets you extensively probe the market and ensure quality customer experience for your audience. The tool offers multiple services, such as audience segmentation, competitive benchmarking, customer feedback, and analytics, all simultaneously.
It uses advanced statistical methods to uncover insights about your brand performance in any given demographic. It performs all of these in a fraction of the time taken by traditional methods.
Features:
Analyze current market trends to modify your campaigns accordingly
Optimize & improve customer experience holistically with conjoint analysis
Manage changes effectively using the A/B testing module
Gather feedback from various channels like phone calls, social media & third-party review websites
Track all customer interactions pre-configured reports, executive dashboard & predictive analysis
Pricing: Contact the company for a quote.
Read Here – Top 10 Qualtrics Alternatives & Competitors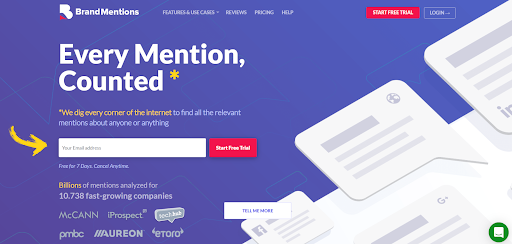 Best for – Tracking brand awareness
As a perfect audience research tool, BrandMentions is ideal for tracking what people feel, think, and say about your business. Users get notified of fresh brand mentions anywhere on the internet instantaneously. This feature is especially helpful in tackling negative press, perceiving user sentiments, and analyzing current market trends. From media monitoring to competitor spying, there's a lot you can do with this feature-packed platform.
Features:
Tracks social media activity across various platforms such as Facebook, Twitter, Instagram, etc.
Offers advanced filters to find the mentions faster & with more precision
Supports multiple languages & countries that broaden the scope of the probing
Provides built-in customer sentiment analysis to gain an in-depth understanding of the product/brand performance
Allows a complete view of the competitors' strategies that makes users aware of their current standing
Pricing: Starts at $129/month.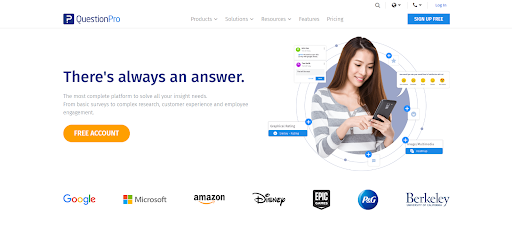 Best for – Comprehensive market research
QuestionPro offers a well-rounded view of market trends and customer sentiments with surveys that range from basic to intricate. The tool offers multiple question types, branching, and customizable templates to make the process of survey creation easier for both beginners and experienced users. With QuestionPro, you can conduct A/B testing and Max-Diff analysis with real-time reports to gain actionable insights and quickly convert them into efficient campaigns.
Features:
20+ professional survey themes that can be customized to include the brand theme & logo
Skip logic branching for more intuitive surveys that serve up questions based on the user's response
Supports surveys in multiple languages across various device types
Heatmap & customer sentiment analysis to track a product's popularity accurately
Raw data export that allows users to download all survey responses and manipulate them as required
Pricing: Starts at $99/month along with.
Read More: 90+ Market Research Questions to Ask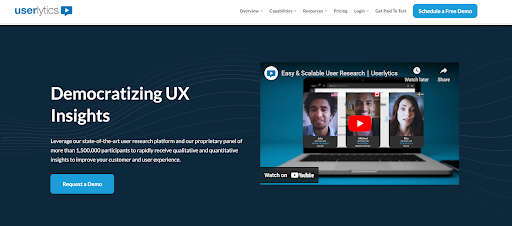 Best for – Gaining UX insights
If you are looking for a tool that can conduct extensive research on user experience, Userlytics can be the ideal pick for you. The software allows you to hold remote usability tests to better align the products/services to customer demands.
Additionally, Userlytics bypasses the struggles of face-to-face interactions and replaces them with live, virtual ones. This way, you can research your customers and gather in-depth feedback from your audience hassle-free.
Features:
Offers a wide range of test types, including prototype & usability testing, card sorting, tree testing & more
Has features like multiple question types, rebranding, multi-language support, branching logic, etc., to create the perfect surveys for all audience segments
Provides unique insight into the customer experience with a proprietary panel of 1,500,000+ participants
Consists of a built-in analytics dashboard to let users view their NPS scores, success metrics, task results, etc.
Pricing: Customizable according to budget
Wrapping Up
Market research will always form an integral part of all plans you may have about establishing your business. More than letting you level your playing field well, market research reduces business risks and ups the chances of your brand flourishing by several notches.
A successful research process is complete only when you can compare your findings with your objectives and derive the essence of what's truly important.Here, we have gone through the nitty-gritty of the 12 best market research tools to let you choose the one that fits your journey. All you need to do now is tally the features against your requirements and find the best match.
Do you want a free Survey Software?
We have the #1 Online Survey Maker Software to get actionable user insights.