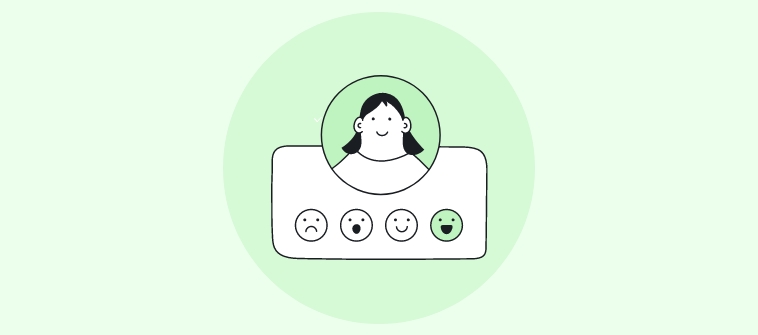 Market research questions can help you capture the best insights when you are up for launching a new product or a feature. Sending out such surveys about market needs and preferences enables companies to understand how their target market feels and behaves.
But why market research surveys?
Because market trends change with the change in opinions and preferences of your customer base. Even your most loyal customers will turn to other brands unexpectedly. For this reason, a marketing questionnaire can help you find out what your customers want and think.
However, the key to success is deciding which questions to ask.
In this blog, we have gathered a list of 90+ market research questions that you can use for conducting in-depth market research surveys.
Continue reading to find out.
What are Market Research Questions?
Market research questions are questions that businesses send out to their existing and potential customers to understand their perception and opinion on a given subject.
But how does it actually help?
Market survey questions help businesses collect precise information about the market, audiences, and competitors. This helps businesses validate the market demand and profitability of their product/feature before diving into the development process.
Also, such structured questions have limited answering options, which makes it easier to apply formulas and patterns to accurately analyze the gathered data.
For example, via market research questions, you may collect easy-to-segment data mentioned below:
Job title

Type of industry the respondent works in

Education level

How did they get to know about you?

What are you planning to buy from the [brand name]?

What products do you like to buy from a [competitor name]?

Why do you buy from the [brand name]?
Therefore, with the collected data, brands can serve their customers better and make their upcoming products/features stand out from the competition.
Watch more: How To Create Survey Using ProProfs Survey Maker
Market Research Questions (categories with questions)
Before you start creating a perfect market research questionnaire, you must consider a few crucial parameters. Start by asking yourself:
What is the size of your target market?

Who are your target customers?

What are the primary issues that your customers face?

How can your product or service help solve the issue for your customers?

Does your product perfectly fit into the current market?

What's the volume of potential customers?

Have you set a good customer persona to understand your ideal target customers?

What are the key consumer trends?

How do you identify new target segments? And, how are these new segments different from the existing ones?

Who are your direct competitors? What are their strategies for attracting customers?

How do you

generate leads

?
Therefore, to position yourself as an expert before launching a new product/service, it's crucial to have in-depth knowledge about your customers, the industry, the market trends, and your competitors.
Once you are done with it, you can start curating marketing research questions that can help your business idea to thrive.
Market Research Questions for New Product Launch
Launching a successful product or a service demands extensive research and market testing. You can include the following product survey questions:
1. How did you hear about [brand name]?
2. What made you choose us?
3. What features do you like most about our existing product or service?
4. What feature would you like to see in the website/product?
5. Is our product or service convenient to use?
6. Which feature do you think will help improve the existing product experience for you?
7. Among these four options, what's the next thing you think we should launch?
8. What's the one feature we can add that would make our product more valuable for you?
9. Would the implementation of [feature name] increase the usability of the [product name]?
10. Are you aware that we offer [product/service name]?
11. Did we answer all your questions or solve your problem?
12. How long have you used [product name]?
13. How often do you use [product name]?
14. Did we help you get started using our product or service?
15. For your next purchase, how likely are you to purchase from our brand?
Very likely

Somewhat likely

Not sure

Unlikely

Very unlikely
16. Compared to other products in the market, would you say that our product is:
Much better

Somewhat better

Almost the same

Worse

Much worse

Don't know or never used
17. Will you use or purchase our product again?
Definitely

Probably

Might or might not

Probably will not

Definitely, will not

Never used
18. Are you willing to refer our product/service to your friends, family, or colleagues about us?
19. Why have you decided to leave us?
20. On a scale of 1-10, how will you rate your experience with us?
21. In your opinion, how can we further improve this product/feature?

Market Research Questions for Potential Customers
These market research questions will help you create an accurate buyer persona by understanding your target customers. The basic things you need to ask are:
Age

Gender

Address

Education level

Profession/Job

Household income

Household size
22. What are your hobbies and interests?
23. How old are you?
24. What is your monthly income range?
25. What is your current marital status?
26. What is the name of your company?
27. Where is your company's headquarters located?
28. Please specify the number of employees that work in your company.
29. What is your job title?
30. In which location do you work?
31. What type of activities do you prefer in your free time?
32. Do you take part in physical activities?
33. Where is your dream holiday destination?
34. How would you rate the following according to their priority in your life – family, work, and social life?
35. Are you happy with your current work-life balance?
36. How would you describe yourself: An optimist or a pessimist?
37. How often do you give to charity?
38. How do you commute to work?
39. How do you do your holiday shopping?
40. How much do you spend on shopping every year?
41. What are the common challenges you face regularly?
42. What are your main goals in life?
43. What products do you consider the most important to solve your business problems?
44. Where do you usually search for new products?
45. How much do you usually spend when purchasing (product category)?
46. How likely are you to buy [product name]?
Market Research Questions to Collect Feedback on Existing Product(s)
For product-based organizations, collecting customer feedback is a key to steering their products towards success. For this reason, selecting the right set of market research questions you ask your existing customers is important.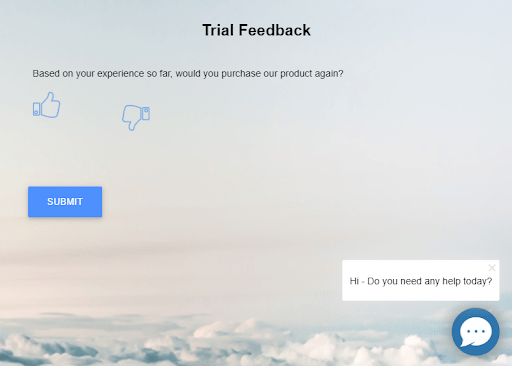 47. Have you heard of [product name] before?
48. What specific problems does our product solve for you?
49. How would you feel if [product name] was no longer available?
50. How would you rate our product delivery?
51. Do you face any challenges while using our product?
52. How disappointed would you be if you could no longer use [product/feature name]?
53. How often do you use [product name]?
54. How long have you been using [product name] for?
55. When was the last time you used [product name]?
56. How would you rate our customer experience?
57. What do you think about our product pricing?
58. In your opinion, in which area is this product/service lacking the most?
59. How does the product perform after the update?
60. Have you faced any problems with the product? Specify below.
61. What feature did you expect but not find in [product name]?
62. On a scale of 1-5, how satisfied are you with the product?
Watch more: How To Create a Customer Satisfaction Survey
Market Research Questions for Competitive Analysis
Asking specific competitive analysis questions can help you dig deeper into market share and internal information about your counterparts. You can ask the following questions:
63. How would you feel if you couldn't use our product anymore?
64. Have you considered other solutions/alternatives?
65. Which other options have you considered before choosing our product?
66. What made you choose our brand rather than a competitor?
67. What do we do better than other company's products?
68. Which product would you use if our product is no longer available?
69. What are the first three brands in this product category that come to your mind?
70. In your opinion, how can our product stand out from the competition?
71. Please share your overall opinion of our brand?
72. Please share any additional comments or feedback?
73. Have you seen any other product with a similar feature?
74. In what aspects do you compare our products to our competitors?
75. Compared to the other available options, is our product quality better, worse, or about the same?
76. Please list the top three things that helped you choose us rather than a competitor.
Market Research Questions For Concept Testing
Before the final launch, a concept testing survey helps businesses to evaluate product development by collecting feedback from customer segments that make up their target market. This testing helps them avoid mistakes and tailor their products according to the customers' needs.
You can include the following marketing survey questions to get accurate feedback from the respondents:
77. How would this new feature help you solve your problem?
78. What is your least favorite part of the feature and why?
79. What do you consider before deciding on a version of the product?
80. How do you feel about this new feature?
81. What really excites you about this new feature?
82. Do you think this new feature can extremely help in improving the existing product, and why?
83. Have you seen something similar to this product feature elsewhere?
84. How does this new feature improve your overall experience?
85. Do you think this new feature is appropriate for [product name], and why?
86. How much would you wish to pay for this product?
87. Which of our products appeals most strongly to you, and why?
88. How could this product make a difference in your daily life?
89. Describe why you think this product is innovative?
90. Describe why you think this product is not so innovative?
91. What development stage do you think the product currently is in?
Tips to Create Effective Market Research Surveys
Step 1: Choose the Best Survey Software
With various survey tools available on the market, choosing the right one could be tricky. You just go for a survey maker tool that helps you create, customize and share different types of surveys such as pop-up, scored, NPS, sidebar across email, social media, websites, etc.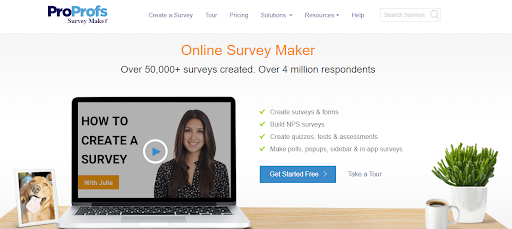 The tool should also support multiple question types, and you should be able to measure survey performance and evaluate feedback with built-in intelligent analytics.
Step 2: Choose the Right Survey Questions
Before creating a survey, you should have clarity regarding your end goal based on qualitative and quantitative research. For example, if you are looking for simple yes-no answers, you can choose close-ended questions, whereas if you are looking for comprehensive answers, then you may want to consider open-ended questions.
Or, if you are looking for quick-to-sort feedback that can help you identify trends easily, then multiple-choice, Yes/No, and Likert scale questions work well.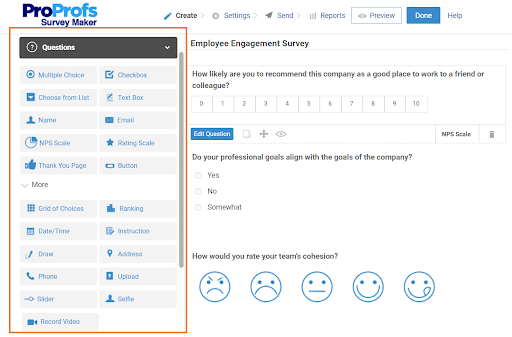 Read More: Survey Question: 250+Examples, Types & Best Practices
Step 3: Ask Questions That Match Your Survey Goals
Before you start creating a survey, think of what information you want to collect from customers. The data you need should directly relate to the problem you want to solve for your business.
For example, you should send out questions related to a new feature before launching it to gather customer insights about your concept.

Whereas, demographic questions are best if you want to know who your potential customers are. Such questions help you gain basic information about the customers, such as their age, place of residence, occupation, income level, and more.
Step 4: Share Surveys at a Suitable Time
Timing is the most essential aspect when it comes to surveys. Wrong timing can reduce the chances of collecting feedback from your target audience. On the other hand, when the timing is right, you can collect actionable feedback about their experiences.
For example, the ideal time to send the survey is just after a customer interacts with your business. Just because the interaction is fresh, they will be able to provide the most genuine and fresh feedback.

Also, the brands can send the survey a few days after the purchase. This will offer the customers some time to use your product and let you genuinely know how happy or unhappy they are, what's bothering them, and what you can do to improve.
Effectively Capture Market Insights With Market Research Questions
When executed well, market research can save a lot of time and effort in collecting valuable feedback. Whether you're starting a business, launching a new product/feature, or improving your existing processes, market research questions can fetch you the answers you need to create dynamic strategies.
Ask the right questions to the right audience at the right time and you'll surely get useful results. However, it's important to tailor questions to specific contexts. For instance, if you are conducting product market research, you should ask questions that would provide useful information on product feasibility in the current market.
And for a seamless process, you can create a market research questionnaire with powerful tools like ProProfs Survey Maker and Qualaroo and easily share it with your target audience in various forms.
Do you want a free Survey Software?
We have the #1 Online Survey Maker Software to get actionable user insights.