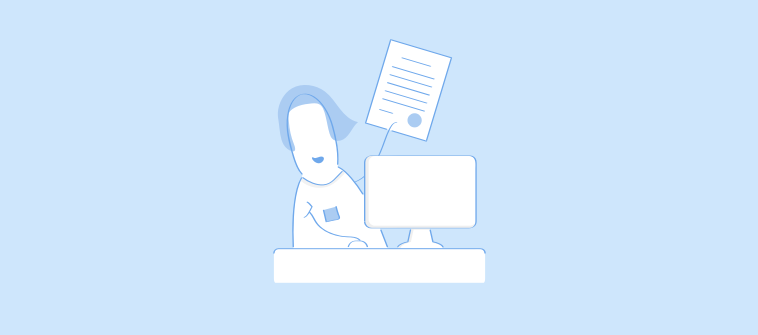 Businesses spend countless hours building the best-in-class products that can bring them more sales.
But, only a few products manage to win customers.
Let's face the truth. The secret to a successful product doesn't depend on innovation and quality alone. Your product should resonate with your customers and meet their evolving needs and expectations.
As customers are the best judge of your products, it's always better to ask them what they like and what they don't.
That's where product surveys come into the picture. They help you discover customer pain points, predict pitfalls, and understand customer needs.
This blog lists the top product survey questions that can help you get started.
Here we go.
What Are Product Surveys?
Product surveys are tools used by organizations to learn what their users think of their products.
Product surveys are not limited to only existing products; these surveys can be conducted before the product development, before the launch, and even after the product has been launched.
Every company strives to make the perfect product. In an age where every day sees innovation in the market, creating the ideal product is an immense challenge. While you may not be able to create the most innovative product in the market, you certainly can create one which resonates the most with your target market segment.
Before you start developing your product, create a survey to collect customer feedback from your target market. Learn what they think is missing from existing products, what they expect from a new product, and once you've launched your product, how it performs compared to your competitors. These product insights can be used to determine how well the product might perform in the hands of consumers.
If you're looking to run your product surveys and aren't sure what to ask, we've got that sorted for you. Here are product survey question examples that you can add to your next product survey.
Read More: How to Send Email Surveys
New Product Survey Questions
What features do existing products lack?
There are great chances that your product has an astounding set of features. However, customers might think otherwise. This question will help your business realize the crucial features that customers might have found in competitor products. You can get a fair idea about all the features you need to include to make your product a hit among your audience.
What product would you use as an alternative if our product was not available in the market?
This is a great question that will help you identify your top competitors in the market. You can easily see if the products mentioned by your customers are closely related to your product, whether they are introduced at the same price, or whether they are quite different from what you offer.
Which of the following describes your need for the product?
This question can help you understand the reason behind the purchase of your products. You can see the problems customers are solving using your product and how it has changed their life or simply made their lives a lot better.
How often do you use the product?
Every business owner wants to know how frequently do customers use their products. You can easily see if customers are heavily dependent on your product and use it on a daily basis or whether they use it every once in a while.
How much do you expect to pay for the product?
Are you having a hard time deciding the 'perfect price' for your product? Why not ask your customers directly. This question will help you understand the number of money customers are willing to pay for your product.
What is your overall reaction to a product like this?
This interesting question can help you unravel the emotions that go through your customers' minds when they see your product or hear about it from a friend. Does your product make them feel happy? Or are they too excited to get their hands over it as quickly as possible?
Read More: 250+ Survey Question Examples For Your Feedback Forms
Product Evaluation Survey Questions
How did you first come across this product?
This question can help you gauge the return on investment (ROI) of all your marketing efforts. You can easily identify the source that made your product visible to your audience. The source can be a giant billboard or a small Facebook advertisement.
How long have you used this product?
This question is a great way to gauge customer loyalty. If customers have been using your products for years, then congratulations, you have successfully created a loyal customer base. If a majority of customers have not used your product for more than a month, you need to see what is making the switch to other products.
How satisfied are you with this product?
Another great question that gives you the opportunity to measure customer satisfaction. A proper understanding of your customers' satisfaction levels will help you understand their specific needs, better than any research or marketing campaign.
Compared to its competitors, how do you rate the quality of this product?
Do you wish to know how the quality of your products is perceived in the market? Then this question can do the job for you. This question can help you understand the position of your product compared to other available products.
On a scale of 0-10, how likely are you to recommend this product to your friends and family?
This is a simple yet popular NPS (Net Promoter Score) question that can help you understand how likely customers are to promote your product within their social circle. We all know that word-of-mouth is an effective way to market your product, and this question can help you measure its effectiveness.
Read More: What Is a Good Net Promoter Score
Product Survey Template
This is how a survey would look when presented to the customers:
How often do you use our products?
Options: Frequently, Not so frequently, Rarely, Never
How easy is it to use our product?
Options: Very easy, Somewhat Easy, Very Difficult, Somewhat difficult
Similarly, you can ask other product survey questions like:
Which features do you enjoy the most?

How would you compare our products to our competitors'?

What essential features are we missing?

What are you trying to solve by using our product?

Who could find our product useful?

How would you rate the value for money?

How likely are you to recommend this product to others?

How could we improve our product to meet your needs better?
Create Powerful Product Surveys
Get started on creating your product surveys with the help of online survey maker tools today! The whole process is reduced to four simple steps with ProProfs Survey Maker. All you have to do is:
Pick a template and create a survey of your choice.

Choose a question type from a wide range of options available.

Customize the survey with your theme, logo, and design.

Preview the survey, and if you are happy with the way it is built, share it on social media, or embed it on your website or help center.
Watch: How to Create a Survey with ProProfs Survey Maker
Create Attractive In-App Product Surveys in 4 Easy Steps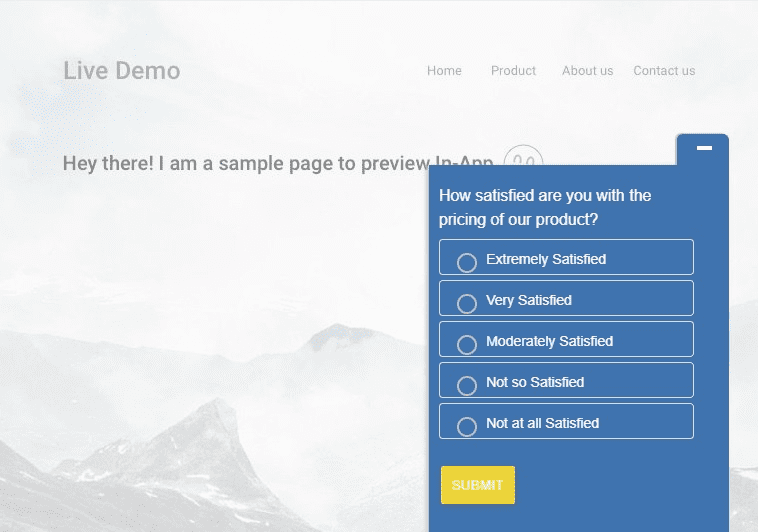 The In-app surveys appear in a collapsible window usually at the bottom of a webpage or a mobile app. Such surveys are generally designed to collect feedback on a specific webpage.
For instance, you can use a pricing-related in-app survey on the pricing page of your website. Or you can use such a survey on your blog page to better understand how helpful an article was for a reader.
For creating In-App surveys, simply follow these steps:
Step 1: Click + Create a Survey on your ProProfs Survey Maker dashboard.

Step 2: Click Create In-App Survey.

Step 3: This brings you to the Manage Survey screen now. It is where you edit a survey including adding/removing questions, branding, logo, and more.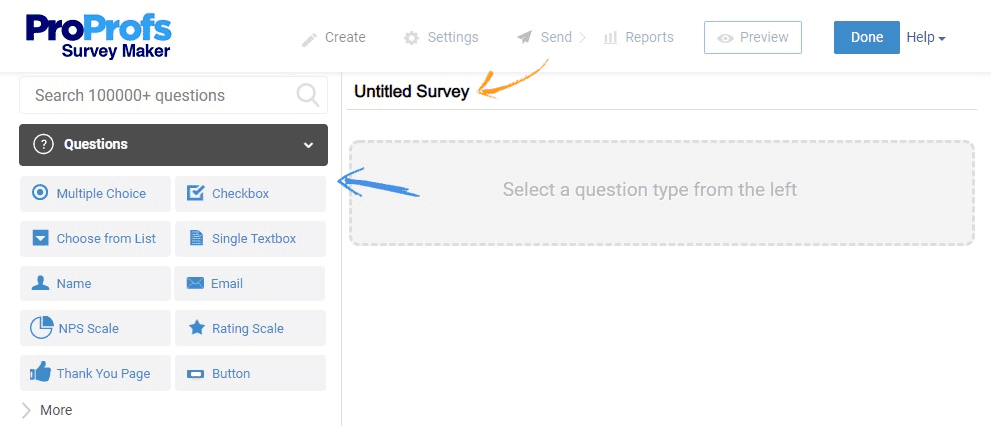 Step 4: Once you are happy with the look and feel of your survey, click Done, and your In-app survey is ready. If you want, you can add more questions depending on your requirements.

ProProfs Survey Maker is a super-easy survey tool that allows you to ask the right questions at the right time. Simply choose from over 100 plus pre-made survey templates and create your first survey today!
Do you want a free Survey Software?
We have the #1 Online Survey Maker Software to get actionable user insights.