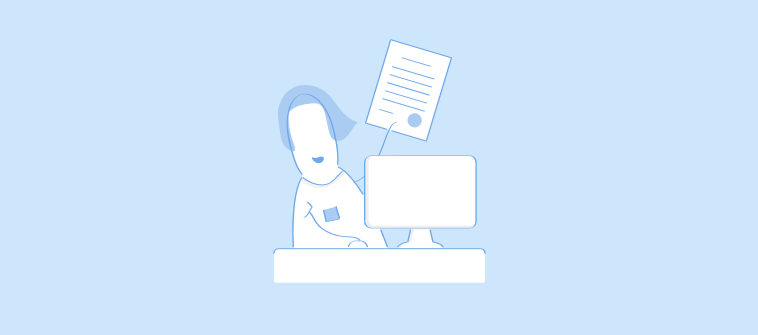 The best product managers draw inspiration from customers to build powerful solutions that resonate with the target audience. For that, you need to hear the voices of your target users, and product survey questions are your best bet.
As Noah Shrader, Product Manager at Lightstream Memphis, rightly said:
"When collected intentionally, rigorously and consistently, user feedback helps marketing teams deliver the right messages to activate the right audiences; helps product teams prioritize and build the right features and products; and helps sales teams build strategies that convert newly inspired users into loyal, paying customers."
That's what we have for you in this blog.
We will dive into the importance of product surveys for promoting growth and provide a comprehensive list of 35+ essential product feedback survey questions you can use at different stages of the product lifecycle.
The questions are designed to help you understand the customers' motivations, preferences, issues, and preferences, enabling you to craft the product offerings that align with them.
You can take these product survey question examples and customize them to your needs to gauge your product's usability, UI, usage, new updates, and other aspects.
We have also added some best practices to design targeted product surveys for high-quality insights.
So, let's get started.
What Is a Product Survey?
Product surveys are questionnaires that help collect targeted insights from potential and actual users about their product experience.
Here's a typical product survey designed using ProProfs Survey Maker: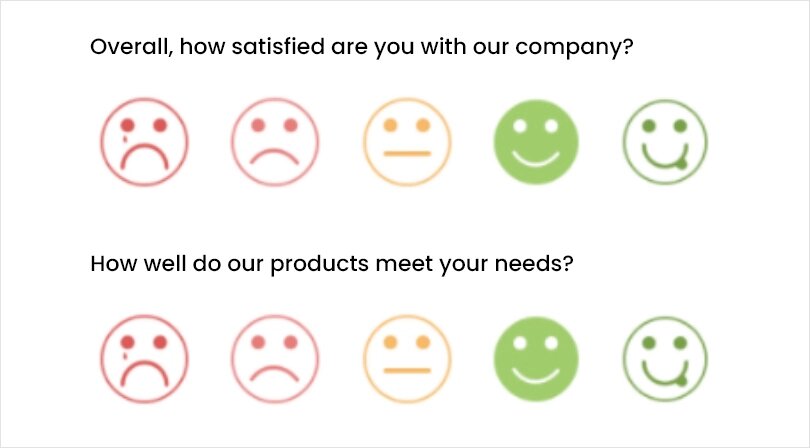 These products survey questions aim to collect feedback on a broad spectrum of various product aspects, such as:
Usability
Product UI
Ease of use
Features
New upgrades
General product improvement suggestions
The Need for Product Surveys
One of the biggest reasons for collecting product feedback is to align your product with customers' expectations. Whether you are building a new product solution or optimizing an existing one, you need to know:
What do your customers want?
How do they feel about your current products?
What issues do they face while using the product?
Are they satisfied with the current solution?
What are the main areas of improvement to enhance the overall product experience?
Product feedback survey questions extract these answers so you can push the insights into your product development and optimization cycle.
When to Run Product Surveys?
You can run surveys at every stage of your product lifecycle, i.e:
Ideation stage
Development stage
Post-release optimization stage
Churn
For example, during the ideation and prototyping stages, you can use product feedback to gauge if the informational architecture is easy to understand and navigate. You can also track any redundant steps in critical user flows. It would help you release an optimized product.
Read More: Explore 100+ Ready To Use Survey & Form Templates
35+ Product Survey Questions to Build Optimal Product Solutions
Here are some targeted product evaluation survey questions to ask your users. We have categorized the questions based on the product stage. You can always mix and match the questions to customize the product survey per your needs.
Ideation Stage Product Feedback Questions
The ideation stage is when you come up with the possible UI and features for the product. It's the first step in the product development process. This stage is accompanied by the creation of design prototypes and wireframes to decide on the product's informational architecture and other UI elements.
Here are a few product survey question examples to evaluate your prototypes:
Was it easy to use the product?
What do you think about the product navigation?
Was it easy to locate the settings and features you were looking for?
How easy is it to navigate the product?
What's your first impression of the product?
How can we improve the product?
Development Stage
Once you have made the changes to the wireframes, it's time to push the product solution into development. Here you can use the product testing survey questions to make improvements to the product, run pricing analysis, and find product opportunities.
Here are some product survey questions for the development stage:
According to you, which feature would help to make the product better?
Do you think the [price] is justified for the product?
Name 3 three features that you like the most in the product.
Would you purchase this product if it were available today?
According to you, what should be the ideal price for this product?
How likely are you to recommend the product to others based on the current features?
What problems and issues are you looking to solve with our product?

Post-Release Optimization Stage
After launching the product, assess if it meets customer expectations. You can use product feedback surveys to see what makes your product better than the competitors, which features work the best for users, and more.
Here are some good product survey questions for post-release optimizations:
Which other product options did you consider before buying our [Product name]?
Have you come across a product with [feature name]?
How was your experience after you started using our product?
What made you choose our [product] over other similar products?
Considering our competitors, is our product better, worse, or about the same in terms of quality?
How would you rate our product/service according to the following aspects: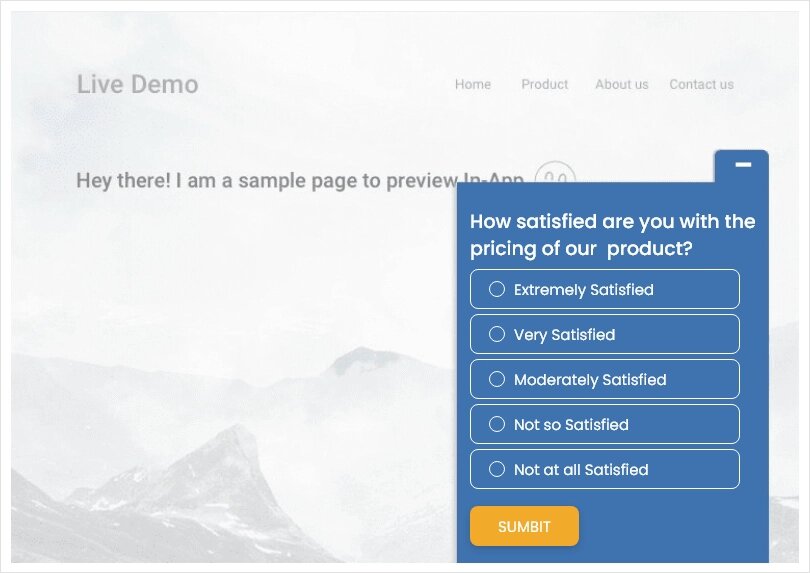 Collecting Feedback on New Product Feature or Update
Product innovation is an ongoing process, so when you add a new feature or release an update, it's important to gather feedback to gauge its effectiveness. You can see how people feel about the new feature. Was it able to improve the overall product experience?
Here are a few product survey questions to evaluate your feature releases:
On a scale of 1-10, how would you rate this new feature?
Please share your suggestions on improving the [feature name] further.
Would you recommend [product name] to others after adding [feature name]?
What feature should we build next?
Gauging Product Experience
When the product is in the market for a substantial amount of time, it's time to stay ahead of the curve and increase profits. For this, you need to gauge the users' experience and make improvements to beat the competition.
Here are some product satisfaction survey questions to gauge overall user experience:
Overall, how satisfied are you with the [product name]?
Which features do you like the most in our product?
What issues did you face when you started using the product?
Is the [product name] worth the price?
Which features do you like the least in our product?
How can we make the product better?
How would you describe the overall product experience?
How likely are you to buy again from us?

Mapping Product Churn
Let's complete the product cycle with churn-based feedback. It's when a user decides to stop using the product.
But why should you survey these users?
Because they provide insights into why people would leave your business and go to the competitor.
These product feedback survey questions aim to explore the reasons for user attrition and identify potential ways to mitigate it.
For example, if a user states that they find the product pricing high and that's why they have decided to cancel the subscription, your sales team can devise a custom plan for the user to retain them.
Or, if the user is looking for specific features not currently available in the product, you can offer them customization services to add the requested feature.
Here are a few churn-related product feedback survey questions to ask users:
How would you rate the overall experience with the [product name]?
Based on your experience, how likely would you recommend the [product name] to a friend or colleague?
What is the reason for your answer?
What are your reasons for canceling the subscription?
What features are missing in our product?
Is there anything we can do to stop you from leaving?
4 Benefits of Asking the Right Product Feedback Survey Questions
1. Helps to Validate Ideas and Concepts
As discussed above, one of the most significant advantages of using product survey questions is to validate the early product ideas and see which ones are viable to push into testing and product development.
Product teams consistently receive new suggestions for product improvement. With product feedback, you can cross-reference the ideas with the customers' expectations and issues to find the best ones.
For example, you can examine where most customers face problems while using the product and design a feature or update to streamline that user flow.
That's what Twilio does to come up with optimal product solutions. The teams at Twilio use surveys to collect feedback and use it for fishing out the idea worth testing.
It helps them to deliver new features and updates every week.
2. Optimize the Product for Better Experiences
Product issues can pop up at any time affecting one or multiple users. The problem is you cannot monitor each customer individually, but you also can't leave the product issues as they are.
So, what's the solution?
Proactively ask the users about any issues they might be facing.
With simple product feedback survey questions, you can map and fix these issues for all users. You can gauge various in-product workflows and discover product-breaking bugs.
This approach is beneficial if you have just released a new product upgrade. You would be able to see if the update is causing any unknown bugs to be on top of the situation.
Read More: User Experience Surveys
3. Improve Customer Satisfaction
Product survey questions have a two-pronged effect:
They open up a conversation with the product users.
They demonstrate that you value user feedback and use it to improve the product.
Moreover, 78% of customers also favor brands that collect and act on customer feedback.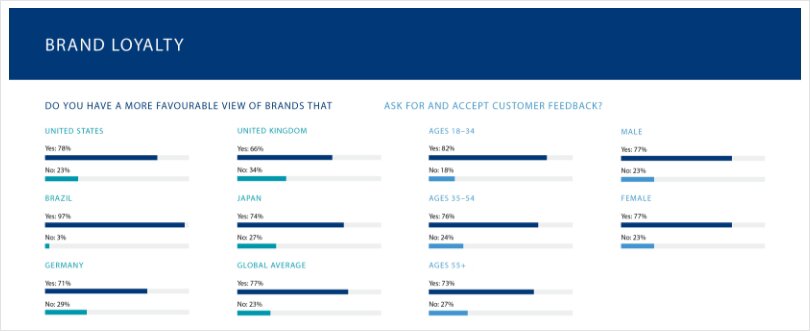 By maintaining a continuous product feedback loop, you can collect user insights to refine the product and improve the overall experience. Ultimately, it would help to enhance user satisfaction and deliver customer delight.
Build Product Roadmaps
A continuous product feedback loop would provide plenty of customer suggestions and opinions about the product.
Of course, you can't work on all the suggestions simultaneously. Even when filtered to keep only viable ideas, it would be quite an undertaking for a single optimization cycle.
That's where product roadmaps come into the picture.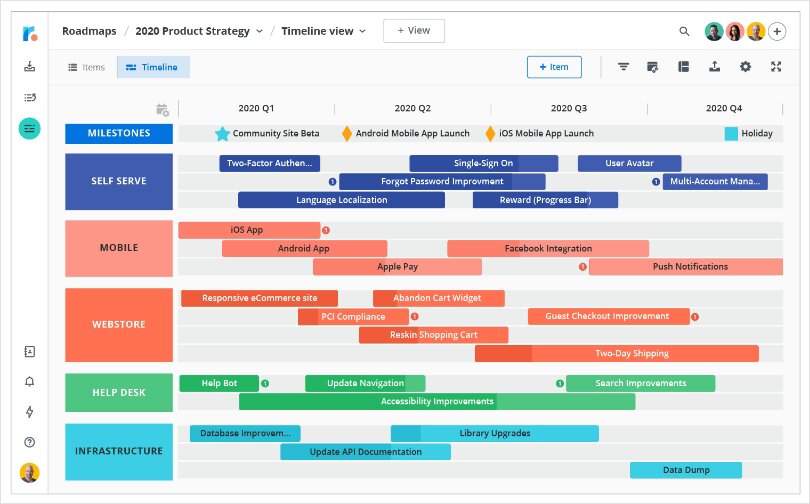 Depending on your scope, you can prioritize different ideas and design a product roadmap for the next quarter or year. It would ensure that you keep bringing improvement updates for your product users.
Then, reapply product survey questions to collect insights about these updates.
Rinse and repeat.
5 Best Practices to Write Good Product Survey Questions
1. Set the Goal of Your Product Survey Campaign
There are hundreds of questions to ask about your product. We know it's tempting. But overwhelming the respondents with too many questions can lead to user frustration and survey abandonment.
So, first, decide what you want to measure or track with a particular product survey:
Do you want to collect data on users' preferences and expectations?
Do you want to know the users' consensus on a newly added feature?
Then, you can meticulously choose the questions accordingly.
Having a clear goal will also help you target the right audience. For example, if you are looking to gauge the overall product experience, regular users would fit the target audience more than new users.
1. Avoid Double-Barreled Questions
Double-barreled questions tend to ask two different questions in one. One may think it's an excellent way to reduce survey length, but respondents may have different opinions about each question.
Here's a question: How satisfied are you with our product onboarding and customer service teams?
The user may be delighted with the onboarding tour but dissatisfied with the service team. But if they have to choose only one option from predefined answer choices, it would reduce the data reliability.
That's why it's good practice to avoid such product survey questions. You can weed out such survey issues by testing them before sending them out.
2. If Possible, Split the Matrix Question Into Individual Questions
A matrix-based question is another great way to reduce the survey length, but it carries the risk of straight-lining, where the respondents give identical answers to all the individual questions.
It would dilute the data quality making the results unreliable. So, it's better to split the matrix into individual questions to improve the data quality.
3. Leverage the Foot in the Door Principle
The foot-in-the-door strategy states that people are more likely to comply with your bigger requests if you can make them agree to complete smaller ones first.
So structure your product survey questions to leverage this compliance technique.
Start with closed-ended questions like yes/no or a rating scale to ease the product users into your surveys. Then, you can add open-ended questions to collect more in-depth insights about their product experience.
You can add one open-ended question for every 3-4 closed-ended ones to keep the survey short and effective.
4. Consider Offering Incentives to Boost Response Rates
It's essential that the survey responses reach the required sample size for the insights to be reliable. One way to improve response rates is to offer incentives to the respondents.
It can be a small discount code, limited access to premium features, free shipping, or complimentary products.
But be careful with this strategy, or it may backfire. People may fill out the survey randomly just to collect the incentive. It would decrease the data reliability.
So, add screening questions at the start of the survey to disqualify irrelevant respondents. You can use question branching to add screeners and redirect the respondents to the next question.
Ask the Right Product Survey Questions to Drive Growth
Now that you are armed with insightful questions, it's time to design a closed feedback loop because there's no point in asking questions if you will not work on it.
Here are our two cents to get started.
Start by investing in robust survey management software. Look for a tool like ProProfs Survey Maker with multi-channel reach, powerful analytics, and ease of use.
Next, set up survey campaigns to collect insights for each product development and optimization stage. Remember to incorporate the best practices and test the product survey questions before sending the survey.
The most crucial step is to periodically pull actionable insights from the raw data and channel them to the right teams. It would help to build personalized campaigns, design product roadmaps, and resolve issues to improve the product experience.
Then, repeat the cycle.
FAQs
1. Is a product survey the same as a customer survey?
Product surveys are a subset of customer surveys. They aim to collect the customer experience and opinions about the product, which is a part of the customer journey.
2. What is the value of a product survey questionnaire?
If designed and executed correctly, product surveys can be of tremendous value for various teams like development, marketing, customer service, and sales. These surveys provide helpful insights into customer satisfaction, expectations, and concerns about the product.
Do you want a free Survey Software?
We have the #1 Online Survey Maker Software to get actionable user insights.