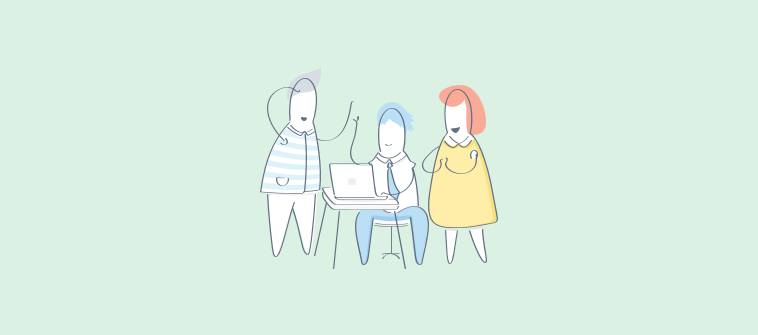 Modern-day businesses are leaving no stone unturned to overcome the digital transformation challenges – thinking that it's the only necessity for plausible results.
If you think the same, then you must reconsider your approach.
The terms "Customer Retention" and "Customer Churn" should be on the exact same page. A general overview of customer retention statistics and churn rate will help you gain a deeper insight into what's happening in your business operations.
Also, a great understanding of how customer retention fits into the bigger picture will help you with determining the benchmark for your customer experience.
For instance, the businesses not responding according to the customer needs fail miserably and the reports suggest that around $1.6 trillion is lost each year due to poor customer service.
On the contrary, the ones actively adopting a customer-centric culture stay longer in the game and are approximately 60% more profitable than their counterparts.
But the irony is; you don't have many chances to get it right, as 32% of your customers could stop doing business with you just after one bad experience.
Now, this leads to the question as to how existing customers could be effectively retained?
However, before diving into 'how', let's first analyze the 'why' aspects.
Why Do Customers Leave?
Companies find it difficult to be in tune with their customers, especially the ones following traditional operational methods – resulting in a decimated customer base and lower revenues generation.
1. On average, all industries fell short of customer expectations by 38% and 96% of customers are willing to leave for bad customer service. (Hyken)
Every customer wishes to feel special. Once they feel that they don't matter to a company or their problems are not taken seriously, they will leave.
2. Only 22% of global customers acknowledge that the companies which they do business with offer personalized experiences, based on a deep understanding of their needs, preferences, and past interactions.. (Accenture)
A simple "Hey Jack, how are you today?" goes a long way in making a good impression on your customer as opposed to saying "Welcome customer, how may I help you?"
Give a personal touch to the customer conversations and leave an impression that makes them feel at home.
3. 80% of respondents said they'd ceased their business with a company because of a poor customer experience. (Hubspot Survey)
4. 67% of consumers mentioned bad experiences as a reason for churn. (Kolsky)
5. Poor return experiences could cost you 84% of customers. (Klarna)
6. 47% of customers agree that they'll abandon a brand if it doesn't don't offer exceptional customer service. (Microsoft)
7. 30% of consumers will not give brands more than one chance after a negative customer service experience. (Hiver)
The above-listed stats are quite frightening… aren't they?
Now you may be thinking, what could you do to retain your customers?
Well, investing in customer service goes a long way in bringing in new customers and ensuring your current customers come back.
Now, it's crucial than ever for you to shift from a company-centric approach to a customer-centric approach.
As 64% of companies with a customer-focused CEO believe they are more profitable than their competitors.
It's simple. If your business isn't customer-centric, customers will leave your brand. Hence you should strive to keep customers on top priority in order to deliver delightful customer service and turn them into your loyal customers.
Why is Customer Loyalty crucial? (Customer Loyalty Statistics)
Customer Loyalty is nothing but a customer's willingness to associate with or frequently buy from the same brand.
There are numerous factors that raise loyalty, for example, an enticing Customer Loyalty Program. However, in general, loyal customers will ally previous experiences to increase their likelihood of repeat purchases.
8. US retail CX trend report suggests that nearly 77% of consumers have been loyal to specific brands for 10 or more years. (InMoment)
9. 27% of Americans cited "lack of effectiveness" and 12% cited "lack of speed" in customer service as the reason that they aren't loyal to a specific brand. (Statistica)
10. 50% of customers agreed that they've left their loyal brand and opted for a competitor because the brand fails to meet their needs. (InMoment)
11. Brands reported a 306% higher lifetime value of customers who felt they had an emotional connection with the company. (Motista)
12. 37% of customers agreed that they will pay a fee for a more advanced tier of loyalty program memberships. (Bond)
13. 62% of shoppers say they won't buy from a retailer that doesn't offer free returns. (Klarna)
14. 86% of loyal customers will recommend a brand to friends and family. (KPMG)
15. 66% of loyal customers prefer writing a positive online review after a good experience. (KPMG)
16. 50% of consumers reported that they intend to buy more products from their loyal brands. (InMoment)
17. 37% of consumers consider 5 or more purchases for being loyal to a brand. (Yotpo)
18. 57% of consumers tend to spend more on their loyal brands. (Accenture)
19. 46% of loyal customers will remain loyal even after a bad experience. (KPMG)
20. 65.2% of customers feel that simply being treated as a valued customer denotes exceptional customer service and the reason to stick to the brand. (Hyken)
21. The brands that can develop high emotional engagements and meet customer expectations are 6x more likely to create loyal customers. And those loyal customers are 6x more likely to stick with their favorite brands through difficult times. (Brand Keys)
22. 93% of customers are more likely to be loyal customers for the brands having excellent customer service. (Hubspot)
23. 71% of Members saying that Loyalty Programs are a meaningful part of their Brand relationships (The Loyalty Report)
24. 55.3% of consumers are loyal to a brand because they love the product. (Yotpo)
25 62% of the customers are likely to stay loyal when a brand builds trust. (Edelman)
26. A quality loyalty program can make 70% of customers recommend a brand to their friends or family. (Brand Loyalty)
27. Customer service is the chief driving factor for brand loyalty to 96% of the customers. (Microsoft)
28. Customer experience is a key factor in driving customer loyalty and retention for 89% of the companies. (Invesp)
It's clear that the chief aspects of building brand loyalty are product consistency, product quality, customer service, and pricing. These aspects encourage customers to either make a purchase or keep looking for alternatives. So research your competitors and always stay a step ahead to elevate the average customer retention rate and an extensive loyal customer base.
How to Retain Customers (Statistics)
Customer service plays an indispensable role when it comes to retaining customers.
Customers these days are smarter than ever and they know what good customer service is.
You may wonder, how?
The renowned companies that are known as the 'customer service rockstars' including Amazon and Apple have taught their customers by delivering promised services.
Hence, it's crucial not to give customers a reason to switch.
This is what they expect.
Therefore, you must analyze:
– Does your customer support possess the skills to solve the customer's problems in the very first contact?
– How often do customers need to contact you to get their problems solved?
– Do you empower your customers to help themselves?
Another 2020 ACA Survey, yielded interesting results; when asked by over 1000 customers if they are willing to pay more in lieu of a convenient experience.
Almost 70% responded that they would pay more for convenience in general and when the 'delivery' is specifically mentioned, that number shot up to over 90%.
Interestingly, when asked those same consumers, just 62% agreed to pay more for enhanced customer service.
This report clarifies that, to a greater extent, convenience beats customer service.
Hence, consider the power of a good customer service experience, which is also convenient. This could be just the right combination that will set you apart from your competitors.
29. 77% of customers stated that they have kept strong relationships with specific brands for over 10 years. (InMoment)
30. 60% of customers agree that they purchase more frequently from their preferred brands. (InMoment)
Read more: 

How to increase Customer Retention
What brings Customers back?
If loyal customers are the most profitable customers and referred customers yield the best marketing returns, then lost customers surely possess more value than cold prospects.
Hence, analyze why those customers have left and take that extra step to win their loyalty for a lifetime.
31. 67% of consumers stated good customer experience as the top reason for coming back to business. (ICSC)
32. 1 in 3 customers agreed that they will pay more if they receive a higher level of customer service. (Genesys)
33. Customers are ready to pay a premium price of up to 13% for luxurious services if they receive a great customer experience. (PWC)
34. A more personalized experience has impelled 49% of buyers to make impulse purchases. (Intrado)
35. 61% of customers can engage back with a brand if they receive surprise gifts, offers, or discounts. (Merkle)
36. Customers are more likely to spend 17% more for a good experience. (Hubspot)
37. 80% of consumers will come back to a brand or make first-time purchases if they receive a discount or offer. (Inc)
38. You can bring 26% of the customers back to your site via retargeting. (Invesp)
39. 65.7% said email was the easiest channel to use than using the phone at 65.2%. (Hyken)
40. 31% of shoppers will return to a brand if they have the option to pay for a product after they wish to keep it. (Klarna).
Treat your customers well, simplify the process of collecting feedback and they will come back to you. Every customer that buys a product from you must have a seamless experience without any hassles.
Customer Retention vs. Customer Acquisition Statistics
Although, it's a fact that customer retention and acquisition are the crucial wings to take off a successful flight of any marketing strategy, yet stats reveal that acquiring new customers is way more expensive than retaining the existing ones.
However, there's no cookie-cutter answer to the question as to which of the both should be focused on more.
41. The probability of selling to an existing customer is 60 – 70%, in contrast to the 5-20% for selling to a new prospect. (Invesp)
42. 20% of your existing customers could yield you up to 80% of the future revenue.
43. 44% of companies have a greater focus on customer acquisition vs 18% that focus on retention. (Huify)
44. A 5% increase in consumer retention can increase business profits by 25% – 95%. (Invesp)
45. 51% of companies consider retaining customers as their primary goal. (Forbes Insights).
46. 82% of companies reported that customer retention is way cheaper than customer acquisition. (Econsultancy)
47. Existing customers are 50% more inclined to try new products and spend 31% more than new customers. (Invesp)
48. A study revealed that the cost of acquiring a new customer is 5% more than retaining a customer. (Huify)
49. A 2% increase in customer retention yields the same profits as cutting costs by 10%.
50. The success rate of selling to an existing customer is 60-70%, as compared to 5-20% for a new customer. (Huify)
Customer acquisition is important, but retention is crucial for a company. Acquiring a new customer ensures one purchase, but retaining one customer can ensure a lifetime of purchases.
Read more: 

Ultimate Guide to Customer Onboarding
B2B Customer Retention Statistics
B2B marketers need to plan their Customer Retention Strategy before actually implementing them.
In this process, they must understand what business factors needed to be focused on more than the others.
It's certain that "what gets measured, improves", yet only 21% of B2B marketers track churn rate.
51. While surveying 500+ brand marketers, it has been found that customer experience (25%) has been the top priority following – brand awareness (18%), customer acquisition (18%), customer loyalty or retention (17%), and customer engagement (15%). (MarketingCharts)
52. For B2B sales, delightful customer experience is a major competitive advantage and is predicted to become the primary brand differentiator, overtaking product and price by 2020. (Walker Info)
53. BrightEdge surveyed more than 500 search, content, and digital marketers about the "next big trend" and customer personalization have been on the top.
In the B2B sphere, understanding the importance of customer service is essential for the higher possibilities for the retention of customers.
Customer Retention Marketing Statistics
54. 80% of companies leverage email marketing for customer retention. (eMarketer)
55. App users who receive one or more push notifications in their first 90-days have 190% higher average customer retention rates than those who don't receive any push notifications. (Airship)
56. B2B marketers use retargeting which accounts for a whopping customer retention rate of 59%. (Truelist)
57. Text messaging has a 45% response rate, making it potential to retain customers. (CustomerThink)
58. 56% of companies claimed email marketing as the best and most effective method to accomplish consumer retention goals. (eMarketer)
Mobile Customer Retention Statistics
Mobiles have become the go-to tool for almost every aspect of the customers, from shopping online to consuming content.
Given the fact that customers use their mobiles as the first choice for getting things done, marketers should offer a mobile-first experience because a mere gap could direct the customer away from competitors.
59. About 57% of internet users say they won't recommend a business with a poorly designed website on mobile. (Socpub)
60. 90% of customers felt that difficult navigation is the main concern when they seek support on their mobile phones. (SoftwareAdvice)
61. 75% of consumers agreed that they would engage more with companies that offer mobile-friendly loyalty programs. (CodeBroker)
62. 53% of people will abandon a mobile website if it takes longer than 3 seconds to load. (ThinkwithGoogle)
63. 85% of customers who are part of a loyalty program and have redeemed them using their mobile phones agreed that technology improved their overall experience. (GlobeNewswire)
64. 56% of customers stated that they use mobile phones to research a product or service before finalizing their decision. (Hawk Incentives)
Everything needs to be mobile-friendly. If your website or payment gateway isn't optimized for all mobile devices, you may lose the probability to have higher brand retention.
Customer Retention Through Social Media
65. 54% of social media users use social media to search for products and services. (Global Web Index)
66. About 47% of global customers consider social media as an effective channel for customer service. (Microsoft)
67. Customers agreed that 59% of brand replies to their Tweets within 15 minutes. (Gartner)
68. 63% of customers are delighted with the response time on social media. (GoGlobe)
69. 69% of U.S. Facebook users who message businesses say it helps them build more trust in the brand. (Facebook)
70. Social Media renders intuitive customer service as 18.7% of US social buyers said they've checked out for their purchases directly through social apps. (eMarketer)
71. 71% of customers having positive social media customer care experience are likely to recommend the brand to others. (GoGlobe)
72. Customers spend 20-40% more with the brands that engage and respond to customers via social media (SocialMediaToday)
73. 85% of customers confessed that the companies have answered their customer service questions asked via social media. (Microsoft)
74. 31% of customers agreed that they reach out to companies using their Twitter accounts. (Forrester)
75. About one-third of Americans use social media platforms to complain about a brand or their customer experience. (Microsoft)
Social media is a booming platform and is used by customers to complain about retailers. Thus, social media plays a key role in a customer's perception of a brand as to whether they will return to your brand in the future.
Live Chat & Customer Retention Statistics
Instant customer support is a prerequisite to counter customers' immediacy. Hence, your company must deploy live chat software for delightful customer support.
76. 87% of customers agreed Chatbots have helped resolve their Customer service issues. (Microsoft)
77. 52% of customer service teams reported that they use live chat software, whereas 81% of customers reported that they prefer to connect with a support agent using live support for resolving their queries. (Salesforce)
78. 63% of consumers reported that they are more likely to revisit and 62% are more likely to buy again from a website that offers live chat. (Emarketer)
79. 42% of consumers prefer live chat to avoid waiting on hold. (Inc)
80. Customers prefer live chat (85%) is second to phone support (91%), beating out help center articles (83%), email support (82%), Twitter support (81%), and Facebook support (74%). (Zendesk)
81. For effective multitasking, 51% of customers prefer live chat, while the other 21% prefer live chat so they can shop while they work. (Inc)
82. Live chat software possesses a 73% satisfaction rate for the customers to interact with online brands. (G2)
One thing customers don't have is time. Deploying live chat software ensures that all customer queries are answered in time and with accuracy. This way, not only are your customers impressed with your customer service; they will come back and recommend you to their friends and family too.
Want to make the most out of your business? Focus on Customer Retention!
No matter which industry you cater to, retaining customers is crucial for a business to be successful. But, retaining customers could be tedious when everyone in the market is trying to be the best at everything. Frequently visit our customer service blog for insightful articles and fresh insights.
Along with taking some pointers from the customer retention statistics mentioned in this blog, it is important than ever to draft a customer retention strategy and ensure efficient execution.
However, the best way to increase customer retention is to give importance to them. Hear them out. Talk to them. Build a relationship with them. And, most importantly, ask where you can improve.
No matter how small or big a company is, if it's willing to accept its faults and come up with an alternative solution, the customer will come back — every single time.
Do you want a free Survey Software?
We have the #1 Online Survey Maker Software to get actionable user insights.