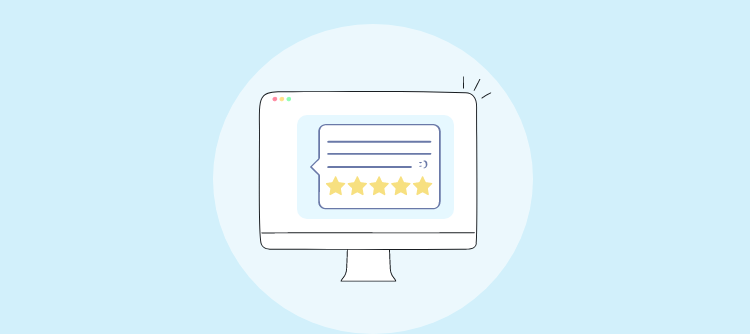 It is quite common to encounter the attractive popup widget that greets you when you scroll through any website page.
The questions that show up on the widget varies from page to page!
Are you visiting our website for the first time?
Have you found the product feature that you were looking for?
Are you happy with our customer support service?
And more..
These are popup surveys in action!
Organizations worldwide are increasingly using popup surveys to collect real time feedback from their website visitors or target audience.
So, what makes it different from a normal longform survey?
Unlike a normal survey, popup surveys appear at a predetermined time on the website. The questions are limited to 1-2 which makes the feedback collection more dynamic and easy. Moreover, this real time feedback survey is a convenient way to analyze the sentiments of your website visitors at every touchpoint.
Through this blog, let's develop a complete understanding of how to create popup surveys, advantages of popup surveys, popup survey examples, and more.
What is a Popup Survey?
Pop-up surveys are questionnaires that help in collecting feedback from website visitors. It helps in asking customized questions to visitors on your website.
It is used by organizations to collect website feedback from their target audience. Usually, the popup is triggered after the website visitor has spent some time scrolling through the web page.
A trigger is created when the visitor performs an action on a page like abandoning a cart, reads a blog, checks product pricing, and so on. Also, popup surveys can be triggered when your website visitor tries to exit the page. With these pop-ups, you get to know the varied opinions of your website visitors: Did they like your website design and font? Were they able to easily gain the product information on the website? Did they like your blog content? And more.
Related Resource: 9 Best Tactics to Collect Website Feedback
In the next section, let's understand the advantages of survey popups.
Advantages of Using Popup Surveys on Your Website
Popup surveys come with many advantages like:
Increased Response Rates
Real Time Feedback Collection
Unobtrusive Data Collection
Easy Setup
More Reliable Information
Let's understand them in detail.
Increased Response Rates
As compared to traditional online surveys, popup surveys have increased response rates. Since, your online visitor just needs to answer just 1-2 questions on a website popup, they won't find it tiring and time consuming. They can easily answer a question that appears on their screen in one click.
Real Time Feedback Collection
Popup surveys majorly focus on collecting feedback from your live website visitors. As and when your website visitors are scrolling through your website, you can trigger a popup survey and collect feedback. Depending on how you craft it, it can help you gauge product-market fit, your content relevance, and other things you want to measure. Unlike long-form surveys, you need not wait for them to respond via mail or social media.
Unobtrusive Data Collection
Here, the survey respondents need not make extra time to sit through and complete the survey. While browsing through your webpage, they just need to spend less than 10-15 seconds to complete the popup survey.
Easy Setup
With just 1-2 questions, it is easy and convenient to set up a popup survey. All you need to have one of the best survey tools that gives you access to customizable popup survey templates. You just need to edit the questions to suit your needs.
More Reliable Information
Collecting live feedback from your website visitors equips you with more reliable information about their needs and choices. Here, since the user experience is very recent, they can give better feedback about the pros/cons of your product, services or website.
With a clear understanding of the advantages of popup surveys, let's learn the use cases of pop-up surveys on websites.
Use Cases of Website Popup Surveys
Popup surveys are useful for a number of applications ranging lead generation to product/service feedback.
Collect Product and Service Feedback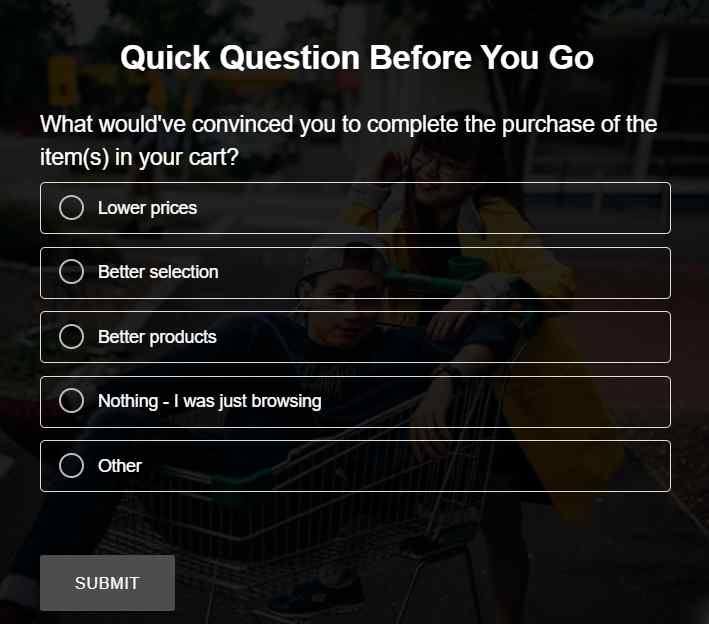 When your website visitor is browsing through a product or service page, you can easily popup a survey to understand their purchasing probability. Either they could be facing an issue understanding the product pricing or they may be looking for a specific product feature. A quick survey will help you clarify their doubts while leading them to a successful purchase path.
Understand Website Usability Issues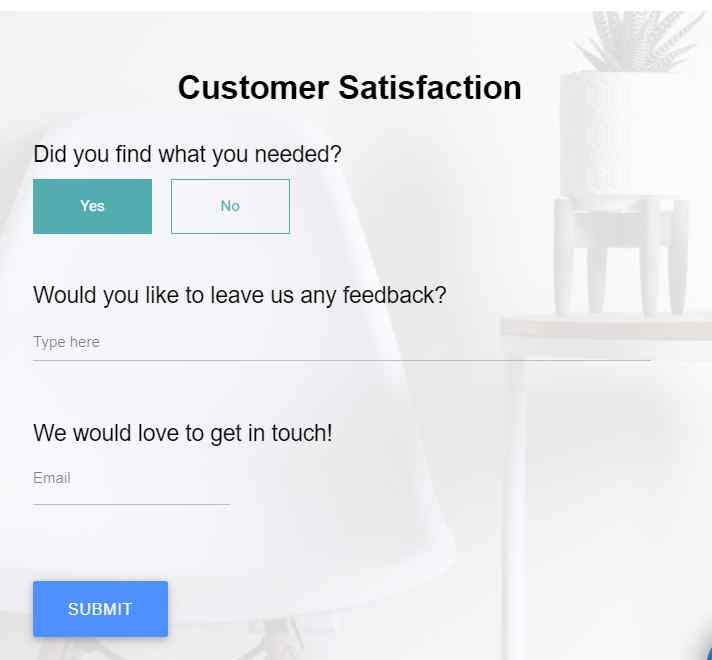 It is always handy to take feedback from your website visitors about your website's performance. Since a website is the first point of contact between you and your online consumers, it is necessary to create a good first impression.
A simple popup can include many questions like website loading, website content, website navigation, and more.
Lead Generation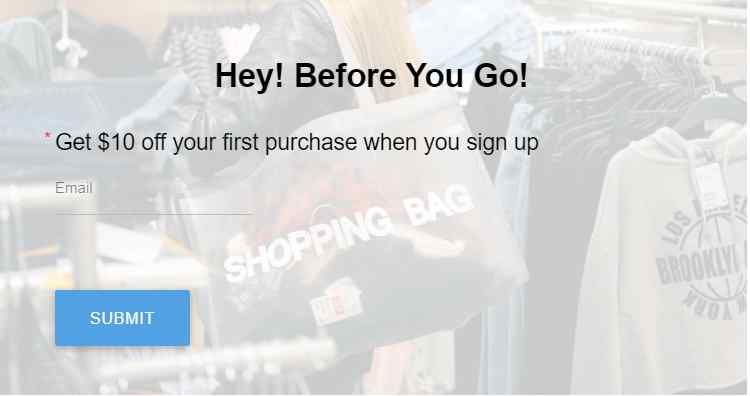 Not all your visitors that visit your website for the first time turn into your leads or customers. But, you can definitely collect their data and shoot follow up emails or calls. That only happens if you know their contact details.
You can use a popup survey to give them an incentive while they are exiting your website. It could be an ebook or a free gift voucher.
Bonus Read: Lead Generation Survey Best Practices
Nurturing Campaigns
Using popup surveys, you can plan and execute effective nurturing campaigns. Nurturing campaigns involves sending regular emails to your leads to inform them about your offers. Over a period of time, you can see that many of these leads get converted to your customers.
Populate CRM Data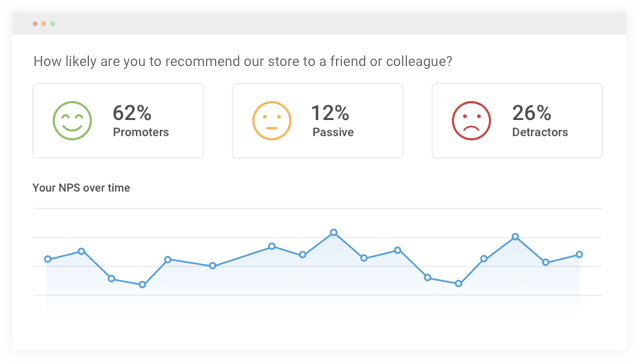 When you integrate CRM (customer relationship management) software into your surveys, you can easily create a good customer experience for your existing customers.
For example, when you conduct a NPS (Net Promoter Score) Popup survey, you can easily generate alerts to know the different categories of customers: passives, detractors or promoters. Accordingly, you can generate focussed campaigns for different groups of customers.
Best Practices to Create Popup Surveys
Popup surveys need to be timed well to get optimum results. Also, you need to understand the survey purpose by keeping the target audience in mind.
Understand the Survey Purpose
What is the goal of your popup survey? Do you wish to collect feedback about your product feature? Or do you want to know your website visitors' views on your product pricing?
Each webpage has a definite purpose and you need to be clear and specific about your objectives before creating your popup survey on these web pages. Else, you may not be able to track the right sentiments of your website visitors.
Set the Right Popup Trigger Timings
Ensure that you set an appropriate popup trigger timing for each webpage. For example, in a blog page, you can trigger a popup a little later after your visitor has read half the blog or clicked on an important link. Similarly, if you can check for an event like your website visitor clicking on a back button or typing a different URL, you can trigger an exit popup survey.
Shortlist a Specific Target Audience
Do you have a target audience? Or, do you show the popup survey to anyone who browses through your website? You can follow a predefined strategy for both your returning visitors and first time visitors.
For example, restrict questions like "How did you know about our website?" to just first time visitors. Returning visitors or your customers can be asked questions like "Will you purchase from us again?" or "How likely will you recommend us to your friends or family?" and more.
Related Read: How to Identify Survey Respondents
Average Response Rate of Popup Surveys
Generally, popup surveys have higher response rates as compared to long form surveys.
Qualaroo research brings forth the following statistics:
Home screen

popup surveys

with a single question have response rate between 5-8%.

Exit intent

popup surveys

have a comparatively low response rate of 1-4%

"Thank you" page popup survey post product purchase sees an improved survey response rate of 20% or higher.
Let's dive in to some pop survey questions and examples.
Popup Survey Questions & Examples
Popup surveys are ideally placed on different pages on your website with a definite goal in mind. For example, home page pop ups focus on the general website usability issues while product page popup surveys try to understand the product features performance.
Website Usability Questions

Was it easy to navigate through our website?

Did you like the font and colour of our website?

Were the menu buttons clearly visible on our website?

Product Page Questions

Did you understand the product features well?

How satisfied are you with the pricing of our product?

How can we make our products better?
Related Resource: Product Survey Questions
Exit Intent Questions

What is preventing you from making a purchase today?

There are some items in the cart. Would you like to go ahead and purchase?

Why stopped you from completing the order?

Customer Satisfaction Questions

How likely are you to recommend our product to a friend?

How happy are you with the services we offer?
Mention one thing that you would like to change about our product.
Related Resource: Customer Satisfaction Survey Questions
Post Purchase Page Questions

How was your product purchase experience?

Will you purchase from us again?

Website Content Questions

Did you like our blog content?

What would you like us to cover in our blogs? We'd love to hear your thoughts!
Related Resource: Survey Question Types & Examples
How to Analyze Popup Survey Data?
Analysis of popup survey data is essential to understand the real opinion and sentiments of your website visitors: Are they happy with your website responsiveness? Were they satisfied with the product purchase? With this information about their needs and challenges, you can provide them with better services.
A powerful survey tool like ProProfs Survey Maker, comes with advanced analytics for popup surveys. You get to see in detail how many people clicked on your popup survey (page views) or how many closed the popup survey tab. Increased visitor responses (popup survey completed) is taken as an enhanced conversion rate on your website. Further, you can analyze their responses to your open-ended or close-ended popup questions to know their challenges in detail.
Here a few things that you should be looking into:
Number of Views
Number of Impressions
Number of Responses
Customer Insights
Applications of Website Popup Surveys
Popup surveys can be tailored to generate good responses while using cookies, apps or working with a third party application.
Cookie Targeting
Here, you can trigger your popup survey based on a specific visitor cookie. You can also include or exclude a certain section of visitors based on their demographic data or preferences. In this way, your website feedback collection becomes more focused and streamlined.
Related Resource: Top 10 Demographic Survey Questions
Single Page App Targeting
Popup surveys work well on single page apps. A single page application is more compact with less loading time. You can easily target your website visitors based on the section of your app they are viewing. This focused approach helps you to understand the real requirements of your customers.
Third Party Integration
When it comes to third party integrations, pop up softwares can be easily connected to applications like MailChimp, ZenDesk, SalesForce, etc for better customer base analysis.
For example, ProProfs Survey Maker integrations bring forth the following advantages:
MailChimp integration

helps you to capture the personal details of survey takers and add them to your lead list. You can further plan nurturing campaigns to convert them into your customers.

SalesForce CRM

allows you to put in place a good customer support system for your organization.

FreshDesk integration

is another way of building your email list for your business.
Who Should Use a Popup Survey?
Popup survey data comes in handy for the decision makers in an organization like marketing manager, product manager, content manager, and more. Let's find out in detail.
In every organization, the marketing department is responsible for attracting more customers towards a brand. As the marketing manager of your organization, you may want to survey both your existing and potential customers to understand their real needs.
For example, some of them may have concerns regarding the pricing of your products before going ahead with the final purchase. This potential customer can repeatedly visit your website to know about your popular products. A quick marketing popup survey on the product page with the following questions help you to identify the right lead and help you nurture them with ease.
Is there anything we can help you with for the product purchase?

Do you need help with the pricing plans? We'd love to help you resolve any pricing related concerns.
As a product head, you might have a number of questions regarding what product features will appeal to your customers, what new product features to include, and more. The simplest way to go ahead with this is to create a simple popup survey and collect the preferences of your online consumers. Based on the popularity and demand of the features, you can better project your products.Content Manager
With a lot of information on the web, your target audience may get confused as to what to consume and what to ignore. This makes the task of a content manager very challenging. In this case, if you want to understand which type of blog content appeals to your audience best, create a quick popup survey to understand their preferences. You can easily shortlist ideas for your content in a cost-effective way.
Related Resource: How to Use Surveys for Content Marketing
Website usability and responsiveness is very important when it comes to creating a good first impression on your website visitors. As a design head, popup surveys give you the opportunity to understand what colour or font suits your website best. Also, you can check whether your website is compatible with mobile devices. These navigation factors go a long way in generating more leads through your website.
Related Resource: Increase Mobile Survey Response Rates
How quickly does your customer support team address a customer complaint? Is their problem resolved in a single call or do they have to make multiple follow up calls to resolve the issue? You can easily get answers to these questions by popping up a survey right after a customer support call.
Some questions that you can include in the post customer support popup survey are:
"Did we address your problem?"

"How would you rate our customer support team?"
Read Resource: Guide to Provide Exceptional Customer Support
So far, we have understood the importance and applications of a popup survey. But, there are some alternatives to popup surveys that help you to collect actionable feedback from your target audience. Let's understand them in the next section.
Website Popup Surveys Alternatives
Other than popup surveys, website surveys take the form of feedback buttons, chatbots, longform surveys, and more.
Feedback Button
A feedback button is a distinct button that is visible on your website. Your online visitors can easily click on this button to give feedback at their convenient time. They can share their views on an existing product, suggest new features or even put forth a pending challenge.
The advantage of a feedback button is that it does not obstruct your online visitors when they are scrolling through your website. The button is always visible on the website and can be accessed any time.
Chatbots
A chatbot is a software application that simulates a human conversation on the website. Your website visitors feel like they are interacting with a human. Usually, chatbots are customized to answer predefined product or service related questions. Once, you have provided answers to your visitor's query, you can ask a follow up question to take their feedback on any aspect of your product or website.
Long Form Surveys
Long form surveys have more than 5-10 questions and are embedded on a website. Usually, your website visitors click a survey link on your website and are taken to another page to complete a long form survey. This is time consuming and your online visitors may even end up missing the link altogether.
Website Popup Surveys for Feedback Collection.
When it comes to real-time feedback collection from your target audience, popup surveys could be your best bet. They are short, compact, and easy to install on your website. Because of fewer number of questions, your online visitors are more likely to respond to a popup survey.
A popup survey comes in handy when you want to collect product/service feedback, understand website usability issues or guide your consumers to make the right choice. Also, decision makers like marketing managers and customer support managers can use popup surveys to create interesting brand strategies.
Do you want a free Survey Software?
We have the #1 Online Survey Maker Software to get actionable user insights.