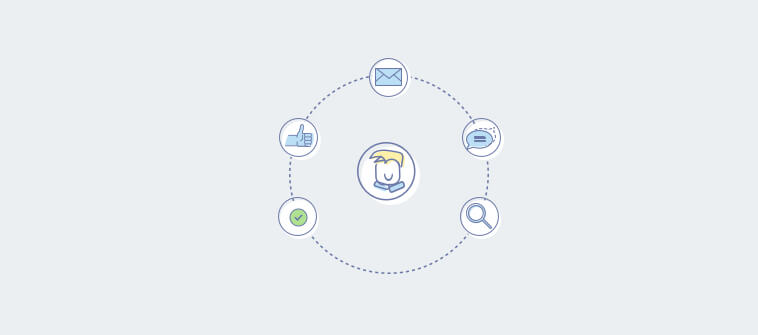 Did you know that 64% of modern consumers care less about the price if they are getting the best customer experience? As a result, companies are adopting a customer-centric approach to find out what customers like and what they don't. This has made modern buyers highly demanding.
Buyers today expect to have multiple touchpoints with the retailer. They want to interact with their brand via various channels, while all interactions are unified.
Omnichannel customer experience is the outcome of customer-centricity. It is becoming a new trend in the marketing domain to increase customer satisfaction.
Earlier, the synchronicity of customers across multiple channels simultaneously was a challenge for retail or e-commerce companies. However, technology has made things possible.
Thanks to omnichannel customer engagement, businesses can now engage customers and deliver a personalized and contextual experience for every interaction.
So, what is omnichannel customer engagement?
It refers to the type of customer engagement management in which multiple channels of sales are used to provide customers with a unified shopping experience.
In short, customers can take any route or any means to reach the companies. But, companies must respond via the same channel with continuity so that customers experience a single virtual channel. Customers may be shopping online from a mobile device or a brick-and-mortar store, yet both channels must give a consistent customer experience.
An example will help to illustrate this better. Suppose you need to report a product issue to the customer service executive, and you decide to start your conversation with a telephone call. For some reason, if your call drops and you choose to proceed with a Facebook messenger chat, you should be able to start the conversation from the very point where the call dropped.
Benefits of Omnichannel Customer Engagement and Omnichannel Support
So why is customer engagement critical? There are lots of benefits from a customer perspective as well as from a business perspective. Let's take a look at these, one by one.
1. Companies Can Serve the Customers Where They Are
Most customers want convenience, and they can go to any extent or pay a little higher for it. Businesses need to deliver their offerings in a method that best suits their customers.
Anyone in the marketing field would know that the secret to marketing success is to make the customer feel that the whole world revolves around them.
2. Businesses Can Gather Customer Insights
Since omnichannel customer engagement is a unified system, it gets easier and simpler to assemble all the customer data into one single dashboard. This helps to understand customer behavior better and make accurate and informed decisions on delivering the best customer experience. It also enables companies to be proactive and create a customized and effective omnichannel customer engagement strategy for business growth.
3. Companies Can Enhance the Shopping Experience
The demand for omnichannel customer experience will be amplified by the need for nearly perfect execution by 2020. This is as per the Omnichannel Customer Engagement statistics by ecenta.com. Emerging technologies like computer vision, artificial intelligence, and machine learning that are redefining customer engagement will help in this expansion process.
4. Businesses Can Engage With Customers in Real-Time
Marketing strategy experts are putting up efforts to keep up with the rising customer demands every day. Omnichannel platforms allow companies to engage with their customers in real-time through instant chats, video chats, and even by screen sharing and co-browsing. Providing real-time solutions helps your customers become attached to the brand and feel actively involved with your products or services.
Omnichannel Support vs. Multichannel Support
What is Omnichannel support, and how is it different from multichannel support?
With omnichannel backing, customers can use numerous ways to interact with companies. The system connects the experiences across the channels, facilitating a completely seamless customer experience.
Omnichannel support connects all the communication channels, including ticketing systems, social media, live chat, etc. That way, customer experience remains consistent regardless of the channel opted by the customer to get in touch with the company. Support agents share customer details, context, notes, and action items from previous interactions with all the agents and channels. Customers will never have to reiterate their issues.
With multichannel support, companies provide customer support across multiple channels according to the preference of the customer. But in multichannel support, the essence of past conversations, the context, and the customer history are never shared across.
Hence to the customer, every channel would seem separate. Therefore, with multichannel support, you need to reiterate your issue to the customer care executive each time you reconnect.
Challenges of Omnichannel Support
Though the benefits of omnichannel support are countless, the whole strategy is facing a lot of problems and difficulties, starting from technology to the business itself. Let's discuss the prime challenges that omnichannel support deals with today.
1. Technology Barrier
Omnichannel support requires a complete integration of all communication channels, thus increasing the complexity of managing operations and the supply chain.
For example, retailers or e-commerce business owners must have an advanced warehouse management system to track inventory from all channels and keep it under control in realtime. Warehouse management must integrate with order management flawlessly. Though these issues can be sorted with advanced technology, each upgrade comes with a substantial cost on the pocket of the business owners.
Hence, many retailers still hesitate to opt for such massive technology upgrades when they see that the ROI is far fetched. The only way to go ahead is to understand the delayed gratification and invest in the right technology needs that omnichannel support demands.
2. The Synchronization of Data in the Integration Process
The key success criterion of omnichannel support lies in the integration of Enterprise Resource Planning (ERP), Customer Relationship Management (CRM), social media, sales channels, and the market.
Hence, moving to omnichannel support requires massive data transformation. The challenge here is to synchronize the data flow across channels in a perfect way without causing loss of or damage to the data.
The solution here is to use an Enterprise Data Management (EDM) system. EDM can restrategize and transform the company into a data-centric organization by joining the sources of all data into a holistic view.
3. Ensuring Customer Engagement Across Channels
Customer loyalty is the key to success in any business. Returning customers are said to spend 67% more than new ones. Additionally, it is always cheaper for the company to retain an existing customer than to acquire a new customer.
Despite being satisfied with the initial sales, most customers don't go back to the retailer because of the lack of communication or connection.
This means that outstanding products or services are not enough to turn a new customer into a returning customer. In the competitive market today, a business must focus on attracting long-term relationships rather than losing out on a single deal. Omnichannel support requires companies to consistently keep in touch with their customers if they want to convert them into returning customers. Else, the whole purpose of omnichannel is killed.
4. Struggling With Channel Conflicts
Omnichannel based companies have evolved from a single channel or multichannel mode and sometimes tend to follow their old policies and strategies wherein they prioritize some channels over others. The omnichannel system fails if all the channels are not integrated and treated equally.
All sales and support channels, both online and offline, must be brought under the same control system and distribution mechanism.
Conclusion
According to a report by Accenture, 89% of customers tend to get frustrated when they have to repeat their concerns to multiple support executives. Thanks to the omnichannel support system, problems like these can be eliminated, and customer experience can be refined.
It is the future of customer experience, and as a business reading this, you shouldn't delay it any longer!
Do you want a free Survey Software?
We have the #1 Online Survey Maker Software to get actionable user insights.