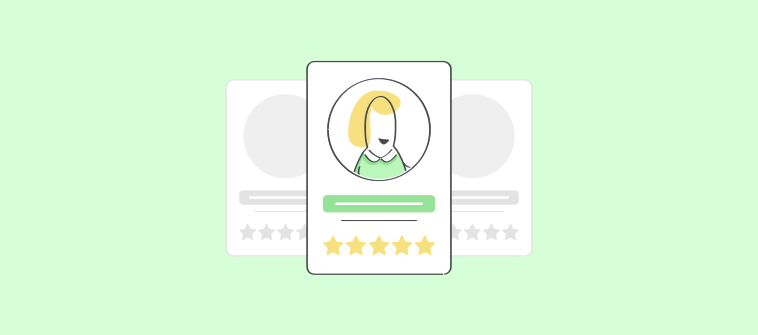 Have you ever heard, "Customer Satisfaction isn't necessary for a business success?"
Probably not!
Because without satisfying the customer's needs, you cannot offer them a delightful experience, which inevitably results in customer churn and poor revenue generation. Hence, if you aren't strategically thinking about customer satisfaction, you're probably following a risky approach.
And to keep such risks at bay, you must find out how to measure customer satisfaction to analyze whether your company will perform well in the future or not.
(A common picture of the present time) – Most companies take customer satisfaction seriously but unfortunately, not everyone is successful.
Managing customer satisfaction keeps businesses on their toes, trying out different strategies to catch the pulse of the customer. Therefore, tools and methods used to measure customer satisfaction should be defined carefully, and we are here to help.
Walk through this blog to gain deep insights into how to effectively measure customer satisfaction and master actionable ways to improve it.
What is Customer Satisfaction?
Customer Satisfaction is a metric used to measure the happiness of customers after using your products and services. It indicates whether you have been successful in meeting customer's expectations or not.
Once you have followed the right approach to measure Customer Satisfaction, it helps your business identify and work upon the defects for offering a great customer experience and helps grow business revenues passively.
Did you know?
96% of unsatisfied customers don't complain and

91%

of such customers leave and never come back.

The chances of selling to an existing satisfied customer are

60-70%

while for a new lead the chances are 5-20%.

69%

of satisfied customers are likely to recommend the company to others.
With such massive impacts of customer satisfaction, why aren't you truly focused on improving Customer Satisfaction?
Why Should You Measure Customer Satisfaction?
Customer satisfaction determines whether or not the customers are delighted with the business they are doing with your company. It could be a game-changer for your brand, and here's why:
It acts as a key differentiator
In the cut-throat market, people no longer value companies for their products and pricing alone, rather they prefer making purchases with the brand that strives to deliver exceptional customer service.
Being in the pursuit of offering the best customer experience, you'll eventually end up having the highest levels of customer satisfaction, which will act as the key differentiator between you and your competitors.
It promotes customer retention and loyalty
Getting customers to make a purchase is an ongoing challenge for every marketing team. Even if their efforts brought results, converting a one-time customer into a repeat buyer is even more laborious.
That's why customer satisfaction and retention efforts should shift into gear.
Satisfied customers will return to your business more often in the future and are less likely to get defected to your competitors. Your ongoing efforts to keep them satisfied will reinforce their commitments towards your brand values throughout their customer lifecycle.
It reduces negative word of mouth
Whenever a friend or family member seeks help, it's the satisfying experience that comes to a customer's mind while recommending a brand. Therefore, a great customer experience could drive in more sales as the majority of online shoppers prefer personal recommendations over brand advertisements.
All in all, happy customers are always fruitful and they could also turn into brand advocates. While on the other hand, unhappy customers won't just cost you revenues, but also they will share their bad experiences with their peers.
It assists in making smarter business decisions
When you know the drawbacks of your products, you can take measures to enhance the overall health of your customer base. The CSAT data assists you to focus the priorities for developing and refining your existing products and services. This way you can make wise decisions to grow your business while keeping customers at the forefront.
It offers a better eye on improvements
The process of satisfying the customers will run you through various analyses about your products and services in order for them to offer a delightful experience. This makes the internal teams perceptive and urges them to focus on the areas and aspects that need improvements.
From the above discussion, it's clear how important it is to measure customer satisfaction. However, what often gets tough is how to measure it effectively and safeguard your business from negative impacts. Let's have a look in the following section.
How To Measure Customer Satisfaction (CSAT)
Understanding customer experience and their satisfaction levels during their interaction with your business are crucial for success. There are several ways to measure and track customer satisfaction. But before we dig into these methods, let us go through some best practices for measuring customer satisfaction.
Step 1: Set Goals and Plans
The foremost step in measuring customer satisfaction is creating a game plan and defining clear objectives.
Consider analyzing the questions such as:
How will you collect customer feedback?

What do want to achieve via customer satisfaction metrics?

What questions would you like to ask the customer?

What you will do with the collected information?
Now that you have a plan, it's time to set measurable goals such as improving customer satisfaction by 25% in the first quarter.
Taking time in defining goals can lay a strong foundation of the journey to effectively measure customer satisfaction.
Related Read: Best Customer Feedback Software For Your Business
Step 2: Taking Performance Indicators into Account
Centered on your plans and objectives, choose what type of metrics measure customer satisfaction. What type of surveys do you wish to send? Will you also collect unsolicited feedback?
Commonly used Customer Satisfaction evaluation metrics are:
(a) Net Promoter Score (NPS)
Net Promoter Score is one of the commonly used metrics to track customer satisfaction and loyalty toward a brand. More than any other metrics, NPS offers an easy-to-understand score that determines how customers feel about your brand or products. Measuring Customer Satisfaction with NPS starts with a simple question just after an interaction or at set intervals during the customer journey.
"How likely are you to recommend this [product/service/brand] to your friend, relative, or colleague?"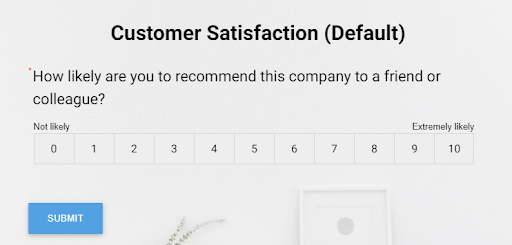 Based on the responses, you can easily segment your customers into:
Promoters (9-10):

These are loyal customers who intend to purchase more often and have the potential to be converted into brand advocates.

Passives (7-8):

These customers could be seen as mediocre, i.e., the ones at the risk of getting defected.

Detractors (0-6):

These customers are generally unsatisfied with your services and are at a high risk of churn. Also, they could leave negative feedback for your business over social media or product reviews.
Also, you can add an extra layer in the form of a follow-up question to understand what aspects of your product or service are making them unhappy.
How to Calculate your NPS?
Calculate the percentage of detractors and then subtract it from the percentage of promoters.

For example, a total of 10 customers have filled out the survey. There is 1 detractor, 3 passives, and 6 promoters. Now subtract 10% from 60%, you will get 50%.
So, 50 will be your NPS.
Have a look: What Is a Good Net Promoter Score
(b) Customer Satisfaction Score (CSAT)
Customer Satisfaction Score arms you with a clear insight into whether your customers are happy with your product or not. It may also be used to have an overall opinion of the customers about your company, product, service, or a specific aspect such as customer support.
You can request feedback via customer satisfaction score surveys on a scale of 0-5 at any touchpoint of their customer journey that could be a post-purchase, or right after the interaction with the support team to garner honest feedback from the customers.
How to Calculate your Customer Satisfaction Score?
Let's assume we've collected feedback from 8 customers as shown in the table below: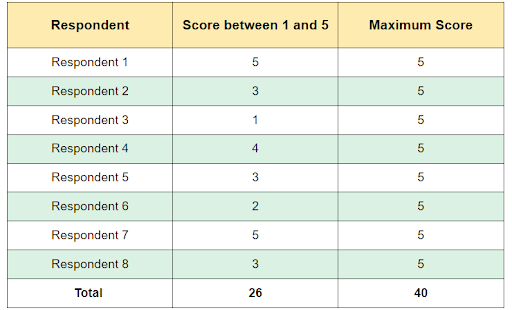 CSAT score could be measured via two commonly used methods:
Method 1: Dividing the sum of all scores by the sum of the maximum possible scores.

Now we would simply divide the total score of 26 by the maximum possible score of 40.

Method 2: Another way to calculate CSAT is the percentage of happy respondents, i.e., customers with scores 4 and 5.

So, we have a total of 3 respondents with scores 4 and 5; hence we will simply divide 3 with the total number of respondents i.e., 8.

Despite measuring Satisfaction, analyzing CSAT scores will also let the businesses measure their overall performance. Since CSAT surveys mainly focus on short-term customer experiences, you must leverage other metrics as well; such as Customer Effort Score, Customer Health Score, and Customer Churn Rate.
(c) Customer Effort Score (CES)
Measuring customer effort score emphasizes gauging the customer experience on the level of ease or difficulty experienced by a customer while completing a specific action on the website like purchasing or understanding a specific product feature.
For example, ProProfs asks about the user experience of a knowledge-base article: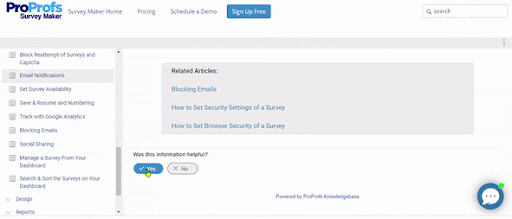 Customers usually crave low-effort interfaces and experiences. Thus, CES could clearly indicate customer satisfaction and also identifies bottlenecks and areas for improvement.
Have a look: User Experience Surveys: 10 Questions to Ask
(d) Customer Churn Rate (CCR)
Churn Rate is also known as the rate of attrition, which determines the number of customers leaving your business in a given period of time. And it's more than crucial to count them.
SaaS organizations, for instance, leverage post-cancellation surveys to identify the service gaps or trends causing customer churn. Such insights and metrics also assist in developing robust customer retention strategies.
Step 3: Designing Surveys and Questionnaires
Depending upon your goals you can design customer satisfaction surveys in different formats. However, make sure to follow a consistent format throughout the survey. It helps offer a better user experience because providing clear directions will lead to capturing quality data, as users will feel engaged and excited about answering your questions.
If the questions are not arranged in a logical flow, it may confuse the respondents. Hence must ensure to:
Mark important questions as compulsory.

Avoid ambiguous questions and keep question length short.

Provide sufficient, clear options for the users to choose from.

Add

conditional branching

to present only relevant questions based on previous answers.

Add images for better understanding and an engaging survey.

Customize with interactive

themes, colors, and brand logo

.
This will urge more visitors while saving a lot on their time and provide honest feedback on their latest interactions or products and services.
Step 4: Analyze Customer Feedback
Now that you have successfully gathered customer feedback, it's time to leverage deep analysis to measure customer satisfaction. You probably end up having two types of data:
Quantitative data: Such data is generated by close-ended questions in a survey such as multiple types, rating scale, yes/no, agree/disagree questions. You will be able to use this data for analysis in a structured format.
Qualitative data: This type of data is text-based rich data and is generated by open-ended survey questions, emails, and social media. Qualitative data, however, takes a long time to process and analyze via a manual process.
The effective analysis of customer feedback data will render insights into customer behavior and helps portray the level of customer satisfaction.
Read more: Qualitative vs Quantitative Data
Step 5: Take Appropriate Actions and Repeat
After a thorough analysis, list the main issues that degrade customer satisfaction. Plan the processes and share these insights with internal teams for product and process improvements. Make necessary changes and be consistent in tracking these vital metrics as to how they emerge over time.
Whatever be your action plan, make sure to collect customer feedback frequently to see if there have been any changes in the customer satisfaction levels.
Methods For Measuring Customer Satisfaction
Considering the endless benefits, every organization must have "Customer Delight" on the top priority list. However, not everyone is successful in identifying the right approach to accomplish this, because measuring customer satisfaction isn't as straightforward as measuring business revenues or website visitors.
Then, what's the solution to it?
Yes! Great methods exist. Let us uncover the best ways to measure customer satisfaction that you can apply for your business, right away.
1. Customer Satisfaction Surveys
Undoubtedly, customer opinion and feedback are the essential aspects that foster crucial decisions in an organization for scalability and better growth. If you're unaware of what your customers think, it could be tedious to retain them or engage them for future purchases.
Unfortunately; most of the businesses fail to figure out the most important factor "HOW".
Customer Satisfaction Surveys acts as the knight in the shining armor, here.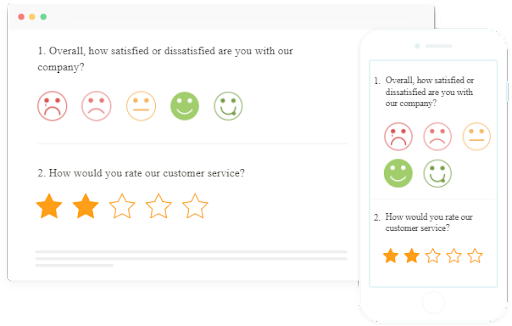 This is considered the standard approach for collecting data on customer satisfaction. Such surveys serve different purposes and come in all shapes and sizes. Normally ranging from 5-10 questions, Customer Satisfaction Surveys could be sent after a customer makes a purchase or in a span of every 90 days with the general-purpose to assess how happy your customers are with your product or service.
2. Email Surveys
Another easy way to collect customer insights is through Email surveys. It's the method to send a survey to your customers via email in a matter of few clicks. Via emails, customers can easily navigate through the links and take surveys – making it easier for businesses to collect customer feedback and other essential data.
You can leverage Email Surveys in many ways:
Post-Purchase Surveys

Customer Loyalty Surveys

Employee Onboarding Surveys

NPS Surveys
You can use one of the following ways:
Just when you start circulating your emails such as a welcome or a thanks email, it would be smart to include the surveys by hyperlinking the text to your survey URL(s).
Source: Neil Patel
For this, you'll need to create a Call-To-Action such as "Share a Survey" or "How was your experience", which will be linked to the Survey browser.
As an add-on to your Email Survey efforts, hyperlinking an image is considered a significant way to make survey emails more attractive. Rather than hyperlinking a text (as mentioned above), you'll need to link a relevant image or a text-based image to your Survey URL.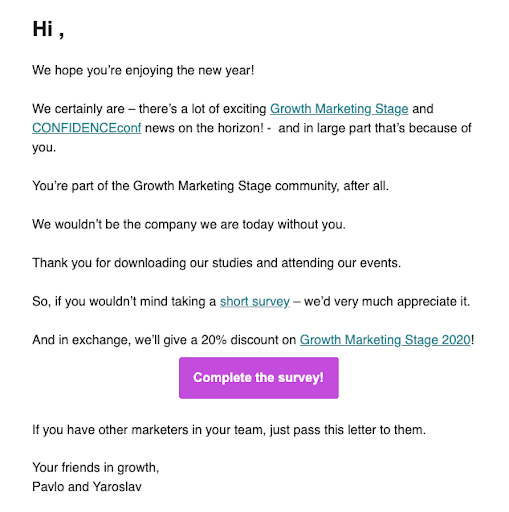 Source: Growth Marketing Stage
Another likely method to share surveys via emails is to directly embed a survey question(s) to allow the customers to respond directly from their inbox.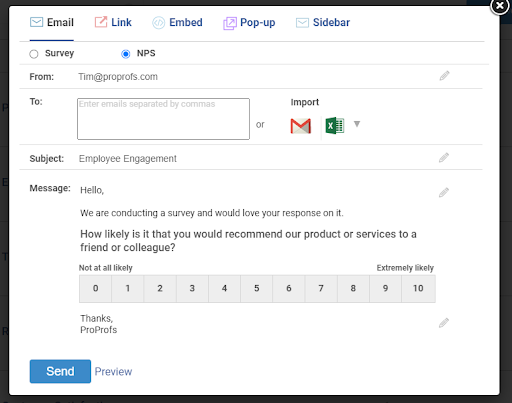 This method is simpler and ensures a higher survey response rate than the others.
Apart from the above methods, you can create engaging and personalized subject lines and email body text to reap maximum benefits from Email Surveys. Make sure to create mobile-friendly surveys, and you can use a robust platform such as ProProfs Survey Maker to create and send survey links via email.
Read more: Best Time to Send a Survey
3. Social Media
In this digital era, people are more vocal than ever before. They share their expectations and experiences over their favorite social media platforms. Platforms such as Instagram and Facebook have become effective marketplaces and the source for the customers to share brand/product reviews.
Hence, understanding what your customers are sharing over social media will reveal their perception of what they really think about your product/services.
But how to leverage Social Media effectively?
The prime consideration is to be proactive in monitoring and tracking your brand mentions across social media platforms. 24/7 availability enables the brands to instantly analyze and responds to the customers.
Such mentions could include your brand name or phrases related to your products and services.
For example, "Worst customer experience with XYZ (brand), I haven't got a solution to my problem even after sending out 5 emails"
Such negative mentions clearly indicate whether your customer is satisfied with your brand or not. Now you can quickly share this information with your support team to resolve the customer query instantly.
4. Web Intercepts
Website visitors are highly observant and while shopping online or surfing around your website for information, they form opinions about their experiences. Everything adds to the experience from the page loading speed, availability of live chat, to the quality of the information available on your website.
Considering these factors, it's really important that you are aware of their experience and opinions?
Website intercept surveys are an effective way to serve this purpose. Such surveys are able to capture "in-the-moment" feedback for the visitors and it could be displayed either as a pop-up message or as a display ad on the website. Moreover, according to your audience persona, you can set the display option based on the actions such as the number of clicks, hovers, scrolls, or after a specific amount of time a user has been on your website.
What makes Web Intercept Surveys more compelling?
They possess a higher response rate

They are able to gather real-time feedback

They offer the ability to respond quickly

They have the potential to capture every website visitor.
In a nutshell, website intercept surveys have an increased number of open and response rates. This makes them an effective way to have an accurate picture of how customers feel while interacting with your online store/website.
5. Analyze Customer Support Data
Owing to the numerous benefits, it's wise to collect and keep the customer support data for future references. It can assist you with accurate and measurable insights to effectively measure customer satisfaction.
Look into Support ticket trends
Regardless of the quality products and services you offer, it's certain that you'll receive a few customer complaints. Similarly, for startup companies and newly launched products, it's normal to receive feedback and complaints. However, as the product/business gets older, you should aim at minimizing the number of complaints you receive.
So, just because the number of tickets determines how many customers are unsatisfied with your services, it's crucial to analyze the trend over a period of time. And for effective analysis, tag each ticket as per the type of query, such as bug, suggestion, question, downtime, etc.
At the outset, you should offer services that completely satisfy customer's needs. Still, receiving complaints is inevitable. But for operational purposes, it is important to define an ideal number of interactions per ticket.
Having too many interactions per ticket means your team is not taking effective measures to escalate the customer queries quickly. Hence, closely look into the data and find out alternatives if you seek an unprecedented rise in the number of interactions per ticket.
Despite instantly responding to customer queries, it's also vital to quickly resolve them. Time taken to resolve a query plays a crucial role in customer satisfaction levels. Therefore, keeping an eye on the average resolution time is considered important to elevate the levels of customer satisfaction. Here's how to calculate Average Resolution Time:

However, you need to employ robust QA systems to make sure that the data is genuine as per the actual number of resolved tickets.
Relation Between Customer Satisfaction And Loyalty
Customer loyalty is nothing but a consumer's intention to consistently re-purchase preferred products and services from a brand regardless of situational factors that might result in switching behavior.
Who doesn't want a loyal customer base? But, does Customer Satisfaction ensures Customer Loyalty?
To a greater extent, yes!
It has been observed that the customers tend to continue their relationship with the brands as long as they are receiving better value than they would receive from the alternates.
Also, customer loyalty is formed by continuous satisfaction of a customer followed by emotional attachment with a brand that produces willingness and consistency in the customer-brand relationship.
However, it's not necessary that a satisfied customer will always be loyal to a brand. There could be: a) Satisfied but disloyal customers, b) Unsatisfied but loyal customers.
Loyalty can be vulnerable because even if consumers are satisfied with the services because they can still defect if they feel they can get better value, convenience, or quality elsewhere.
Even though customer satisfaction is not an actual determinant of customer loyalty, yet it contributes to building the loyalty of the customers. This is the chief reason as businesses emphasize elevating the CSAT scores in order to have a loyal customer base.
How to Improve Customer Satisfaction
Now that you are well-versed with the importance of Customer Satisfaction analysis and the ways to measure it, you're already on the right track to keep your customers happy.
However, what if you've found that your customer satisfaction levels aren't high?
Well, it all boils down to how determined you are towards your customer success goals. In any case, if you're failing to achieve the same, don't feel disheartened, the ball is still rolling in your court.
There's so much you can improve on; let's have a look:
Incorporate Customer-Centric Culture
The term "Customer-Centric Culture" is often misinterpreted among businesses. Merely stating that customers are on the top of your mind isn't going to fetch plausible results.
The key is to truly understand the customer and anticipate what they actually want. Be it their needs, communication preferences, or a delightful experience, you have to adopt a 360-degree approach to cultivate long-lasting relationships with them.
Unfortunately, it's easier said than done.
Let's consider your own personal experiences with any of your favorite brands. How they make it easier for you to do business with them, how they communicate with your preferred channels at your preferred time, or how they offer discount coupons at the time you intend to make a purchase. Now think of the others, which fail to serve in your preferred ways.
Probably you won't get ahead with the ones that fail to spark the sense of joy.
All in all, customers aren't afraid of moving towards the competitors, but it's essential for you to remain in tune to keep them satisfied and loyal for the years to come.
Incorporate Honesty and Keep your Promises
Penetrating through and securing the top space in the fierce competition is the chief goal of every brand's marketing efforts. People often make false promises to allure the audience and end up losing them for failing out to keep their promises.
Clearly, it isn't the wise choice, if you're intending for long-term business success. Present what you are best at, and promise what you can deliver. Such an approach will undoubtedly contribute to delivering promising services and keeping your customers satisfied for long.
Incorporate an Outcome-Focused Work Environment
Your team will never know how their performance and efforts are impacting their brand if they aren't aware of their goals. Sharing your objectives and periodic achievements helps to portray a clear picture of how their efforts are impacting CSAT scores and what they should change/inherit to elevate them.
Setting up a Help Desk software ensures that all the concerned team members could have detailed insights about the productivity goals and could collaborate for strategic decision-making.
Keep Measuring Customer Satisfaction
Customer Satisfaction Scores are dynamic that changes with any change in the products and services offered by your brand. Hence, it's important to regularly monitor and track Customer Feedback to analyze what are the new areas for improvement and what improvements have brought positive results. However, it's always advisable to bank upon a versatile survey tool that contributes towards achieving your brand's CSAT goals.
Turn Your Customer Satisfaction Efforts Into Actions
Measuring customer satisfaction is not just inheriting a good practice, but it has become a compulsion. While on the way to elevate customer satisfaction, you will be gathering feedback, identifying key demands, taking initiatives for improvements – all for eventually improving customer experiences.
First, you should know where you currently stand that will present you with information on existing standards. Now use the information wisely and set your goals before designing your program on how to measure customer satisfaction.
Above all, having the right tool such as ProProfs Survey Maker is equally important to effectively create campaigns for measuring Customer Satisfaction.
And when you know how your customers feel about your products and services you can make informed decisions for increased customer retention, higher revenues, and a flourishing business.
Do you want a free Survey Software?
We have the #1 Online Survey Maker Software to get actionable user insights.