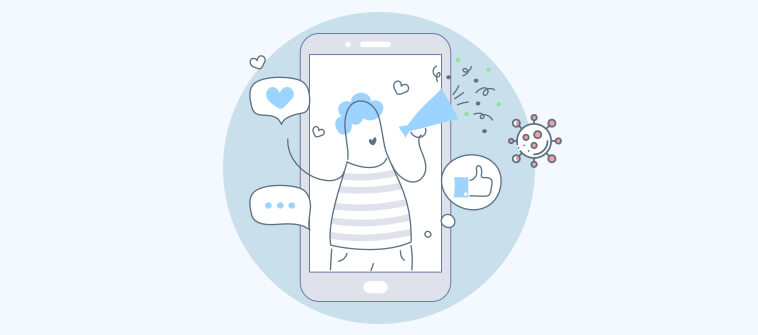 The COVID-19 pandemic continues to spread like wildfire, taking people's lives, and severely impacting various economies across the globe. From the biggest MNCs to new startups, businesses are getting chills down their spine as the road ahead seems to be full of unprecedented challenges.

What about your customers? You need to realize that although people are at their homes, they are not quite feeling 'at home.' They are waiting for you to keep every communication and support channel active.

While social distancing and self-quarantine are the need of the hour, businesses don't have to be distant from their customers. As a business owner, you must have spent sleepless nights and devoted countless hours to earn your valuable customers. Any temporary situation should not undo all the hard work and push you to start all over again.

So hold on to your customers and have a look at some expert tips to engage customers during COVID-19.
Tips for Customer Engagement in COVID-19 Outbreak
1. Opt for Innovative Ways to Reach out to Your Customers
Your customers want to talk to you. In fact, they are waiting for critical updates from your side, such as any changes in materials, product availability, delivery status, and other similar developments. Making use of innovative communication methods such as Social Media updates, proactive alerts and messages and surveys to do a pulse check, etc. can be an excellent way to communicate with your customers. Instagram's stay-at-home story and the co-watching feature is an example to follow.
Another excellent example is the 'Leave at my door delivery' feature of Instacart, used to deliver essentials to COVID-19 quarantined or vulnerable people.
Takeaway: Innovative communication methodologies pave a sure shot pathway to customer engagement during crises like COVID-19.
2. Proactive Alerts and Messages for Intimating Updates, New Features, and Changes
Your consumers are stressed about their survival during the COVID-19 outbreak and are anxious about their routine activities. They don't know whether they will have access to services and products from you and other companies they value. So, sending proactive alerts, messages, and reminders regularly is the best answer to customer engagement in COVID-19.
One of the examples that you can follow for proactive Email is Citi's proactive Email regarding cleaning augmentation in its branches and mobile apps, online services and waiving monthly service fees, etc. TaskRabbit also circulated an update of their cancellation fee policy changes to its customers.
Takeaway: Sending proactive critical updates regarding changes in payment methods, cancellation, fee waivers, and online services or products makes your customers reaffirm their faith in your brand.
3. Do a Pulse-Check to Find out What Your Customers Want and Expect From Your Brand
A credible and smart online survey is one of the best COVID-19 communication plans to engage your customers. You can figure out their expectations from your brand and their other demands as well. An online survey also helps you identify what kind of services (new or existing) they want to avail and their preferred mode of communication and its frequency. However, you must note that the success of such surveys depends on the quality and nature of questions it comprises.
A smart and intuitive survey maker tool like ProProfs Survey Maker can help you not only in making quick, intelligent, data-driven surveys but also in accomplishing many other assessment tasks.
Takeaway: Doing an honest and humanistic pulse check right from the start and at various stages, will help your brand to adapt to the changing customer requirements and expectations.
4. Upgrade Your Customer Support System and Methodologies
Panicked customers can approach you via calls, messages, live chat, Emails, and even social media tags. So, be available to them on all the platforms and upgrade your customer support system. Offering services like live chat support, 24X7 support, and remote customer support via screen-share software and other such tools are some excellent ways to make sure your customers feel valued. Also, being available to your customers at all times, even at odd hours, will send a positive message across your customers. So, you can rethink your customer support strategies and extent to ace your COVID-19 communication plan.
Takeaway: Rethinking your customer support strategies and upgrading it can make your customers feel valued.
5. Create New Reward and Loyalty Programs to Keep Your Customers Engaged
Small gestures from your company or brand can remove a little bit of anxiety from the minds of your customers. Innovative and out-of-the-box reward or loyalty programs such as rewarding the donors and people participating in other social awareness campaigns can be a unique way of customer engagement.
Takeaway: Creating innovative and more lucrative reward and loyalty programs makes your customers feel valued and can spark a positive word-of-mouth v chain.
6. Making the Right Communication in the Right Way Takes Your Customer Engagement to the Next Level
Always choose the right tone while communicating with your customers. Your Emails, messages, and newsletters must reflect a genuine and heartfelt concern for society in general. Further, be transparent and open to their concerns. Share information that shows your status quo, and take leadership while conveying the measures you have taken to keep operations going during this crisis.
If you are looking for the best tips on how to engage customers, then listening to them must take priority over talking to them. Your customers are humans, and the COVID-19 outbreak made them feel anxious and even scared. So, it is essential to offer customer support in a humanistic way and via a human customer support team.
Takeaway: Listen to your customers and make the right communication without losing the human sentiment to keep them engaged during a crisis.
7. Audit Your Marketing Strategies and Promotions
Currently, all customer-centric businesses are rethinking their marketing strategies and promotions. They are working keeping one thing in mind – Once the COVID-19 outbreak has subsided, the world we know will cease to exist. Customers, their preferences, and brand expectations – everything will undergo a shift of an unknown magnitude. So, this is the time you brainstorm with your team to audit your marketing strategies and rethink your promotional campaigns. The promotion of local businesses is going to be a significant driving force in the future, as evident from the initiatives of UberEats and many other brands.
Takeaway: Utilize the time to brainstorm with your team in making your marketing and promotional strategies relevant to the world-after-COVID-19. Take into account the ways you might have to change your marketing strategies and to what extent.
9. Update Your Online Presence Regularly and According to the Situation
Keep your website updated and in sync with the current scenario. If you have offline stores and outlets, update their names, the security and sanitization precautions you are taking there, and even the latest updates on stock and inventory. This real-time information reduces the anxiety level in your customers and positively tackles the hoarding of goods. You can also opt for measures like contactless deliveries and other procurement measures to boost your customer engagement.
Takeaway: Keep all the channels of your online presence updated with critical information such as the availability of goods and services. Apart from offering critical information, show your sincerity to your customers by opting for unique services suiting the current situation.
10. Send Simple Messages of Social Awareness That Have a Large Impact
The recent Coca-Cola ad in Times Square spread the message of social distancing in a simple, yet impeccable manner. No individual, no business, and no brand should shy away from social responsibilities. Being human is the foremost requirement during times like COVID-19. So, shoulder your responsibility and send simple awareness messages so that your customers can connect with you at a deeper emotional level.
Takeaway: Show your customers that you care. Show them that just like them you are also an entity affected by this ongoing pandemic.
11. Amp-Up Your Influencer Game and Strategies
If you rely on social media influencer marketing for the word of mouth publicity, you might find it hard to sell your party dresses as of now. Similarly, if your influencers relied on location-based settings for product and service features, then you are currently left with no place!
As suggested by Jaysen Gillespie, VP of Criteo, the brands should now target 'home-fluencers.' Posting features for selfie trends, online dressing challenges, and virtual happy hours are some unique ways to do so.
Takeaway: If you have a base of influencers, it is the time to amp-up your game and think of innovative ways to engage your customers, keeping social distancing and home quarantine in mind.
Final Thoughts:
If you think that no matter what you do, your customers will not engage during the pandemic, you are wrong. BCG did a consumer sentiment survey and published the results a few days back. Though the general despair and depressive feelings are reported from all the countries that are the worst-hits of Coronavirus, people in Italy are still showing surprising signs.
Take a look at the following screenshot: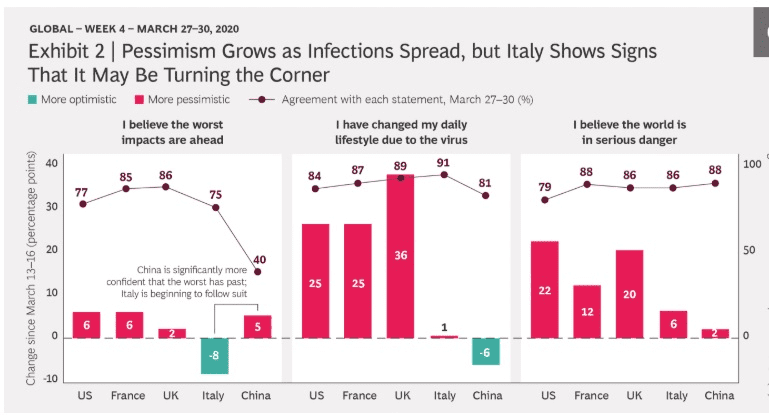 So, don't lose hope and figure out how to engage customers based on the pointers shared here.
Do you want a free Survey Software?
We have the #1 Online Survey Maker Software to get actionable user insights.