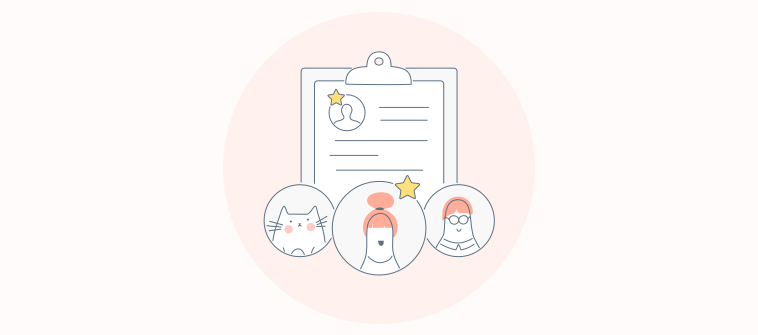 Ever wondered why people are born with two ears and one mouth?

The reason is quite simple. In life, you'll achieve more by listening than talking.

Even in the business world, listening to customers can be a great skill to understand customer needs, avoid crises, and foster meaningful customer relationships.

In this customer-oriented era, companies try their level best to gather customer feedback for improving the quality of their products and services. However, while analyzing feedback, most businesses face a common challenge- 'how do we analyze open-ended responses?'

Open-ended questions allow the respondent to provide potentially unexpected answers that you had not addressed in your closed questions. Since, every answer is bound to be different and unique, arriving at a strong conclusion can be an uphill task.

If you are facing a similar challenge, fret not! We have got your back.

This blog will help you decode every open-ended response in 5 easy steps. Yes. it's really that simple.

Let's do this!
Are Closed-Ended Questions Good for Nothing?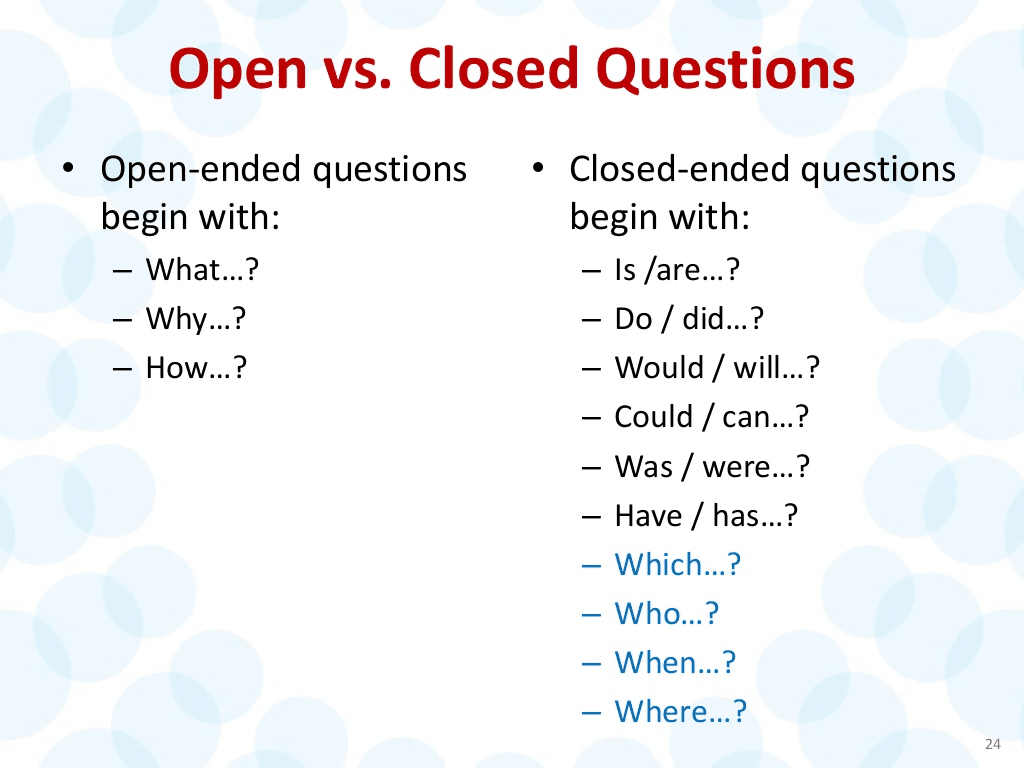 No, both open-ended and closed-ended questions have their own importance.
Every successful survey should be able to strike the right balance between both the question types. Open-ended questions consume time and effort, so if you ask such questions that are not worthy of being answered comprehensively, then it's possible that customers don't complete your survey. It signals a poor survey response rate that you would certainly like to avoid.
On the other hand, close-ended questions set respondents' minds at ease by enabling them to complete surveys in a jiffy.
In a nutshell, you have to play smart while adding questions to your surveys!
As we have understood the importance of open-ended questions, let's go one step further and discuss how you should analyze them.
Why Are Automated Tools More Beneficial in Analysis
Using automated tools for analyzing comes with several other benefits such as—
Automation in analyzing the open-ended response will help you to complete your task within a given period.
Moreover, you can cover more responses within less time. With this faster process, you have a better chance to explore extensively. The tools will help you to create a new view effectively.
The best thing about an automated system is its consistency.
It does not matter who is analyzing the data or when you will get the same results in all situations. For example, you use open-ended questions for tracking, and you ask the same questions every month.
You will not notice any change in the analysis, depending on the person doing it. You can have a complete automated analysis after the initial theme modeling.
An automated process will take less time, as well as less manual work as compared to a manual process. You can easily analyze open-ended feedback and save both time and money.
Read Also: Checklist for Creating an Effective Customer Survey
How to Ensure Accurate Automation of Open-Ended Questions and Responses?
When it comes to analyzing the free-text answers, you will have some limitations. The primary purpose of analyzing the open response questions is to understand the discussed themes and their strengths.
When an automated tool is used to analyze the open-ended response, it must understand the multi-word expressions for accurate performance.
Therefore, you need to consider a "word cloud."
Word Cloud helps you in a fast and effortless way to find out the buzz words used in the open-ended survey responses. It provides a graphical representation of the words which are commonly used in your responses.
It also helps you understand synonymous words. But if there is any complicated sentence, it might not work efficiently.
Several Ways to Express the Same Concepts:
Different respondents can use different words for a single concept. You need to bring the responses into the same category.
ProProfs Survey Maker can be your best companion in such cases. Also, you will need a tool that can group these words while analyzing.
It can be a hassle initially, but after the grouping is done, it is way more effective than manual analyzing.
For a human being, it is easy to understand that "the room was small" should be grouped with "the room was of less than average size."
But your automation tool should be efficient enough to merge these variants in a single category properly. The tool should show you the expressions instead of categorizing them automatically. So, you will have the freedom to accept or reject them according to your preferences.
With the automation tools, you will be able to cluster the responses, and the ultimate control will be in your hand whether you want to merge them or not.
You should choose a tool that is compatible with the language of the text which you want to analyze. Otherwise, you should translate the text to a language supported by the tool.
But translating a text can be problematic, and it is expensive as well. Also, the style of translation can vary from one translator to another.
The terms should be consistent while translating so that it will not create any difference from the original texts.
So, it will be better to consider a tool that can understand your text language effectively. This tool should work efficiently with multi-word expression, synonyms, etc.
Moreover, it will be useful if the tool can create suggestions.
How to Analyze Open-Ended Questions?
Before answering that, you should know, What is an open-ended response? "An open-ended response is an answer provided by all the individuals according to their perspectives. Open-ended survey responses can be very effective in collecting the most authentic feedback from the customers".
By analyzing open-ended survey responses, you will get a better opportunity to understand the needs of your audience and provide exactly what they want.
It is true that nothing is perfect when you get open-ended questions for precise findings. However, you can check out these 5 steps to know how to analyze open-ended survey questions.
Step 1: Include the Data in the Templates.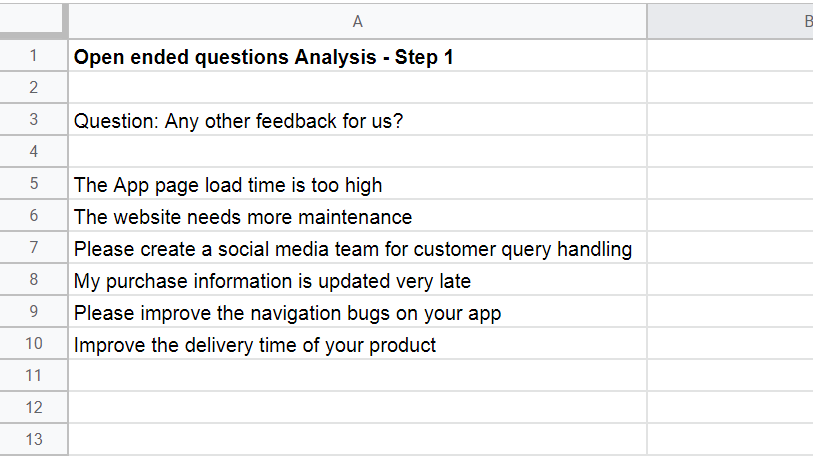 At first, collect your data from the survey and keep it into a .CSV or .XLS file.
Copy the collected data from .CSV or .XLS file and go to the 'CVS Export' sheet of the template to paste the data.
Copy the column covering open-ended responses that you give more priority to analyze and then paste into the sheet 'Question 1'. You can mark the cell with < Paste answers to first open-ended response here>.
Next, you can select wrap text for the total column to adjust the data with the width of the column. It will allow you to read the answers easily later.
Note: You can use "Paste special" to avoid any formula or formatting being copied over.
Step 2: Figure Out the Response Categories

Coding is a crucial part of analyzing open response questions. Each and every response is assigned work like a numerical code. These codes are more like a segment that consists of similar responses.
Suppose you want to write a particular software that is easy to use, and you can code it with "Ease of Use."
But coding has one major downside that it is time-consuming and tedious too. However, if the researcher can identify the codes properly, it will work with maximum accuracy.
Also, there are some advanced techniques that are appropriate for finding out the wider categories.
Consider a Text Analyzer:
You can get help from a text analyzer. Usually, text analyzers collect your data to analyze and match it with the words frequently used in the texts. It is how you can easily analyze a broad range of open-ended response questions.
For example, " conversion," "sales," " traffic" are three common words that are frequently used in your data set. Certainly, they can not answer all the questions, but they are appropriate for creating response categories effectively.
You should add all the categories separately at the top of the columns.
Note: You can consider Textalyser to get your job done quickly.
Maintain Alphabetical Order:
As per statistics, you will get a lot of customer satisfaction survey questions where 64% use text box survey questions, and 52% use essay-style questions.
If you sort the responses alphabetically, you will get to see a specific pattern. It will help you to code more efficiently according to the current trends.
Let's suppose all the open-ended survey questions examples you have, start with "Revenue." Now when you sort them in alphabetical order, they will automatically come into the same group.
The main point to understand is that maintaining alphabetical order is an excellent way to distinguish a group from others. Moreover, you will pay more attention to a stand-alone response created by alphabetical sorting.
You can also look for the synonymous words, and if you repeat the same codes, you will be able to combine them at the end.
Read Also: How to Find Survey Participants & Respondents
Step 3: Record the Responses Separately

In open-ended survey questions analysis, you should be very attentive while recording the individual responses.
What do you need to do?
It is very simple. You can put a '1' in such cells where you find the response matches with the category. It is how you can find out a positive response in all categories. You can increase the categories as well.
Suppose you have some survey question examples, and you have sorted them alphabetically. For instance, you have found the response "huh" in Row 6.
You have added a category "Did not understand the question" to Column E.
Then you have to put a '1' in E6.
Note: You should put "1" in each category to not overlook multiple factors and get different responses for each factor.
You can search for relevant words by using the 'Find' feature.
For example, you are starting with "sales," and you need to look for the column where the responses contain the word "sales."
You should go through the response to make sure it is suitable for the category you are searching for. Then, you should focus on filling up the gaps.
Find out the row where you have not placed '1' under any category. It will be essential to create new categories for those open response questions.
Note: After creating a new category, you can check the previous answers, whether they fit in the new category or not.
Step 4: Organize the Categories

Group the data: You can find some categories that can come under a group. But there is a problem as you see different words describing the same concepts.
So, how to analyze open-ended questions in a survey also depends on the respondents. Without being organized, it will be difficult to maintain that.
For example, there are two different terms, "Form Submissions" and " Lead Gen," which can be included in one category.
You do not need to worry about keeping them in the same group.
Simply, drag the columns and use any color to merge the column together, which means they are a group. You can follow this method for all categories that need to be grouped.
Moreover, you can create an additional column to the left of individual groups.
For instance, you can create a new category named 'Lead Gen/Form Submissions' for both "Lead Gen" and "Form Submissions."
Note: You should not forget to re-add the '1s' when grouping several categories together. Otherwise, you may lose your data.
You should organize the categories in descending order. Also, keep the large categories on the right side and the small categories on the left.
You will definitely find some categories which have a tiny percentage. You can merge them in a group called 'Others.' Put this group on the extreme right side.
Step 5: Represent the Data Visually

It will be imperative to create a bar chart. The method of preparing a bar chart from your data is nothing complicated.
You just need to select the first three rows and copy them. These three rows include 'Response Categories,' 'Total Respondents who answered X,' '% of Respondents who answered X.'
Simply paste them into the sheet 'Graph Question 1″. Here you can also use "Paste Special." If you want, you can invert the row and columns so that the data looks more chart-friendly.
Now, you can create your own chart and Insert and resize the chart according to the fit. It is how you can easily get a visual representation of your data.
In a political survey, it was found after analyzing the open-ended survey question that 35% had a positive response. 55% shared negative comments where 10% shared neutral remarks.
Thus, you have the freedom to try different formats for a formal presentation. It will also help you to empathize with the audience in an effective manner.
Read Also: How to Analyze Survey Data Like a Pro
Ready to Make the Most of Open-Ended Feedback?
Gathering customer feedback has always been the key to improving business longevity. With the help of surveys comprising open-ended questions, you can enable respondents to answer as per their experience and make them feel valued.
Analyzing open-ended responses is not rocket science; however, it's not a one-minute job as well. Ensure you offer your undivided attention to every response and see how it can help your business move in the right direction.
A dedicated survey tool like ProProfs Survey Maker can ease your pressure and help you take a deep dive into your customers' perspectives and suggestions. With its drag and drop feature, you can create the best open-ended questions in a matter of minutes and evaluate every single response effortlessly.
Do you want a free Survey Software?
We have the #1 Online Survey Maker Software to get actionable user insights.