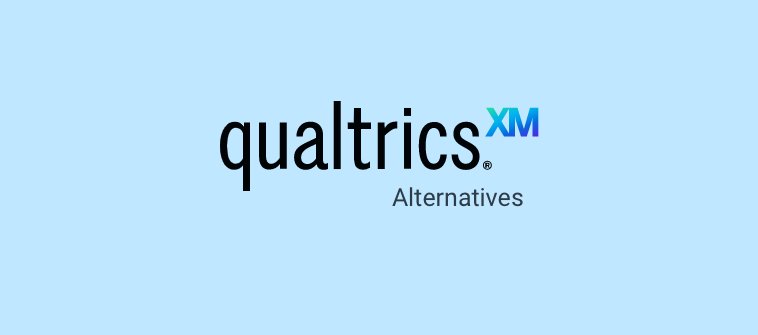 Qualtrics is one of the most sought after survey maker software in the market. Versatile features like interesting question types, survey scheduling option, survey reminders, and advanced analytics features are all that you need to create a basic survey in a hassle-free manner.
But, Qualtrics cost is on a higher level for small and medium-sized businesses. Also, there are limited survey collaboration features when you use the Qualtrics platform. Hence, if you are a small or medium-sized business, you might want to explore alternatives to Qualtrics at an affordable price.
This blog makes your job easier by giving you a detailed analysis of tools similar to Qualtrics.
Why do You Need Qualtrics Alternatives?
Qualtrics is no doubt a prominent leader in the survey market. Professionals' trust in Qualtrics is majorly due to factors like in-depth survey analysis, easy and flexible user interface, interesting question types, and more.
In-depth analysis of your surveys shows you the relevance of your survey data. You can easily filter out the important information and finetune your survey design and follow-up process. The neat user interface lets you create any complex survey question from scratch without any coding knowledge. Further, the surveys are well optimized for mobile, desktop as well as tablet devices.
However, Qualtrics surveys comes with their own share of challenges like:
High Price

As compared to the popular survey tools available in the market, Qualtrics is a bit expensive. The standard plan is $30 dollar/month billed annually. It comes out to be a whopping $360 dollar per year. Even after spending a huge amount of money, you just get access to limited features like 8 question types, and 30 questions per survey. Moreover, with the basic plan, you can only create a survey in one language and access just 2 survey themes.

Low Collaboration Features

Collaboration is necessary to share surveys with your team. You can easily make sure that your team members can see and edit your survey by adding their own information. But, Qualtrics does not allow flexible collaboration options.

In-Depth but Complex Survey Analysis

Though the Qualtrics survey comes with in-depth analysis, it can become too overwhelming and confusing. In such a scenario, it becomes very difficult to collect valuable data from the survey report.

Tedious Customization of Questions

Customization of questions is important to tailor your survey based on your requirements. Some users have faced the issue of customizing questions like scoring and branching logic type of questions. When you try to add scores to your questions, it does not get reflected well and doesn't serve the purpose of your survey.
There are some specifications to keep in mind when you want to select the best Qualtrics alternatives. Let's understand them in the next section.
Specifications to Look For in Qualtrics Alternatives
When you look for a survey tool better than Qualtrics, you need to keep certain specifications in mind like cost, customization options, user interface, and more.
Affordable Cost

As an organization you might want to look for the most cost effective survey maker options for your teams. Whenever you evaluate the survey maker tools, look for a free trial option. Survey softwares comes with a free trial ranging from 10 – 30 days. This time is sufficient to evaluate all the features of the tool before subscribing to a plan of your choice.
Also, some free Qualtrics alternatives come with a basic free or forever free plan, enabling you to create unlimited surveys effortlessly.

Flexible Customization Options

Top Qualtrics competitors come with flexible customization options like changing the default logo and adding your company logo, rewriting the questions based on your needs, easy addition of interactive features to your survey like polls, scores, and quizzes. Also, make sure that your survey is loading properly with all the changes reflected clearly. This can be achieved with the help of inhouse testing of your survey.

Good Collaboration Feature

Sites like Qualtrics do not give you access to good collaboration tools. With collaboration, you can easily share the survey amongst your team members and in turn let them handle the survey process in your absence. Look out for survey tools that let you handle multiple administrators and co-administrators for your survey.

Advanced Reporting

Many Qualtrics competitors come with advanced reporting features using which you can understand every minute aspect of your survey responses. Who took your survey? Timeframe for taking your survey? Which day of the week do you get the most number of responses? It is essential to answer these questions to come up with a systematic survey strategy for your business.
Now that you have a fair idea of what to look for in a Qualtrics alternative, let's dig deeper into the 10 best Qualtrics alternatives available in the market.
Top 10 Qualtrics Alternatives & Competitors
In this section, let's explore a few survey tools that can replace Qualtrics along with their pricing, features, and more.
ProProfs Survey Maker is a popular among survey tools. It gives you access to more than 100,000+ survey templates. From a customer satisfaction survey to an NPS survey, you can create a survey in minutes. The drag and drop option allows you to add your own images and logos.
Key features of ProProfs Survey Maker
A forever free plan lets you create unlimited surveys.

Advanced reporting feature allows you to analyze the survey responses in a graphical format.

Access twenty different question types ranging from a multiple-choice question to net promoter score question.

Multiple survey sharing options like email, link sharing, social media sharing, and more.

Collaboration option using which you can share your survey with your team members.

Easy integration with third party tools like MailChimp, Zendesk, Freshdesk, and so on.
Pricing
Starts from $19 per month.
Features of ProProfs Survey Maker
Why We Picked It, What is unique about ProProfs Survey Maker?
Affordable basic free plan
Collaboration feature along with ProProfs Project
Powerful survey reporting feature
Multiple survey sharing and integration options
Versatile question types
Qualaroo is a feedback collection tool that is 10 times more effective than routine surveys. In contrast with Qualtrics, Qualaroo helps you collect dynamic feedback in the moment when your customers are browsing through your website.
Key features of Qualaroo
Advanced customer targeting using Qualaroo nudge feature that allows you to show the right questions to the right set of visitors.
Show your survey questions on multiple platforms like websites, mobile, apps, and other digital platforms.
AI powered sentiment analysis tracks down your customers' moods and opinions.
Integrate with over 10 tools like HubSpot, Google Analytics, Slack, and more.
Pricing
There are 3 pricing options for Qualaroo
Forever free plan
Essentials plan starting at $0.0008/page view/month
Premium plan starting at $0.0016/page view/month
Features of Qualaroo
Why We Picked It, What is unique about Qualaroo?
Advanced targeting of customers
More than 10 integration options
Cost effective basic plan
15 day money back guarantee
AI powered analytics to track human emotions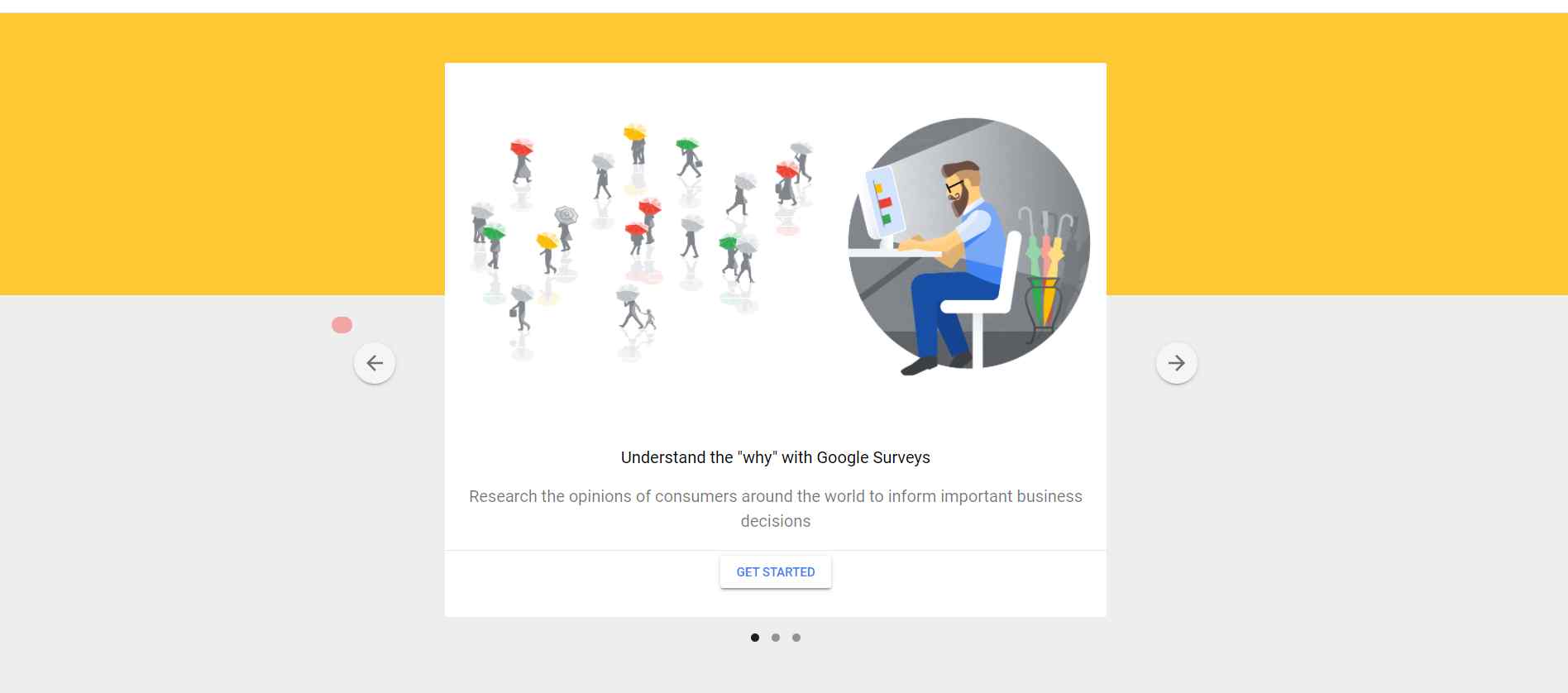 Google surveys is another Qualtrics alternative that helps you create and set up a basic survey in minutes. You can either collect the survey data anonymously or collect your respondents's email address for future campaigns.
Key features of Google Surveys
Create your survey using a simple drag and drop WYSIWYG editor.
Embed videos and photos in your surveys.
Easy attachment of surveys to google documents and other google products.
Share your surveys with your target audience via email, links, social media, website embedding, and more.
Pricing
Custom pricing based on the number of questions and the type of questions. It is free for personal use.
Why We Picked It, What is unique about Google Surveys?
Simple setup and customization
Availability of basic question types
Free for personal use
Easy export of survey data to excel format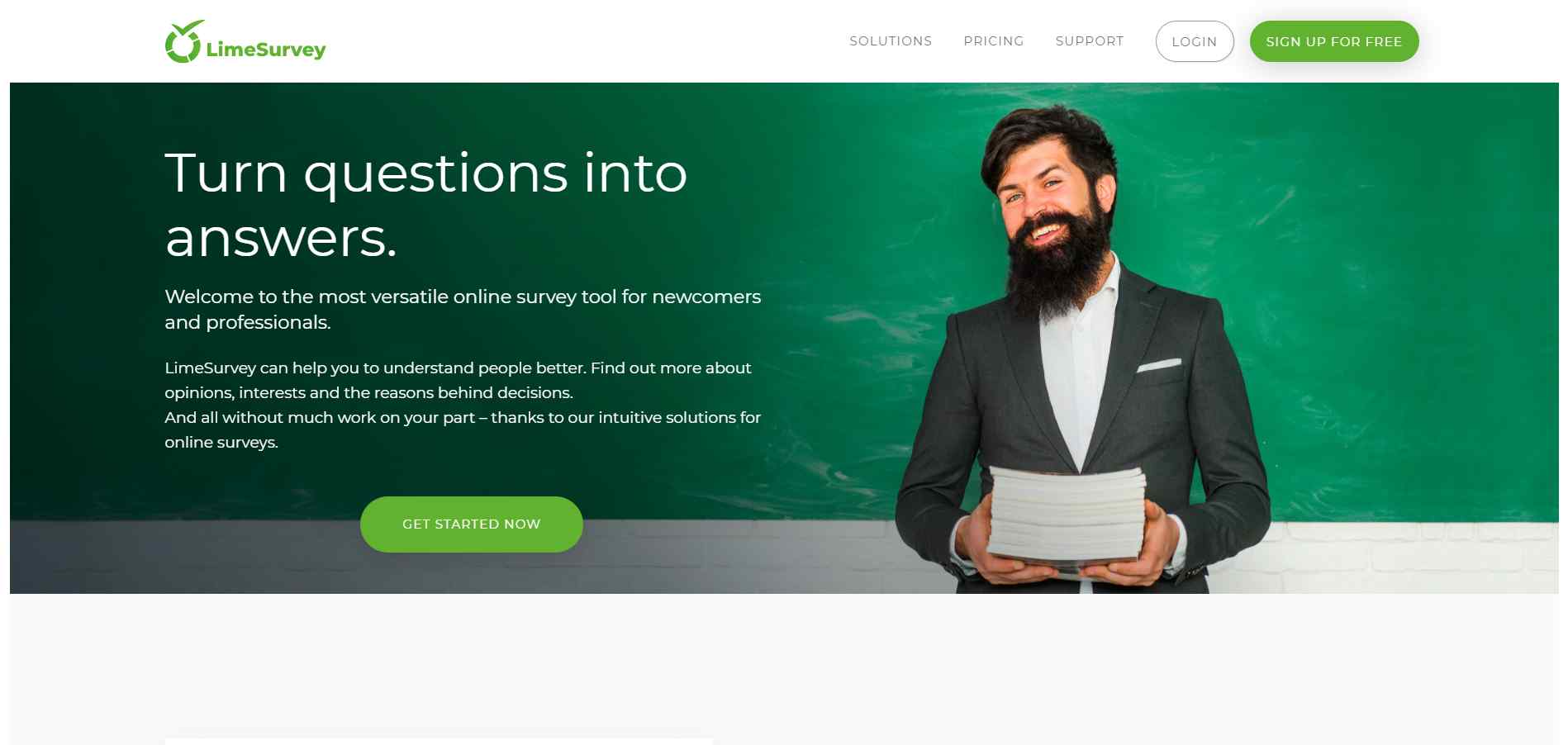 LimeSurvey is an open source survey maker tool that acts as a good alternative to pricey Qualtrics software. This web based platform helps you to create and publish interesting online surveys using advanced features.
Key features of Lime Surveys
Create unlimited surveys with every plan.
Generate custom survey urls while sharing your surveys.
Complete customization of survey with questions reordering, survey access rights, logic flow, and more.
Clear and easily navigable user interface.
Pricing
Lime Survey pricing is spread out over 4 tiers:
Free plan with a limit of 25 responses/month
Basic plan starts at Rs. 689/month
Expert plan starts from Rs. 1500/month
Enterprise plan starts at Rs. 3750/month
Why We Picked It, What is unique about Lime Surveys?
Cost effective due to open source nature
Intuitive user interface
More administrator control over survey settings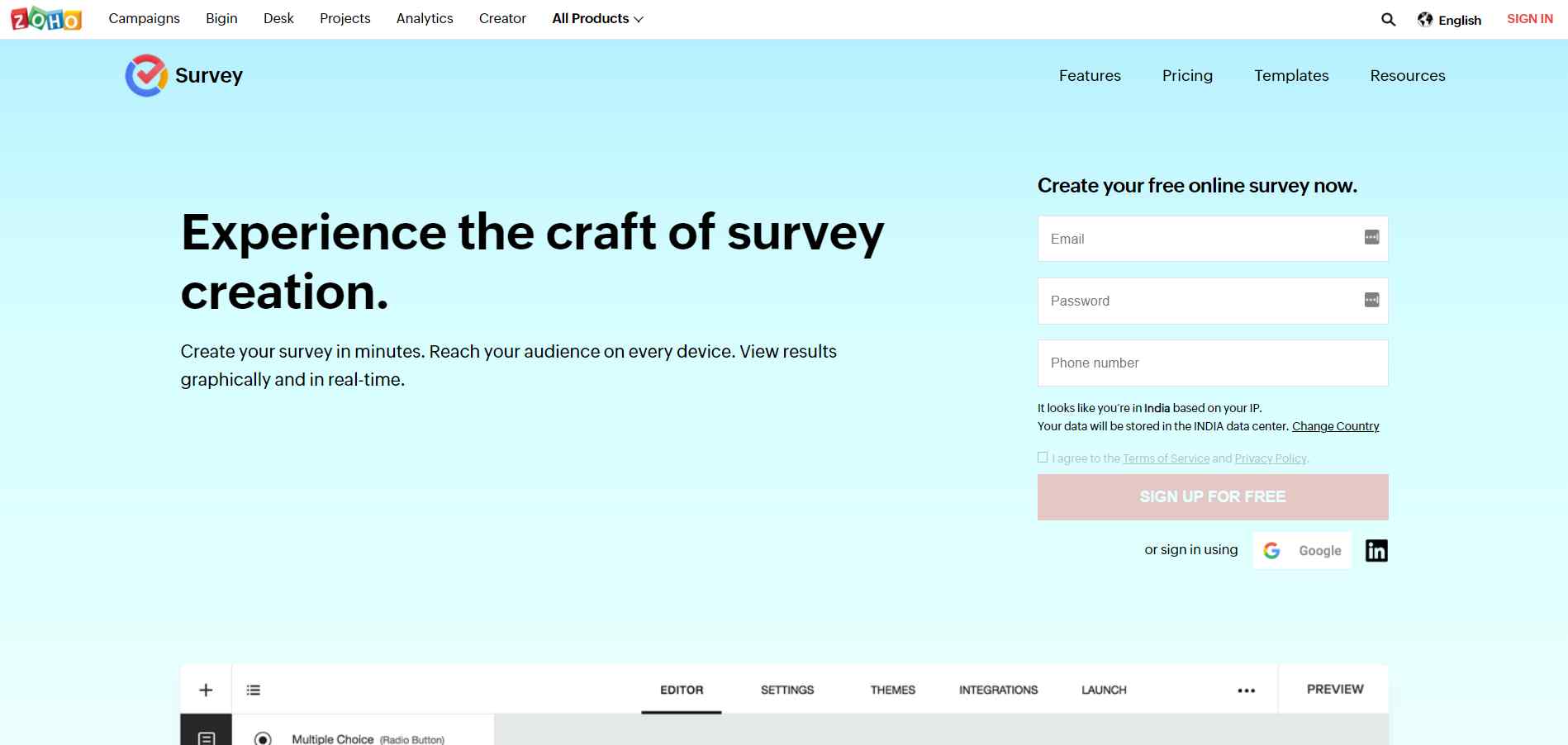 If you are looking for a Qualtrics alternative that meets all your basic survey requirements, then go for ZohoSurvey. The best thing about this tool is that you can have seamless integration with other zoho products like Zoho CRM, Zoho Social, and more.
Key features of Zoho Survey
Choose from over 25 versatile question types ranging from a rating scale to matrix type questions.
Translate your survey into 30 different languages that involve French, Japanese, Portugese, and more.
Using piping to change the wording of a follow up question based on the survey responses.
Auto fill feature easily collects your survey respondnet's data from previous campaigns.
Share your survey using multiple channels like web links, social media sharing, email, QR codes, and more.
Pricing
The pricing is divided into 4 tiers:
Basic free plan to create unlimited surveys
Plus plan starts at $6.69/month. This has advanced features.
Pro plan has a starting price of $17.41/month.
Enterprise plan starts from $40.17/month.
Why We Picked It, What is unique about Zoho Survey?
Versatile survey sharing options
Cost effective plans as compared to Qualtrics
Easy integration with other Zoho Apps makes it easy to create follow up campaigns
Bonus Read: Best Zoho Survey Alternatives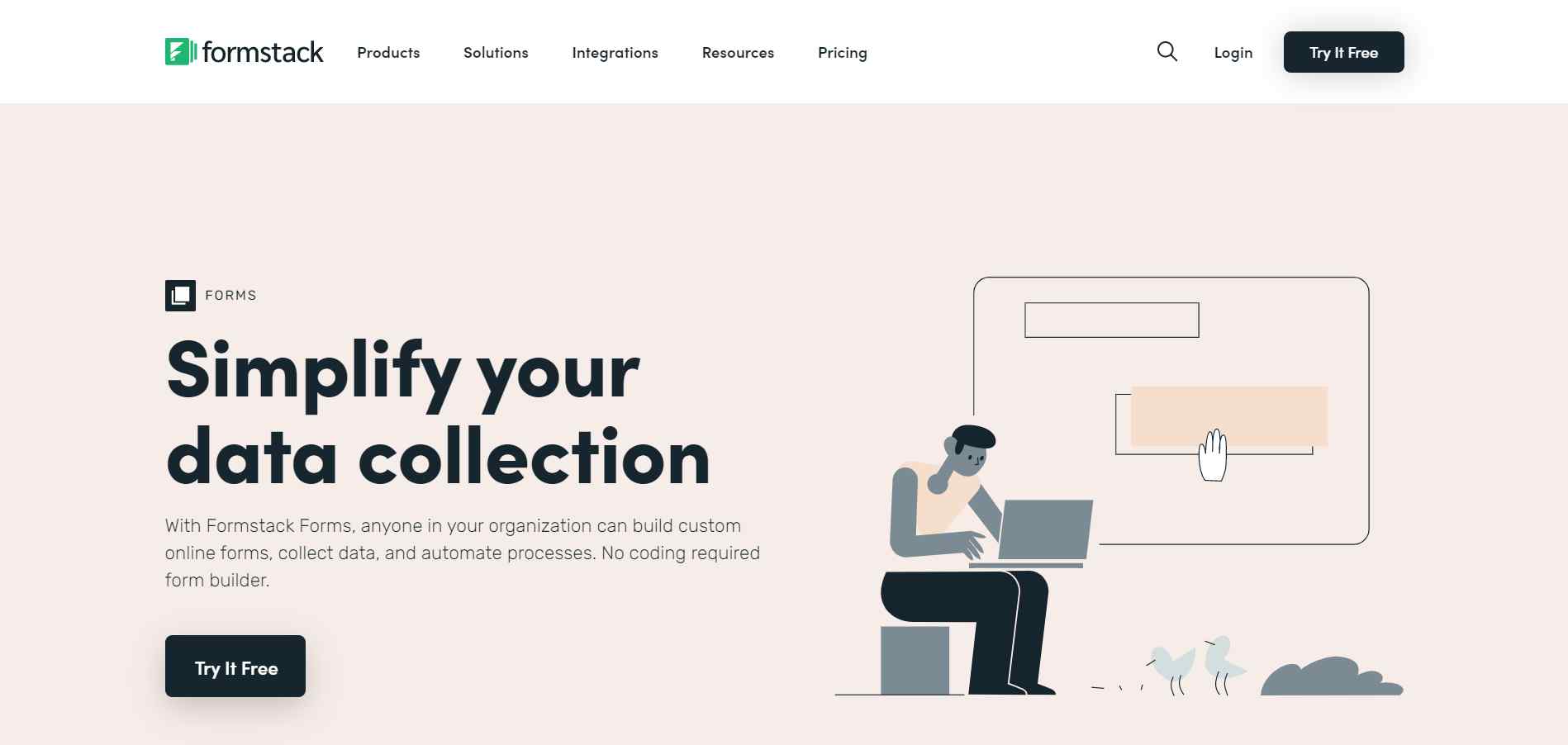 With formstack, you can create and deploy an awesome form with absolutely no coding knowledge. This Qualtrics alternative comes with a 14 day free trial option during which you can evaluate the features and decide if you want to subscribe to a particular plan.
Key features of Formstack are
Create mobile friendly forms by easily editing the available templates.
Effortlessly import old forms using URL or HTML code
Easily enable offline data collection
Improve form conversion by capturing partial submission of information.
Pricing
Formstack pricing comes in the form of 4 plans:
Silver plan for individual users start from $50/month
Gold plan for small teams start from $83/month
Platinum plan for growing teams start from $208/month
Enterprise plan for high functioning teams comes with custom pricing
Why We Picked It, What is unique about Formstack?
Better data collection option with offline surveys and partial response collection
Advanced integration and form building option
Multiple notifications makes it easy to follow up on survey responses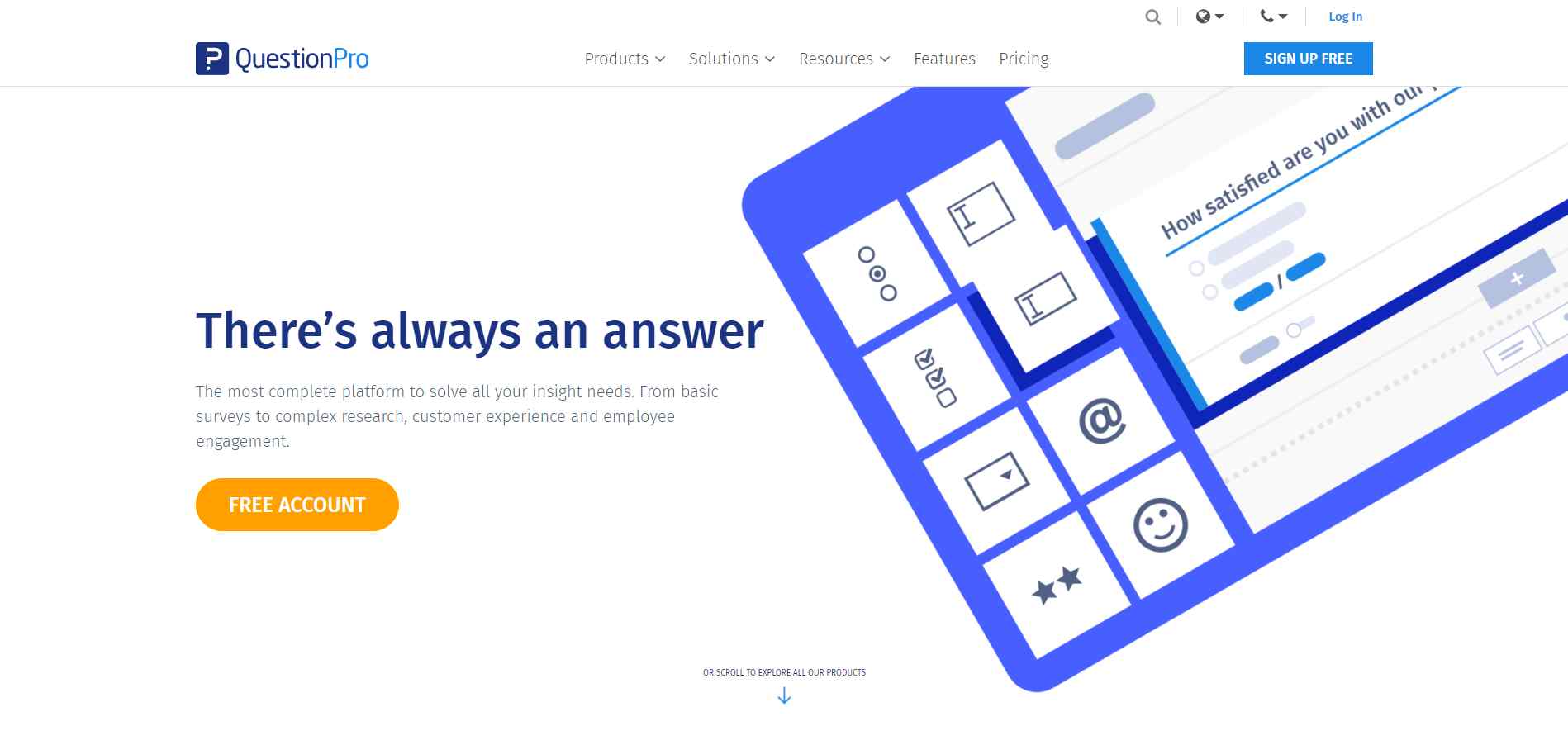 QuestionPro is another best alternative to Qualtrics available in the market. From intuitive surveys to over 30+ question types, QuestionPro has much to offer for any kind of business.
Key features of QuestionPro
250+ survey templates ranging from a market research survey to academic research survey.
Versatile logic type skip logic, text piping, randomization, and so on.
Create multilingual surveys in over 100 languages.
Integrate your survey with panels, conduct focus group surveys, purchase new members, and more.
Pricing
QuestionPro pricing is divided into 3 tiers:
Free Essentials Plan
Advanced Plan starts at $85/month
Enterprise Plan comes with custom pricing
Why We Picked It, What is unique about QuestionPro?
Powerful analytics features that converts to graphical reports
Multiple users can interact with the same data simultaneously
Very easy to add multiple images in a multiple choice question, date and time, calendar, maps, and more.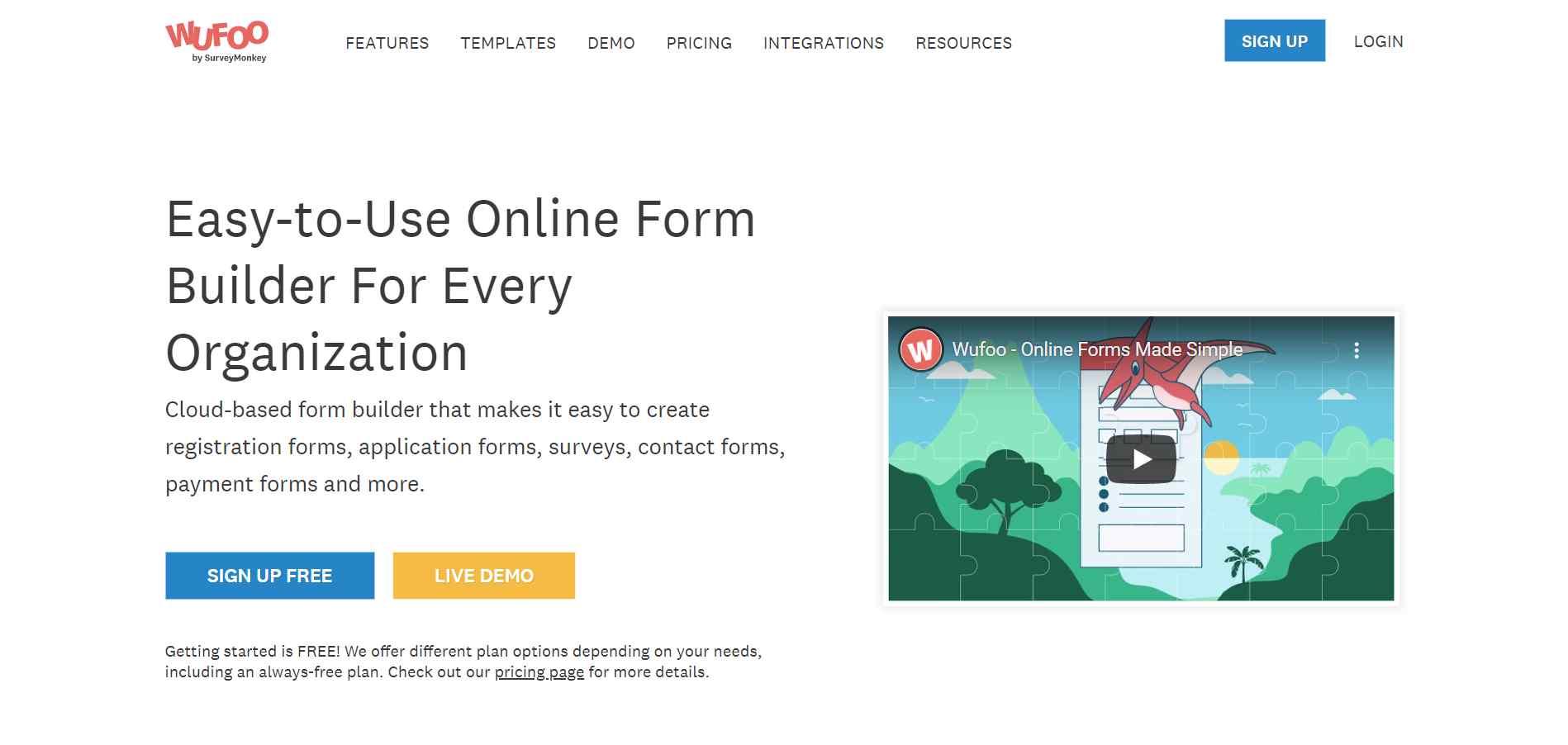 Wufoo is an online form builder which helps you build customized HTML forms. This Qualtrics alternative requires you to have zero coding experience to build and deploy feedback forms.
Key features of Wufoo
Easily automate your workflows and connect it to CRM and other marketing tools.
Build your forms effortlessly with drag and drop form builder. Also, add custom branding to personalize your survey.
Collect payments using a secured link.
Integrate with over 1000+ native tools.
Export your survey data in spreadsheets within minutes.
Pricing
Wufoo pricing comes in the form of 4 plans:
Starter plan starts at $14.08/month
Professional plan starts at $29.08/month
Advanced plan starts at $74.08/month
Ultimate plan starts at 183.25/month
Why We Picked It, What is unique about Wufoo?
Simple and easy to use UI
Multiple integration options. Much needed for both big and small businesses.
Secured payment option is handy to collect online payments.
Related Read: Best Wufoo Alternatives and Competitors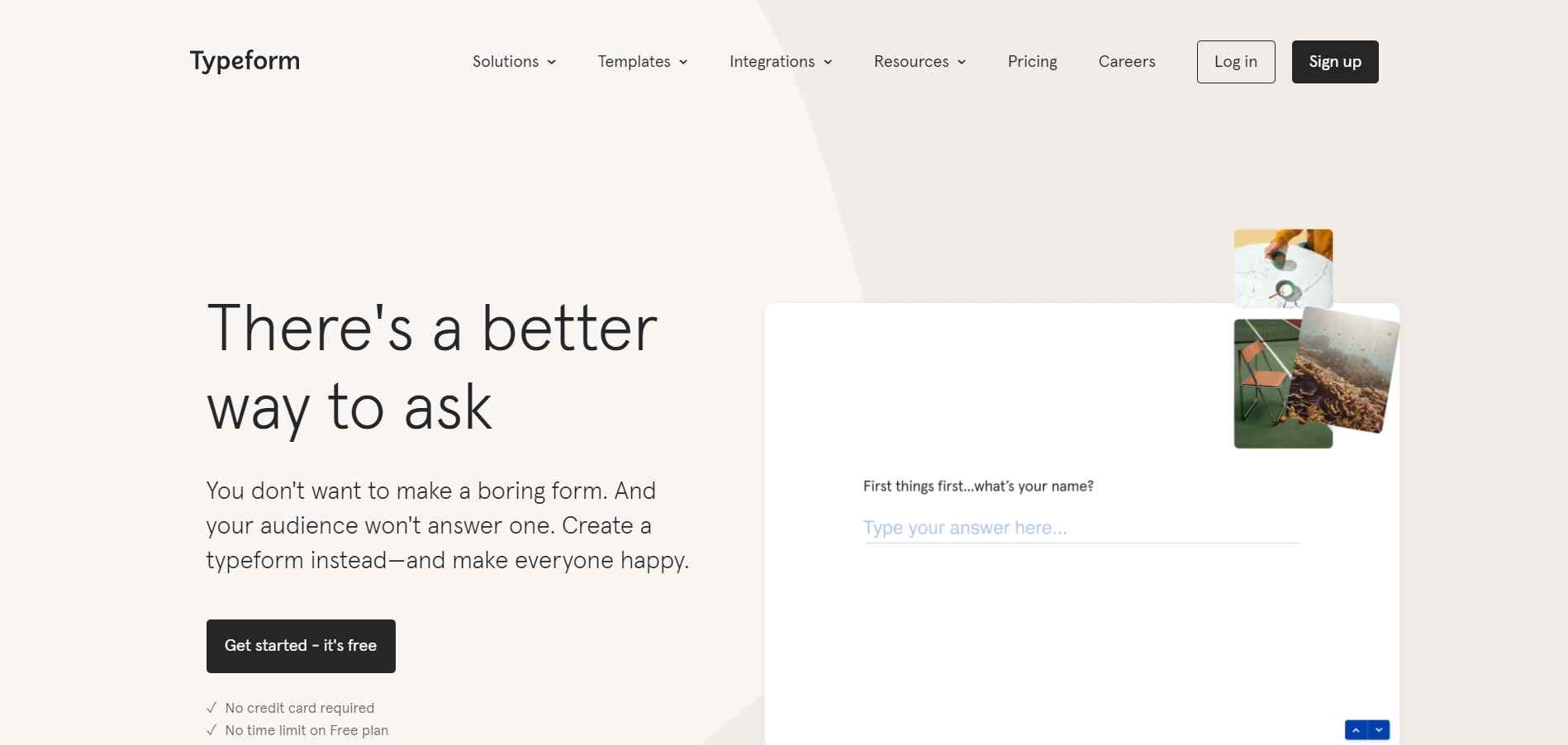 Typeform is another Qualtrics alternative that helps you create innovative and conversational surveys. You can easily sign up using your email address to access a free plan for either your business or for your personal use.
Key features of Typeform
Access a variety of forms, quizzes, surveys, and tests templates.
Beautiful built in custom templates and video library.
Create conversational surveys that increase your survey response rates.
Easily integrate your surveys to google sheets, slack, MailChimp, and more.
Pricing
Typeform pricing comes in the form of 4 plans:
Basic free plan
Essentials plan starts at $35/month
Professional plan starts at $35/month when you are paying for a year
Premium plan starts at $70/month
Why We Picked It, What is unique about Typeform?
Simple user interface to create conversational forms
Easy cloud integration
Reliable conditional logic
Bonus Read: Typeform Alternatives And Competitors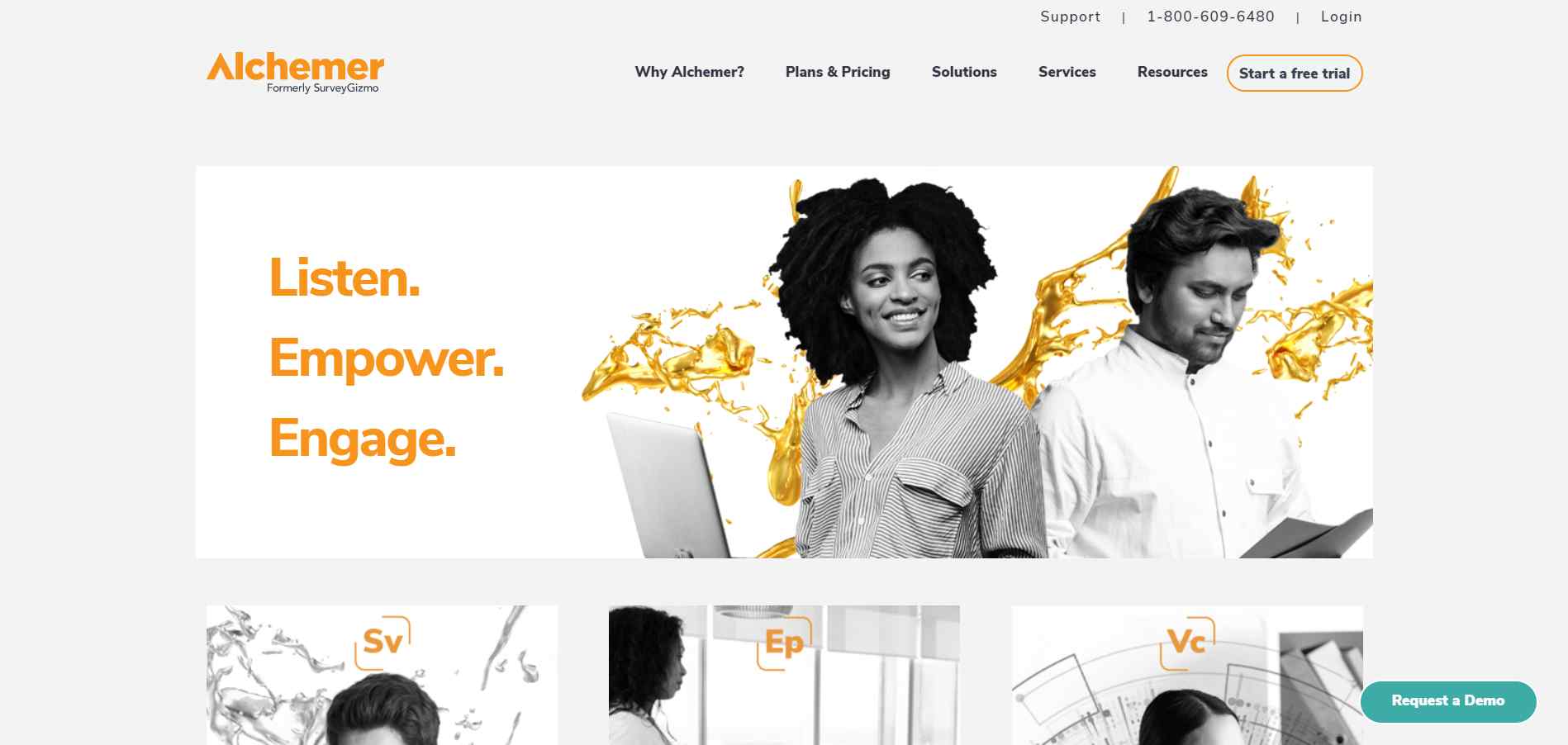 Alchemer is the last in our list of Qualtrics alternatives. It is focussed on collecting actionable feedback from your target audience and creating an entirely new customer experience. A free trial helps you to explore the basic alchemer features before selecting a suitable plan.
Key features of Alchemer are
Access versatile survey templates ranging from a net promoter score survey to customer satisfaction survey.
Interesting poll scheduling to create a personalized experience in your survey.
Create questionnaires with the set of predefined questions.
Come out with in depth survey comparison reports for your business.
Related Read: Best Alchemer Alternatives & Competitors
Pricing
Pricing for individuals and small teams:
Collaborator plan starts at $49/month
Professional plan starts at $149/month
Full access plan starts at $249/month
Pricing for enterprises and businesses: Custom pricing
Why We Picked It, What is unique about Alchemer?
Advanced survey reporting option with the ability to easily export your survey to excel
Easy to navigate user interface
Attractive scheduled poll feature that is pretty easy to implement
Additional Resources For You:
Comparison of Best Qualtrics Alternatives
| Features | ProProfs Survey Maker | Qualaroo | Google Surveys | LimeSurvey | Zoho Survey | Formstack | QuestionPro | Wufoo | Typeform | Alchemer |
| --- | --- | --- | --- | --- | --- | --- | --- | --- | --- | --- |
| Pricing | Essential Plan starts at $0.05/response/month | Essential Plan starts at $0.0008/page view/month | Custom Pricing | Basic Plan starts at Rs. 689/month | Plus Plan starts at Rs. 500/month | Silver Plan starts at $50/month | Advanced Plan starts at $85/month | Starter Plan starts at $14.08/month | Essential Plan starts at $35/month | Collaborator Plan starts at $49/month |
| Designed For | Personal use and Business use | Personal use and Business use | Personal use and Business use | Personal use and Business use | Personal use and Business use | Personal use and Business use | Personal use and Business use | Personal use and Business use | Personal use and Business use | Personal use and Business use |
| Installation and IT Support | ✅ | ✅ | ✅ | ✅ | ✅ | ✅ | ✅ | ✅ | ✅ | ✅ |
| Get responses via web, social, or email | ✅ | ✅ | ✅ | ✅ | ✅ | ✅ | ✅ | ✅ | ✅ | ✅ |
| Popup surveys | ✅ | ✅ | ✅ | ✅ | ✅ | ✅ | ✅ | ✅ | ✅ | ✅ |
| Track email responses | ✅ | ✅ | ✅ | ✅ | ✅ | ✅ | ✅ | ✅ | ✅ | ✅ |
| Mobile apps for iOS and Android | ✅ | ✅ | ✅ | ✅ | ✅ | ✅ | ✅ | ✅ | ✅ | ✅ |
| NPS surveys | ✅ | ✅ | ✅ | ✅ | ✅ | ✅ | ✅ | ✅ | ✅ | ✅ |
| Number of question types | 20 | 10 | Variable | Variable | 23 | Variable | 29 | 17 | Variable | 42 |
| Survey export options | ✅ | ✅ | ✅ | ✅ | ✅ | ✅ | ✅ | ✅ | ✅ | ✅ |
| Custom charts and reports | ✅ | ✅ | ✅ | ✅ | ✅ | ✅ | ✅ | ✅ | ✅ | ✅ |
| Survey security | ✅ | ✅ | ✅ | ✅ | ✅ | ✅ | ✅ | ✅ | ✅ | ✅ |
Choose the Best Qualtrics Alternative
Qualtrics is a reliable tool when it comes to creating versatile surveys for businesses of any type. With a number of question types to advanced survey templates, you can create a survey in minutes. But, it is highly priced for small and medium businesses for which you need to look for alternatives to Qualtrics.
When you are selecting a Qualtrics alternative, you need to keep cost as the top priority. Explore tools that have free trials or a basic free plan. Also, ensure that the complex conditional logic type questions are easy to implement.
In accordance with the above requirements, ProProfs Survey Maker is one of the best free alternatives to Qualtrics. You can easily avail a forever free plan to understand the features of the tool. A small upgrade to essentials plan starts at just $0.05/response/month, which is best for survey tools in this category.
FAQs about Qualtrics
Who are the top Qualtrics competitors?
The top Qualtrics competitors are ProProfs Survey Maker, Qualaroo, QuestionPro, SurveyGizmo, Zoho Survey, and Typeform
What is Qualtrics customer distribution based on company size?
Qualtrics customers belong to companies with sizes ranging from (1-10) to (51-200).
What is Qualtrics market share in the online-survey?
Qualtrics has a market share of 1.98% in the online survey market.
What are the top industries that use Qualtrics ?
Majority of the Qualtrics customers fall in the education and healthcare sector.
What are the top countries that use Qualtrics ?
Top countries that use Qualtrics are US, UK, and Canada.
Do you want a free Survey Software?
We have the #1 Online Survey Maker Software to get actionable user insights.