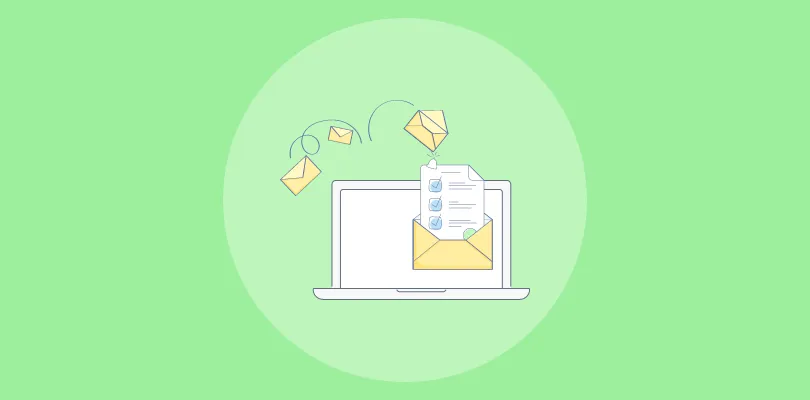 How often have you faced difficulty targeting your off-site customers since they are outside your business's physical premises or primary operating location? Pretty often, correct? Email surveys, with the convenience, accessibility, and ability to reach a broad audience base, can be a game changer if you want to target these customers.
Suppose you are trying to collect feedback from people who added products to the cart but mysteriously vanished before the checkout, or perhaps you're trying to reach out to churned customers.
That's where email surveys swoop in to save the day in a non-intrusive and wallet-friendly way. Just design and embed the survey into a mail, send it to the target customers, and get to know their concerns. And if they don't fill out the survey, you can always send reminders because the email's not going anywhere.
An email survey lets you reach a broad audience quickly and gives participants enough time to ponder and respond. And all the while, you can effortlessly analyze the feedback using a suitable email survey tool.
So in this guide, we'll help you create effective email survey campaigns. We'll discuss the type of survey emails, explore their advantages, and uncover tips to supercharge the engagement and response rates. We'll also provide a repository of email survey questions to fetch targeted customer feedback.
Let's do this!
What Are Email Surveys?
An email survey is a questionnaire sent to the target audience via email. These surveys serve various purposes, such as collecting customer product feedback, conducting market research, and measuring people's experience with your brand. They also provide an avenue to gather opinions and suggestions to improve the services.
One of the major advantages of email surveys is their ability to reach people beyond your website, app, and product. For instance, if someone doesn't complete the survey on your website, you can resend it to their email address, increasing the chances of receiving a response.
And since you know who you are sending the survey to, it improves data quality. This is especially important for market research projects.
The concept of email surveys is straightforward. You utilize online feedback software like ProProfs Survey Maker to create the survey.
Then, include the survey as a link or embed it into the email body before sending it out. The respondents can conveniently open the email and access the survey.
When a recipient clicks the submit button, it counts as a survey response. These clicks are recorded in the email survey tool's database for response analysis.
7 Types of Email Surveys to Use
Email surveys can help you collect various types of data. So it's essential to familiarize yourself with different examples of mail surveys. It would help you choose the appropriate template for a specific survey campaign and customize it to suit your needs.
Email surveys can help you collect various types of data. So it's essential to familiarize yourself with different examples of mail surveys. It would help you choose the appropriate template for a specific survey campaign and customize it to suit your needs.
Here are a few of the most effective types of email surveys you can utilize:
Customer Satisfaction (CSAT) Surveys
As the name suggests, customer satisfaction surveys measure customers' satisfaction or happiness with your products and services. Respondents are asked to rate their satisfaction on a scale, which can be numeric (1-5), emojis, star ratings, etc.
CSAT surveys are perfect for evaluating short-term or transactional customer experiences. For instance, you can send a CSAT survey via email when a customer:
Makes a purchase on your website.
Interacts with the service team.
Completes a live chat or phone call.
Finishes a product demo or onboarding tour.
Once you have the scores, you can take the necessary actions to address any unsatisfied customers and turn their frowns upside down.
Marks the helpdesk ticket as resolved.
Once you have the scores, you can take the necessary actions to address any unsatisfied customers and turn their frowns upside down.
Net Promoter Score (NPS) Survey Emails
Net Promoter Score (NPS) Survey Emails
NPS is a standardized metric that measures long-term customer satisfaction and loyalty. It assesses the likelihood of customers recommending your brand to others.The ideal recipients for your NPS survey emails are people who have been associated with your company for some time. This includes long-term customers, churned customers, and product users.
Watch: How to Create a Net Promoter Score NPS Survey
You can also include follow-up questions in the standard NPS survey mail to gather more in-depth data.
Product Feedback Surveys
Product feedback survey emails aim to collect user feedback regarding their experience with your product. These surveys cover various aspects, such as:
Liked and disliked product features
Product issues and bugs
Value for money
Product quality
Likelihood of product recommendation (NPS)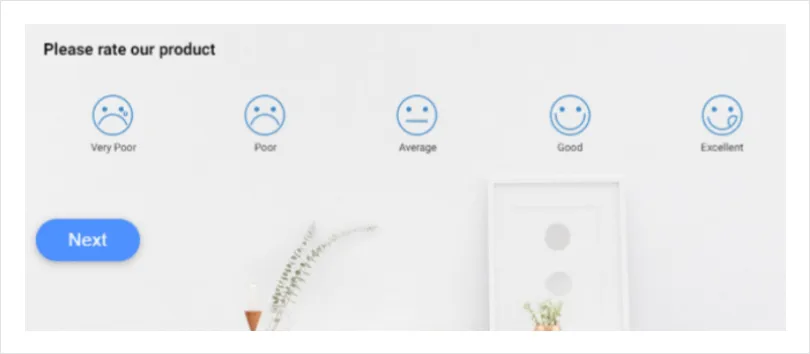 The data collected from these surveys is used to optimize the product by addressing issues, enhancing features, and improving overall quality.
Customer Service Feedback Survey Emails
Customer service plays a crucial role in determining customer loyalty and satisfaction. Therefore, it's important to gauge how customers feel about your support services.
That's where customer service feedback surveys come into play. You can send these surveys at various points of interaction with customer service, such as:
After the initial contact with the support team
24 hours after closing a ticket
1 week after closing a ticket to check for any additional concerns
At the end of a live chat session
The insights gathered from this survey can help identify new customer touchpoints, optimize existing service channels, manage resources to reduce waiting times, and measure the effectiveness of your support staff.
Churn Feedback Survey Emails
When customers leave, they often have a lot to say about your brand, both positive and negative. Churned customers can provide valuable and genuine feedback about your brand.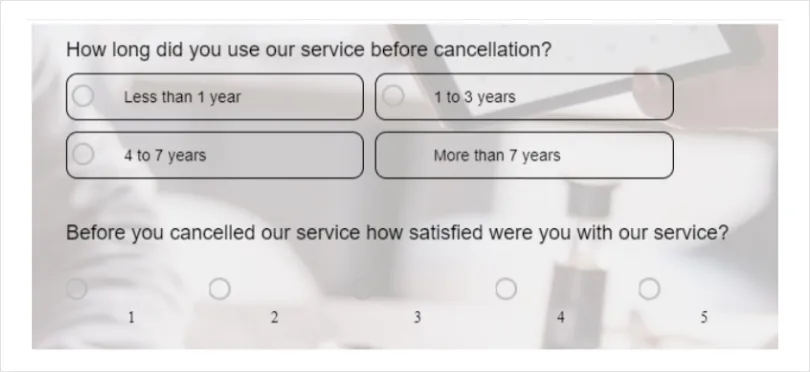 Think about it! People abandon a business due to better prices, features, ease of use, and more. You can pinpoint the reasons for attrition and address those areas by targeting these individuals.
If a customer doesn't complete an in-product churn survey, you can easily retarget them via email surveys to collect the desired data.
Onboarding Surveys
Now, let's shift our focus to new users. An optimized onboarding process can significantly impact retention rates and customer satisfaction. With onboarding survey emails, you can gather data on the following:
Tour length
Missing steps
Usefulness of the tour
Suggestions for improving the process
The same applies to product demos. People who subscribe to product demos can help identify areas for improvement to enhance the conversion rate.
You can target these prospects via email surveys to gather data about their preferences and problems. Then, use the data to design a counter proposal and guide them into the sales funnel.
Post-Purchase Survey Emails
To optimize the checkout process, consider using post-purchase survey emails. These surveys are sent after product delivery to gather data on the purchase experience.
This type of mail survey incorporates a CSAT and other follow-up questions to pinpoint any issues with the checkout flow, such as the cart, payment methods, order receipt, delivery, etc.
Here's a quick glance table for email survey types: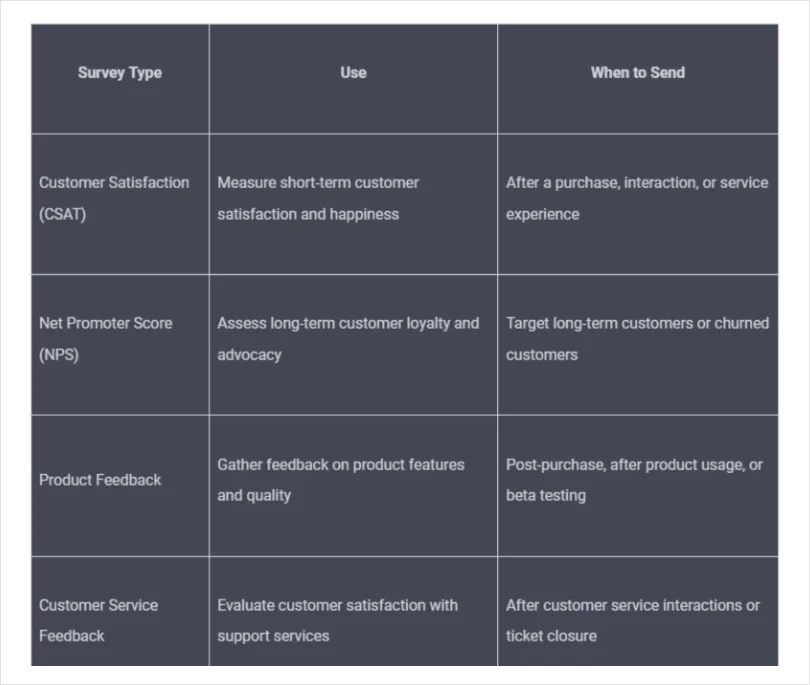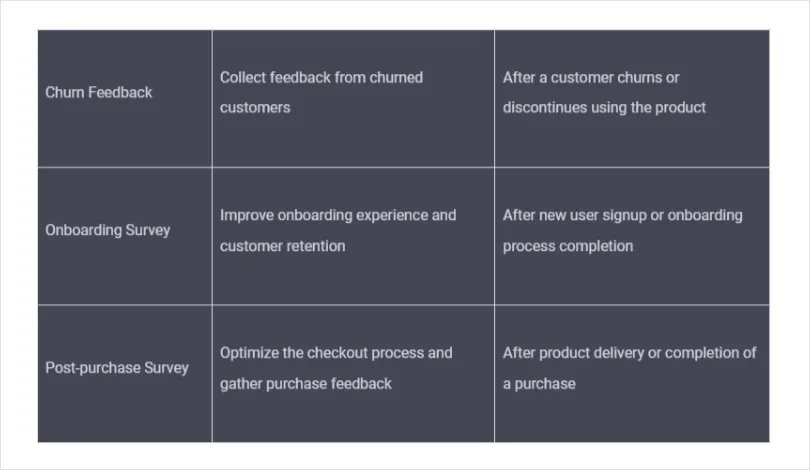 30+ Email Survey Question Examples for Targeted Customer Feedback
Here are 30 email survey question examples to get you started in the right direction:
Product Purchase Questions
Did you complete the purchase you intended to?
If not, what stopped you?
Do you have concerns about making a purchase?
What could we have done differently to make your buying decision easier?
What is your favorite product on our site?
Did you consider any other options before buying (product name)?
Why did you choose (product name) over the other options you were exploring?
Did you have any questions before you completed a purchase today?
Were these questions answered to your satisfaction?
Product Usage Questions
How would you rate the product you recently purchased?What prompted you to make this purchase?
Would you recommend this product to a friend?
Did (product name) satisfy the purpose of your purchase?
You added an out-of-stock product to your wish list, would you like to see alternatives until we bring it back in stock?
If not, why do you prefer this product over others in its category?
Do you have any questions about the product you bought recently?
How would you rate (product name) on a scale of 1-10?
Customer Service Questions
Were your concerns addressed in your last interaction with our contact center?
Were you satisfied with the response?
How would you rate our customer services on a scale of 1-10?
What are your top 3 suggestions that can help us improve our services?
Overall Brand Satisfaction Questions
If you could change one thing about our e-commerce store what would it be?
And the one thing you absolutely love about us?
What other products/features would you like to see on your portal?
Would you like to hear from us regarding future product launches and offers?
Would you like to sign up for our newsletter?
How likely are you to recommend our services to a friend on a scale of 1-10?
What was your reason for unsubscribing from our newsletter?
What stopped you from upgrading your plan at the end of the free trial period?
How likely are you to come back to shop from us on a scale of 10?
How Effective Are Email Surveys?
Email surveys are highly effective in gathering valuable customer feedback and insights. Here are a few aspects that make our case:
Quick and timely data collection- Whether you need feedback on a new product, customer satisfaction ratings, or market research insights, email surveys provide rapid data collection. They enable businesses to collect data quickly and efficiently. You can send the surveys to more people than the required sample size, and the responses can start pouring in almost immediately. This way, you can quickly reach the required confidence level to increase data reliability. It also promotes timely data analysis and decision-making.
Wide reach- As mentioned above, email surveys let you instantly reach the target audience around the globe. It opens your survey campaigns to demographics, technographic customer segments, time zones, locations, and more. This broad reach ensures a more representative sample, allowing for comprehensive data analysis and actionable insights.
Personalization and customization options- Email surveys allow for a high degree of personalization and customization. You can address the recipients by name and tailor the content to their preferences, purchase history, and behavior to create a personalized and engaging survey experience. Personalization makes survey mail more relevant and encourages respondents to engage with them, providing thoughtful and accurate responses.
Watch: How to Customize & Add Branding to Your Survey
Tracking and analytics- A robust survey tool comes with an in-depth reporting section to track and analyze various survey performance metrics. You can monitor response rates, track completion times, and identify potential drop-off points within the survey. These insights help you optimize the survey design and structure for better results.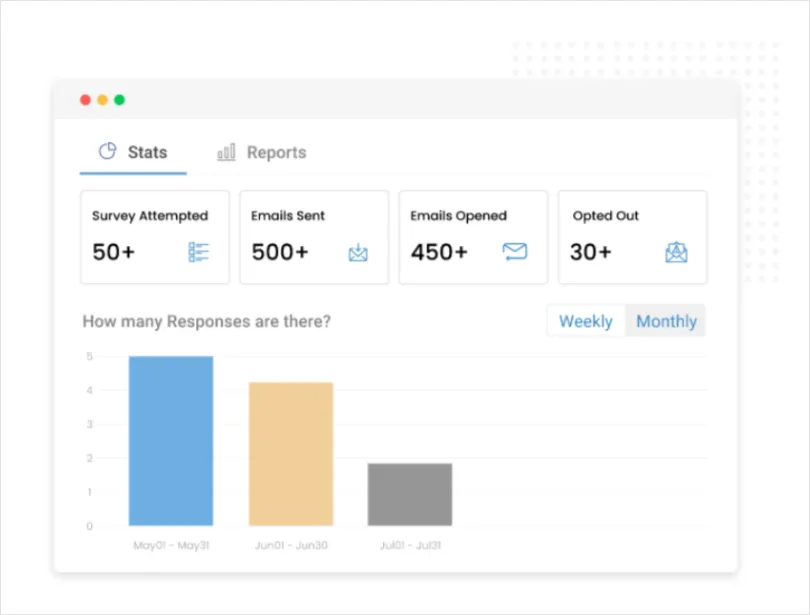 Integration with other systems- Email survey tools often offer seamless integration with other workspace apps like CRM and marketing automation tools. It prevents manual effort to export and update the data across various teams. It means streamlined data collection and automated survey distribution to optimize the customer feedback loop.
Reminder emails- Timing and frequency are crucial to avoid being intrusive. You can schedule and auto-send gentle reminders to people who did not respond to the first survey mail. A well-timed reminder can serve as a nudge and increase survey participation.
10 Tips to Create Effective Email Surveys & Improve Responses
All is for naught if people don't open the mail and answer the survey. Well, that won't be the case anymore. Here are some of the best email survey tips and practices to make every survey count:
Tip 1: Create Eye-Catching Subject Lines
Beautifully crafted email subject lines can help you create the right first impression. Did you know that around 64% of recipients open an email based on the subject line?
Here are some tips to keep in mind when drafting subject lines:
Use the recipient's personal name
Place relevant emojis (😎 💬✍) to add a fun element to your subject lines
Use power words like Best, Top, Awesome, etc.
Create an emotional connection with a thoughtful question
Bring out the pain points of your customers
Add a healthy dose of humor if possible
Tip 2: Make Customers Feel Their Opinions Matter
Even if you are sending surveys to thousands of participants, every person should feel their opinion matters and is valuable for your business.
With the right tools, you can personalize your emails in different ways: through text, personalized images, or web pages and videos. Aside from making customers feel special, personalized survey emails are great ways to increase customer delight and engagement.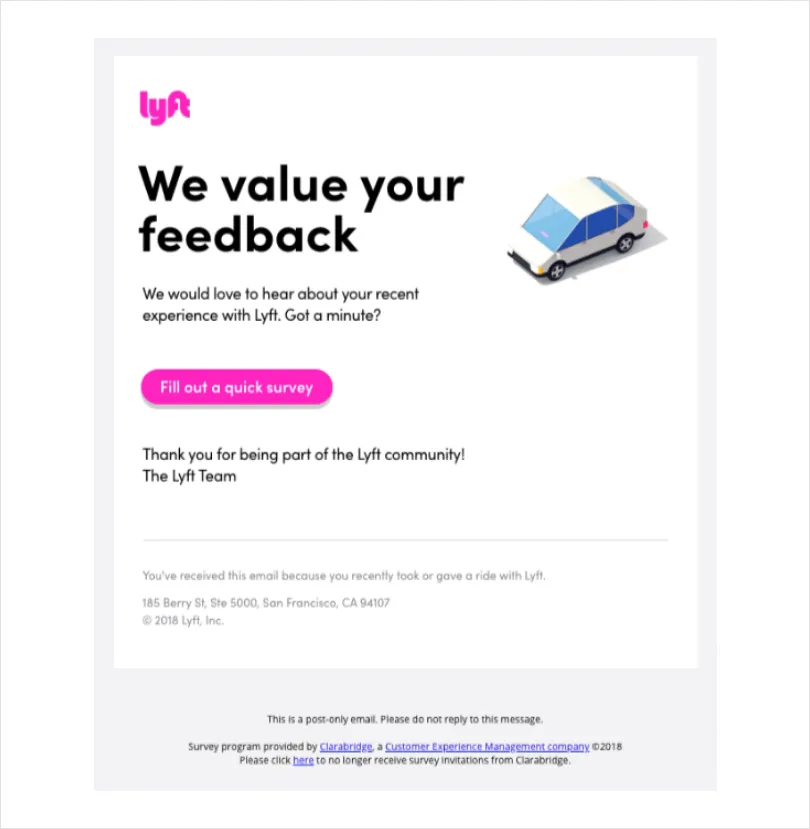 Source: Reallygoodemails
In case they raise any concerns, make sure that you reach out to them and solve them on a one-to-one basis.
Tip 3: Clearly State the Objective of the Survey
If you want survey respondents to be as excited about your surveys as you are, you need to make them understand the "why" behind them.
For example, if you wish to improve your product quality, you can use the email body to write –
"Your response will help you improve our products and serve you better." Similarly, if you wish to capture your customer service rating, you can write, "Your feedback will help us improve our customer service and deliver delightful experiences."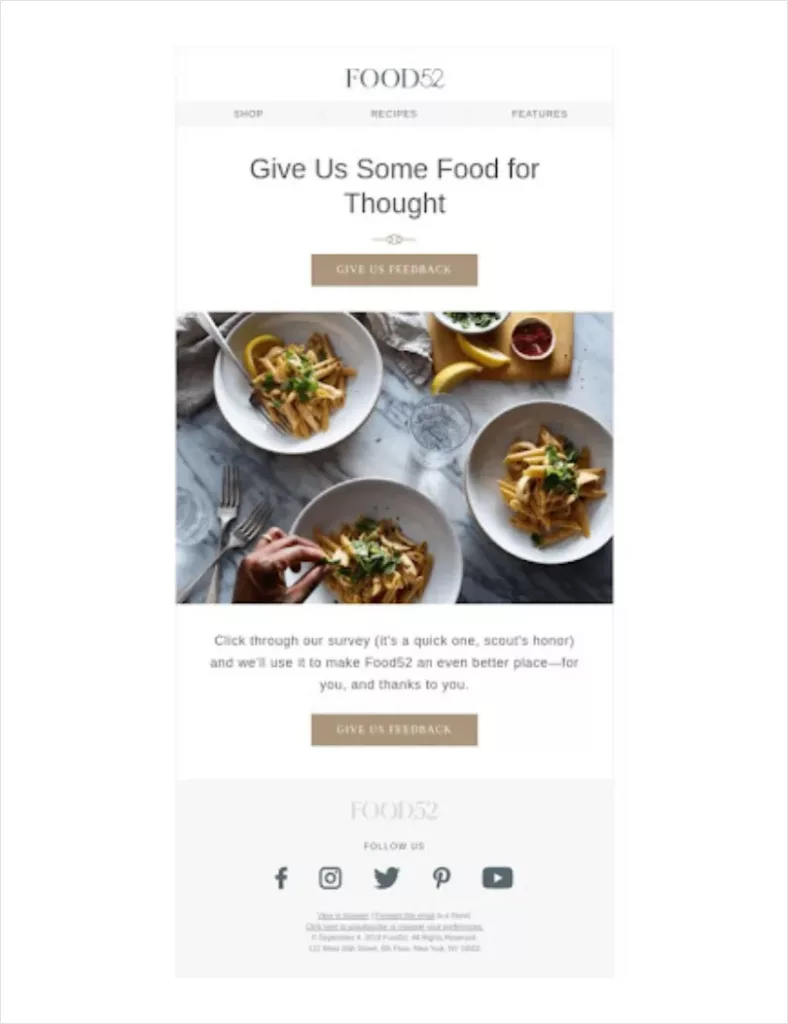 Tip 4: Mention the Time it Will Take to Complete the Survey
If you want customers to value your business, you need to value their time. It is crucial to mention the average time it will take for respondents to complete the survey
According to a study, if a survey takes over 25 minutes, your business can lose three times as many participants as one that can be completed in under 5 minutes.
Mentioning the survey completion time will help you set clear expectations right from the start and reduce the probability of survey fatigue amongst your audience. If the embedded email survey has too many questions, be honest, and mention the correct estimated duration.
Tip 5: Offer Incentives to Your Participants
When most customers encounter a survey popup, the first thing that comes to mind is, "What's in it for me?" Adding appropriate incentives can help you encourage survey participation and enhance engagement.
For example, Alchemer's research shows that survey incentives can increase the response rate from 2.2% to 11.5%.
Incentives do not mean your business gives away millions of dollars. You can share relevant discount coupons, shopping vouchers, or access to premium trials of any product. It should be just enough to grab your respondents' attention and persuade them to complete your survey.
Tip 6: Use the Right Online Survey Tool
Manually sharing email surveys can prove to be a cumbersome process. You need the right online survey tool to kickstart your journey.
Survey tools like ProProfs Survey Maker, Qualaroo, etc., help you create customizable surveys based on your requirements. You can choose from a set of pre-designed questions, ready-to-use survey templates, and add engaging features like polls, scores, and quizzes to your surveys.
In addition to email, you can share your surveys on social media as a direct link or embed them on your website. Multiple sharing options allow you to reach a wider audience and understand their needs better.
Tip 7: Create a Personalized 'Thank You' Page
Thanking your survey respondents is the best way to express gratitude. After all, everyone loves to be appreciated and valued. It motivates them to further take up surveys in the future.
But what's the best way to do it?
You can design an impactful 'Thank You' page that is shown to customers after they have completed a survey and clicked the Submit button. The respondents will know that their feedback has been successfully registered. Moreover, they can leave with a clear and positive message.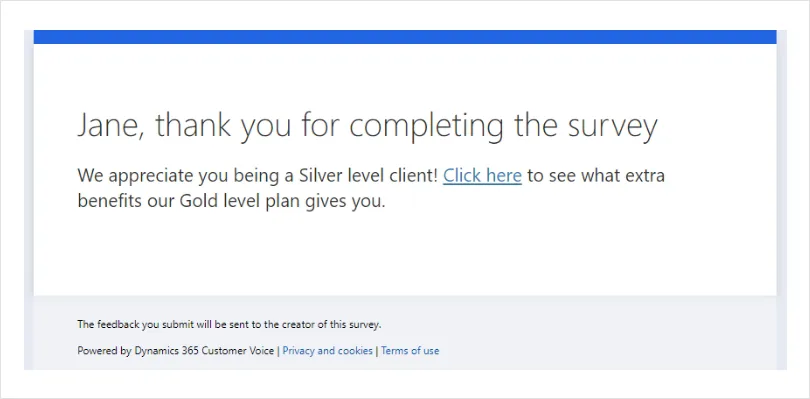 Tip 8: Use a Mobile-Friendly Design
Over 1.7 billion people use mobile devices to access emails, significantly higher than desktop users. So, optimize your email surveys for mobile devices to improve their survey experience.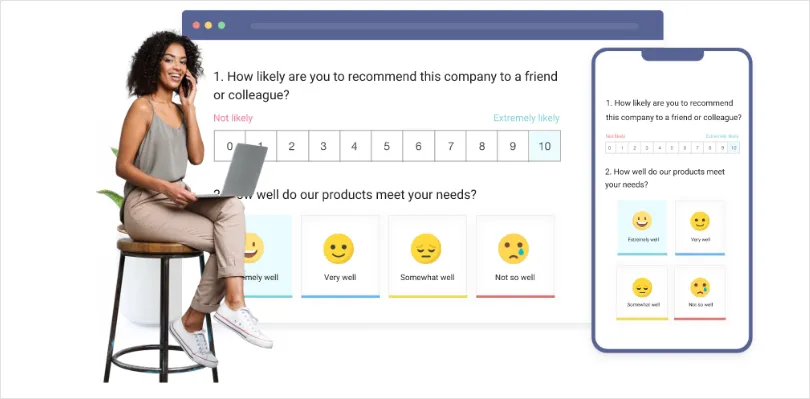 A mobile-friendly and responsive design allows the respondents to easily view and complete the survey on any device, improving response rates.
Tip 9: Keep Surveys Short and Relevant
Time is of the essence. People would not want to give their precious time filling out long surveys. It can lead to respondent fatigue and abandonment. Keep surveys concise and focused on gathering specific information. By asking relevant questions aligned with the survey objective, you increase the likelihood of completion and obtain more valuable insights.
Tip 10: Continuously Optimize Your Surveys
Review and refine your email surveys regularly based on feedback and response rates. Experiment with different question formats, survey lengths, and incentives to improve survey effectiveness. By optimizing your surveys, you can increase response rates and gather more valuable insights over time.
How to Add Surveys in Emails Using ProProfs Survey Maker?
Wondering how to send a survey via email? Here are two methods of sharing email surveys:
1. Embedded Email Survey
With this approach, you can embed the first question of your survey into the email body. When your recipients click to answer the question, they will be taken to the survey page where they can respond to the remaining questions.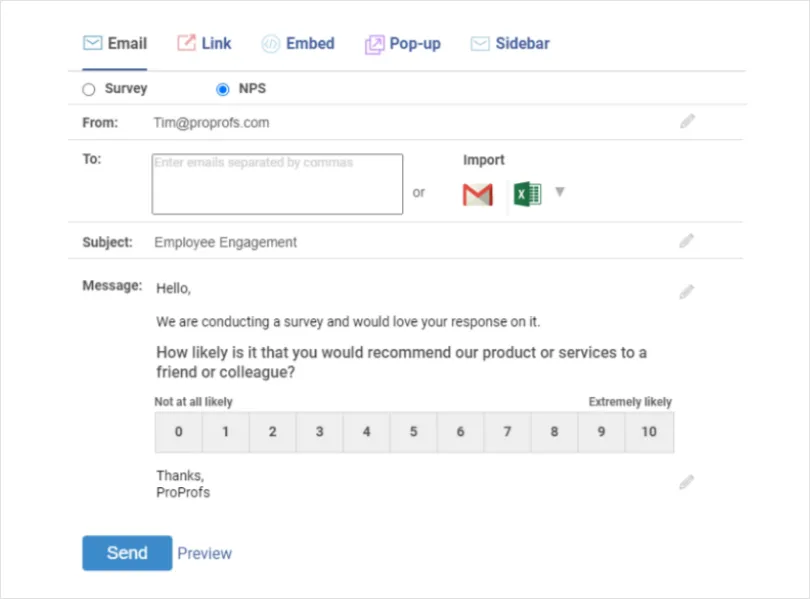 2. Redirect Email Survey
In this survey-sharing method, instead of the survey question, an invitation link is sent to the subscribers. The respondents are redirected to the survey page by clicking on the link. This approach is ideal for longer surveys or ones that include open-ended questions. You can use a third-party platform such as ProProfs Survey Maker to create and send survey links via email.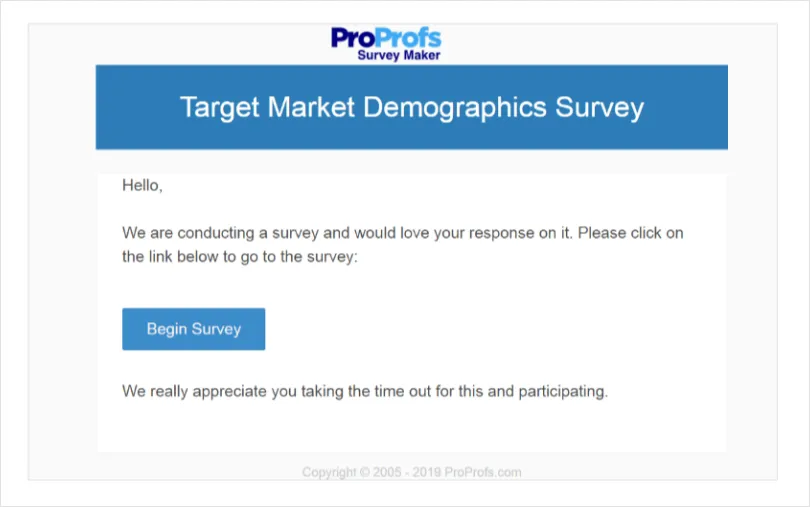 Make Every Email Survey Count!
Email surveys can add a lot of value to your email marketing initiative and also your overall business strategy. With the right tools and strategies, you can start crafting email surveys that yield the desired results and contribute to your data pool.
You must create fun and engaging subject lines to encourage survey participation and increase response rates. Make customers feel their opinions matter and thank them for their valuable time and insights.
If you are looking for the best email survey software, your search ends with ProProfs Survey Maker to design, edit, and share meaningful surveys with your audience in minutes. The best part is that you can get started in no time with pre-designed templates for customer satisfaction, employee engagement, market research, product feedback, and more.
Frequently Asked Questions
What are the advantages of using email surveys?
There are multiple benefits that make email an excellent channel for customer feedback, like:
Ability to reach a wider audience
Cost-effectiveness
Giving customers enough time to respond
Improving response rate with catchy subject lines & content body
Scheduling automated email survey sharing
What are the limitations of email surveys?
Here are some disadvantages of survey mail:
It requires the recipient's email address
It's prone to spam filters which can route the mail to the spam folder.
Limited scope for follow-up questions as compared to other methods
Do you want a free Survey Software?
We have the #1 Online Survey Maker Software to get actionable user insights.