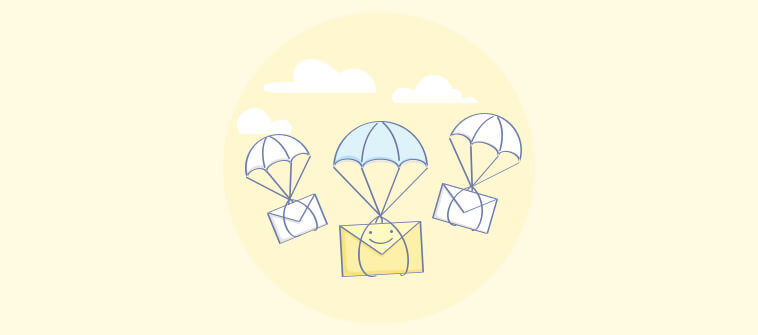 Email surveys are a non-intrusive and cost-effective method to keep a pulse on your audiences' needs and expectations. Whether you wish to gauge customer satisfaction or monitor employee engagement, an email questionnaire can do the trick.
But what makes email the ideal channel for feedback collection?
Emails can be one of the most efficient channels for collecting qualitative and quantitative data from your subscribers. You can reach a wider audience in seconds, give your participants enough time to respond, and analyze feedback with an online survey tool.
In this guide, we will understand the different types of email surveys, explore their advantages, and discover 7 impactful tips that will help you increase engagement and response rate.
Ready to get to know your audience better?
What Are Email Surveys?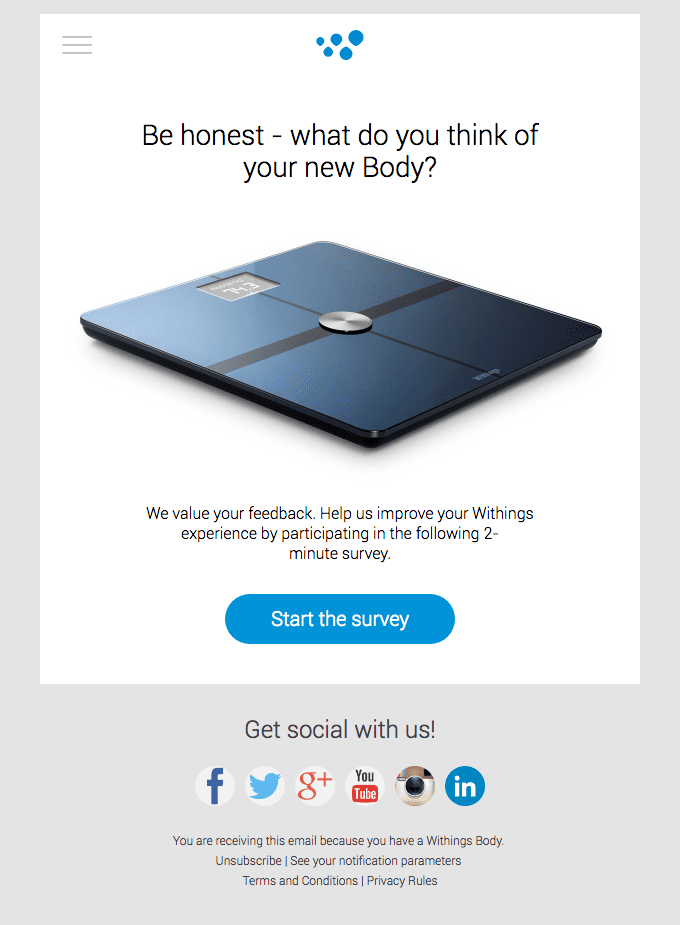 Email surveys are any set of questions you send to your subscriber via email. These surveys can be used to capture feedback on product or service quality, conduct market research, or measure CSAT, NPS, and other metrics.
The concept of email surveys is simple – you use online survey software to share a survey embedded in an email. The respondents can open your email and access this survey at their convenience. When a recipient clicks the submit button, it qualifies as a survey response. These clicks are recorded in the email survey tool database for analysis of responses.
Types of Email Surveys
Email for survey sharing can prove to be an extremely efficient tool for gauging customer satisfaction, tweaking marketing strategy as well as improving services.
Here are the four most effective types of email surveys that you can use to meet your unique goals:
1. One-on-one Surveys
One-on-one interviews have been a traditionally sought-after method for introducing products to the target audience. It can be perfectly recreated for the email format since it is also a one-on-one channel. For instance, if you notice a visitor browsing products in a particular category, you can send a short questionnaire asking them about their thoughts on the products and their willingness to make a purchase.
2. Open-ended Surveys

In these surveys, instead of adding four or more options for every question, the scope for responses is left open. Since the questions in open-ended surveys can't be answered in yes or no, these can generate a lot of valuable insights about the perception of your brand and products.
Read More: Open-Ended Survey Questions: The Key to Collecting Qualitative Data
3. Focus Group Surveys
A focus group survey is another traditional method that works wonderfully well in the email format. By conducting interviews with consumers of different demographic profiles, you can not only learn about their shopping preferences and habits but also create customer personas that can prove vital for segmentation.
4. Poll-based Surveys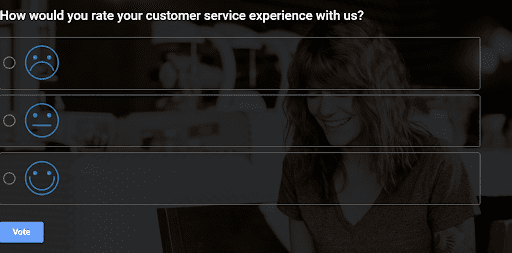 You can now embed polls directly into emails. To make sure that they work as intended, creating surveys on your web page and embedding its link in your email proves to be far more effective. This is the most widely used method for leveraging surveys in email marketing.
Read More: 150+ Poll Questions For Your Target Audience
30+ Email Survey Question Examples
The entire success of your survey campaign depends on the questions you put forth. Whether you include a single question or a dozen, their quality and arrangement can make all the difference.
Here are 30 email survey question examples to get you started in the right direction:
Product Purchase Questions
Did you complete the purchase you intended to?

If not, what stopped you?

Do you have concerns about making a purchase?

What could we have done differently to make your buying decision easier?

What is your favorite product on our site?

Did you consider any other options before buying (product name)?

Why did you choose (product name) over the other options you were exploring?

Did you have any questions before you completed a purchase today?

Were these questions answered to your satisfaction?
Product Usage Questions
How would you rate the product you recently purchased?

What prompted you to make this purchase?

Would you recommend this product to a friend?

Did (product name) satisfy the purpose of your purchase?

You added an out-of-stock product to your wish list, would you like to see alternatives until we bring it back in stock?

If not, why do you prefer this product over others in its category?

Do you have any questions about the product you bought recently?

How would you rate (product name) on a scale of 1-10?
Read More: Product Survey Questions & Examples
Customer Service Questions
Were your concerns addressed in your last interaction with our contact center?

Were you satisfied with the response?

How would you rate our customer services on a scale of 1-10?

What are your top 3 suggestions that can help us improve our services?
Read More: Customer Satisfaction Survey Questions
Overall Brand Satisfaction Questions
If you could change one thing about our e-commerce store what would it be?

And the one thing you absolutely love about us?

What other products/features would you like to see on your portal?

Would you like to hear from us regarding future product launches and offers?

Would you like to sign up for our newsletter?

How likely are you to recommend our services to a friend on a scale of 1-10?

What was your reason for unsubscribing from our newsletter?

What stopped you from upgrading your plan at the end of the free trial period?

How likely are you to come back to shop from us on a scale of 10?
Read More: Brand Awareness Survey Questions
Tips to Create an Effective Email Survey
Do a majority of participants skip your survey? Well, that won't be the case anymore. Read some of the best email survey tips and best practices to make every survey count.
Tip 1: Create Eye-Catching Subject Lines
Beautifully crafted email subject lines can help you create the right first impression.
Did you know that around 64% of recipients open an email based on the subject line?
Here are some tips to keep in mind when drafting subject lines:
Use the recipient's personal name
Place relevant emojis (😎 💬✍) to add a fun element to your subject lines
Use power words like Best, Top, Awesome, etc.
Create an emotional connection with a thoughtful question
Bring out the pain points of your customers
Add a healthy dose of humor if possible
Read More: 20 Effective Email Management Tips to Achieve Email Success
Tip 2: Make Customers Feel Their Opinions Matter
Even if you are sending surveys to thousands of participants, every person should feel their opinion matters and is valuable for your business.
With the right tools, you can personalize your emails in different ways: through text, personalized images, or web pages and videos. Aside from making customers feel special, personalized emails are great ways to increase customer delight and engagement.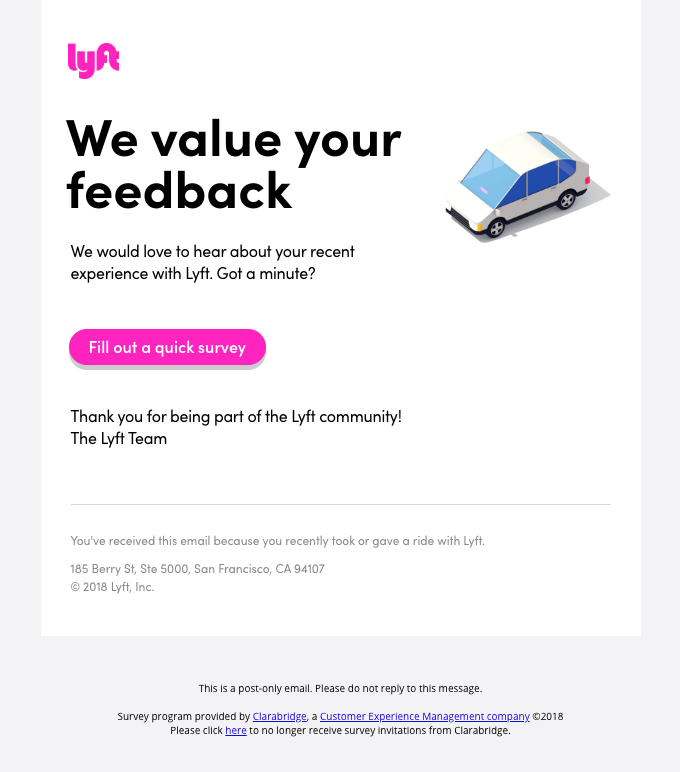 In case they raise any concerns, make sure that you reach out to them and solve it on a one-to-one basis.
Tip 3: Clearly State the Objective of the Survey
If you want survey respondents to be as excited about your surveys as you are, you need to make them understand the "why" behind them.
For example, if you wish to improve your product quality, you can use the email body to write, "Your response will help you improve our products and serve you better." Similarly, if you wish to capture your customer service rating, you can write, "Your feedback will help us improve our customer service and deliver delightful experiences."
Tip 4: Mention the Time it Will Take to Complete the Survey
If you want customers to value your business, you need to value their time. It is crucial to mention the average time it will take for respondents to complete the survey.
According to a study, if a survey takes over 25 minutes, your business can lose three times as many participants as one that can be completed in under 5 minutes.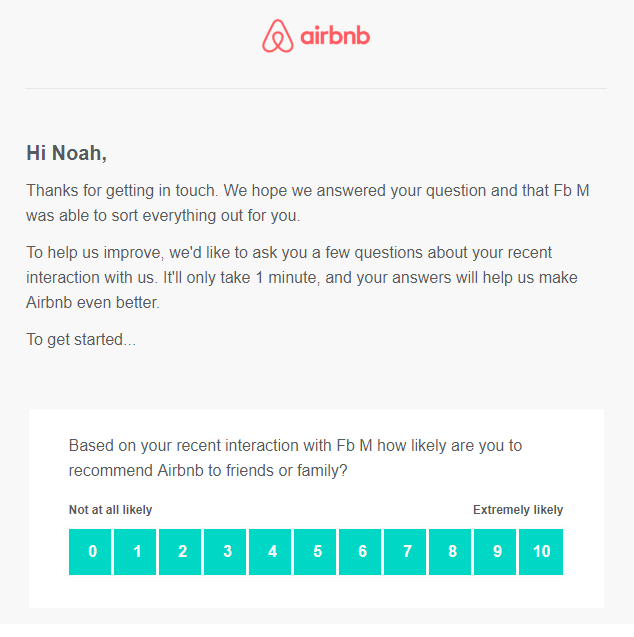 Mentioning the survey completion time will help you set in clear expectations right from the start and reduce the probability of survey fatigue amongst your audience. If the embedded email survey has too many questions, be honest about it, and mention the correct estimated duration.
Tip 5: Offer Incentives to Your Participants
When most customers encounter a survey popup, the first thing that comes to mind is, "What's in it for me?" Adding relevant incentives can help you encourage survey participation and enhance engagement.
For example, Alchemer's research shows that a user used survey incentives to increase the response rate from 2.2% to 11.5%.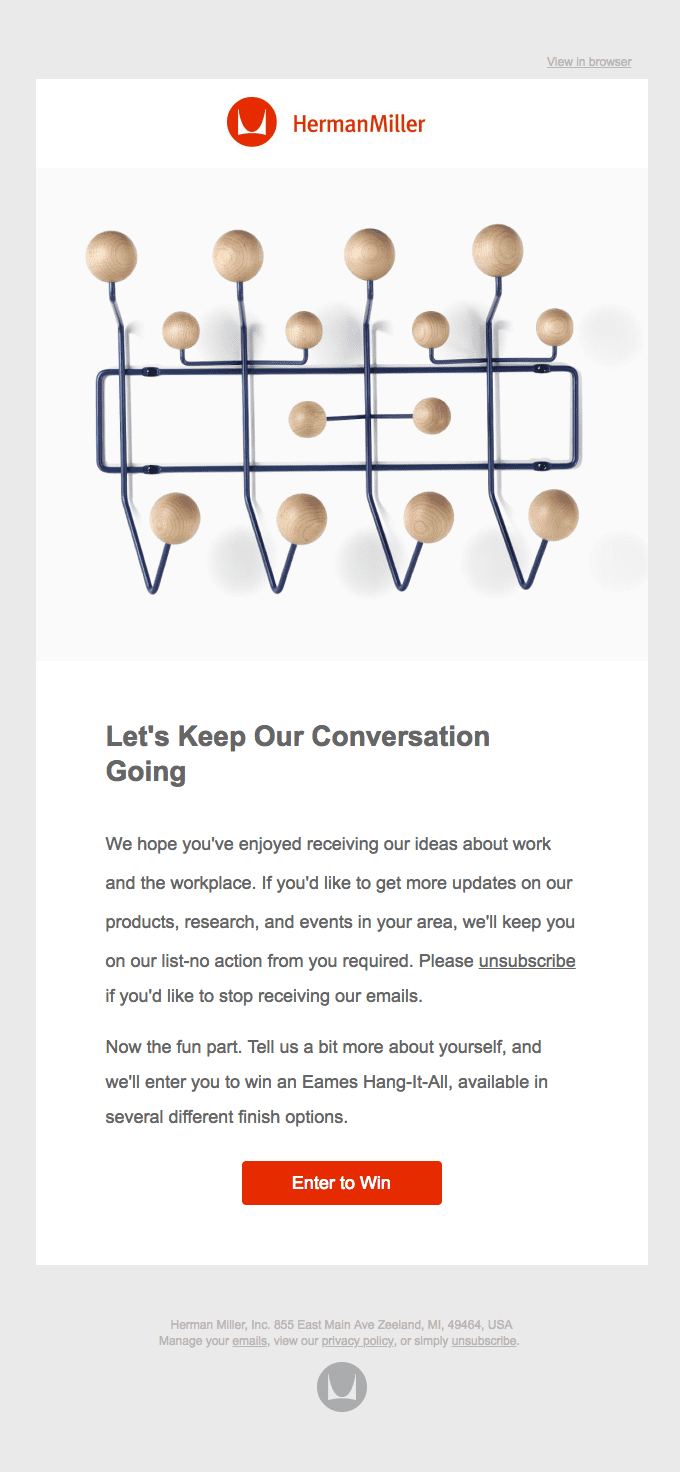 Incentives do not mean your business gives away millions of dollars. You can share relevant discount coupons, shopping vouchers, or access to premium trials of any product. It should be just enough to grab your respondents' attention and persuade them to fill out your survey.
Tip 6: Use the Right Online Survey Tool
Manually sharing email surveys can prove to be a cumbersome process. You need the right online survey tool to kickstart your journey.
Survey tools like ProProfs Survey Maker, Qualaroo, etc., help you create customizable surveys based on your requirements. You can choose from a set of pre-designed questions, ready-to-use survey templates, and add engaging features like polls, scores, and quizzes to your surveys.
In addition to email, you can share your surveys on social media, as a direct link, or embed them on your website. Multiple sharing options give you the opportunity to reach a wider audience and understand their needs better.
Tip 7: Create a Personalized 'Thank You' Page
Thanking your survey respondents is the best way to express gratitude. After all, everyone loves to be appreciated and valued. It motivates them to further take up surveys in the future.
But what's the best way to do it?
You can design an impactful 'Thank You' page that is shown to customers after they have completed a survey and clicked the Submit button. The respondents will know that their feedback has been successfully registered. Moreover, they can leave with a clear and positive message.
Advantages of Email Surveys
So, what makes email surveys so popular? We have put together some of the top reasons that make email a great channel for customer feedback.
Reach a wider audience: You can share email surveys to reach a broader audience. With the right online survey tool, you can share your surveys, forms, or questionnaires with millions of people in just a single click.
Cost-effective: Another impactful advantage of email surveys is that it is a very cost-effective channel. Offline methods are much costlier as you will have to take printouts of your survey and share them via direct mail. Every single survey would cost you a couple of dollars.
Give customers enough time to respond: Sending a survey via email has another unique benefit – your customers can get more time to respond. Customers can open their emails at their convenient times (morning, at work, or evening) and give proper responses to questions.
Grab attention with subject lines & content body: When you send a survey in an email, it gives you the opportunity to engage and educate your customers. You can grab attention with subject lines and explain the "why" of your survey in the email body.
Automate email survey sharing: Online survey tools help you automate email survey sharing. You can choose to share surveys with your target audience at periodic intervals. For example, you can share NPS surveys every 2-3 months.
Disadvantages of Email Surveys
Like they say, there are two sides to every coin. Similarly, there are some major drawbacks of email surveys that you should consider.
One of the major disadvantages of email surveys is that you will need the email address of your target audience. If you wish to survey your existing customers, it is still easy. However, conducting market research can be a major challenge.
Powerful spam filters can block email survey requests and put them in the spam folder. This means that most of your emails will never be discovered by people leading to a poor response rate. Another obstacle are spamming attacks, but to avoid that, many companies employ SPF record checker and follow effective email security practices.
Unlike traditional survey methods that involve face-to-face interactions, email surveys do not allow you to get insights into customers' emotions. Moreover, you cannot read the body language of your customers, which involve facial expressions, hand gestures, posture, and more.
Customers receive hundreds of emails every day. Most of them are smart enough to know that these are meant for mass communication and not for personalized communication. This is the major reason why email surveys can often feel impersonal to most people.
How to Add Surveys in Emails?
Wondering how to send a survey via email? Here are two methods of sharing email surveys:
1. Embedded Email Survey
With this approach, you can embed the first question of your survey into the email body. When your recipients click to answer the question, they will be taken to the survey page where they can respond to the remaining questions.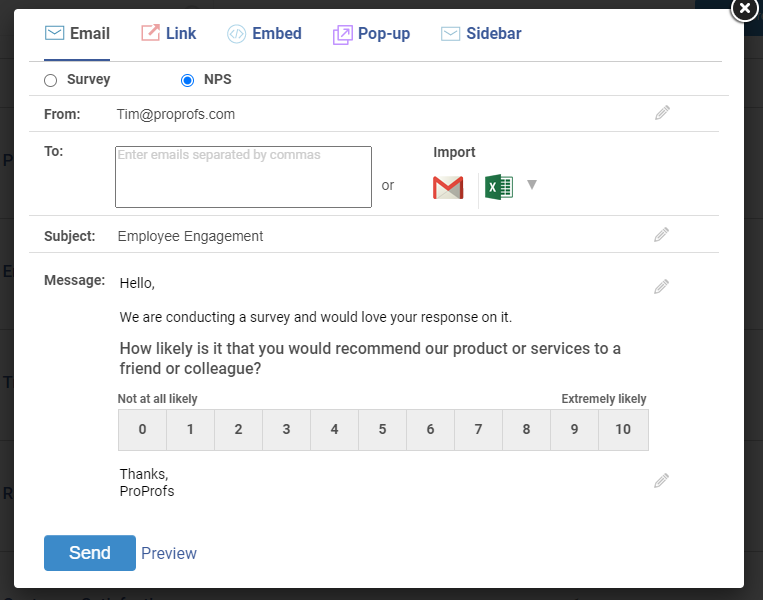 2. Redirect Email Survey
In this survey-sharing method, instead of the survey question, an invitation link is sent to the subscribers. By clicking on the link, the respondents are redirected to the survey page. This approach is ideal for longer surveys or ones that include open-ended questions. You can use a third-party platform such as ProProfs Survey Maker to create and send survey links via email.
Read more: What's the Best Time to Send a Survey
Make Every Email Survey Count!
Email surveys can add a lot of value to not just your email marketing initiative but also your overall business strategy. With the right tools and strategies, you can start crafting email surveys that yield the desired results and contribute to your data pool.
You must create fun and eye-catching subject lines to encourage survey participation and enhance the response rate. Make customers feel their opinions matter and thank them for their valuable time and insights.
If you are looking for the best email survey software, your search ends right here. You can use ProProfs Survey Maker to design, edit, and share meaningful surveys with your audience in minutes. The best part is that you can get started in no time with pre-designed templates for customer satisfaction, employee engagement, market research, product feedback, and more.
Do you want a free Survey Software?
We have the #1 Online Survey Maker Software to get actionable user insights.