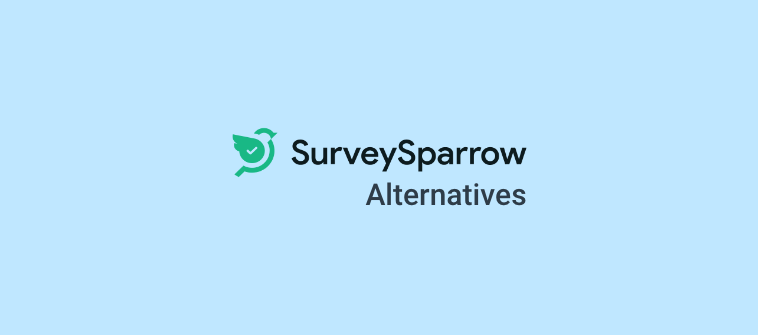 Looking for a comprehensive SurveySparrow alternatives list that can help you decide? You've come to the right place.
SurveySparrow is among the best survey tools with plenty of features to capture customer insights using conversational surveys over multiple channels.
But plenty does mean perfect. The perfect tool is the one that fulfills your requirements.
That's why we have compiled the most detailed list of SurveySparrow competitors in one place. They offer a lot of the same features as SurveySparrow, but with more flexibility and customization options.
Here's what we have covered for each tool:
Detailed feature list
Usability
Integration
Suitability
Pricing
So, if you're not 100% satisfied with SurveySparrow, or if you just want to explore your options, these tools are worth checking out.
Why Should You Look for SurveySparrow Alternative?
As we said, there can be numerous reasons to look for tools similar to Surveysparrow, like:
1. Ease of Use
The sheer number of features can make navigating SurveySparrow a little tricky. For example, the survey builder UI feels a little cumbersome. In the same way, the reporting section can be overwhelming for new users.
On the other hand, several tools like ProProfs Survey Maker and Typeform present intuitive survey builders, an in-depth knowledge base, and in-product tool tips. They provide improved product adoption and usage.
2. Data Analysis Options
SurveySparrow provides tons of reports and charts to analyze the feedback data. But if you receive hundreds of survey responses regularly, you need more than that to analyze the data.
Many tools offer custom dashboards to segment and filter the feedback data to take quick actions.
SurveySparrow also lacks data exporting capabilities, restricting the dataflow management between your workspace tools.
3. Budget
Pricing is a major reason people switch from SurveySparrow to other tools. There are a lot of features that are locked into higher price tiers, like custom CSS and advanced conditional logic.
It limits the survey design customization options for the users. So, if you need access to CSS editor at a reasonable price, you have to swim to better shores.
10 Best SurveySparrow Alternatives & Competitors in 2024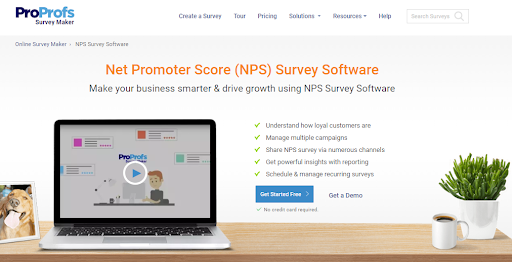 Proprofs Survey Maker brings a plethora of features to the table, like quizzes, surveys, feedback sidebar, web forms, and more, making it perfect to consider as a SurveySparrow alternative. You get a neat tool with a drag-&-drop to deploy your feedback campaigns in hours, not days. And with in-depth reporting and analytics, you can gauge the vice of customers, improve your products, optimize your website and deliver an exceptional customer experience.
Used For: Web forms, surveys, sidebar widget, quizzes
Integrations: Yes
Suitable for: Small to big enterprises
Features:
Provides a drag-&-drop survey editor to create targeted surveys, web forms, polls, sidebar forms, quizzes, and assessments.
100+ built-in survey templates, 15+ question types, theme customization options, skip logic, and a scoring mechanism.
Supports question randomization, 40+ languages, survey rebranding, and white labeling.
Embed surveys on your website, social media, mobile app, and email.
In-depth reporting section and dashboards to track survey campaigns.
Monitor responses, completion rates, survey scores, user details, and metrics.
Integrate with workspace tools like Mailchimp, Freshdesk, and Zendesk.
Why We Picked It, What is unique about ProProfs Survey Maker?
Pricing:
Starts at $19/month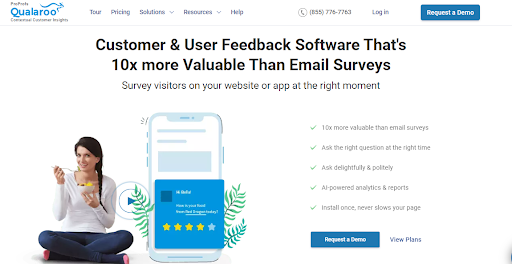 With its multi-channel surveys and AI-based sentiment analysis engine, Qualaroo sits among the best Surveysparrow alternatives to consider in 2024. You can design targeted survey NudgesTM for your website, app, or product to collect contextual feedback from the customers as they interact with your business.
And to make feedback data analysis faster, Qualaroo integrates with the Word cloud engine to dig through the responses and fish out key phrases and words, so you don't have to scan every response.
Plus, it offers over 40+ integrations to manage workflows between Qualaroo and workspace tools.
Used for: Multi-channel survey deployment, AI-based analytics, design prototype testing
Integrations: Yes
Suitable for: Small to large businesses
Features:
Multi-channel reach to collect feedback like website, app, social media, SaaS product, email, and more.
Provides built-in templates, theme customization, skip-logic, multiple languages, survey rebranding, white labeling, and 14+ question types.
Advanced targeting options to trigger surveys at the right moment.
AI-based sentiment analysis engine to analyze the feedback data faster.
Intuitive NPS dashboard tracks the NPS scores on a time chart in real time.
In-depth reporting section to track survey campaign metrics.
Integrations available: Slack, Salesforce, Optimizely, etc.
Why We Picked It, What is unique about Qualaroo?
Perfect for benchmarking your NPS scores.
Lets you collect targeted feedback on your design prototypes and wireframes.
Pricing:
Starts at $80/month, billed annually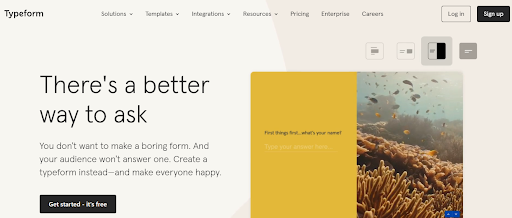 No learning curve, easy installation, faster results, extensive analytics, and reliable data, that's what anyone wants in Surveysparrow competitors. This is what Typeform delivers. The platform is intuitively designed to create people-friendly surveys that fetch higher completion rates.
The built-in question and theme libraries, skip-logic, video feedback, and multi-channel reach make Typeform one of the top Alternatives to Surveysparrow.
Used For: Survey, quizzes, forms
Integrations: Yes
Suitable for: Small to big businesses
Features:
Design and deploy beautiful surveys, feedback forms, and quizzes in minutes.
Offers visual no-code builder, custom layouts, pre-built templates, survey themes, skip logic, and more.
Use multiple channels to deploy surveys like the website, email, SMS, and social media.
Provides the VideoAsk feature to capture voice and video feedback.
Supports an AI-based chatbot widget to collect leads, provide support, and recommend products.
Integrates with over 30 tools to manage dataflows.
Why We Picked It, What is unique about Typeform?
Intuitive onboarding process and tooltips to help you get started.
The VideoAsk feature can help run basic usability tests.
Pricing:
Starts at $35/month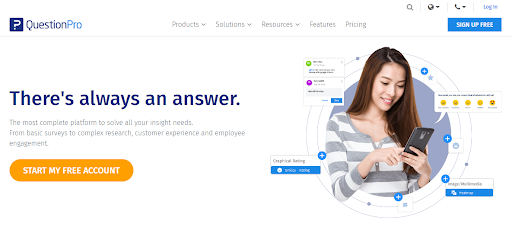 QuestionPro is a complete feedback and experience management platform that lets you conduct customer and employee surveys. The SurveySparrow alternative tool is especially suited for conducting market research and provides an inbuilt participant panel to help you find the right participants for your survey campaigns. And the powerful reporting and intuitive dashboards let you visualize large chunks of feedback data using charts to understand the effect of customer experience on business KPIs.
Used for: Market research, customer surveys, employee feedback
Integrations: Yes
Suitable for: Small to big businesses
Features:
Deploy Surveys on your website, mobile app, web, and email.
Offers multiple question types, branching logic, white-labeling, survey branding, theme customization, and more.
Supports conjoint analysis, Maxdiff, and A/B testing for market research.
Offers custom HTML and CSS customization options to customize the surveys further.
Measure survey campaign's performance using dropout analysis, advanced statistics, pivot tables, charts, crosstab reports, and more.
Integrates with popular workspace tools to lets you manage dataflows.
Why We Picked It, What is unique about QuestionPro?
Supports visual survey question types.
Offers professional survey services to set up survey projects for you.
Pricing:
Paid plans start @ $99/month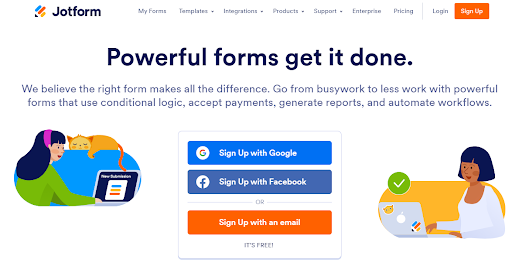 Jotform is another intuitive survey builder and a free alternative to Surveysparrow. The tool boasts one of the biggest template libraries to design focused surveys and other form types in minutes. It also provides an in-depth report builder to create custom reports and make sense of the feedback data.
And it doesn't end here. You can create full-fledged payment forms and integrate them with your lead or registration forms on your website.
Used for: Surveys, payment forms, multi-channel reach
Integrations: Yes
Suitable for: Small to big businesses
Features:
Drag-&-drop survey editor to create impactful feedback forms, surveys, and quizzes.
Create both single-page and multi-page forms.
Offers multi-language support, GA form tracking, pre-built templates, skip logic, and SSL forms.
Supports conversational feedback forms and autoresponder emails to personalize the surveys.
Use Recaptcha and SSL certification in your forms.
Multi-channel deployment, i.e., website embed, mobile app, email, and link.
Inbuilt visual reporting dashboard to convert raw data into charts and graphs.
Add collaborators to forms, leave comments, and assign forms to teams.
Integrate with tools like Salesforce and Google Analytics to export/import data.
Why We Picked It, What is unique about Jotform?
Enhanced security features to create secure forms.
Use custom CSS for advanced form customization.
Custom graphs and dashboards.
Supports e-signature forms as well.
Pricing:
Starts at $34/month billed annually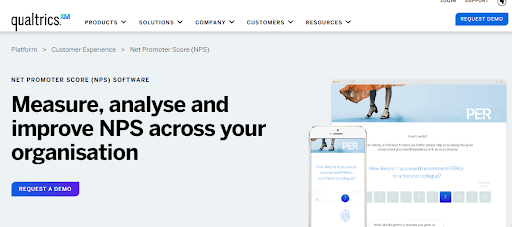 If data analysis tops your priority list while looking for Surveysparrow alternatives, Qualtrics is the one to go for. It's a suite of experience management tools capable of tracking and improving every aspect of your business.
You can capture customers' insights on your products and services, monitor brand awareness, collect employee feedback, and run market research from the same platform.
It also supports AI-based analysis engines such as iQTM to dive deep into customer feedback data using text analytics, sentiment analysis, and predictive analytics.
Used for: Multi-channel surveys, Feedback button, AI-based analytics
Integrations: Yes
Suitable for: Medium to large businesses
Features:
Create focused surveys and deploy them on 27+ channels.
Supports in-app prompts to gather App Store ratings.
Captures survey respondents' metadata automatically with the survey.
Recommends actions automatically based on customer feedback to improve customer satisfaction and spending.
Inbuilt AI-based analysis techniques, like conjoint analysis, Stats iQ, and Text IQ, to dig through the data faster.
Built-in integration APIs to connect your workspace tools.
Why We Picked It, What is unique about Qualtrics?
Advanced customer experience personalization engine
Custom reporting and crosstab functionality
Pricing:
Contact for a quote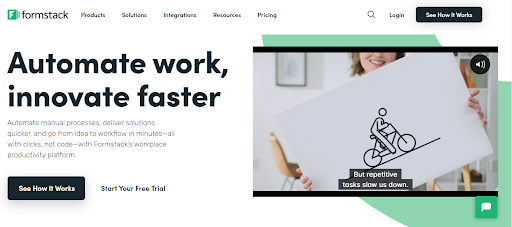 Formstack incorporates powerful features and an easy-to-use online survey form builder making it one of the top SurveySparrow competitors. You can design and deploy user-friendly online survey forms on your website, mobile, and email in a minute to start collecting the data. What draws attention is Formstack's focus on data security.
The forms are HIPAA, PCI, and GDPR compliant and employ data encryption to secure sensitive respondents' data like credit card information and personal details.
Used for: Online survey forms, payment forms
Integrations: Yes
Suitable for: small to large enterprises
Features:
Drag-&-drop form builder to create beautiful forms in minutes.
Supports electronic signature on the forms.
Provides theme customization options, mobile-responsive forms, skip logic, offline form submission,
Access to custom CSS for advanced styling.
Integrate payment gateways with online forms to accept payment online.
Track survey campaign metrics like abandonment rate, unique views, and conversion rate.
Why We Picked It, What is unique about Formstack?
Offers Formstack mobile app to capture offline feedback.
Inbuilt data routing to manage workflows automatically once the form is submitted.
Create portals to manage data from multiple forms simultaneously.
Pricing:
Starts at $50/month
8. Alchemer (Formerly SurveyGizmo)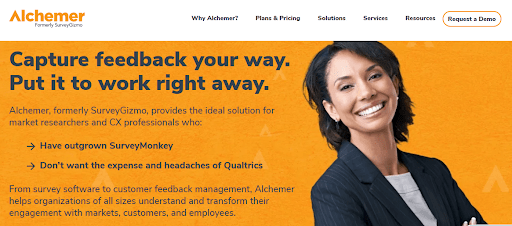 Alchemer is another Surveysparrow alternative built for market researchers and CX professionals to make data collection easier. You can create surveys, polls, and feedback forms.
But it goes deeper and lets you choose what to do with the data. You can set automated workflows to route the data to required directories and documents in real time.
The tool also provides different report types to spot trends and actionable insights from the feedback.
Used for: Multi-channel forms, BI tools, custom APIs
Suitable for: Medium to large businesses
Integrations: Yes
Features:
Visual editor to create surveys and forms within minutes
Collect different customer data using multiple question types and built-in templates.
Gather relevant feedback data with branching and skip logic.
Support in-app surveys and prompts to gather in-context feedback from app users.
In-depth reporting section to analyze the feedback data.
Provides integration with popular tools like Webhooks and Salesforce.
Why We Picked It, What is unique about Alchemer?
Provides a built-in intuitive CMS
Multimedia support for surveys.
Pricing:
Contact for a quote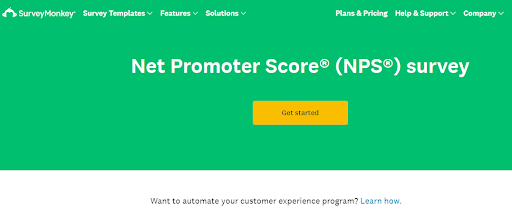 Speaking of tools similar to Surveysparrow in terms of utility, SurveyMonkey surely comes on top. It's a fantastic tool for deploying surveys on the website, mobile app, social media, email, and other channels. You can collect online and offline feedback to compare customers' website and in-store experiences and make changes to improve them.
It also provides sentiment analysis, cross-tab reports, and benchmarking data to help you analyze the campaign results. Plus, it's one of the free Surveysparrow alternatives.
Used for: In-app rating prompts, multi-channel surveys, AI-based data analysis
Integrations: Yes
Suitable for: Small to large businesses
Features:
Visual no-code builder for designing targeted surveys and quizzes.
Skip logic, progress bar, scoring mechanism, question randomization, multiple answer types, and more.
Survey theme customization and automatic language translations to personalize your surveys
Supports in-app prompts to gather app store ratings from active users.
Provides text analytics, NPS dashboard, and AI-based sentiment analysis engine for faster data analysis.
Integrate with your workspace tools like Mailchimp and Hubspot.
Why We Picked It, What is unique about SurveyMonkey?
SurveyMonkey app for Android and iOS development to manage surveys on the go
In-depth survey customization options than other similar tools.
Pricing:
Starts at $31/month, billed annually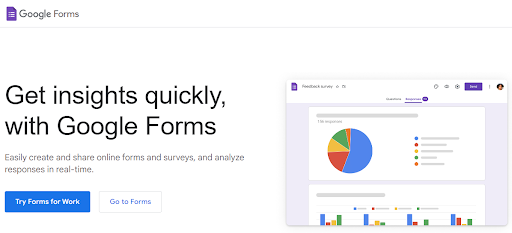 Google Forms is a relatively simple survey tool compared to others on the list, but it still packs a powerful punch. It's a free alternative to SurveySparrow that provides a hassle-free interface to design small pulse surveys for customers and employees.
You can quickly create polls, surveys, event forms, lead forms, and feedback forms in minutes and share them via link to anyone.
The reporting is rudimentary, with no advanced analysis tools to help you analyze the feedback data. It restricts the tool's usage to small sample sizes and limited questions.
Used for: Polls, surveys, small online forms
Integrations: Yes
Suitable for: Small to medium businesses
Features:
Provides a visual builder to design forms and surveys in minutes.
9+ answer types, basic skip logic, scoring mechanism question shuffling options, etc.
Customizable color schemes and form themes.
Deploy the forms via website, email, link, and social media.
Supports real-time form submissions.
Offers team Collaboration within forms to analyze the feedback data.
Responsive survey design for tablets, desktops, and smartphones.
Connect with tools like Trello, Asana, and Google Suite.
Why We Picked It, What is unique about Google Forms?
Easy to use
Offers Native integration with Google Workspace
Pricing:
Free
Which SurveySparrow Alternative Did You Choose for Your Business?
So there you have it- our list of best SurveySparrow competitors. It's time for you to decide which one is right for your needs.
Start by putting together a checklist of features to consider based on their importance to you.
Then, go through our list and select the tools that suit your needs to narrow down the options.
From there, you can test them out, pick the best one and start collecting targeted feedback from your customers!
Do you want a free Survey Software?
We have the #1 Online Survey Maker Software to get actionable user insights.