Unlike the statistical research methodologies, where the results can be extended to a wider population, qualitative research questions focus on in-depth reasoning and quality of results.
The qualitative research questions consider the "why and how" aspects of decision-making and don't require any statistical tools in the analytical process, as done in the other statistical analysis. The qualitative analysis doesn't require large random samples, it focuses on small and well-focused data sets, and the research methodology classifies data into patterns to conclude results.
Data can be in many forms, such as text, images, sounds, etc. The most crucial requirement for successful qualitative research is an in-depth understanding of the target subject.
However, the success of a qualitative survey stems from the qualitative research questions. Below, we discuss how to write a qualitative research question at length.
We also explore the various types of qualitative survey questions and the characteristics of good qualitative research questions.
How to Write Qualitative Research Questions
1. Keep the Questions as per the Qualitative Research Approach
Qualitative research focuses on describing and answering questions about contexts and participants, and serves the following three general purposes:
Examine the perspectives of participants towards events, practices, and beliefs
Explore complex research areas and understand specific phenomena and groups
A viable and alternative approach to survey questions that are not quantitative in nature
For example, take a look at some qualitative questions examples shown in the following image:
2. Focus on Quality, Not Numbers
As qualitative market research and surveys don't focus on numbers, the question can have one or two sub-questions. There are no hypotheses or objectives, and the subquestions are written such that they narrow the focus of your qualitative research.
If you insist on having more than 2 subquestions, keep the number as low as possible, with 5 to 7 being the highest number of subquestions.
Key considerations for writing research questions for qualitative research are as follows:
Relate the central question to the inquiry strategy
Begin with focus question words – "How" or "What"
Keep the research focused on a single concept or phenomena
Avoid using words such as "impact" or "effect" and directional phrases
Try to evolve during the research and be open-ended without referencing the literature
Specify the research site and participants
For beginners, the pointers might be confusing. Hence, we are sharing a sample script to help you understand easier.
How to Write a Qualitative Research Question – Sample Script
(How or What) is the ("story of" research; "meaning of" phenomenon; "theory that explains"; "culture sharing pattern"; or "issue in the case of" your research) of (main research topic) for (participants) at (research site).
3. Keep The Questions as per the Type of Research
There are two types of qualitative questionnaires or research – Ontological and Epistemological.
Ontological research focuses on the "what" aspect of things, and assumptions are about the nature and form of that specific social reality.
Epistemological research focuses on the nature of knowledge as well as the ways of knowing and learning about the specific social reality.
Take a quick look at the following visual for a better understanding: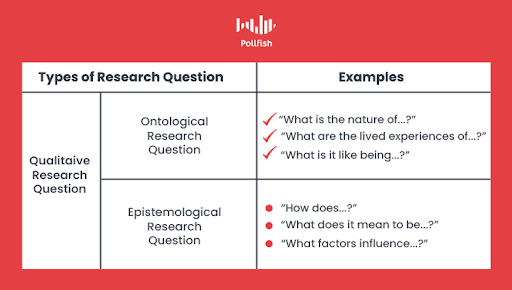 So, if you are doing Ontological research, ensure that the questions focus on the "what" aspects of reality (the premise of your research), and opt for the nature of the knowledge for Epistemological research.
4. Create Qualitative Statements With Well-Defined Objectives
Ensure that your qualitative statements have a well-defined objective that you can easily communicate to the target audiences. Keep these statements in a single sentence form and make clear the purpose of conducting qualitative research right from the start.
This will definitely enhance the results, as respondents understand their contribution towards your research and mark qualitative responses.
It is important to outline the main topic of your research that can help respondents understand what they are getting into. Finally, choose qualitative terms that demonstrate quality and the entire sentiment behind your research purpose. Some common examples of qualitative terms are – understanding, describing, exploring, etc.
5. Adding Subquestions
If your main qualitative research question is tough to understand or has a complex structure, you must create sub-questions. Doing so would help your respondents understand the overall research objective in mind, and your research can be executed in a better manner.
For example, suppose your main question is – "What is the current state of illiteracy in your state?"
Then, you can create the following subquestions:
How does illiteracy block progress in your state?
How would you best describe the feelings you have about illiteracy in your state?
For an even better understanding, you can see the various examples of qualitative research questions in the following image:
Now that we know how to write qualitative questions for research or surveys, let us move on to explore their types.
Also Read: 90+ Market Research Questions to Ask Your Customers
Types of Qualitative Research Questions With Examples
Qualitative research is more focused on understanding a phenomenon or an event. So, it has open-ended questions that focus more on the experiences of a focus group instead of numbers or stats.
The qualitative survey questions primarily focus on a specific group of respondents that are participating in case studies, surveys, ethnography studies, etc.
Below, we share a list of qualitative research question types that you can refer to for your research and surveys.
1. One-on-One Questions
The one-on-one questions are asked to a single person and can be thought of as individual interviews that you can conduct online via phone and video chat as well.
The main aim of such questions is to ask your customers or people in the focus group a series of questions about their purchase motivations. These questions might also come with follow-ups, and if your customers respond with some interesting fact or detail, dig deeper and explore the findings as much as you want.
Some common examples include:
What makes you happy in regard to [your research topic]?
If I could make a wish of yours come true, what do you desire the most?
What do you still find hard to come to terms with?
Have you bought [your product] before?
If so, what was your initial motivation behind the purchase?
Also read: Customer Satisfaction Survey Questions & Examples
2. Exploratory Questions
These questions are designed to enhance your understanding of a particular topic. However, while asking exploratory questions, you must ensure that there are no preconceived notions or biases to it.
The more transparent and bias-free your questions are, the better and fair results you will get.
Some common examples include:
What is the effect of personal smart devices on today's youth?
Do you feel that smart devices have positively or negatively impacted you?
How do your kids spend their weekends?
What do you do on a typical morning of a weekend?
3. Predictive Questions
The predictive questions are used for qualitative research that is focused on the future outcomes of an action or a series of actions. So, you will be using past information for predicting the reactions of respondents to hypothetical events that might or might not happen in the future.
These questions come in extremely handy for identifying the current brand expectations, pain points, and purchase motivation of your customers.
Some common predictive qualitative research questions are:
Are you more likely to buy a product when a celebrity promotes it?
Would you ever try a new product because one of your favorite celebs claims that it actually worked for them?
Would people in your neighborhood enjoy a park with rides and exercise options?
How often would you go to a park with your kids if it had free rides?
4. Interpretive Questions
These qualitative survey questions study people (focus groups) in their natural setting and try to understand how a particular group perceives shared experiences. Interpretive questions also explore how this group attributes meaning to different types of phenomena. The main aim of studies having these questions is to gather group feedback in terms of behavior and responses.
Some common qualitative research question examples include:
How do kids in a play-based program respond to the activity switches or changes?
How do you feel when your mother asks you to put away your toys and start an activity?
How do you attribute value to a good product or service?
5. Focus Groups
These questions are mostly asked in person to the customer or respondent groups. The in-person nature of these surveys or studies ensures that the group members get a safe and comfortable environment for exhibiting their thoughts and feelings about your brand and its offerings.
What makes such qualitative research questions amazing is that you get to see the verbal and non-verbal reactions of your customers. So, you can analyze the severity of an issue and understand the extent of customer happiness or satisfaction associated with your products.
Also, all the members in a focus group can take inspiration and nudges from the other members' thoughts and statements to help you get even deeper insights.
Some common qualitative research questions examples for focus groups include:
How would you describe your ease of using our product?
How well do you think were you able to do this task before you started using our product?
What do you like about our promotional campaigns?
How well do you think our ads convey the meaning?
6. In-Home Videos
Taking video inputs from your customers in the natural setting they are most comfortable at can help you get an entirely different perspective. When your customers are at home, they don't have to watch their mannerisms, posture, and even words while responding to your questions.
This is one of the major reasons Vogue's 73 Questions Series is so popular among celebs as well as the viewers.
Such videos allow you to observe your customers or respondents in a natural and relaxed environment, and they feel free to put their responses forward. They can be more honest and give you a realistic view of their experiences.
Some sample qualitative research questions in this category include:
What was your first reaction when you used our product for the first time?
How well do you think our product performed compared to your expectations?
What was your worst experience with our product?
What made you switch to our brand?
7. Online Focus Groups
The online focus groups are just like the in-person focus groups, the only difference being that you ask for their responses online. The online focus groups are more cost-efficient than the in-person groups and help you get answers to your list of qualitative research questions in a time-efficient manner.
With the power of online sharing and multiple channels, you can also amplify your reach and gather opinions from more people.
You can also leverage social media and other public platforms by creating communities of respondents and starting a conversation. Once you have them started, you can simply observe the exchange of thoughts and gather massive amounts of interesting insights!
Some sample qualitative research questions for online focus groups include:
What do you like best about our product?
How familiar are you with this particular service or product we offer?
What are your concerns with our product?
What changes can we make to make our product better?
Now that we have covered the various types of qualitative survey questions, let us find out how to ensure the quality of these questions.
What Makes a Good Qualitative Research Question?
Below, we are sharing some characteristics of good qualitative research questions that you can keep in mind while creating a survey or study.
1. A Good Qualitative Survey Question Is Specific
Always keep your qualitative questions and statements specific, as generic questions are hard to answer.
For example, when you ask your customers – "Why is your interest declining in our brand?" they might not be able to give an exact answer. This is because there can be many reasons for it, and many customers won't even know that their interest in your brand is declining.
So, reframe your question like – "What changes can be made to our products to make them work better for you?"
While framing a question, ask yourself:
Why are you asking this question?
Do you wish to target a specific demographic with this question?
Are you making assumptions about your customers while asking this question?
How well do you want to target your questions?
Specific questions are more targeted, more feasible, and easier to answer. Hence, steer clear of generic questions for successful qualitative research.
2. The Question Must Have a Clear Purpose
When you have a clear understanding of the real reasons behind asking a particular question, you opt for the best words. So, always start by developing a clear understanding of your purpose.
Suppose you are a manager, and of late, you have been feeling that employees in the design department are not performing as per the set KPIs. You wish to conduct an employee survey.
Now, you need to be clear about your aim of doing so, such as:
Do you wish to learn whether your employees are happy or not?
Do you wish to know what ails the departmental performance and productivity?
Are you looking for ways to make your workplace more engaging?
Are you looking for ways to boost morale and fuel employee motivation?
Only when you have a clear understanding of your intent or survey purpose, can you create a good qualitative research question that results in qualitative responses.
On the other hand, if you don't have a clear-cut understanding, your research can go in the wrong direction.
3. Focus on a Single Phenomenon
To make your qualitative research questions well-defined, focus on a single phenomenon or idea. This requires a clear focus on your part as well.
When you focus on a broad range of phenomena, the customer response wavers and can get into multiple directions, some of which might not even be relevant to your research.
For example, instead of asking – "What are some ways to boost our customer engagement?" you can ask – "What do you like better – celeb features or influencer videos to learn more about our products?"
In the second question, you are giving two direct options to your customers, and they are going to respond in favor of one.
Thus, your qualitative response set is well-defined and aligned as per your expectations. On the other hand, if you are asking the first question, some customers might not even understand the term "customer engagement," let alone make suggestions about the same.
4. Define Sample Size and Setting for Your Question
Even before you get started with the question, you must define the sample size and set for your research question for qualitative research.
For example, if you are looking forward to getting more teenagers to buy your animation series products, you need to specify the exact sample size you are looking at – pre-teens, 13 to 16-year-olds, or late teens.
Once you have defined the sample, you can begin with the setting.
For example, in this case, if you pick the late teens, you can ask questions about international animation topics and regional animation topics.
With well-defined samples and settings for your qualitative research, you can create focused and targeted questions that result in highly refined responses.
5. Make Sure the Question Is Feasible
As the entire aim of a qualitative study is to identify the understanding and real-life experiential knowledge of your customers, you have to create feasible questions.
For example, if you ask your customers (late teens), "How many years of membership do you want to get?", they are simply going to be left clueless. Another poor and non-feasible question can be – "Do you wish to use our animation products for your kids when they reach your age?".
Such questions leave your customers and respondents confused, and they are not able to respond properly.
So, it is important to make sure that your questions are feasible, such as:
Do you wish to opt for the 1-year membership plan we are offering?
How likely are you to recommend us to your friends?
These questions have a short time frame and target the current circle of your target audience.
Survey Maker: A Powerful Tool to Always Ask the Right Qualitative Research Questions
By now, you might have realized that creating a list of qualitative research questions manually is a daunting task. You have to keep a number of things in your mind, and it is highly probable to run out of ideas while framing qualitative survey questions.
However, if you invest in smart survey makers, such as ProProfs Survey Maker, you will be able to create multiple types of surveys within minutes.
Using this survey maker, you can create forms, NPS surveys, tests, quizzes, and even assessments.
You can also use it for polls, sidebar surveys, and in-app surveys. Offering more than 100 templates, and more than 1,000,000 ready-to-use examples of phenomenological research questions, the software will make your job a cakewalk!
Empowered with the right tools and the pro tips shared here, you can always conduct excellent research studies and get amazing insights that drive results.
Do you want a free Survey Software?
We have the #1 Online Survey Maker Software to get actionable user insights.