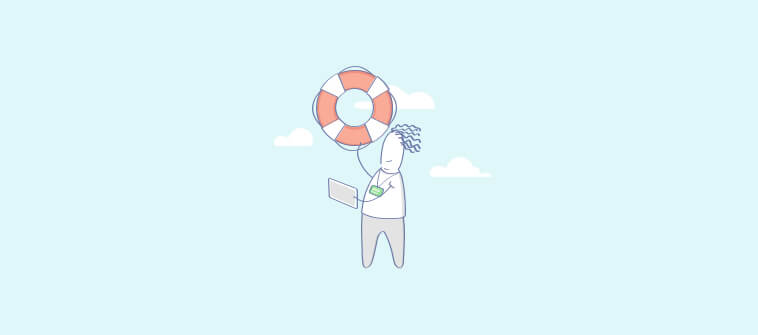 Your brand philosophy might have its roots in creating top-notch products or services. But can you really deliver in the long run if the service quality is ignored?

Poor service quality can cost your business, whether you are a month old startup or a decade old enterprise.

"33% of Americans say they'll consider switching companies after just a single instance of poor service."

In today's competitive business landscape, no matter how high you set the quality bar; a business would soon come and push the bar a little higher. Therefore, you need to offer your services in such a manner that you deliver high value to customers continuously while controlling costs.

Measuring your service quality can be the first necessary step any business can take in improving their services. Afterall, can you really improve what you don't measure?

This blog lists 6 impressive strategies that will help you measure your service quality and take your services from 'mediocre' to 'exceptional'.

Let's check them out.
6 Effective Ways to Measure Service Quality
Measuring service quality is critical to business growth. However, at the same time, it is also one of the CX metrics that cannot be measured straightforwardly. Why?
Because you can measure numbers, responses, products sold, and even complaints, but how do you measure quality?
Let's find out!
Given below are the six most practical techniques to measure service quality effortlessly and efficiently. Take a thorough look at them and choose the one that suits your business the best.
#1. SERVQUAL
SERVQUAL is a service quality framework that was developed in 1977 by Zethaml, Parasuraman, and Berry. Since then, it is considered as the most holistic framework for measuring service quality. Originally, the framework used ten aspects to measure service quality, namely – security, communication, courtesy, access, tangibles, knowing the customer, responsiveness, reliability, credibility, and competence. The framework was revised in 1988 when seven of these aspects were combined to form empathy and assurance. This gave rise to the widely famous RATER model with five aspects to measure service quality.
The framework is a global authority such that whenever one asks the question – "how to measure service quality?" – the answer is – "By SERVQUAL."
Let us explore the framework!
What are the five aspects of SERVQUAL?
It is the ability to deliver the promised level and type of service consistently and accurately.
Politeness and knowledge of the employees and the extent to which they can create confidence and trust among the customers.
The business aspects, or service aspects that your customers see and feel (tangibles), such as website, building, website, employees, and equipment.
The extent to which the business offers care and individual attention to the employees.
The willingness of the employees to offer speedy service to the customers.
These five dimensions perfectly measure the gap between what your customers expect and their perceptions when it comes to service. SERVQUAL framework is a powerful instrument that helps you in:
Understanding customer expectations

Identifying the areas that need quality improvement

Customer perceptions for the specific services you offer

Targeting training opportunities for the customer support team
While the proper development of items used in this framework offers rich item-level information, the service quality dimensions must be adjusted for optimal performance in different industries.
#2. Follow-up Survey
Follow-up surveys allow you to question your customers regarding your service quality. They are better and more effective than post-service ratings and one-time surveys when it comes to capturing valuable customer insights. While most of the companies consider the job done after sending just one email, the follow-up surveys allow focusing on leads after not receiving a response for the first time.
The follow-up surveys are more effective than the one-time surveys because they offer more time and space to your customers for response recording. Instead of measuring the CX as a case-by-case assessment, they offer a holistic overview of your service. Thus, you can measure an overall opinion of your customer service. The follow-up surveys are great even when you don't have a post-service rating system and want quick service quality measurements.
How to get the most out of a follow-up survey?
Start with creating an attractive subject line for the survey; this is the most crucial factor for the success of a survey.

Invest in some smart and intuitive online survey maker that comes with survey question examples to compile smart surveys.

Incentivize the survey if you wish your customers to spend 5 or 10 minutes on answering questions that are all about the services you offer.

Motivated customers are the most vital assets of a brand. So, let them know that they matter if you wish them to be responsive to your questions and involved with your brand.
#3. In-app Survey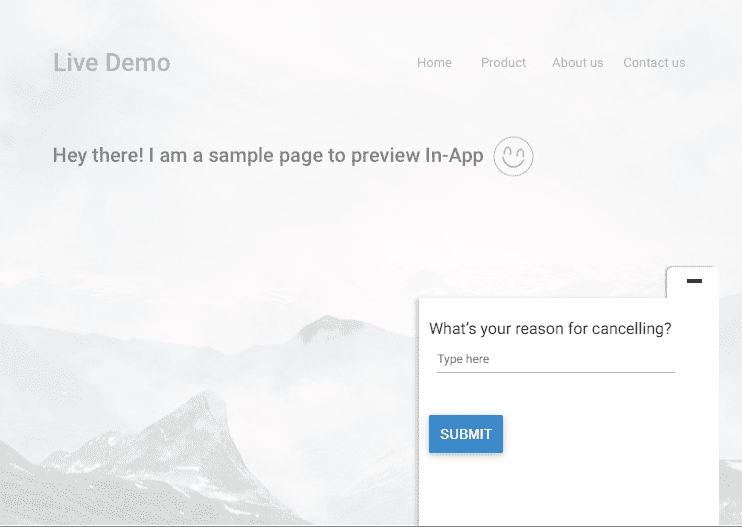 Another credible technique for service quality measuring is the in-app survey. The in-app survey lets you ask questions to your website visitors while they are logged-on to your website or using your app. This is one of the most direct ways to collect customer data and doesn't rely on emails for collecting responses. You can either keep the in-app survey crisp and short with one or two questions or add a couple of questions in it.
The in-app surveys allow convenient and relevant data collection and offer you direct and swift insights into customer behavior.
If we ask, "What is the best measure of quality for a service firm?" the answer is customer satisfaction and feedback. And, the in-app surveys are successful for measuring service quality because they reduce the friction between the vendor and customer.
The customers don't have to take some extra time out of their schedules to answer the questions. They can do so, while using your website or apps, without breaking the flow to a greater degree. This also increases their log-on time and increases the chances of users participating in the survey.
Some of the key benefits of in-app surveys related to service quality metrics are:
Customer validation for specific offerings, services, and features

Direct outlining of pain points and on-point insights into your users

Understanding app-usage stats and reducing churn by directly addressing customer feedback.
Read Also

: 

How to Collect and Benefit From In-App Feedback
#4. Customer Effort Score (CES)
When you want to know "what is service quality", turn to the industry experts!
The CES or Customer Effort Score is one of the most reliable service quality metrics and was proposed in a post by the Harvard Business Review. The journal pointed out that most of the companies aim to "delight" their customers by exceeding their service expectations. But, they don't know that the customers are more likely to punish them for bad service than reward them for a good experience.
Such companies fail to understand the volatility of the modern customers who need something extra to be loyal and responsive to a brand as it wants.
These 'customer delighting' tools not only exceed the cost of operations, but they are also the ideal indicators of the fact that the payoffs are marginal.
So, what is the best way to ensure the quality of service?
Instead of focusing on "delighting" your customers, you must make it as easy as possible for them to get their problems resolved. This is what leaves the biggest positive impact on the minds of the customers.
So, instead of asking questions like "How satisfied are you with XYZ service?" you must ask, "How much effort did it take to get your queries resolved?". This metric is called CES or Customer Effort Score, and it should be as low as possible. The lower score indicates that your customers are easily getting what they want from you as a vendor.
CES allows you to gather the most insightful details about the customer experience and can be measured with ease. Hence, it is one of the commendable and reliable ways to measure service quality.
Read Also: What Is a Good Customer Effort Score
#5. Social Media Monitoring
Social media has emerged as a powerful tool to be available to your customers 24X7. For a generation that is always online, it is critical for a brand to be online as well. So, mere responses to direct social media mentions are not enough. One has to monitor and consider indirect mentions and casual tags as well.
Social media monitoring offers the best digs when it comes to customers, and people in general, sharing their brand experiences and frustrations online. Facebook, Twitter, Yelp, and review portals are some of the best places where you can find great insights about your service quality.
Now, the question is – How to measure service quality via social media monitoring.
While social media is the source of highly unstructured blocks of data, it is also where you can learn everything and anything that is wrong when it comes to customer satisfaction. By investing in the right tools that are powered by the AI and ML capabilities, you can identify the data patterns and keep track of the service quality. Some of the brands that are commendable examples of refining their service quality dimensions via social media monitoring are JetBlue Airways, Tesco, and Amazon, etc. Amazon has been a subject of many case studies pertaining to the ways it utilizes Big Data and AI for improving its customers' experiences and drafting highly engaging end-to-end customer journeys.
Monitoring service quality metrics empower you to deliver an objective and quantitative analysis of your service. While these metrics aren't enough to measure service quality by themselves, they play a crucial role in identifying the improvement areas.
Some of these metrics are:
Volume per channel (Tracking the number of inquiries from one channel)

Response Time (Average time between different responses to the incoming queries)

First response time (Time taken to send the first response to the incoming customer queries)

First contact resolution ratio (Ratio of the number of issues resolved in the first attempt to the number of responses requiring more responses for resolution)

Net Promoter Score (It is gold standard customer experience metric that ranges between -100 and 100 and shows the willingness of customers to recommend a particular brand offering)

Replies per ticket (A measure of customer effort and efficiency, it represents the average number of responses required by your CS team for ticket closure.)

Backlog Inflow/Outflow (Comparison between the number of incoming queries and the number of closed tickets.)

Customer Success Ratio (Ratio of the number of 100% satisfied customers to ones that were not able to find what they were looking for)

"Handovers" per issue (Numbers of CS professionals involved for resolving an issue)

Things Gone Wrong (Number of failures or complaints in every incoming query)

Instant Service/Queuing Ratio (Ratio of customers that got instant resolutions to the ones that had to wait for resolution)

Average Queuing Waiting Time etc (Average wait or queuing time for every customer)
Read Also: 30 Customer Service Metrics & KPIs To Track in 2020
Ready to Take Your Service to the Next Level?
Business owners should always remember that if customers can make a brand, they can break it too. Thus, it is significant to offer them nothing short of top-notch services.
By consistently measuring your service quality, you can identify major pain points, eliminate problems, and live up to your service aspirations. To achieve this, you can share follow-up or in-app surveys, monitor your social media accounts, and keep a firm track of service KPIs.
Remember that quality begins with you but ends with your customers. Therefore, capturing their feedback at every touchpoint is of utmost importance.
An online survey tool like ProProfs Survey Maker can help you measure your service quality and understand every possible improvement area. You can choose from over 100+ ready-to-use templates or 1,000,000+ ready-to-use questions and create attractive surveys in a matter of minutes.
Do you want a free Survey Software?
We have the #1 Online Survey Maker Software to get actionable user insights.