Imagine there is a customer browsing your product page for a while. The customer explores the product images, scans through the features, checks the pricing, and hits the 'Buy now' button.
After encountering multiple slow loading pages, the customer leaves without making the purchase. Now, what went wrong?
The customer did not have a seamless checkout experience. But, that's not the end of the story.
There are millions of customers who lose their faith in a brand when they have to put more effort than they had anticipated. Whether it is about providing multiple details before buying a product or waiting on hold for long to speak to an agent, excessive effort on part of the customer can be a deal-breaker.
On the contrary, an engaging and seamless experience enhances your brand image and gives your customers the confidence to continue with your brand.
Successful brands ensure that their customers are at ease during every interaction with their brand. The response to the customer challenge is quick and efficient. And they are made to feel at home.
But, how to calculate your customer's ease of interaction with your brand?
The answer lies in the Customer Effort Score, a numerical score to calculate the customer's effort in engaging with your brand.
Through this blog, let's develop a complete understanding of "Customer Effort Score."
Let's begin!
What Is Customer Effort Score (CES) & Why Is it Important?
Imagine your customer makes multiple calls to the customer support team before their query is resolved. It involves a great effort which is both time-consuming as well as frustrating. The longer their wait time to get their challenge addressed, the more their struggle.
But on the other hand, less wait time indicates efficient customer service and low customer effort. The amount of effort a customer has to put in to engage with your business can make or break the customer experience.
Hubspot research shows that 33% of customers get frustrated because of high hold time, while another 33% feel frustrated when they have to repeat themselves to multiple customer representatives.
Customer effort score measures the customer effort on a scale ranging from 'Strongly agree' to 'Strongly disagree.' The calculation technique has evolved over the years with version 1 released in 2010 and version 2 (CES 2.0) released in the year 2013.
1. Range Scale of 1-5: Using this scale, you can capture customer effort on a scale of 1-5.

2. Range Scale of 1-7: This scale arrived in 2013 after fine-tuning the 2010 edition. The 2010 scale didn't capture a vast amount of responses. However, the latest scale is more expansive as it captures customer responses on a 7-level scale.
Now that you have understood the basics of a customer effort score let us understand the benefits of calculating a customer effort score.
Importance of Customer Effort Score Calculation
Customer effort score is a significant factor that determines your business outcomes. Your future customer acquisition depends on how well the needs of the present customers are met.
Let's understand this better.
Imagine your website is too slow to place an order and your customers face a delay at the checkout stage of the purchase. It could result in cart abandonment and subsequently missed purchases.
A customer effort score survey helps you identify the problem areas faced by customers and put corrective action in place. The earlier you identify the flaw, the sooner it can be rectified.
The customer effort score gives you a better picture of the process of handling your customer challenges. For example, maybe your customers had to reach out multiple times before their query is solved. Knowing this pain point will help you create a robust process of following up on your customer. This helps in ensuring customers have a seamless experience at every touchpoint.
Reduces Customer Churn Rate:
When you provide great customer experiences, the customers tend to stick to your brand rather than switching to your competitor. They continue to repose trust in your products and services. Hence, make sure that every interaction is smooth and effortless to reduce the customer churn rate.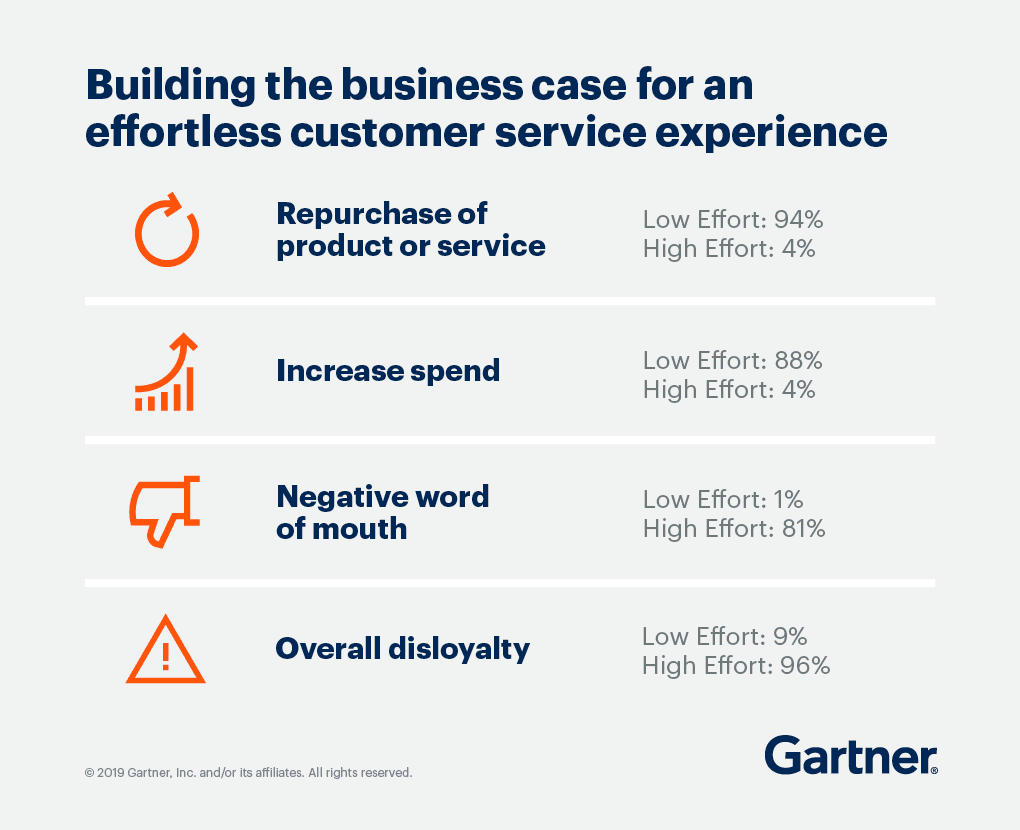 Source: Gartner
Now, let us learn the formula to calculate the customer effort score.
How to Calculate Customer Effort Score and Analyze the Results?
CES gives a measurable way to analyze your customer's efforts. The more the score, the less is the effort put in by your customers while interacting with your brand.
The first step in calculating a customer effort score is to conduct a survey with CES questions as discussed above. You can use either a (1-5) range scale or (1-7) range scale in your survey.
After you get the survey responses, the customer effort score is calculated by adding the individual scores of all the survey respondents divided by the total number of respondents.

Let's take an example to understand the customer effort score calculation,
Suppose ten respondents took part in a CES survey, and they gave the customer effort score as 4, 3, 8, 9, 5, 7, 8, 6, 1, 1
CES = (4+3+8+9+5+7+8+6+1+1)/10 = 52/10 = 5.2
Now that you have learned how to calculate Customer Effort Score, let's see how to effectively analyze the CES survey results.
How to Analyze the Customer Effort Score (CES) Survey Results?
The CES falls into three categories: Low, Average, and High
Herein, if you get a score on the lower level, it means that the customer's engagement experience with your brand was not comfortable. But, in the event of a higher score, the experience is deemed as good and satisfactory.
An above-average score shows that your customers stand in a reasonably comfortable position while reaching your brand. You are doing a good job addressing their queries on time.
There are numerous techniques that can be used to enhance your customer's experience, thereby reducing their effort. Let's understand it in the next section.
How to Improve Customer Effort Score (CES)?
Every customer expects minimum obstacles while engaging with a brand. You can make their experience delightful with flexible engagement mechanisms. Certain simple yet practical tips can help you create an army of loyal customers.
1. Incorporate Multiple Channels of Interaction
Ensure that your customers can reach out to you through multiple channels like toll-free numbers, social media, live chat, email, knowledge base, etc. In doing so, have sufficient customer representatives to respond to their queries promptly. It reduces your customer's wait time and reposes their trust in your brand.
2. Leverage Self-help Tools
Before your customers reach out to you, give them the option to go through self-help resources on your website like FAQs, Knowledge Base articles, etc. It brings convenience to your customers and allows them to resolve their queries without the need for interaction with a customer representative.
3.Automate Messages and Callbacks
Automated messages and callbacks help the customers to anticipate the resolution time of their queries. A simple automatic message can remind them of the callback. Herein, you reach out to your customer well before they contact you with a query follow up. The promptness creates a positive impression by making your customer feel valued and cared for.
Use CES to Enhance Your Customer Experience
CES is a powerful way to understand the quality of your customer experience. The customer effort score captures the sentiments associated with your customer's engagement.
To obtain the best results, make it a point to calculate the customer effort score after major touchpoints like product purchase and customer service. Though CES cannot guarantee customer loyalty, you can build trust and increase the probability of word of mouth marketing.
Keep multiple communication channels open like live chat, a toll-free number, social media, and encourage self-help with a knowledge base.
Want to measure your customer effort score? Get started with ProProfs Survey Maker to create and share impactful surveys in minutes.
Do you want a free Survey Software?
We have the #1 Online Survey Maker Software to get actionable user insights.