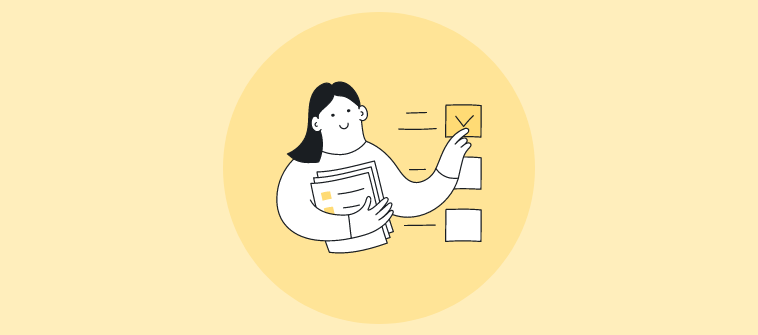 Surveys come in all shapes and sizes. So, it's crucial to understand the different types of survey.
But why?
To ensure maximum ROI from your survey campaigns. Let us understand.
Each survey type is designed to extract specific information from the respondents and thus carry focused questions. So, knowing your surveys can prevent you from showing irrelevant questions and collecting unreliable data sets.
In the same way, your customers interact with your business using various channels and touchpoints. To get a complete omnichannel picture of user experience, you need to understand which channels are best for which types of surveys to maximize response rates.
That's why we have assembled the list of different types of surveys into one blog. We will go through each survey type in detail and explain how you can use it at your end. We have also listed plenty of questions for each survey to help you get started.
So, let's begin with a quick overview of the basics.
What Is a Survey? Why Should You Use It?
A survey is a set of questions shown to the respondent like a customer, prospect, product user, or employee to extract data about their experience with the brand or company.
As to what kind of information you can collect using different types of surveys, here's a small glimpse:
Gather product feedback
Measure brand awareness
Take suggestions about products and content improvement
Do competition analysis
Build product roadmaps
Test new features
Optimize the product
Review the employee satisfaction in your organization
Irrespective of survey type, there are some dos and don'ts you can follow to make the most out of your survey campaigns:
Keep the surveys short to reduce drop-off.
Ensure the questions are easy to understand and interpret to avoid random answers.
Calculate your required sample size to establish data reliability and reduce the margin of error.
Avoid double-barreled and leading questions.
With the introduction out of the way, let's get to the main question – what types of surveys are there?
We have created three different survey categories based on the methodology and goal, as shown in the table below:
Based on
Survey types & methodology
Deployment
Pop-up surveys
Embedded surveys
Nudge™ surveys
Feedback forms/web forms
Link surveys
QR surveys
Surveying methods
Online surveys
Paper surveys
One-to-one interviews
Telephonic surveys
Mail survey
SMS survey
Panel surveys
Focus groups
Kiosk surveys
Type of data required
Customer satisfaction survey
Market research survey
Employee satisfaction survey
NPS survey
Product feedback survey
Exit-intent survey
Lead generation survey
Brand Awareness survey
Content evaluation survey
We will go through each in detail in the following sections.
Types of Surveys Based on the Mode of Deployment
When we say the deployment mode, we mean how you display the survey to the respondent. Let's see some of these methods:
1. Pop-up Surveys
Pop-up surveys are displayed as overlays on the web page. They appear over the current screen, and the visitor needs to close them before interacting with the page again.
These types of surveys are great to target people based on their behavior and actions to collect in-depth feedback data. Plus, you can add a discount or create a scored survey to entice more people to complete it.
There is just one caveat. Since the pop-up covers the main screen, it may hinder the user experience. So, ensure you don't bombard people every 5 minutes with the surveys. Plan your approach while adding them to your website.
One way to do it is using a survey tool that gives in-depth targeting options to set the right triggers. Here's how:
Avoid showing the pop-up survey to repeat visitors.
Don't show the pop-up again when the visitor switches the page.
Provide enough time gap between two survey prompts.
2. Embedded Surveys
Suppose you are immersed in an exciting blog but suddenly interrupted by a survey pop-up. Or, you have just landed on a page and are immediately greeted by a pop-up.
Pretty frustrating. Isn't it? The same goes for your customers.
An easy alternative is to use surrey embeds on the page, especially a blog post. Embedded survey types have a three-pronged effect:
It appears inline with the page content.
It doesn't interrupt the users.
The visitor can fill it out at any time.
Here's how you can use embedded surveys:
Place them at the end of the blog to gauge if the article was helpful?
Use them in the email to reduce the number of steps for customers and employees.
Embed a lead form in the middle of the blog or landing page to capture visitors' contact information.
3. Nudge™ Surveys
Like embedded surveys, Nudges™ can collect feedback while being unobtrusive. These are scroll-in survey types that can be added to any corner of the screen on your website, app, or product.
The best part is the visitor can minimize it and open it again when they want to leave feedback. It provides the freedom to fill out the survey at any point along their journey.
4. Feedback Forms or Web Forms
The fundamental difference between a feedback form and a survey is the appearance. While the survey asks one question at a time, feedback forms or web forms present the entire questionnaire under one screen.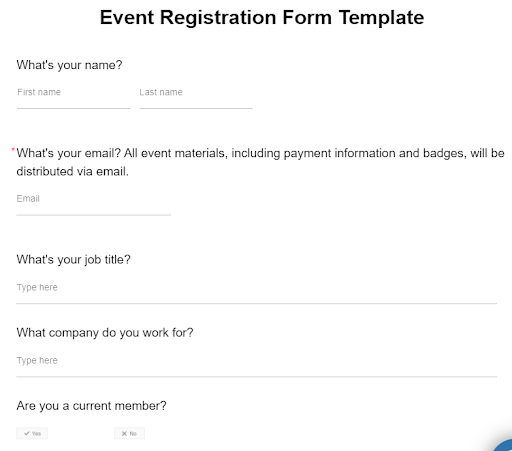 You can use these types of surveys in different situations, such as:
Promote unsolicited feedback via feedback sidebar
Gather employee feedback
Ask for feedback after the training session, webinar, or event
Print the form to collect personal feedback
5. Link Surveys
Probably one of the easiest survey techniques to deploy and share, link surveys can be sent via any channel without any added effort.
You can paste the survey link on the web page, email, app, SMS, social media, and pretty much any blank space. The users can click on the link to visit the survey page and fill it out.

There's just one drawback; it adds an extra step or two for visitors to fill out the survey. Unlike other survey types like pop-ups or embeds, the user needs to click on the link to see the survey.
Plus, if you send it via mail to new prospects, people may be hesitant to click on an unknown link due to security reasons.
6. QR surveys
QR codes are very well suited for surveys and questionnaires. The biggest advantage of using a QR survey is it saves space. The entire survey can fit in a small QR code.
To expand your reach to offline customers, you can add the QR survey code to your bill receipt and product label.
The only drawback is that it requires a means to scan the QR code before filling out the survey, such as a smartphone.
Types of Surveys Based on Distribution Channels
Customer journey consists of multiple touchpoints scattered around various channels, and each channel requires different surveying techniques or tools to engage with your customer base.
It can be as simple as embedding a survey pop-up on your website or as extensive as personal interviews.
Each has its merits and drawbacks. So, it's vital to understand which channels you can use for different types of surveys without burning a hole in your pocket.
That's why we have categorized the type of surveys based on the engagement channels at your disposal.
1. Online surveys
How is this for an experiment – From all the results you click on Google today, observe how many websites use surveys on their pages. To ballpark, we'll say each of them.
Online surveys take a stand among the most popular survey techniques in the market. And the reason is simple – Everything is connected to the internet.
These surveys let you target real-time customer behavior and actions to collect in-the-moment insights, making it more potent than post-interaction feedback.
There are different types of online surveys based on the channels, such as:
They let you gather focused feedback from website visitors. You can display them as pop-ups, feedback sidebar, web form, Nudge™, or embeds on any page.
Mobile & In-app surveys
These surveys are added to the native mobile apps to collect feedback while the people are using the app.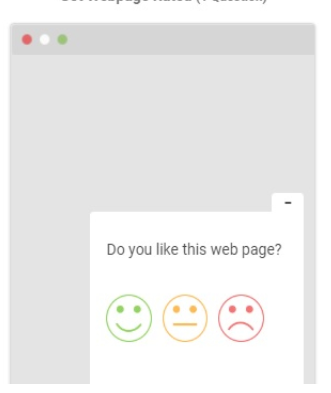 Since you are dealing with smaller screens as compared to desktops, here are a few tips to keep in mind:
Make sure that the close button is bigger and easily visible.
Use responsive and mobile-friendly design.
Keep the survey shorter, or the respondents may not complete it.
2. Mail surveys
Mail surveys are great to collect post-interaction transactional and overall feedback about the users' experience.
For example, you can send a mail survey to gauge their shopping experience after the customer completes the purchase on your website.
Interestingly, the email also offers different types of survey methods for deployment:
Link surveys – Where the survey link is pasted into the mail body. The respondent needs to click on the link to go to the survey page and complete it.
Embedded mail surveys – Where the survey is embedded into the mail body. It makes it easier for the recipient to fill it out without being redirected to another page.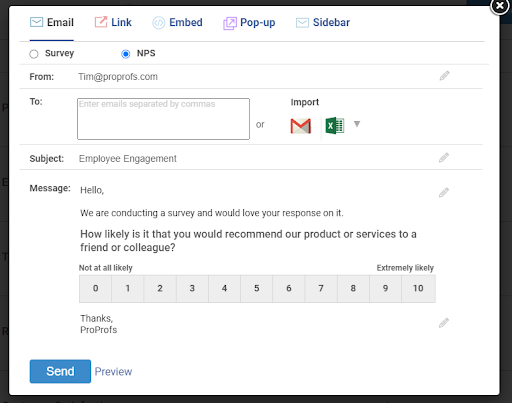 3. SMS survey
As of 2022, smartphone users have surpassed the 6 billion mark globally, which makes SMS a viable means to send different types of surveys and collect instant feedback.
As with email, there are different ways to send surveys via SMS:
Add a simple survey link to the message body to redirect the respondents to the survey page.
Another way is to design a conversational survey. These survey types send one message at a time based on the respondent's answer to simulate an actual message conversation.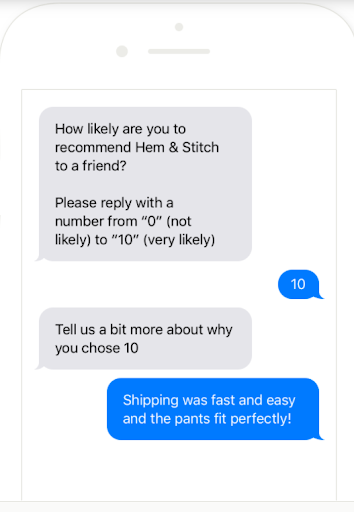 To make the most out of it, You can integrate the surveys with the SMS notifications system.
It would automatically trigger an SMS survey once the customer completes a desired action like placing an order, receiving a delivery, closing a ticket, and more. It would let you map both transactional and overall customer experience.
4. Paper surveys
A paper survey is a printed questionnaire you can hand out to your students, employees, random people, teachers, or anyone who fits your target audience.
For example:
If you manufacture toys, you can use paper surveys to collect feedback from kids easily instead of using online methods.
If you are a teacher, you can create a course evaluation paper survey for your students.
This survey type lets you reach the people difficult to target with other mediums.
5. One-to-one interviews
Personal interviews are among the best qualitative research methods to conduct an in-depth study. You run face-to-face sessions with the participants and present the survey questions.
The biggest advantage of 1-to-1 interviews over other survey types is that it lets you collect deeper insights by posing more personal questions. Plus, you can drive the conversations in any direction based on their answers.
But it also comes with significant limitations:
These survey research methodologies require extensive planning and resources to pull off successfully.
You need to set up a date with the respondents, hire a professional interviewer, find a suitable venue, and bear other overhead costs.
Finding the required respondent sample size for your interviews may become difficult.
The geographical constraint is another challenge for personal interviews.
Require more time to analyze and interpret the results, which means you cannot create a continuous loop.
These challenges make 1-to-1 interviews more suitable when exploring new product opportunities or entering a new market.
6. Telephonic surveys
Telephonic surveys are best for quick post-interaction feedback because cold calling customers and asking them for feedback may frustrate them.
That's why it is more suited for situations when the customer calls your support team. After resolving the query, you can take the feedback manually or direct them to the IVR (Interactive Voice Response).
7. Panel surveys
Panel surveys are a part of longitudinal research which means they are conducted over an extended period.
These survey types are suited for conducting medical research and psychological studies. It involves selecting a sample of people to collect qualitative and quantitative data points as you interact with the individuals at regular intervals.
You can use online methods like surveys or personal interviews to collect feedback.
8. Focus groups
A focus group involves an open discussion with a small group rather than a 1-to-1 interview. It's another qualitative research method where the moderator discusses the questions and notes down the people's feedback.
But like interviews, it is also one of the most expensive methods to survey your audience.
This survey method is suitable for product sampling and prototype testing to collect suggestions and explore new ideas for your product.
9. Kiosk surveys
Kiosk surveys are a common method to gather in-store or offline transactional customer feedback. The survey Kiosk is sometimes placed next to the billing counter so the customer can fill out the experience survey while you process the order.
You can collect customer satisfaction scores or net promoter scores and use follow-up questions to map their store experience.
Different Types of Surveys Based on Required Feedback
Now we come to the questions that define the survey type. As we mentioned earlier, each survey carries focused questions that determine the information you want to gather from the respondent.
So, let's go through various types of surveys based on data they collect:
1. Customer satisfaction survey
Customer satisfaction score (CSAT) is a standardized metric used to measure how happy customers are with your products and services. The respondents are asked to rate their satisfaction on a scored scale.
You can use a numbered scale (0-10, 1-5), emoji scale, star ratings, or even a Likert scale to save the feedback.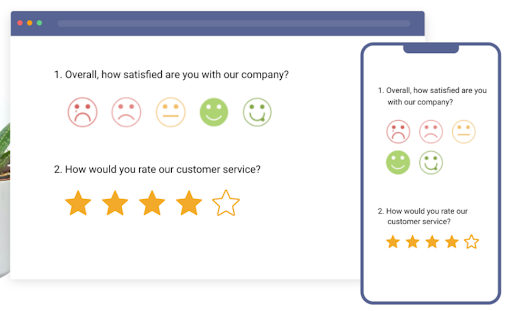 Among different types of surveys, customer satisfaction (CSAT) is pretty simple and easy to interpret. Plus, it is a direct indicator of short-term customer loyalty.
Since it is a quantifiable experience metric, you can monitor any CSAT scores drop in real-time to act on it quickly.
Here's how you can use customer satisfaction surveys:
Use them at the end of the check-out process to gauge how satisfied customers are with the shopping experience.
Ask the customer to rate your support agent by using a post-chat survey window to measure the efficiency of your staff.
Send them via mail after resolving a ticket to collect CSAT scores.
Segment the respondents based on their score into satisfied and unsatisfied customers. Prioritize negative responses to resolve the concerns.
Follow-up with the satisfied customers to ask for product reviews, Google reviews, success stories, and other testimonials.
Here are some CSAT survey questions:
Please rate our services on a scale of 1 – 10?
How would you rate the overall website experience?
How satisfied are you with our products and services?
Related Read: 100+ Customer Satisfaction Survey Questions & Examples
2. Employee satisfaction survey
Just like CSAT is for customers, employee satisfaction surveys let you evaluate your employees' happiness and gauge the work-life balance in the organization.
You can directly ask your employees about their experience with the company and explore their suggestions and grievances.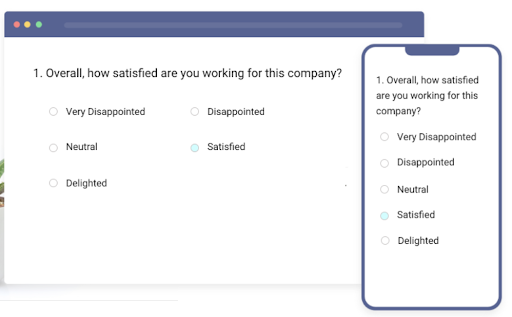 Survey tools like ProProfs Survey Maker also provide dedicated templates for ESAT surveys to make your job easier.
Here's how you can use the ESAT survey in your workplace:
Collect ESAT scores at regular intervals to monitor the happiness level of your employees.
Add follow-up questions to uncover their issues and complaints about the work environment.
Embed them into the feedback form to collect employee feedback during the exit process.
If possible, make them anonymous to promote honest feedback.
Here are some questions to incorporate in your ESAT surveys:
How satisfied are you at work?
Do you feel that your job responsibilities are clearly defined?
Do you feel that management is transparent?
Do you feel valued for your hard work and contributions?
Does your manager provide sufficient opportunities for your career development?
3. Market research survey
The Market research survey lets you understand your target market and map their preferences. It's among the most used survey methods in research to segment your audience, run pricing analysis, and perform competitive analysis.
Using surveys for market research offer more flexibility than other methods. What's more, they are highly cost-effective than personal interviews and focus groups.
Another advantage is there are no geographical limitations. Using the same tool, you can target multiple segments, locations, and other demographics.
There are different types of survey designs in research, such as:
Demographic survey – It helps to collect data about the respondents' traits like age, income, location, gender, family, etc.
Psychographic survey – It extracts the feedback about the respondents' lifestyle, behavior, preferences, likes, and dislikes, which lets you come up with the right messaging to target different people.
Competition analysis survey – It helps to gauge what makes your brand better than the competition and what needs to be improved to stay ahead of the curve.
Here are a few questions for market research surveys:
Please specify your age.
Select your highest level of education.
What is your current occupation?
In which location do you work?
Which activity do you prefer in your free time?
Which other physical activities do you take part in?
Which product/service would you consider as an alternative to ours?
Rate our competitor based on the following:
Have you seen any website/product/app with a similar feature?
Which other options did you consider before choosing [product name]?
Related Read: 90+ Market Research Questions to Ask Your Customers
4. Net Promoter Score (NPS) survey
Have you been asked the likelihood of promoting your favorite brand to your friends or family on a number scale? If yes, then you already know what an NPS survey is.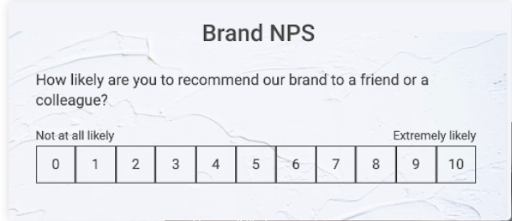 It is another standardized metric to measure long-term customer loyalty and repurchase probability. So a higher NPS score means you can achieve higher customer retention and purchase value.
Here's how you can use NPS surveys in your business:
Use the survey to segment the customers into promoters and detractors.
Target the promoters to explore upsell and cross-sell opportunities to increase average order value.
Follow-up with the detractors to find friction points along their journey.
Prioritize high spending detractors because they carry high churn risk.
Benchmark your scores against the industry average to gauge where you stand.
Here are some examples of NPS survey questions:
On a scale of 0 to 10, how likely would you recommend [brand name] to a friend or family?

If the answer is (0-8), what is the reason for your answer?
If the answer is 9-10), what are the aspects that you like the most?

How likely are you to buy again from us?
Related Read: 50+ NPS Survey Questions Examples for Every Scenario
5. Product feedback survey
How would you know if the new feature you are planning to add or the new update you just released is making the customers' job easier or not?
By directly asking the users. That's what a product feedback survey does.
It helps you gauge the customers' product experience to uncover unknown bugs, issues, broken paths, and more. You can then spur your development team into action to resolve these problems in time.
But wait, it helps to do so much more.
You can design different types of surveys at every stage of the product cycle to run development and optimization operations.
Here's how:
Use surveys during the product testing stage to collect feedback about the usability, ease of use, and current features.
Design a post-release survey to understand users' issues and problems while using the product.
Conduct polls and quizzes to know what new features the users would like to see in the product.
Integrate the feedback into the product roadmap to prioritize new product updates based on users' preferences and needs.
Here are a few product feedback survey questions:
How easy was it to use the product?
What was your first impression of the product?
How easy was it to navigate the product?
What problems did you encounter while using our [product]?
Rate the following product aspects of the product based on your experience:
How satisfied are you with the product?
According to you, what are the best features of the product?
Related Read: 20+ Product Survey Question with Examples
6. Exit-intent survey
Exiting visitors make up a significant portion of your website traffic. They are the ones who leave the page without completing the desired action, such as filling out the signup form or making a purchase.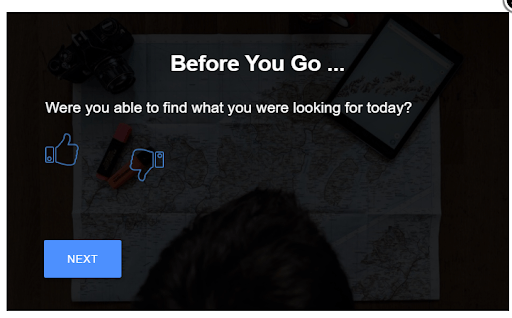 So, if you can find a way to target such visitors, you can map their reservations and fears to bring down the bounce rate.
Enters exit-intent survey!
Here's how you can use exit-intent surveys:
Find the tool that offers options to target exit behavior like cursor movement to show the survey at the right time.
Avoid showing the survey to visitors when they jump from one page to another if they have already filled it.
Don't show it to repeat visitors who have filled the survey.
Here are some examples of exit-intent survey questions:
Did you find what you were looking for?
What's preventing you from signing up for the free trial?
What stopped you from buying the product?
7. Lead generation survey
Besides feedback data, surveys can also help collect your visitors' contact information. You can add a simple lead generation form in different types of surveys to capture new leads.
But how does it work?
Create a branched survey for visitors on the landing page. In this way, you can show relevant questions to the respondent depending on their previous answers.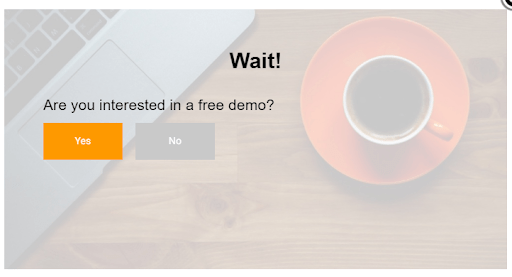 At the end of the survey, you can either redirect them to the signup page or offer lead magnets such as free consultation, an e-book, etc., in exchange for their email address.
Tip:
Make sure the offer is worth the information you collect from the visitors. People may not divulge their contact details for a $10 discount. But you can turn odds in your favor with a free giveaway or 15-day trial to your premium product plan.
8. Brand Awareness survey
How well do people recognize your brand? Do they have it committed to memory, or does someone need to jog it before they can place your logo in their head?
These are essential questions to gauge how popular your brand is among your audience. And to get the answers, you need to approach the actual users.
Personal interviews are expensive and take time. So, the alternative solution is using survey research methods to gauge brand awareness.
Brand awareness surveys let you map your brand's perception among the audience and calculate your standings against your competitors.
To get a complete picture of brand popularity and acceptance, you can embed them on your website or app, send them via mail or SMS, and post them on your social channels.
Here are a few questions to design brand awareness surveys:
Have you heard of the [brand name] before?
Have you seen advertisements for this brand?
How did you hear about us?
Do you currently use this brand's products?
Of all the brands offering similar products, which do you feel is the best brand?
9. Content evaluation survey
Content is still the king, whether you design a product page, landing page, blog post, or email. It helps keep the visitors engaged with the page.
And content evaluation surveys make it possible to measure if it's working or not.
Asking simple questions like 'was the article helpful?' can propel you in the right direction to craft engaging content for your visitors and push them towards conversions.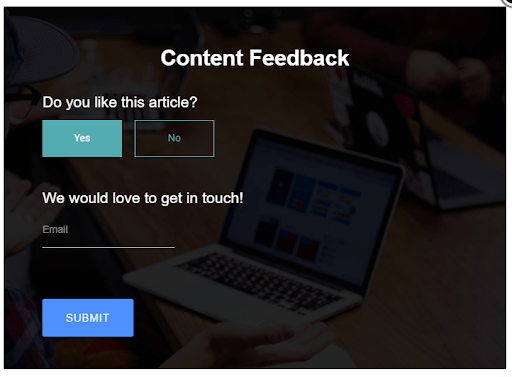 Here's how you can use surveys to improve your content & product offering:
Trigger survey pop-ups when the users reach a specific page length.
Add embedded surveys at the middle of the content page to collect feedback from the readers.
Use the feedback sidebar to collect unsolicited feedback.
You can even add a simple lead form to capture their email addresses.
Use thumbs up and down buttons at the end of the article to collect upvotes.
Here are a few questions to design content evaluation surveys:
Was this article helpful?
How can we improve it?
Have suggestions or feedback about the content? We would love to hear from you.
Choose the Correct Survey Type to Maximize Engagement
There you have it – different types of surveys that can help you reach out to the customers irrespective of the medium they use. And the best part is you don't need separate tools to get started.
You can use a single tool like ProProfs Survey Maker to create multiple surveys and deploy them through various channels in minutes. Since the data is collected in one place, you can create a continuous feedback loop to act on the insights quickly and start delivering the best possible customer experience. All it takes is a single survey on your website, app, or email.
So start experimenting with different survey types and see which ones work for you. Then, rinse & repeat!
Do you want a free Survey Software?
We have the #1 Online Survey Maker Software to get actionable user insights.