How to improve customer satisfaction?
One way is to collect customer feedback and act on it which will help you understand what works well with your brand and what you need to improve or change completely.
Imagine one day you wake up and discover that half of your customers have switched to the competitors, dropping your overall revenue by 50%?
Scary? Isn't it?
This is what you are risking by ignoring customer satisfaction.
Your business depends on your customers. If your customers are not satisfied, your business will fail. Happy and satisfied customers are the key to a successful business.
This proves the importance of customer satisfaction.
In this blog, we have curated a list of the top 25 ways to improve customer satisfaction.
25 Effective Ways to Improve Customer Satisfaction
Good customer experience can increase retention, and satisfaction, promote loyalty and help in boosting business revenue.
Consider following the below-given steps:
1. Meet and Exceed Customer's Expectations
Customer expectations and satisfaction are closely related. If a customer expects something from a company but does not get it, they do not feel satisfied.
On the other hand, if a customer has low expectations from a company and gets excellent service, they feel satisfied.
So, to satisfy customers, you must first understand their expectations and align customer service accordingly. For example, if a customer expects fast delivery time but gets his products delivered after a long time, he may feel unsatisfied.
The key to improving client satisfaction is understanding what customers expect from the brand using a proper feedback system. Interestingly, many companies try to meet the customer's assumed expectations rather than learning what their real expectations are.
2. Collect Feedback and Implement It
Another crucial way to keep customers satisfied is by collecting their feedback and implementing their suggestions. For instance, you can ask customer satisfaction survey questions to understand how a customer feels about your products and services. The information gathered from the survey can be used to improve your brand's offerings as per customers' opinions.
This will show your customers that you value their suggestions and ultimately increase their satisfaction levels.
Read More: Customer Satisfaction(CSAT) Survey: An Ultimate Guide
3. Provide Omni-Channel Support
Omni-channel support simply means being present everywhere where your customers are.
It is all about implementing multiple support channels so that customers can seamlessly interact with your business over their preferred channel. It helps companies streamline all the conversations across all channels so that customers get consistent support across all touchpoints.
You can build omnichannel customer engagement by covering channels like:
Phone support
Live chat support
Email support
Website support
Social media support
Through omnichannel support systems, businesses can ensure that customers get a consistent experience, even if they switch platforms in the middle of an interaction. It not only helps in delivering a unified brand experience but also boosts the company's credibility.
4. Create a Customer Service Culture
Developing the customer service skills of your team members is another way to improve customer satisfaction. You can start by imparting customer service training to your team. It will help your team understand how to implement exceptional customer service skills so that they can provide value to customers every day and in each interaction.
5. Add a Custom Contact Form to Your Website
A contact form includes your organization's phone number, email id, and social media profiles. It helps your customers understand what type of support your company offers, and the kind of contact customers prefer.
Contact forms also help the customer service team to gather customers' information like their names, phone number, and the kind of support they are looking for. This information helps the team prepare a personalized and informative response. They can also communicate the average response time in their response to drive customer satisfaction.
For instance, if it takes 24-48 hours for your customer service team to reply to an email query, you can include this time frame in the contact form, so clients know what to expect.
6. Measure Customer Satisfaction Regularly
To ensure customer satisfaction, it is crucial to gauge customer satisfaction scores. It will help you obtain valuable insights into the areas where you can improve.
But how will you measure customer satisfaction? Let's discuss the three most important customer satisfaction metrics:
NPS (Net Promoter Score): It helps determine how happily the customers will advocate for your products and services to others. NPS score is gauged with the help of a single survey question. Usually, a score of 30 and above is considered a good NPS score.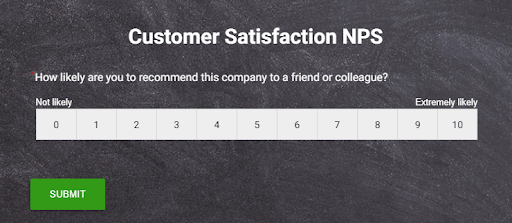 CSAT (Customer Satisfaction Score): It helps understand if the customers are happy with your products and services. To ensure customer happiness, try to improve the CSAT score.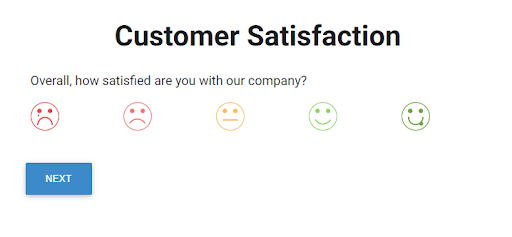 CES (Customer Effort Score): This score measures how much effort the customer has to exert to interact with your brand. The lower the CES score, the happier the customers will be.

Also Read: What Is the Difference Between CSAT, CES, and NPS?
7. Reduce Customer Service Response Time
When customers feel that their queries are being answered promptly, they are likely to report a positive experience with the brand. Hence to ensure client happiness, try to answer their questions quickly and efficiently on social media, emails, chats, and other platforms. It will show that you value your customers' time, and they will acquire trust in your services.
8. Offer 24*7 Customer Support
Try to provide customer support services 24 hours, seven days a week. You can do so by adding a live chat, help docs, or chatbots to your website. You can also use canned responses, allowing your customer support agent to respond quickly to customer issues. It will help customers who have questions that need priority assistance. Also, it will help customers resolve their problems as soon as they arise. It will show your customers that your business is receptive to their needs, ensuring high customer satisfaction levels.
Also Read: A Step-by-step Guide to Provide Exceptional Customer Support
9. Allocate a Separate Team
You can designate a separate team whose focus will only be on how to increase customer satisfaction. The team can meet periodically and use the customer feedback and complaints as a basis for discussion in those team meetings. This team should come up with a comprehensive understanding of specific problems and solutions that your entire company can use to achieve customer satisfaction.
10. Prioritize Customer Complaints
To improve customer satisfaction, try to fix the problem that most customers are complaining about.
For instance, suppose you conducted a feedback survey about your mobile app and found that more than 50% of the customers are complaining about the app's loading issue, and only 10% are dissatisfied with its layout. In this case, try to resolve the speed issue of the application first, as this issue is the one that is creating more dissatisfied customers.
11. Enhance Employee Motivation
Every employee of your company has an effect on the customer's experience with your brand. If your employees are not satisfied and motivated, your customers will never get a positive experience while interacting with your brand.
Try to use the holistic approach to manage customer satisfaction within your company. Ensure that your employees are satisfied with their job. They must also understand how they fit into the company's overall objective to improve customer satisfaction and how crucial their role is. You can also reward employees for their good work to achieve this objective.
Also Read: Improve Employee Experience: 30+ Best Practices
12. Listen To Your Customers
Customers are always trying to tell you what they want. They send emails, comment on social media, rate your products in rating apps, talk with their friends and family, fill out a survey, etc.
It is up to you how actively you listen to their suggestions and fix or change things to achieve customer satisfaction.
13. Understand What Your Customers Are Not Saying
Do you know that only 1 in 26 unhappy customers complain? Rest only stop doing business with your brand.
Most customers won't tell you why they are dissatisfied with your brand. They will just move to your competitors.
Make sure you have a proper system in place that measures when customers are leaving or when they last purchased from you. Only then can you determine the reason for their leaving.
Once you understand why your customers are not loyal anymore, you can take remedial steps to bring them back by improving their satisfaction.
14. Assign a Team Leader
It is not only enough to have a dedicated team for customer satisfaction. Just like you have a team leader for every team, be it finance, marketing, or sales, it is crucial to have a team representative for your customer satisfaction team.
A group leader can provide direction to the group effort and regularly share tips for customer satisfaction with their team members.
15. Provide Adequate and Transparent Information
Another strategy to increase customer satisfaction is to share transparent information related to all aspects of your business like its mission, vision, pricing policy, features of your products and services, return policy, etc. It will help customers instill trust in your business and understand what to expect from your brand.
16. Design a Reward System
You can create an incentive or reward system for your customers when they continue using your brand's products and services. It can include free giveaways, sales, discounts, etc.
For example, you can offer 30% off to a customer when he purchases items for $40 or more.
Saving money by availing discounts provides customer satisfaction and encourages customers to buy more.
17. Use Personalization Techniques
Personalizing your customer interaction is one of the ideas to improve the customer experience.
For example, you can send customized birthday wishes to customers.
Customers feel good when you remember details about them. It will help you to engage more customers and promote a sense of loyalty.
18. Review Customer Feedback Daily
Customer issues do not follow any pattern. One day you may have no complaints, and another day there may be a handful of them.
The customer satisfaction plan, in this case, would be handling these issues on a daily basis, especially if you have any major event lined up, like the launching of a new product.
Poor handling of customer issues leads to dissatisfaction that ultimately affects customer loyalty.
19. Monitor Online Reviews
Apart from social media sites, there are many online portals where customers leave their reviews. You can sign into these portals and review the feedback, especially the negative ones, to understand what steps can be taken to achieve customer satisfaction.
20. Layout a Plan
It is a good habit to write all your customer satisfaction policies in one place and put the document where every team can easily access it, especially the customer satisfaction team. You can also map out a typical customer journey by discussing it with sales representatives and highlighting the areas that need more attention to increase customer satisfaction.
21. Respond to all Feedback
Another customer satisfaction tip is to reply to all your feedback, whether positive or negative.
If you get positive feedback, you can use it as a testimonial or case study.
On the other hand, if you receive negative feedback, you can use it to mold your offerings and reduce the churn rate.
22. Interact More On Social Media
Social Media is one of the excellent ways by which you can interact with your customer regularly. These interactions can be positive as well as negative. It is one of the reliable ways by which customers can share their opinions. Make sure you are constantly interacting with your potential and current customers politely.
23. Have a Refund Policy
Implementing a simple refund policy is crucial so that customers can trust your business. When customers know that their money will be refunded or they will receive a replacement item in case of a defective item, they feel safe to buy from your brand; that boosts their satisfaction level in the long run.
24. Send Product Newsletter
Another idea for improving customer service is to send regular newsletters and emails informing customers about any new product launch, product update, or any other important announcement related to your brand. It will help you remain connected with your customers.
25. Under-Promise and Over-Deliver
It is tempting to over-promise customers to make yourself look good compared to your competitors.
For instance, you might get tempted to over-promise how fast you can do something.
But when you over-promise and do not deliver, your customers get dissatisfied. So, it's better to follow the policy of under-promising and over-delivering to delight your customers.
Improve Customer Satisfaction Using ProProfs Survey Maker
There you have it! These were the 25 sure-shot ways by which you can improve customer satisfaction. Improving customer satisfaction helps lower their churn rate, create loyal customers, and cultivate more consistent and reliable repeat business for your company.
However, remember that customer needs and preferences change over time. Hence, it is necessary to implement a consistent process for collecting customer feedback. You can use a robust survey maker tool like ProProfs Survey Maker to design engaging forms to ask survey questions and collect customer suggestions.
The tool offers a free customer satisfaction survey template along with other 100+ ready-made survey templates that make your complete process of designing and sharing surveys seamless. And when you know what your customers want, you can mold your brand's offering accordingly to boost their satisfaction.
Do you want a free Survey Software?
We have the #1 Online Survey Maker Software to get actionable user insights.