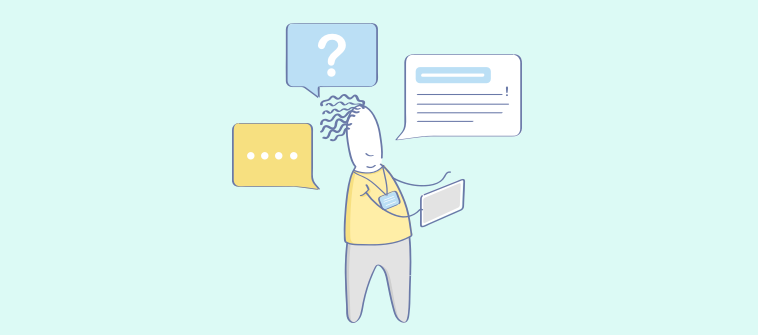 Every single company in the world wishes to offer delightful customer service.

But, a lot of companies don't have a plan in place when things go wrong during the customer service process. Let's take an example.

In 2017 a shocking incident came to light when it was reported that a 69-year-old Kentucky doctor, David Dao, was forcibly deboarded from a flight.

Not only did they report this news of United Airlines, but they also reported that the passenger faced severe injuries.

Why was he forcefully made to deboard a flight, you ask?

Well, the answer is, he did not give up his seat to a United employee.

Yes, this is wrong, and that's how people reacted when they read the news.

The anger among customers grew when Diane Mager, the CEO of the Customer Experience Professionals Association, talked about the incident but didn't pinpoint the problems that needed to be discussed.

The behavior of the staff was all-together ignored, and they did not take any responsibility for what had happened.

This is one of the biggest examples to date that emphasizes on the importance of customer service recovery.

If Mager had taken ownership and action against the United employees who were responsible for this act on the first go, it would have fared better with David Dao and their existing customers.

So, before we dig into the steps to customer service recovery, let's cover the basics.
What is Customer Service Recovery?
According to the Business Dictionary, customer service recovery is:
"A list of policies or strategies that a company uses to attract existing customers who have either faced a bad customer experience or have stopped doing business with the company."
Simply put:
"Customer service recovery is the process of reconnecting with existing and previous customers who had a bad experience doing business with the company. The entire process focuses on regaining the relationship and strengthening it to convert them into loyal customers."
So, we get it. It's a plan to salvage bad customer support. But is there a need for such a process?
What's the Need for Customer Service Recovery?
Not every customer-agent interaction is positive.
There are so many things that can go wrong, such as:
The customer might be edgy/rude

The agent might be impatient & rush into solving the customer's problem

The query might one too complex for agents to resolve
But, it's the way a company comes out of a tricky customer-agent interaction that brings out the best in a company.
With a good customer service recovery process in place, your company can:
Increase the number of loyal customers substantially

Improve the overall reputation
Not only that but customers also start to respect the company and spread a positive word for the company.
That's a strong reason to create a full-proof customer service recovery process.
So, without wasting any more time, let's first see how you can understand why your customers are dissatisfied with your customer service.
Understanding The Reasons for Customer Dissatisfaction
Dissatisfied customers are the hardest to impress. No matter what you do or say, they will have an impression of your company that'll be really hard to break.
But it isn't impossible. The most important method of understanding your customer's dissatisfaction is by listening to them. There are four ways you can gain insight into your customer's dissatisfaction reasons. These include:
Did you know that only 1 in 26 unhappy customers actually complain if they faced issues during customer service?
Our focus shouldn't be on the customers who don't complain but on the ones who do.
Having a set channel using which customers can easily reach you is essential for you to know where your support team can improve.
What's the best way to ensure your customers have all the needed information to contact you?
By giving it to them, of course!
Make sure you provide a toll-free number and a verified email address on your website. It is also crucial to ensure these channels are dedicated solely to customer support.
This way, the focus will solely be on customer support, and you won't miss any important emails regarding a different subject.
You can also offer live chat services on your website to make it easy for customers to connect with your team in case of bad customer experience. Using such a tool, your customers get instant satisfaction, and your agents, too, can understand the problem easily.
It's the era of social media. No matter where you go, everyone posts their experiences on Facebook, Instagram, Twitter, or other social channels.
Twitter is one social media channel that has risen in terms of customer complaints.
It's easy for customers to tag a brand and write a post that talks about how they liked or disliked the service.
One bad customer experience post can bring down a company. That's precisely why it's essential to reply back instantly and ensure the same mistake isn't repeated.
The best way to go about this is to hire a dedicated team that takes care of all social media accounts. You can also deploy a robust help desk software that comes with a feature to manage multiple social channels on one platform.
There are tools available on the market that enable you to create insightful reports.
With detailed reports, you can gain insight into:
Support Agent Performance

Customer Satisfaction Rate

Company's Overall Support Performance
Getting an idea of these aspects makes it easy for you to analyze and understand where your company can improve in terms of customer support.
Create reports monthly and compare agent ratings with customer comments. This way, it's a piece of cake to know who needs training in customer support.
Another added advantage of reports is that you'll gain insight into what aspects of customer support your agents need training.
Negative Customer Feedback
Complaints are different than receiving negative customer feedback. Basically, a customer ranting on any channel regarding a bad customer experience is a complaint.
On the other hand, you reach out to your customers and they give a negative comment in the feedback form – that's negative feedback.
The basic difference between the two is that feedback is directly communicated to the company, whereas a complaint is not.
Most customers, after a bad experience, simply leave a company. Asking for feedback helps reduce this number. How?
Well, reaching out to your customers gives them a sense of importance. Along with that, they feel valued and heard – that your company values their opinion.
So, send out feedback forms to customers monthly and yearly. It is also crucial that you send surveys post-purchases too. This gives you complete transparency in user experience as well.
Alright, now that we have an idea about how we can collect customer experience data, let's answer the ongoing question – what are the basic steps to customer service recovery?
5 Steps to Customer Service Recovery Explained
All in all, customer service recovery has 5 steps every company must follow to ensure they don't lose a customer. The five steps to implement a customer service recovery strategy efficiently are:
#1. Apologize
This is important.
The first thing you must do when you know a customer faced bad customer service is – apologize.
Apologizing goes a long, long way in gaining a customer's trust and loyalty. Once you apologize to your customer, it becomes evident that you regret not being able to offer delightful customer support.
Not only that, but it also shows that you're willing to put your ego aside and prioritize your customers. That's really important for customers.
---
Takeaway:
"Don't lose your temper, and apologize right away. Make sure you listen to everything your customer has to say and understand exactly what happened that ticked the customer off."
---
#2. Review
Next step – review the entire customer call.
This kills two birds with one stone. You get an idea about:
What the initial customer issue was and how your support agents handled it

What went wrong and how you would have handled the situation better
This practice makes it easy for you and your agents to learn from their mistakes and not repeat them.
---
Takeaway:
"Do a thorough review and, if possible, make it a collaborative exercise. Get your team in and let them themselves spot what went wrong in the conversation. But, in this exercise, it's crucial to ensure no employee feels demoralized. It's a win-win and a learning experience for all."
---
#3. Fix
It's time to fix the issue.
Once you've apologized and reviewed the previous conversation, you know what needs to be done.
Know that customers want instant support, but without getting the right solution, they won't be impressed with your customer service.
So, it is essential to be a good listener. Always let your customers speak and listen to their issues.
---
Takeaway:
"Understand the issue completely before coming up with a solution. Ensure that you know all the issues and understand what's the best way to solve it."
---
#4. Document
Next is documentation.
History is one of the best ways to learn from your mistakes and never repeat them. That applies to every aspect of life, even offering delightful customer support.
So, once you understand your customer's issues and have given them a proper solution, you must document the entire scenario.
This makes it easy for your agents to dodge similar issues and, in case they face a similar situation they know how to resolve their issues hassle-free.
---
Takeaway:
"Document everything. Right from the initial conversation, to what went wrong and how you got to know about the experience to how you dealt with the entire situation. Go into details and elaborate on everything to avoid any confusion."
---
#5. Follow-Up
Lastly, take a follow-up.
Yes. Feedback for everything is crucial. Even after a customer recovery process, feedback is essential.
Why? Why must you take feedback for customer recovery?
To make the process better. Remember, everything is customer-centric. So is customer recovery. Taking their feedback on how they liked the process and how you can do better will only optimize the process further.
---
Takeaway:
"Create a template for a post-recovery survey. It's essential to include all the information you wish to gain from your customers with this survey. So, make sure you include everything. It is also beneficial to deploy a robust survey maker to streamline the entire feedback process."
---
Customer Recovery Best Practices: What's the End Goal?
The end goal = no loss of customers. Bad customer experiences are the top reason for high churn rates, and that's why it is essential to have a process in place to deal with such experiences.
Having a dedicated team for customer recovery is a great way to deal with angry customers and gain their trust.
To optimize the process, it is crucial to have a robust survey maker in your arsenal.
The tool enables you to track all customer feedback on one platform and minimizes the possibility of missing out the customer's when you're trying to connect with them for feedback.
So, reach out to your customers and address their issues instantly with a survey maker.
---
FAQs
---
Q1. How do you recover from bad customer service?
Recovering from a bad customer service or experience is hard, but not impossible. A customer recovery process is dedicated primarily to dealing with customers who face bad support. The best way to recover from bad customer service is by apologizing to the customer, listening to the issue, and coming up with a solution that's beneficial to the customer. That way, they feel valued, and you also ensure that they don't stop buying from your company.
Q2. What is the goal of customer recovery?
The end goal of customer recovery is to minimize customer churn and maximize customer retention. This process identifies customers that faced bad customer service and address their issues before they decide to leave your company for good.
Q3. What causes poor customer service?
A lot of things can cause poor customer service; a few reasons include ancient support tools, lack of employee engagement, lack of agent knowledge, inability to deal with multiple customers, and not understanding the best solution to the problem at hand.
Q4. Why is customer care important?
Customer care is essential for a business to flourish. Think of it like a business's bread and butter. A customer considers buying from a company only if they feel their questions will be answered easily and instantly. Not only that, but customer care also makes it easy to maximize customer loyalty and retention.
Q5. How do you deal with angry customers?
Dealing with angry customers is critical and exhausting. But, it is crucial to understand their frustration and empathize with their situation and feelings. Only when you walk in your customer's shoes will you know what they are feeling. It'll also give you a clear idea of what is the ideal solution to the problem.
Do you want a free Survey Software?
We have the #1 Online Survey Maker Software to get actionable user insights.