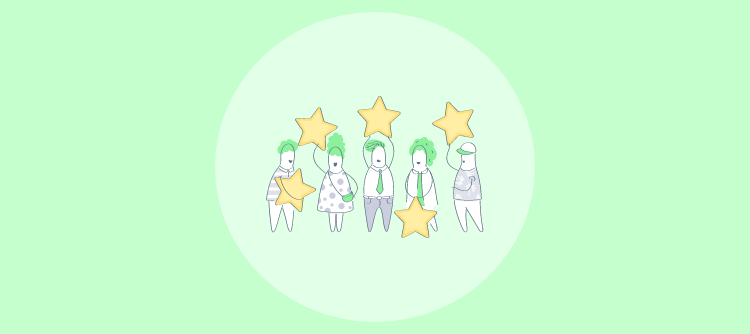 The global workforce is evolving with diversity, equity, and inclusion (DEI), becoming the watchword of the time. Especially Gen Z; they are not only the most diverse workforce, but they embrace diversity. As a result, implementing DEI programs is becoming the number one priority for HRs and managers.
But it is easier said than done.
How will you ensure that the diversity and inclusion you implemented make a meaningful impact on your organization? How will you measure its results?
The answer lies in asking diversity, equity, and inclusion survey questions directly to your employees.
Just like when you want to determine how happy and satisfied your employees are by working in the company, you conduct an employee satisfaction survey and measure the results. In the same way, you can conduct DEI surveys to gauge what employees think about diversity in your organization.
In this blog, we will discuss some sample diversity and inclusion survey questions you can ask in your next survey. Before that, let's examine what exactly diversity, equity, and inclusion are.
Let's start.
What Is Diversity, Equity, and Inclusion?
Diversity, equity, and inclusion (DEI) are the three pedestals of an organization's culture that defines how welcoming your workplace feels to all employees. DEI is all about hiring and managing a diverse workforce, creating an environment that encourages participation from all, and providing equal opportunity to every employee, regardless of their background.
Let's break DEI into three parts for better understanding:

Diversity: It means any element or dimension that differentiates an individual or group from another. For an organization to be diverse, it should have people from different caste, sex, religion, ethnicity, nationality, age, education, marital status, disability, socioeconomic status, etc., working for them. Workplace diversity implies accepting these differences and treating each individual equally and fairly.
Equity: In layman's terms, equity means "to be fair." In the workplace, equity means treating all employees equally and providing them equal opportunities to learn and grow. Equity is about ensuring that the organization's processes and programs are impartial and it offers equal possible results for all employees.
Inclusion: It is the practice of making people with different identities feel welcomed in an organization. Inclusion is all about the sense of belongingness, encouraging equal participation from everyone, and providing them with an equitable opportunity to contribute to the company and advance their skillset. Inclusion means diverse people can be themselves at work and still feel respected and valued.
What Is a Diversity, Equity, and Inclusion Survey?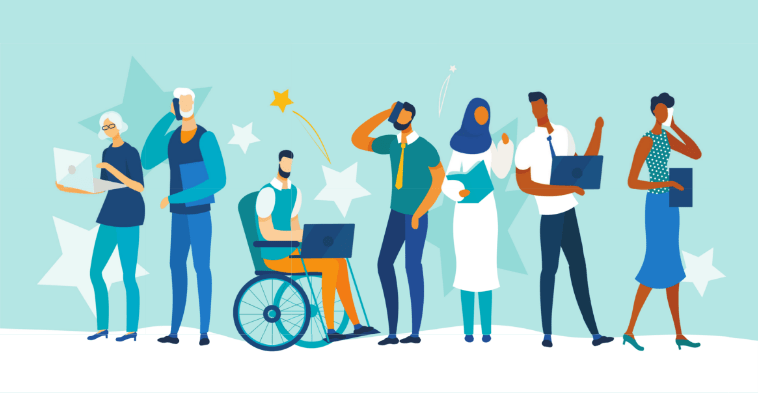 A diversity, equity, and inclusion survey help companies to understand how different employees feel about the organization's work culture. A survey will allow your employees anonymously share their real feelings, experiences, and opinions regarding what they think of the company's diversity and inclusive policies. Data gathered from these cultural diversity surveys can help companies determine how diverse, fair and inclusive the workplace is.
You can run separate DEI surveys or include survey questions about diversity, equity, and inclusion in your employee engagement surveys or pulse surveys. But it should consist of precise, actionable questions that reveal how different groups experience your workplace culture. Basically, your surveys should include DEI survey questions that measure its various parameters, like:
Do employees feel the workplace is comfortable to work at?
Do people with different identities feel respected and valued?
Do diverse groups of individuals have their say in policy and decision-making?
Do people view the workplace as safe and inclusive?
Are employees provided with equal opportunities to develop their skill set?
Your survey data must highlight areas for improvement. By asking the correct diversity and inclusion survey questions, a company can learn how employees feel about the work culture, which can help improve their experience.
Also Read: How to Analyze Survey Data
How to Create a DEI Survey
To create a compelling DEI survey, you must go beyond asking demographic survey questions. Understanding how safe, respected and inclusive your employees feel while working for the organization is essential.
You can follow the below-given steps to create the survey to measure how impactful diversity, equity, and inclusion policies are in your organization:
Draft the Right Questions
Include specific diversity and inclusion questions in your surveys to gather adequate feedback data. Frame the questions in a short and crisp way and leave no room for assumption. Also, try to exclude the questions that your employees view as "insensitive," which may affect the survey response rate. You can also include a combination of open-ended questions, Likert-scale questions, multiple-choice questions, and rating-scale questions to make your surveys more engaging.
Create the DEI Survey Anonymous
Making the survey anonymous will let the employees open up. Of course, many employees will not feel comfortable sharing their genuine opinions when they know their identities are being revealed. Collecting the response anonymously will also increase the response rates of the survey. You can inform the employees about the anonymity of the survey at the beginning so they can easily fill it.
Also Read: Proven Tips to Create an Anonymous Survey
Sometimes people may hesitate to answer specific sensitive questions. So, do not make all survey questions for diversity and inclusion compulsory. Allow your respondents to skip the questions they don't want to answer. You can use a survey maker with a"skip logic feature" that will take the user to the next relevant question once they've skipped a particular question.
Set Clear Survey Objectives
Make sure to be specific about your corporate DEI objectives. Include diversity survey questions that match your business diversity objective. Also, transparency is the key to conducting effective DEI surveys. Always communicate with employees how their input will be beneficial in changing the DEI strategies and policies. At last, remind employees that the survey is anonymous and promise to share results with everyone.
Analyze the Result and Make Necessary Changes
Employees often feel that their input goes waste as there is no update from management regarding implementing their feedback. If you want your employees to know their opinions and feelings are appreciated, share the survey findings with them. Do inform them that steps will be taken to improve their experience.
Diversity, Equity, and Inclusion Survey Questions
In this section, we will discuss sample diversity and inclusion survey questions that can be used to measure the employee experience. You can use these questions directly in your survey or modify them to suit your DEI research objectives.
Diversity Questions
Do you know that 57% of employees want to see more diversity in their organization?
But measuring employee diversity is a challenge for most organizations. Hence, for your reference, we have discussed the top diversity survey questions that can be used to measure the effectiveness of diversity programs in the company.
1. Do you think your top management team is diverse? If yes, in what ways?
This is an excellent example of opening diversity questions to ask employees. It will help you understand how they feel about diversity in the executive team. If the top management team comprises diverse individuals, then they will make sure to implement this policy at each level of the company.
2. Does the company's appraisal and promotion policy support diversity?
This diversity questionnaire will help you evaluate if your company's promotion and evaluation policy are biased or partial.
3. Does the organization hire individuals from all backgrounds and communities?
The company must depict diversity in not only its work culture but also its hiring process. By asking this diversity panel question, you can collect the employees' outlook on the company's hiring process.
4. On a scale of 0-10, how will you rate the implementation of diversity in your organization's culture?
This NPS question is used to understand what employees think of the organization's culture in terms of diversity. You can also modify this question to an open-ended one, depending on the type of data that you need to collect.
5. Do you think HR and management support the needs of disabled people in your company?
This question is used to gather data about steps taken by management to support employees with disability and bring diversity to the organization's core.
6. How comfortable are you discussing your social and cultural background with your teammates?
This diversity and inclusion survey question example will reveal how well diversity is represented in an organization's working environment. It will help you evaluate how comfortable or uncomfortable employees feel talking about their background with their colleagues.
7. How do you think the company can improve to become more diverse in the future?
This questionnaire on diversity in the workplace will allow your employee to freely share their view on what changes can be made to company policy so that they feel more comfortable.
Inclusion Questions
Do you know that 61% of the employees are still "covering" or "hiding" some personal dimension to get absorbed in their company by not bringing their complete authentic selves to work?
To create an inclusive culture in your company, you need to assess where your inclusive policies currently stand. Below given diversity and inclusion survey questions for employees will help you evaluate the level of inclusivity in your company.
1. What do you think about inclusivity in your organization?
These inclusive survey questions are asked to collect employees' opinions about how they feel efforts taken by the organization to include and promote inclusivity in the company.
2. On a scale of 0-10, how do you rate executive team efforts to promote inclusivity?
With the help of this question about inclusion, you can understand the steps taken by top management to promote inclusivity at all levels in the company.
3. Do you think the induction and training program includes inclusivity?
This question will give you an idea of how well the training and induction programs promote inclusivity within the company.
4. How comfortably do you share your concerns with your managers or supervisors?
Employees will only share their problems when they feel comfortable and safe doing that and knowing some action will be taken to resolve their issues. This question will help evaluate how proactive the management is in solving the concerns faced by employees and making them feel valued.
5. Have you ever faced discrimination in the workplace because of your cultural background?
With the help of this question about inclusion, you can explore the problems faced by the employees in the workplace and take steps to improve their experience.
6. Which inclusivity initiative taken by the company did you like and why?
You can ask this question to understand what employees think about your inclusivity initiatives and to which initiative they can relate the most.
7. What steps can be taken to promote inclusivity in the company?
This question helps gather employees' feedback and suggestions regarding how to improve your inclusivity policy or implement a new one to promote it at every level of the company.
Equity Questions
Let's discuss some equity survey questions that you can use to examine the effectiveness of equity programs in the company.
1. On a scale of 0-10, how will you rate the implementation of equity in the company?
This question will help you gather employees' opinions on what they think about the company's equity policies.
2. Have you ever been treated unfairly in your company?
This racial equity survey question evaluates if your employees have experienced any unfair or injustice treatment in the company and what you can do to improve their experience.
3. Which equity initiative by the company did you like the most? Can you explain the reason behind this?
You can evaluate which equity initiatives resonate the most with your employees and why. It will help to decide the next course of action.
4. Do you think the career advancement policies of the company are fair for all, regardless of their background?
This type of equity survey question determines if the career growth policies of the company are fair or biased.
5. Do you think the management team handles the matters related to equity issues satisfactorily?
With the help of this question, you can understand employee perspectives if they think management takes a proactive part in solving equity issues.
6. Do you think promotion is awarded fairly among employees?
This question will evaluate if your promotion policies are fair to all employees, regardless of their background.
7. What more can be done to promote equity in the company?
You can gather data about what employees actually want to see in your company's equity policy with the help of this question.
Reasons to Conduct DEI Survey
Your organization may comprise diverse groups of people, but it does not necessarily mean your employees view your company as "inclusive."
Hence, you need to conduct a workplace diversity survey to enhance the company's culture and improve the employee experience.
In fact, 89% of people want their organization to be inclusive of individuals with intellectual disabilities. Hence, it is time companies take action to create more inclusive and diverse work environments.
Other reasons to conduct a diversity, inclusion, and equity survey include:
It helps organizations to evaluate the DEI policies from the employees' perspectives. These surveys show the companies the impact of their policies on employees' experiences in the workplace.
Conducting an inclusion, equity, and diversity survey will help companies identify the areas where they need improvement.
By conducting inclusive surveys, you can drive employee engagement. You can create a more dynamic and creative work environment by listening to employees about their views on unequal treatment at work and taking proactive steps to solve this issue.
DEI is a sensitive topic, and people might not feel comfortable sharing their opinions directly with their managers. These surveys are a safe and confidential way for employees to share their feedback.
Understanding the survey data can help companies perform employee sentiment analysis and create a work environment where employees feel valued.
Several studies have also shown that the more diverse a company is, the more successful it will be. For instance, as per Gallup, gender-diverse organizations with above-average levels of employee engagement financially surpass companies with below-average diversity and engagement by 46% to 58%.
Create Your Own Diversity, Equity, and Inclusion Survey Using ProProfs Survey Maker
Your business will not flourish until your employees are happy and satisfied. Ensure that they feel included, respected, and safe at the workplace. For this, as discussed above, you can ask diversity, equity, and inclusion survey questions to understand what really matters to them.
Workplace diversity questions will help you understand how successful your company is in implementing DEI policies, identifying areas of improvement, and setting benchmarks to evaluate your future performance.
With a robust survey maker tool like ProProfs Survey Maker, you can easily create and share diversity questionnaires anonymously. The software also offers free survey templates and a centralized reporting dashboard where you can view, manage and track all survey responses.
Do you want a free Survey Software?
We have the #1 Online Survey Maker Software to get actionable user insights.