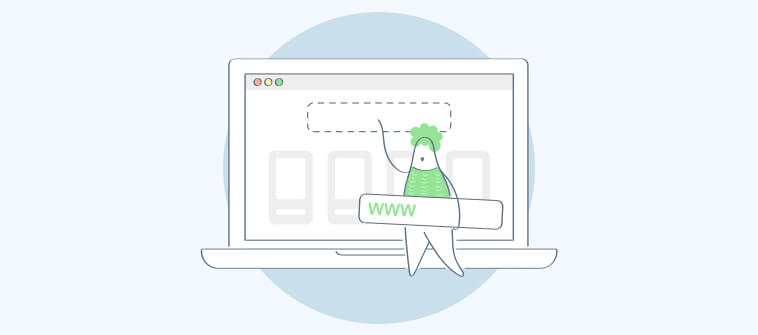 Let's consider a scenario.

You send an email to your customers asking for their feedback. You are confident about the response because you have added all the possible questions.

But, one week down the line….

You receive the responses – hardly any numbers!

You scratch your head thinking about the errors, and your enthusiasm goes down.

Have you been in this situation?

Yes, we all have been there. Once upon a time, we all have underestimated the power of website feedback.

Website feedback is one of the easiest ways to know your customer's opinion, did they 'like' your product/service, or did they 'dislike' it?

Online website feedback collection is instant and less time-consuming. For example, while scrolling a web page customers come across an engaging pop-up or chat survey. They fill in your immediate feedback or sometimes even share their queries via these surveys.

Does this matter to any business? Yes, it does.

1 complaint = 26 customers lost!

These 26 customers go to your competitor at the blink of an eye.

Thinking about the number of customers lost per complaint?

Collecting customer feedback proactively is the first step towards retaining customers. If you are scratching your head, thinking how, this blog will help you explore ways to collect website feedback. Let's start with the basics:
What is Website Feedback?
Website feedback pertains to collecting customer feedback directly through:
On page surveys

Live chat

Pop-up surveys

Feedback buttons/widgets

Feedback pages
Website feedback gives a first hand understanding of a user's experience with your products or services. With this understanding, you can learn the customer challenges while using your products or while navigating your website. This will boost the chances of conversion and lead generation for your business in the future.
Having understood the basic concept of website feedback collection, let's explore the benefits of collecting website feedback.
Benefits of Collecting Website Feedback
The benefits of collecting feedback via websites are not just good to read, but rewarding as well. Let's find out how:
Enhance the Quality of Your Products and Services:
Website feedback collection is a straightforward way of assessing your customer satisfaction levels with your products. You have designed, reviewed and tested the product. But, overlooked certain issues.
Consequence? Less than a satisfying experience for your customers.
Customer feedback is an inexpensive way to improve your products. Collect customer feedback proactively using website feedback surveys and analyze the challenges faced by customers. Once you have fixed their issues and implemented changes, let your customers know about the same. This not only helps in creating better experiences for your customers, but it also helps them feel a valuable part of your business.
Read More: 100 Customer Satisfaction Questions to Measure Customer Happiness
Turn Negative Reviews to Your Advantage:
When was the last time you received negative feedback online and panicked? Don't worry! You are not alone. We all fear negative feedback; it gives us nightmares. But, you can turn the negative feedback to your advantage by acknowledging your mistakes and acting on them promptly. In fact, negative feedback gives you more opportunities to fix the errors before they become massive mistakes, provided you act fast and smart.
ReviewTrackers 2018 survey shows that 51.7% of customers expect a response to a negative review from the businesses within 7 days.
Here are some good practices to capitalize on negative feedbacks:
Be quick on acting on negative feedback.

Reach out to your customer through mail or phone.

Listen to them intently and understand their queries.

Apologize for any inconvenience.

Lastly, compensate them with a free service, discount or upgrade. There is a high chance that you will win back their trust.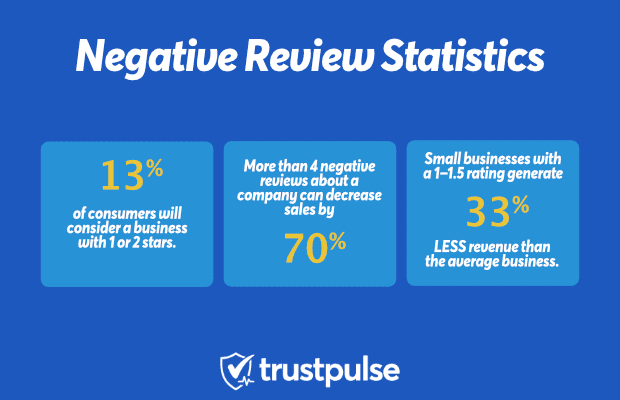 Source: Trustpulse
Be One Notch Ahead of Your Competitors:
Studies suggest that 48% of customers want a privileged treatment for being a good customer. Due to poor customer experience, 89% of customers have shifted gear to competitors.
Website feedback surveys help you to understand the pulse of your customers on a regular basis. With a consistent feedback collection loop, you can understand their challenges way before your competitors do. With a concrete corrective action, you can build a long-lasting trust. Hence, use the power of website feedback and address your customers' concerns on time.
Read More: Importance of Customer Experience in 2021
Website surveys are an excellent way to gauge the happiness of your existing customers with your products or services. When they turn into your brand's promoter, there is every possibility that they give good reviews about you to their friends and family. Research shows that 20-50% of all purchasing decisions are taken solely on recommendations. People trust the words of their family and friends more than advertisements. When people are happy with a product, they share the information with their close circle of friends, which influences their decisions.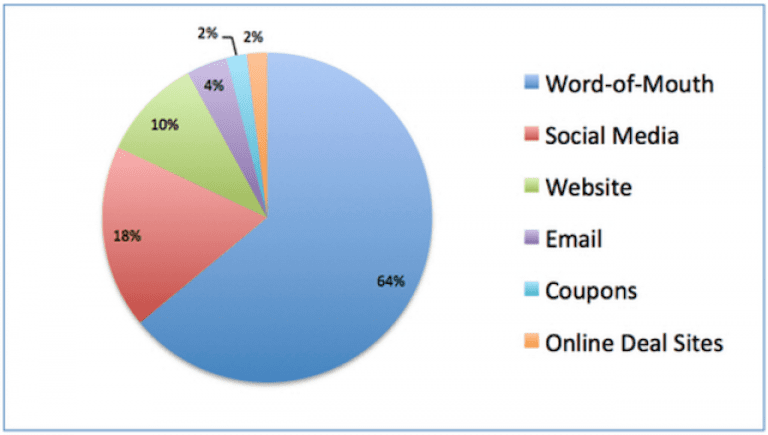 Source: GoDaddy
Read more: Website Survey Questions to Ask Your Customers
Increase Customer Retention:
Businesses invest heavily on acquiring new customers, but does it always work? In fact the sure fire investment that is bound to give your results is on your existing customers. It is cheaper and cost-effective to retain your existing customers than to hunt for a new batch. Wondering how?
Website feedback is a significant way to interact with your existing customers and understand their viewpoint about your products or services. When you take their valuable feedback and implement it on your products/services, they get a sense of belongingness and connect with your brand in a better way. They may continue to be lifetime promoters of your brand.
Having learnt the benefits, let's check out the actionable methods to collect reliable website feedback.
7 Ways to Collect Reliable Website Feedback Today
Listed below are the best and most actionable ways to acquire feedback from your customers through websites.
#1. On-Page Website Surveys:
You open a website of your favorite brand. While searching for a product description, you are greeted by a colorful tab with one single question,
"Have you enjoyed using our App?"
You instantly click on the 'Yes' option.
That's how convenient and simple are these surveys. The crux of on-page website surveys:
They take up a small space on your website.

Feedback is collected via embedded forms, popped up during the web session, or via feedback buttons.
Advantages of On-Page Website Surveys:
Better accessibility:

Website surveys are embedded in high converting areas of a website like top bar, chat bar, side widget, etc. It ensures easy access to the survey respondents.

High levels of objectivity: With no direct contact with the respondent, subjective bias arising from in-person or email surveys is avoided.
Greater anonymity:

Website surveys ensure greater anonymity, allowing the respondents to open up and give honest feedback.

Less time consuming:

The entire survey process from survey creation to survey completion takes less time. Usually, respondents take less than 2-3 mins to complete a website survey.

Higher response rates:

With convenience and flexibility at hand, customers find it easy to respond to website surveys, resulting in high response rates.
Let's understand the types of on-page website surveys.
Types of On-Page Website Surveys:
A pop-up survey is like a traffic light that you cannot avoid. You are forced to halt and consider: You either stop or ignore the signal, driving away. Similarly, you either answer the question or close the pop-up.
Pop-up surveys appear as a simple box with questions on a website. It forces the customer to answer a question before proceeding further.
Pop-up surveys are the easiest way to gauge customer feedback either while they exit a website or after engaging with the website for a considerable time.
Benefits:
Low setup time

Customizable

Ease of access
For enhanced performance, make sure that your popup surveys do not clutter the screen and affect your customer's viewability. The top screen or side popup does the job pretty well.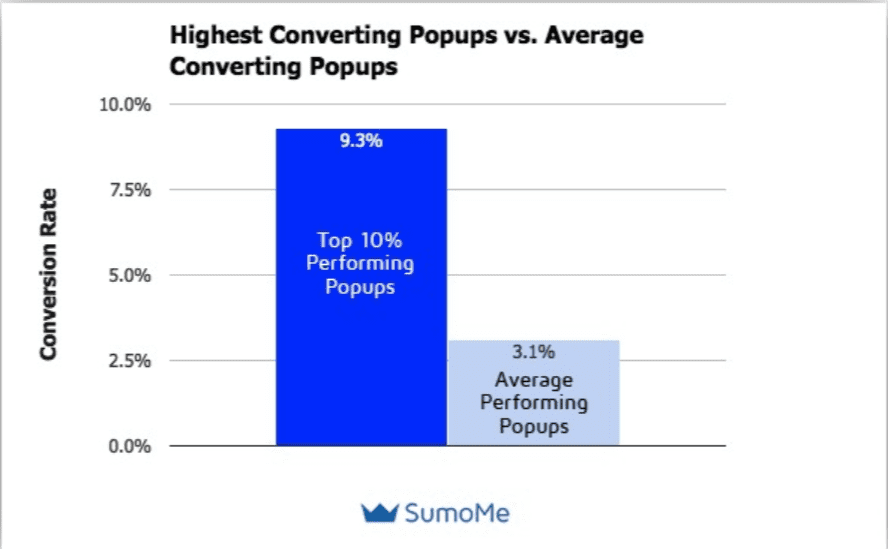 Source: SumoMe
Let's consider an example,
Create a pop-up survey with ProProfs Survey Maker
Step 1. Click on create survey tab on the dashboard

Step 2. Click on create pop-up survey tab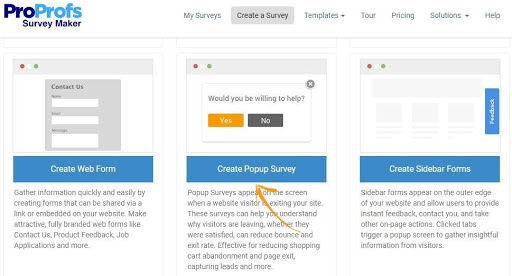 Step 3. Either choose from scratch or select a template.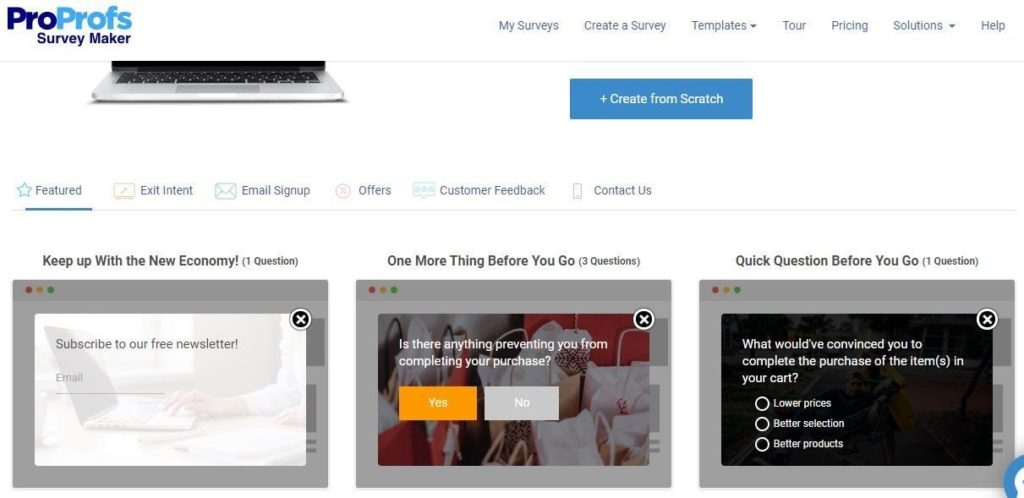 Step 4. Select a template by clicking on the preview. Then select, 'use the template' option.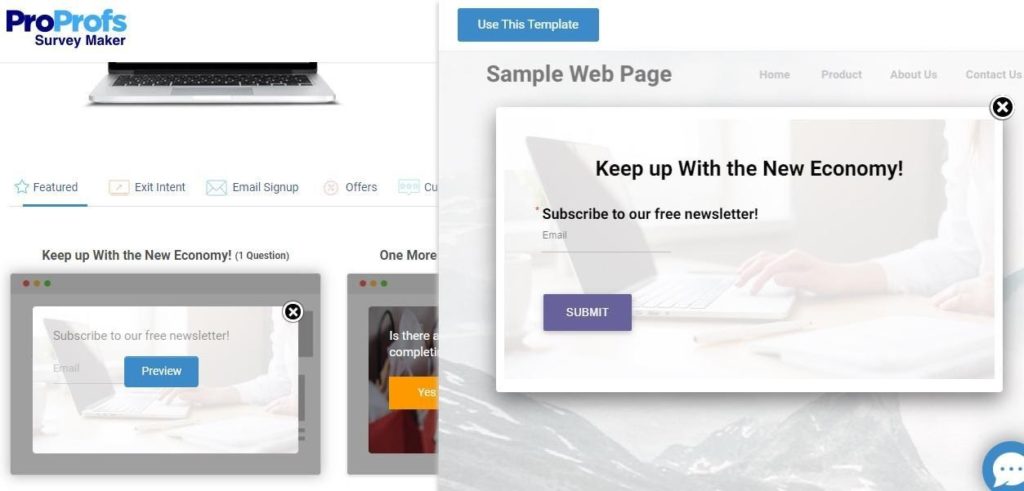 Step 5. Click Popular Settings to expand popup trigger settings.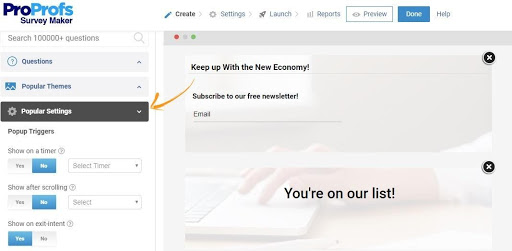 Step 6. Select appropriate popup triggers based on your requirements.
Show on a timer – Set a time limit for pop-up triggering.

Show after scrolling – This setting allows you to show the popup after the user scrolls 'x' % of your page.

Show on exit-intent – Make this setting if you want to show the popup when the user is about to exit the page.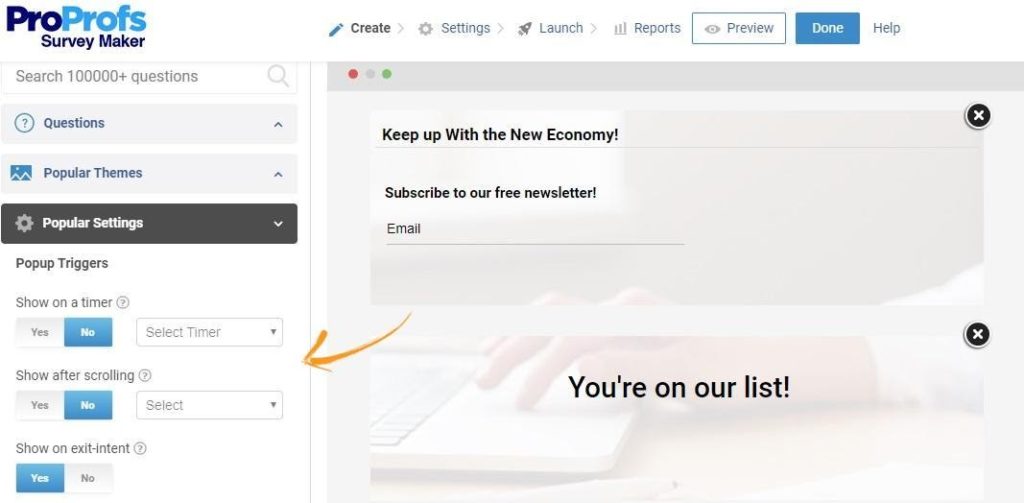 Step 7. Preview your pop-up survey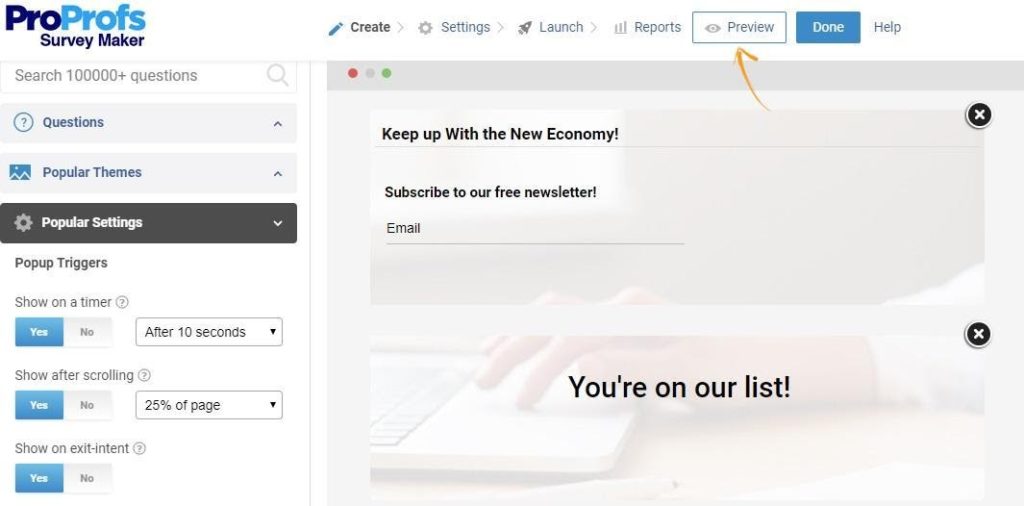 Step 8. The preview appears as shown below: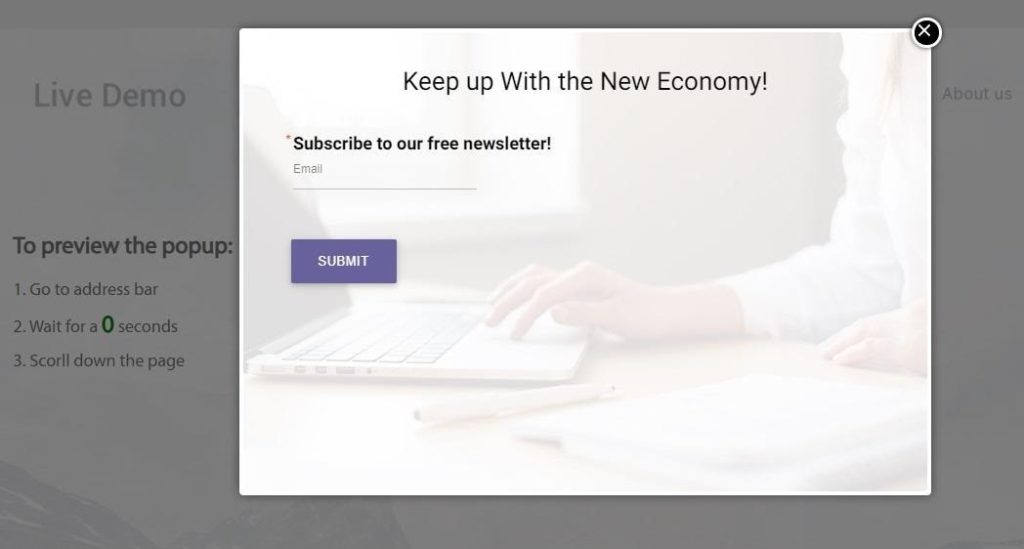 Step 9. Save the changes by clicking the done tab.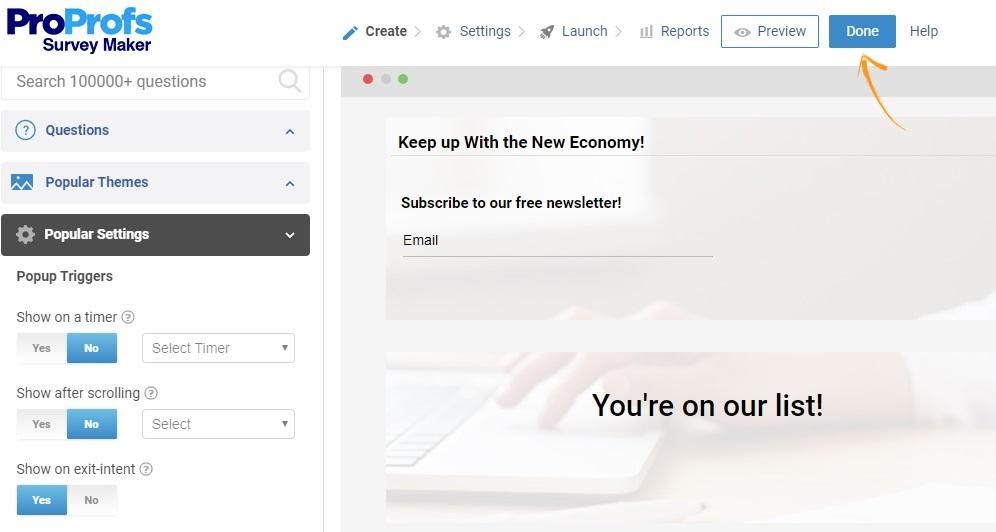 Your customers browse a product page on your website. They love the product and make a purchase. This is an opportunity for you to collect website feedback. The product experience is raw and fresh in their mind. Show them a feedback widget and request for feedback.
A feedback widget appears like this:

In the above scenario, Proprofs customers are shown a feedback widget after they purchase a product.
Feedback Buttons/Sidebar forms
It often happens that we all are multitasking. We eat breakfast with one hand, check our mails with the other. The same goes for our customers. They might be busy juggling different tasks and they might ignore the pop-up or feedback widget on your website.
How do you manage to get their feedback? By making use of the feedback button on your website.
The feedback button is a button/icon used to collect passive feedback from a customer on your website. The button is visible at the sidebar or bottom bar of the website.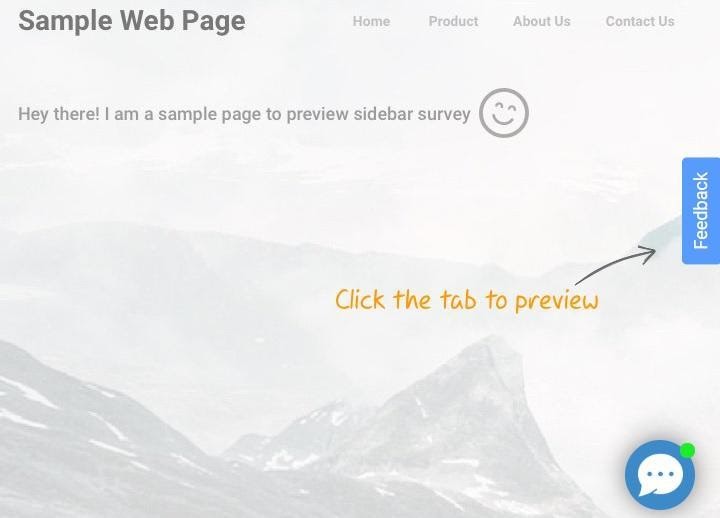 It is big, clearly visible, and accessible. Customers click on the button, and drop-in their feedback at their convenience.
Good practices to keep in mind while designing on-page website surveys:
Create an exit intent survey to collect feedback from visitors who just visited one page on your website.

Select widget colors that are most suitable for your website, thereby increasing the response rates.

Make your feedback button always visible to get the best conversion rate.
#2. Live chat
As a business, it is always important to know what your customers think about your brand. Thanks to live chat, you can understand what's on your customer's mind once the operator ends the conversation with the support tool. Once a conversation comes to an end, you can send a post-chat survey form to the customer to understand:
Did the team satisfactorily answer their product or service questions?

Were they happy with the speed of resolution of a challenge and so on.
For example, ProProfs Chat uses a Post Chat Survey after a customer conversation to collect their feedback on the experience.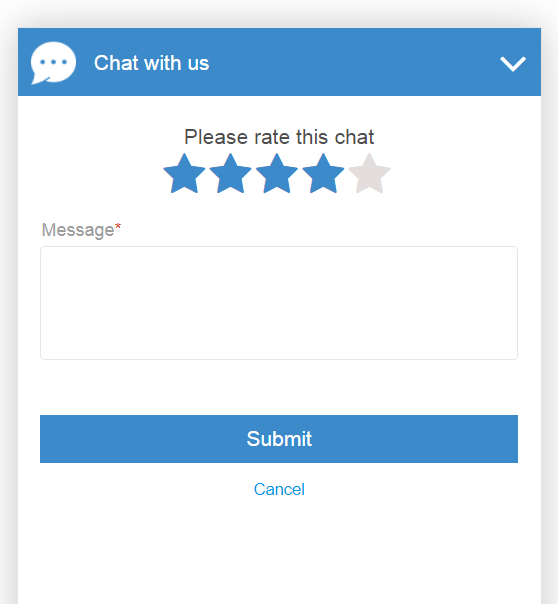 Good Practices:
Make use of pre-written surveys to increase the response speed

Use portraits for better engagement and conversion rate

Integrate Live Chat with Google Analytics to analyze live conversions
#3.

Incentivized

Feedback
Sometimes, customers need an extra push to give reviews. Incentivized feedback is an excellent way to persuade them to share their thoughts. With this, you send out a positive message of valuing your most loyal customers.
An incentive can be in the form of a discount, gift voucher, free ebook, etc in return for taking a website survey.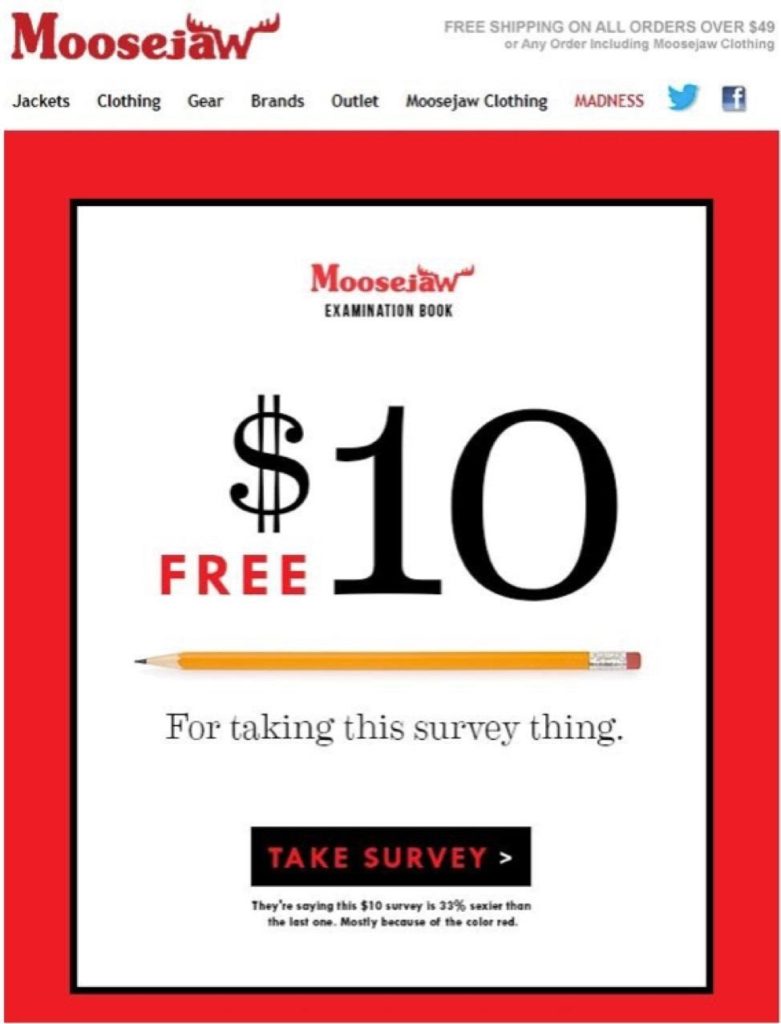 Source: Emailnewsletterexamples
Good Practices:
Give priority to your most loyal customers while giving incentives.

Sometimes you can associate the incentive with some cause your target audience believes in like charity. This acts as a motivation for people to take up the survey.
#4. Customer Interest-Based Feedback
This technique is akin to a GPS tracker, tracking your customer's movements and behaviors, yet in a non-intrusive manner.
Herein, the interest of the customer is gauged to know the customer profile.
For example, when you look for a property on LoopNet, your preference is collected in 4 categories: For Sale, For Lease, Auctions, Business For Sale

Source: LoopNet
Analysis of customer profiles over time shows the buyer personas based on different factors like age, location, gender, etc. Accordingly, you can target your marketing campaign based on appropriate cost analysis.
Good Practices:
Make sure that you collect their interest the moment they enter your website.

Keep a detailed list of returning customers to understand their behaviour over time.
#5. Feedback Pages
Feedback pages are a great way to collect customer feedback without bugging them all the time. Feedbacks are best collected when they are left at the convenience of the customers. Have a dedicated feedback page on your website. Let your customer get back to you anytime, at their convenience. With flexibility, you are bound to get more in-depth and comprehensive feedback.
We here at ProProfs value customer feedback. Hence, we have a dedicated suggestions page for our customers.
Here's how it looks: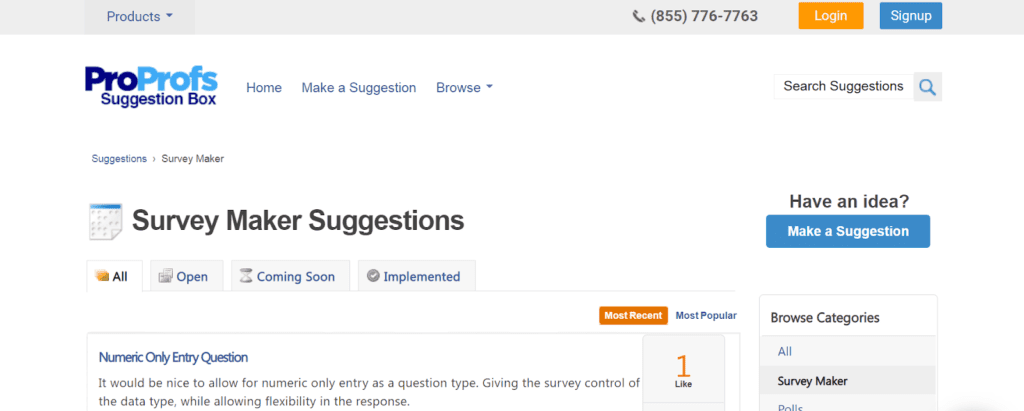 Good Practices:
Place it in easily accessible areas like header or footer of your website.

Keep the survey simple and easy to understand
Read more: 42 Best Customer Feedback Software For Your Business
#6. Product Reviews
Product reviews give feedback on your product's performance. The presence of honest and genuine reviews online impacts the brand visibility. They create possibilities for better understanding of the product/service. More positive the reviews, the better chances of you acquiring more customers.
If you are keen on adding more positive reviews for your brand, then the following practices will come handy.
Ensure that you ask for a product review before they exit your website.

You can guide them to a product review tab on a third party website.

Encourage them to give comprehensive feedback. Comprehensive reviews help you to revamp your services as compared to a simple 5-star review.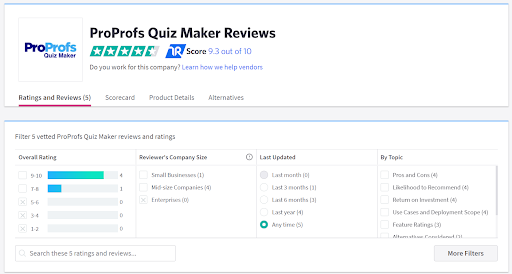 Source: Trustradius
#7. Community Feedback
Remember the time you looked up to online communities or discussion forums for an answer. These platforms are filled with numerous questions and answers on wide ranging topics. Be it what course to take, what software to use or how to use an appliance, these platforms collate inputs from different people worldwide and help people get clarity on issues.
That's the power of community feedback!
Successful organizations have an online community and discussion forums to engage their current and potential customers. It is one of the inexpensive and convenient ways to collect regular feedback from your customers.
Good Practices:
Ensure that the community page is an integral part of your website.

Place them at a high converting location like the sidebar or top bar.
For example, ProProfs has an online community ProProfs Discuss to discuss varied questions.

Now, let's understand the best questions to ask while collecting customer feedback.
Best Questions to Ask While Collecting Website Feedback
While collecting website feedback, you can ask a number of questions to understand customer loyalty, customers' views of your website, product purchase queries, etc.
1. NPS Question: An NPS question tries to understand your customer loyalty on a scale from (0-10). It relies on a single question "How likely will you recommend us to your friends and family?" to judge your customer sentiments.
2. Product Related Questions: Product related questions are important post purchase, after product usage as well as post a customer support query. It is one of the easiest ways to improve your products and services.
Some product related questions:
How do you rate our product purchase?

Why did you purchase our product?

How many competitor products did you consider before purchasing from us?

Did we clearly solve your product related problem?
Read More: Checkout the Best Product Survey Questions
3. Website Usability Questions: Herein, you can collect information about your website's performance. Since a website forms the first point of contact with your visitors, it is ideal to create a good first impression.
Some website related questions:
Did you like our website design?

Are the contents of our website relevant?

How did you hear about our website?
4. Lead Conversion Intent Questions: With these questions, you get to know whether there is a probability of a website visitor converting into a customer.
Lead conversion intent questions:
Are you planning to purchase our products?

Did you find the information that you were looking for?

How often do you visit our website?
Read More: 250+ Survey Question Examples For Your Feedback Forms
Increase Your Customer Base with Website Feedback
With regular website feedback, you can be well prepared to address the needs of your customers. Everyone loves to be valued, and their needs to be taken care of.
Give your customers the extra care by valuing their tiniest query!
Never ignore the pulse of your customer. Feel it at the early stages and ask for their feedback.
Even if the feedback is negative, use it to your advantage!
Collect instant feedback using Popup Survey, Livechat, Feedback Widgets, etc., and get into your customer's mind. Make sure that you put forth the right questions at the right time. Learn to create NPS, Popup, and CSAT Surveys with ProProfs Survey Maker. Give a memorable user experience and delight your customers!
Do you want a free Survey Software?
We have the #1 Online Survey Maker Software to get actionable user insights.