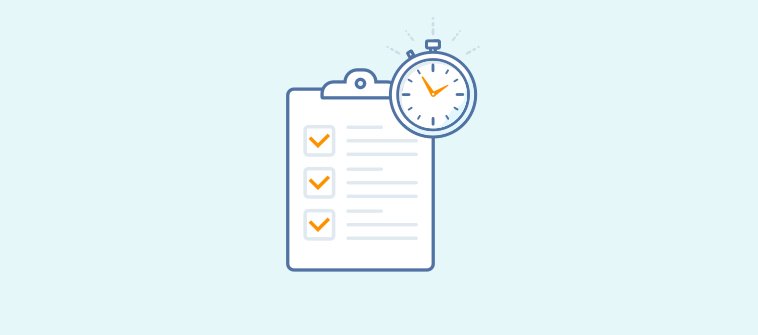 There was a time when businesses had to run after customers with survey hand-outs – leading to frustrated customers and dejected employees. Isn't it heartbreaking when customers refuse to fill out your survey or make paper planes out of them?
Don't worry. It doesn't have to be like that.
To send a survey, you do not need to print thousands of copies or conduct hour-long interviews. With online survey software, you can distribute surveys via email, social media channels or embed them on your website or mobile apps.
When surveys are shared on the right channels at the right time, you can enhance customer engagement and research effectiveness. You will be surprised to know that customers love participating in surveys they can take when they want and on a device of their choice.
In this blog, we will explore 5 online survey distribution methods that will help you reach millions of people in a matter of seconds. We will understand the pros and cons of each online channel and offer some best practices to attain your survey goals!
Let's go!
5 Online Survey Distribution Methods You Should Explore
Do you wish to discover the popular online channels for your customer feedback and research goals? Here are 5 survey distribution channels, along with their unique pros and cons:
1. Email Survey Distribution
As the world population reaches 8 billion people, there is no doubt that email is used by the majority of them for personal and professional communication.
In the year 2021, the number of global email users amounted to 4.1 billion. This figure is expected to exceed 4.5 billion by 2025.
There was a time when brands used to send out surveys via direct mail. However, that proved to be an expensive and time-consuming process. Soon email came into the picture and revolutionized the whole feedback collection process. Today, most marketers and research professionals use this cost-effective channel to share surveys in bulk.
Pros of Email Surveys:
Email surveys can help you reach a broader audience. With an online survey tool, you can share your survey with millions of people in just a few clicks.
The best part about email is that you can give customers enough time to respond. Customers can open the email at their convenience (morning, at work, or evening) and fill out your survey.
Emails can include contextual information about the "why" of your survey or research. For example, you can include a detailed description describing why you conducting the survey in the email body or add suitable images.
Another advantage is that email survey sharing can be automated. You can choose to trigger these surveys at periodic intervals or at specific times.
Cons of Email Surveys:
Whether you wish to survey potential customers or existing ones, you will need the email address of your target audience. Without the correct email id, your survey will never reach the person's inbox.
Oftentimes, it is possible that your email might land in the spam folder. In such cases, people will never discover your survey leading to a poor response rate.
Best Practices:
Most people procrastinate reading emails or taking action after they read one. Therefore, you must send a survey with a deadline (when the survey link will expire).
Almost half of the people will open their emails on their smartphones. So it's important to optimize your email surveys for mobile devices.
Read More: Email Surveys Guide: Types, Questions, Tips & Examples
2. Website Surveys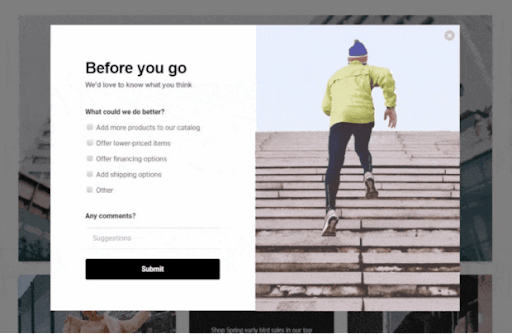 Sometimes, all you need to survey your audience is a business website. We will be surprised if you don't have one already. Let's understand more about this popular survey distribution method.
According to a study, around 71% of small businesses have a website. Moreover, 85% of customers use the internet to discover local businesses.
You can position surveys on specific pages of your website and trigger them at the right time based on visitor behavior. For example, if a visitor is reading a helpful article, you can trigger the survey (Do you find this article useful?) after around 2-3 minutes.
Pros of Website Surveys:
Website surveys are much faster compared to other online channels, such as email. You can grab the attention of website visitors in real-time and politely ask them to share their valuable feedback.
These surveys also offer greater flexibility in design. For example, you can customize the survey font, color, and theme to match your website's visual appeal.
Web surveys also give you the opportunity to collect feedback about your website's UI and UX. For example, you can understand if customers are happy with the website's loading speed or the checkout process.
Another advantage is that these surveys help you obtain feedback about specific pages. For example, you can understand if visitors are happy with the information offered on the FAQ page.
Cons of Website Surveys:
When people are browsing your website, they can view web surveys as intrusive. It can hamper their overall experience and make them abandon your site.
These surveys are great for getting specific feedback about website elements such as page speed, UI, etc. However, they might not be suitable for capturing general feedback about your business.
Best Practices:
To encourage participation, you must tell your audience how long it will take to complete the survey. Be honest!
Before sending a survey, ensure it is designed to perfection. The survey popup should not cover the entire screen, and it should blend with your website's overall design aesthetics.
Avoid the use of unnecessary notification sounds for survey popups. This can irate your web visitors and make them skip the survey.
Read More: How to Create Popup Surveys for Your Website
3. Social Media Surveys & Polls
Whether you love uploading stories on Instagram or scrolling your Facebook feed, we all spent a considerable amount of time on social media. So, why not use this channel to know your customers better?
According to Statista, over 4.26 billion people were using social media worldwide in 2021. This number is projected to reach almost six billion in 2027.
Social media surveys can help your brand connect with and engage customers and non-customers alike. If done right, they can give wings to your online content strategy and make your brand stand out.
Pros of Social Media Surveys:
Social media surveys give your business the opportunity to engage your followers no matter where they are. Instead of long, boring posts, you can enhance engagement with interesting questions.
Another important advantage is that you can get creative with your surveys. You can gain insights about your audience through fun surveys or polls. For example, an ice cream store owner can simply ask, "Chocolate, Vanilla, or Strawberry?
Social media surveys are less intrusive compared to website surveys. People themselves choose to follow your page and won't mind filling out a small survey.
The responses obtained from these surveys lead to easy data analysis. Most social media surveys include closed-ended questions that make analysis much easier.
Cons of Social Media Surveys:
If you are looking to survey a specific demographic (let's say, working women between the age of 20-40 years), social media might not be the best option.
Another challenge is that social media platforms such as Facebook and Twitter are quite different from each other. You will need different content to promote and share your surveys on these different platforms.
Best Practices:
Avoid sending surveys or polls too frequently, as it can impact your social media content strategy. As a best practice, you must limit them to 1-2 every week.
Try to offer an incentive to your survey participants. This can be a small online shopping voucher or a free product trial.
Avoid taking serious feedback on your product or services. Some followers haven't used your product yet and may not have anything to say about it.
4. In-App Surveys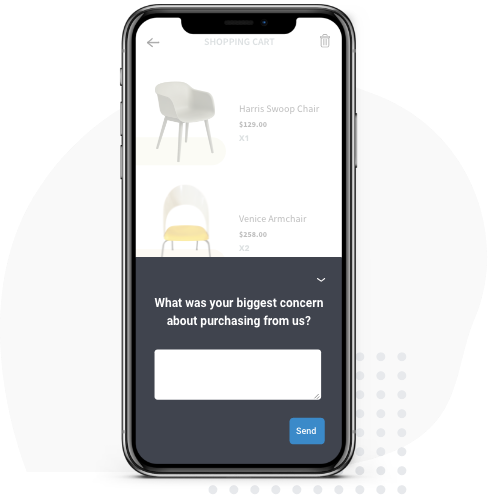 When was the last time you checked your smartphone? Probably, just seconds ago, or maybe you are reading this article on it. Thanks to technology and innovation, owning a smartphone isn't a distant dream for many.
The average smartphone user spends close to 3 hours and 10 mins each day using their device. In addition, apps contribute to 90% of smartphone usage.
In-app surveys are an easy way to connect with customers when they have downloaded your mobile app. Your business can capture relevant feedback on how happy customers are using your app or how they view the individual features.
Pros of In-App Surveys:
In-app surveys can help you improve your app performance. You can identify customer pain points and resolve them for a smooth experience by changing UI or releasing and encouraging more frequent app updates
These surveys can be used to encourage customers to rate your mobile app on the leading app marketplaces such as Google PlayStore or Apple App Store.
In-app surveys can help your product team capture feature requests from app users. Customers can request the new features they would like to see in future updates.
With the help of an in-app NPS survey, you can identify your top promoters and detractors. Gauge customer loyalty and identify at-risk customers.
Cons of In-App Surveys:
When you send out a survey on a mobile app, it can be intrusive, just like website surveys. If your questionnaire covers the entire mobile screen, it can hamper the in-app experience.
The use of multiple open-ended questions can deter people from participating in your survey. They might skip the survey and continue using the app.
Best Practices:
For in-app surveys, personalization is the key. Try to use their names and ask them questions based on their current stage in the user journey.
Do not send surveys that include long or complicated questions. Make sure your surveys do not take up more than a minute to complete.
To make your surveys fun, you can adopt multiple question types such as sliders, buttons, emoji scales, or rating scales.
Read More: How to Create an In-App Survey
5. QR Code Surveys
QR code stands for Quick Response code, which is a square-shaped barcode. Customers can scan it using their smartphones or tablets to access the embedded survey.
Around 75.8 million smartphone users in the US scanned a QR code in 2021 using their mobile devices.
QR code surveys can be used in different settings to take customer feedback. Particularly in situations where you do not have the email addresses or phone numbers of your customers. For example, you can use these codes to capture feedback from people who enjoyed a meal in your restaurant.
Pros of QR Code Surveys:
QR codes are quite easy to generate. With the right platform, you can generate hundreds of QR codes that link to different surveys or web pages.
Strategically placed QR codes can help your business capture contactless feedback. There is no need to sanitize those expensive touchscreens as there is no need for contact.
These codes can be placed on multiple online and offline channels, such as web pages, digital portfolios, PDF files, marketing banners, brochures, business cards, etc.
You can capture feedback from people who might not speak your language. QR codes are universal and can be understood by people even if the text surrounding the code is written in a foreign language.
Cons of QR Code Surveys:
One of the major drawbacks of this survey distribution method is that not everyone is aware of how a QR code works. This can severely impact your response rate.
Not all smartphone cameras can automatically scan a QR code. This means your customers will have to install a separate app on their devices.
Best Practices:
Since scanning a QR code can be a time-consuming process, you should keep your surveys short (at most 2-3 questions).
Simply placing a code is not enough. Add supporting text that explains the purpose of the research and thank them for their participation.
Explore marketing opportunities. You can include a CTA button on your Thank You page that shares a discount code.
Read More: Customer Satisfaction Surveys: 100+ Questions & Examples
Ready to Send Surveys the Easy Way?
Just a single click and your survey will reach your target audience at lightning-fast speeds. Yes, that's the beauty of online surveys! However, the channel you choose to send a survey to customers can make or break your research.
While sending email surveys, make sure it is optimized for mobile devices. In the case of website popups, ensure they blend in with your website's design aesthetics. To encourage more participation, you can offer an incentive in the form of a discount coupon or access to a free product trial – anything that sounds attractive to your audience.
Sending out surveys is breathtakingly easy with ProProfs Survey Maker. You can share your forms, surveys, or polls via email or as a direct link. In addition, you can even choose to embed your surveys on your website or post it on the leading social media platforms for higher response rates.
Do you want a free Survey Software?
We have the #1 Online Survey Maker Software to get actionable user insights.