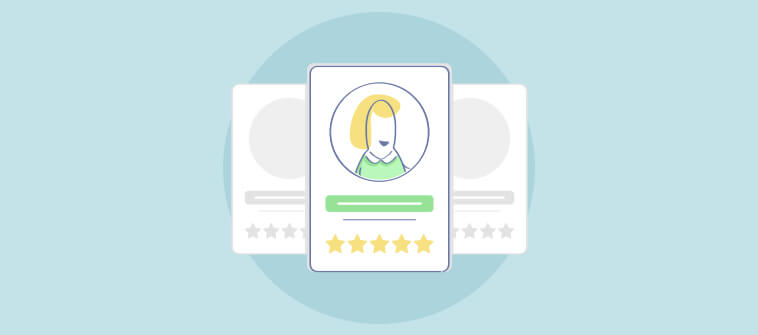 Immediately after an Uber ride, you are asked a heartfelt question,
" How was your recent trip with (the driver's name)?
After providing a star rating, you are asked to
"Give a compliment?"
Giving feedback at that time can feel like a task sometimes, especially when you are in a hurry to start/end your day. But it is this simple feedback that is helping Uber and other ridesharing companies keep only the best drivers on the road. Drivers are penalized if they get too many downvotes for rash driving, bad behavior or unprofessional attitude.
Feedback helps companies become aware of the things, they didn't know about their business earlier. It gives them an informed position where it is easy to take action.
The organizations that proactively invite and accept customer feedback have a better brand image. Studies have shown that nearly 75% of companies are perceived positively by the customers because of this reason.
Evolution of Customer Feedback
Customer feedback is not a new trend. The first-ever customer service feedback was given by a customer named Nanni way back in 1750 BC. In the feedback, inscribed on a clay tablet (now kept in the British Museum), Nanni had expressed his unhappiness towards the supplier on providing an inferior quality ore than the quality Nanni had initially asked for.
Sadly, there is no evidence if the supplier, Ea Nasir, took any action on the complaint. However, this incident led to learning that humans, since ages, have felt the need to be heard and understood.
I like to be listened to. And I'm sure you love that too.
An article by Psychology Today, explains it adequately. It says that people not only need someone who can listen to them, but they also want the listener to understand the intent behind their words properly. It can mean that the listener is like-minded, knows the speaker well and validates his/her existence. The speaker feels respected and cared for. It is the sense of feeling empowered that encourages customers to
Companies today are not ready to wait even for a day or even a few hours to know how the customer felt about a particular product or service. They want the feedback ASAP.
But before we proceed, let me explain what is it in the first place.
What Is a Real-Time Feedback Survey?
In simple words, the definition of a real-time feedback survey can be stated as the live review companies request the customers to give on their brand's website or mobile app, immediately after they have used a product or service. The collection of this qualitative data helps companies gauge the potential problems in order to smoothen the customer journey.
The feedback can be given in the form of:
What Are the Advantages of a Real-Time Feedback Survey?
Sales and marketing tools will always be a company's first preference for business growth and development.
However, little do they know that survey tools can be a crucial tool in revenue generation.
How?
Simply asking the customers questions regarding their experiences with the company/brand via real-time feedback/surveys helps companies in the following ways:
Improves understanding of their customers
Enhances knowledge about customer preferences
Increases customer engagement
Helps create a benchmark to improve their practices
Now, you might be thinking about why real-time and not later?
In times of text, emails and tweets, communication has become easier like never before. This ease is allowing information to spread faster. The pitfall is that in comparison with kind words, bad words about a brand can spread more quickly.
A case in point? Dell.
The computer brand had to face a huge backlash after a customer complained about its product and services.
Not being proactive with their feedback mechanism made them falter but the brand learned a lesson and now has a system called the Ideastorm for the same.
Being lazy in getting feedback has far-reaching effects than one can imagine. By the time, you'll approach the customer, they would have already talked about their experience with a number of people. In case the opinion is bad, you can imagine the magnitude of the loss of sales in this case.
Let's see how we can change the scenario? For this, we need to understand how the human mind works.
According to Peak-end rule, conceptualized in a study by Barbara Fredrickson and Daniel, what we feel about a past memory is not an average of the positive or negative emotions we felt at that moment, but what we felt at its peak and at the end of the episode.
The peak feeling of a customer's experience may be good or bad. If the feeling was awful, the chances of reinforcing the negative emotions increase manifold, if the survey is taken a few days or weeks after the interaction. Such a customer is already gone. No amount of effort will ensure his return.
Changing the customer's feelings might be difficult. However, you can always modify the impact it can have on your brand.
Getting feedback immediately after the sale or service can change the whole story. During events, feedback is gathered before, during and after the event through an online survey tool. A prompt follow-up makes the customer feel noted and worthy without being judgemental about the brand. It helps companies create a favorable brand image differently.
Other than this, there are some major benefits companies enjoy when they consider real-time feedback, which are:
Opportunity to learn and grow
Get the best out of the team
Review employee performance
Improve their products and services
Promote customer to recover
Bonus Read: Advantages And Disadvantages of Surveys
How to Capture Customer Feedback?
Now that we have understood the importance of real-time feedback, it's time to jump straight to how we can obtain the quality inputs. You'll find a number of ways, using which you can collect the customer's feedback. However, there is one unbeatable way that will definitely catch your attention, which is a reliable real-time feedback survey software to create surveys that can be easily added to your company's website, blog or Facebook page or shared via email, mobile app to collect a customer's valuable feedback.
Now you may think that it can be easily done by creating a survey form with a few questions to rate your products and services. But is it that easy?
About 75% of online surveys do not get even the minimum anticipated response rate so it makes sense to create surveys using the right software that will take the hit-and-trial method out of your strategy to make it more efficient.
Why Is Deploying a Survey Software Essential?
Deploying an online survey software helps you create surveys with a questionnaire that's more effective in getting you the desired response rate in the first place. Not just that, with automation features, distributing the surveys and personalizing to make them appear in line with your company's branding becomes easy too!
Still thinking how does a survey maker help improve customer feedback?
Let's have a look at the amazing features of online feedback software:
Beautiful Surveys: Help create beautiful and engaging surveys that encourage customers to share their valuable reviews.
Ready-made Templates: There is no need to waste time in brainstorming. You can choose from hundreds of ready-made survey templates

to start quickly.

Quick Customization: To give the survey a feel of your brand, customize them using your company's or brand's colors and logo.
Thoughtfully-asked Questions: Asking the wrong question or asking the right question in the wrong way is equally useless when brands are trying to resolve issues faster and strengthen their brand image.
Create NPS Surveys: Give customers the most convenient way to share how likely they are to recommend your business to a friend or a colleague on a scale of 0-10, using NPS surveys

. (Want to know

how to measure customer loyalty

using NPS Surveys? Read this.)

Here's a quick video on How to Calculate Net Promoter Score,
Do you want a free Survey Software?
We have the #1 Online Survey Maker Software to get actionable user insights.