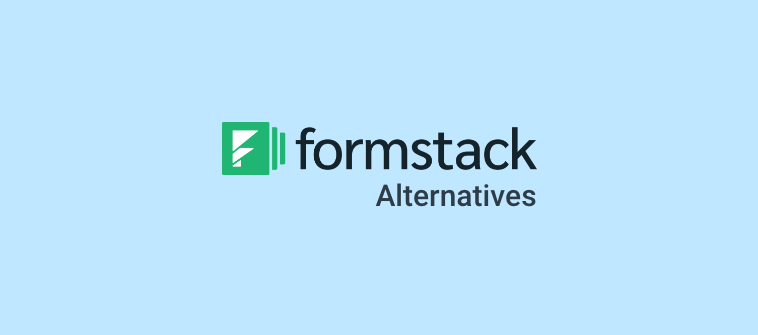 Looking for the best Formstack alternatives? You have come to the right place.
Let's explore what we have in store for you.
When it comes to finding tools for creating surveys and online forms, the choices are unlimited. It is true that the market is saturated with all kinds of software to simplify your tasks, and they all come with their own perks and detriments. However, this wide array of choices is also a recipe for confusion. For instance, let's take the example of the tool we have picked for today's discussion – Formstack.
As a multi-utility survey tool, Formstack works perfectly for some, while for others, there can be better choices for any number of reasons. If you are looking for a tool similar to Formstack but need clarification on what to choose, this blog will help you pick the right alternative to fit your business requirements perfectly.
Why Should You Look for Formstack Alternatives?
Personal preferences aside, most business choices are made on more solid, informed grounds. One may not like Formstack simply because they find other tools more efficient and fitted to their needs, but there are some proven cons of this software that are enough to make users reconsider their choice.
Here's a brief rundown of the complaints Formstack users usually put forth en masse.
It's not easy to use: Formstack claims to have a no-code, drag-and-drop editor that requires users only to select an element and drag it to its designated space. While that much is true, the supposed easiness quickly goes downhill when you have to click on multiple buttons to incorporate one feature into your form.

Users are also allowed to preview their changes only after a form goes live, and even then, sometimes, you have to edit the CSS code of your forms to prevent certain websites' themes from overriding your styling.
It's pricey: Formstack is one of the costliest survey tools out there, with the pricing getting outrageously high the more you veer towards premium tiers. It also does not have a free trial or demo session, so you have no way of knowing whether your investment will actually work for you.
Inadequate customer support: Formstack offers customer support primarily through generic contact forms that may or may not have your issue listed on them, and articles in the Resources & Learning section. A significant limitation of the tool is that, from the first paid plan through the fourth, you do not receive onboarding guidance when you sign up, and the first three paid plans are not even eligible for technical consultations at all.

The only way to add priority support to your plan is to take an additional plan worth $99. This only adds to the burden of an already high monthly plan for a feature as generic as customer support.
Limitations on features: Despite its high price range, Formstack does not offer any specialty form fields like GDPR agreements, password fields, or CAPTCHA. Each paid plan has a cap on form creations, themes, entries, storage, and integrations.
Difficult account management: With Formstack, every renewed entry into the website for any purpose, such as creating a form, making edits, or viewing the analytics, requires a fresh login. Thereafter, you must copy and re-embed the new link to every website you have incorporated your form in. What ensues is a never-ending back-and-forth that makes the process cumbersome and frustrating to users.
The next section covers the top 10 alternatives to Formstack that can mitigate these issues to provide a seamless market survey experience.
Let's dive in.
10 Best Formstack Alternatives & Competitors in 2023
Listed below are the 10 best alternatives to Formstack to let you create survey forms with ease.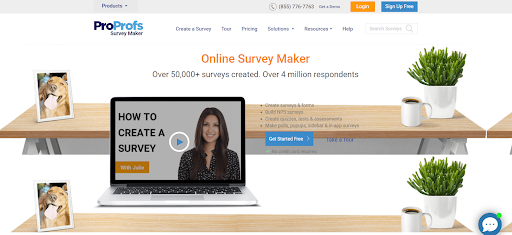 As one of the most efficient survey tools available currently, ProProfs Survey Maker can be the perfect alternative to Formstack. The software entails all the features you need for creating surveys, forms, quizzes, assessments, and more. It has a library of built-in templates that you can use to expedite the process, as well as a large array of themes and elements to align the forms to your ideas. Using this tool, you can create and store unlimited surveys/responses in minutes and analyze them either through the given analytics panel or by integrating the data into any chosen app.
Pricing:
Starts from $19 per month.
Used For: Creating multipurpose surveys & online forms, measuring customer satisfaction & loyalty
Third-Party Integrations: Mailchimp, Campaign Monitor, Zendesk, SalesForce, WordPress, Constant Contact, Freshdesk.
Suitable For: Small to medium-sized businesses & large enterprises.
Key Features:
100+ expert-designed survey templates & ready-to-use survey questions
Advanced NPS data segmentation to identify passive, promoter, and detractor customers
Various survey types, including MCQs, sliders, Likert scale, polls, quizzes, scored surveys & more
Option to add skip logic & branching to survey form questions
Advanced analytics to keep track of the survey responses for further analysis
Pros:
Supports multiple survey types
Makes it easy to measure customer loyalty through NPS survey forms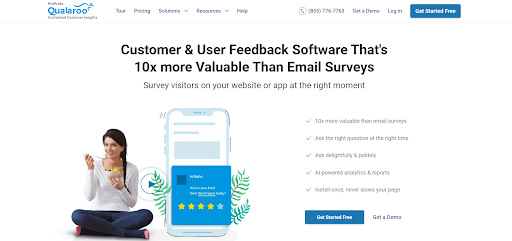 Qualaroo is a powerful survey tool that has the unique feature of allowing users to collect feedback from visitors while they are actively browsing the website. Other than this, the tool has a built-in form editor and a library of premade templates that help you create surveys any way you prefer. It is equipped with skip logic, advanced targeting, and design options to create highly personalized, efficient surveys in minutes.
Pricing: Starts from $80/month.
Used For: Pop-up surveys, market & audience sentiment analysis.
Third-Party Integrations: Salesforce, Zapier, Tableau, Intercom, Slack.
Suitable For: Small, medium & large businesses.
Key Features:
Proprietary NudgeTM to survey visitors live & capture responses instantaneously
Advanced audience targeting based on visiting history, payment history, traffic source & more
Exit surveys to understand cart abandonment & audience bounce
Branching & skip logic to customize the flow of surveys according to user responses
Intuitive questions to visitors based on the website section being browsed
Pros:
Multiple customizable survey triggers
Easy personalization options for surveys and templates
Multilingual surveys supported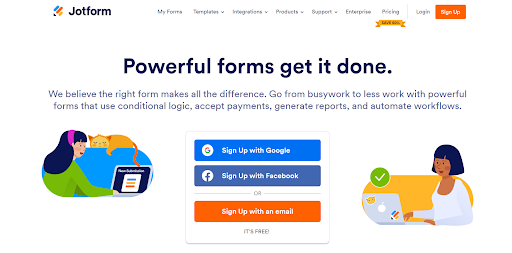 Jotform can be a powerful free alternative to Formstack as its free plan also includes a set of basic and premium features required to create well-designed market research forms. The tool's specialty lies in its varied customization options. You can incorporate any element in the forms to reflect your brand and creativity. Another striking aspect of the software is that you can embed payment links directly into the forms for an easy collection of payments, donations, etc.
Pricing: Paid plan starts at $34/month.
Used for: Creating HIPAA-compliant medical forms, conducting market research & collecting payments.
Third-Party Integrations: Cash App, PayPal, Google Suite, Slack, Zoho CRM, Hubspot, Salesforce, Keap, ActiveCampaign, Zoom, Dropbox, and more.
Suitable For: Small to large businesses.
Key Features:
No-code HIPAA-compliant forms ideal for the healthcare field
Unlimited customization options to match brand images or individual preferences
Integrates with a large number of third-party apps, including Hubspot, Slack, Google Sheets & PayPal
Fully syncs with Google suite for easy processing of events & automated scheduling
Pros:
Allows users to integrate into almost all the popular platforms seamlessly
Well-developed reporting & analytics features
Cons:
The forms are not compatible with mobile browsers because of their tendency to be cut off on the screen.
Customer support service needs improvement.
Read more: 10 Best Jotform Alternatives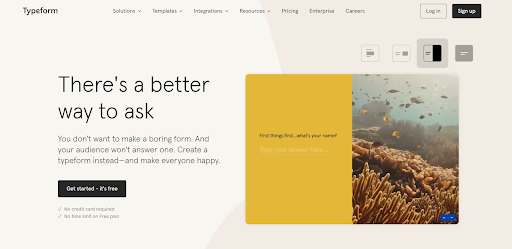 Typeform is an ideal market research and feedback app owing to its approach of presenting questions in a conversational format. The tool works exceptionally well in bypassing survey fatigue with its unique bearing and is ideal for gathering post-purchase reviews, gauging customer satisfaction levels, etc. It comes with a built-in photos and videos library that you can embed on your forms. What's more, you can also view the responses your audiences share in real-time and analyze them immediately.
Pricing: Starts at $25/month.
Used For: Boosting user satisfaction & analyzing customer sentiments
Third-Party Integrations: Slack, Zapier, ActiveCampaign, Google Sheets, Airtable, HubSpot, MailChimp, Google Analytics, Salesforce, and more.
Suitable For: Small to large businesses & enterprises.
Key Features:
Interactive, a one-question-at-a-time format in surveys to eliminate survey fatigue
Built-in photo & video library that can be embedded in forms easily to make them appear visually appealing
Customizable layouts & themes to make the surveys match a brand's image, tone of the survey, etc.
Conditional logic for a more coherent survey result
Simple, intuitive, mobile-friendly layout
Pros:
Easy to set up and get started with
Option to include unlimited questions in surveys & forms
Cons:
Technical glitch that causes survey forms to become unresponsive at times
No way to contact customer support except through emails
Read more: Best Typeform Alternatives in 2023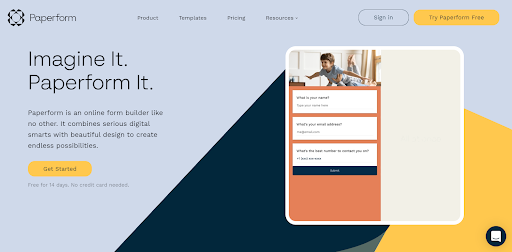 Paperform is a flexible, all-in-one form builder solution that helps businesses manage multiple actions within one single interface. Aside from creating multipurpose forms, the tool also allows users to sell products, take bookings, conduct interviews, communicate with customers, collect payments, and more. Paperform is equipped with an expansive library of themes, and the forms are completely customizable. You can also create your own themes by choosing from a color palette and embedding content wherever you want.
Pricing: Starts at $20/month.
Used For: Lead capture forms & market research surveys.
Third-Party Integrations: Google Sheets, Asana, MailChimp, ActiveCampaign, Slack, Trello, MailerLite, Dropbox, and more.
Suitable For: Small to mid-sized businesses.
Key Features:
Simple, intuitive drag-and-drop editor for creating forms fast
Option to set all tasks on autopilot to eliminate the need for manual supervision
Allows embedding of elements like multimedia, text fields, themes, custom HTML & CSS on the survey forms
27+ question fields with skip logic, conditional logic, scoring & calculation
Built-in payment options in the forms enable easy selling of products, services, subscriptions, etc.
Pros:
Fast & efficient customer support
Easy to operate with no requirement for technical knowledge
Cons:
Limited features in lower price tiers
Doesn't integrate with any cloud storage app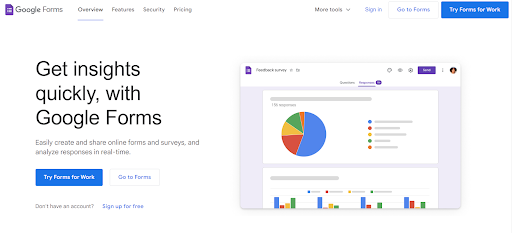 Google Forms is a vastly popular, simple form builder that comes free with the Google Suite. It is fast, efficient, and allows the creation of unlimited forms with unlimited fields. The tool is compatible with almost all devices, allowing users to create, edit, and access forms from any device with an internet connection. This feature also makes it easy for responders to fill out surveys at any moment, ensuring a higher response rate.
Pricing: Free
Used For: Market survey, gathering post-purchase feedback and intel on a demographic section.
Third-Party Integrations: As a free app, Google Forms can be integrated with any tool of choice.
Suitable For: Freelancers, small to large businesses.
Key Features:
Easy drag-and-drop editor to design the questions in any chosen format or order
Questions can have scores, skip logic, conditional logic and branching
Colors, fonts, and imaging can be personalized to suit a brand's theme
Coherent survey experience with skip and conditional logic that shows queries based on the responses
Analyzable responses with automated briefs & updates in real-time
Pros:
Supports surveys on all devices
Automatically saves data to clouds
Cons:
Limited customization options
Does not have a wide range of form/survey types
Read more : Best Google Forms Alternatives and Competitors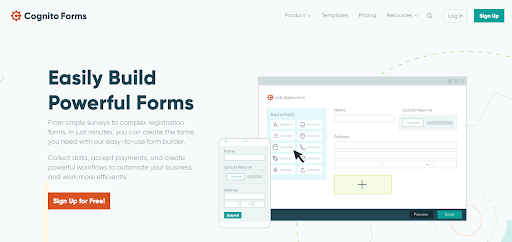 With an easy-to-use form builder, Cognito Forms makes it possible for users to create all sorts of surveys within minutes. The surveys can range anywhere from simple to complex, and are the most efficient at gathering market and audience data, automating workflows, accepting payments, etc. The tool offers sound logic branches, calculation fields, advanced data segmentation, embedded payment options, and more to simplify the process of data capturing for users.
Pricing: Starts at $15/month.
Used For: Market research, registrations, donation forms.
Third-Party Integrations: Google Analytics, Microsoft Power Automate, Zapier, Make, JSON Webhooks.
Suitable For: Small to large businesses.
Key Features:
Fully customizable forms to let users collect data in a way tailored to their requirements
Efficient, flexible workflows to engage the right audience at the right time
Advanced data management system that lets users view, sort & filter information as and when required
Integrates with payment apps like Square, Stripe & PayPal to enable direct acceptance of payments through forms
Pros:
Highly customizable forms with a variety of formatting options
Allows HIPAA-compliant forms
Cons:
Layout templates do not have filters or search options
Adding media to forms is difficult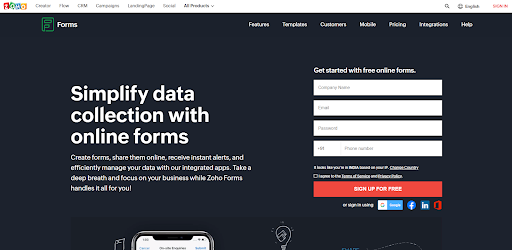 As a top form builder app, Zoho Forms is one of the best Formstack competitors in the market. It is equipped with a drag-and-drop editor that simplifies the process of form creation by much and saves all data to the cloud automatically. Aside from form creation, the tool also enhances productivity by supporting approval workflows, task assignments, and native mobile apps for both Android and iOS.
Pricing: Starts at $7/month.
Used For: Data collection, data management, task flow management.
Third-Party Integrations: All Zoho apps, Office 365, GSuite, Salesforce, Zapier, MS Teams, Google Sheets, WordPress, WebMerge, Automate.io, Integrately.
Suitable For: Small to mid-sized businesses.
Key Features:
Comes with a drag-and-drop editor as well as premade, customizable themes, designs & templates
Integrates easily with all Zoho CRM apps and GSuite apps
Option to build surveys both on desktops and mobile devices
Tracks conversion rates and other analytical data through Graphical Analytics
Offers offline support to enable data syncing at all times
Pros:
Easy to get started with & operate
Readily adds media to forms
Cons:
Haphazard data organization with no proper folder structures
No option to filter or search for a particular form
Users have to sift through hundreds of forms to find the one they are looking for
Read more: Best Zoho Survey Alternatives & Competitors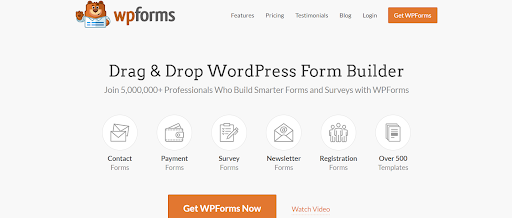 WPForms is a simple, no-code alternative to Formstack with a variety of use cases. The tool is equipped with a drag-and-drop editor along with a library of fully customizable, pre-built templates. WPForms streamlines the workflow by amalgamating all your leads in one place. Using this app, you get a relatively cleaner survey experience owing to its built-in, automated spam protection captchas that prohibit spam entries.
Pricing: Starts at $49.50/month.
Used For: Lead capture, contact and payment forms; surveys, newsletters.
Third-Party Integrations: HubSpot Forms, MailChimp Forms, SalesForce Forms, SendInBlue Forms, PayPal, and more.
Suitable For: Small to big businesses
Key Features:
1,000,000+ goal-oriented survey questions to help users understand their audiences better
Easy-to-navigate, intuitive interface with a drag-and-drop editor
Option to accept payments directly through forms and surveys
Create subscription forms that can be connected with the default email marketing service
Pros:
Easy to operate
Excellent plugin options
Cons:
Limited visual styling options
Needs improvement in conditional logic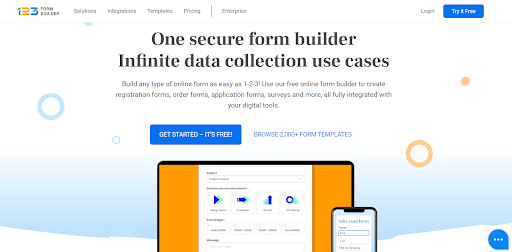 Last but not least on our list is the 123FormBuilder – a versatile Formstack alternative that you can use to build any type of form in minutes. The tool features a drag-and-drop form editor along with premade templates to get you started. Going a step further, it enhances productivity by automating the workflow, thereby eliminating the need for time-taking manual inputs. The app integrates seamlessly with a wide range of digital tools and works equally well on both mobile and desktop.
Pricing: Starts from $19.99/month.
Used For: Event registration forms, order forms, application forms, market research surveys.
Third-Party Integrations: SalesForce Forms, Google Workspace, MailChimp, HubSpot, Zoho, Wix, Marketo, and more.
Suitable For: Small to large businesses.
Key Features:
Simple, no-code form builder with 2000+ form templates
Vast integration scopes with 4000+ digital marketing tools
GDPR & HIPAA compliant forms to collect sensitive data securely
Form branching, conditional logic and prefill functionality to create self-customizing forms that auto-populate based on user responses
Highly responsive forms that work seamlessly on any device
Pros:
Supports unlimited API calls
Unlimited number of form fields
Cons:
Customer support needs improvement
Limited payment gateway options
You Are One Step Away From Choosing the Perfect Formstack Alternative
So, now you are equipped with knowledge about the top 10 tools that could be just the perfect solution you are looking for.
But we get that it's still not as easily done as said.
To make your decision-making process smoother, you can try comparing all the features you need for your business versus the features each tool provides. Follow by tallying them to see what comes closest to your requirements.
For example, if you are looking for a free alternative to Formstack, Google Forms and Typeform are good considerations.
On the other hand, if you are looking for an affordable, flexible survey tool with varied customization options and survey types, ProProfs Survey Maker can be the perfect choice for you.
So, that's all there is to the process. All you need to do is analyze your preferences and pick the tool that aligns the most with your requirements.
Do you want a free Survey Software?
We have the #1 Online Survey Maker Software to get actionable user insights.