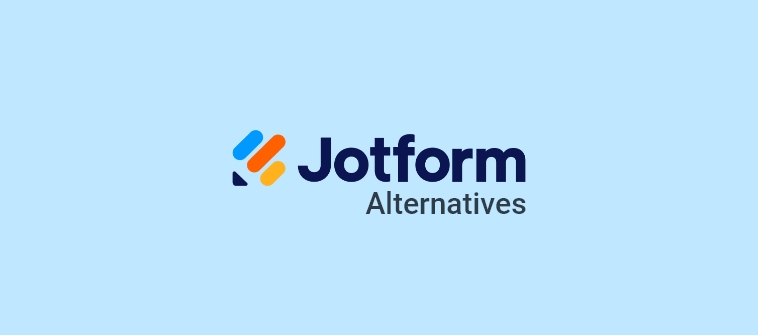 Looking for Jotform alternatives? Or looking for a way to create more complex forms? You have come to the right place.
Although Jotform is an excellent option available today for creating various forms, this tool is not made for everybody. The tool comes with its drawback that may not fit your needs. Also, it's always a good option to explore better and more robust survey platforms for all your data collection needs.
This is why in this post, we will discuss the top 10 Jotform alternatives with a detailed analysis of their features so that you can design more advanced forms to collect your customer feedback more efficiently.
Why Do You Need Jotform Alternatives?
There is no doubt that Jotform is one of the finest tools available these days for creating forms. However, despite having a range of excellent features and capabilities, the tool does have its share of shortcomings, like
Not suitable for creating advanced forms
Designing the form is limited and needs to be updated.
You cannot use your domain URL.
The customer service is also quite unreliable; you need to wait for a day or two to get a response.
It does not support arrays (forms within forms).
Considering these limitations in Jotform, you'd undoubtedly want to explore other options available on the market before you make up your mind. So let us have a look at some of the best Jotform competitors.
Feature Comparison Table For Jotform Alternatives
| Jotform Alternatives | Price | Free Trial Available | Third- party Integrations | Customizations options | Form Inbuilt templates | Reporting and Analytics | Form export options | Form security |
| --- | --- | --- | --- | --- | --- | --- | --- | --- |
| ProProfs Survey Maker | $0/month | Yes | Yes | Yes | Yes | Yes | Yes | Yes |
| Qualaroo | $0.0008/month | Yes | Yes | Yes | Yes | Yes | Yes | Yes |
| Typeform | $25/ month | Yes | Yes | Yes | Yes | Yes | Yes | Yes |
| Wufoo | $0/ month | Yes | Yes | Yes | Yes | Yes | Yes | Yes |
| BlockSurvey | $15/month | Yes | Yes | Yes | Yes | Yes | Yes | Yes |
| Kissflow | $10/ month | No | Yes | Yes | Yes | Yes | Yes | Yes |
| Form.com | Available on request | No | Yes | Yes | Yes | Yes | Yes | Yes |
| ProntoForms | $15/ month | No | Yes | Yes | Yes | Yes | Yes | Yes |
| Zoho Forms | Rs 580/ month | Yes | Yes | Yes | Yes | Yes | Yes | Yes |
| Formstack | $50/month | No | Yes | Yes | Yes | Yes | Yes | Yes |
10 Best Jotform Alternatives In 2024
Although Jotform is a robust-form builder tool, maybe your requirements over time have come to a situation where you need something more. By comparing different form-builder tools, you can find the right tool for your business needs. With that in mind, let's have a look at the 10 best Jotform alternatives: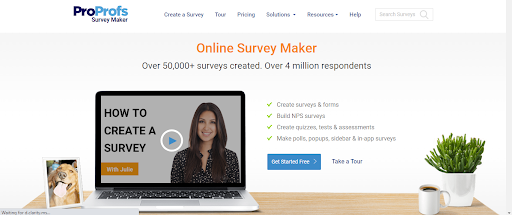 ProProfs Survey Maker is the best & free Jotform alternative available in the market. Using this tool, you can create engaging forms in minutes. Forms can be easily customized using logos, fonts, and colors as per your company themes. Once created, the forms can be easily shared via link, on social media, or by embedding on the company's website. You can also quickly analyze the data you collected using its advanced reporting feature.
Key Features:
100+ form templates and a library of 1,000,000+ survey questions.
Availability of different question types like multiple choice, text box, rating scale questions, etc.
Integration with third-party tools like Zendesk, Salesforce, and Mailchimp
Form and survey integration with Google Analytics
Reporting dashboard offers insights like who took your survey, when, and how
Availability of conditional logic feature to boost the response rate
Why We Picked It, What is unique about ProProfs Survey Maker?
Beginner-friendly interface
Automatic grading of customers' responses
The detailed reporting feature offers valuable insights into customer behavior
Choose it for: If you want to create simple, engaging, and customized forms without coding knowledge.
Pricing:
Starts from $19 per month.
Case Study:
Intel, a marketing-leading technology company, founded in 1968, needed to conduct some user-friendly surveys to gather "out of work scope" data. The company decided to use ProProfs Survey Maker as it found it simple and easy to use.
The tool's vast library of ready-to-use questions, customized survey options, and user-friendly interface helped Intel achieve its business objectives.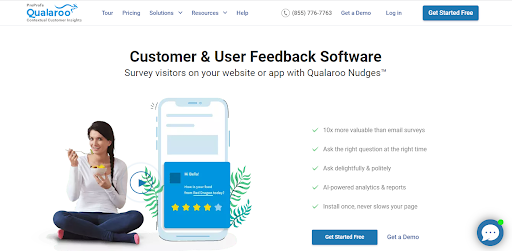 Qualaroo is another alternative to jotform that helps survey visitors on your app or website by gathering real-time feedback. It offers crucial customer behavior insights like who your visitors are, which website page they visited, etc. You can also install Qualaroo Nudge on your website to collect unique information about your visitors, such as what they think of your website, what they like about your product, and so on.
Key features:
Integration with tools like Slack, Google Analytics, Salesforce, Intercom, etc.
Availability of various professionally designed questions and templates
Analyze customer feedback text using sentiment analysis. Specific keywords will tell you whether your clients are happy, sad, or indifferent about your brand.
The AI-powered analytics tool provides real-time customer feedback insights and detailed reports.
Qualaroo Nudges can be customized.
Why We Picked It, What is unique about Qualaroo?
It can be used to obtain more valuable customer feedback.
It can be used on the website as well as on mobile apps.
Easy to use and beginner-friendly tool
Choose it for: If you want to capture user feedback on your website using advanced analytics, this tool is for you.
Pricing:
Basic plan starts at $0.0008 per month, billed annually.
Case Study:
Lalamove, founded in 2013, is an Asian logistics company, that deploys Qualaroo to speed up its customer research process. Qualaroo's Nudges are used by its different teams, such as its product and marketing teams, to design products and connect with customers.
It helps them figure out how happy their customers are with the products and services. Using Qualaroo, the company deploys questionnaires that reach thousands of people. The tool has helped the company design a seamless customer experience, which has led to a 20% – 30% growth rate each month.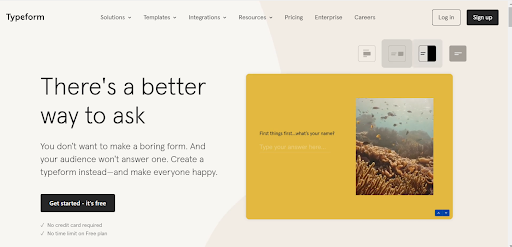 Typeform is another Jotform alternative, famous for creating engaging conversational forms, that is, one question at a time to keep the users engaged. You can also attach photos and videos to your forms. This jotform alternative tool creates professional-looking forms within minutes and that too without any coding. The data collected can be easily analyzed by exporting it to shareable reports.
Key features:
Ask the right follow-up questions using the conditional logic feature.
Share surveys by embedding them on the website, in the mail, or as a link.
Easy Integrations with Slack, Google Sheets, Hubspot, Mailchimp and others.
Custom layout and range of survey templates to make your surveys more attractive.
No coding is required.
Why We Picked It, What is unique about Typeform?
Easy to customize online form builder
Availability of 20+ question types
One can easily connect forms to third-party apps like Mailchimp that automatically sort the details you collect.
Choose it for: If you want to create engaging conversational forms with images and videos, then Typeform is the tool for you.
Pricing:
Basic plan starts at $25 per month, billed annually.
Case Study: Not Available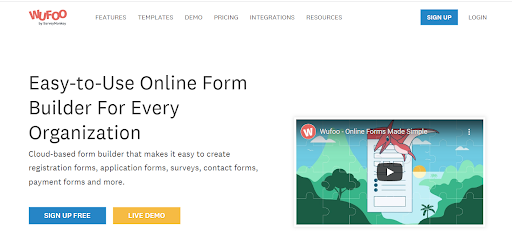 Wufoo is another tool similar to jotform that is a cloud-based and easy-to-use form builder. Using Wufoo, you can create a variety of forms like registration forms, application forms, payment forms, contact forms, etc. It was acquired by SurveyMonkey in 2011. You can easily design forms without any use of coding to collect data, files, and payments. Also, the forms can be easily shared by embedding them on the website or as a link.
Features:
Easy customizations to match your website or brand
Integrations with third-party tools like Asana, Salesforce, and Dropbox
Features award-winning 'drag and drop' form builder
Understand data insights using customized reports
Integrate your forms with popular payment providers like PayPal and Stripe to receive direct payments online.
Enterprise-level security measures to protect your data
Why We Picked It, What is unique about Wufoo?
No coding is required
Get an instant notification whenever someone completes their form.
Dynamic-based logic ensures respondents are only shown relevant questions.
Choose it for: Powerful and intuitive features that enable anyone to build beautiful forms online to collect data, files, and payments.
Pricing:
Basic plan starts at $0 per month.
Case Study:
Great Black Speakers (GBS) is an online Atlanta-based speakers bureau that assists universities, corporations, and high schools find high-quality African-American speakers for different events. The company was looking for a robust tool that provides a hub to all of their customers' data and, at the same time, offers a way to connect all the speakers in their system.
Wufoo allowed the company to easily collect and source information by asking the right questions with dynamic forms. The tool also helped the company streamline its data collection process by notifying the right person whenever a new lead comes in.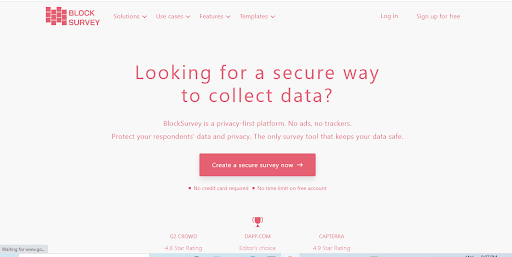 BlockSurvey is another Jotform free alternative that offers one of the most secure ways to design forms and surveys to collect customer feedback. It provides excellent data security to survey makers and respondents. It is an end-to-end encrypted survey tool with rich and intuitive features that offer you complete privacy and security.
Features:
No ads, no trackers, and no cookies
All data is encrypted in decentralized private storage.
200+ beautiful forms and templates
Customized forms and surveys to match your company's branding
Integration with apps like Zapier, Integromat, etc.
Advanced analytics to offer insights and ideas about your data
Why We Picked It, What is unique about BlockSurvey?
All your customer's responses are encrypted using your public key, so that only you can unlock it.
White-label services using your own domain
One can also thank a respondent for taking the survey with a 'thank you' email.
Choose it for: If data protection is your highest priority, then BlockSurvey is the best option for you.
Pricing:
Basic plan starts at $15 per month, billed annually.
Case Study:
Not Available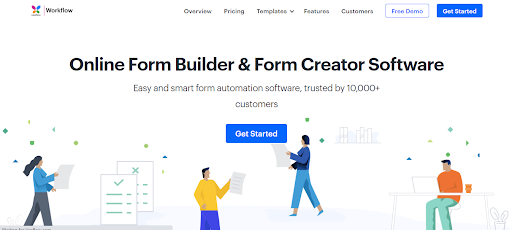 Kissflow is another Jotform competitor that offers a human-centric approach to design forms. Using this tool, you can create and edit forms online; either from scratch or from their dozens of ready-to-go, fully customizable form templates. The interface is simple for form makers as well as respondents. The tools also offer flexible pricing plans to suit every business's needs.
Features:
Dynamic forms tailored to your needs
Easy to read reports to obtain insight into customer data
Capture high- volume of data with customizable forms
Integrations with third-party apps like Salesforce, Mailchimp, and PayPal to streamline workflows.
Drag and drop interface
Why We Picked It, What is unique about Kissflow?
Forms can be easily created with 16 field types.
One receives real-time notification whenever the form is ready-to-use.
No coding knowledge is required to make forms.
Choose it for: If you want to create dynamic forms with different field types to automate your workflows, then Kissflow is the best option for you.
Pricing:
Basic plan starts at $10 per month per user, billed annually.
Case Study:
Not Available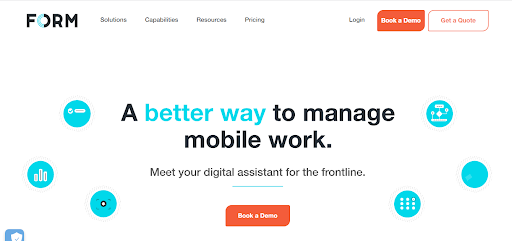 Form.com is one of the Jotform competitors that helps design mobile-responsive forms that work on all devices. It provides flexible design and advanced features that can be used to streamline all data collection processes that use forms to capture data – online or offline. The tool offers the "drag & drop" form builder that gives you complete control over your designs and allows you to quickly create forms without any coding knowledge.
Features:
Availability of 15+ question types to design engaging forms
Customers' responses can be grouped by region, participant type, and custom fields for detailed analysis
Google Map and Calendar plugins
Share surveys with your own custom links
Set filters to the reporting dashboard
Survey fields can be auto-populated based on locally-stored configurations.
Why We Picked It, What is unique about Form.com?
One can create visualizations like graphs or pie charts to view data trends.
Surveys can be customized.
Reports can be easily shared and exported in PDF, XLS, or SPSS format.
Choose it for: If you are looking for a flexible form-builder tool to manage countless forms every day, this tool is for you.
Pricing:
Available on request
Case Study:
Delicato Family Vineyards, one of the fastest-growing wine companies globally, was searching for a robust tool that helped collect customer data efficiently and offered a way to see data in real-time.
The company used Form.com to obtain real-time store-level data in the most accurate and effective manner possible. The tool not only helped in designing engaging forms to collect data but also streamlined the data collection process and offered a means of measuring and reporting, which helped the company understand its business performance.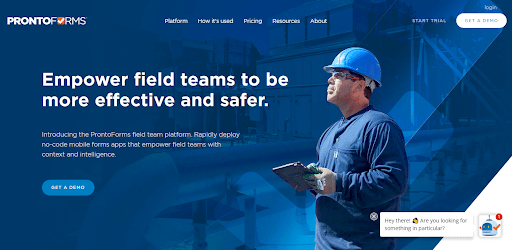 ProntoForms is another tool that is similar to Jotform & it is a leading robust mobile form and data-collection tool with enterprise-level mobility. It is built for companies with large field teams to achieve their goals and gather data. It makes it seamless with form automation for remote workers to gather data on a mobile device. They can also access company data in the field and automatically share the results.
Features:
Offline capability to ensure losing internet connection will not disrupt your field workers' tasks
Intuitive drag-and-drop builder to optimize the workflows
Extensive template library
Built-in form analytics to track conversions
Reporting dashboard helps track teams' productivity in the field and monitor compliance levels.
Scalable tool and improves the efficiency of large field operations
Why We Picked It, What is unique about ProntoForms?
Customized forms
Easy to use, no code software
Calendar integration
Choose it for: Best suited for organizations with large field teams looking for a way to automate their workflows and gather data.
Pricing:
Basic plan starts at $15 per month per user.
Case Study:
Cerfcorp, a publicly-traded Canadian enterprise in the construction industry, uses ProntoForms as the mobile business solution to help streamline and improve its processes. The company's drivers use the mobile form business application. As a result, there has been an increase in safety issue reporting and field communication speed.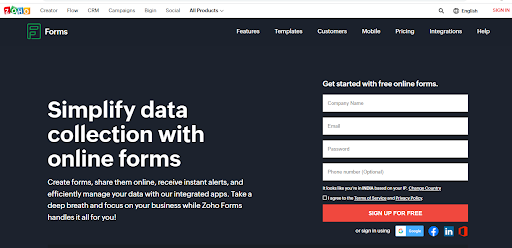 Zoho Forms is yet another tool similar to Jotform that allows you to create different types of forms and share them online quickly. It offers feature-rich form builder software with 30+ field types to create beautiful forms. With UTM tracking and form analytics, you can easily measure your form's performance and optimize it for better conversions.
Features:
Create, track, and manage different forms online
Pre-built form templates
100+ question types
Receive instant notifications whenever a new form is submitted
Easily export data to spreadsheets or to apps you use for in-depth analysis
Integrations with tools like Zapier, Salesforce, and Google Drive
Why We Picked It, What is unique about Zoho Forms?
Simple and user-friendly tool
Mobile responsive tool (works on both Android and iOS)
One can create forms online as well as offline
Real-time team collaboration
Choose it for: If you want to create professional-looking forms with your company branding, customizable theme, and a simple user interface, then Zoho Forms is the best option.
Pricing:
Basic plan starts at Rs.580 per month, billed annually.
Case Study:
Not Available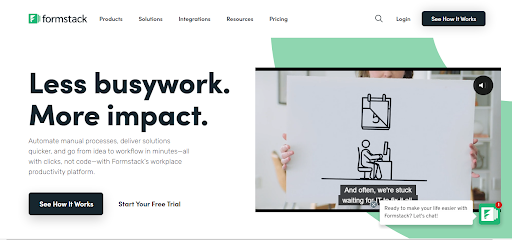 Formstack is also one of the best Jotform alternatives that allow you to create online forms without the requirement of coding knowledge. It enables you to collect customer data with the help of various types of online forms, like payment forms, surveys, job applications, and event registrations. Formstack forms can be integrated with your website without specialized tools or plugins.
Features:
It can be integrated seamlessly with 40+ other apps.
Forms can be customized based on your requirements.
A vast collection of templates and themes
Customizable and trackable reports
Easy to access widgets, fields, and payments from any device and location.
A simple method for collecting online payment
Why We Picked It, What is unique about Formstack?
One can create personalized forms for all-purpose
Conditional logic feature to build smart forms
Forms can be shared on the website and on social media
Choose it for: If you are looking for a simple online form builder to collect data as well as payment, then this tool is suitable for you.
Pricing:
Basic plan starts at $50 per month, billed annually.
Case Study:
Azusa Pacific University is a Christian university that offers more than 150-degree options, from bachelor's to doctorate. The university was looking for a way to streamline its student background check request process. Earlier, the university used to send a complicated PDF to employers who needed a background check on students. This process required manually compiling data into PDF and long email threads.
With the deployment of FormStack, the university has been able to streamline, simplify, and speed up its student background check process. Now, employers fill out a simple online form to ask for the student information they require. The department is automatically notified via Forms Workflows when a form is submitted. All form data and files are then transferred to Formstack Documents, automatically generating a final PDF package.
Choose the Best Jotform Alternative
With that, we conclude our list of the best Jotform alternatives to try in 2024. Remember, the best alternative is the one that suits your business needs at the best price. We hope this blog helps you in selecting the best JotForm competitor.
Do you want a free Survey Software?
We have the #1 Online Survey Maker Software to get actionable user insights.