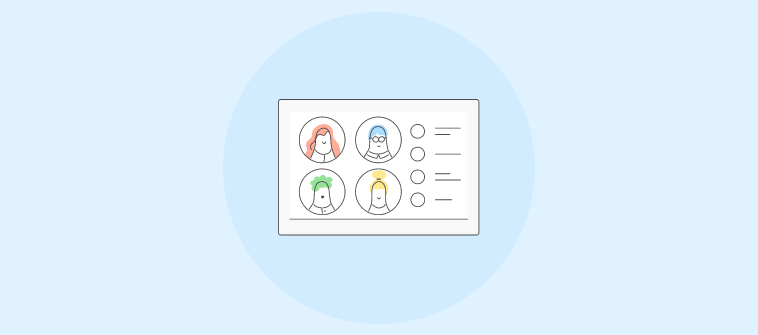 Today we're discussing the best 360 degree feedback tools in the market and why you need them in your business.
360 degree feedback is a process where a company collects feedback about employees via multiple sources, including colleagues, managers, supervisors, and even customers.
The feedback is then channeled to assess their performance, identify their strengths and weaknesses, and promote overall employee growth. So, it makes sense to set up a system to consolidate this multi-source data into one place and eliminate manual operations.
But how do you choose the best tool that fits your requirements?
There are several 360 degree feedback tools on the market, but not all are created equal. Each differs in terms of features, price, and ease of use.
Quite a challenge, right?
That's why we've compiled a list of our picks for the top 360 degree feedback tools to help you choose the one that suits your needs.
Why Do You Need a 360 Feedback Tool?
360-degree feedback tools are necessary for plenty of reasons. They act as a source of regular and specific employee feedback.
It can help in employees' career development and lets you identify the need for training. Moreover, 360 feedback tools can help you collect honest insights from employees.
Improved Communication Between Managers and Employees
Since 360 feedback is collected from multiple people, they provide a complete view of employees' performance in different areas. The manager can then initiate 1-on-1 discussions with their team members and develop better plans to improve the performance.
Increased Employee Engagement
360-degree feedback gives insights into employees' positive and negative traits.
You can easily see the areas where they excel and recognize them for their efforts, motivating them to do better.
In the same way, you can increase employee engagement by crafting plans to address the areas of improvement, as highlighted in the feedback.
Better Clarity About Employee Responsibilities and Roles
A 360-degree feedback tool helps to gain insights into how people around them perceive an employee.
For example, an employee may struggle to meet goals for one department but perform exceptionally well in another.
You can use this data to assign appropriate roles to the employee to improve overall efficiency and productivity.
Greater Transparency Around Performance Expectations
By collecting regular feedback from co-workers, managers, and customers, you can visualize what is expected from the employee and how they measure up against those expectations.
You get detailed insights on what needs to be improved to ensure that they perform to the best of their abilities.
You can also use the previous data as the benchmark to measure the improvements in the following feedback cycle.
9 Best 360 Feedback Tools to Map Employee Experience & Ratings
ProProfs Survey Maker is one of the best employee satisfaction and 360-degree feedback tools. It's perfect for gauging your employees' work-life balance and efficiency using surveys and feedback forms.
If you want the feedback to remain confidential, you can also lock the survey with a password to allow only select employees to access it. And with the in-built presentable reports, compare the feedback instantly to track quarterly or annual performance.
Used for: eNPS, ESAT, 360 feedback, presentation-ready reports
Suitable for: Small to big enterprises
Integrations: Yes
Review Score: 4.8 (Capterra)
Features
Drag-&-drop editor to design eNPS, Employee satisfaction score survey (ESAT), performance review forms, appraisal feedback, and other employee survey types.
Offers 20+ question types, survey themes, 100+ survey templates, skip logic, and survey scoring.
Supports question randomization, rebranding, and white labeling to align 360 feedback surveys with your business.
Send surveys via mail, company app, and SMS to collect feedback.
Presentation-ready reports and dashboards to analyze multi-source ratings and reviews in one place.
Integrates seamlessly with workspace tools like Mailchimp, Freshdesk, and Zendesk.
Pros
Added security with password protection to manage access to surveys.
Multiple reporting and data export options.
Cons:
Limited survey templates.
Comes with a learning curve.
Price
Starts at $50/month
SpiderGap is specially designed to let you gather and consolidate multi-source employee assessments under one dashboard. It's among the top free 360 feedback tools for getting honest and valuable insights about your employees' performance, behavior, and growth in the organization.
You can create customized surveys for your employees and choose to make the surveys anonymous if you want.
The best part about SpiderGap is the well-formatted reports that give you a detailed view of employees' strengths, weaknesses, and areas of improvement.
Used for: 360 employee feedback surveys, detailed calibration dashboards
Suitable for: Small to big companies
Integrations: Yes
Review Score: 4.8 (Capterra)
Features
Design employee performance questionnaires for performance and appraisal reviews.
Add participants to the SpiderGap dashboard using a CSV file or directly from the website.
Send the 360-degree feedback survey to team members and managers via direct link.
Manage multiple feedback projects for different teams under one screen.
Detailed reporting and dashboards to study the feedback data and track changes over time.
Pros
Multiple built-in report types to compare the ratings against the set parameters.
Offers a detailed summary of multi-source 360 feedback.
Cons
The tool UI needs to be more intuitive.
Requires more questions types and templates
Price
Starts at $989 per year for ten employees
Qualtrics provides a complete suite of employee experience management tools to measure engagement and growth from onboarding to exit.
Features like personalized employee reports, bird-view dashboards, anonymous feedback, and all-around business development services make Qualtrics one of the best 360 feedback software in the market.
You can run regular employee assessments to promote individual and team development at every level.
Plus, you can integrate the Qualtrics employee feedback system and your human resource tool into a single dashboard view to monitor workforce health and engagement.
Used for: Surveys, employee experience management, 360 degree feedback,
Suitable for: Medium to large companies
Integrations: Yes
Review Score: 4.7 (Capterra)
Features
Design pulse and long-form employee surveys like eNPS, ESAT, performance review, and others.
Collect employee feedback to map their experience at different stages of employment.
AI-driven analytics to compare employees' performance with core competencies.
Collect anonymous feedback to ensure honest and open insights from managers and peers.
Automatically projects 360 feedback into personalized reports to give insights into employee development.
Integrate with your HR and talent development tools to manage dataflows.
Pros
Set user roles and permissions with a click to ensure data privacy.
Offers centralized and flexible dashboards to track competency trends over time.
Provides dedicated services to set up employee development programs in your company.
Cons
Limited survey customization options.
Adding contract data to directories takes time.
Price
Contact for a quote
Read More: Best Qualtrics Alternatives
15five is another top 360-degree feedback software that lets you measure employee engagement and performance. The platform provides a complete suite of evidence-based assessment and easy-to-use analysis tools to facilitate seamless conversations between employees, managers, and peers.
You can conduct employee satisfaction surveys, performance reviews, topic-based assessments, and 1-on-1 meetings to collect 360º feedback from your workforce.
15five transforms this multi-source data into insightful charts and reports to recognize the top talent among the employee pool.
Used for: Performance review, 360-degree surveys, OKR dashboards
Integrations: Yes
Suitable for: Small to big enterprises
Review Score: 4.7 (Capterra)
Features
Design the complete performance review cycle across the organization.
Collect ratings and feedback from managers, peers, and other teams regularly.
Calibrate ratings from multi-source feedback into a dedicated dashboard to view employee progress.
Track performance ratings over time across the entire organization.
Identify strengths, weaknesses, and areas for improvement of employees.
Set OKRs to track every goal at the individual and organizational levels.
Integrate with your HRIS to automate data management.
Pros
Provides a built-in coaching hub to upskill team members and managers.
Automation tools to collect, consolidate, and track goals automatically.
Assign parent-child relations to manage user access roles to reports.
Cons
Need more flexibility to add goals to the dashboard.
The UI feels a little clunky and non-intuitive.
Price
Starts at $14/user/month
CultureAmp is an employee experience management that helps you improve employee engagement, performance, and retention.
The tool is ideal for HR professionals, managers, and leaders who want to improve the employee experience across organizations.
You can run periodic assessments to understand your employees, measure their performance, design growth plans, and track their progress. And with built-in reports and benchmarking data, you can build a better work culture.
Used for: employee surveys, experience management, performance reviews
Integrations: Yes
Suitable for: Small to big business
Review score: 4.7 (Capterra)
Features
Gauge employee experience at onboarding, appraisal, promotions, and exit.
Provides 30+ survey templates to collect 360 feedback from employees, managers, and peers.
Set and manage goals/OKRs to monitor individual and team progress.
Schedule 1-on-1 agendas to facilitate seamless conversations between managers and employees.
Consolidate multi-source 360 feedback into a single dashboard.
Integrate with workspace tools like Slack, Microsoft Teams, and Chrome.
Pros
Supports calibration reports for a fair and objective review for everyone.
Create growth plans and map the progress against company goals.
Send automated notifications across the organization about pending goals and training.
Cons
Lacks advanced reporting options for cross-team collaboration.
HR analytics needs more features and filter options.
Price
Contact for a quote
From performance reviews to goal settings and intelligent reporting, ReviewSnap offers plenty of features to evaluate and track employee experience. It's one of the best free 360-degree feedback tools that let you set SMART goals for your teams and monitor them in real-time.
Using feedback forms and rating surveys, you can collect regular employee feedback from managers and peers. The system automatically consolidates the data into visual reports to identify the team and individual strengths and weaknesses.
Used for: Employee surveys, performance management, 360-degree feedback
Integrations: Yes
Suitable for: Small to medium enterprises
Review score: 4.5 (Capterra)
Features
Collect multi-source feedback from peers, managers, customers, and subordinates.
Automate performance management process to collect periodic employee feedback.
Set up automatic mail notifications for pending and upcoming performance reviews.
Collaborate with teams within the tool. Add comments, notes, and relevant documentation with the feedback.
Set, monitor, and manage employee goals and cross-reference them with 360 feedback.
Create custom reports and dashboards to track individual and team performance.
Pros
Offers in-depth reports like performance history, rater bias, 9-box grid, rating distribution, and more.
Manage projects for multiple teams in one tool.
Cons
Template builder UI needs to be more intuitive.
Creating cross-team reports can be challenging.
Price
Contact for a quote
7. Alchemer (Formerly SurveyGizmo)
Alchemer makes collecting and analyzing 360-degree feedback easy with a dedicated employee experience management system. One of the best traits of the tool is automated reports that combine multi-perspective employee feedback into easy-to-visualize charts.
Just set the goals in Alchemer, and you can instantly compare how employee rated them in the self-assessment review versus how the managers and peers rated them.
Used for: Employee feedback, in-depth reports, comparison charts
Integrations: Yes
Suitable for: Small to medium companies
Review score: 4.5 (Capterra)
Features:
Create detailed employee spreadsheets to define team and supervisor relationships in Alchemer.
Easy-to-use editor to create 360-degree and 180-degree surveys easily.
Multiple question types, ready-to-use templates, branching, and skip logic to gather relevant data on employees from managers, peers, and team members.
Measure employee ratings against defined core competencies in Alchemer.
Supports multiple 360 reports to track strengths, weaknesses, and competency scores.
Pros:
Create and manage multiple 360 Review Projects for different teams in one place.
Multiple graph types like competency profile, two-factor leadership profile, competency scores, and more.
Cons:
Can be a little tricky to navigate.
Needs more employee survey templates.
Price
Contact for a quote
If you want to collect constructive employee feedback and anonymous direct reports from all team members, Typeform is the one to go for. Its ability to collect visual feedback makes Typeform a top 360 degree feedback tool for HR professionals, managers, and leaders. You can create beautiful conversational feedback surveys accessible only using the set password to ensure that only required people can interact with the review forms.
In the same way, you can set user access roles to restrict/allow managerial access to specific employee reports.
Used for: Employee surveys, engagement quizzes, review forms
Integrations: Yes
Suitable for: Small to big businesses
Review score: 4.6 (Capterra)
Features
Design and deploy employee feedback surveys, appraisal forms, engagement quizzes, and more.
Use the visual editor, custom form layouts, ready-to-use 360 feedback templates, and skip logic to collect targeted feedback.
Send surveys to the right employees via email, SMS, or link.
Collect visual and audio feedback with the VideoAsk feature.
Generate feedback reports to track individual responses.
Download and share the employee reports as XLSX (Excel) or CSV files.
Pros
Integrates with 30+ apps to help you visualize employee review data.
Comprehensive help section and tooltips for new users.
Cons
No calibration reports for consolidating multi-source feedback.
Limited filter options in the analytical dashboard.
Price
Starts at $35/month
Read More: Best Typeform Alternatives
Jotform is another 360 degree software that gives you instant access to over 70 employee survey templates for different use cases like ESAT, appraisal reviews, self-assessment, work-life balance, and more. The intuitive form builder makes collecting complete employee experience feedback from onboarding to exit easy.
The tool even has a native report builder so you can create consolidated reports to compile the feedback from different teams in a single point.
Used for: Employee satisfaction surveys, 360 feedback forms,
Integrations: Yes
Suitable for: Small to big businesses
Review score: 4.6 (Capterra)
Features:
Drag-&-drop form builder to create 360 degree feedback surveys and forms.
Design single and multi-page feedback forms.
Offers 50+ pre-built employee feedback templates.
Supports GA form tracking, SSL certification, and skip logic.
Use Recaptcha and SSL certification to enhance form security.
Send the 360 feedback survey via email and link.
In-depth reporting dashboard to turn multi-source ratings into visual graphs and charts.
Integrate with tools like Salesforce and Google Analytics to export/import data.
Pros
Collaborate with managers and employees within Jotform to track progress.
Ability to create custom graphs and dashboards.
Supports e-signature forms as well.
Cons
UI takes time to get used to.
Need a goal-setting dashboard to crosslink ratings with goals.
Pricing
Starts at $34/month billed annually
Read More: Best Jotform Alternatives for 2022
Features to Look for When Choosing the Best 360 Feedback Tools
Although different tools provide a multitude of functionalities, there are some basic features to look for in 360 feedback software:
Ease of Use
It's all for naught if it takes laborious effort to set up and work with the tool. So look for a tool that is intuitive and user-friendly. Also, comprehensive help guides and a knowledge base would go a look way to improve product adoption.
Customizable
The next feature to look for in a 360 feedback tool is the ability to customize it per your organization's unique needs. The software should allow for custom survey forms and reports to study the feedback.
Data Security
A competent 360-degree feedback tool should offer security features to protect employees' confidential data. Look for features like parent-child user roles, password protection, and anonymous data collection.
Affordable
Budget usually takes the front seat for any new project in any organization. The challenge is to find the tool that gets you the best bang for your buck, along with the features you need. Cross-reference the tool feature with the tool price and choose the one that provides the right mix of both.
Promote Overall Employee Growth With Regular 360 Degree
That's it for our list of the top 360-degree feedback tools for 2022. Explore the features of these tools and find the one that is a good fit for you and your team.
You can begin by choosing the tools that offer a free account or trial, like Proprofs Survey Maker. It will give you a good sense of the tool's usability and features. From there, narrow it down based on your budget to pick the best tool.
So, start working towards employee growth and great work culture with targeted feedback.
Do you want a free Survey Software?
We have the #1 Online Survey Maker Software to get actionable user insights.