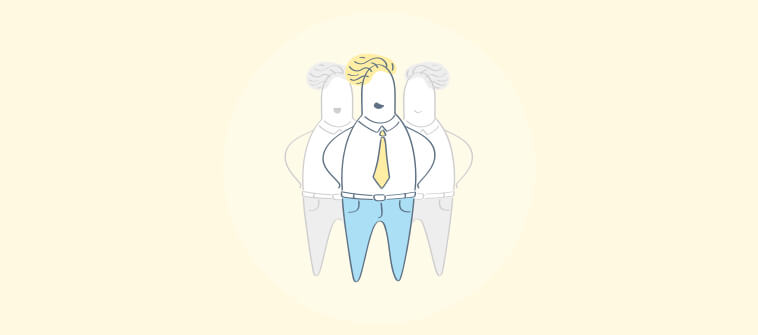 As people spend a significant part of their time at the workplace, job satisfaction is an important factor determining employee well-being.
However, employees, these days are no longer satisfied with just salary, hikes, or promotions. They look for something more tangible in the form of a positive employee experience.
A good employee experience is a combination of many factors like work challenges, good relationships with managers, career growth prospects, peer-to-peer communication, and more. Studies show that companies that invest in employee experience outperform the ones that don't by 4.2x times.
When your employees are happy, their efforts result in better customer experiences, leading to better organizational growth. Shep Hyken rightly says that:
If we consistently exceed the expectations of employees, they will consistently exceed the expectations of our customers.
This blog guides you on the actionable ways to improve employee experience and create a productive workplace.
What is Employee Experience?
Employee experience shows your employee's perception about your workplace: The type of job, job prospects, and challenges, pay and perks, team communication, training needs, work-life balance, etc are all components of employee experience. An excellent employee experience ensures that your employees contribute more productively to your organization's growth in the long run.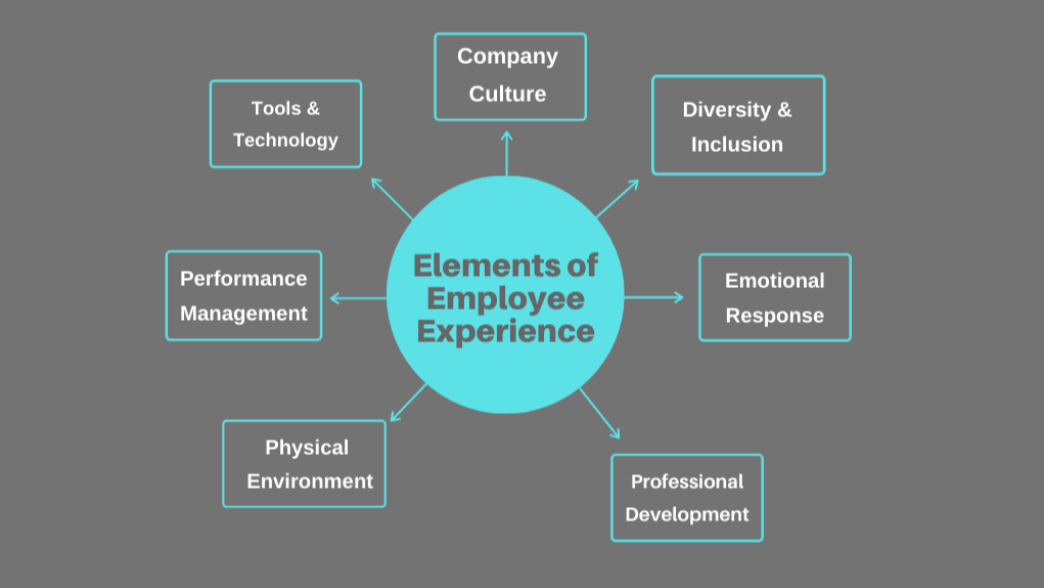 Source: HR Exchange Network
In the next section, let's understand the benefits of improving employee experience.
What is the Need to Improve Employee Experience?
Deloitte's 2017 Human Capital Trends showed that 80% of HR leaders rate employee experience as 'important' or 'very important to them. Hence, improving employee experience brings in the following benefits:
Enhance Employee Productivity: A good employee experience makes your employee happy at the workplace. They enjoy their work and put active effort into completing it. Oxford research shows that workers' productivity increases by 13% when they are happy with their organizational experience.
Reduce Employee Attrition Rate: According to Glassdoor research, on average, U.S.-based companies spend $4,000 to recruit new employees. It can take up to 52 days to fill a position. This is an enormous strain on money and efforts. When employees are satisfied with their work challenges, perks, benefits, etc., they seldom think about shifting their company, reducing the employee turnover rate.
Improve Employee Engagement Level: Your happy employees are also highly engaged in their workplace. They are more aligned with your company's mission and vision, thereby bringing in a positive work environment.
Increase Customer Satisfaction: Engaged employees are more productive and organized in their work. They engage with the customers more actively and solve their queries. Hence, your happy customers talk good about you, leading to an increase in your brand image.
As an organization, it is essential to come up with ideas to improve the employee experience. It ensures that you know your employees' pulse at every stage of their experience with your brand. In the next section, let's understand some employee experience best practices.
---
Read more: Your Ultimate Guide to Employee Engagement Surveys
---
31 Ways to Improve Employee Experience
Improving employee experience is the first step in retaining top talent as well as attracting new talents. The below-mentioned employee experience ideas have been tried and tested in different work scenarios with excellent results.
Let's understand the employee experience strategy in detail:
1. Define your Desired Employee Experience
What employee experience do you like to put in place at your workplace? What are its components? It is vital to define these and put them on paper. This acts as a reference guide for all the managers and team members alike.
Ensure that you involve all the leaders and employees to chart out the desired employee experience strategy. Define the parameters and measure them on a short-term as well as long-term basis. When there is complete clarity on what constitutes the desired employee experience, it is easy to work towards achieving the common goal.
2. Make Use of Employee Journey Mapping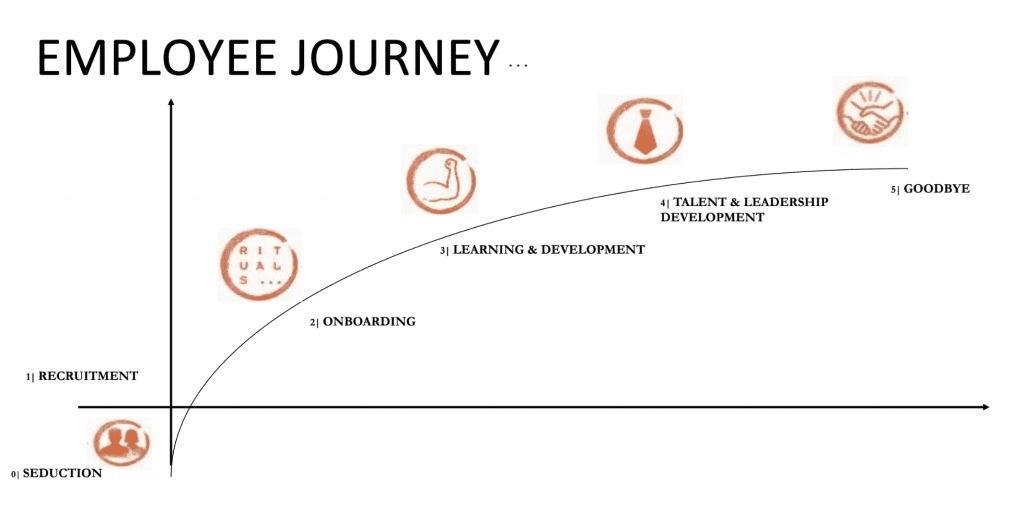 Source: HR Trend Institute
Assess your employees at different stages of their stint with your organization, like the new employee stage, after 2-3 years, after more than three years, etc. At each stage of an employee's journey, their needs and expectations would be different.
For example, a newly hired employee looks forward to the employee training and onboarding aspects. In contrast, your experienced employee mainly looks for stability and a better work-life balance. Hence, create an employee journey map to improve employee experience on an ongoing basis.
3. Enhance Internal Communication
Create a robust culture of disseminating company information to your employees. They need to be aware of the recent policy decisions, hirings, training, etc. This brings a sense of belonging in employees, and they feel more motivated to work with a purpose in mind. Further, internal communication is a way of being transparent towards employee needs and winning over their trust.
4. Create a Great Onboarding Experience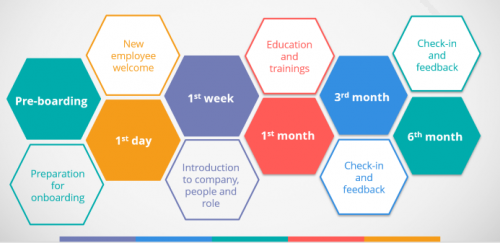 Source: NISA Connections
Employee onboarding refers to the process of making your new employees accustomed to the work environment. This takes the form of training, knowledge transfer, induction programs, etc. Herein, creating the best first impression makes a positive experience for your employees. When they see that the training helps them to understand the organizational setup and work on challenges smoothly, they are more likely to feel connected and involved with your organization from the start.
---
Read more: How to Use e-Learning for Employee Onboarding
---
5. Conduct Stay Interviews
Conducting a stay interview is as crucial as conducting an exit interview. While an exit interview tries to understand the reasons behind an employee quitting your organization, a stay interview focuses on the motivation behind an employee's stay in the organization. Ensure that you know their motivation factors at every stage of the employee journey. It helps you to take corrective measures to retain your top talents.
6. Create Awareness around Company's Vision and Mission
When employees are clear about your company's vision and mission, they realize a sense of purpose in putting in a focused effort. Make sure that you communicate the company's goals to all employees. Make them believe that their efforts should be collective, focusing on organizational growth.
7. Create Employee Wellness Programs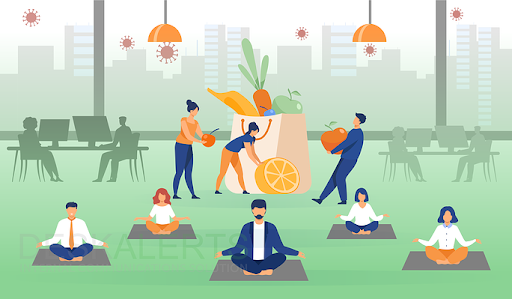 Source: ToolBarStudio Inc.
Career Builder Survey shows that 3 out of 5 workers are burnt out in their current job while 31% of workers face a large amount of stress. Hence, it is necessary to focus on both the physical and mental health of employees. Ensure that you put in place wellness programs in the form of meditation classes, gyms, clinics, counselors, etc., at your workplace. International Foundation of Employee Benefit Plans (IFEBP) research points out that 63% of employers who offered wellness programs increased their financial sustainability and growth.
8. Make Use of Employee Benefit Surveys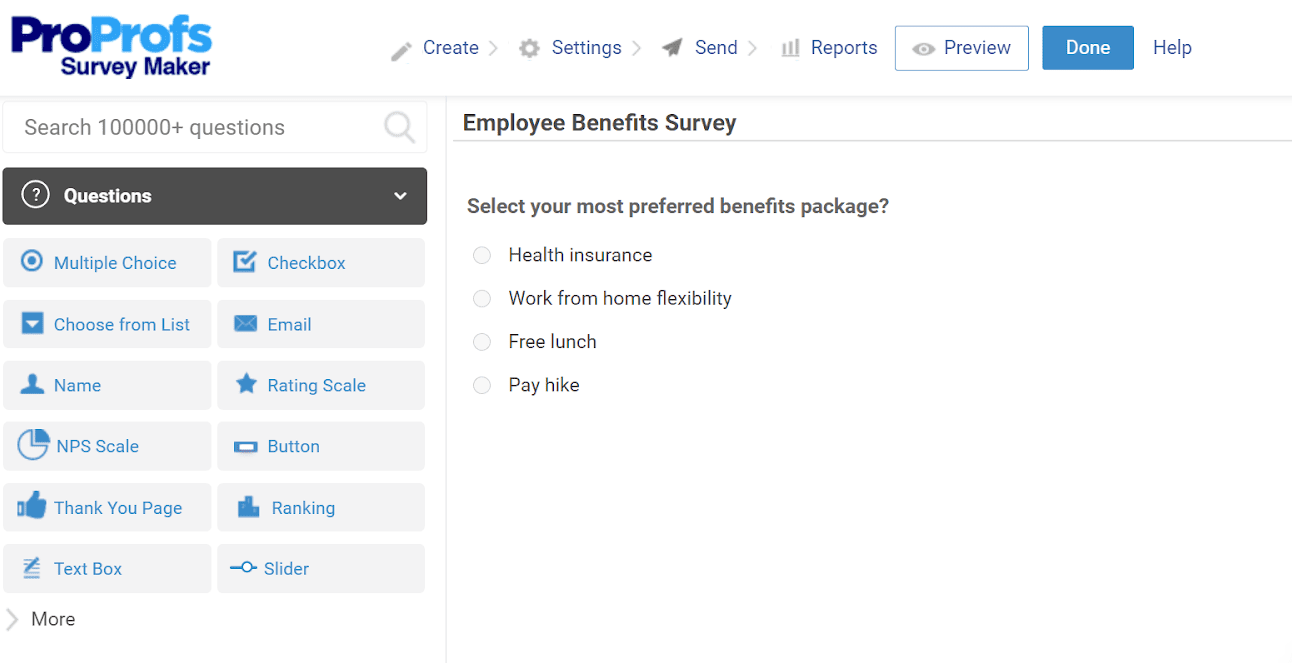 Benefit surveys are a great way to collect feedback from your employees. Use a powerful survey tool like ProProfs Survey Maker to understand what benefits the employees prefer. Not all your employees would like a pay hike. Instead, they might be looking for health insurance, increased paid maternity leave, etc. Regular surveys help you understand if you and the employee are on the same page.
9. Take Action on Employee Feedback
You are conducting regular employee satisfaction and employee engagement surveys. But are you taking timely action on the feedback? If not, it's time to get the ball rolling. When employees see that their voice is being heard and their feedback is being implemented, they feel more inclined to share their opinion in the future. Hence, make sure that you follow up with the employee feedback regularly.
---
Read More: Best Employee Engagement Software & Tools
---
10. Share Customer Feedback with Your Employees
Sharing customer feedback with your employees is the best way to keep them motivated in their work. When a customer appreciates good work done by your employee, it boosts their morale and encourages them to continue giving good output. Similarly, sharing customer challenges directly with your employees helps them understand the pain points of customers better.
---
Read more: 12 Channels to Capture Customer Feedback
---
11. Incorporate Manager Training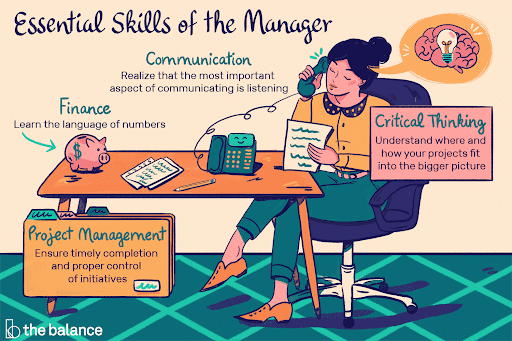 Source: The Balance Careers
Regular leadership training programs go a long way in developing the capabilities of managers at your workplace. These programs help managers to take an empathetic approach towards employees' challenges. Instead of being a boss, it allows them to be an employee's friend while dealing with them. In such a situation, your employees feel more comfortable working with their managers and open up about growth and challenges.
12. Include Employees in Crucial Decisions
Making your employees a part of your company's decision-making process makes them feel valued and cared for. Collect feedback from them via surveys whenever there is a policy change involving salary, benefits, sick leave, maternity leave, wellness programs, etc. Circulate the decision made through various mediums like mail, virtual meetings, etc., so that the information reaches every employee.
13. Appreciate Your Employees
Gallup's research shows that lack of appreciation is one of the main reasons your employees leave the organization. Further, employees do not prefer monetary benefits for appreciation. Instead, most employees prefer a public recognition with an award/certificate (Gallup workplace survey). Hence, make sure that you recognize the efforts of your employees frequently. Even when they have some shortcomings to work upon, make sure to give them constructive feedback by highlighting their strengths and weaknesses alike.
14. Design Dynamic HR Processes
The role of HR personnel has seen a drastic change recently due to Covid-19 pandemic. It is even more challenging to provide a smooth employee experience while working remotely. In such a scenario, it is necessary to equip the HR department with dynamic processes and tools to adapt to any situation. For example, understanding employees' time on productive tasks becomes possible with time tracking tools like Desktime App.
15. Provide Employees with Challenging Work
Your employees need challenging work to feel fully engaged and to realize their potential. If not, they feel bored and get distracted easily. Research shows that employees who make full use of their potential tend to be six times more engaged and 8% more productive. According to the Cvent report, highly engaged employees can increase the average customer retention rate by 18%.
Watch: 6 Quick Tips to Create Employee Engagement Surveys
16. Create Career Maps and Long-Term Paths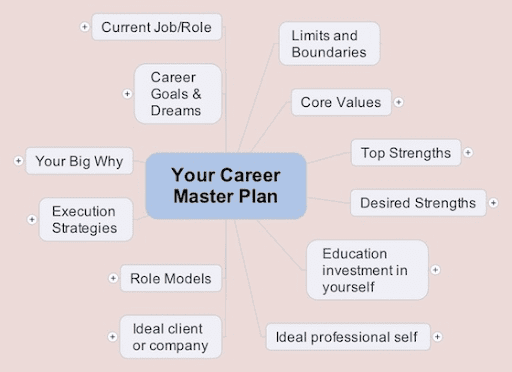 Source: Prolific Living Inc.
Employees who have a clear long-term path laid out in front of them are more likely to be focused and purpose-driven while working. They are clear about where they want to be 3-5 years down the line. Encourage your employees to create a clear career map, and managers could guide them with the same. Also, review it regularly to introspect on their journey, challenges, successes, and so on. This keeps them on track to achieve both – personal and organizational goals.
17. Implement Gamified and Personalized L&D
Gamification is the method of turning work into a game wherein employees have to compete to get the job done. This technique is used in companies to develop motivation and competitiveness in the workplace. Research shows that 72% of employees believe in gamification, which helps them work harder and be better at what they do.
18. Create Multiple Communication Channels
Employees feel valued when their opinion is heard. Make it easy for your employees to reach out to their co-workers as well as managers. Create multiple communication channels like emails, Zoom & Google Meet calls, communication via chat boxes, anonymous surveys, etc to help employees express their concerns comfortably.
19. Offer the Right Perks and Benefits
Offering a market-driven salary is very important to retain your top talents. Make a thorough research on the competitive salaries your industry is offering. Also, bring in meaningful benefits like health care programs, recreational facilities, outings, etc. to keep your workforce happy and motivated.
20. Growth & Development Opportunities
Employees continuously look forward to growing their careers by learning new skills and having broad exposure. If they feel that their career is stagnant, they can quit at any moment. Make sure that you create an environment for self-growth and learning by providing webinars, seminars, courses, skill training programs, etc.
---
Read more: 7 Best Apps to Keep Your Team Focused and Distraction Free
---
21. Create Healthy Work-Life Balance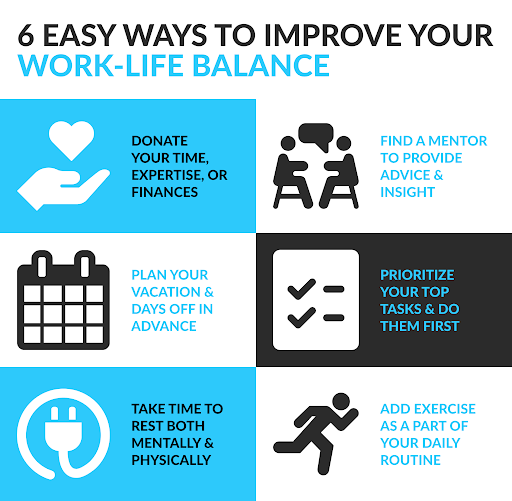 Source: Palmer Group
Your employees might be handling multiple responsibilities like child care, elderly care, etc., in addition to regular office work. Hence, it is essential to create an environment of healthy work-life balance to help them manage responsibilities in a stress-free environment. Flexible working arrangements like work from home, flexible working hours, etc., ensure that employees can give enough time for their family and work.
22. Regularly Audit Compensation Levels
SHRM Employee Job Satisfaction and Engagement Survey shows that employees rate pay compensation as the second important factor contributing to job satisfaction. Ensure that you conduct a regular audit of the compensation to understand the sentiment change over some time. Employees may not be happy with the same compensation 2-3 years down the line. If needed, you can conduct an external audit to bring in transparency in the compensation survey.
23. Give Additional Support for Working Parents
Working parents with little children need additional support to handle both personal and professional responsibilities. For example, many working women need extra help when they return from extended maternity leave, like flexible working hours. Also, the concept of paternity leave is becoming more and more popular. Hence, both parents must be given adequate financial support to take care of their young children.
24. Celebrate Achievements
When you celebrate small successes at work, it brings in a sense of joy and achievement. When employees see that their excellent work is noted and celebrated upon, it encourages them to work with increased dedication. Hence, make sure that you celebrate achievements with team outings, give your employees a gratitude card, and so on.
25. Create a Culture of Daily Learning
Sometimes, employees get so engrossed in their daily work that they do not find time for learning or skill development. Hence, the work can get monotonous and stressful. A culture of daily learning can break the monotony and give the employees a sense of daily accomplishment. For example, an hour a day can be dedicated to learning a new concept or working on a course.
---
Read More: 12 Reasons You Must Invest in E-learning
---
26. Simplify Organizational Processes
Complex organizational processes eat into the time of an employee, thereby reducing their productivity. For example, McKinsey Global Institute Research shows that 13 hours/week is the time consumed by an average employee in reading and responding to emails. This is a whopping 650 hours/year spent on the non-productive activity. Hence, there needs to be a simplified process at your workplace to reduce the time spent on these tasks.
27. Hire a Diverse Workforce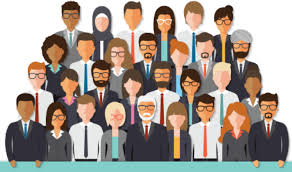 Source: Cool Blue Media
A diverse workforce brings more ideas to the table. If you hire people from the same background and mindset, your employees will only think in a particular direction. This creates a monotonous work environment. Hence, hire people from different educational backgrounds, cultures, linguistics, etc., to establish a diverse workforce.
28. Say No to Open Offices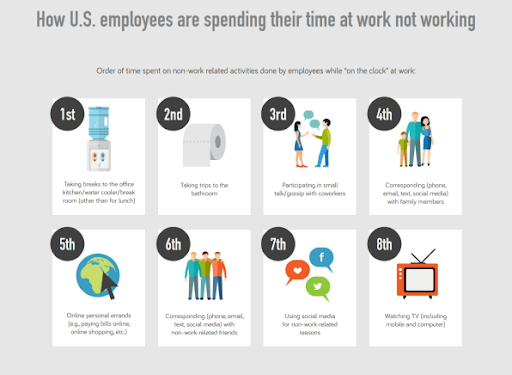 Source: Mansueto Ventures, LLC
Even though open offices contribute to more open interaction with co-workers, it can also lead to workplace distractions. When you continuously see movement and hear murmurings amongst your colleagues, you naturally get distracted. Hence, it's ideal to have a semi-partitioned workspace with each employee having their own free space to work.
29. Use the Power of Technology
The use of technology brings in more automation in the workplace. Mckinsey Research shows that automation can handle up to 45% of all repetitive tasks. When your employees are freed from repetitive tasks, they can concentrate more on productive activities that require research and analysis. Moreover, research activities stimulate more creativity in a worker as compared to redundant tasks.
---
Read more: Five Expert Tips to Enhance Employee Productivity
---
30. Do Not Overload Your Employees
Cornerstone research shows that work overload can reduce employee productivity by as high as 68%. You can reduce the work overload in your employees by giving them achievable tasks and deadlines, encouraging them to take frequent breaks, finding the right tools and devices to complete the tasks, and so on.
31. Incorporate an Attractive Workplace Aesthetics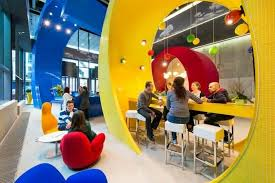 Source: The Sage Group
Workplace aesthetics play a significant role in stimulating employee creativity. When your employees have a neat, well-lit workspace, it keeps them focused and streamlined in their work. Else, they feel unenthusiastic to work in a dimly lit environment. There could be frequent work interruptions leading to low productivity.
Supercharge Your Employee Experience
Creating a smooth and hassle-free employee experience is a dynamic process. It starts from the hiring process to the employee feedback process. Make sure that you hire a diverse workforce from varied backgrounds. Also, put in place a transparent onboarding process, feedback loop, and empathetic work environment.
Technology and automation go a long way in simplifying the workload by reducing redundant tasks. Coupled with this, a flexible work schedule along with pleasing aesthetics creates an enriching experience for your employees.
Wish to hear the heartbeat of your employees? If so, it is time to create an employee satisfaction survey to collect their feedback. ProProfs Survey Maker provides you with customizable employee survey templates to get started.
Do you want a free Survey Software?
We have the #1 Online Survey Maker Software to get actionable user insights.