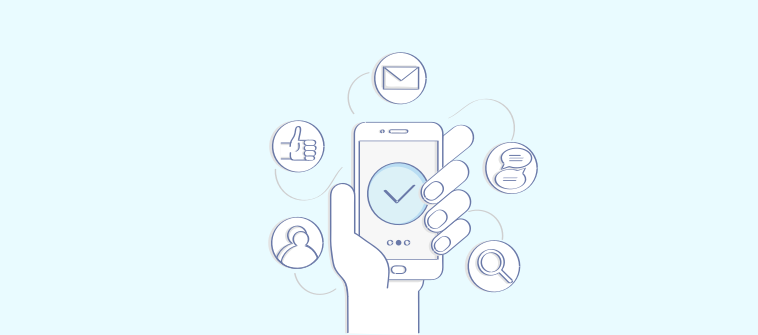 With so many options in the market, brands find it challenging to cultivate long term business relationships with their customers. They know that once established, success is guaranteed. With strong customer relationships in place, a business gets to:
Increase customer base

Boost sales

Improve business potential
But for a brand to reach that level, earning long-term loyalty becomes a thriving factor. That's because of long-term customer loyalty results to:
Increase word-of-mouth publicity

Reduce new customer acquisition cost

Reduce customer retention cost
---
Read More: How To Build A Customer Loyalty Program
---
According to a study published by Bain, a customer experience promoter has a lifetime value to a company that's 600 to 1,400% that of a detractor. And, that's precisely what a business needs when surrounded by too much competition.
However, to cultivate long term business relationships, you need to take certain measures that help you reach the above-mentioned customer loyalty measures. And that's what we've aimed to cover through this piece.
Here's the list of top 7 tips to help you answer the question "how to build customer relationships" effectively.
7 Ways To Cultivate Long Term Relationships
#1: Be Dependable
This is the golden rule of business. It sounds obvious, but it will instantly put you ahead of all of the people and companies who don't do this.
For example, if you run a pizza chain and you offer deliveries in 30 minutes or less, you should do everything you can to ensure that your delivery driver arrives with a piping hot pizza within 30 minutes. Being consistent and reliable creates customer loyalty.
#2: Deliver a Great Product
You need to make sure your product serves a real need and delivers real value for your customers. If your product or service is terrible, no amount of relationship building, sales or marketing will save you.
For example, if you buy a car, you expect it to run and get you safely from Place A to Place B. That's the bare minimum for a good customer experience.
If you want to build loyal customers, you need to go above and beyond. Here are some examples of how a car dealership can do this:
Give them a $100 gift card to a local gas station for the first couple of tanks of gas

Send a handwritten thank-you note a couple of days after they purchase

Create custom floor mats with their favorite color or sports team's logo.
#3: Be Honest
Great customer relationships all boil down to excellent communication and trust. The core tenet for both is honesty. Transparent communication breeds trust. You'll often find that your customers are much more understanding of an occasional problem, especially if you tell them as soon as a problem happens.
For example, if you are selling a car that needs a new transmission in a few months, you should mention that up front. This ensures that an unforeseen expense won't blindside the customer.
#4: Treat Your Customers Like People, Not Transactions
Whether you sell a $5 gadget or a $5,000 custom service, you are still selling to a person. If you want to keep your customers happy, you need to care about them, practice empathy, and treat them like actual people, not walking checkbooks.
I'm convinced that empathy is the ultimate superpower for customer service teams. Empathy is all about putting yourself in your customers' shoes.
#5: Create a Loyalty Program
According to a study by CrowdTwist, 82% of Gen Xers participate in one or more loyalty programs and redeem at least one reward a quarter.
In addition, Millennials and Gen Zers, who were born between 1980 – 2010, are the most willing to pay to join a loyalty program if it offers a reward that they want, such as free shipping.
Customer loyalty programs can be a great way to personalize the experience and build long-lasting relationships, especially if your brand targets customers under the age of 50. The most successful loyalty programs, such as Starbucks – do a great job of communicating the convenience factor as well as the value of their programs.
#6: Engage in Surprise & Delight Tactics
When you think of surprise and delight campaigns, you probably think of the big ones like TD Bank's Thanks campaign. However, this is a clever PR strategy disguised as a "surprise and delight campaign."
In reality, surprise and delight initiatives can be some of the most inexpensive and effective tactics you ever run. It is about putting a spotlight on your customers and demonstrating that you care.
#7: Build Personalized Communication
Finally, think about adding a personal touch to your communication when dealing with customers.
Customers love it when you come with a holistic solution for their problems. But that's only possible when their feedback and journey with the brand is taken into account.
You can send them customer satisfaction surveys and ask whether they enjoyed their experience with the brand. With ProProfs Survey Maker, you can create a survey in minutes and send it via email or generate a link and send it as a message to your customer's social media account.
In case you don't know where to start from, you can check a list of survey question examples here!
Besides customer feedback, you can also take into account their entire journey on the website. For this, you can monitor metrics like:
What page did they land on

What pages did they browse after coming to your website

Did they take any action

Did they initiate a conversation via a live chat icon to ask a question

How much time did they spend on your website

How much time did they take to buy a product on your website
Metrics answering such questions help you understand how a customer's journey shaped at your website. And with all this data in hand, your operators will find it easier to personalize the experience effectively.
---
Read More: Best Survey Software & Tool
---
Final Note: Building Customer Relationships By Cultivating Loyalty
Brand loyalty is a concept that's making every business owner work hard in the competitive market. They aspire to build a seamless experience for their customers, so they feel encouraged to come back to them every time. In a nutshell, brands have understood that the only way to outshine themselves in the crowd is to work towards customer relationships. While there are multiple ways of maintaining a good customer relationship, still there is no harm to opt for a good customer relationship management technique. You can have a handy CRM tool that would allow your team to manage customer details in one place and use them when needed during future conversations. And, when a customer gets to see the effort your team puts in to build an awesome experience, they get hooked to your brand immediately.
Brands need to connect via their services and product quality with the customers to establish the grounds for long-term relationships. And they've understood that quality services are the key to building loyalty that results in stable relationships.
Do you want a free Survey Software?
We have the #1 Online Survey Maker Software to get actionable user insights.