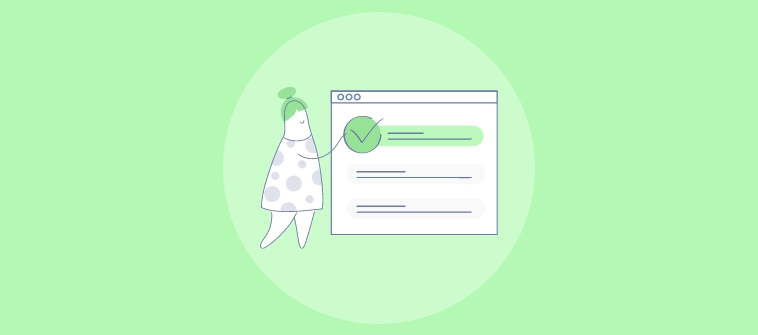 If we are being honest, no one is a fan of the constant back and forth of emails that goes into collecting information for starting a new project. Perhaps this is why over 90% of customers feel businesses could do better when it comes to onboarding experiences.
How you start the relationship with your clients will impact your long-term success. This makes client onboarding questionnaire an influential tool for businesses across industries.
Having an easy-to-use and repeatable client onboarding form helps save time and effort. By gathering all relevant information from clients before undertaking any project, you leave no room for inconsistencies or errors in the future. This will also ensure the longevity and quality of your client relationships and put you on the path to success.
This guide covers all the crucial aspects of client onboarding questionnaires- what they are, what they include, the most compelling questions to ask, and the tools to create the forms.
What Is a Client Onboarding Questionnaire
A client onboarding questionnaire is the first survey sent to new clients. This questionnaire seeks all the information required to serve clients better and build long-lasting relationships.
A client questionnaire can ask for details like contact information, business size, industry, objectives, pain points, communication preferences, etc. You can also use it to get more context, such as how the client heard about you and what services they require.
By gathering this information upfront, the business can tailor their services or products to meet the client's needs better and establish a more efficient working relationship. The client onboarding questionnaire can also help the business identify potential issues or challenges early on and proactively address them.
What to Include in Client Onboarding Questionnaire
When it comes to onboarding a new client, you must gather as much information as possible about their business and needs. A well-designed client onboarding questionnaire can help you achieve this, as it can provide you with valuable insights that impact business performance.
Your client onboarding questionnaire should include discovery questions about:
Background information (such as company name, size, location, industry, history of the company, key competitors, target audience, mission statement, etc.)
The goals and objectives of the client
Current processes and existing workflows
The expected services and outcomes
Their communication preferences, timeline, budget, etc.
Other relevant information
By including these key areas in your client onboarding questionnaire, you will be able to understand client needs, goals, and expectations. This will enable you to create a tailored service that meets their specific requirements and build strong relationships from the outset. Remember to keep your tone educational and professional, and be prepared to follow up with additional questions or clarification if necessary.
What Not to Do in Client Onboarding Questionnaires
The decision of what would be suitable to be included in your questionnaire comes down to the end goal of the survey and your specific needs. While there is no set list of what not to include, it's best to stay away from the following things when crafting your client questionnaires:
Don't include lengthy questions that take a lot of time to answer. This would discourage the respondent from completing the form.
Don't add questions that cause confusion. Be as clear as you can be.
Be mindful of the length of your questionnaire, and don't overload your client with too many questions. Keep it concise and focused on the most critical information.
Avoid questions that may imply a particular bias or preference, such as questions about political views or lifestyle choices.
Stay away from questions that could be deemed offensive, such as questions about race, religion, or sexual orientation.
Stick to questions relevant to the onboarding process and avoid asking questions that don't relate to the client's needs or preferences.
Goals of Client Onboarding Questionnaire
A new client questionnaire can help:
1. Welcome the Client
Client onboarding forms do more than just collect information. They are the first point of experience for clients as well as an opportunity to set the right expectations. Use these forms to officially welcome the clients and get them up to speed on various aspects of the onboarding process.
2. Collect Client data
An onboarding questionnaire is an excellent tool for collecting client data, such as contact information, company details, and the nature of their business. This data can be used to create client profiles and provide a deeper understanding of the client's needs and preferences.
3. Gain Clarity Regarding Client Goals
The onboarding questionnaire lets you clarify the client's needs. It lets you understand their pain points and goals, so you can deliver upon their expectations satisfactorily.
4. Improve Service
The questionnaire allows businesses to identify areas where they can improve their services. For example, if many clients express dissatisfaction with the response time to their inquiries, the business can take steps to improve their response time.
Client Onboarding Questions to Ask
Since the questionnaire's effectiveness will impact the outcomes of your project, you must include the most relevant and appropriate questions. Asking the right questions will help you collect all the necessary information to deliver your best work. Here are some examples of questions you can add to the onboarding questionnaire you create for clients:
– Client Details
These questions seek general information from clients that can be leveraged to build a stronger and lasting relationship with them.
What is your business's unique selling proposition?
Who are your primary business competitors?
What are your company's vision and mission?
What is your preferred method of communication?
Are there any legal or regulatory requirements we need to know?
Do you have a website? If yes, please provide the website URL.
– Marketing-Related Data
These questions will help you collect essential information related to your client's marketing strategy.
What marketing channels have you used in the past to reach your target audience?
What is your typical customer profile, including demographics, interests, and behavior patterns?
What are your primary marketing objectives and goals, and how do you plan to achieve them through your marketing efforts?
How often do you analyze and review your marketing data, and what tools or platforms do you use for this?
How do your products/services solve end-user's problems?
– Project-Specific Information
Here are some questions to ask new clients regarding the project under consideration.
What is your planned budget for this project?
What metrics carry the most significance for this project?
What goals have you set for the project?
What is the deadline for this project?
Who will be the primary point of contact for this project?
Have you taken up a similar project previously?
– Business Alignment Questions
These questions help you identify how your business fits into the bigger picture for the client.
How did you hear about us?
How do you see our company's products or services fit into your overall strategy or growth plans?
Why did you choose our business?
What excites you the most about working with us?
What more can we do to ensure a highly satisfactory experience for you?
Tools to Use for Creating Client Onboarding Questionnaires
Creating and administering a 'get to know your client' questionnaire requires a dedicated tool offering advanced customization and automation features. Such a tool will cut down the time it takes to create delightful customer surveys.
For example, a robust tool like ProProfs Survey Maker lets you create highly engaging client onboarding questionnaires that align with your company's branding and business goals. The drag-and-drop interface allows you to customize your surveys extensively. Moreover, you can choose from a range of question types, themes, and languages for your surveys.
Here are some features you need to consider when choosing a tool for creating your client onboarding questionnaire.
1. Pre-Built Templates
Go for a tool that offers a range of pre-built templates and question types. This will save you from spending a lot of time designing the forms.
2. Mobile Optimization
The response rates for people filling out surveys on mobile devices can go as high as 57%. This is why you must choose a tool that lets you create surveys that are optimized for mobile devices.
3. Reporting & Analytics
The survey software should not only help you create effective questionnaires but also analyze the collected data. This can be accomplished through visual, presentation-ready reports that can easily be shared and exported.
4. Branching & Skip Logic
Use branching and skip logic in your questionnaire to only display relevant questions, making the process more efficient and convenient for respondents.
5. Multiple Deployment Channels
The software should enable you to send the questionnaire through multiple channels. You can share the survey via email, embed it on your website, send a direct link, or deploy it on social media networks.
6. Integrations
Choose a tool that offers several native and third-party integration options. This will allow you to make effective utilization of the collected responses. You can easily transfer the data to your CRM, business intelligence, and helpdesk solutions.
Steps to create a client onboarding questionnaire
To create a client onboarding form, you will need an online survey maker tool. Here are the steps to create a client survey using online survey maker software.
Choose from a pre-designed template or start creating the questionnaire from scratch.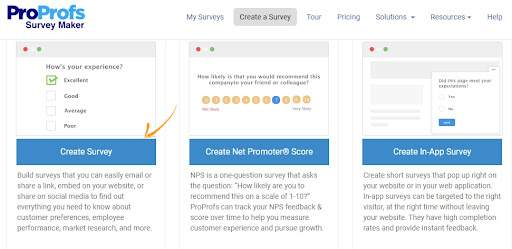 2. Customize the title, logo, fields, fonts, background, and question types for this questionnaire.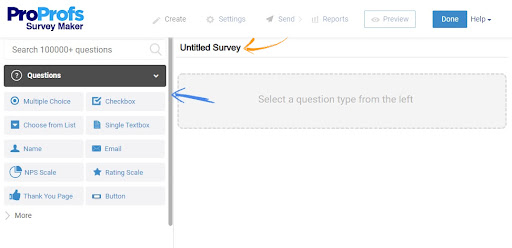 3. Change other settings such as question per page and order of questions.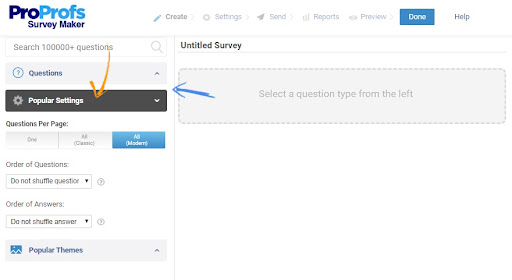 4. You can also customize the theme of the survey.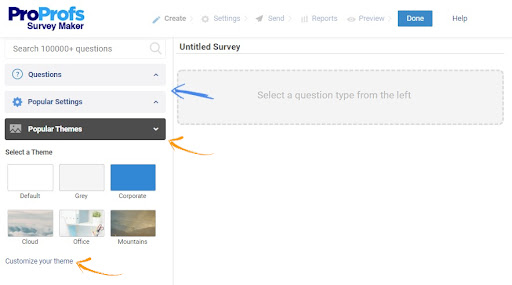 5. Preview and save the survey. Embed on your website or share as a standalone link.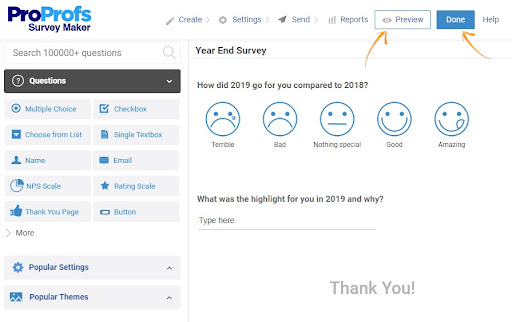 Alternatively, you can watch this quick video tutorial on how to create questionnaires using ProProfs Survey Maker.
Internal Use of Completed Questionnaire
Client onboarding questionnaire is an essential tool for businesses to gather critical information from their clients and to ensure a smooth onboarding process. These questionnaires help businesses understand clients' needs, preferences, and goals, allowing them to tailor their services to their requirements. Once completed, the questionnaire responses can be used to create client profiles, track progress, and improve service delivery.
The true value of these questionnaires lies in their analysis. It's one thing to collect data from clients, but it's another to use it to make informed decisions. That's where powerful survey software comes in. These tools:
Allow businesses to quickly and easily analyze the data collected from client onboarding questionnaires.
Provide detailed reports and visualizations, highlighting patterns and trends in the data.
Identify common pain points or areas of improvement in their onboarding process.
Discover opportunities to provide additional value to their clients. For example, if many clients express a need for ongoing training or support, businesses can consider offering these services to meet their clients' needs.
Once you have the responses, you also need to notify the representatives assigned to the account so that they can take appropriate follow-up steps now that you have all the information you require to proceed.
You should also connect the survey tool to your preferred CRM application so all the client information remains centrally organized.
In conclusion, the internal use of completed client onboarding questionnaires is essential for businesses looking to improve their services. However, you will miss out on valuable insights without the proper tools to analyze the collected data. Unlock the full potential of client onboarding questionnaires and use the data to drive growth and success by investing in the right survey software.
Simply Projects With Effective Client Onboarding Questionnaires
Clients want results. And to achieve them, you need to start working with clear goals right off the bat. This makes client onboarding questionnaires an essential business undertaking.
However, making a client onboarding questionnaire does not necessarily have to be a cumbersome task. Make use of the best practices and the proven examples listed above to create highly engaging and useful onboarding forms with ease.
Also, make sure to invest in a powerful survey tool like ProProfs Survey Maker to get actual results from your questionnaires. This will also help your business monitor client satisfaction and track progress over time. By regularly sending out follow-up surveys, you can assess how well you are meeting client needs and identify areas for improvement. This ongoing feedback loop is critical for maintaining strong client relationships and delivering high-quality services.

FAQs
What are 5 open-ended questions to ask in client questionnaires?
What are your goals and expectations for working with our company?"
How do you envision our services helping you to achieve your business objectives?
What challenges do you currently face in your industry, and how do you see our company addressing those challenges?
What are your primary goals or objectives for working with our company?
Can you describe in detail the challenges or issues you are currently facing in your business or industry?
What are the 4 basic needs of a client?
As a business, it's important to understand the basic needs of your clients in order to establish a strong relationship with them. The four basic needs of a client are:
1. Communication
Clients want to feel informed and included in the process. Providing regular updates and answering questions promptly helps build trust.
2. Support
Clients want to know that they can rely on your company to provide support when needed. This can be in the form of customer service, technical assistance, or other types of support.
3. Value
Clients want to feel that they are getting good value for their investment. This means providing quality products or services at a fair price.
4. Recognition:
Clients want to feel appreciated and valued by your company. Recognizing their loyalty and providing personalized attention can help to strengthen the relationship and increase loyalty.
Focusing on these four basic needs can establish a strong foundation for a long-term, mutually beneficial partnership with your clients.
Do you want a free Survey Software?
We have the #1 Online Survey Maker Software to get actionable user insights.