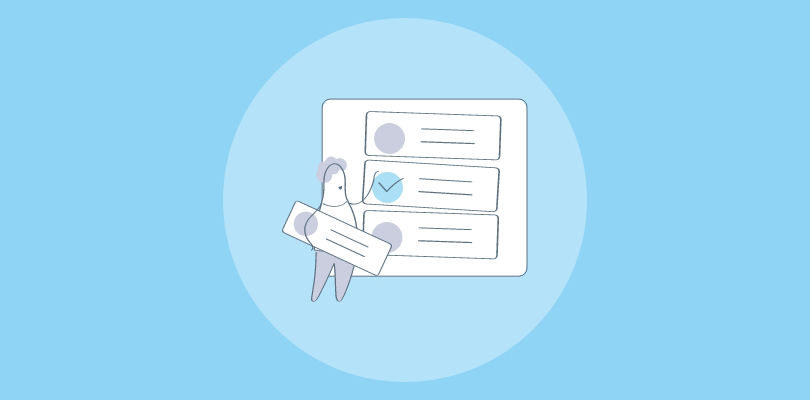 Your competitors can easily match your prices or discounts, but you know what's hard to copy — An exceptional customer experience.
According to a recent report, 77% of companies believe customer experience is a major competitive differentiator. It's foundational to increasing customer loyalty and driving revenue growth.
That's why businesses turn to customer experience software. These tools are great for gauging customer experience and interactions across multiple channels. You can collect and track CX scores like Net Promoter Score (NPS), customer satisfaction, and their experience with your services.
Alas, with a myriad of options comes confusion.
But worry not! In this article, we will list the best customer experience management tools to make decision-making easier.
Let's go!
13 Top Customer Experience(CX) Software for Your Business in 2023
Here are our recommendations for the best customer experience tools. You can choose one or create a stack using multiple tools from the list to optimize different areas of the customer journey.
1. ProProfs Survey
ProProfs Survey Maker is a powerful customer experience tool for collecting and analyzing feedback. You can create surveys, quizzes, polls, tests, web forms, and assessments in minutes and share them across multiple channels.
It also comes with a feedback sidebar to add to your website and capture visitors' opinions and suggestions.
With this CX software, you can track and measure your survey campaign performance in real time. You can see how many people completed your survey, how they scored on your quiz, what they liked and disliked about your service, and more.
ProProfs Survey Maker helps you improve customer experience with interactive and insightful feedback. Here are some of the sought-after features:
Features:
Create engaging surveys with a simple UI and a drag-and-drop builder.
Choose from 100+ templates and 100k+ questions to launch surveys faster.
Use 15+ question types to collect rich and diverse feedback.
Publish surveys on mobile apps and websites to widen your reach.
Add a feedback sidebar to your website to capture opinions without interrupting the user experience.
Integrate with MailChimp, Salesforce, and more to streamline your workflow.
Pricing: Starts from $19 per month, billed annually
2. Qualaroo
Qualaroo takes a unique approach as a customer experience software, providing a powerful contextual feedback collection and AI-based analysis system.
This SaaS-based CX tool helps to collect in-the-moment feedback, allowing you to receive targeted customer experience insights. Its pop-up survey Nudges™ asks questions without disrupting the experience as people engage with your website, app, or product.
Qualaroo's innovative use of IBM-powered Watson AI helps you understand customer sentiments and emotions from open-ended feedback, making it a top choice for a customer experience survey tool.
Here are some of its advanced features you won't get in a lot of the tools:
Features:
Easy to deploy without help from developers in just a few minutes.
Provides pre-designed survey templates for various surveys, including CSAT, NPS, CES, Exit-intent, and more.
Survey Nudges™ help collect qualitative, quantitative, and contextual feedback.
Flexible survey and theme customization options based on your branding.
Advanced targeting options and survey triggers to help you ask the right questions to the right people at the right time.
Branching and skip logic help you get precise feedback.
Offers integrations with popular tools like HubSpot, MailChimp, Salesforce, Google Analytics, and more.
Pricing: Starts from $69/month (billed annually)
3. Picreel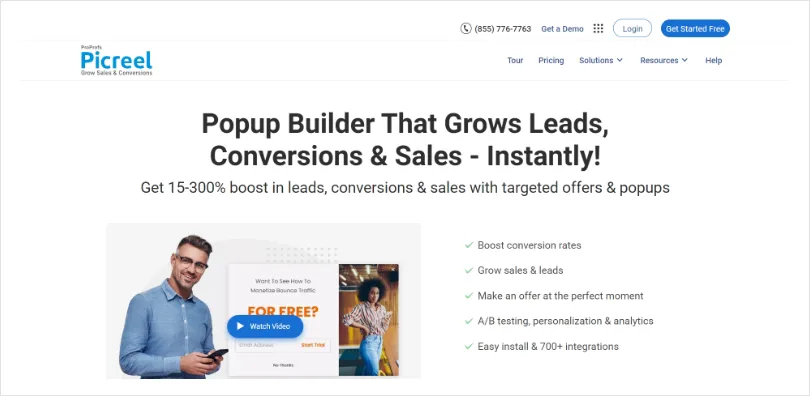 Picreel is a highly dependable customer experience tool that enhances the visitor experience on your website with its on-site retargeting features.
It comes with professionally-designed popup overlays that you can use to show limited sales, exclusive deals, discount offers, and other promotions. Additionally, Picreel allows you to create short pulse survey popups to collect customer feedback.
Picreel is an ideal tool for building your email list, increasing conversions, and improving customer experience.
With the platform's built-in advanced targeting options, you can target different customer types and actions to trigger the overlay at the right moment in their journey.
For example, showing the popup to repeat visitors, exiting visitors, people on a specific device or location, and more.
Features:
Customizable conditional triggers to show discounts, offers, and more to visitors.
Real-time cursor tracking to gain insights into visitor behavior
Advanced lead capture and list-building tools.
Customizable exit-intent popups to increase conversions.
Multiple overlay options, link forms, and surveys.
Templates for quick deployment on your preferred channel.
Advanced targeting, reporting, on-site retargeting, and segmentation.
A/B testing capabilities to compare popup variations.
700+ integrations with tools like Wix and Zapier
Pricing: Starts from $39.97 (billed annually)
4. Zendesk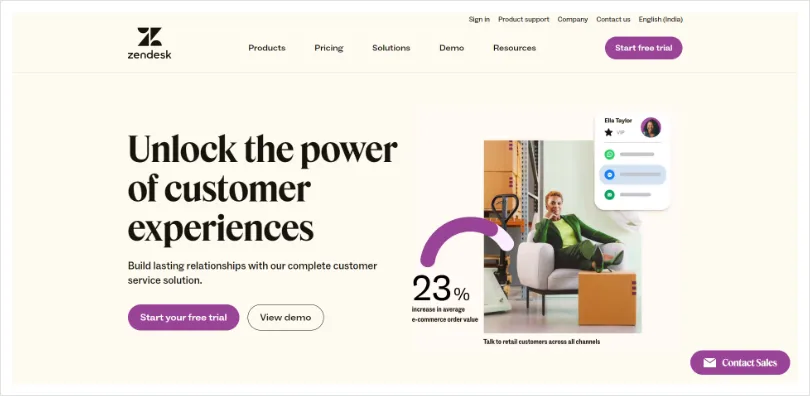 With its ticketing system, knowledge base, live chat, and call center software, ZenDesk is an all-in-one solution for businesses of all sizes. Another reason for Zendesk's popularity is the availability of numerous integrations, making it easy to connect with other tools.
It comes with various native features, such as automated responses and analytics, to help businesses understand their customers' needs better. Additionally, ZenDesk integrates with purpose-specific apps to make it easier to manage customer interactions.
Features:
Build a knowledge base to minimize incoming service requests.
Analyze customer interactions with the business to enhance their experience.
Foster customer participation by creating community forums.
Use built-in analytics and reporting to make data-driven decisions.
Helps create personalized, interactive, and automated messages using in-built conversation tools.
Integrate with popular third-party applications to elevate the customer support experience.
Pricing: Starts from $49/month
5. Salesforce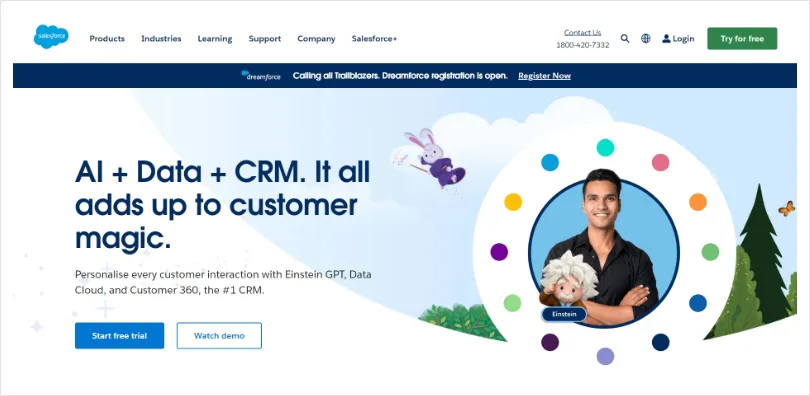 Salesforce is a popular customer experience software that blends CRM and customer service tools to manage customer relationships and interactions from a single platform. Salesforce also offers a range of digital customer experience tools, enabling businesses to connect with clients and leads across various digital channels.
It includes reducing incoming service requests, analyzing customer interactions, fostering customer participation, personalized messages, etc.
Features:
Offers features such as a knowledge base, live chat, call center software, and automated responses.
Allows businesses to integrate their social media channels, such as Facebook and Twitter, with their customer service processes.
Has a knowledge base to organize articles, FAQs, and documentation to empower customers with self-service options
Provides analytics to track customer behavior and improve performance.
Integrates with purpose-specific apps to enhance functionality, such as Qualaroo, HubSpot, etc.
Accelerates growth across any industry with data-driven sites, portals, and mobile applications.
Pricing: Available on request
6. ProProfs Knowledge Base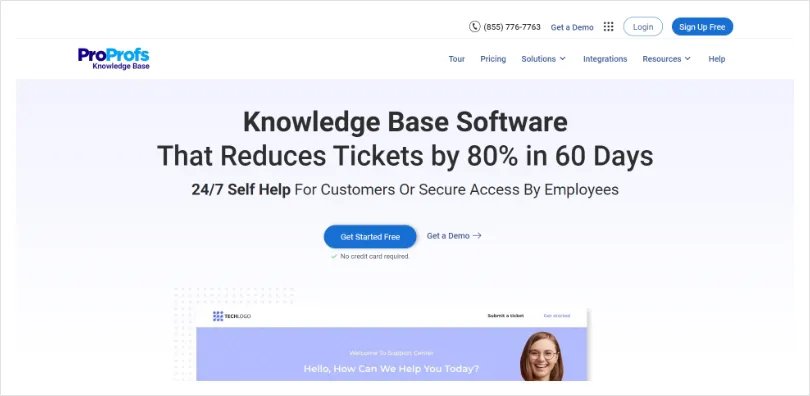 Many people prefer self-help options to resolve their queries than wait to get in touch with customer support. That's why ProProfs Knowledge Base stands out as one of the top customer experience software solutions.
With its extensive range of features, such as over 100 design templates and customizable options, you can effortlessly create various resources like help guides, user manuals, FAQ sections, and a dedicated help center.
Features:
Streamline your support operations, saving both time and resources for your staff.
Offers guided tooltips, a mobile-responsive design, comment section, feedback options, and accessibility controls.
Over 25 templates to create visually appealing pages that captivate your audience.
Enhance the interactivity of your articles by incorporating videos and images into your knowledge base.
Improve user navigation and scanning efficiency by providing a search experience similar to Google.
Facilitates collaboration and prevents content duplication by enabling multiple authors to contribute.
Supports more than 90 languages, ensuring accessibility and inclusivity.
Ensure visitors are directed to the appropriate pages through the URL redirection feature.
Pricing: Starts at $49/month (billed annually)
7. Freshdesk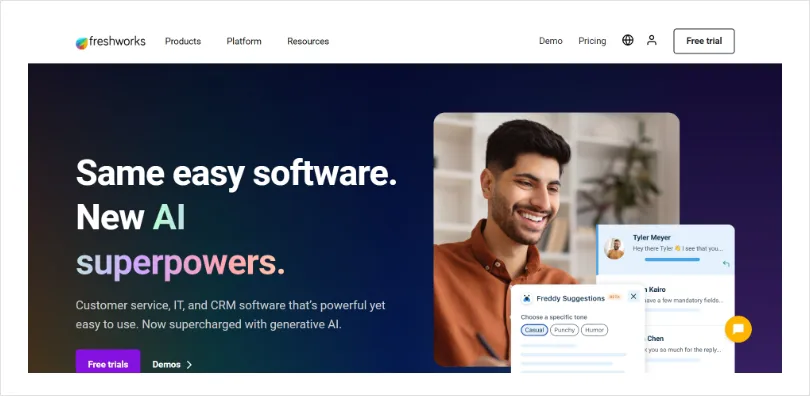 Freshdesk is a highly popular customer experience solution that empowers businesses to have impactful conversations with customers through various channels. With Freshdesk, you can even deploy AI-powered chatbots to efficiently assist customers in resolving their issues or inquiries.
This CX tool lets your agents to gain a comprehensive view of each customer, enabling them to engage in meaningful conversations. Additionally, leveraging robust routing engines minimizes call wait times significantly and facilitates prompt escalations, ensuring faster resolutions.
Features:
Create canned replies or responses to resolve issues quickly.
Share ticket ownership with other teams and get their valuable suggestions.
Manage your company's Twitter and Facebook messages or mentions.
Provide seamless support across all platforms with omnichannel capabilities.
Comes with a voice-enabled IVR and an intuitive design to facilitate conversations and customer interactions.
Customer-centric callback options and predictive routing for optimal agent interactions.
Integrates with Zoho, Dynamic CRM, and more tools.
Pricing: Starts from $15/month. Free version available
8. Medallia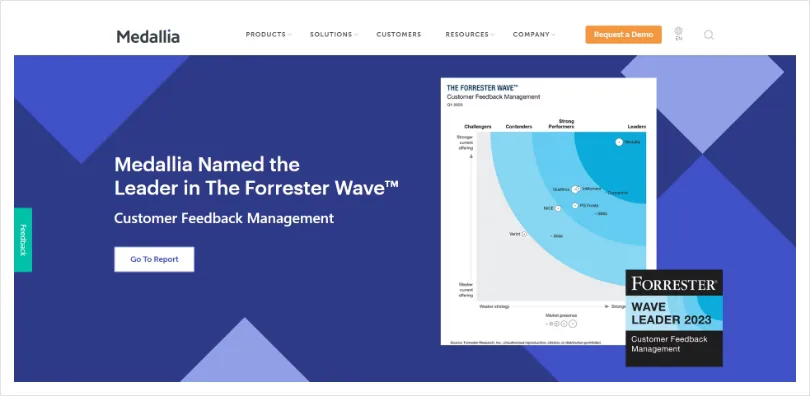 Medallia is a customer experience survey tool that can analyze feedback from various channels to anticipate customer behavior and requirements, identify dissatisfied at-risk customers, and propose appropriate measures to address their concerns.
This tool can assist live agents as it automates the assignment of responsibility and ticket escalation to enhance your business's response to feedback.
Features:
Offers an easy-to-use dashboard that monitors feedback across various channels- from chat logs to social reviews.
Helps businesses flag reviews based on CX scores, timings, keywords, and other factors, for better performance benchmarking and competitive analysis.
Intuitive dashboard makes monitoring and analyzing reviews from Google and other platforms easy.
Comes with text analytics to help businesses extract insights from open-ended survey responses and reviews.
Provides options to manage user permissions to access the reporting section.
Pricing: Available on request
9. NICE Satmetrix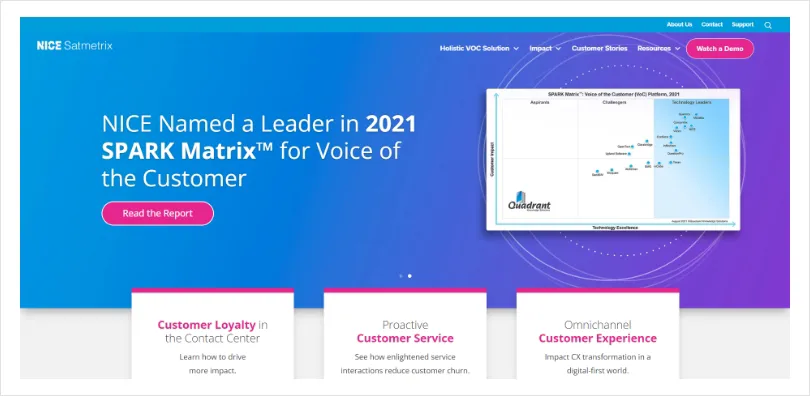 By leveraging voice and text analytics, NICE Satmetrix effectively captures customer feedback from multiple channels, such as support interactions, surveys, and feedback requests.
This customer experience software is equipped to identify trends and patterns that demand attention, enabling businesses to reduce churn and retain at-risk customers.
Additionally, Satmetrix can assist in designing automated workflows for support agents, streamlining the process of addressing customer issues promptly.
Features:
Helps monitor interactions to identify high-risk customers and bring them to attention.
Offers real-time and hyper-personalized surveys to discover trends in customer feedback.
Uses AI capabilities to analyze the data.
Provides custom dashboards for businesses to track customer experience metrics like NPS and CSAT.
Captures voice insights through call transcripts for a complete view of the customer journey.
Can integrate with other platforms, such as Salesforce, to streamline the customer experience management process.
Pricing: Available on request
10. HubSpot Service Hub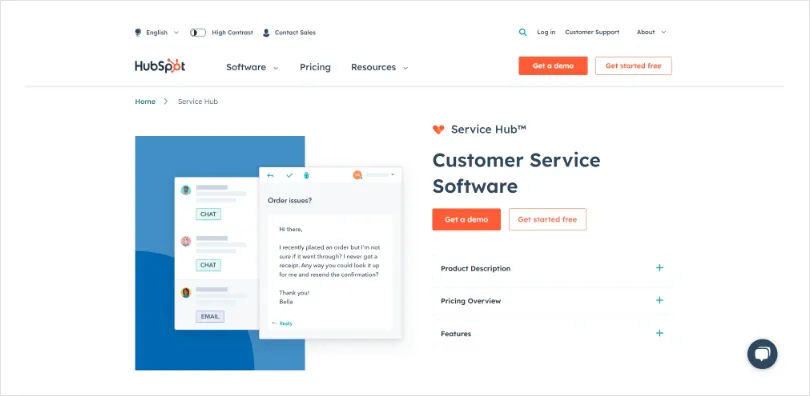 HubSpot Service Hub is a comprehensive customer experience management tool that provides businesses with a wide range of features to optimize customer-facing workflows.
Along with content management, SEO, and social media marketing, HubSpot Service Hub offers high-risk customer tracking, real-time and hyper-personalized surveys, omnichannel feedback management, and AI-powered feedback analysis.
With this complete CX software, businesses can create buyer personas, track customer satisfaction metrics, manage and analyze customer data, streamline operations, and create email lists for engagement.
Features:
Creates adaptive and personalized forms based on customers' browsing history.
Lets you schedule task reminders and follow-up actions.
Provides unlimited forms to convert website visitors into leads.
Set automatic follow-up emails to survey respondents.
Includes a built-in data analytics engine to analyze the insights.
Integrates seamlessly with popular CRM tools like Netsuite, SugarCRM, Salesforce, and more.
Pricing: Starts from $360/month for CMS Hub
11. LiveAgent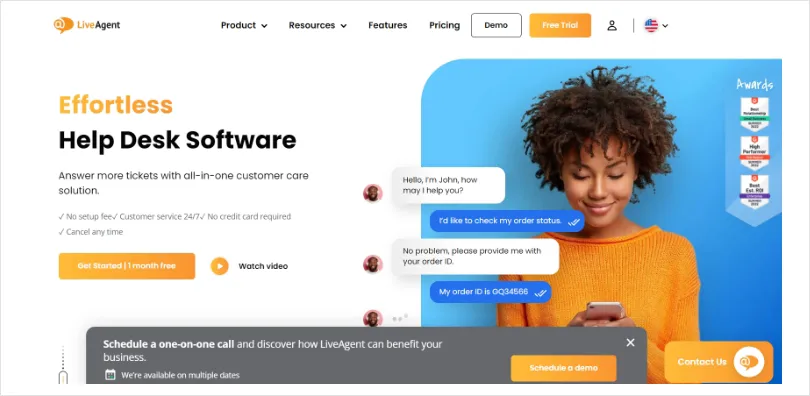 LiveAgent is a versatile helpdesk platform that offers businesses a centralized hub to manage all their communication channels, including voice, text, social media, and email.
It also provides the flexibility to create customer portals, ticketing systems, and self-service resources. With this customer experience tool, businesses can initiate chats with visitors based on various conditions, such as their location, time spent on the site, pages visited, and more.
Features:
Distribute tickets to agents automatically for better workload management.
Enhance engagement by adding images to tickets.
Initiate chat with website visitors to provide instant support.
Allow customers to request automatic callbacks.
Prioritize customer calls through call routing.
Manage Instagram comments and mentions from a centralized dashboard.
Pricing: Starts from $9/agent
12. Qualtrics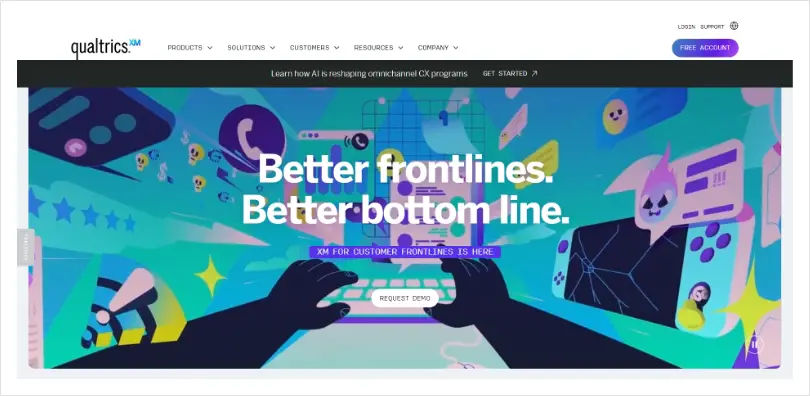 Qualtrics is a well-known CX software that provides tailored solutions to gather valuable customer feedback from various interactions, such as online reviews, social media comments, face-to-face conversations, and more.
This customer experience tool offers advanced survey logic, customization options, and various survey types, including Net Promoter Score, Customer Satisfaction, and Customer Effort Score, to gather structured and solicited customer feedback.
Features:
Create various survey types like NPS, CSAT, CES, Likert scale, multiple choice, and open text fields to gather feedback.
Offers Qualtrics Connect to monitor customer interactions and activity using conversation analytics.
XM Discover extracts nuanced insights from customer feedback.
Comes with pre-designed and customizable templates to deploy surveys in real time.
ExpertReview function analyzes different questions and provides design recommendations for surveys.
Sentiment analysis engine to analyze customer emotions in written feedback.
Predictive intelligence analyzes data reports to offer actionable insights.
Share data reports in different formats like CSV and PDF.
Helps visualize survey data using 30 different graphs.
Pricing: Available on request
13. Genesys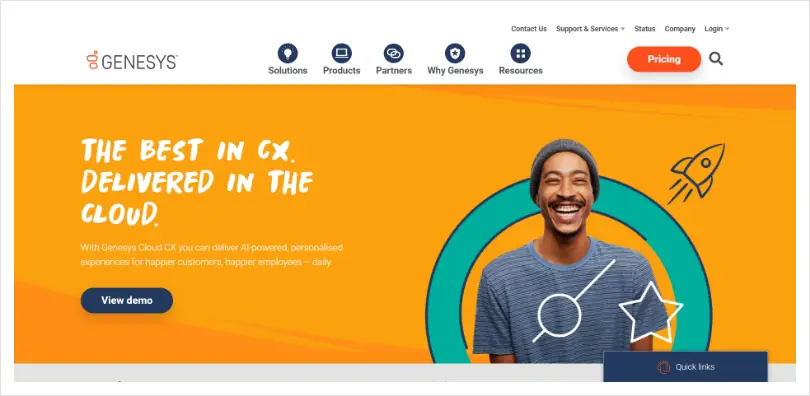 Genesys is a comprehensive customer experience tool that helps businesses deliver personalized and consistent customer experiences across all channels.
It integrates with various communication channels such as phone, email, chat, and social media to offer advanced routing capabilities. Genesys also provides extensive reporting and predictive analytics to anticipate customer behavior and preferences.
Moreover, businesses can use Genesys to integrate with CRM systems, automate workflows, and incorporate artificial intelligence and machine learning to improve customer interactions.
Features:
Conversational voice bots and intuitive design to enhance customer interactions across all platforms.
Comes with speech-enabled IVR technology that helps resolve customer issues faster.
Offers AI-powered chatbots to handle customer complaints effectively and provide 24×7 support.
Predictive routing to direct customer interactions to the best agent.
Integrates with Salesforce, Zendesk, JIRA, Microsoft Teams, and more.
Pricing: Starts from $98/month
How to Choose the Right Customer Experience (CX) Software
Your customer experience software serves as a central repository for storing all the customer interaction data, but its capabilities extend beyond that. Here are several essential functionalities that an ideal CX management software should possess:
Survey Engine
A reliable CX software should have a survey engine that enables the collection of customer feedback. This involves presenting customer surveys at various touchpoints to extract insights about their experience.
The survey engine should also offer flexibility in distributing surveys through multiple channels. Customizability is crucial to tailor the survey questions to your needs to collect targeted insights.
Customizable CX Dashboard
Data collected through surveys is stored in the CXM tool and presented through a built-in dashboard on the home screen. The dashboard provides an overview of the ongoing activities.
The CX management software should offer customizable and role-based dashboards catering to different teams within an organization.
For example, design teams may not need feedback about after-sales service, so customization allows relevant data to be displayed to specific individuals or teams.
Feedback Responder
A customer experience management software should facilitate closing the loop by enabling prompt responses to customer feedback. Simply collecting feedback without follow-up limits the impact of the data.
It's critical to analyze data and prioritize action for every customer based on their responses. This closed-loop system helps build stronger customer relationships and prevents issues from escalating.
Should Support Data Analytics
While having data is valuable, analyzing and procuring insights from it is even more crucial. Most CX tools include some level of analytics functionality because data alone is insufficient without analysis.
The best CX software should let you conduct various types of analysis. It includes statistical analysis to uncover relationships between variables, text analysis to analyze sentiment from open-text responses, and key driver analysis to identify focus areas for metrics like revenue or turnover.
Integrations to Streamline Processes
Customer feedback is not the only data organizations possess. There are various other data sources like website analytics, finance data, and CRM systems.
Integrating customer experience management software allows data to be shared with your workspace tools, resulting in improved visibility, business impact, and overall customer experience.
For instance, integrating a survey tool with a CRM system enables the transfer of customer information for targeted campaigns based on respondent data.
Gain a Competitive Edge With a Solid Customer Experience Tool
That's our take on the top customer experience software you can consider based on your business needs. All these tools are highly versatile and feature-rich to help you stand out with your CX.
For example, you can use Salesforce to manage customer interactions and service and Picreel to highlight offers and discounts using pop-ups on your website or mobile app.
Similarly, you can leverage ProProfs Survey Maker CX tool and its numerous features to gather invaluable and actionable customer feedback using surveys and work on issues and gaps in your customer experience.
Do you want a free Survey Software?
We have the #1 Online Survey Maker Software to get actionable user insights.