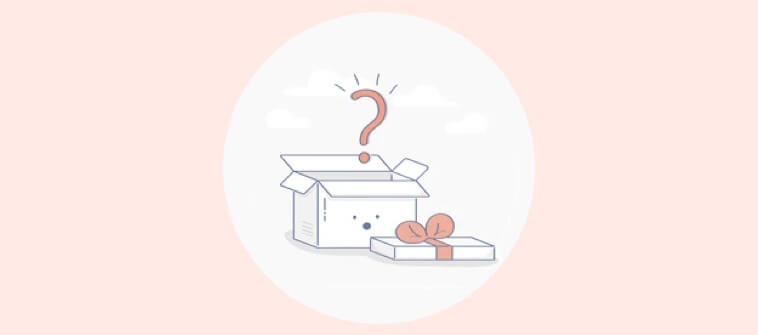 "How many questions should I include in my survey?"
"With limited survey questions, will I be able to collect enough information from my target audience?"
"Or, will a large number of questions tire my customers and make them drop out of my survey?"
You might have faced the above dilemmas while creating a survey.
As a survey creator, you want to collect as much information as possible from your target audience. But remember, your survey takers will not always be willing to take up the surveys and most of them will have time constraints. They may find it challenging to fill out lengthy, open-ended questions and abandon the survey midway. So, it is crucial to find a balance between your data collection needs and your survey taker's ease of survey response.
The ideal number of questions in a survey depends on many factors ranging from your survey goals to your audience type. Through this blog, let's explore the tips and tricks to tackle the confusion of every survey creator "How many questions should be asked in a survey?"
What Are the Factors That Affect Your Survey Length
How long should a survey be? There is no definite answer to this question! It depends on many aspects ranging from what are your survey goals and objectives to the type of audience who will take your survey.
Let's dig deeper into these factors:
1. Survey Type
There are many types of surveys like market research surveys, customer satisfaction surveys, employee engagement surveys, Net Promoter Score (NPS) surveys, and more. An NPS survey aims to understand your customer loyalty with only one question on a scale of 0-10. "How likely will you recommend our brand to your friends and family?". Hence, an NPS survey is a very short survey that can be completed in seconds.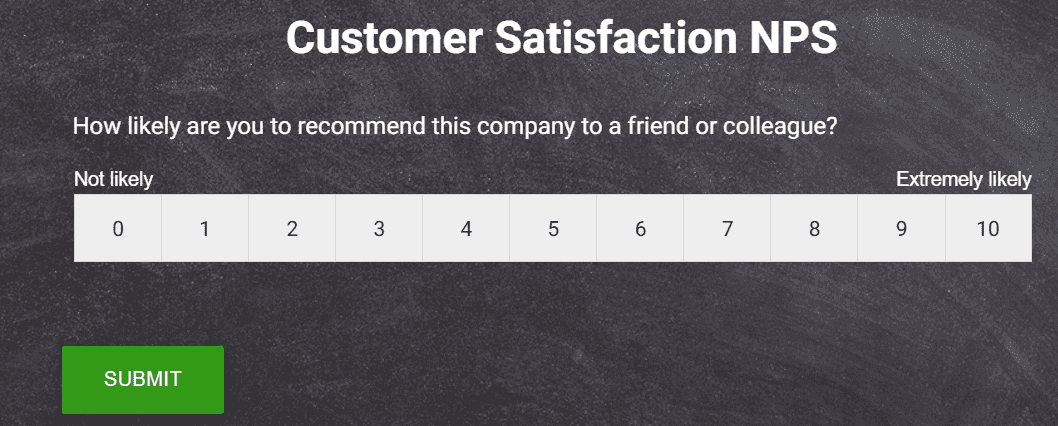 On the other hand, customer satisfaction surveys help you understand the customer's happiness with your products and services. This could consist of a number of open-ended and closed-ended questions ranging from five to ten in number. Hence, it takes more time to answer.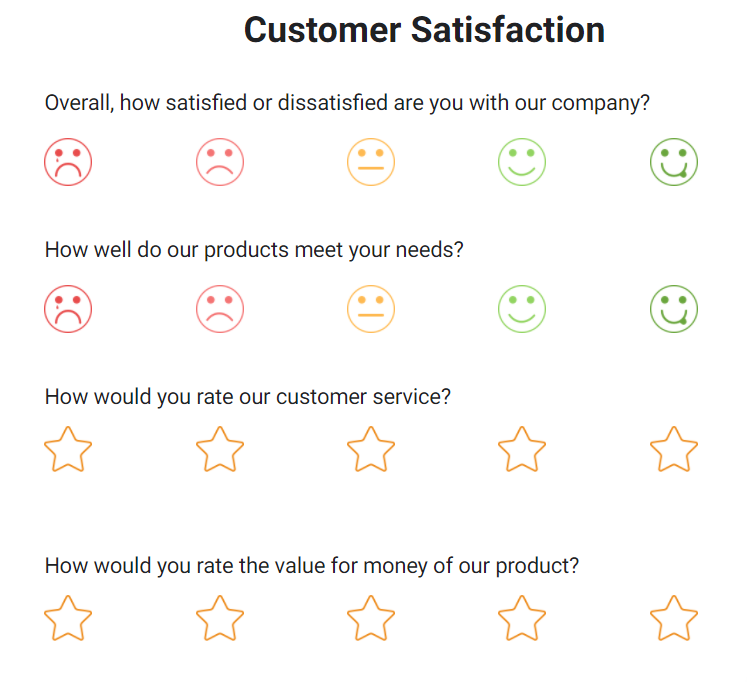 A powerful survey maker tool like ProProfs Survey Maker comes with customized survey templates to create any type of survey with ease.
Read more: What is Survey Software? Types and Benefits of a Survey Tool
2. Target Audience
Who is your ideal target audience? Are they your customers or potential customers or they are your employees? Based on your ideal surveyee base, you can keep your questions for a survey less or more in number.
For example, when you are surveying your employees, you may consider asking more standard survey questions. Since your employees are well aligned with your vision and goals, they may not mind answering in-depth questions.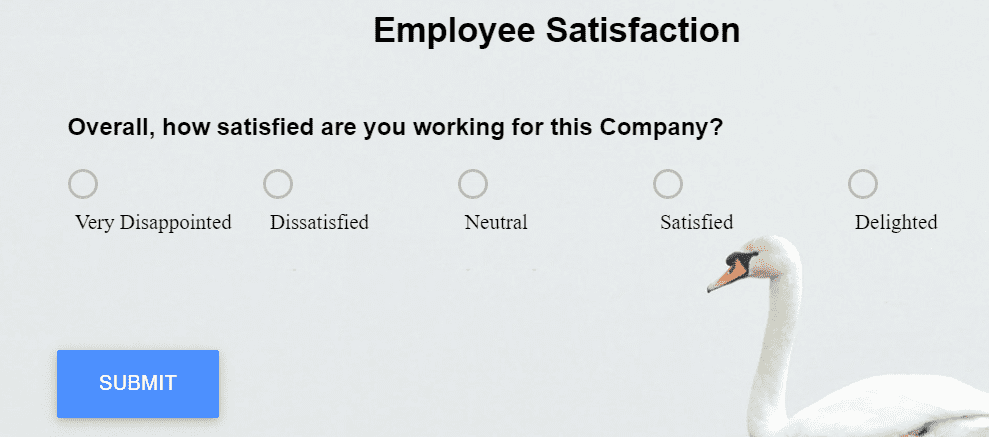 On the other hand, when you want to know about your online visitor's website experience, it is better to ask them a limited number of questions (1-2) in the form of a pop-up survey. Your website visitors easily get tired and frustrated with a lengthy survey. It is better to wait till they convert into customers before collecting and understanding their feedback about your brand.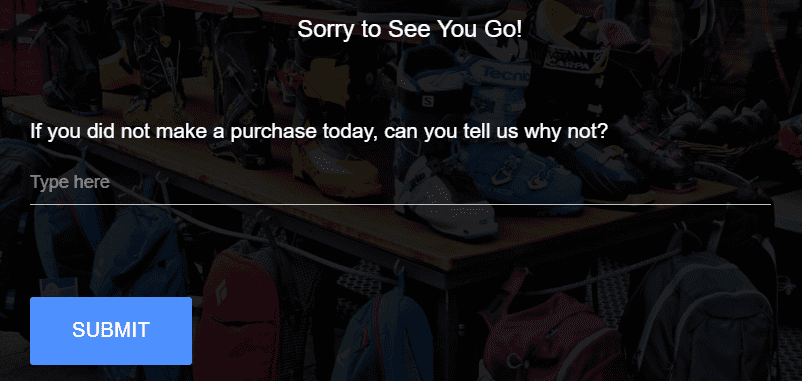 Read more: 7 Best Tactics to Collect Website Feedback
3. Survey Objectives
Largely, business survey questions are designed with a specific goal in mind. As a startup owner, you may have a goal of understanding the needs of your target audience to serve them better. A series of market research questions, designed to understand their choices will serve the purpose here. The survey can have different questions including demographic questions, open-ended questions, and more.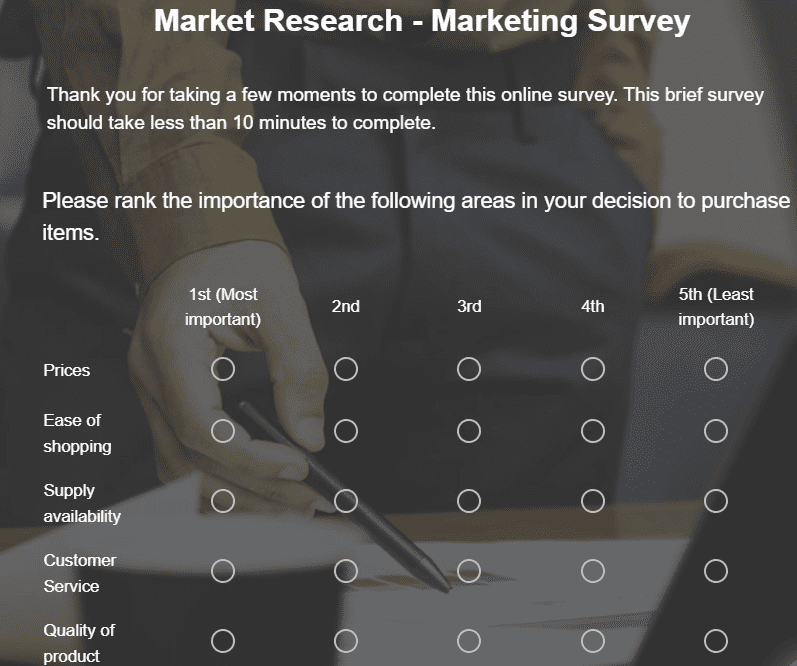 Alternatively, the efforts made by a customer while interacting with your brand can be measured by a customer effort score (CES). , This survey consists of no more than 2-3 questions. Usually, it is embedded at major touchpoints like product purchases or customer complaint resolution.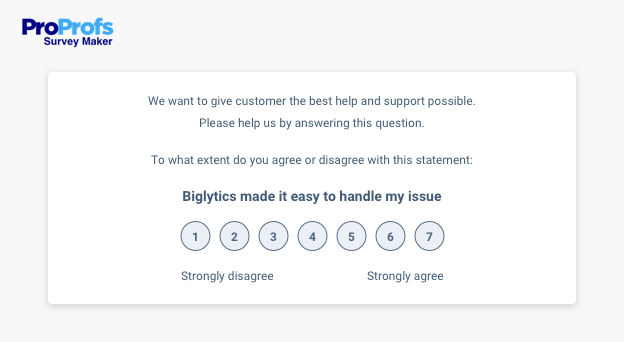 Read more: What is a Good Customer Effort Score?
Asking too many questions can reduce the quality of your online survey and affect the genuineness of the feedback collected.
Why Should You Avoid Asking Too Many Questions in Your Survey?
Asking too many questions in your survey brings about a lot of issues ranging from survey dropout to lack of accuracy in data collection. Here are a few reasons to keep the surveys short and crisp:
1. Avoid Survey Fatigue
Survey fatigue is a situation in which your survey taker feels bored or tired of taking the survey. Usually, too many questions can bring in a tiring effect on the survey participants. For example, when there are so many open-ended questions, your survey takers need to think more and frame in-depth answers to the questions. Most of them do not more than 2-3 mins from their busy schedule for the survey. They might see the entire survey process as a waste of time.

Image Source
2. Reduce Survey Dropout Rate
The chances of survey takers' dropping out of the survey increase when the survey is long and exhausting. The more the survey dropout rate, the less accurate the survey responses. Research shows that a survey with more than 25 minutes of completion time shows 3 times more dropout as compared to a survey that can be completed in just 5 minutes.
Read more: Effective Ways to Improve Your Survey Response Rates
3. Ensure High Data Quality
With high survey dropout rates, the quality of your survey data can be inaccurate. For example, if only 10 out of 60 survey respondents take your survey, you may not get a clear view of your audience's inputs. Maybe, the 10 respondents only speak in favor of your new product. You need inputs on every aspect of your product/service to understand the product challenges and serve them better.
Based on different survey types, you can frame varying questions to suit your business needs. Let's see how.
What Are the Ideal Number of Questions For Different Survey Types?
How many questions should I ask in an online survey form? How long should an employee survey be? What is the ideal and maximum length for a web survey? Each type of survey has its own dynamics when it comes to surveying length, survey question types, templates, customization options, and so on.
Let's understand this one by one.
1. Customer Surveys
Research suggests that ideally, customer surveys can have anywhere between 15-20 questions. This ensures that your customers do not get overburdened with too many questions and can quickly respond to them in 2-5 minutes. Especially, if you have a new customer, you don't want to lose their valuable feedback by overwhelming them with a lot of questions. In fact, a new customer brings a new perspective to your products and services.
Read more: How to Write Good Customer Survey Questions?
2. Employee Surveys
Unlike a customer survey, an employee survey gives you the privilege to ask more than 20 questions. Employees might have a number of concerns regarding daily responsibilities, pay, perks, work environment, and more. They will be more than happy to voice their concerns through a survey platform.
But, make sure that the employee survey is a balanced mix of both open-ended and closed-ended questions to bring in question variety. With this, your employees will not get bored and drop out of the survey.

Read more: Best Employee Engagement Software & Tools
3. Pulse Surveys
Pulse surveys are short surveys aimed at understanding the pulse of your employees and customers alike. These surveys are usually conducted on a more frequent basis like once a month or once in two months. Also, the questions are more specific and precise.
With pulse surveys, you can collect quick and actionable responses from both your customers and employees alike. Usually, this is a shorter version of the annual surveys with just 2-10 questions. These 2-10 questions focus on the most crux issues concerning an organization.
4. Intercept Surveys
Intercept surveys are in-person surveys conducted at points of contact like malls, restaurants, public places like parks, and more. Here, you intercept people and ask them to give feedback on a product or service.
While creating intercept surveys, you need to keep in mind that people do not have much time at hand. You might be interrupting their daily routine to ask for feedback. If the number of questions are more, they may not be willing to stop by and give you feedback. Hence, keep your questions as relevant as possible and limit them to 3-5.
Since you have understood how many questions should be asked in a survey of different kinds, the next section decodes the methods to determine the right number of survey questions.
Methods to Determine How Many Questions Should be Asked In a Survey
Survey length is a combination of different factors like survey purpose, average response time, determining the type of data collection, etc. There is no fixed limit on how many questions should a survey have.
1. Determine the Purpose of Your Survey
What are the aims and objectives of conducting your survey? Is it to understand the customer opinion about a newly launched product? Or, is it the aim of the survey to collect feedback after a customer touchpoint like product purchase or customer service call.
Based on the above survey objectives, your survey will vary a lot. For example, a customer service survey should have no more than 1-2 questions.

On the other hand, a product survey can have up to 5 questions to collect more detailed feedback about a newly launched product.
Read more: 30 Customer Service Tips for Delightful Customer Experiences
2. Identify the Type of Data You Wish to Collect Through the Survey
After identifying the objective of your survey, you need to identify the type of data you want to collect. Different survey questions help you collect varied information from your target audience.
For example, with checkbox-type questions, you can collect bulk information from your audience.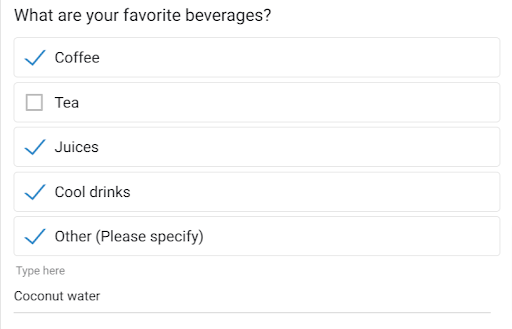 With a comment type of question, you can collect additional information from your target audience.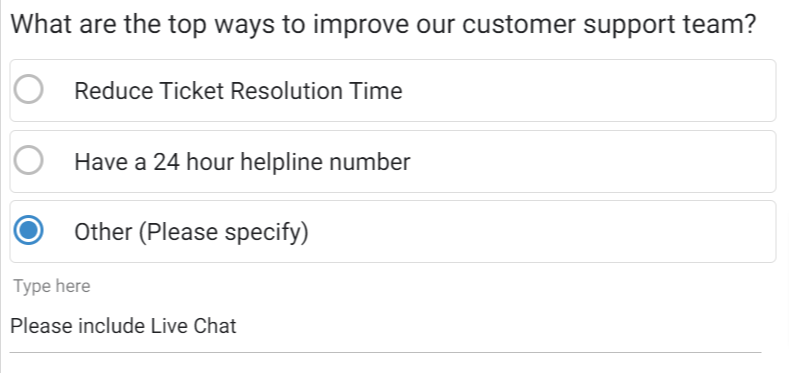 3. Use MicroSurveys in Case of More Questions
Micro Surveys contain 1-2 questions. It is ideal to split up your long survey into micro-surveys to reduce the burden on your survey respondents.
For example, if you want to conduct a survey on a newly launched product feature, first conduct a micro survey with the question, "Did you like our new product feature?" If they say yes, you can conduct another follow up micro survey with in-depth questions like "How has the new product feature solved your problem?", "How would you rate our new product feature?" and more.
4. Determine the Average Answering Time
Based on the different survey types and the industry type, you need to determine the average survey completion time. For example, pulse surveys just require just 2-3 minutes to complete. While a detailed employee survey requires around 10-15 minutes to complete. Also, make sure that you inform the survey takers about the time that will be taken to complete the survey so they can be mentally prepared to complete the survey.
5. Make Use of Market Research Panels
Market research panels consist of a predefined group of individuals who have agreed to take part in the survey process. With this, you are assured of a requisite participation rate for your survey and design the number of questions accordingly. Also, you get to easily decide certain parameters like the demographics to be tracked, choices to be captured, and more.
6. Ask the Right Survey Question
Every survey type is characterized by a definite set of questions. For example, the Net Promoter Score (NPS) survey is based on customer loyalty questions while the employee satisfaction survey takes into account an employee's overall satisfaction with their job.
The easiest way to present the right questions to your target audience is to access survey templates from a good survey maker tool. Most of the tools provide customized templates to get started with different types of surveys ranging from a customer satisfaction survey to an employee engagement survey.
7. Test Your Survey
Unless and until you test your survey, you can't experience the first-hand performance of your survey. Ideally, you can get a third party to test and review your survey. When a fresh pair of eyes evaluate the survey, you get a fair perspective on the different question types: Are the questions long or short? Is a question precise enough? Will your survey respondents be able to complete the survey in the stipulated time, and more.
Be Market Ready by Asking the Right Questions at the Right Time!
Deciding the number of questions to be asked in a survey is necessary to ensure higher survey response rates. You need to take into account different factors like the type of survey, your target audience, and your survey objectives.
Asking the right number of questions involves careful research and planning. Firstly, you need to brainstorm your survey goals and the type of data you want to capture. Once you have decided this, it is time to determine the average time to answer based on your survey type. For example, a pulse survey is very short and needs just 2-3 minutes of your survey respondent's time. Lastly, test your survey with a third party to understand its efficacy.
Are you looking to create a survey with the right number of questions? ProProfs Survey Maker gives you access to the right survey templates with the exact number of impactful survey questions.
Do you want a free Survey Software?
We have the #1 Online Survey Maker Software to get actionable user insights.