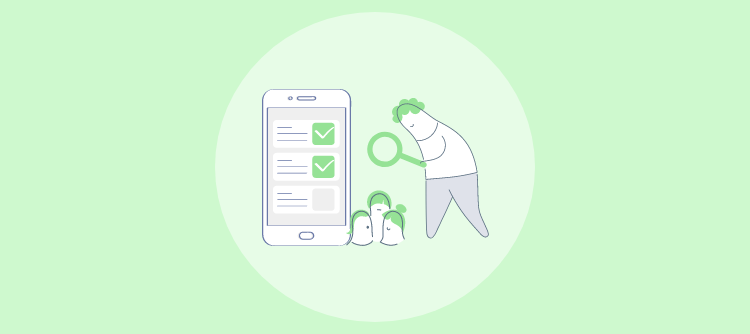 There are over 7.8 billion people on this blue planet, and still finding your ideal survey respondents can be a huge challenge.
The people who take your survey are really important. In most cases, the right survey participants can bring the difference between a successful survey and a not-so-successful one.
Now, modern entrepreneurs love to hunt for customer opinions. But most of them have no clue about how to get people to take a survey.
The truth is that most customers love sharing their inputs and naturally connect with a brand that values their opinions. You just need to know where to find and connect with your target audience.
Right from targeting website visitors to leveraging the connections of your business partners, reaching your ideal survey takers is easier than you think. In the following discussion, we will learn who a survey respondent is and how you can find them.
Let's ask the right questions to the 'RIGHT' people.
Here we go!
What Do We Mean by a Survey Respondent?
Let us understand who survey respondents are and why you must be careful while choosing them.
In simpler terms, all the participants who offer their valuable feedback to survey questions are called survey respondents. For any survey you share, you can have a single respondent or millions of them; the sky is the limit.
Ask any entrepreneur what they think is the hardest part of surveying, and there is a good chance you will hear – "the real struggle is in finding the right survey participants."
For obtaining the desired results from a survey, you need to choose your respondents carefully. For instance, if you are working in the women's apparel business, floating a survey across both genders won't serve the right purpose. You need to have an in-depth understanding of your target audience before you start asking them questions.
Now let us explore some actionable strategies that will get you a step closer to finding your ideal survey respondents.
How to Find Survey Respondents?
1. In-house Human Resources
Do you need validation for the recent changes you introduced in your newly designed mobile application?
Do you wish to capture feedback about the color scheme for your soon-to-launch product?
Then, who better than your very own employees as primary respondents.
The truth is that for most businesses, their employees fall under the potential customer bracket. In fact, they are passionate about working for you and would love to support your idea.
You can leverage your in-house human resources to get insights into the latest reforms or changes. This way, you will not only be able to save time and money, but you can also ensure that your survey generates quality data.
Your employees can offer you first-hand feedback and help you improve your product/service before it hits the market.
Bonus Tip: The best responses for a survey come from a reliable respondent pool, such as your employees. As they are already in a professional relationship with your brand, they will offer honest feedback! To appreciate this behavior, you can share an email acknowledging how valuable their feedback is. You can also provide incentives or sponsor a lunch for all your survey heroes.
2. Website Respondents
For statistical accuracy, your survey needs reliable and contextual respondents. Also, this accuracy increases with the number of surveys you conduct across different clusters of survey respondents. However, this comes at a hefty cost, which might not be affordable for every business.
So, how do you ensure that you reach contextual survey respondents without burdening your finances? The simple answer to this question is – website respondents.
You can survey your website visitors, as and when they visit the website and gather highly relevant data. You can capture data related to your website's user interface, performance or understand how likely customers are to recommend your products/services to others.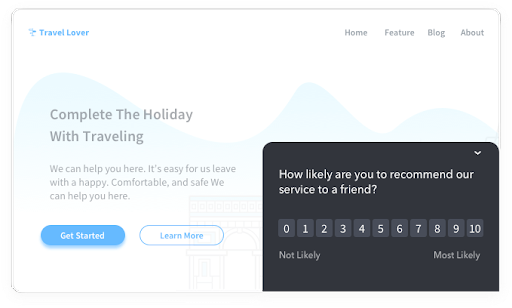 You can use an online survey platform like Qualaroo that helps you create brilliant surveys and capture responses in real-time. To get the best results, you can target specific visitors by page, traffic source, visit length or depth, visit number, activity, and more. The best part is that such surveys do not slow down your website's loading speed.
Bonus Tip: You must analyze the survey stats based on the location of survey banners and pop-ups on your website. Try experimenting with the position, rewards, and the time at which a survey question appears. Assess this data to make your surveys more relevant to contextual users and understand which types of surveys are getting you more responses.
---
Read More: Website Survey Questions To Ask Your Customers
---
3. Online Forums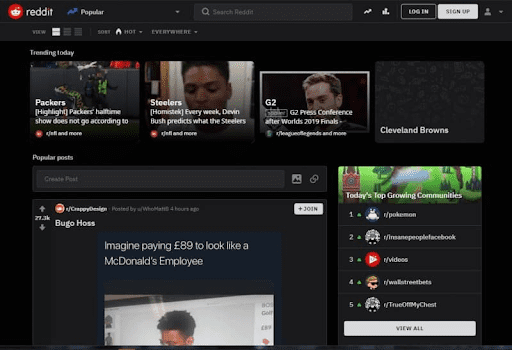 Source: Popular List
The internet has magically enabled people to come together and form communities based on their likes, interests, and beliefs. People can connect with like-minded people, share their experiences, offer suggestions, and hold meaningful conversations.
For your business, this is a golden opportunity to engage with your target audience and find your ideal survey participants. An online forum can be the ideal platform where customers can provide feedback on your products or services.
In fact, you can post survey links and ask customers for new ideas – "What feature would you like us to offer?", "Which product should we release next?" The sky is the limit!
Use Your Own Community Forum: If your business has an online forum, there is no better place to find your ideal respondents. However, simply sharing a survey link is not enough. Before sharing your surveys, ensure that people understand the purpose behind them and how your business plans to use the captured data.
Find Similar Forums: Don't worry if your business does not have its own online community. Three are thousands of online forums where you can easily find the right people for your survey. For instance, if you are into the gaming industry, you can always find online communities of gamers. You can even leverage online discussion forums such as Reddit, Quora, Tumblr, etc.
Pro Tip: Forums are also a great place to do competitor analysis. You can create an anonymous account and share an online poll, "Which brand offers the best customer service – Brand A or Brand B?" This will take you closer to the likes and preferences of your audience.
4. Paid Survey Respondents
If you are searching for how to get people to take a survey and budget is not a big concern, then we have the right solution for you. You can get in touch with a market research agency and purchase a panel of respondents.
The paid panels are compiled after intensive respondent background research and comprise contextual people from desired demographics. The paid respondents have agreed to respond to surveys for a specific period.
Such respondents are chosen according to your survey and can be bought from any reputed firm or survey agency.
Purchased survey panels might initially appear to be the magic wand to get survey respondents as and when required for any kind of survey. However, they, too, have their downsides! The larger the panel, the more the cost!
Bonus Tip: It's great if your business has the financial liberty to buy a panel of survey respondents. However, to survey your desired audience, and achieve the desired results, look to partner with a survey agency that has worked with similar businesses before. For instance, if you are in the kidswear business, partner with an agency with similar industry exposure and a database of young parents.
5. Social Media
Social media is another great tool if you want to look for survey respondents.
The social media platform is perfect if you're gathering information about your company's products or services. Simply visit your Facebook, Twitter, or Instagram accounts, and engage with your audience.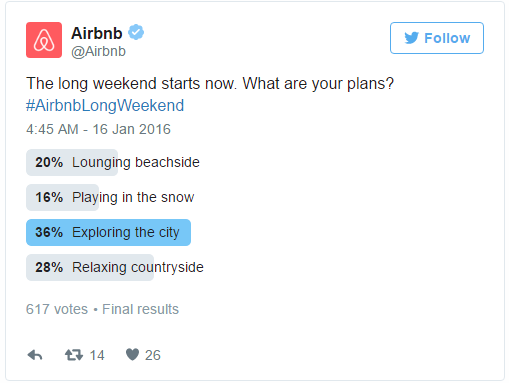 Source: Freeman Social Media
Given that most social media followers have already invested in your brand, there's a high chance that they'll respond and willingly participate.
Even if your existing community isn't the type of respondents you need (perhaps, you're looking into a new market segment), social media can still help you qualify your prospective respondents.
People's social media profiles display demographic information such as their age, gender, and location. This makes it easy to filter them if this is an essential consideration for you.
Likewise, their social profiles also give you a peek into their values and interests – the pages they follow and people they resonate with. Based on who someone's connected to, you can get a fair idea of their hobbies, lifestyle, and personality.
Bonus Tip: Consider using paid ads if you want to widen your search. Unlike organic posts, paid ads are guaranteed to show up in your targets' feeds. Plus, social media ads let you control who sees your content through sophisticated targeting parameters.
---
Read More: How to Use Social Media for Delightful Customer Service
---
6. Email List
Email is another popular channel to get survey responses. However, for this, you need the email addresses of your existing customers, prospects, or any audience you want to survey.
According to a Statista study, there are around 4.1 billion email users across the world. This number is expected to reach 4.5 billion by 2025.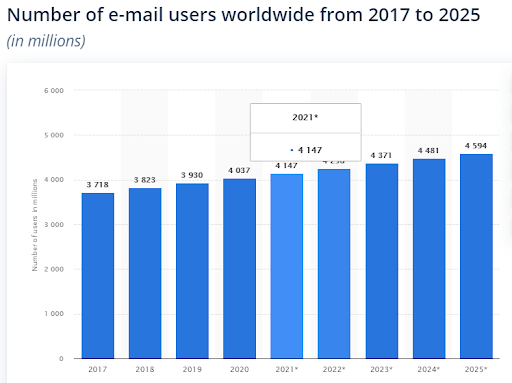 Source: Statista
Therefore, the increasing popularity of email highlights that it is a convenient channel to survey your target audience. Once you have the right email list, you just have to press the Send button on your online survey tool.
Where can you find the email addresses of your ideal survey respondents?
Check Newsletter Subscribers: If your business has people who have subscribed to your email newsletters, this is a great opportunity to tap into a sea of email accounts. However, since a lot of subscribers might not be your ideal respondents, you need to filter the email list.
CRM: Customer Relationship Management (CRM) is a business application that is used to store customer information and their interactions with your business. Here you can not only find the email addresses of existing customers but also of people who had shown interest in your business at some point in time.
Bonus Tip: When businesses participate in events, they always hand out forms to people who show interest. You can always look for those forms and find relevant information in your event contacts.
7. Business Partners
Irrespective of what they sell, every business is surrounded by connections. They have years of business relationships with logistics partners, suppliers, wholesalers, legal firms, distributors, and so on.
If you are a business wondering how to get survey respondents, you can leverage the contacts of your business partners. Based on your research goals, ask them if you can use their marketing channels or contact list.
The resellers, logistics people, or suppliers you have a good relationship with will have their own social media accounts or other marketing systems. You can leverage these connections and reach the people you wish to survey.
For instance, you can ask your logistics partner to share your survey on their social media page. Or they can include your survey in their marketing campaigns – emails, text messages, brochures, events, etc. They can really help you research a particular location.
Bonus Tip: Business relationships are built over years of working together and after going through various ups and downs. Sometimes, a business might not be willing to help as sharing customer information might be against their policies. In such cases, you need to respect their decision and move on. It's not a wise idea to spoil the relationship you have with them.
8. Find Survey Respondents from Previous Surveys
One of the easiest ways to find survey respondents is by going through your past survey data. Yes, you need to take a step back, and you never know; the right participant information might be right beside you.
It is common for businesses to conduct surveys before launching a new product, to measure customer satisfaction, or to simply understand the likes and preferences of customers. Using existing information from the previous surveys helps you find contextual respondents for your surveys.
When you use an online survey tool such as ProProfs Survey Maker, you can easily go back and find all the past survey details you need. The people who took your survey, how they took it, their responses, contact information, and more.
Moreover, you can even filter your surveys (Newest to oldest, recent attempts, A to Z, highest to least responses) and find the relevant data in seconds.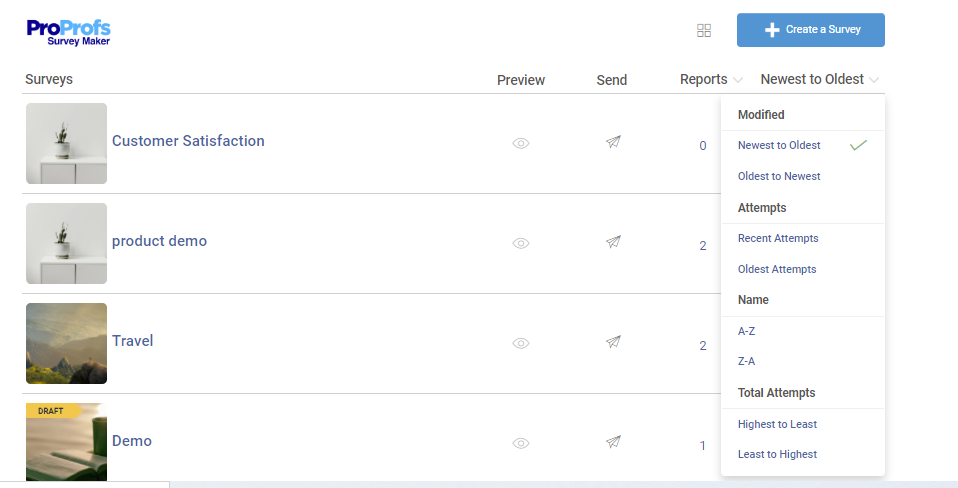 Bonus Tip: Every time you float a survey, compile a database of every respondent and the type of questions they had responded to in the previous surveys. As time goes by, you will have an incredible library of survey respondents along with their areas of interest.
9. Find Survey Participants Offline
How to get people to take a survey? Just physically meet them where they are.
Meeting people in person is a great way to collect information about any research. You can not only gather relevant answers but also take cues from their body language.
For instance, before launching a new product in the market, you can meet your target audience and ask them if they would be interested in buying such a product or not. More importantly, you can ask them how much they would be willing to pay for the same product. This will help you understand customer sentiments and gauge the demand for any new product in the market.
The goal here is to figure out the places where your target audience spends the most time. If you wish to launch an online food delivery app, you can meet people at grocery stores, supermarkets, food courts, and try to understand their pain points. Similarly, if you are into the furniture or home decor business, you can meet the right audience at Home Deport, IKEA, etc.
Bonus Tip: People you meet in person will most likely be in a hurry and will have limited time to help you with your research. Therefore, to get the best results, you must create your survey where the top-priority questions are listed at the top. So even if people refuse to continue mid-way, you will have some relevant data with you.
10. Staff Members' Personal Network
We all have our personal networks that comprise neighbors, friends, and family members. Such personal contacts of the people who work with you can help you gain valuable insights for your research.
No matter if you have an employee size of ten or a thousand people, your employees can easily help you find the right survey respondents. All you gotta do is ask them for this small favor.
Sit with your employees, let them understand the "why" of your survey and what your business plans to gain from the research. Encourage them to create a list of people that can be suitable for your survey. It can include people they have known since school days or their own family members. You will be surprised to see the long list of people that employees can provide.
Bonus Tip: This is a great way to see how engaged employees are at the workplace and how ready they are to go the extra mile for you. However, to encourage maximum participation, you can share discounts or other incentives with employees and also their close connections who respond to your surveys.
11. Leverage Technology for Smarter and Intuitive Surveys
Many modern businesses are on a spree to make the most of technology for attaining their desired survey results. The adoption of Artificial Intelligence (AI) and chatbots is visible in survey creation, distribution, and data analysis that allows you to tap into hidden patterns with finesse.
Chatbots are software programs that are often given a human name for a more humanistic experience. They are programmed to interpret and understand natural language and can hold a conversation with a customer. Many companies use chatbots to interact with their customers and guide them with the basic help they need.
For instance, Spotify's Facebook Messenger chatbot makes it easy for its customers to search for, listen to, and share music. Similarly, these chatbots can be used to ask both open-ended or closed-ended questions from the web chat software window on your website.
Bonus Tip: You can leverage an AI-powered tool like Qualaroo that allows you to survey website visitors and better understand the intent behind their visit. This tool is powered by IBM Watson that conducts sentiment analysis and helps you understand the overall sentiment or mood of the respondent.
Factors that Affect the Statistical Accuracy of a Survey
If there are so many easy ways to find respondents for a survey, what makes them good and bad?
Why do some surveys reveal fantastic results that drive the business in the right direction, while some fail?
Well, the answer lies in the statistical accuracy of a survey. The survey results are affected by four major factors, namely:
Size of population or respondent pool
The statistical accuracy of the demographic segmentation chosen, such as annual sales volume, region and support representative, etc.
Sampling error tolerance for business decisions
Degree of variance in the responses recorded in the survey
Get a Step Closer to Your Survey Respondents
If you shift the clock backward a couple of decades, surveying was an incredibly time-consuming job. From face-to-face or telephonic surveys to online surveys that can be shared in seconds, we have come a long, long way.
Your perfect survey audience is out there, and we hope, by using any one or a combination of these methods, you will be able to find your target survey takers.
You can leverage the ProProfs Survey Maker to automate survey creation, distribution, and analysis. The comprehensive feature set of this tool will empower you to conduct compelling surveys and make future-ready business decisions.
Do you want a free Survey Software?
We have the #1 Online Survey Maker Software to get actionable user insights.