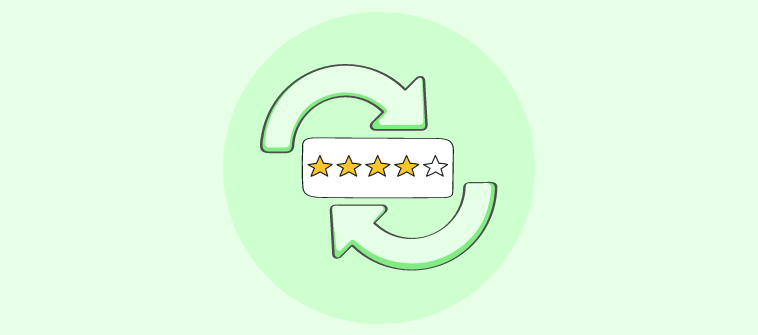 The secret to creating a positive customer experience is to listen to your customer's feedback and leverage it to improve your products and services.
That's where the customer feedback loop fits in. And we all know that a positive customer experience is the sure-shot way of driving customer loyalty and turning passive into promoters.
A customer feedback loop is a process of understanding how your users feel about your products or services. Collecting customer feedback and analyzing it delights users and differentiates your company from the competition. This feedback loop acts as a bonanza of information for a company and leads to improved products and services, happy customers, and better revenue.
Without a proper feedback loop, it isn't easy to understand what customers want and how much they are satisfied with your brand's offerings.
So, let's take a look at what a customer feedback loop is, its importance, and how you can create one.
What Is a Customer Feedback Loop?
A customer feedback loop is a continuous process of gathering customers' feedback and using it to improve your products and services. Having a proper feedback loop system in place offers you actionable insights that help mold your products and services and boost customer satisfaction.
For example, suppose a restaurant manager receives a complaint from a customer about food having a bad taste. In this situation, he may offer them a different dish free of cost or may respond with an apology to close the loop with that customer.
However, it is not necessary that all customer feedback involves complaints and negative experiences with your brand. Customers also leave a happy note when they have a good experience. They may also leave suggestions for product or service improvements.
Tracking customer feedback is not only necessary to listen to the voice of the customer, but also helps in improving the overall functionality and revenue of the business.
Also Read: 43 Best Customer Feedback Software
Importance of Customer Feedback Loop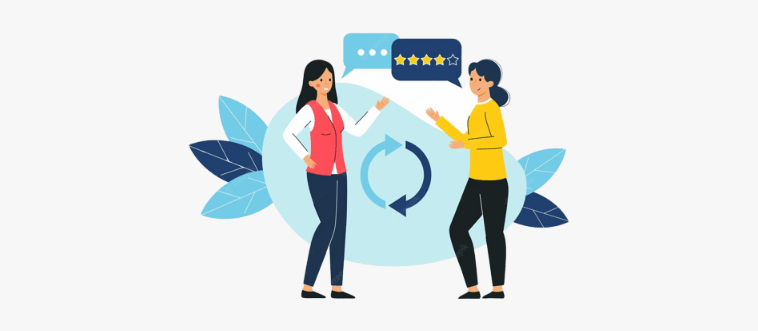 Do you know that increasing customer retention rates by just 5% can increase profits by 25% – 95%?
And there is no better way to retain customers than to listen to what they have to say about your brand and incorporate their feedback to improve your products and services.
This is the power of implementing a customer feedback system. It will not only help you in understanding and retaining your customer but also boost their satisfaction and increase your overall profits.
Creating feedback loops is a great way to keep your team focused on providing customers with an excellent experience. It gives your team a direct look into your customer's experience, what they like and where they are experiencing problems. A feedback loop is the best option if you want to obtain deep insights into what customers think and feel. It will also build customer loyalty and provide you with an edge over the competitors.
Customer feedback loops also offer data-driven insights that help in customer sentiment analysis. It provides your teams with a way to create deliverables and approach every type of customer. Also, the feedback cycle acts as a reality checker. Some product concepts might look good at the time of deployment but may not generate positive feedback from your end-users. Ultimately, the customers decide the good and bad about your brand's offerings.
How to Create a Customer Feedback Loop
Let's discuss the customer feedback loop steps that you can follow to implement the one in your organization: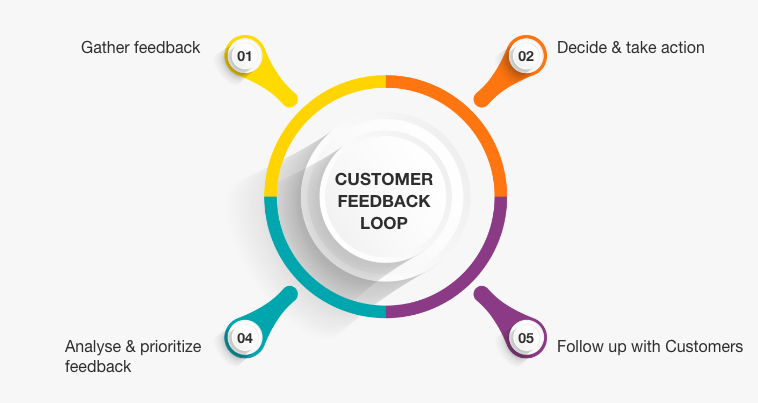 Step 1: Collect Customer Feedback
Before you start working on the feedback, you need to collect customer feedback. You can do it in a variety of ways, like:
Customer satisfaction surveys: Surveys are the best way to collect customer feedback. Using customer satisfaction surveys, you can collect data regarding how satisfied or unsatisfied customers are with your products and services. With this survey, you can also determine the customer effort score that helps measure a product or service's ease of use to customers.

NPS surveys: Using the net promoter score, you can determine the likelihood of the customer suggesting your brand to others. It helps in collecting overall customer loyalty and satisfaction data.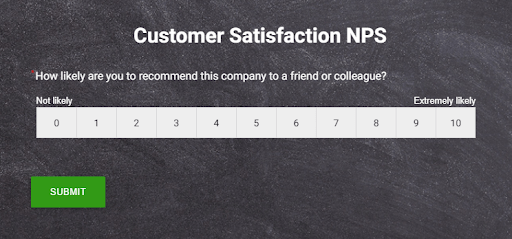 Live chat: You can ask for the clarification of a product or service from customers using a live chat. Live chat agents might also have a set of feedback questions they ask, along with organic follow-up questions, allowing the possibility of human touch to the interaction.
Website Widgets: You can also collect feedback on your website by using a widget embedded on your site. Using the widget, customers can directly send feedback without switching back and forth between channels.
Follow-up email: You can also send follow-up emails to your customers once a service has been provided or when a product was purchased and delivered to a customer.
Monitoring Social Media: Feedback can also be collected by reviewing customers' comments on various social media channels like Facebook, Twitter, and Instagram, sending direct messages, and engaging with them.
Step 2: Analyze the Feedback Data
Once you have gathered the data, it is time to analyze it and make sense of it. The feedback collection tools like survey tools, chat tools, and analytics tools usually have a dashboard from which you can extract this data. If analyzed properly, data will speak a lot about your customer's perception of your products and services.
During the analysis process, you will notice patterns and facts. You may observe that the reviews with fewer ratings might have the same customer complaints.
For example, your mobile app customers may complain of the app crashing frequently. You may also notice this complaint in other less-than-satisfied reviews. This is how you observe trends in feedback data.
Step 3: Act on Feedback
Once you've analyzed your feedback and understand what your customers want, it's time to process customer feedback. This means using the data to improve your business operations, products, and services.
Acting on the feedback helps you address the issue and loop in the concerned team for a solution. For example, if the issue is technical, you can involve the product team to address the problems faced by customers. Or, in case of a non-technical issue, you can include the customer service team to resolve the query and boost customer satisfaction.
Make sure to act on customer feedback as regularly as possible, daily, weekly, monthly, etc. The more frequently you choose to keep up with the customer complaints, the more loops you get to close.
Step 4: Follow up With Customers
Now is the time to close the loop and follow up with your customers. After implementing changes, you should reach out to your customers to let them know that you have taken their feedback seriously.
For example, if you have updated your mobile app according to customer suggestions, to resolve its crashing issues, send them a personalized message or email to let them know the impact of their feedback on your team.
You can even ask customers with negative reviews if they'd be willing to update their review with the new information after you have implemented their suggestions.
Best Practices for Closing the Customer Feedback Loop
In this section, we will discuss some of the best practices for closing the customer feedback loop:
1. Centralize Your Feedback in One Place
Acting on feedback and closing the loop is difficult when your customer feedback is scattered in various spreadsheets or folders. It would be best if you made your data worthwhile by organizing it in one location that is easy to access by all department members. Also, it is better to organize feedback by themes or categories for future reference.
2. Prioritizing the Feedback
It is not possible to react to each and every feedback. Instead, try to focus your attention on productive product feedback loops. Try to work on those problems first that multiple customers raise.
3. Feedback Loops Are Not Just Only for New Products
Feedback loop marketing is a long-term investment. It is not just helpful for a newly launched product. Throughout the lifecycle of your product, you should have feedback loops in place.
4. Don't Let Your Customer Leave
While closing the loop, try to stop your customers from leaving. For instance, suppose a customer leaves feedback saying, "I have been purchasing from your brand for months but have not received any discount or special offer yet." In this case, you can immediately close the loop by offering them a discount.
4. Open a New Loop When You Close One
When you answer a question or a complaint, you start a conversation. You have a customer who is interested and can now be a resource if you start a new feedback loop. You can begin by asking if your answer made a difference. Then, you can thank them for their time and ideas and invite them to share more insights.
Benefits of Customer Feedback Loop
Does it ever happen that you have a terrible experience with a brand and wait for them to reply or offer a refund? So, what do you do in this situation? Next time, buy from the same brand or avoid them for your future purchase?
Many of us have experienced this situation. In fact, 78% of customers have backed out of purchase due to a poor customer experience.
To save yourself from this considerable business loss, you create a customer feedback loop in business. Many companies don't realize that just collecting customer feedback is not enough; if you do not act upon it. Collecting the data, analyzing the survey data, and using it to improve your business is equally important. Otherwise, your customers will churn out.
Let's discuss some benefits that it offers:
Implementing a feedback loop helps build more trust among your customers, increasing their likeliness to refer your brand to others. In this way, you can change your passives into promoters.
Responding to negative and positive customer feedback helps you understand the strengths and weaknesses of your businesses.
Working on your customer complaints and resolving their issues helps your customer from churning out. It also builds a positive experience in their mind.
Closing the customer feedback loop improves customer experience and builds brand loyalty.
Taking necessary action on customers' complaints improves their experience, and in turn, they spread good word of mouth about your brand, thus increasing your goodwill in the market.
Working on a constant feedback loop allows you to retain existing customers, which is far better than finding new ones.
Also Read: Advantages and Disadvantages of Customer Feedback Surveys
Create Your Customer Feedback Loop Now!
A customer feedback loop is one of the best systems that you can implement in your company to understand your customers. Without the feedback, you will not be able to know your customer's opinions, their liking, and their pain points. It is easy to manage users' complaints and actively react to them. Knowing precisely what your customers expect gives you an advantage over the competition.
With good survey software, like ProProfs Survey Maker, you can easily conduct and share the surveys and collect the data. By analyzing the feedback data received, you can improve your brand's offerings and the overall increase in business revenue. The tool offers a library of ready-made survey templates that helps you in designing the survey quickly and closing the feedback loop efficiently.
Do you want a free Survey Software?
We have the #1 Online Survey Maker Software to get actionable user insights.