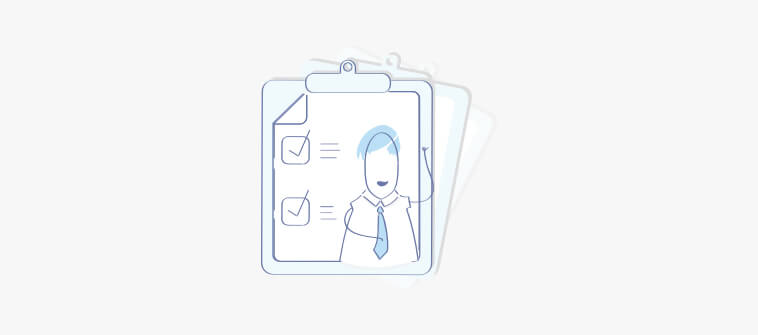 Did you know that engaged employees are 44% more productive as compared to just satisfied workers!

Engaged employees are your best assets to grow your business. Their efforts are aligned to the business goals. They act as role models to other employees by setting a standard benchmark.

But, how to measure employee engagement to ensure maximum productivity?

The answer lies in the formulation of an employee engagement survey that captures the pulse of your employees around the parameters: peer interaction, work culture, job challenge, career prospects, etc.

Engaged employees form the backbone of any organization. With an employee engagement survey, you can gauge the challenges faced by your employees at the earliest. Do they see the opportunities to enhance their skills? Are they happy with the management's decisions? But, do not confuse employee engagement with employee satisfaction. Employee satisfaction may not guarantee employee engagement but an engaged employee is always satisfied.

Let's have a complete understanding of an employee engagement survey.
What Is Employee Engagement?
Employee engagement is an important indicator that measures the degree of involvement of your employees in their respective tasks. Do they feel connected to the organization? Can they resonate with the company goals and missions? Does the work responsibilities challenge them enough and take their potential to the next level? The answers to these questions show the engagement of your employees at the workplace.
Related Read: Best Employee Engagement Software & Tools
What Is the Importance of an Employee Engagement Survey?
Conducting an employee engagement survey helps you to have a firsthand understanding of your employees' needs: Are they comfortable working in their team? Is their current job role challenging? Do they see a good career prospect? These questions measure the depth of engagement of an employee at the workplace.
Surveys give a platform for the employees to open up about their grievances. In fact, with an anonymous survey, you can get honest and personal information. This information helps you in taking corrective steps for employee welfare. It sends out a positive message that you value your employees, thereby boosting their morale.
As an organization, employee engagement surveys help you identify crucial roadblocks from the top management level to the lowest worker level. Equipped with this information, you can set in a corrective process to ensure productivity.
Organizations that understand the importance of customer experience give high priority to employee engagement surveys. When employees are fully immersed in their work, they give it their best effort to service customers. Going ahead, happy customers turn into the brand ambassadors of your company.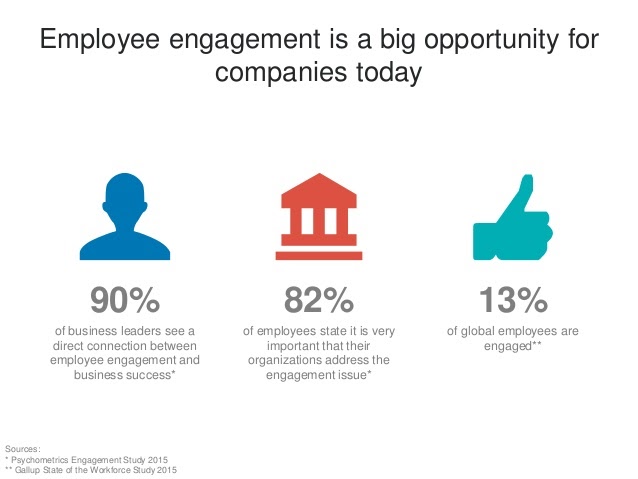 In the next section, let's understand the key components of an employee engagement survey.
Key Components of an Employee Engagement Survey
An employee engagement survey analyzes an employee's involvement using the following parameters:
What is the employee's relationship with his supervisor? What is their perception about the management? These factors help you judge the quality of work culture. Good leaders act as torch bearers of a company. They make the work environment empathetic through their vision and actions.
When an employee is guided by empathetic minds, it boosts their morale. It encourages them to go the extra mile to achieve their goals which keeps them completely engaged. Hence, leadership is a prime parameter of an employee engagement survey.
There are two types of employees: The easy goers who put little effort, do the bare minimum job and feel satisfied. Others, the challenge takers who put extra effort to do the job in the best way.
The challenge takers look for more tasks and responsibilities in the job. They look for new ways to innovate and grow more. When the company's growth matches their effort, they see the real growth. In your employee engagement survey, make sure that you ask specific questions on the employees workload, to understand the scope of growth and development.
In a workplace, interaction between employees is an imperative. Employees work in teams to achieve the common business goals. Hence, the nature of peer relationships has a direct impact on their engagement. It affects their trust, morale and commitment. A good relationship boosts their productivity.
Alignment With Company Mission
Are the goals of your employees and company aligned? Are they clear with the company vision and mission? The answers to these questions are crucial to gauge their commitment and passion for work.
Well engaged employees see themselves as the brand ambassadors of the company they are working for. They put their heart and soul in tackling challenges. The company's success is viewed as their own success. Visible consequences of their pride are: maintaining punctuality, taking responsibility and accountability of their tasks and meeting deadlines.
Recognizing and rewarding talented employees act as a morale booster. When good work is appreciated, it acts as a motivation for employees to work harder and be more productive.
Workhuman research shows that employee engagement increases by 48% with a recognition system in place.
Everyone loves to be appreciated for their efforts. When this directly comes from the managers and co-workers, employees can go that extra mile to reach their goals. Appreciation brings out the best in an employee.
Employee Engagement Survey Vs Employee Satisfaction Survey
At the outer level, both employee engagement and employee satisfaction look the same. But close analysis shows that there is a difference. While employee satisfaction measures the overall happiness of an employee with their job, employee engagement measures the genuine efforts put in by an employee for the company growth.
For example, a satisfied employee may be happy with their job with no tremendous efforts. For them, getting salary on time could be the prime concern. But engaged employees put in extra efforts, challenge themselves, explore innovative ways to go beyond their goals.
Bonus Read: Importance of Employee Satisfaction Survey
Engaged employees are those who beat the clock, take leadership and responsibilities and have a never say die attitude. They are the stars of your company who deserve a standing ovation.
Now, let's learn the method to conduct an employee engagement survey.
How to Create an Employee Engagement Survey?
1. Discuss Survey Objectives
The first step in conducting an employee engagement survey is to decide on the survey objectives. What is the purpose of conducting the survey? Is it to analyze the fall in employee productivity or increase in employee turnover? It is important to have a discussion with the team leaders and managers before you start creating the survey. Different people have varied perspectives and put forth wide parameters.
You need to take a call on shortlisting the appropriate parameters. You need to prioritize the most important factors while designing the survey. Keep the objectives focused and set. Once you arrive at the parameters, you can proceed with the next steps.
2. Keep Employees Informed
Your employees need to be educated on taking the employee engagement survey. Explain them the expectations from the survey so that you can obtain as genuine results as possible. Then, set a deadline for completing the survey. As far as possible, keep the survey anonymous to enhance the response rates. Also, nudge your employees with telephonic and mail reminders to complete the survey. Remember, always emphasize on the employee benefits on taking the survey.
3. Decide a Time
Conducting a survey shouldn't be a one time process, rather it should be conducted at regular intervals in an organization. For example, the surveys can be conducted at the end of each quarter. Well timed surveys result in better comparative analysis and can help in modifying the policies and environment.
4. Conduct the Survey
Once you have framed the survey questions in alignment with the parameters, it is time to send the survey. Mail it to your employees and keep the survey link open for 1-2 weeks to get more responses. If the survey is anonymous, explicitly mention it. Many times, people do not come forward to take the surveys unless their privacy is guaranteed.
5. Share and Analyze the Results
Share the survey results with your employees to bring in transparency. Also, appreciate them for their efforts. This will motivate them to take surveys in future too. Then, analyze the survey results and make a revamp plan. Prioritize on the areas where the employee engagement needs improvement.
For example, maybe you have got a below average score on the work responsibility front. You need to then focus on strategies to make your workers feel challenged in the job. Probably, the managers can have a discussion with the members on a frequent basis to understand the job expectations.
Employee Engagement Survey Questions
Employee engagement survey question examples can be categorized as:
1. Employee-Manager Relationships:
Do you get the requisite help and guidance from your manager?

Do you see your manager as a role model?

Does your manager value your opinions?
2. Employee-Peer Relationships
Are you comfortable working in a team?

Have you faced any challenges while interacting with your peers?

Did you receive help from your colleagues when you needed it?
3. Employee Work Challenge
Do you have the opportunities for career advancement in the company?

Do you have access to the required work tools?

Are you able to meet the deadlines at work?
4. Employee-Brand Relationships
Are your goals aligned with the company goals and objectives?

Does the company's mission statement help you work hard?
5. Employee Personal-Professional Life Balance
Are you able to spend enough time with your family?

Do you take regular vacations to feel refreshed and rejuvenated?

Does your company provide you with enough support to balance your personal and professional life?
6. Employee Growth Opportunities
Where do you see yourself three years from now in the organization?

Do you feel that the organization supports you in meeting your career goals?

Are you happy with the hands on work training provided? Do you think it is advantageous for your career growth?
7. Effective Workplace Communication
How frequently do you communicate with your managers?

Are you comfortable with communicating your ideas to your peers?

Are you happy with the communication process followed by your team?

Is your company open and fair while communicating the top level policies to its employees?
You can easily learn how to create a survey using the above examples. Now, let's look at some ways to improve employee engagement.
Bonus Read: How to Write Good Customer Survey Questions
How to Improve Employee Engagement?
1. Right Person for the Right Job
Finding the right person for the right job is one of the easiest ways to enhance employee engagement. Unless your employees are passionate about what they are doing, there won't be the desired productivity. For instance, Glassdoor review states that 61% of employees see a mismatch between the work expectations set during the interview and real work scenario.
Ensure that you gauge their expectations and morale on a daily basis. Give them the choice to choose their desired work type. For example, even if your employee has a penchant for the design process, they should be involved in the design team rather than in the marketing or sales team. Set their expectations on the right track from the time you hire them.
2. Work Flexibility
Are your employees enjoying a good work-life balance? Or are they stressed out at work and they carry work to their personal space regularly? It goes a long way in understanding their engagement rates. A survey conducted by FlexJobs showed the following results:
Flexible work culture helps employees to juggle work and personal life. Probably, they have kids and elders to take care of at home. The balance is needed to ensure a stress free and balanced life. Organizations that take the employees needs into account have an empathetic work culture leading to enhanced employee engagement rates.
3. Discuss Engagement
You don't have to wait for a survey to gauge the engagement of your workers. A mechanism to know their engagement through one to one discussions and meetings help in spotting the problem right beforehand.
For example, managers can track the engagement of their employees and understand their grievances. In case they have extra work load, they can be given a day off to relax and get back on track.
According to Harvard Business Review, James E.Rogers, former president of Duke Energy conducted listening sessions, 3 hour sessions intended to get feedback directly from employees. In these sessions, anyone could raise an issue. This helped the company to tackle major issues at the bud level before it blew up.
4. Social Gatherings
Social gatherings like sports events, trips, etc act as a relaxation for employees. It helps them take a break from the hectic work schedule. Moreover, it keeps them rejuvenated and helps them perform better.
Also, social events fosters relationship building at a personal level in an organization. When people get to know each other better, it builds up trust and relationship, leading to increased productivity.
5. Express Gratitude
Gratitude is a human emotion that helps us to see the brighter side of life and be positive. Small token of gratitude for your employee's effort sends across a good vibe and makes them feel more connected to the organization. For example, appreciation letters acknowledge the good work they have put in. When the employee receives a public appreciation, it motivates them to be more passionate about their work.
Elevate Your Employee Engagement
Engaged employees are the horses that pull your organizational chain to greater heights. You keep them happy and you're bound to reap the rewards.
Ensure that the pulse of your employees are calculated on a frequent basis with employee engagement surveys. Crucial questions on leadership, work-life balance, peer relationships, etc give a first hand understanding of their real needs.
Work flexibility, social gatherings and gratitude bring in a creative and long term approach to engage your employees to enhance productivity.
So, what are you waiting for?
Create employee survey for free with ProProfs Survey Maker. We have ready made employee survey templates for you to get started.
Do you want a free Survey Software
We have the #1 Online Survey Maker Software to get actionable user insights