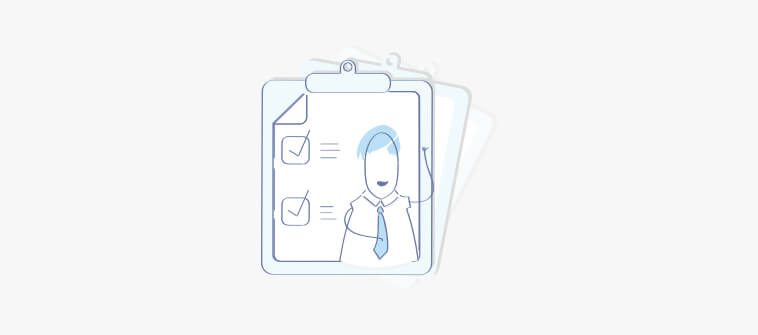 Want to find out how to boost employee engagement and, at the same time, reduce their attribution?
The best way to do so is to ask your employees directly through employee engagement surveys.
An engagement survey is a staple for the HRs and business managers to collect insight into the employees' engagement levels.
Of course, when the employees are engaged, the business results will flow.
The questions in the employee engagement surveys are designed to collect employee feedback.
By analyzing the feedback, leaders can formulate ways to increase employees' engagement that directly relates to their productivity and, in turn, affects business revenue.
This blog will discuss how you can conduct a survey on employee engagement, its importance, and the questions you need to get started immediately.
What Is an Employee Engagement Survey?
An employee engagement survey measures the level of engagement, enthusiasm, and connection an employee has with their company.
Conducting an engagement survey not only measures how happy and involved employees are but also helps determine what extra effort they can put into their work.
Basically, organizations share questionnaires for employee engagement to measure:
Employee's belongingness to the company's mission and vision
Employee commitment to their work
Employee motivation
Job satisfaction
Organization culture
Career prospects
Job challenges
In a nutshell, this survey measures an organization's overall health and identifies areas that need improvement to enhance the employee experience.
Also Read: Best Employee Engagement Software & Tools
Importance of Employee Engagement Survey
Employee engagement is directly related to the company's performance and productivity. Engaged employees contribute more to the organization. They also stay longer with the company and even advocate the company as a place to work to their friends and family. So, for the company to remain profitable, it must measure and boost employee engagement levels.
However, it is nearly impossible for the employer to sit down, have an intimate conversation with each employee and collect their feedback.
Here comes the importance of conducting surveys on employee engagement. It is a simple medium by which employees can share their opinions, thoughts, and feelings about their work experience with their managers.
The benefits of conducting an employee engagement survey include:
Gauge Employee Engagement
The main reason for conducting engagement surveys is to determine employee engagement or disengagement levels. Whether it is salary, recognition, work-life balance, work flexibility, or career advancement that drives them.
It becomes essential for managers to understand what employees value about their work to drive productivity, and conducting an employee engagement survey is the best solution for it.
Assist Employees in Sharing Honest Feedback
Often, employees feel uncomfortable voicing their opinions in a team meeting or one-on-one conversation with their seniors.
Asking employee engagement questions in a survey is an excellent way to collect their detailed and honest feedback.
You can also conduct employee engagement surveys anonymously. It will help employees open up and share their real opinions without fear.
Also Read: Proven Tips to Create an Anonymous Survey
Determine Areas for Improvement
By analyzing the feedback data collected from an employee engagement survey, you can determine what works for your organization and what does not.
For instance, data trends may show you that employees are satisfied with their salary structure but are not happy with new changes in the working policy.
In this case, you can find out the reasons why the new policy is bothering the employees and take measures to edit, modify or change it completely.
Predict Employee Behavior
Surveys say a lot about employee behavior. The same goes for employee engagement surveys. A good survey participation rate shows that employees feel that filling out an engagement survey is worth their time, and they believe that management will take steps to improve their experience. It facilitates a culture of trust and growth.
On the other hand, when employees do not participate in surveys, it signals a lack of trust and low engagement level, and they might be at risk of leaving.
In fact, a study conducted by Harvard Business Review (HBR) says that people who don't fill out surveys are 2.6 times more likely to leave in six months.
When companies share employee engagement questionnaires, employees feel heard and valued. This increases their engagement and productivity level. The survey acts as a vehicle for employees to share their feedback.
In fact, companies with highly engaged employees have 21% more profitability than their peers.
Also, do not forget to share the changes you implemented after receiving feedback from employees. It will make employees feel like their feedback matters and more satisfied while working for the company.
Employee Engagement Survey Questions
Let's discuss some employee engagement sample survey questions in this blog. For your reference, we have divided these questions into different categories. You can use them directly or modify them as per your needs:
Engagement Level Questions
On a scale of 1-10, how likely are you to recommend this company as a place of work to your friends?
Are you proud to be a part of this organization?
Do you see yourself working in this company in the next 2 years?
Do you look forward to coming to work each day?
On a scale of 1-10, how empowered do you feel at work?
Manager Evaluation Questions
Do you receive timely feedback from your managers?
If yes, then is this feedback constructive?
On a scale of 1-10, how fair do you think the evaluation process is?
Do you feel your manager motivates you to achieve your goals?
Does your supervisor care for you as a person?
Are you satisfied with the steps taken by your manager to reach the overall company's objective?
Communication Questions
Do you feel comfortable sharing your ideas at the workplace?
Do you feel comfortable sharing your problems with your managers?
Do you feel comfortable asking for help from your colleagues?
Do you feel comfortable while working as a team?
Does your manager value your opinions?
Does your manager listen to your ideas and suggestions?
Work Environment Questions
Do you think that the work culture of the company is positive?
Do you think the work environment here is motivating?
Is there politics at your workplace? If yes, how prominent is it?
Do you have all the tools and materials necessary to do your work?
Do you feel relaxed at work?
Does your company provide you with basic amenities at work?
Work-life Balance Questions
Do you feel stressed at work?
Are you often worried about deadlines?
Do you usually take work at home?
Do you get enough time to complete your work?
Do you work on weekends and holidays?
Recognition and Benefit Questions
Do you feel you receive enough recognition at work?
Does your manager reward you for achieving your work objectives?
Do you feel recognized for your hard work?
Do you feel that the recognition and reward policy is fair?
How to Conduct an Employee Engagement Survey
There is no fixed set of rules for designing an employee engagement survey. However, in general, you can follow the below-given steps to conduct the survey:
Determine Survey Objective
Before actually conducting the survey, it is crucial to determine the purpose of your survey; that is what you want to measure.
Employee engagement is a vast term and there are a lot of areas you can measure within employee engagement. Try to set the specific survey objective.
For instance, do you want to understand how employees feel about the company's working culture? Or do you want to gauge the reason behind employees' high turnover rate?
Clearly defining what you want to measure lays the foundation for your survey.
This can be tricky as sometimes you may want to collect survey feedback from a particular group of employees only and not the whole company.
For instance, you may notice that more managers are leaving. So, you can conduct the survey specifically built for people at the managerial level.
Identifying your target audience is crucial for gathering adequate feedback data.
This can be tricky as sometimes you may want to collect survey feedback from a particular group of employees only and not the whole company.
Design the Survey Questions
The next step is to create the questions to ask for employee engagement.
To make the surveys more engaging, you can use a mix of open-ended questions and close-ended questions.
Open-ended questions help you obtain qualitative data; however, close-ended questions are used to conduct quantitative research. Hence, it is crucial to incorporate a blend of question types to measure employee engagement.
Conduct the Survey and Share the Result
The last step is conducting the survey and sharing the details with employees. You can share the survey on the employees' professional email addresses or over the company's communication portal.
To truly foster an engaging environment, you'll need to act on the feedback collected from the survey by sharing it with your employees and working with them to find solutions.
Employee Engagement vs Employee Satisfaction
The terms "employee engagement" and "employee satisfaction" are often used interchangeably. However, both have quite different meanings.
Employers must ensure that their employees are both satisfied and engaged with their jobs. To create a healthy and productive work culture, they need to understand the differences between the two terms.
While employee satisfaction measures the overall happiness of an employee with their job, employee engagement measures the genuine efforts put in by an employee for the company's growth.
For example, a satisfied employee may be happy with their job without any tremendous effort. For them, getting a salary on time could be the prime concern. But engaged employees put in extra effort, challenge themselves and explore innovative ways to surpass their goals.
Engaged employees are always satisfied with their jobs, but satisfied employees are not necessarily engaged with their jobs.
Also Read: 40 Employee Satisfaction Survey Questions
Start Engaging Your Employees
By now, you must have understood the importance of conducting employee engagement surveys.
Happy and engaged employees will leave no stones unturned to take your business to new heights.
Ensure that you conduct engagement surveys regularly and analyze the data collected to make informed business decisions. Robust survey maker tools like ProProfs Survey Maker can streamline the process of conducting and sharing surveys. The tool also offers free survey templates to help you get started quickly.
Do you want a free Survey Software?
We have the #1 Online Survey Maker Software to get actionable user insights.