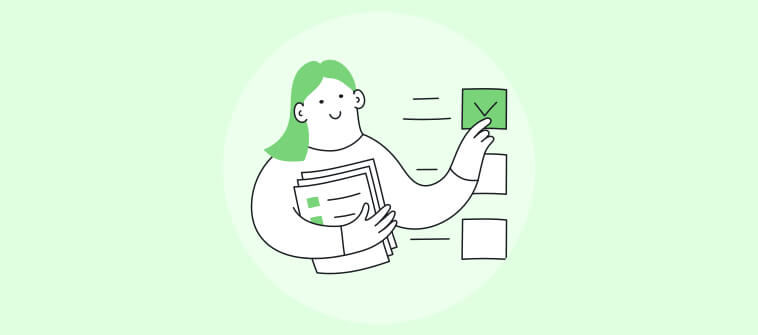 At some point in time, we all have answered a poll – Whether it was a question about our ideal election candidate or our favorite beverage brand. We love when somebody cares about our opinions.
And just like online surveys, poll questions are also a great way to gauge public opinion on a specific topic.
A poll is nothing but a mini-survey having one or two questions that help you connect with your audience for on-the-spot feedback. However, you might be unsure about what questions you should use to grab the audience's attention.
For this reason, we've put together an awesome list of 150+ poll question ideas that will help get your audience more involved and interested in your services and products.
150 + Poll Questions to Ask
Good poll questions could be an ideal way to spark a conversation with your target audience. By selecting the right questions and the answer choices, you can easily create a good poll.
Now let's explore some great poll questions to help get started with your first poll.
1. Multiple Choice Poll Questions
MCQs provide respondents with multiple answer options so that a user can select the most suitable answer as per their preference. Since MCQs offer ample choices to the respondents, this makes it common for the researchers to include them in polls, quizzes, and surveys. It makes surveys intuitive and helps you collect easy-to-analyze and accurate data.
MCQ Sample poll questions include:
1. How easy did you find searching for products/content on our website?
Easy

Relatively easy

Difficult

Very difficult
2. To what extent do you agree or disagree with the statement: I found value in using the products from [brand name]?
Agree

Somewhat agree

Somewhat disagree

Disagree
3. During the last 6 months:
I have been successfully using [product name]

I am finding it difficult to understand the functionality of [product name]

I have approached the support team several times for advice or guidance.
4. When choosing a product for your business, what would you prefer the most?
Easy to use interface

The one-on-one support from the support team

Knowledge base/Video tutorials

Competitive pricing
2. Net Promoter Score Poll Questions
A Net Promoter Score uses a scale of 0 to 10 to measure the likelihood of customers to recommend a brand's products or services to their friends and family. This customer rating system is used to capture the overall customer satisfaction with a company's product or service and their loyalty to the brand.
This poll question identifies promoters, detractors, and passive customers, which helps businesses to serve their individual needs and retain them for a long time.
A sample NPS rating question looks like this:
"On a scale of 0 to 10, how likely are you to recommend our [business/ product/service] to a friend or colleague?"
Depending upon the context, you can include the name of a brand, product, or service in the classic NPS question to collect relevant responses.
However, to capture the context behind the customer rating, businesses include follow-up open-ended questions, such as:
"What is the primary reason for your score?"
Such opinion poll questions can be further personalized based on the scores given by a respondent, such as:
5. What was missing or disappointing in your experience with our [business/ product/service]?
6. How can we improve your experience?
7. Which product features are the most valuable for your business?
8. What do you like the most/least about [business/ product/service]?
9. How does our product meet your business needs?
10. What business problems are you trying to solve with our product?
11. What made you choose our [business/ product/service] over our competition?
3. Likert Scale Poll Questions
The Likert Scale is basically a type of survey scale used to measure the respondent's opinion on a particular subject. Likert scale encompasses a single choice and close-ended question either on a 5 point or a 7 point scale. These questions allow brands to collect more detailed information compared to yes/no binary questions.
The primary reason for the popularity of the Likert scale is its potential to offer different levels of agreement, quality, and disagreement to the respondents for accurate insights about a specific subject.
For example: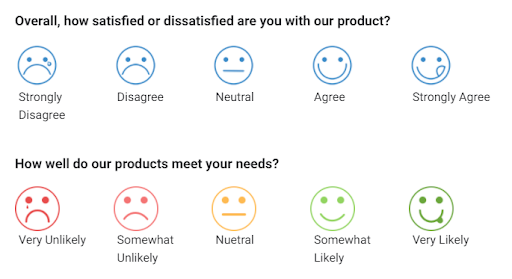 Such surveys are usually formed on a scale of 5 or 7 points for expressing the degree of satisfaction, agreement, likelihood, and frequency of using a specific product or service.
Examples of Likert Scale questions:
– To measure Frequency
12. How often do you require Customer Support?
Never

Rarely

Often

Every time
– For Agreement
13. Do you find our product the best in the market?
Strongly Disagree

Disagree

Agree

Strongly Agree
14. Spending family holidays at least once a year is necessary?
Very Strongly Agree

Strongly Agree

Agree

Neither Agree nor Disagree

Disagree

Strongly Disagree

Very Strongly Disagree
– To measure satisfaction
15. How satisfied are you with the quality of our products?
Satisfied

Very Satisfied

Neutral

Dissatisfied

Very Dissatisfied
16. How satisfied are you with the overall experience with the product?
Satisfied

Very Satisfied

Dissatisfied

Very Dissatisfied
17. What are your satisfaction levels with our customer support?
Completely Dissatisfied

Mostly Dissatisfied

Somewhat Dissatisfied

Neither Satisfied nor Dissatisfied

Somewhat Satisfied

Mostly Satisfied

Completely Satisfied
4. Demographic Poll Questions
A demographic survey question is all about capturing personal information and helps you portray a clear picture of your customer base. These poll questions are intended to collect customers' basic information such as their age, gender, area of residence, etc.
This information helps you better strategize your business based on your audience's diverse requirements.
Examples of Demographics questions:
18. What is your age?
Under 18

18-24 years

25-34 years

34-44 years

44-54 years

Over 55
19. What is your gender?
Male

Female

Prefer not to say
20. What would best describe you?
African American

Asian

Native American

White

Others
21. What is your highest qualification?
Less than a high school diploma

High school diploma or equivalent degree

No degree

Bachelor's degree

Master's degree
22. What is your marital status?
Married

Divorced

Separated

Widowed

Unmarried

Don't want to say
23. What is your current employment status?
Full-time employment

Part-time employment

Unemployed

Self-employed

Home-maker

Student

Retired
24. Which income group does your household fall under?
Less than $20,000

$21,000 – $30,000

$31,000 to $40,000

$41,000 to $50,000

$51,000 to $60,000

Above $60,000
5. Dichotomous Poll Questions
Dichotomous questions also belong to the closed-ended family of questions. Such great poll questions only offer two possible answers, which are typically presented to respondents in the form of Yes or No, True or False, Agree or Disagree, and Fair or Unfair.
Examples of dichotomous questions are:
25. If we were to implement your suggestions, would you consider buying [product name]?
26. Would you recommend our company to others?
27. Have you ever purchased a product/service from [brand name]?
28. Do you find new features of [product name] useful?
6. Image Chooser Poll Questions
Images make the user experience intuitive, the same goes with creating polls and surveys. Users find it interesting to answer poll questions that have images.
7. Open-Ended Poll Questions
These questions cannot be answered with a simple 'yes' or 'no'. Instead, they require the respondent to explain their viewpoints in a few words or sentences. Open-ended questions allow the respondent to provide potentially unexpected answers that you had not addressed in your closed questions.
These random poll questions help in collecting qualitative data about a specific topic and help you dive deeper into customer insights.
Open-ended questions that you may include are:
29. What are the main reasons you chose to buy [product name]?
30. How did you feel about our customer service?
31. Have you looked out for competitor products before coming to our store?
32. What do you prefer the most when shopping online?
33. What did you like best about your product experience?
34. From where did you hear about [brand name]?
35. How can we make this webpage/product better?
36. Was it easy to find what you were looking for?
37. What are your main questions or concerns about [product name]?
38. What did you like the most about our site?
39. What qualities do you look for in a product/service?
40. What are your top priorities when it comes to buying [product category]?
41. How long did it take you to complete your transaction?
42. What goals would you like to accomplish?
43. Are you facing any challenges with [product name]? Please mention, if any.
44. Why did you choose us over our competitors?
45. Briefly explain your experience.
8. Rank Order Poll Questions
This question type offers quantitative data by allowing respondents to identify which aspects are most and least preferred. You can use the ranking questions to analyze the order of items' importance in the minds of your respondents.
For example: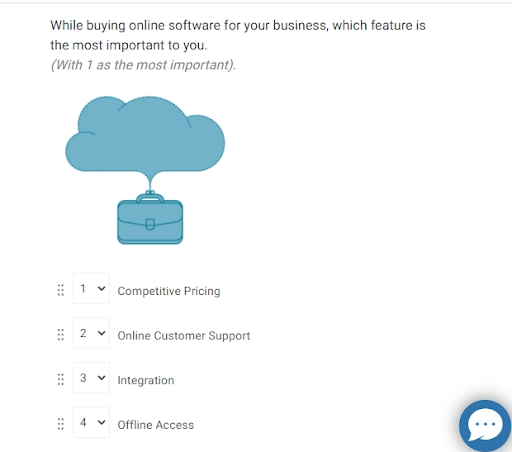 9. Remote Work Poll Questions
Do you want to know each remote workers' unique "work from home experience"? WFH poll questions will provide insight into what benefits and challenges your team is finding while working from home.
These popular poll questions will help you capture team members' job satisfaction who are working from home. You can include the below questions:
46. How do you feel about working from home?
47. What could we do to improve your remote work experience?
48. Is there anyone on the team who has been exceptionally helpful in your WFH onboarding?
49. Do you feel connected to your teammates while working from home? Why or why not?
50. Do you feel you've got better learning and growth opportunities in the last few months? If so, how? If not, why not?
51. Are you familiar with our WFH policies?
52. Are you clear with your work tasks each day? Each week?
53. Do you feel there is enough communication with your teammates and team leaders?
54. How satisfied are you with the frequency of communication from leadership while working from home?
55. While being at home, what communication channels work best for you?
56. Is it easy for you to reach your teammates and team leaders when you need them?
57. Do you feel supported by your team leader and by the organization?
58. What can the company do to support your work while you work from home?
59. Do you feel you have a good work-life balance?
60. Do you have a separate and suitable space in your home for work?
61. Do you take regular breaks?
62. Is the productivity level the same at home as at the office?
63. Are you planning to return to the office? Why or why not?
64. What is your biggest work-from-home struggle?
10. Business Meetings Poll Questions
No matter if you manage a small or a large team, interesting poll questions are a great way for your team to express opinions and provide feedback. Scale and ranking type poll samples can help you understand your team member's sentiments.
Examples of business meeting questions are:
65. How is your energy level today?
66. Are you feeling productive this quarter?
67. Do you understand the purpose of this meeting?
68. Are you clear about the team goals?
69. Are you clear about your role within the team?
70. Are we connecting well with our clients?
71. How is our team's overall performance?
72. How is our internal and external communication?
73. What topic do you think should be covered next week?
74. Are there any members who deserve praise for their work?
75. What is our main strength/weakness as a team?
76. Is there anything we could present to the company as a team?
77. Should we prioritize any other metrics / KPIs?
78. Are our performance reviews done smartly and efficiently?
79. Is there any area that requires investing more time and effort in?
80. How do you feel last quarter went?
Awesome

As expected

Worst
81. Are you happy with the direction the company is going?
82. Name a project you are most proud of?
Marketing project

Sales Project

Dev Project

HR Project
83. Where do you prefer to work from?
From home

Remotely

A mix of both
11. Education and Training Poll Questions
A mix of open-ended and close-ended questions can help you gain valuable insights about the school, courses, or training you offer. These question polls give an opportunity to the stakeholders to share their perceptions on different programs.
Poll questions to ask:
84. How would you rate your teaching staff?
85. How many hours do you spend learning on your own on the weekends?
86. Do you participate in any extracurricular activities?
87. How much time do you spend on homework every day?
88. What classroom activities do you enjoy the most?
89. Share any suggestions or observations about the teaching method.
90. Do you have access to all the learning materials you need?
91. Which subjects did you find most challenging?
– For teachers
92. Does the administration allow you to innovate teaching methods?
93. How often do you receive critical feedback on your work?
94. Are you satisfied with the compensation you receive for your work?
95. Do you enjoy what you do?
96. Do you think the administration treats everyone fairly?
– For parents
97. Are you satisfied with your child's performance?
98. Are you involved in your child's education?
99. On a scale of 1-10, how would you rate your child's overall performance?
12. Event & Webinar Poll Questions
For the optimum success of your webinar, it's crucial that upon completion, you gather feedback from the attendees. Such polling questions would offer insights into the audience's perception of the speaker's knowledge and the overall value of the webinar.
Examples of post-event survey questions:
100. What percentage of the information did you find unique?
101. How soon would you use the session's information?
Immediately

In 2-6 months

In 7-12 months

Never
102. Would you like to learn more about this topic?
103. How would you rate the speaker's knowledge of the topic:
104. How would you rate the speaker's presentation skills:
105. How would you rate the content of the slides/virtual aids:
106. How would you rate the overall session evaluation:
107. On a scale of 1-10, how likely are you to recommend this session/event to a colleague?
13. Funny Poll Questions
To create an engaging poll and mix up the flow of your presentation, funny poll questions are a great way to go. Such funny polls light up the respondent's interest and usually experience higher response rates as compared to the conventional and mundane polls.
Examples of funny poll questions that you could include:
108. Which flavor of ice cream do you love?
109. Do you think pineapple can go on a pizza?
110. If possible, would you speak all languages or speak to animals?
111. How are you feeling today?
112. Which food do you find mouth-watering?
113. If you could have any fictional animal as a pet, what would it be?
114. Is there any fashion trend you would want to bring back?
115. Describe in one word how you feel watching the sunset?
116. Share something that has sparked joy for you in the past few months?
117. Which is your favorite superhero?
14. Political Poll Questions
Political candidates and committees often use political polls to gather the opinions and attitudes of potential voters. Such poll ideas help political leaders to identify who are their supporters and what are the needs of the general public.
Take a political candidate, for example, who wants to gather the opinions of his target population. In such a case, political poll questions enable him to gather the required information that can be used to increase the presence and formulate social activities based on this collected data.
Below are some poll questions examples that you could use:
118. Are you registered to vote at the current address you reside at?
119. Do you think the existing government is working towards the benefit of the locals?
120. Which party do you support?
Party A

Party B

Not sure

I don't support any party
121. How likely are you to vote in the coming elections?
Most likely to vote

Probably won't vote

Don't know
122. Do you think gun control laws and regulations should be changed?
123. Do you think possession of guns should be allowed to everyone?
124. Should the use of money be restricted in political campaigns?
15. Sports Poll Questions
Polls on sports are a great way to capture people's preferences about their favorite activities, likes, and interests related to sports. If you're creating a sports poll, you can make use of the below questions:
125. What is your favorite sport to watch?
126. What is your favorite sport to play?
127. Should sportswomen get as many facilities and prize money as men?
128. What would be your most desired sports ability?
129. Who was your best player in college football?
130. Which is the best streaming channel for live sports?
131. What sport do you think gives you the best workout?
16. Financial Poll Questions
If you ask people about their daily schedules and desires, you may find them passionate about answering such questions. However, if you were to ask about the last time they kept a check on their finances, you'd probably get some confusing answers.
People don't usually focus on their finances. Hence, you can make use of straightforward financial poll questions to capture valuable data.
Here are some of the best poll questions you may use to drill down into the finance specifics of your target audience:
132. Do you feel confident about managing your own finances?
Not sure at all

Not too sure

Somewhat Sure

Very sure
133. What kind of financial accounts do you currently have?
Savings

Checking

Money Market

Stocks, bonds, and/or mutual funds
134. What type of insurances do you have?
Life

Health

Auto

Homeowner's/Renter's

Disability

Long Term Care
135. On a scale of 1-5, how necessary or important do you feel it is for you to work with a financial advisor?
136. Do you know how much you save or spend each year?
137. What is your current net worth?
17. Personality Poll Questions
These polls aim at collecting insights into the personality of a respondent. The data collected from personality polls help to capture insights into the respondents' behavior, decision-making process, likes and dislikes, and more.
Good polls to ask:
138. Do you like meeting new people?
139. Do you like helping people in need?
140. What do you do if you are blamed for something you didn't do?
141. After how long do you get calm after being angry?
142. Are you easily disappointed?
143. Do you have long-term goals?
144. Do you remain busy most of the time?
145. Do you like solving complex problems?
146. How often do you travel alone?
18. Icebreakers Poll Questions
For a perfect start, polls are a great way for breaking the ice and setting the tone. Icebreaking polls could be the best bet if your setup doesn't allow personal interaction.
Most importantly, you will involve your audience right from the very beginning and send out a clear message – this is not going to be yet another boring meeting/event.
Icebreaking questions that you can include are:
147. If you have been given a choice, where would you live for the rest of your life?
The Arctic

The Sahara desert
148. If you have been given a choice to have a time machine, which would that be?
One that can only go back in time

One that can only go forward in time
149. Are you an early bird or a night owl?
150. Do you already know lots of people here today?
I know all of them

I know a good number of people

I know 1-2 people

I don't know anyone
151. Are you open to making new business connections today?
Yes

No

Depends on who I meet
– "This or That" icebreaking poll questions
152. Netflix or Amazon Prime?
153. Starbucks or Cafe coffee day?
154. City trip or Beach holiday?
155. Coke or Pepsi?
156. chocolate or Coffee?
157. Save or spend?
Make a Lasting Impression With the Best Poll Questions
The possibilities are endless when it comes to using polls for skyrocketing brand engagements. The poll questions mentioned in this blog can give you some great inspiration to assess public opinions and preferences on specific topics.
However, your online poll questions need not be about serious topics every time. You may add a touch of fun by including interesting or funny poll questions. This will help you keep your social media followers engaged and interested.
A versatile online poll tool such as ProProfs Survey Maker comes with a variety of question types, such as ranking, checkboxes, and multiple choices. Also, using easy-to-answer questions such as "Yes" or "No" not only makes data analysis easy on your end but also improves poll engagements.
Once you are done, use the results to identify possible areas for improvement and create your action plan. Happy surveying!
Do you want a free Survey Software?
We have the #1 Online Survey Maker Software to get actionable user insights.