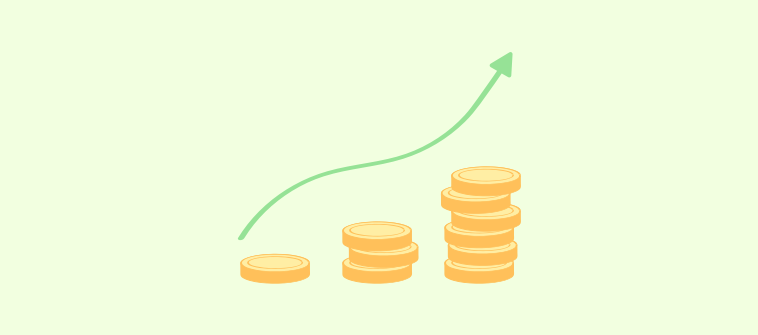 Businesses obsessively focus on increasing the number of customers. Get more customers, we need more sales, connect with more leads, etc. are the most common phrases used in team meetings. Companies are so caught up with trying to acquire new customers that usually they forget about their existing customers.
An old belief that exists among customer support circles is, 'It's easier to retain existing customers than to acquire new ones.' Creating marketing strategies to reach new customers is important, and there is absolutely no doubt about that, but careful thought also needs to be put into customer retention strategies.
It is crucial to aim for high CLV (customer lifetime value) because if loyal customers stick around to your brand for a long time, your business is likely to enjoy persistent growth.
What Is Customer Lifetime Value?
Customer lifetime value (CLV) is defined as the net profit that can be generated through the continuous involvement of customers. Whether you want to acquire new customers or seek to retain your old customers, CLV will remain a key factor with respect to business longevity. In simple words, the more loyal a customer is to your company, the more profit you are likely to make.
Now, the question that most probably has come to your mind is 'How to increase customer lifetime value?' Here're the top 21 ways to upheave CLV, so pay attention to the below-listed pointers:
Must Read: Why do we need online survey software?
1. Optimize the Onboarding Process
To increase customer lifetime value, make the onboarding process as simple and convenient as possible. This can be done through various methods, depending on the industry you are in, but try to provide guides, tutorials, and other necessary content to your customers. This will make it easier for them to understand your product.
Test different approaches regarding the customer onboarding process to see which one works best for you. If possible, look to personalize the onboarding process for each customer based on their persona. Pick the option that is easiest to understand and encourages customer engagement.
2. Take Advice of Customers
To improve customer value, you must test your limits with respect to improving the quality of your products and services. Constant improvement and evolution is the key to retaining customers. However, you shouldn't randomly try to figure out what your customers actually expect from your products and services.
The best way to come up with the ideal products and services is to know customer expectations. In short, you should conduct surveys to get insights on what customers actually expect from your brand. Creating polls and soliciting feedback can really help you to increase customer value.
At this point in time, ProProfs Survey Maker is worthy to be called upon, as this tool can help you get familiar with customer expectations. Some of the amazing perks you gain by using this tool are:
100+ survey templates are available for survey creation

User-friendly dashboard

Custom branding

Branching to survey questions is no longer an arduous task.

15+ question types are available

Intelligent analytics

Presentation-ready reports

Insightful reports.
Must Read: Survey Questions Examples For Your Feedback Forms
3. Go the Extra Mile to Reach Customers
You can increase customer lifetime value if you are ready to go the extra mile for your invaluable customers. It doesn't concern only providing attractive discounts, but also bringing something to the table that your competitors haven't thought of.
Don't be content with just providing good service to customers; look to provide incredible value to customers via your products. Your efforts will definitely get recognition, which automatically results in increased customer lifetime value.
Must Read: Best Practices For Designing Customer Satisfaction Surveys
4. Go All out on Quality
Do you ever wonder what makes companies like Apple, Maybach, etc. different from their competitors? Nope! Well, they give the first priority to quality. Customer loyalty isn't something you can hope to buy or get for free. It is something that you will have to cultivate by providing unparalleled products and services.
Asking yourself — 'How to increase customer value?' — over and over isn't the solution, as you have to figure out the way to add unmatched quality in your products and services by trying out various approaches.
5. Provide Delightful Customer Service
'Offer unprecedented customer service' is the best possible answer to your question: 'How to increase customer lifetime value and boost profits?'
The factor that decides whether customers will stick to your brand or go to your competitors is the quality of support service you offer in the hour of need. Don't believe this? Well, 17% of customers abandon the brand after one instance of bad support service, revealed by the latest reports.
Here are a few recommendations to deliver top-notch customer service:
Provide Omnichannel Support

Offer Live Chat Support

Maintain a Knowledge Base
To leave no stone unturned, you can even opt for ProProfs Help Desk software, a tool that can aid in delivering delightful support solutions.
6. Make Shopping Experience Personable
To increase customer lifetime value, you need to make sure that every interaction with your brand, be it related to support or sales, should be amazing. It is because customers only then come back to you repetitively.
By and large, impressing millennial customers is difficult due to their high expectations. But if you manage to make their shopping experience personable, you will definitely see a rise in CLV. So, invest in automation technology to make the shopping experience of your customers to the next level.
7. Provide Comprehensive Product Details
An enigma that usually leaves business owners scratching their heads is 'How to increase customer lifetime value and boost profits simultaneously?'
Well, if you provide in-depth product details to your online customers, the odds of elevating CLV and sales growth are bound to improve. Generally, people face problems while shopping for shoes or clothes online. Here, if product details are available in a comprehensive manner, the cart abandonment rate is likely to drop, and CLV will jump.
8. Never Make False Delivery Promises
Over the years, the number of online customers has increased significantly due to the convenience e-commerce businesses provide with regards to shopping and delivery.
Sometimes, customers don't get their ordered products on time as well as any update regarding late delivery. This ruins their shopping experience, which doesn't let you increase customer value in the later stages.
So, if you want to enjoy the perks of high CLV, deliver products before/on time and never make false promises to customers.
9. Give Loyalty Rewards to Customers
Loyal customers don't switch to other brands so frequently, but good business practice says to leave nothing to chance.
Generally, multinational companies enjoy long-term customer relationships because they employ a good technique of giving loyalty rewards. Everyone loves receiving gifts or rewards. A business spends every cent investing in a customer loyalty program, it is likely to get back multiples in return.
For example, Boloco, an American chain of restaurants, gives rewards to customers for spending $50 or more as per its loyalty program. So, take a leaf out of Boloco's book to address your concerns related to 'how to increase customer value.'
10. Provide Exclusive Offers
Offering exclusive offers has always been one of the most effective ways to increase customer lifetime value.
Everybody likes to be a part of something special. So, provide exclusive offers to customers to make them feel valued. And when you increase customer value, needless to say, business growth improves significantly.
What's more, positive word will be out, which, in turn, will attract prospects towards your business.
11. Organize Sales Periodically
If you put yourself into customers' shoes, you can understand how important it is to save hard-earned money. People generally prefer to do business with those companies that offer good products at a reasonable price.
So, make sure your products aren't overpriced, otherwise, you will see a downward spiral in the sales graph.
If we consider the current scenario, conducting sales from time to time is indispensable to increase customer lifetime value. It is imperative to remember that the objective of your sales should be on giving benefits to customers, instead of doubling the profit levels. If you get a positive response from your conscience regarding this, you will increase customer lifetime value with aplomb.
12. Encourage to Opt for Long-Term Subscriptions
As we have already stated, customers like to buy desired products without going out of budget. For the very same reason, they take part in membership programs.
As a business owner, you should be good at delighting customers. This is important because if you manage to bring a smile to customers' faces, you are likely to gain unbelievable benefits. Such as:
Customer base expansion

Strong brand image

The easier customer acquisition process
Hence, it is highly recommended to offer annual subscriptions at a cheaper price than monthly ones. In case customers agree to buy a yearly membership, they are likely to stick around for a long time. This will provide your business stability and increase customer lifetime value.
13. Be Accessible 24/7
Having a customer-oriented mindset is instrumental as long as you want to stay two steps ahead of your business rivals. In this day and age, customers want brands to be accessible 24/7 so that they don't have to wait in case they need help with regards to products and services.
However, SMEs generally prefer to be available during the business hours only, as they believe offering support 24/7 is just a waste of time and money. As a negative consequence, they fail to improve customer value and lose their market share to their competitors.
So, if you want to increase customer lifetime value, offer assistance day in and day out.
14. Identify Customer Pain Points and Deliver Pertinent Solutions
Most of the time, CLV drops because companies fail to comprehend the pain points of their customers. It should not be difficult to understand because if your brand fails to match customer expectations, the trust factor is likely to vanish, which is not good for your business's overall health.
Thus, identifying customer pain points is vitally important. At this juncture, I would like to mention one tool: ProProfs Survey Maker. It can help you conduct NPS surveys, which will aid in knowing what detractors and passives you want your brand to improve.
Once you take care of hidden ambiguities in your products and services, you are most likely to increase customer lifetime value.
15. Surprise Customers by Making Goodwill Gestures
To increase customer value, you must go out of the box to find out ways to delight your patrons. Of course, high-quality products and inimitable support services can lift up the CLV. But, this is what your competitors can do as well as you.
To keep customer loyalty and trust for ages, you have to come up with something unique that aids in leaving a long-lasting impression. Big brands generally send goodies as a token of appreciation to their loyal customers. It, as a positive result, further helps to increase customer lifetime value.
So, surprise your customers by making goodwill gestures, periodically if you want them with your brand in the long run.
16. Optimize Upsell and Cross-Sell Strategies
Like it or not, money holds more importance than anything for businesses. There's nothing wrong with that because if you fail to make a profit on a regular basis, it's a matter of time when your business will bite the dust.
To increase customer lifetime value and boost profit simultaneously, your upsell and cross-sell strategies should be up to the mark.
Upselling means trying to sell a more expensive version of products/services in which customers are interested while cross-selling is the technique of encouraging customers to buy complementary products along with their order.
Both these techniques are effective enough to give a required boost to customer lifetime value and profit levels.
17. Put Loyal Customers in the Spotlight
Earning customer loyalty isn't easy, but it's still worth a shot. This is so because a strong relationship with loyal customers can open the door of success. Whenever brands delight customers by living up to expectations related to products and services, the latter is likely to share their positive experience on the company's social media page or give good reviews on the website.
As we know, positive word of mouth always does wonders for brands. In return, if businesses put loyal customers in the spotlight, CLV will automatically increase.
Therefore, start appreciating your loyal customers on all public platforms that your brand is available on and reap unexpected benefits later on.
18. Make Use of Customer Success Software
Having the right resources in your arsenal is vital to improve customer value. The secret behind the affluence of big companies is that they use customer success software. With the help of such software, they can easily analyze customer behavior, collect survey data, and create a report. All of this lets you spot hidden problems.
To put it simply, customer success software is the key to averting problems like customer defection and profit stagnation.
Want to know about customer success software which can do wonders for your business? Give a shot to ProProfs Help Desk.
19. Build a Customer-Centric Return Policy
For e-commerce businesses, nothing is more annoying than witnessing a high rate of returns. Well, it is what it is. Generally, companies that are new in the e-commerce world have a complicated return policy, and some even don't give an option of return. As a negative outcome, they struggle to expand their customer base.
It is significant to understand that if you have no friendly return policy, you will never be able to increase customer lifetime value. There's no need to be amazed because if your customers have any sort of buying-related fear, they are unlikely to do business with you actively.
20. Cultivate Customer Relationships via Email Marketing
Email marketing is one of those techniques that have been helping businesses maintain healthy customer relationships. For you, the great news is you can use this traditional technique to improve customer value.
Your emails don't have to be promotional every time, as you can simply send messages to show how much you value your customers.
Such small efforts are sufficient to increase customer value, so harness the power of email marketing to multiply CLV.
21. Treat New Customers like VIPs
It is eye-pleasing to witness the continuous addition of new customers in the list of existing ones, as business growth improves with customer base expansion.
By and large, new customers switch to other brands so frequently, which is not good from a business perspective. To prevent turnover and improve customer value, you should treat new patrons like VIPs.
Amazon is a vivid example of this, as this giant e-commerce company gives exclusive offers to its new customers in terms of free shipping, heavy discounts, and so forth.
Summing Up:
It is cent-percent true that prosperity comes with every new customer, but at the same time, it is important to remember that the old ones are the factors on which the stability of your business relies. Hence, striving for improved CLV (customer lifetime value) is crucial.
By virtue of this write-up, we have discussed 21 best practices that businesses should take into account to increase customer lifetime value. In case you know other strategies that can do the trick, feel free to mention them in the comments section.
Thanks!
Do you want a free Survey Software?
We have the #1 Online Survey Maker Software to get actionable user insights.