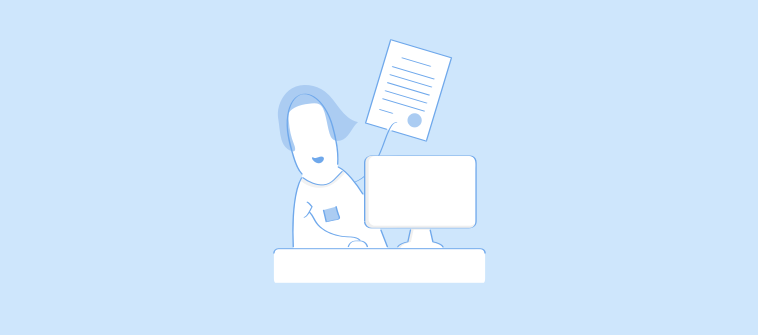 Soliciting feedback from employees can be a mundane activity, but it doesn't have to be!
With the right human resource survey questions, you can actively seek actionable employee feedback without putting them through the harrowing process of filling out long-drawn forms.
HR professionals are deputed to foster an inclusive and positive environment in the workplace. An essential component of their job is to ensure employee satisfaction, and conducting regular surveys can be a forceful tool in their arsenal to accomplish this.
However, traditional HR surveys you send out at the end of the year won't cut it anymore. It's time to move on from the boring surveys your employees dread filling out!
You need a powerful set of questions and use an effective survey maker tool to create routine HR surveys that help you get objective feedback from employees.
To help you get started, we have put together 75+ best HR survey question examples for various business aspects. Find them below and begin crafting the most effective and engaging HR surveys for your organization.
What Are Human Resources Surveys?
Human resources surveys are integral to any organization's internal feedback process. They help gather feedback in the workplace, ensure employee well-being and satisfaction, foster trustful relationships, and optimize organizational procedures.
HR surveys can be an opportunity to drive meaningful conversations within the organization. They can help survey everything from how the initiatives by the HR department are faring to the quality of the culture in the workplace. Furthermore, they can aid employee evaluation, as well as increase overall organizational efficiency.
75+ HR Survey Questions For Employees
There is a wide variety of business aspects that can be improved with the help of HR surveys.
These surveys gauge employee satisfaction and their likelihood of staying with your company. Moreover, they help track the effectiveness of HR policies, improve engagement, and reduce employee turnover.
Here are the most powerful HR survey questions for different use cases. These include a mix of open-ended, yes/no, star ratings, and other question types.
HR Effectiveness Survey Questions
Examine the efficacy of your HR, policies, events, and operations. Know how well your HR team is serving the employees by seeking feedback and identifying areas of improvement in your procedures and practices using these questions.
How responsive has the HR department been to your concerns?
Do you feel like you have easy access to the HR staff?
Are changes in company policies intimated to you in a timely manner?
Based on your experience with the HR team, would you recommend this company to a friend?
Do you think HR policies are updated and enforced properly? [Y/N]
What could we improve about the [HR event]?
Employee Engagement Survey Questions
Would you believe that only 32% of employees in the US are engaged in their jobs, while 17% of employees are actively disengaged?
To keep your employees from falling into this category, you must regularly track and make strides to improve employee engagement. Here are some questions to get started.
Do you feel valued by the organization?
Does the company maintain proper communication with all employees?
Rate the following factors based on their importance to you as an employee.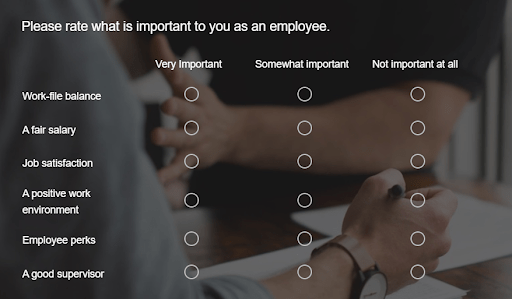 To what extent do you think that the company values your individual contributions?
Do you have access to adequate learning opportunities at this company?
What are your expectations for the company's growth in the near future? Do you have any suggestions for the same?
Read More: Employee Engagement Surveys: Everything You Need To Know
Work Culture Survey Questions
A key responsibility of the HR department is to ensure that the company's values are reflected in the work culture. Here are some survey questions to identify how your workplace's culture is perceived by the employees.
Do you feel respected by your coworkers and the management?
How would you rate the company's culture?
Do the company's values and work environment align with your expectations?
What motivates you to stay at the company?
What can we improve about the company to make it a better place for you?
Are your ideas heard and implemented in the workplace?
Does the company promote a culture for an open exchange of ideas and beliefs?
Employee Experience Survey Questions
Insights into the overall experience of employees can be valuable for the HR department. Including questions such as these in your HR surveys can improve employee experience and keep them motivated.
Does the organization provide you with adequate resources to do your job?
What challenges do you routinely face at the office, and how do you overcome them?
What is your least favorite part about this position?
Did you receive the necessary training for all the tools that you are required to use? If not, please mention the name.
Have you been able to strike the right balance between your professional and personal life since joining our company?

Employee Satisfaction Survey Questions
Low employee satisfaction can be a nightmare for the organization. It not affects employee retention levels but also puts the effectiveness of your operations at risk. Here are some examples of employee satisfaction questions to include in your HR surveys.
How likely are you to recommend this company to a friend or colleague?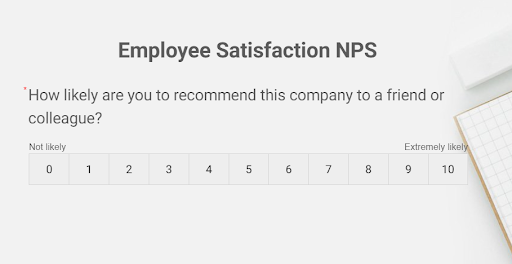 Do you feel like you have a path to advance your career here?
Do you feel your roles and responsibilities are helping you grow professionally?
Are the company's goals and objectives regularly communicated to you?
How often do you feel stressed at work?
Read More: 40 Employee Satisfaction Survey Questions That You Can't Ignore
Employee Benefits Survey Questions
Managing employee remuneration is a fundamental responsibility of the HR division. This requires tracking employee needs and knowing how satisfied they are with their current pay and allowances.
Are you satisfied with the compensation that you are currently offered?
How satisfactory are the benefits and pay for this position?

Do you find the coverage offered by our company's healthcare plan satisfactory? [Y/N]
Which employee benefits do you value the most?
Do you have a clear understanding of our compensation policy and benefits programs?
Please rate the following separation and retirement benefits offered by our company.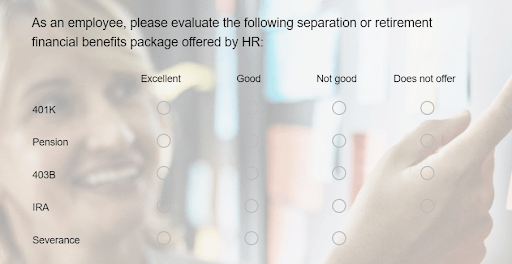 Recruitment Survey Questions
Track how satisfied the employees were with their recruitment experience. This knowledge can help you bring more high-value candidates to the company by optimizing the application and recruitment process.
Overall, how satisfied were you with our recruitment process?

Have you acquired a clear understanding of all the company policies?
On a scale of 1-10, how would you rate the recruitment process?
How did you learn about the job opening at our company?
What would you like us to improve about our recruitment process?
Employee Morale & Safety Survey Questions
Obtain feedback from employees on workplace safety as well as their overall state of mind when coming to work by using the following employee morale and safety survey questions.
How would you rate your day at work?

Are you well-informed about the possible safety hazards in the workplace? [Y/N]
Do you feel like your work here is meaningful?
How committed do you feel the company is to ensuring the safety of employees?
How often did you feel unsafe at work?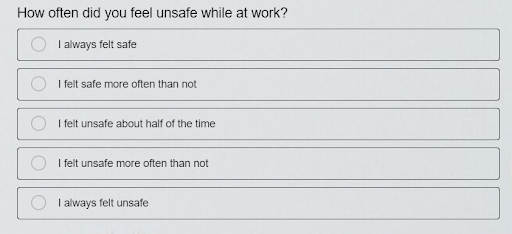 Do you think your physical and psychological well-being are valued at [company]?
Employee Performance Survey Questions
Reviewing the performance of employees is essential for the HR department to recognize and promote them effectively. These surveys can be used to track performance by contacting peers and supervisors or providing opportunities for self-evaluation.
What accomplishments at work are you most proud of this past year?
Do you feel that your skills are on par with your peers?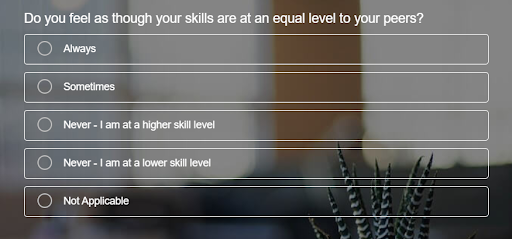 Have you taken up any additional responsibilities in this quarter? Please mention them.
How often does [employee] meet deadlines?
Does the employee volunteer to take up additional tasks?
How do coworkers feel about working with [employee]?

360-Degree Feedback Survey Questions
360 feedback surveys can help HR get a well-rounded understanding of the employees by gaining feedback from all the people that they work with.
Do you think that the employee has the ability to work well under pressure?
Are you likely to trust [employee] in case of an emergency?
Does the employee feel comfortable asking for help from others?
Does [employee] demonstrate the company's values?
Have you witnessed the employee coming up with quick and effective solutions? Give some examples.
Read More: 360 Feedback Questions for Employee Performance Evaluation
Employee Onboarding Survey Questions
Collect feedback from new employees on the effectiveness of your onboarding process through these survey questions. This will help you ensure high performance for new employees and reduce attrition by identifying areas for improvement in your current onboarding strategy.
Have your job responsibilities been made clear to you?
How satisfied were you with the job-related training?

What aspects of this position do you think would be the most challenging?
On a scale of 1 to 10, how welcome do you feel at the workplace?
If you could change one thing about the onboarding experience, what would it be?
How would you describe the training personnel's grasp of the subject matter?
Workplace Diversity & Inclusion Survey Questions
Diversity and inclusion are critical in the workplace. Here are some questions to ask your employees to judge how they feel about your organization's practices to promote an inclusive work environment.
Have you experienced any form of discrimination in the workplace?
Do you feel that the company makes adequate efforts to promote diversity and inclusion?
Do you find the internal promotion process to be free of any bias or prejudice?
Are you aware of the company's measures to report instances of discrimination against employees?
Do you agree that the management treats all employees fairly, regardless of their sexual orientation, age, race, and disability status?
Read More: 21 Diversity, Equity, and Inclusion Survey Questions To Ask
Manager Evaluation Survey Questions
Manager evaluation helps enhance your organization's leadership competencies as well as provide employees an outlet for providing feedback. Here are some questions to include in your manager surveys.
Is there any way your manager could have provided you with better support and assistance?
Do you feel that the feedback you receive from your supervisor is adequate?
Does your manager own up to their mistakes?
How would you rate your manager in their ability to plan and coordinate tasks?
Has your supervisor given you any positive feedback in the past two weeks?

Employee Exit Survey Questions
In case employees decide to move on, the following exit survey questions will help you learn their reasons for leaving, enabling you to turn an unfortunate situation into an opportunity to improve your organization.
How would you describe the work environment of our organization?
What factors influenced your decision to take up a new position?
What could have been done to keep you from leaving the organization?
Would you consider returning to our company in the future?
What major challenges did you face while working with us?
Advantages of Human Resources Surveys
Human resources executives are tasked with keeping the integrity and culture of the organization intact. They are also responsible for recruiting and retaining employees. Since these are such high-stake operations, HR teams need to stay informed about the performance of their initiatives and policies at all times.
This brings us to the importance of creating an effective HR questionnaire. Let's take a closer look at some of the benefits.
Measure Employee Satisfaction
Surveys that help track employee satisfaction and gain insights into their opinions can help you stay updated with the overall health of your company. They can enable you to ensure that your employees are happy and that they feel valued in the workplace.
Improve Productivity
HR surveys are highly functional in reducing absenteeism and improving employee productivity. They can provide insights into high-stake business processes, allowing every employee to work more effectively.
Reduce Employee Turnover
HR surveys can help demonstrate that your organization sees value in the candid feedback of employees. This will build a trusting relationship that translates into improved employee satisfaction and reduced turnover.
Identify Gaps & Areas of Improvement
Along with helping build trust, a human resources questionnaire can also serve as an excellent opportunity to discover areas of improvement in your organization's proceedings and culture. They help discover bottlenecks in your organization and come up with ways to overcome them.
Enhance Business Decisions
With more visibility into employees' likes, HR executives can make better decisions. Implementing the feedback gathered from employees can allow organizations to improve the effectiveness of their day-to-day operations while paving the way for business growth.
Creating the Most Effective HR Surveys
Now that we have established how profitable an HR survey for employees can be for your business, there are some crucial points to keep in mind when creating these surveys.
Firstly, identify the most suitable time for delivering these surveys to get unbiased and usable feedback. The one-off HR surveys that companies share annually are not enough anymore. You must conduct routine surveys in order to gain valuable insights from your team members.
The next step is avoiding any form of survey bias to improve the quality of the responses that you get. Keep your surveys anonymous and short. Know the best HR survey questions to ask by selecting the most appropriate questions from the list mentioned.
Lastly, just as important as it is to administer the survey is to promote it among your employees. Encourage them to participate fully in the exercise and give you honest feedback to collectively work toward the organization's growth. A powerful online survey software such as ProProfs Survey Maker can help accomplish all of this by enabling you to create the most objective HR surveys. You can get started immediately using pre-built survey templates and share your surveys with the respondents in a jiffy.
Do you want a free Survey Software?
We have the #1 Online Survey Maker Software to get actionable user insights.