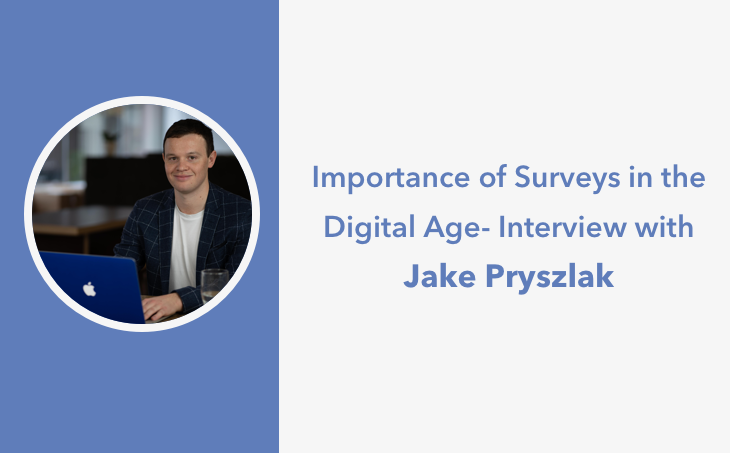 Customer feedback has become an essential aspect to ensure success for all business organizations. Major market players understood this a long time ago and have made customer feedback an integral part of their business. Further, customer surveys have played a crucial part in data collection since their inception and will continue to do so in the foreseeable future.
Keeping this in mind, we got in touch with renowned market researcher Jake Pryszlak to get his views on how surveys can help in market research. Jake Pryszlak, commonly known as 'The Research Geek', Jake is an award-winning market research blogger and speaker. Recently named among the most influential individuals in his sector, he also has his own Forbes Column which he dedicates to writing about market research, data, customer experience, and technology.
Here's what he had to say about the importance of surveys:
Q1. Do Survey Responses Help You Predict Customer Behavior?
It all depends on who you are. Yes, survey responses could predict customer behavior for small to medium-sized businesses, if they were sent and completed a number of surveys over time. However, when you truly want to understand customer behavior, then you have to conduct research at every touch point of their customer journey, right from web analytics to social listening. Let's take social listening as an example, brands can now predict what types of clothes including colours and styles people will want in the future. So they can manage product developments months or even years in advance.
Q2. How Do You Handle Customers Who Just Aren't Satisfied with Anything You Do?
Tell them to leave me alone…..Joking!
You have to understand why they are not satisfied and come to an arrangement where both parties become happier. But I don't think any client should be dissatisfied if you have regular client meetings and discussions to keep all parties involved. Where clients become dissatisfied is when they are not communicated to. My motto: There is always a solution to a problem!
Q3. How Can the Implementation of AI Help Improve Customer Experience?
So I will tell you 4 things that if you are not implementing now, then you should get started:
Chatbots. They are one of the easiest and biggest ways you can improve customer experience and also increase lead generation in comparison to other methods such as pop ups.

Customer relations software – AI-backed so your software can learn as more customer data is given to it.

It can be a powerful omnichannel experience

Create smarter customer journey predictions
Q4. Considering the Revelations of the Facebook Scandal and the Post-GDPR Scenario, How Do You Build the Trust of Your Customers?
There is one main theme that should never be forgotten and this was even pre-GDPR scenarios. Be honest with your customers from the start about how their data and information is going to be used. And this includes what tools and softwares will be used. Such as email marketing an advertising tools. When you are communicating with customers on a regular basis, you will over time build trust. There are always times where something might go wrong, and what builds even more trust is how those situations are dealt with.
Q5. Has Social Media Become the Key for Unlocking Customer Engagement?
Absolutely! Social media and social listening to be precise has become a huge area of development. Brands can now understand what products and services are important to consumers in advance of them being released in a shop. Social listening can also help brands understand the potential sentiment towards them. For example, how positive a new product has been reviewed online, or what negative comments are being said about a new release. One thing though which I think can unlock customer engagement is virtual reality. Customer purchasing decisions are influenced by their emotional behavior. Feelings influence engagement and engagement increases the likely hood of sales. So interaction is key to any customer engagement strategy.
Q6. Is Data the New Oil? Your Thoughts?
There is absolutely a market for user data. Lets think about brands some as Amazon, AirBnb with the amount of data they receive daily from customers. There are companies that would love to know Amazon's sales data or Google's search queries or Uber's routing and pricing history. But here's the key thing: Those interested outside parties are competitors, and the owners of the data would never in a million years sell it. Uber isn't selling data to Lyft, Amazon isn't selling data to Walmart, and Airbnb sure isn't selling user lists to Hotels.com. So in my opinion its not the new oil, because the larger organisations will house their data and will never share it with third parties.
Q7. Is There a Conflict Between Ensuring the Best Customer Experience and Better Employee Engagement?
Organisations that don't embrace customer experience with their various different HR processes such as hiring, training, rewards, and recognition, really do miss the opportunity to promote an environment that facilitates employee customer experience success. At the end of the day, if your employees are happy, then your customers will more likely be too. It's a very big circle, and even your customers are part of the partnership!
Related Read: Importance of Employee Satisfaction Survey
Q8. As a Market Analyst, Would You Gather Feedback at Every Stage of Product Development or Just Before Launch?
So I would analyse data and information across an entire life cycle of the product. So then we can understand:

What key features does the product need to have which consumers would like?

What sentiment was there online about the product launch.

Are costings making an impact on sales? Why? How?

When can we predict high volume sales in comparison to low volume?

How can the data we analyse get used for marketing and promotion?

Are there any by-line or by-products of this new product which could be of interest to customers?

What effect is this product having on others in the same range or overall company?
Here are some key takeaways from this interview:
Surveys and social media can help you predict customer behavior.

Proper communication is the key to resolving client issues.

If you haven't already, start implementing AI ASAP!

Be honest with your customers about the data you collect.

Be more involved with your customers over social media

Your customer experience and employee experience go hand in hand
Gather feedback from customers at every stage of your product cycle.
Do you want a free Survey Software?
We have the #1 Online Survey Maker Software to get actionable user insights.