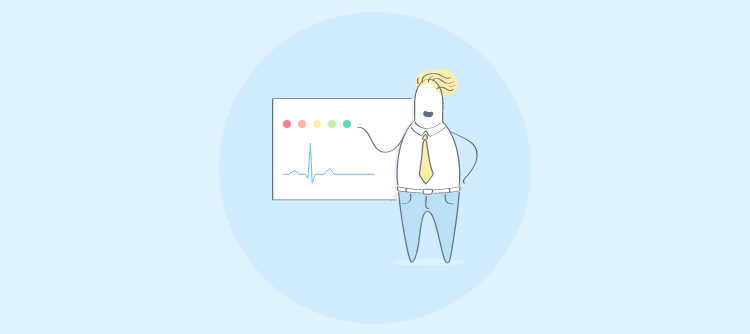 Pulse surveys help you listen to your customers and employees and keep track of their changing feelings.
These surveys help you gauge customers' and employees' feelings about your products, services, offerings, work environment, policies, and much more.
Let's discuss in detail what is a pulse survey, its importance, types, uses, and how to create one in this blog.
What is a Pulse Survey?
Pulse Surveys involve conducting quick check-ins with the same target audience at regular intervals like weekly, monthly, quarterly, or even twice a year. It is a quick method of collecting information from customers or employees using a short survey that consists of 3-10 open-ended or close-ended questions.
Pulse surveys help you track employee satisfaction and customer experience. It helps you gather feedback from respondents and measure it to understand their state of mind about a particular product, policy, or service or analyze their changing needs.
Pulse surveys enable you to engage with customers frequently and address issues as they arise. These surveys are the opposite of annual surveys, which are long and complex and shared once a year only. Even the respondents do not mind filling out pulse surveys often as long as they feel that their feedback is being utilized to boost their satisfaction rate.
Advantages of Pulse Survey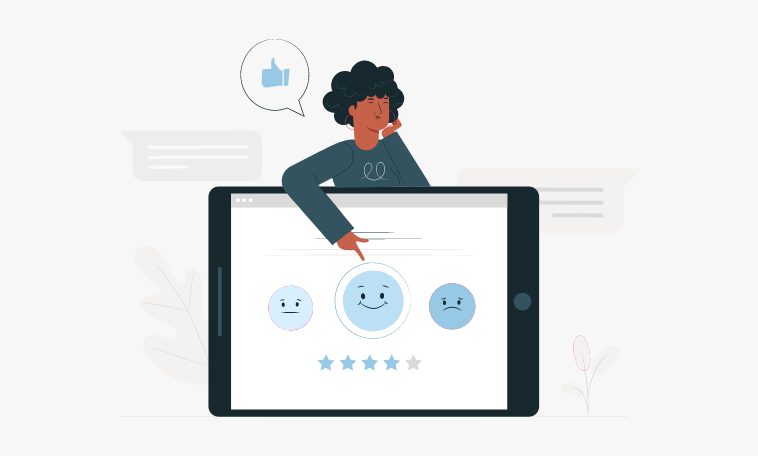 Pulse surveys are short & flexible surveys that allow you to collect data more frequently than annual engagement surveys. Apart from this, it offers many other benefits such as:
Pulse Survey is short and does not require hours of preparation and compiling. Also, since the number of questions is less, it does not take much time for the respondent to fill out the survey.
People can respond to pulse surveys much more quickly compared to annual surveys. That's because the questions are to the point and do not require more thought and attention. Thus, you can expect a quick survey response rate while conducting this survey.
Since pulse surveys are conducted frequently, they can deliver real-time insights. This is really important for businesses to address any issues from the beginning rather than wait for the year to end. This data enables companies to gauge customer reaction and mold their product or offering as early as possible to boost profitability.
As for employees, these insights offer a quick way to identify and resolve their workplace issues.
Facilitates Continuous Improvement
The annual survey only offers a detailed picture of your business once a year. In contrast, a pulse survey provides insights into your business at regular intervals. You can measure the response rate of the new product launch or how well you're meeting the goals at continuous intervals. It will enable you to frequently make changes in your business to boost year-round profitability.
Boosts Employee Engagement
One of the primary purposes of employee pulse surveys is to boost employee engagement. Pulse surveys keep communication between employer and employee healthy and alive. Employees feel they have cared when you ask them frequent questions on matters like changes in company policy, views on the working environment, etc. Asking for employee feedback at regular intervals boosts engagement rates.
Allows Quick Result Processing
Pulse surveys offer an efficient way to process and analyze feedback quickly. Since such surveys comprise short and limited questions, data analysis can be done quickly. As a result, companies can take immediate action as per the feedback to increase their audience satisfaction rate.
Why Use Pulse Surveys?
There are various reasons for the popularity of pulse surveys. Pulse surveys are short and to the point. As the number of questions is limited, result processing is easy and swift.
Also, they reduce survey fatigue. This is because the questions are limited and do not require much thought to answer. Respondents can answer the questions in an instant.
Pulse Surveys are also essential to understand customers' state of mind and offer services accordingly. Not only that, but respondents also feel valued and heard when they are frequently asked for feedback.
In a nutshell, pulse surveys can do a lot of things for your business, such as:
Provides real-time insights for concerns that require immediate solutions
Offers continuous feedback
Enables companies to understand customers' needs and demands more specifically
Helps in improving employee and customer satisfaction
Encourage businesses to listen to the voice of the customer and take action accordingly
Ensures quick and accurate response rate
Promotes a culture of communication and feedback
Makes the process of managing and analyzing responses seamless
What Can Pulse Surveys Measure?
Pulse surveys are a form of non-content-specific method to collect feedback. It is a means for measuring frequent feedback that is not topic or content-specific.
They can be used to measure anything, whatever a business considers as necessary. You can design pulse surveys as per your priorities, goals, and what you need to track. The content that pulse surveys measure changes from business to business and one survey to another.
For a pulse engagement survey to be efficient, the only rule is that it must be consistent, so you can keep a constant eye on the same thing and see how it changes from one month to the next.
By sharing pulse surveys at regular intervals, you can see how any change in an event, for example, a change in company working rules or change in competitors' pricing, affects your business.
Types of Pulse Survey
You can use two types of pulse surveys to gather insightful feedback:
Employee Pulse Survey
An employee pulse survey is a short and straightforward survey with crisp and limited questions that are used to gather and analyze employee feedback at regular intervals. You can think of these surveys as quick check-ins that organizations use to monitor employee engagement, job satisfaction, work culture, etc. Overall the purpose of these surveys is to gain data-driven insights about the employee experience and track whether it is improving or deteriorating.
Also Read: Best Employee Engagement Software & Tools
Customer Pulse Survey
A customer pulse survey is an excellent way to track customer satisfaction with short and precise questions. It measures customers' experiences with your brand and product across different parameters.
When done in the right way, customer pulse surveys can reveal the pain points your customers are facing. At the same time, it also keeps the customers engaged and gauges their relationship with the brand. Overall, it helps businesses measure customer satisfaction and improve it along the way.
How to Conduct Pulse Surveys
People pulse surveys assist you in gathering the precise and meaningful data that you require. This section explains how to create a successful pulse survey:
1. Define Your Objectives
Conducting a pulse survey will not yield any benefits if its objectives and purpose are not clearly defined. It is essential to determine what you want to evaluate before designing the questionnaire. Try to find answers to questions like:
What is the objective of the survey?
Who is the target audience?
What is the frequency of the survey?
Brainstorm the specific areas that you want to measure for creating the survey. Also, make sure to involve people from different fields in decision-making sessions.
2. Decide the Questions to be Added
The second step involves asking the appropriate questions that adequately communicate the survey's objective to the respondents. Ensure that your questions are relevant to what you are trying to measure.
Here are a few points to keep in mind while designing the pulse engagement survey:
How many questions to ask – Determine how many questions should be included in the pulse survey. Try to keep the number of questions below 10.
How many times to ask– It is also crucial to decide the frequency of the survey. Usually, the frequency and length of the survey are inversely proportional. It means fewer questions, more frequently the survey can be conducted, and vice versa.
When to ask: Determining the frequency will also assist in determining the timing of the survey. For instance, suppose a firm decides that it will share a survey once a month, but deciding the day of the month is equally important.
Where to ask: Identify which device your respondents frequently use to respond to surveys, and ensure that the survey offers a great experience across devices. Also, ensure the survey is mobile-friendly.
3. Employ a Pulse Survey Tool
Employing survey maker software is an excellent way to create engaging surveys of various kinds. Such tools have an inbuilt library of hundreds of survey templates that can help you get started right away.
Consider investing in a robust and user-friendly survey maker tool that includes advanced features like analytics, reports, survey question libraries, templates, and an initiative UI.
Modern survey maker tools come with thousands of survey questions as examples and provide advanced features to help you share surveys across channels such as email and social media. They remove the uncertainty from the process and helps you create engaging surveys in minutes.
4. Run the Survey & Analyze the Results
It is now time to launch the survey. Pulse survey best practices include sharing surveys on multiple sources like websites, email, or social media to increase the response rate. Next comes the survey analysis to plan the next course of action. You can use survey maker software to examine the survey data. Try to look at data trends and identify the areas that need improvement to boost customer and employee satisfaction.
Uses of Pulse Surveys
Pulse help surveys have numerous uses, the most ones being increasing employee engagement and customer satisfaction. Here are a few more uses of pulse survey you probably didn't know of:
Helps in Tracking Progress
The advantage of conducting shorter and more regular surveys is that issues can be addressed at an early stage. It enables businesses to assess the problem, identify and implement a solution, and then test it again to monitor progress.
Aids in the Direction of Future Actions
Measuring employee engagement and customer satisfaction with pulse check surveys will offer you comprehensive feedback, allowing you to conduct an in-depth analysis. That information, in turn, can be utilized to develop effective future action plans.
Offers an Analysis of Progress Over Time
The majority of pulse survey reports include statistical analysis and graphs. They help you examine how responses changed following significant or minor internal or external events and thus provide valuable insights into customer and employee satisfaction.
With pulse surveys, employees have the opportunity to share feedback and communicate with organizational leadership regularly. This fosters a feedback culture, allowing people to express themselves more frequently.
Pulse Survey Questions
Let's take a look at the questions you'll need to create while designing pulse surveys. Depending on your goals, you can include these pulse survey examples questions.
Employee Engagement Pulse Survey Questions
On a scale of 1- 10, how satisfied and happy are you with your work?
How likely are you to recommend your friends to work here?
☐ Very likely
☐ Likely
☐ Unlikely
☐ Very unlikely
How much do you trust the organization's leadership?
Are you satisfied with the work culture?
☐ Extremely Satisfied
☐ Satisfied
☐ Neutral
☐ Dissatisfied
☐ Extremely Dissatisfied
How transparent and open is the communication in your organization?
Do you have a clear idea of your job role and responsibilities?
☐ Yes
☐ No
How motivated are you?
Also Read: 40 Employee Satisfaction Survey Questions That You Can't Ignore
Customer Satisfaction Pulse Survey Questions
On a scale of 1- 10, how satisfied are you with our product?
Describe the overall experience with our product.
How would you rate your experience with our brand?
☐ Excellent
☐ Average
☐ Poor
How likely are you to recommend our products to others?
☐ Very likely
☐ Likely
☐ Neutral
☐ Unlikely
☐ Very unlikely
Are you satisfied with our customer service team?
☐ Yes
☐ No
What challenges have you faced with using our product?
Also Read: 100+ Customer Satisfaction Survey Questions
How Often to Use Pulse Surveys
Pulse surveys are short surveys that are used to track a subject's change over time or get a quick response to a new initiative. However, while using pulse surveys, be careful about their frequency because using them too frequently or not using them enough might decrease respondents' engagement.
Try to share pulse surveys either monthly or weekly to track change accurately. You will have to keep the balance between conducting the surveys frequently enough so that your respondents can give meaningful feedback but not so repeatedly that you can't act upon the results received.
Ready to Launch Your Pulse Surveys?
Measuring engagement and satisfaction levels with traditional surveys can be lengthy and costly. It can also lead to survey fatigue and a low response rate.
Conducting pulse surveys is the best way to tackle such issues. A pulse survey accounts for the frequent and unpredictable changes in your audiences' opinions and preferences. Implementing it is often crucial when it comes to groups like your customers and employees.
If you are looking for an easy way to conduct these surveys, you can try ProProfs Survey Maker which offers 100+ survey templates, 100k+ ready-to-use questions, and a bunch of amazing features.
Do you want a free Survey Software?
We have the #1 Online Survey Maker Software to get actionable user insights.