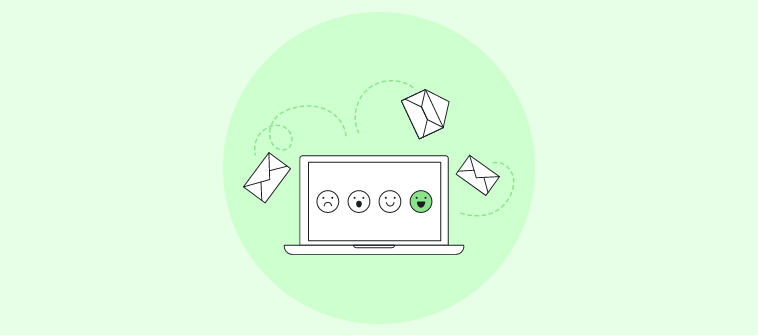 How do you measure the customer loyalty of your brand?
There is no better way to gauge customer satisfaction and loyalty than by measuring the likelihood that they will endorse your products and services to others. Of course, if a customer is satisfied with your product, then only they will refer it to their friends and relatives.
The best strategy to ask customers how they feel about your brand's offering is to send them an NPS email.
A Net Promoter Score (NPS) is the perfect metric to measure customer loyalty and satisfaction by asking them a single question:
"On a scale of 1-10, how likely are you to recommend our brand to others?"
This blog will discuss tips for designing an effective NPS email survey and writing catchy subject lines. We will also show you examples of how you can create your own NPS survey email template.
Let's dig deeper into it.
NPS Email Examples
According to the "Quantifying the business impact of customer service" study, 76% of consumers share their bad experiences with friends or family.
So, it is always a good idea to identify the root cause of customer dissatisfaction and act on it before they spread negative word of mouth.
With the help of NPS emails, you can collect actionable feedback from respondents to know if they are happy or not.
But how to write an NPS email?
Let's discuss NPS email examples you can send your customers and employees.
1. Customer NPS Email
Subject: (Name), Your Opinions Counts! Please Spare 2 Minutes of Your Busy Schedule to Rate Us!
Email Body:
Hi (Recipient's Name),
Thank you for being our valued customer. We hope you are enjoying your experience with (Company Name).
We are constantly working to provide you with best-in-class services/products. Please share your feedback to refine your experience even further.

Thank you,
Team (Company Name)
2. Employee NPS Email
Below, we have given another NPS email example that can be used to collect feedback from employees.
Subject: Your Opinion About This Company Matters!
Email Body:
Hi (Employee's Name),
Hope you are enjoying working here. We are super proud to have you as a part of our family. We appreciate the hard work done by you.
Here is a small request for you. Please share your insights on how we are doing to make this company a better workplace.

Thank you,
Team (Company Name)
15 Tips for NPS Email Surveys
Have you ever faced a situation when you ask customers for feedback, and despite sending them email reminders, you receive no response?
So how do you tackle such a situation? How will you improve the email survey response rate?
For your reference, we have compiled a list of 15+ golden tips that you can use to roll out your NPS email survey:
1. Remember the Standard NPS Questions
An NPS survey consists of 2 questions. The first is a Likert-scale question that measures the customers' likelihood of recommending your product to others.
Its generic phrasing is:
"How likely are you to recommend our company to your friends and family?"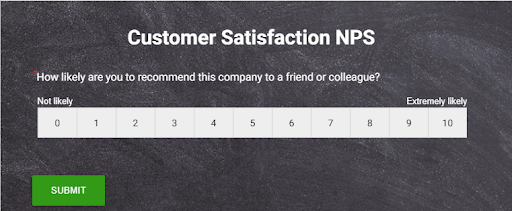 You can always modify the phrasing of the question to suit the scenario.
The second is the follow-up question that determines the reason for the customers' score.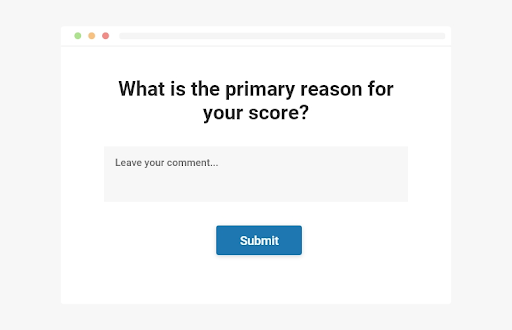 While drafting the NPS email, do not add any new questions. Try to stick to these 2 questions to calculate NPS.
The standard NPS questions are enough to obtain actionable data that provides a complete picture of the scenario.
Also Read: What Is a Good Net Promoter Score?
2. Segment Your Audience
The key to collecting reliable and actionable feedback is to segment your audience and then send them Net Promoter Score email surveys.
You can segment the audience based on age, gender, location, buying habits, duration (how long they have been associated with you), or any other factor suitable for your study.
Dividing your survey respondents helps you understand how one group differs from another. Once you segment your customers, sending them customized emails, devising strategies to improve their experience becomes extremely easy.
Also Read: Market Segmentation- Types and Benefits
3. Survey Branding Can Do Wonders
Customizing your NPS survey email templates using fonts, logos, colors, and graphics to match your company theme help users relate to your brand image. Branding makes your survey look reliable and authentic.
It should not feel like a third party is asking questions on your behalf. Your survey should represent your brand. Branding across all customer touchpoints is crucial, and that includes surveys also.
For instance, look at the image below and notice how Amazon uses its fonts and logo to collect feedback for its Amazon Associates Program.
4. Do Not Forget to Personalize It
Personalizing the NPS survey email by adding your respondents' first names can make it more attractive.
Instead of asking,
"How likely are you to recommend our product to your friends?"
Ask:
"Henry, how likely are you to recommend our product to your friends?"
People connect more with your brand when you use their name while communicating with them. Using personalized messages evokes strong emotions in users that not only encourage them to fill out the survey but also boost customer engagement levels.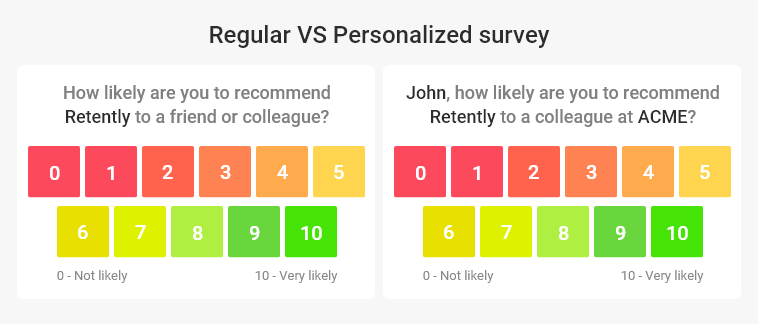 5. Mobile-friendly Surveys
Never underestimate the power of mobile-optimized email surveys. Mobile-friendly surveys mean that the survey layout is automatically adjusted as per your mobile screen size. This means that your email survey will appear the same on desktop and mobile.

You need to ensure that your NPS emails are mobile-responsive if you want to collect data for your market research from a large sample size. The usage of mobile phones is at an all-time high these days.
In fact, 37% of Americans now go online mostly using a smartphone.
So, if your survey is not mobile-friendly, you will miss a large chunk of your audience's feedback.
6. Utilize A/B Testing
A/B testing implies sending two versions of your email NPS to a small target audience group to determine which version yields better results.
The NPS sample that brings better results is then sent to the rest of your email list. This increases the chance of email open rates and, ultimately, survey completion rate.
A/B testing is vital since different audiences behave differently in different marketing campaigns. You must have heard the phrase "One shoe doesn't fit all." In the same way, what is liked by one group is not necessarily to be liked by another.
For instance, you can use more visual content in one of your sample NPS emails than the second one and gauge which email has more open rates.
7. Keep Your Survey Short
No one likes to answer long surveys. The shorter the surveys with crispy and straightforward questions, the more your survey response rate will be.
Also, try using simple words while writing the survey questions so your audience can understand what you are trying to ask. Avoid using technical terms and jargon that your respondents may be unfamiliar with.
8. Incentives Can Never Go Wrong
Imagine you receive an email stating that you can get gift vouchers if you complete their short NPS survey.
What will you do?
Chances are that you will fill out the company's survey because you now have a motivation to do so: gift vouchers.
This is exactly the role of the incentives.
You can boost your survey response rates by offering incentives like extra discounts, gift vouchers, free company merchandise, etc.
9. Reminders Also Work
Sometimes, it may happen that your customer didn't notice your net promoter score email. Or they may read your email but forget to reply owing to their busy schedule.
So, sending a follow-up email to respondents is a good practice to remind them to fill out the survey.
However, do remember that it is sufficient to remind your customers once, do not overdo it as it may annoy them.
10. A "Thank You" Note Can Go a Long Way
Customers take out their time to fill out the NPS survey for you. The least you can do is send a thank you note to all customers who complete the survey. By doing so, your respondents will feel valued and appreciated.
You can use a Net Promoter Score survey tool for this purpose. Modern survey software like ProProfs Survey Maker allows you to add a "thank you" message and image after completing the survey.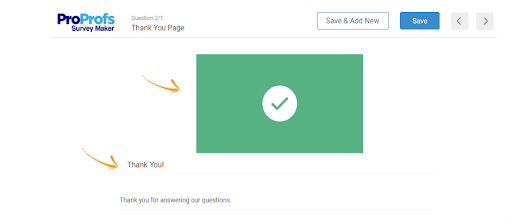 You can even customize the text and image to create your own "thank you" page.
11. Communicate Like a "Person," Not Like a "Brand"
Sending NPS emails through any of your team members' accounts is more beneficial than sending generic emails.
It creates a human touch to the email, and your customers feel more connected with the mail. Sending emails through an id like [email protected] gives a robotic feel to the conversation.
Instead, sending an email survey through a person creates a positive image of your brand in respondents' minds and builds deeper relationships.
For example, look at the image to understand how ProProfs Survey Maker shares an NPS email through one of their team member accounts, [email protected]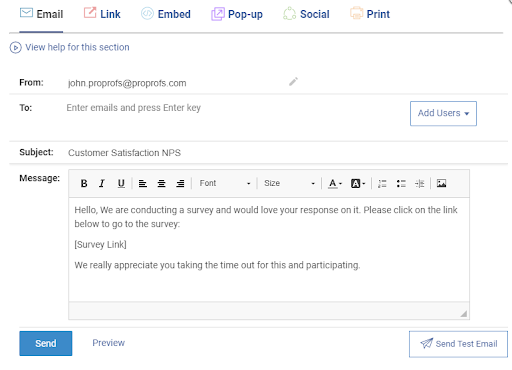 12. Survey Timings Also Matters
The timing at which you send an NPS survey email plays a crucial role in determining your survey completion rate. If you send the email at inappropriate times, chances are that your audience may not provide you with feedback.
For instance, if you send surveys to professionals during work hours, there are high chances that it may go unnoticed among other work-related emails.
As per the GetResponse study, the best day to send emails to US audiences are Fridays and Mondays.
13. Embed the NPS Survey Directly Into Email
Some companies embed the NPS question into the email.
Others ask customers to click on the survey link redirecting them to an external page.
It is recommended to follow the first approach to increase engagement rates. Many users do not prefer to open any external link due to security and privacy issues.
For instance, look at the picture below to observe how TaskRabbit embeds the NPS survey question into the email itself.
14. Customer Journey Mapping
Scheduling NPS according to the customer journey helps perceive how customers view your products and services.
For instance, you can send an email survey right after the interaction of the customer with the client service team. It will help you analyze what customers think of your team and how efficiently they resolve customer queries.
Another way is to create a weekly, monthly, or quarterly survey to measure overall customer satisfaction.
15. Use NPS Templates
You can also use ready-to-use NPS templates that can save your time and efforts in conducting the survey. These days many survey tools offer free survey templates that can be easily customized.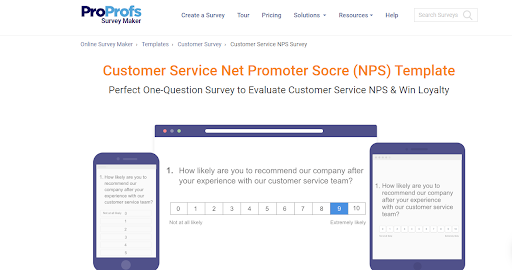 16. Maintain Your Email List
Take time out to clean your email list and ensure that it contains only active customers. Sending emails to inactive customers or who never buy anything from you or no longer engage with you will decrease your survey response rate.
So, connect with your valuable customers only.
NPS Email Subject Lines to Improve Survey Response Rates: Best Practices
The subject line is the first thing your audience will notice about your NPS email.
A catchy subject line immediately grabs the customers' attention and drastically increases email-open rates. On the other hand, if your subject line is dull, no one will open your nps email surveys.
Let's have a look at how you can create compelling subject lines that provoke action:
1. Include the Recipient's Name
As discussed above, personalizing the email NPS is essential to create a connection with your audience. In the same way, adding the recipient's name in the email's subject line can do wonders for your survey response rate.
For example, look at the below-given subject line of an NPS email:
"Rachel, can we get your 2 minutes to learn how we are doing?"
Subject lines like these will surely capture your respondent's attention.
2. Keep it short
Try to keep your NPS email subject line direct, concise, and to the point.
This is because nearly 42% of all emails are open from mobile devices, and long subject lines may get cut off in the smartphone inbox display.
It is advisable to wrap your subject line within 60 characters.
3. Use Urgent Language
You can instantly capture the respondent's attention by using the language of urgency.
Highlighting the limited time available to fill out the survey in the subject line is an excellent technique to do so.
For example, try using "Hurry up! Only 2 days left to complete the survey & avail your gift!" as an NPS email subject line.
You will notice that the audience will start opening your email instantly.
4. Keep it Focussed
What you want to measure should be clearly communicated in your subject line.
Using vague language may confuse your audience, and they may not even open the email. Surely, you do not want that to happen.
Instead of writing: "John, we need your input."
Write: "John, please fill out our NPS Survey."
Your customers do not have much time to deduce what you want to say. So, try to be direct and specific while crafting your subject line.
Start Writing Your NPS Email Now!
We hope by now you must have understood how to prepare an NPS Email that generates action. NPS email is one of the best data collection methods to improve customer and employee experience. If used correctly, you can turn your passives into loyal customers with the help of NPS feedback.
Always remember that a subject line is also a crucial part of an overall email survey campaign, and you cannot ignore that. Try to follow the above-given tips to craft an attractive NPS subject line.
To streamline your process of creating a survey, you can also use a versatile survey maker tool like ProProfs Survey Maker, which offers free NPS templates to help you get started quickly.
Do you want a free Survey Software?
We have the #1 Online Survey Maker Software to get actionable user insights.